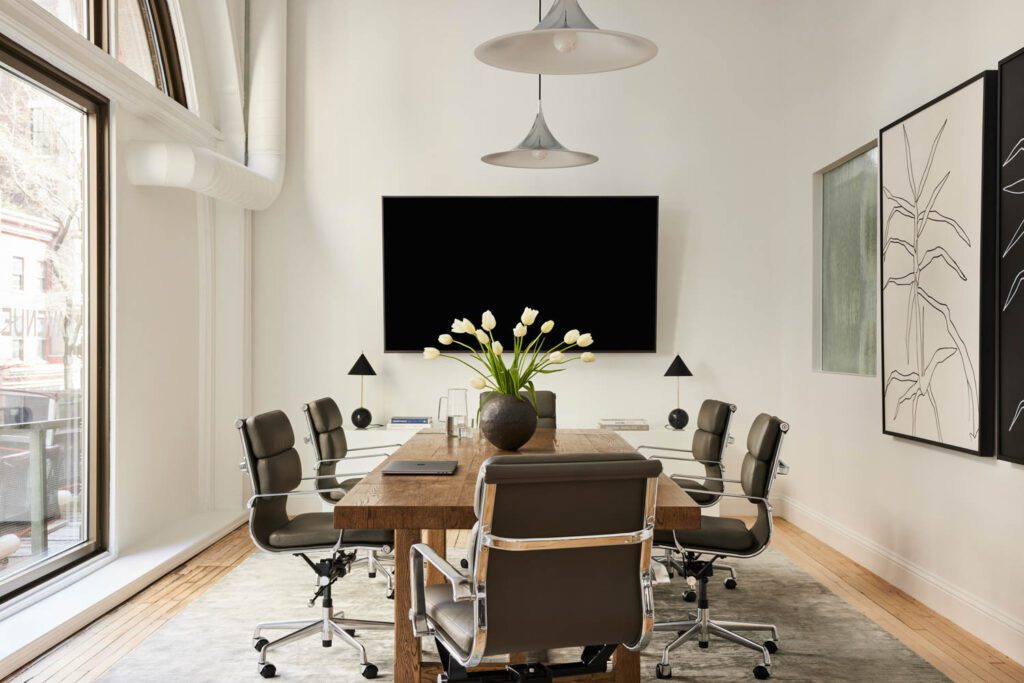 Billy Cotton and ASH NYC Turn a Classic Flatiron Locale into a New Clubhouse for Avenue 8
Real estate brokerage firm Avenue 8 makes prime locations their business. So when a 3,500-square-foot space in Flatiron's iconic Goelet Building opened up, they knew it was exactly the right spot for a new headquarters for their 50 agents. They enlisted architect Billy Cotton and, for the interiors, ASH NYC. Done deal.
The only trouble? "The space had a very postmodern office built out in the 90s or 2000s," says architect Billy Cotton. "Which we removed." In came recreations of original moldings, sound-insulating corduroy wallpaper, and arrangements of design classics and custom pieces. "It directly responds to Avenue 8's approach to modernizing the age-old real estate process," says ASH director of staging, East Coast, Dylan Stilin. The central vignette is more cocktail lounge than cubicle set: "It's inspired by its immediate context," Stilin says, "encircled by the building's large arch windows and the sweeping city views of Broadway below."
And, says Avenue 8 co-founder Michael Martin, "the days of the cold, sterile cubicles are gone. We meant this to be a place where agents can come and go as needed for events, conference calls, meetings, and catch-up on emails between showings." When it comes to what workers need from their offices, it's still location, location, location.