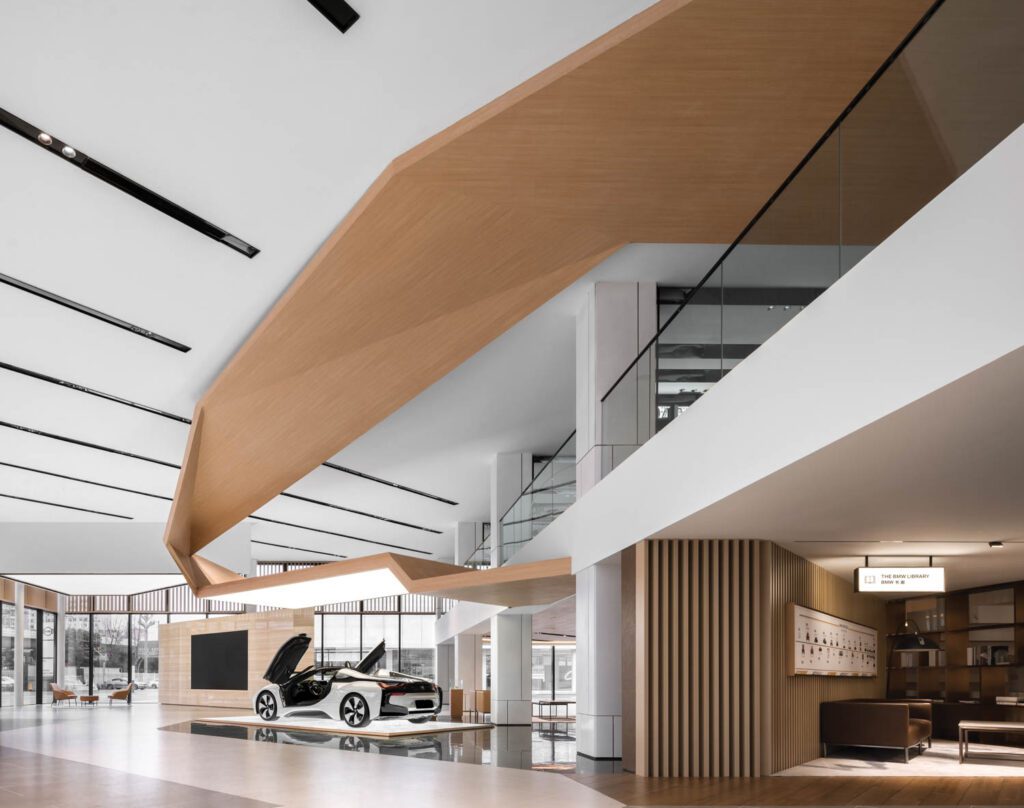 Archihope Envisions a BMW Experience Center in Chengdu, China
In 2016, in celebration of its centennial, German automaker BMW released Vision Next 100, a concept car that looked as if it was dropped from an alien spacecraft. Among its features were autonomous driving, on-board AI, and an exterior aluminum-mesh skin of shape-shifting triangles that could adapt to make the vehicle more aerodynamic mid-ride, something company executives called an "alive geometry." When they were looking to expand the brand's presence in China with the equally future-looking BMW Experience Center in Chengdu, they approached Archihope, a local firm founded by chief architect Hihope Zhu that focuses on creating visual innovation and memorable user experiences.
Archihope was presented with an existing single-story building that had been built as a workshop for a different car company but never used and eventually abandoned. "It was basically half-baked," Zhu recalls. An important directive BMW had for him and his team was that the new experience center be visible to passengers on the high-speed rail and highway nearby. So, Zhu turned to the Vision Next 100 for inspiration, translating its repeating exterior triangles into a skin of perforated anodized aluminum panels that wraps the entire structure, expanded by Archihope to five stories, save for a glass curtain wall at the entrance. The facade also serves another key function: sustainability. It shades the building in summer and traps heat in the winter, allowing it to use less energy throughout the year.
The BMW Experience Center spotlights the brand's design excellence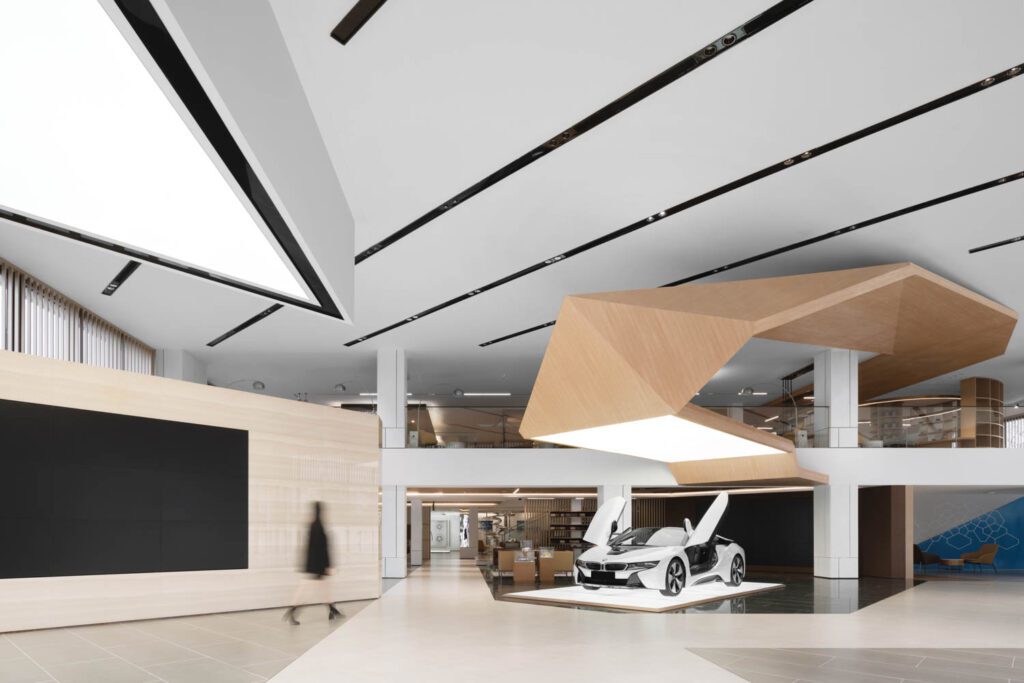 As for the 117,000-square-foot interiors, instead of trying to retrofit its concept into what was left behind, Archihope removed everything except structural beams and columns, leaving a blank slate with which to work. Rather than insert gratuitous details, or create an environment to drop the product into later with little thought, the studio focused on core elements, which in this case are the cars themselves. "We were meticulous in the way we placed every vehicle," Zhu says. "We thought about how they would look from every angle as customers walk through the space." After all, BMW is known for design excellence. . .why not let that shine?
The showroom occupies the center's ground floor (the four additional levels contain offices, merchandise areas, tea rooms, and car-maintenance workshops), and Archihope tailored each of the display areas to particular characteristics of each model. For the X series of SUVs, for instance, a giant letter X lit by LEDs is embedded in a partition of bluestone slabs, which Zhu chose to connote the earthiness of an off-road vehicle. That wall serves double duty: A screen on the other side loops promotional videos. For the premium GKL range, an array of car parts that can be swapped in and out is mounted on the wall, highlighting the vehicle's customization abilities. The most high-profile display, however, is right beyond the entry. That's where the i8 Roadster stands on and under illuminated rectangles, a setup that makes it appear teleported in from another dimension. In addition to showcasing this particular model, the overhead lighting "creates a reason for people to look up," Zhu says, rather than focusing their attention only on what's at eye level.
That mission also drove the ceiling installation in what looks like beech or pine that starts in the entrance and angles up and through the mezzanine customer retail and lounge areas, creating a throughline between them and the showroom. According to Zhu, it took months to get its form just right, which was carried out in lightweight wood-look fiber-cement sheets, their durability an extra boon. Infusing more luxe and additional connection to the mezzanine is a wide stairway of white veined marble, the same material used for the podiums dotting the showroom.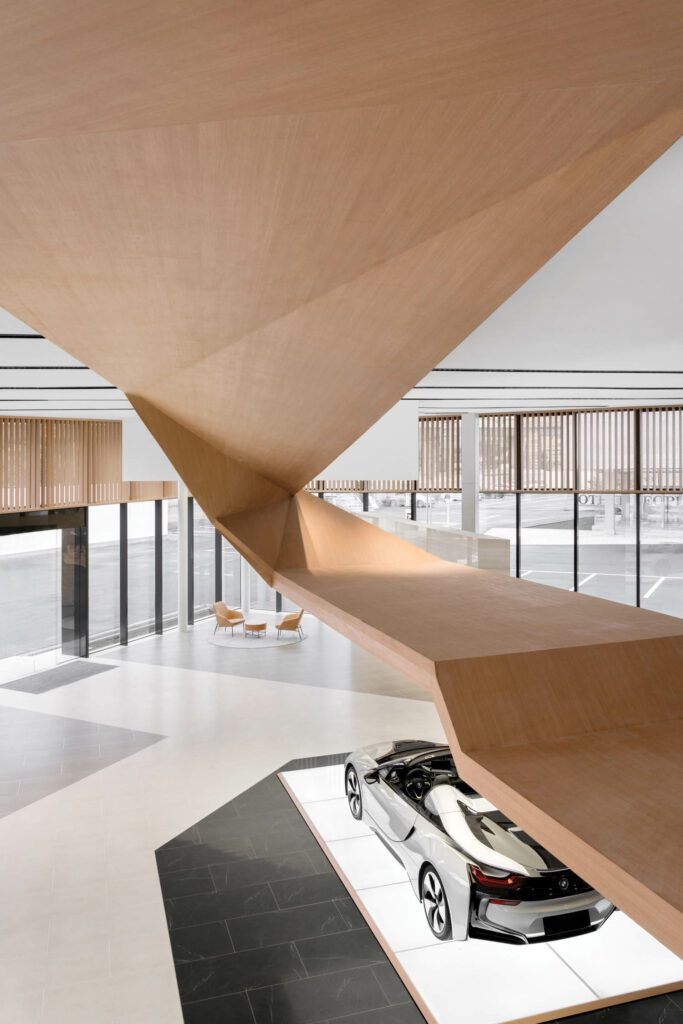 Archihope offers nods to the local landscape throughout
But the BMW Experience Center showroom is inspired by place as much as it is by brand. While Chengdu does have four distinct seasons, it lacks abundant sunlight. So, Archihope made calculated use of BMW's core colors to brighten up the space. "It's about 70 percent white and silver, 20 burly wood color, and 10 linear black for stability," Zhu estimates. And then there are the city's rivers, northern tributaries of the Yangtze together known as the Precious Bottleneck, that snake through urban Chengdu. Those rivers were a constant touchpoint for Zhu and his team, who tracked their perpetual movement as they imagined how customers and salespeople would move through the showroom. Even the ceiling installation has a flowing quality. But as it comes to a point in the lobby, it takes another shape: an arrow pointing to the future.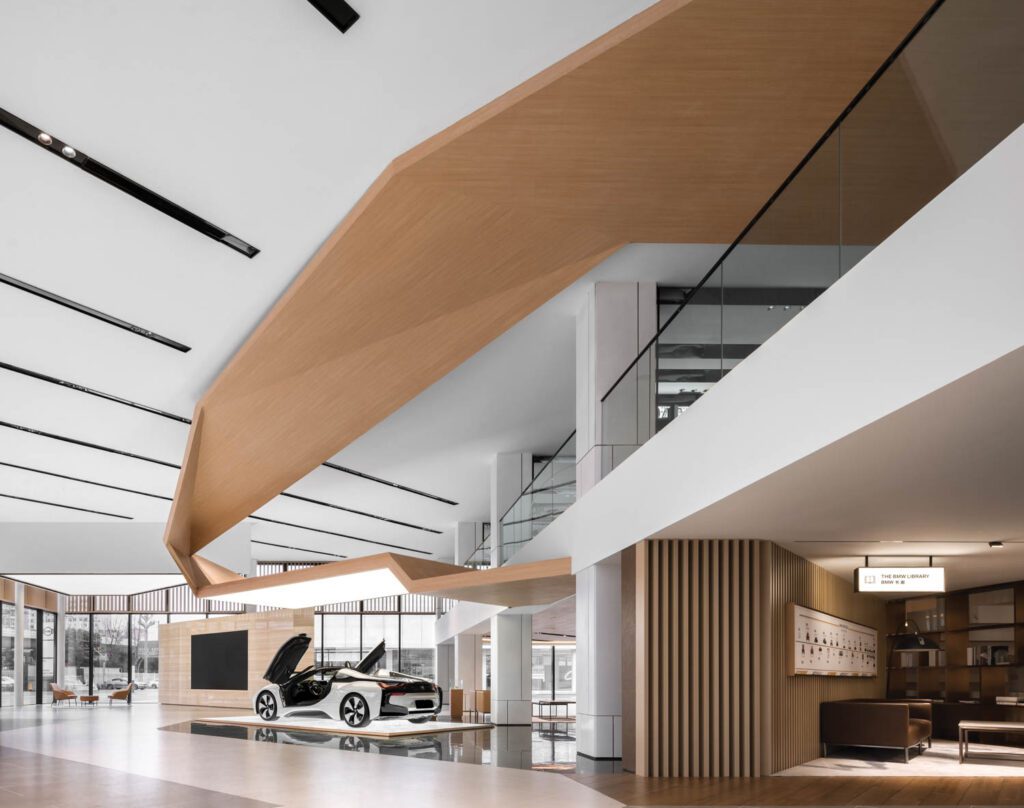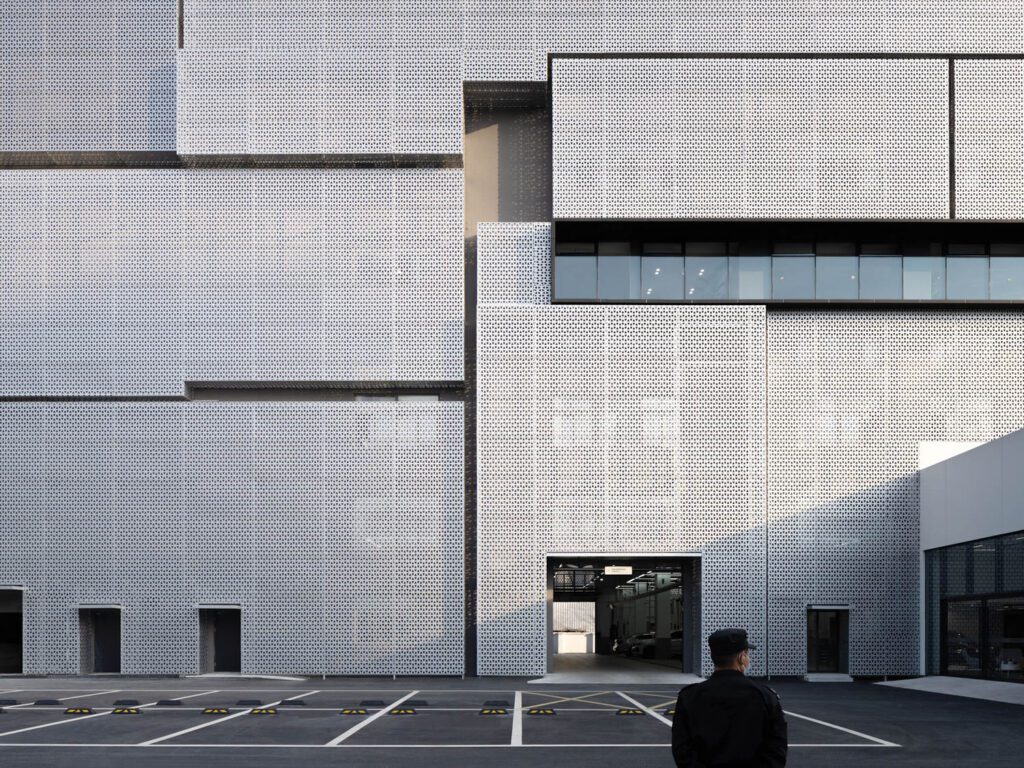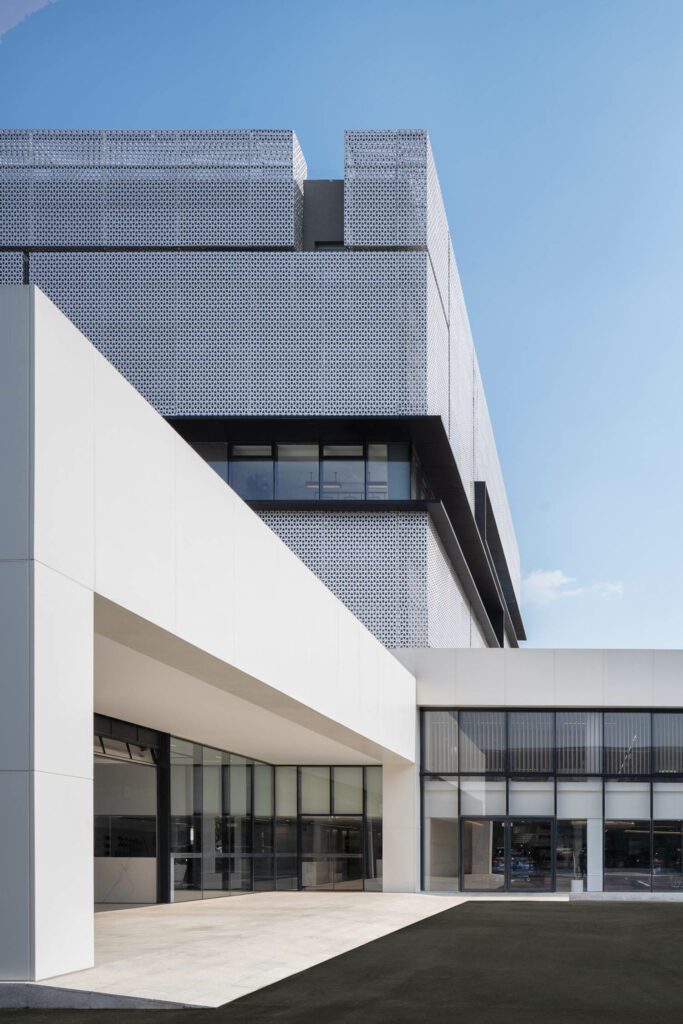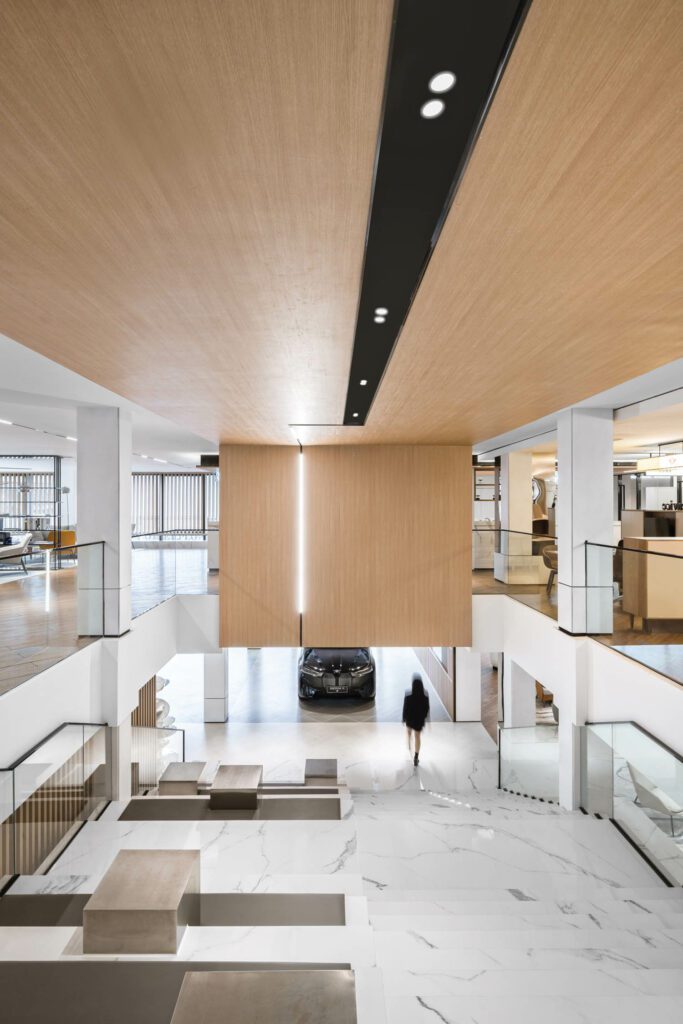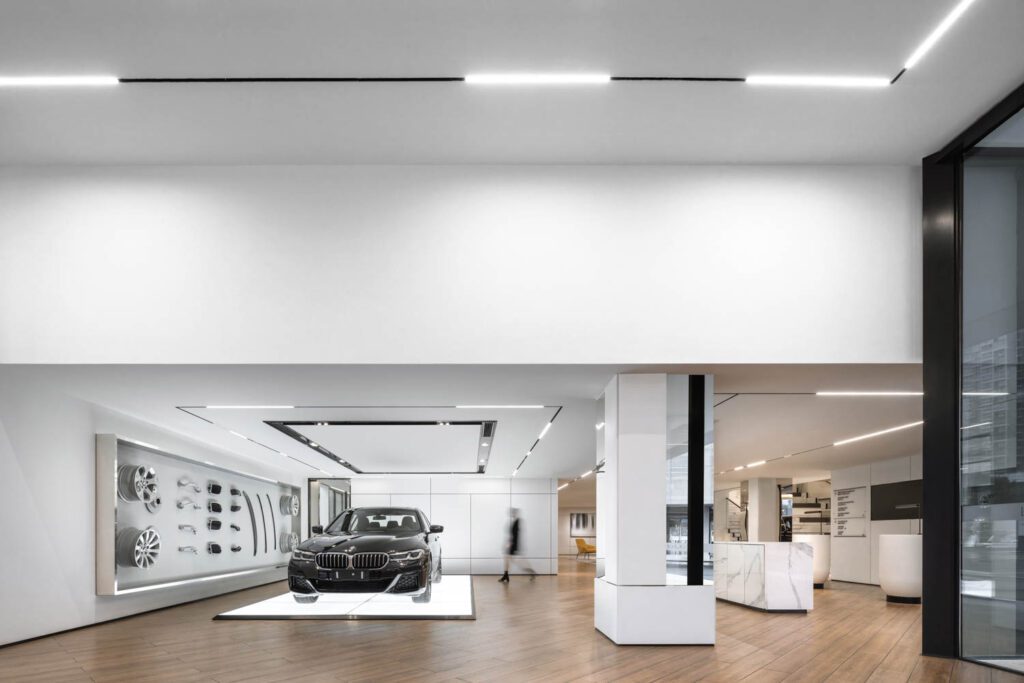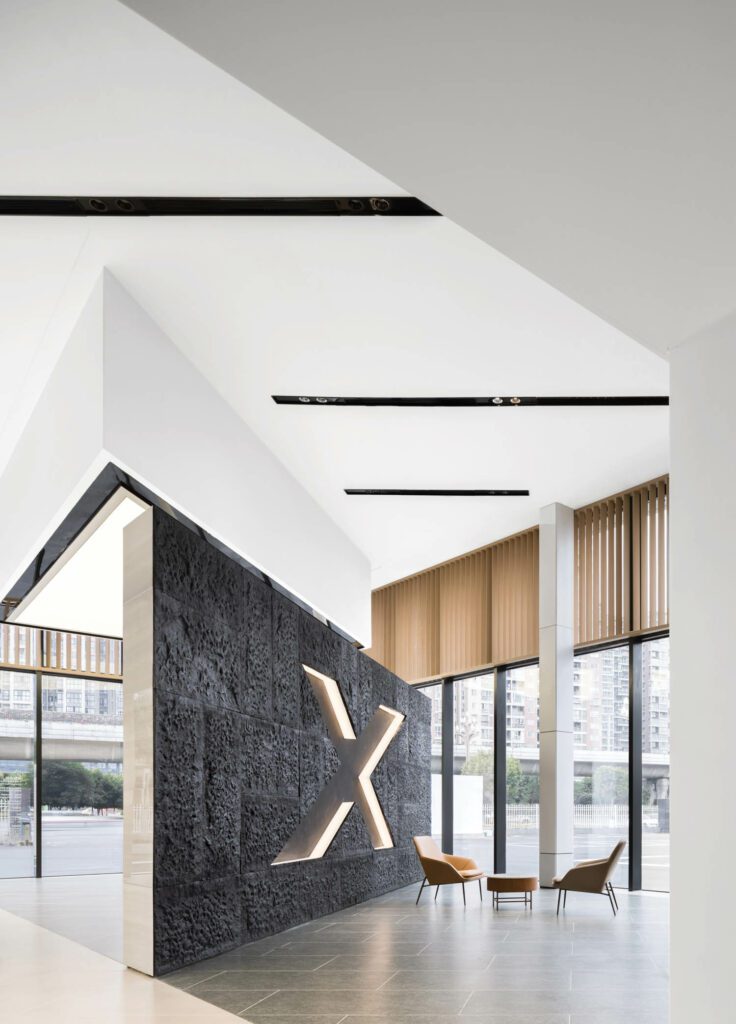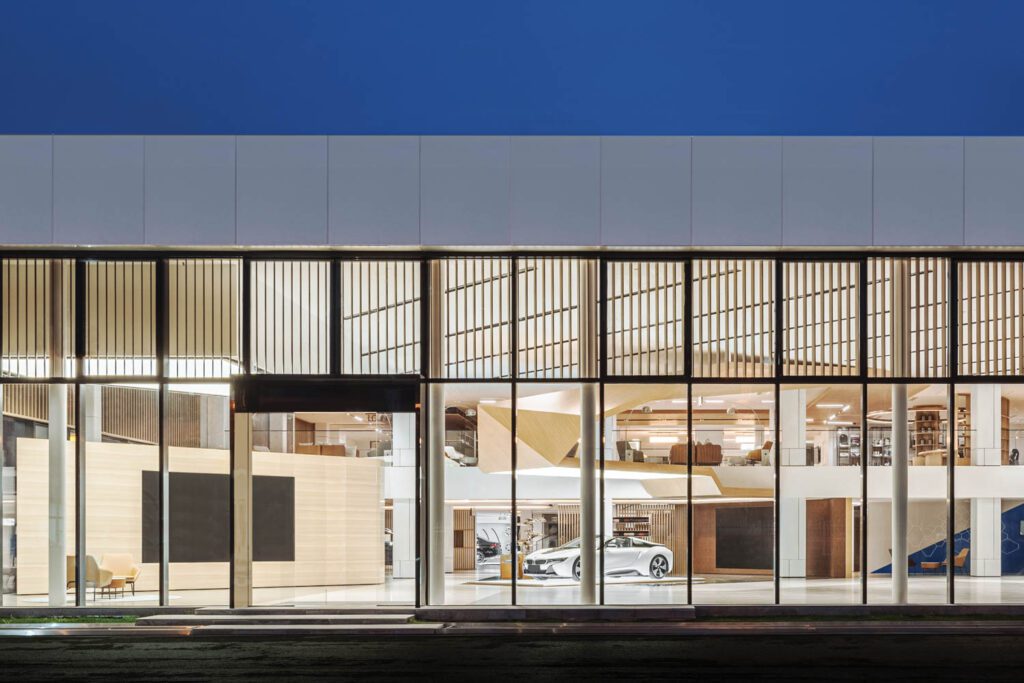 PROJECT TEAM
PRODUCT SOURCES
THROUGHOUT