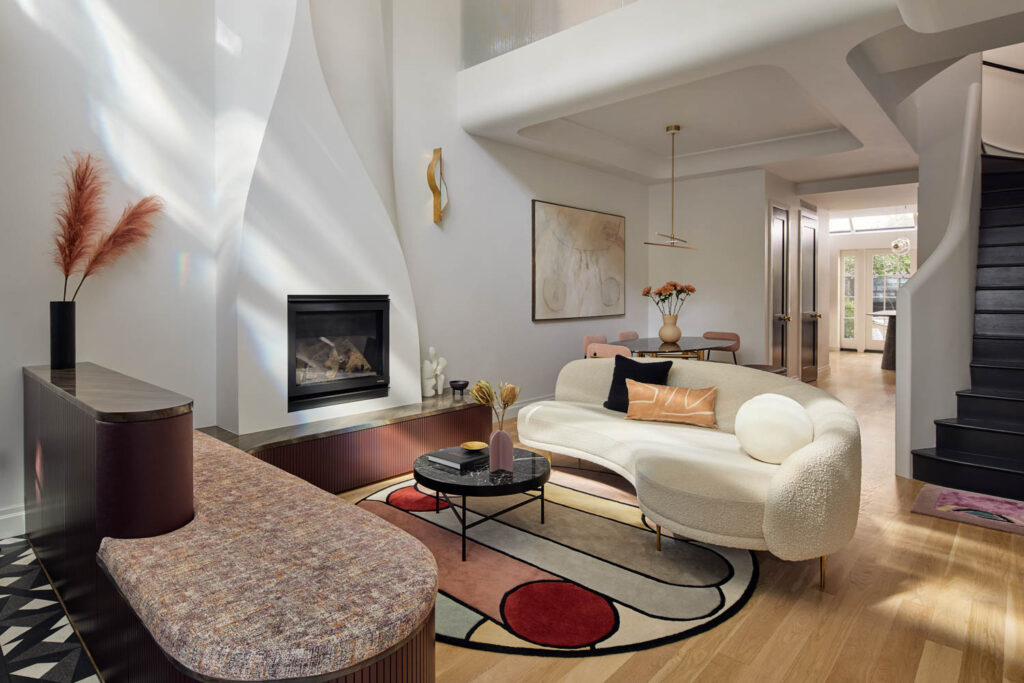 A Brooklyn Brownstone Brimming With Dramatic, Moody Interiors
When Kate Yearwood Young and her husband found a charming, 2013 Georgian-style townhouse on the market in Boerum Hill, Brooklyn, their first move—before even placing a bid—was to reach out to Frederick Tang Architecture. "The house was totally livable," recalls principal Frederick Tang, who toured the 3,500-square-foot home with the couple and noted its selling points—lofty ceilings, two terraces, solid construction—as well as its vexing layout and bland, new-build finishes.
"The clients wanted something modern, a departure from the colorless palette," says Tang, citing the home's faux-Colonial, traditional detailing, Italianate-style iron staircase, and chrome hardware, among other pain points. However, it wouldn't need a gut renovation. "For us, that meant more time and budget to spend on pieces of the projects that were fun, and design-oriented," notes Tang.
Frederick Tang Architecture Devises a Design Refresh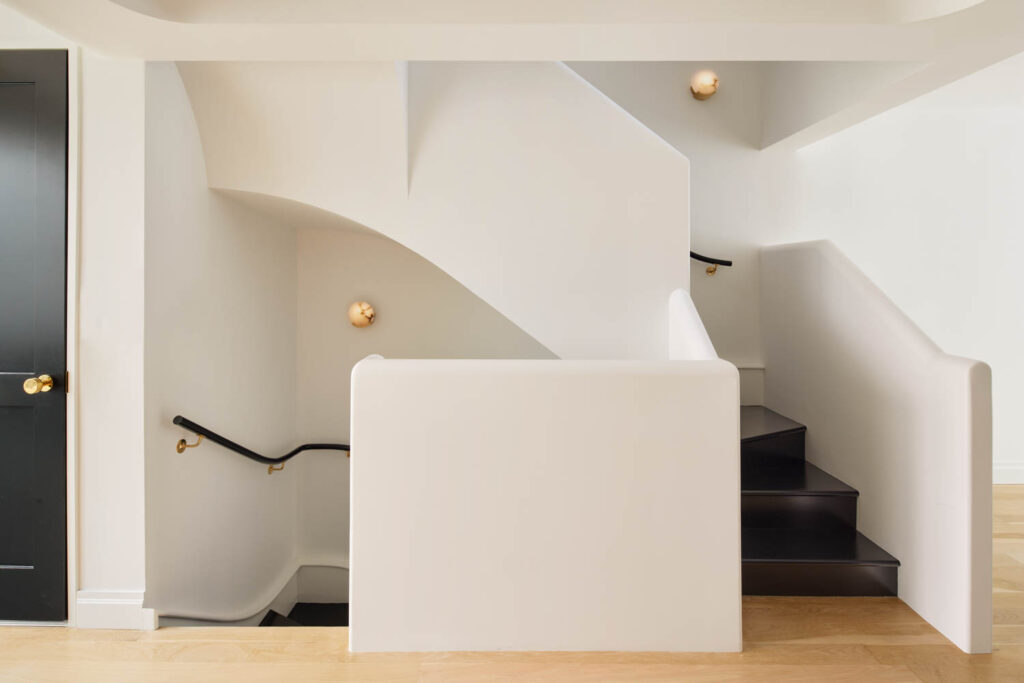 Upon closing in November 2020, Tang and FTA director of design, interiors & branding Barbara Reyes embarked on their cosmetic refresh, which, like all FTA projects, became part of a larger vision. Creating a seamless program from top to bottom—altogether five stories, and a cellar—called for ingenuity. Working closely with their client, Tang and Reyes reimagined the home as a serpentine, multi-hued Shangri-la. Inspired by the late ceramicist Valentine Schlegel, the cookie-cutter stair rails were replaced by curved plaster masses along with reeded glass and brass trims. Also reimagined in plaster was the fireplace, becoming a sculptural anchor for the foyer and embracing the colossal ceiling height.
Vintage Accents, Custom Details, and Rich Hues Define the Home
With such dramatic moments to unify the home, the architects were able to give each floor its own vibe, from moody, botanical wallpaper to luxurious marble accents. Defined by black and creme with a smattering of peacock blue, rust, oxblood, mulberry, wine and blush, the rich palette pairs well with brass fixtures—a client favorite. "Yearwood Young is a natural fashionista with an eye for style and enjoys a pop of color," recalls Tang, "Her acceptance of 'red' came with the requirement that it had to be deep and not too bright."
More minimal spatial changes, plus aesthetic interventions, transformed the home from basic to beguiling. The small, fifth floor penthouse became a dedicated home office flanked by terraces, and custom millwork—a wet bar and bench—now grace the second-floor landing. Removing more builder-grade trim in the dining room, FTA rounded its inset ceiling into a curved cove, ensconced by an Art Deco brass and marble chandelier overlooking a large painting from the clients' grandmother. Other artwork and furnishings are heirlooms, too—like their grandmother's L-shaped Selig modular sofa with chrome base, which was reupholstered in Rebel fabric from Knoll—or antiques, like the stone and brass dining table, the powder room's '60s-era Italian chandelier, the swanky, DIA glass and brass swivel table from the seventies, and more. FTA sourced from local vendors in Brooklyn, while other pieces came all the way from Mexico and Portugal. The resulting strata of global and historical influences is artfully layered, achieving a cohesive look that's very much of this moment.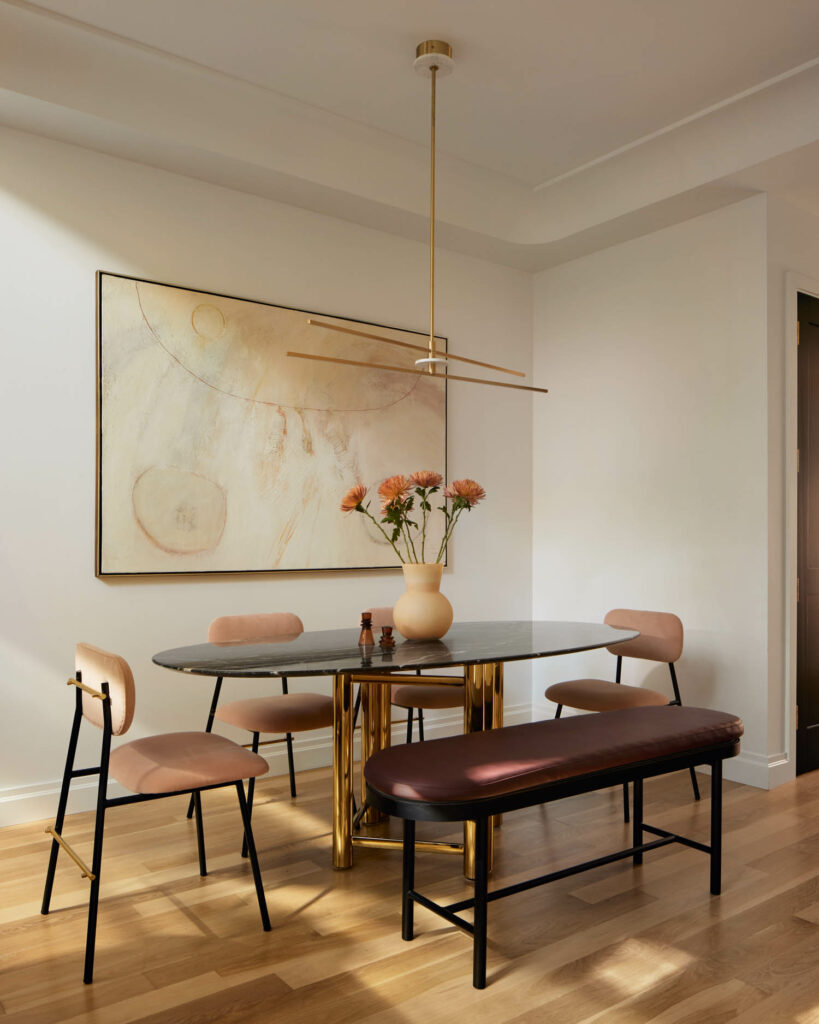 Design Details Abound in This Brooklyn Brownstone