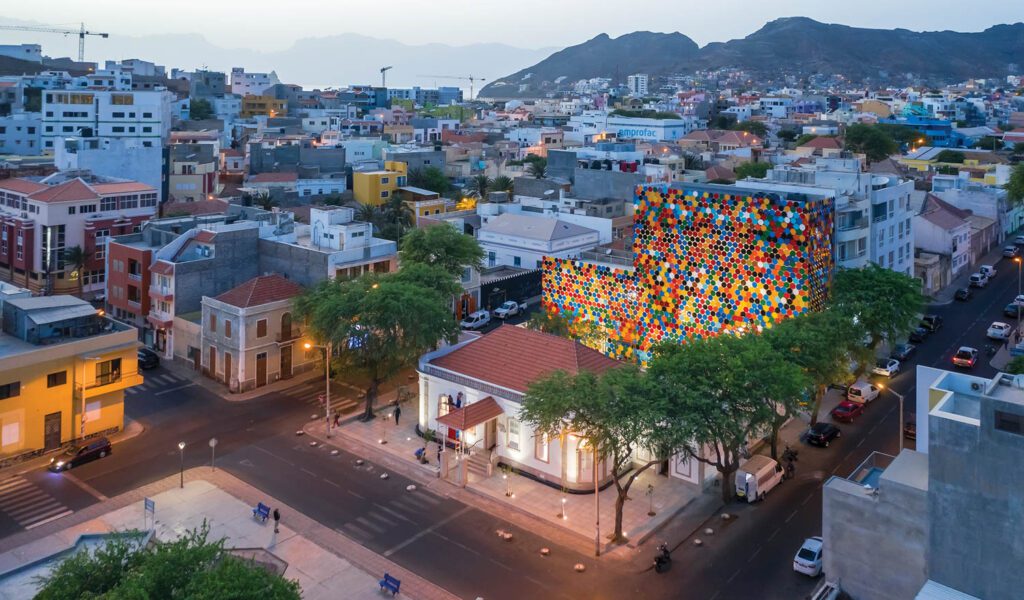 A Destination-Worthy Addition to a Cape Verde Museum
At about $3 per piece, lids from the steel barrels in which many products are shipped to Cape Verde, an archipelago of 10 volcanic islands off West Africa, were the mother of invention for an addition to the National Center for Handcraft, Art and Design (CNAD). Scores of the multicolored lids, configured into a brise-soleil, populate three sides of the addition, which is in Mindelo, the largest town on the island of São Vicente. The adjustable screen blocks the tropical sun while admitting cooling ocean breezes inside.
More than a functional sunshade, the polka-dot carapace has become a national icon. It also displays, almost like a billboard, the ingenuity, cultural relevance, and ecological thrift regularly practiced by Ramos Castellano Arquitectos. "Everything that comes onto the island arrives in a container or a barrel," co-principal Moreno Castellano says. "So we made the addition a container for culture, art, and craft by using a material that's important for our country."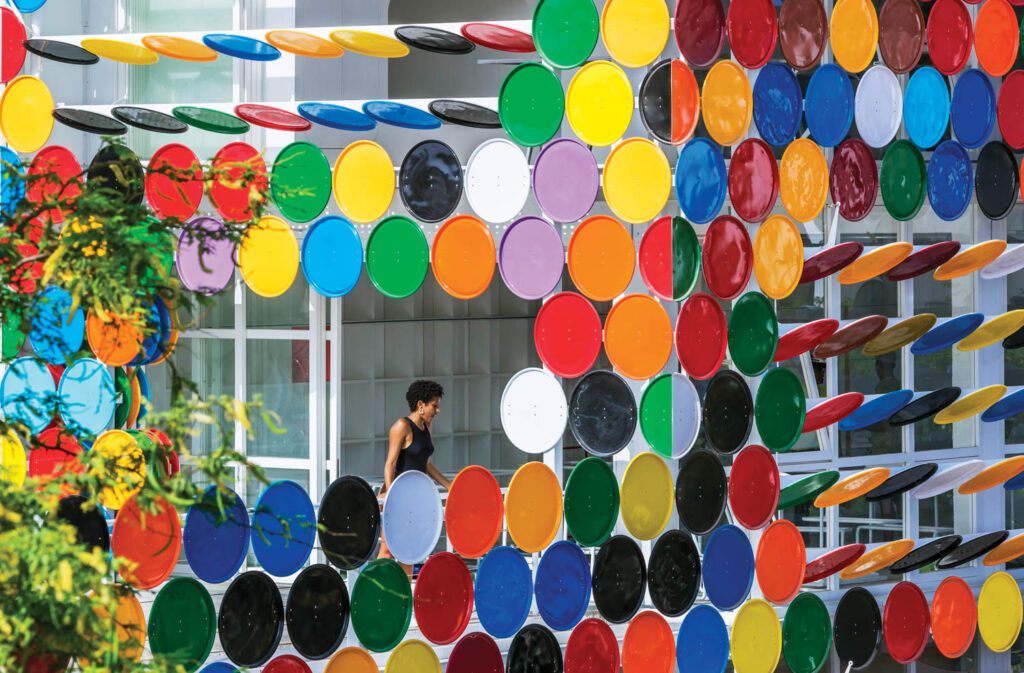 A sustainable approach to the National Center for Handcraft, Art and Design
Working with local labor, Castellano and co-principal Eloisa Ramos produce homegrown designs that are no less sophisticated for often being built from recycled materials, even scrap. At the modest end of the architectural food chain, the firm punches way beyond its weight, achieving a grass-roots architecture of international stature remarkable for its authenticity, invention, and can-do spirit. Castellano, who is also an artist, professes to use architecture and art "as a social revolutionary tool."
Trained in Portugal, where Ramos, a native of Mindelo, and Castellano, a native of Sardinia, met in architecture school, the young architects focus their design literacy on solutions as simple as cross ventilation. Their budgets for eco hotels and walk-up apartments built on in-fill urban lots are, characteristically, slim to meager. But they make the most out of the least as a matter of conviction, and practice financial ecology by avoiding a dependency on imported technologies and materials, preferring, for instance, not to order HVAC systems from Europe, which would rely on parts bought at punishing exchange rates.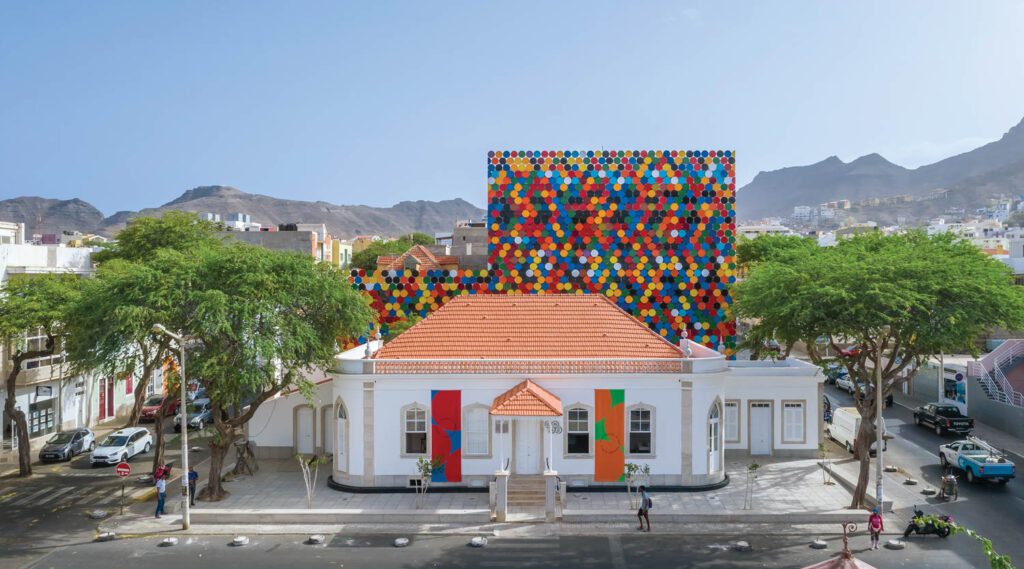 Ramos Castellano Arquitectos draws inspiration from local materials
The architects employed local workshops, most within walking or biking distance of their office, to sand, polish, and spray-paint the lids and fabricate the steel armature for the brise-soleil, which opens and closes like a louver. Speaking of their simple, "common sense" building strategies in an island culture, Ramos says, "Materials are our helpers. They allow us to do what we do where we practice." What is considered "precious" is a matter of judgment, she continues, and lowly materials like the barrels are treasurable since they enabled a practical, affordable, visually effective solution transformed into a cultural symbol.
The CNAD commission involved remodeling and restoring a gracious, 5,000-square-foot colonial-era house located on a prominent square. For the addition, Ramos and Castellano conceived a narrow, five-story building that sits on the footprint of a demolished shed in the adjoining backyard lot. Comprising basement archives, two floors of tall galleries, a third-floor library, a workshop and artist's residence on the fourth level, and offices on the top, the 11,500-square-foot structure is only one-room deep—a mere 22 feet wide, including the brise-soleil, down its entire 109-foot length. The architects recast the backyard as a patiolike public square linking the old and new buildings and functioning as the museum entry.
Transforming a Cape Verde museum into a cultural icon
The 24-inch-diameter barrel lids served as a module on which the dimensions of the concrete-frame building are based. Ramos and Castellano avoided using concrete block—so ubiquitous in "emerging" world construction—because "fabricators often remove sand from beaches," Castellano explains. "Architecture can amount to a strong force and our philosophy is to keep structures light, to find a balance with nature, and integrate buildings into the ecosystem."
Ramos Castellano designed almost all the center's furniture, including tables, seating, and shelving in the library, and had it manufactured by neighborhood craftspeople. A steel barrel (cost: $5) was split open to create the flat planes of the multicolor reception desk; with its faded lettering and rusty patina, the construction resembles a Robert Rauschenberg assemblage. The brise-soleil not only allows air to flow through windows punched in the rear wall but also casts rotating patterns on the polished concrete floors, turning them into kinetic art. The lids generate music, too: The architects invited Vasco Martins, a Cape Verdean composer of the John Cage persuasion, into the project, and he ascribed a note to each disk based on its color, creating a sound work of chance and accident. "Music and architecture have a synesthetic relationship; they share a sense of space," Castellano observes.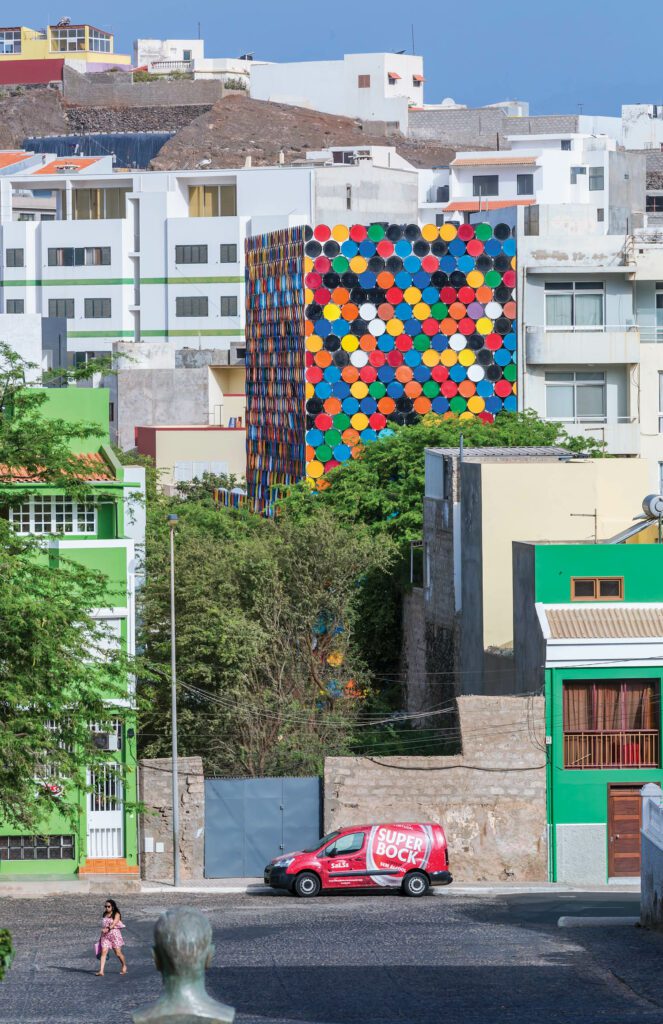 Could this little museum's joyous architectural music prove to be Cape Verde's siren song? "We wanted to achieve a Bilbao Effect," Castellano acknowledges, "to demonstrate that even on this small island in the middle of the Atlantic, you can build things that spread around the world, to counter the feeling that only the most developed countries with the most developed economies can generate amazing architecture." Francis Kéré did it with his Gando primary school in Burkina Faso, at the very heart of Africa; Ramos and Castellano's CNAD addition may well do the same for this tiny nation some 400 miles off the great continent's coast.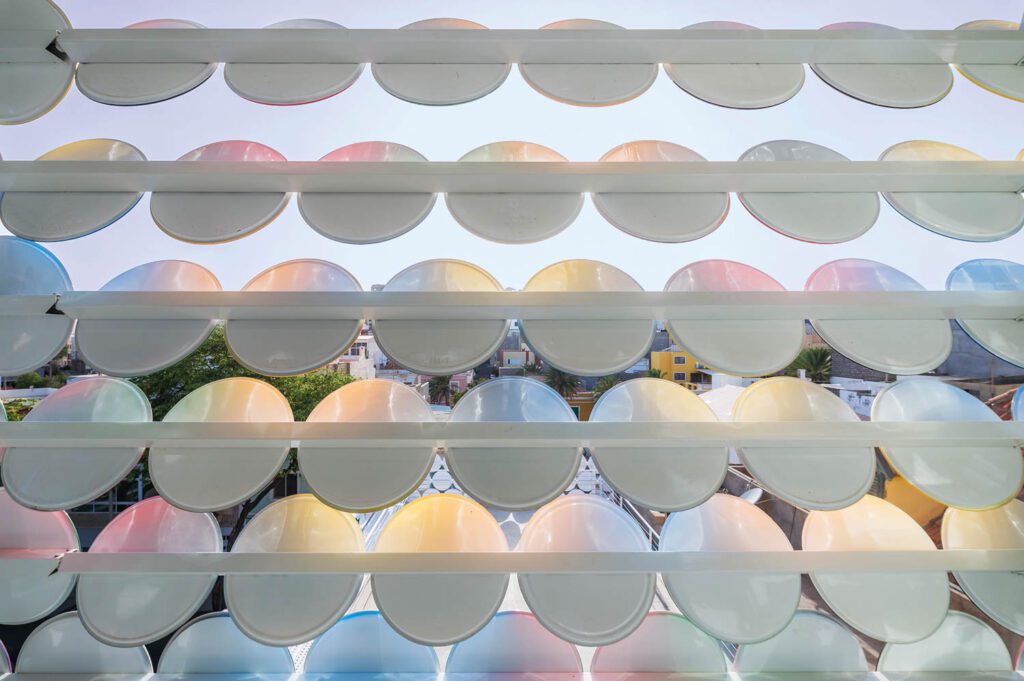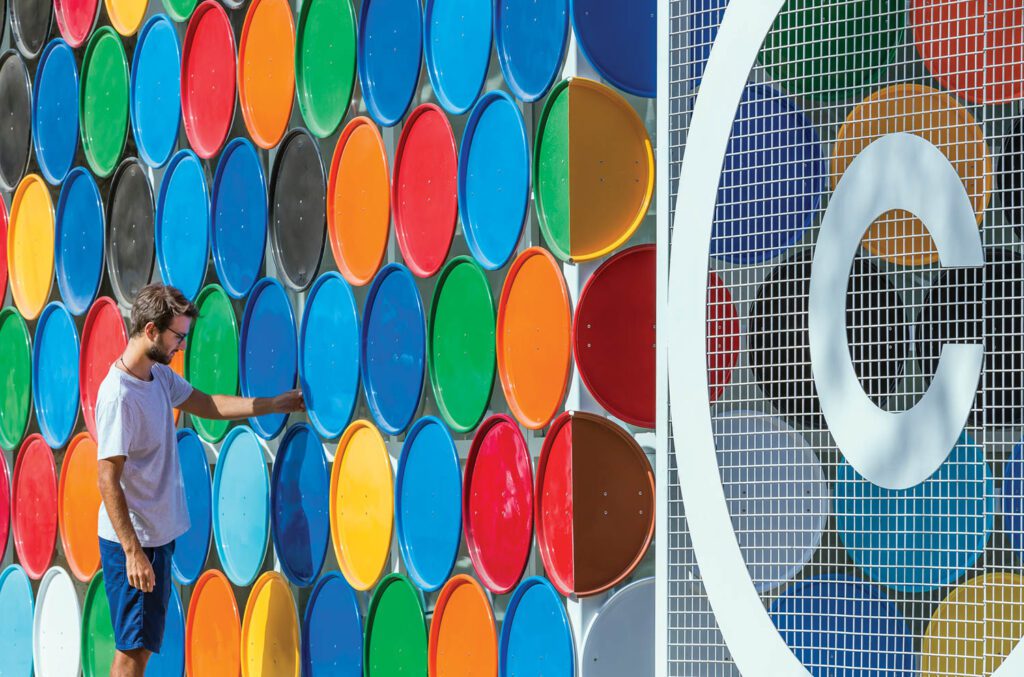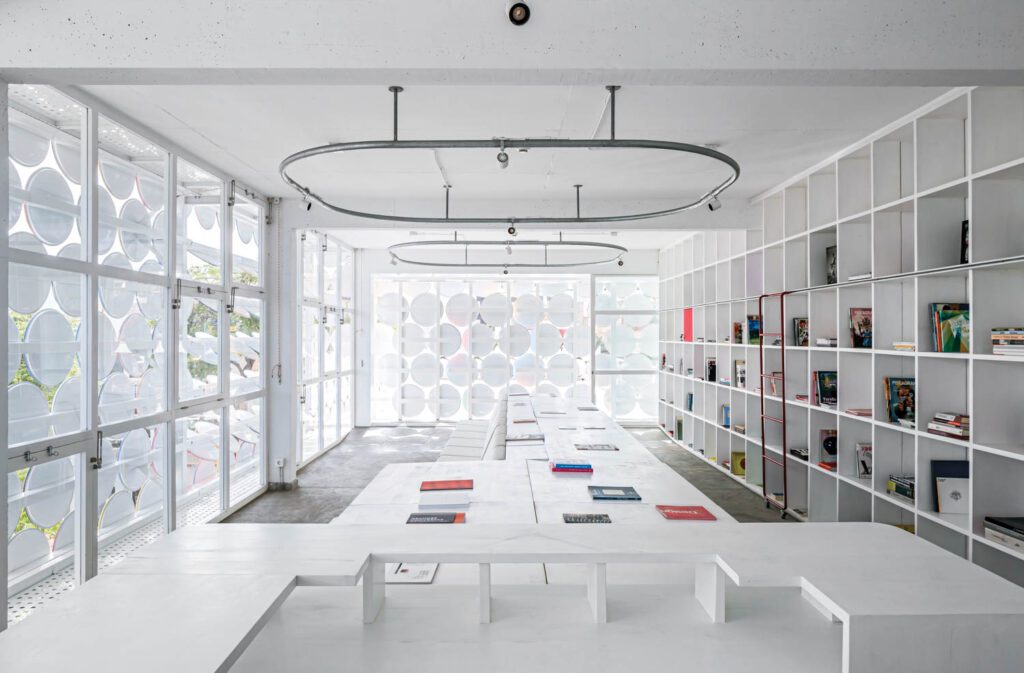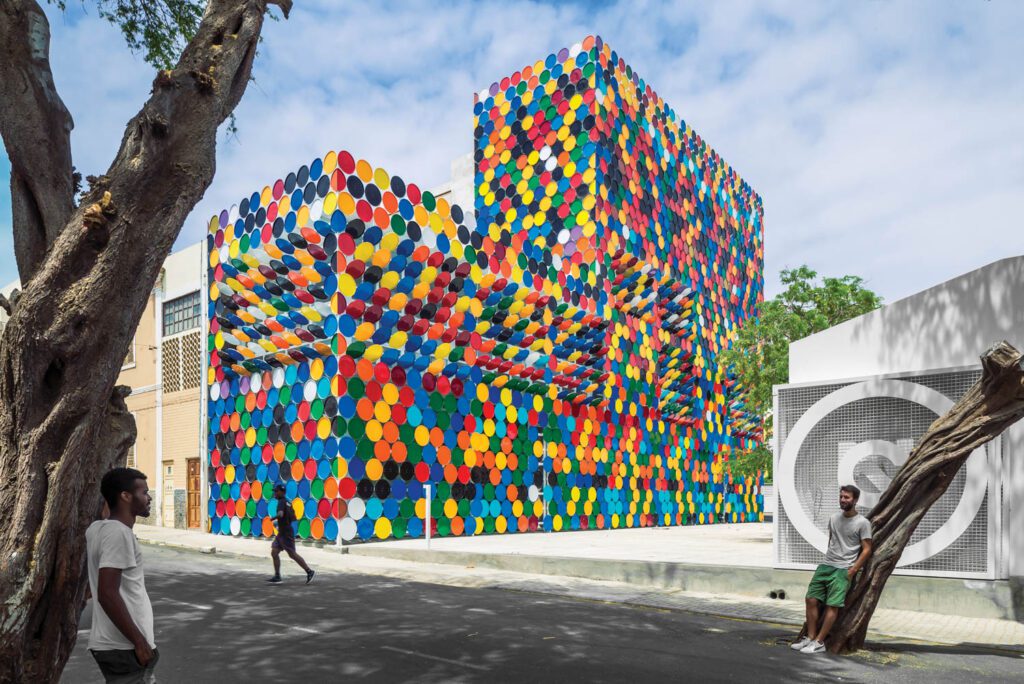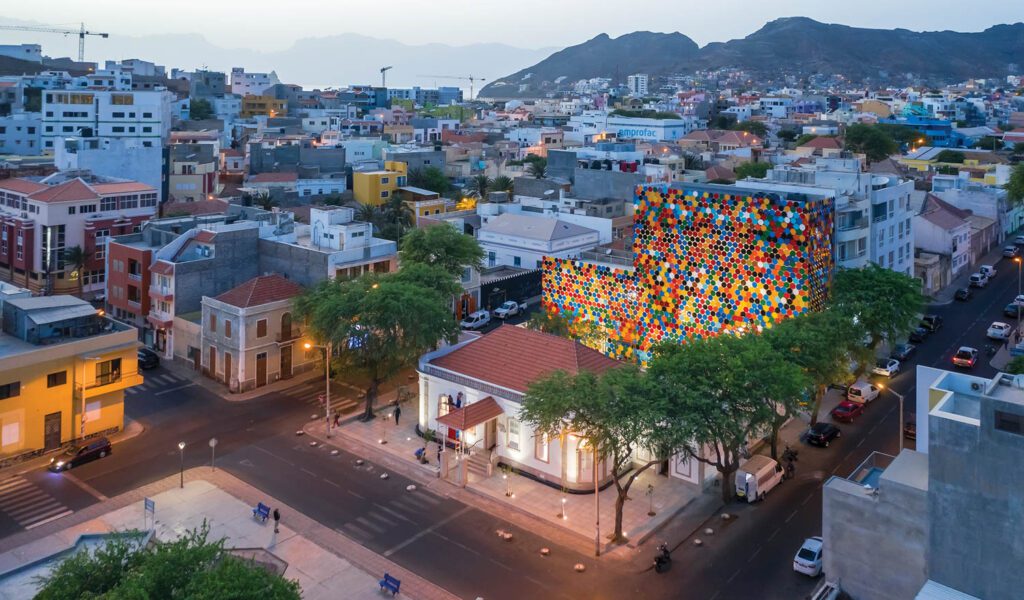 PROJECT TEAM
PRODUCT SOURCES
THROUGHOUT