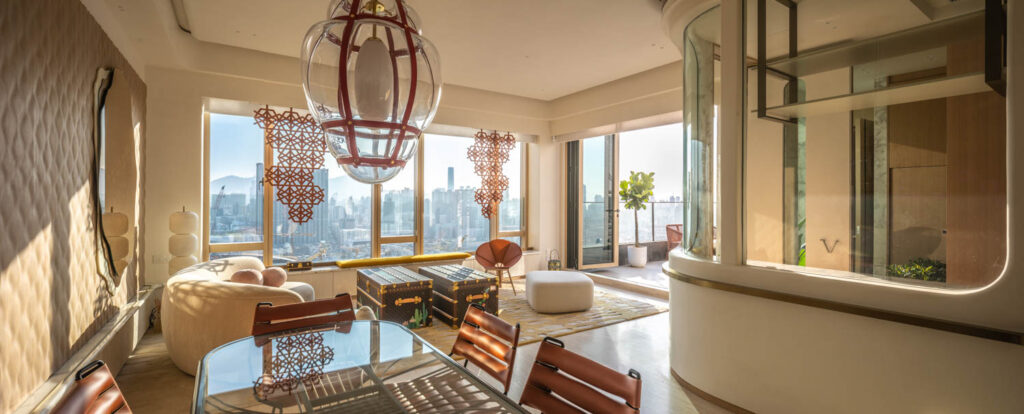 Custom Furnishings Define a Penthouse Apartment in Hong Kong
For the penthouse apartment of a luxe housing development in Hong Kong, multi-disciplinary studio Cream was given ample creative freedom. The developer asked the firm, which is led by creative director Antony Chan, to bring their own vision as they refreshed and furnished the apartment, including the roof terraces. The 1,550-square-foot apartment includes four bedrooms. Outdoor space is nearly another 1,000 square feet, and the terraces includes a glass-fronted swimming pool.
The development's existing architecture presented floor-to-ceiling windows that brought in abundant natural light and urban vistas. "I love the energy and inspiration of the natural elements such as sun, light, and the sea view," Chan notes. And at sunset, the light "created a magical and atmospheric ambiance." Cream added Marcel Wanders's Diamond Screen to maximize the sunlight and create a play of light and shadows throughout the lounge area. The screen, part of Wanders's Louis Vuitton Objets Nomades collection, is complemented by hand-painted LV trunks nearby.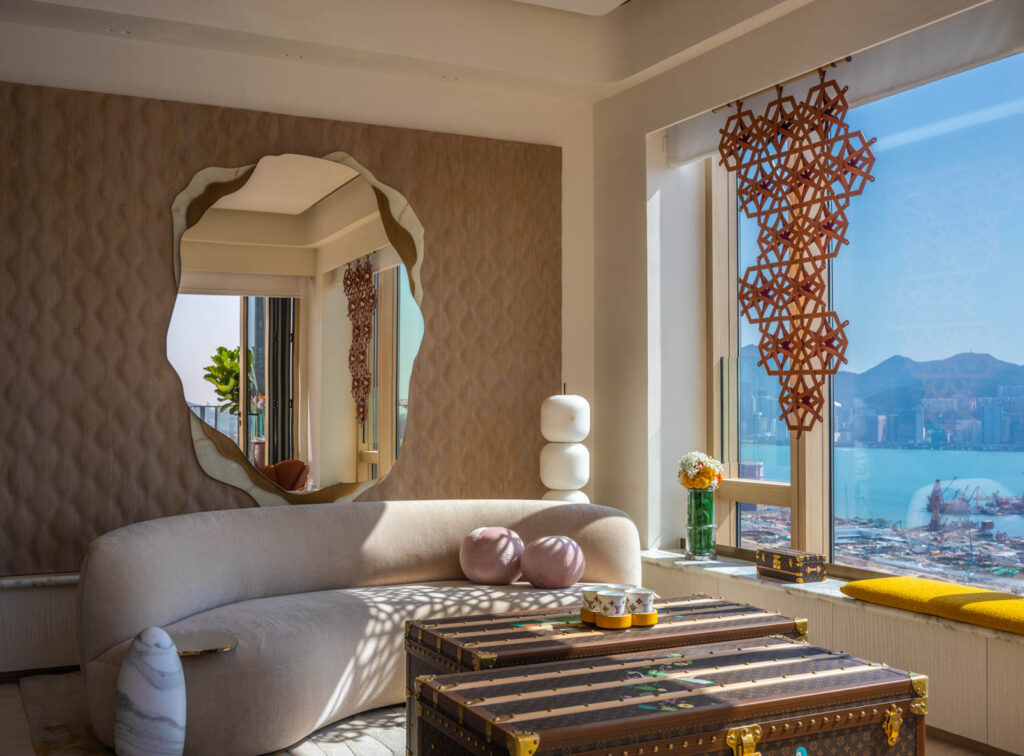 The firm's custom pieces stand out in the apartment. In the dining area, a three-dimensional oak feature wall adds visual interest and commands attention. A narrow hallway has been softened by oak paneling above the doors and beneath the window. In the primary bedroom, a natural and painted oak screen defines the wall behind the bed. The elements of the screen form a galaxy pattern, as if sleeping outside among the stars. And a wall-hung oak secretary desk with a gold-tinted mirror is both elegant and whimsical. The desk's design is meant to evoke the number eight—considered good luck in Chinese culture. Other custom furnishings include a glass-topped dining table, sun-inspired carpets, and an oak-and-marble console table.
Perhaps the most dramatic "custom touch" is a curved glass opening that connects the dining area, living area, and terrace garden. The architectural invention opened up a confined space, transforming the living area into a more expansive environment. The glass opening further highlights the windows and views of the apartment. The apartment is a refuge, but the views keep it connected to the urban energy of Hong Kong.