Standout Projects by 2023 Hospitality Giants Reflect Their Locales
After a quiet stretch for hospitality design during the pandemic, INTERIOR DESIGN's 2023 Hospitality Giants report calls for celebration. With project numbers increasing and projected to continue rising to figures healthier than pre-COVID numbers, the sector's uptick is well on its way.
Take a look at three projects from this year's Hospitality Giants report that showcase the desire for experiential hotels, restaurants, and everything in between.
Hospitality Design Projects From Manhattan to Bahrain
A Boutique Hotel Draws on a Manhattan Neighborhood's Local Flair
Stonehill Taylor, Workshop/APD, and MVRDV
Washington Heights, located way up at the northern tip of the island, is known for its parks, food, and community. Now, it has its first-ever boutique hotel. Designed by MVRDV and Stonehill Taylor, Radio Hotel's exterior is comprised of LEGO-like "blocks" in bright primary colors, anchoring a mixed-use development that includes a Santo Domingo-inspired restaurant, dedicated event space, office and retail space, courtyard, and a rooftop lounge. As for the hotel itself, it boasts 221 rooms and suites that draw on the neighborhood's own local flair, with interiors from Workshop/APD. Read more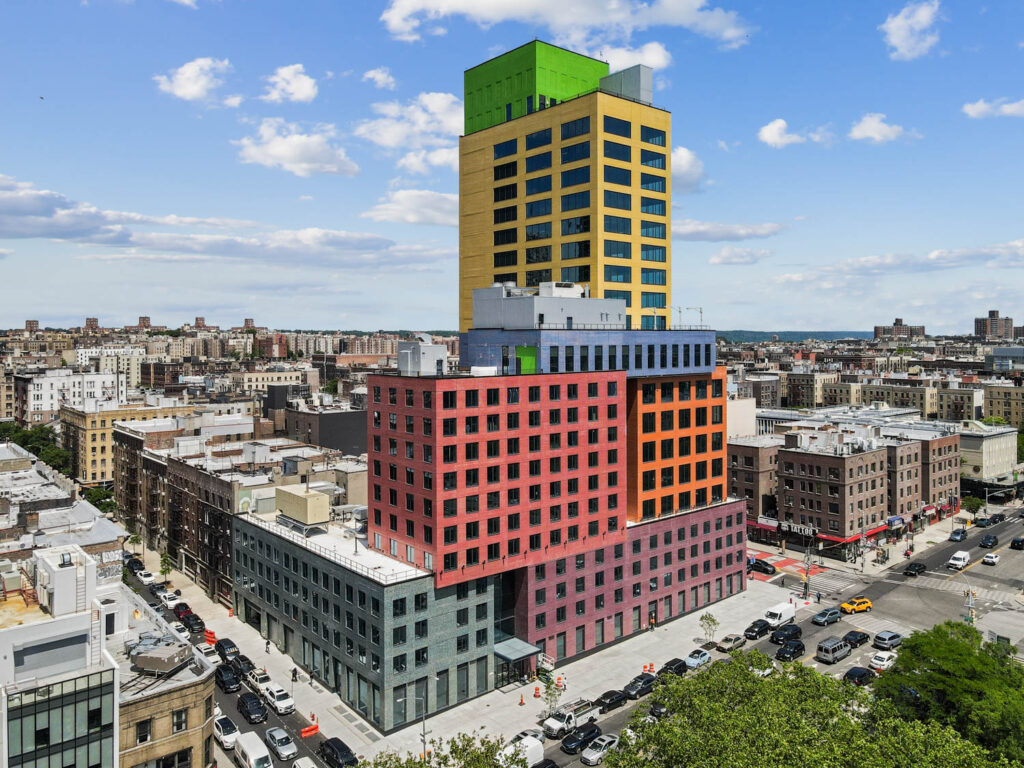 Southern Hospitality Abounds at an Atlanta Hotel
KTGY Simeone Deary Design Group
KTGY Simeone Deary Design Group drew on Georgia State symbols such as the peach, the honeybee, and the Cherokee rose to bring design cohesion and a strong sense of regionalism to the InterContinental Buckhead Atlanta. The vibe is well-bred meets well-traveled: Guests enter the lobby, awash with the tone of a formal yet welcoming manor house; the design of rooms and suites embodies the archetypal southern belle, with channel-tufted emerald-velvet headboards and sofas as well as the rugs' lacelike floral patterning; and the presidential suite evokes the masculinity of southern gentlemanliness via chocolate-brown hues, tailored upholstery, and geometric elements. The space deftly balances elements of both warmth and sophistication, nature and culture. Read more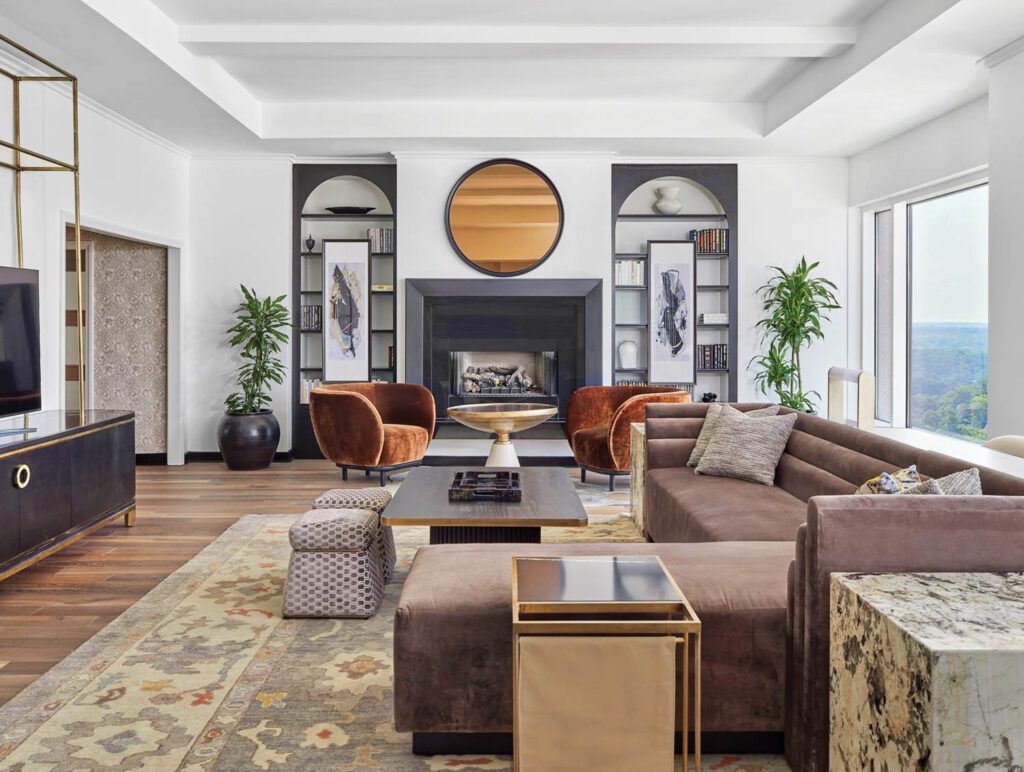 A Luxurious Airport Lounge in Bahrain
Champalimaud Design and Tony Masters Design
Refined New York firm Champalimaud Design, spearheaded by Interior Design Hall of Fame member Alexandra Champalimaud, was invited by Australian travel specialist firm Tony Masters Design to partner on an airport lounge competition entry in Bahrain. The 29,000-square-foot Pearl Lounge in the new billion-dollar Bahrain International Airport terminal incorporates traditional Arabic hospitality with a host of intimate spaces including a café, bar, and restaurant. Five-star hotel amenities dovetail with nuances of regional hospitality: Rosewood and gold-plated details on cozy wingback chairs; snakelike sofas recall traditional majlis seating areas and help to facilitate a natural flow of foot traffic. Of course, all 450 seats include smartphone charging ports for travelers in need of a boost. Read more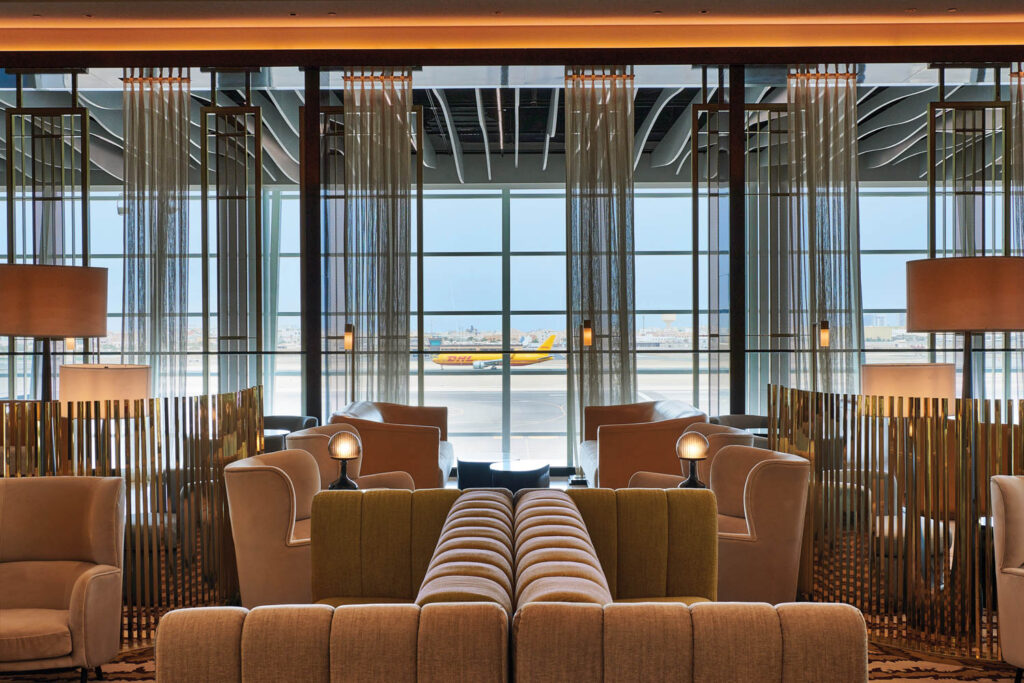 ---
Read more hospitality design projects: Hospitality Design Projects Featured on INTERIOR DESIGN, The 2023 Hospitality Giants Report, An Updated Sedona Spa, The Renovation of the Historic Georgian Hotel
---