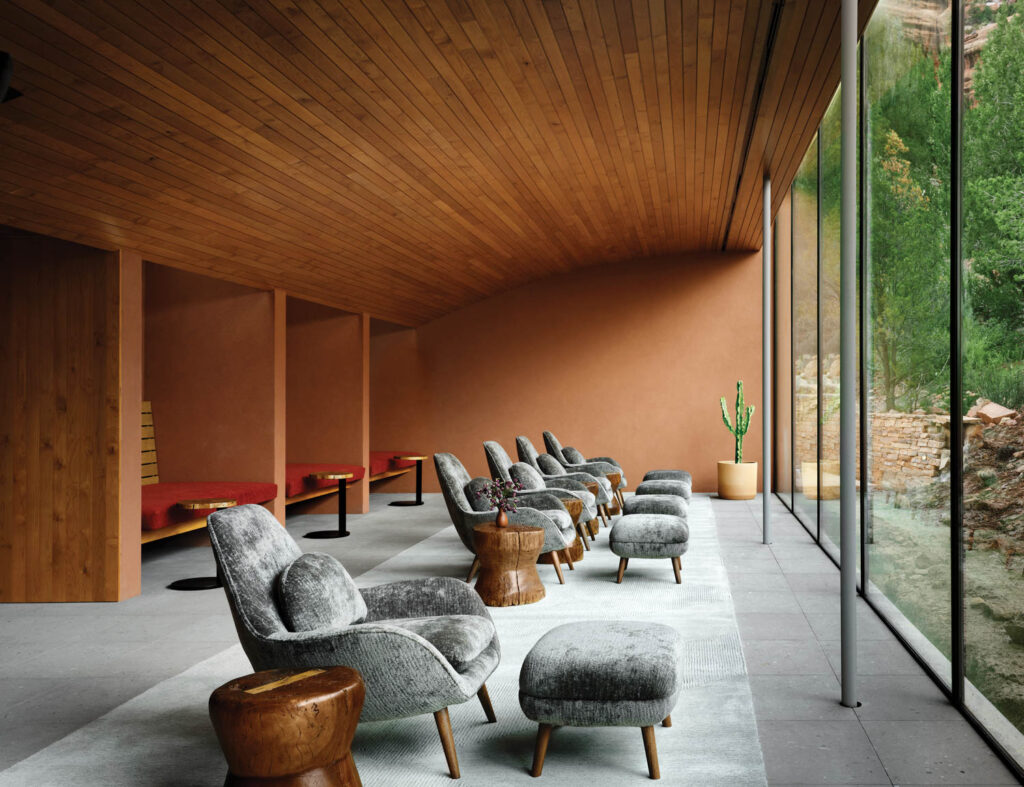 Unwind in this Updated Sedona Spa Surrounded by Red Rock
The Arizona desert town of Sedona is sometimes referred to as the New Age Capital. It's a longtime mecca for yogis and spiritual seekers, thanks in part to its otherworldly landscape of striated red-rock formations. That's why Enchantment Group, the Scottsdale-based resort-management company, decided to open Mii amo—one of the country's first destination spas—there in 2001, and why Gluckman Tang Architects decided to put its concept for the project entirely in the service of one goal: highlighting Sedona's beauty. "It's so awe-inspiring and transporting," says architect Dana Tang, who's now a partner at GTA but had only been with the firm three years when she first began work on Mii amo. "Back then, we looked to create a building that didn't compete with that, that prioritized a sense of place in the canyon—really a frame for a visitor's experience of the natural surroundings." The approach paid off, with Mii amo becoming known as one of the top spas in the world. But 20 years of runaway success ultimately left the 16-key property in serious need of expansion and updating. This past February, it reopened after a two-year, $40 million renovation, led by GTA, with FF&E by EDG Interior Architecture + Design.
Inside, she focused on using strategically placed glass walls to maximize views, and adobe brick, river-rock floors, and local woods to blend in with those views. "The style was in the background," EDG president and CEO Jennifer Johanson begins. "It wasn't the kind of place you'd walk into and think, Oh wow, that's an amazing interior. It's more like you really feel the power of this place." That feeling was heightened by GTA's very intentional, James Turrell-inspired approach to light, with skylights, wall cutouts, and colonnaded fin walls employed to showcase the desert sun as it changed throughout the day, or across seasons.
Mii amo, a Destination Spa, Undergoes a Design Refresh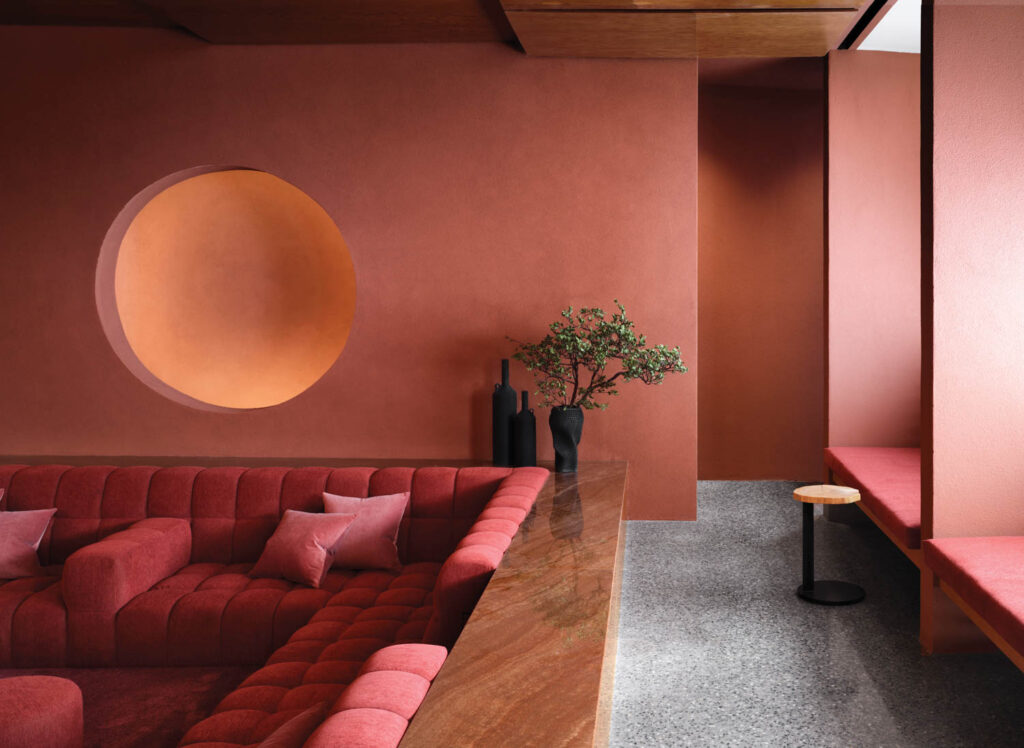 Even spaces that received the most dramatic overhauls in Mii amo's makeover stay true to those objectives. In the property's central living room—above a new onyx-framed, dusky rose–upholstered conversation pit retrofitted into the footprint of a former indoor pool—GTA created a moon-shaped wall cutout that's illuminated from behind by shifting natural light, somewhere between an artwork and a primitive timepiece. "The circle also symbolizes completeness and wholeness," Tang notes. The spa's restaurant, now called Hummingbird, was enlarged, opened up to the canyon views via a new glass expanse, and updated with canted walls and a coffered wooden ceiling that creates a more interesting and dimensional interplay with the light. And in the added and renovated guest rooms, bathtubs are now set beneath huge picture windows and surrounded by textured, fluted porcelain tile that also recurs in the revamped spa areas. "You're in this rugged landscape, so having smooth tile didn't seem quite right," Tang adds. "The porcelain's texture references the way the water carves the rocks in the canyon." Even the movement and contemplation rooms are understated spaces oriented toward floor-to-ceiling views, first of a new relaxation garden filled with native plantings, and then of the canyon beyond.
The Resort Features More Space for Guests and Spa Services 
While the renovation expanded the resort's footprint by more than 70 percent, which includes the addition of seven more guest rooms— housed in three freestanding casitas—and an expanded spa building that now features a fitness wing, bringing the total square footage to 57,000, both firms hewed closely to the spirit of the existing building, which was meant to be as spare and reductive as possible. Its exterior was imagined as a minimal take on the local pueblo revival style, with red stucco walls echoing the rich hues of the canyon and a striking cylindrical element painted blue to mirror the sky. (In fact, Tang required members of her team, some who began designing the original Mii amo 25 years ago, to mountain-bike and hike the Sedona trails together to kick off the renovation project.)
When it came to furnishing all those spaces, EDG was likewise tasked with keeping everything as calming and essential as possible, from the goat-hair and wool carpets to the natural artifacts appointing the guest rooms. The repetition of identical chairs in the living and contemplation rooms further lessens visual noise, reminding spa-goers that, Johanson says, "They're united in this journey, even though it's individual." Nearly all the furniture throughout is custom, by the way, save for EDG's selection of Patricia Urquiola chairs in the restaurant and casita blankets by a Cheyenne artist.
At the start of the project, Johanson and her team harvested a set of natural material samples directly from the canyon to develop their palette around, and, with GTA, often chose final textiles and paint colors on-site, against the backdrop of both the building and its surroundings. Johanson says they had to practice an unusual amount of restraint for the project, abandoning their typically more layered approach and continuously paring back their designs to cede to the landscape as the star of the show. "It was a seesaw where we'd do something and then say, 'No, that's too far, let's go back,'" she recalls. "But it was also such a rewarding challenge to try to make the simplest outcome so elegant and so appropriate for this location. When you're in this place you really do feel like you're one with it. It's magical."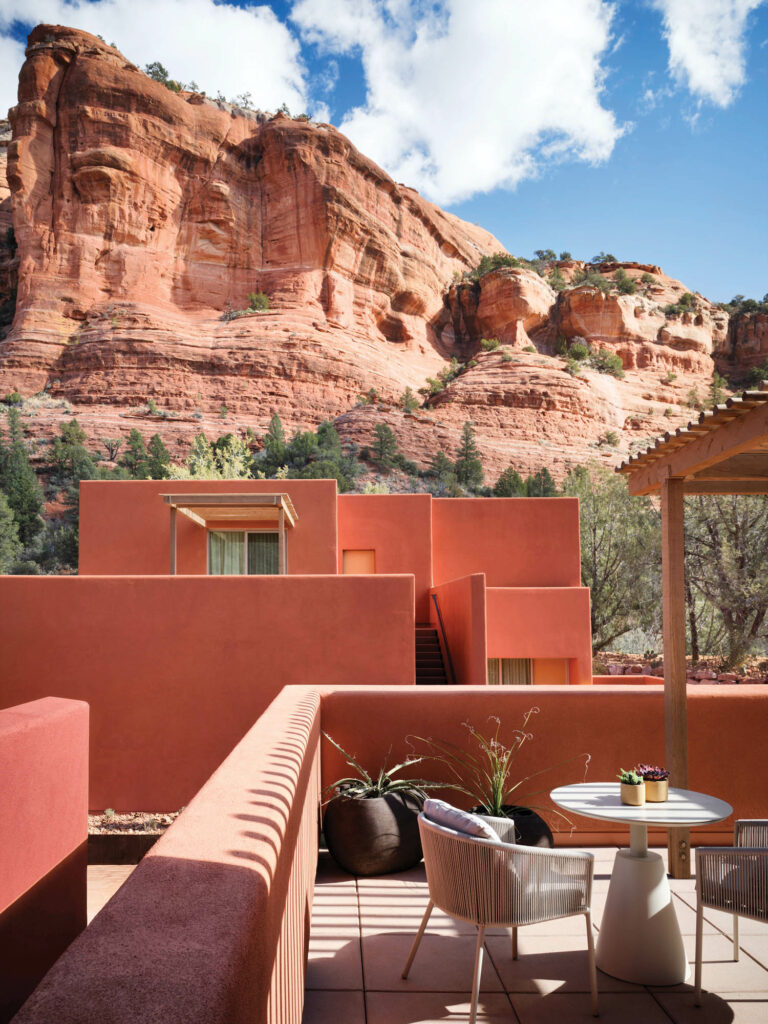 Explore the Sultry Interiors of Mii amo, which Reflect the Desert Sun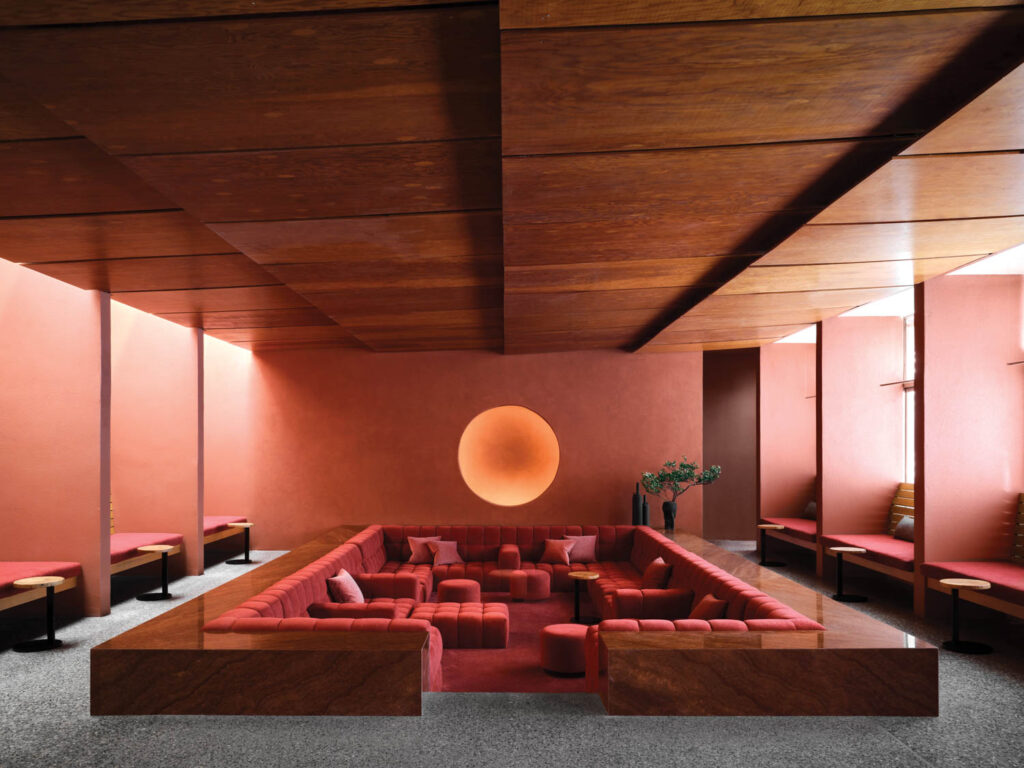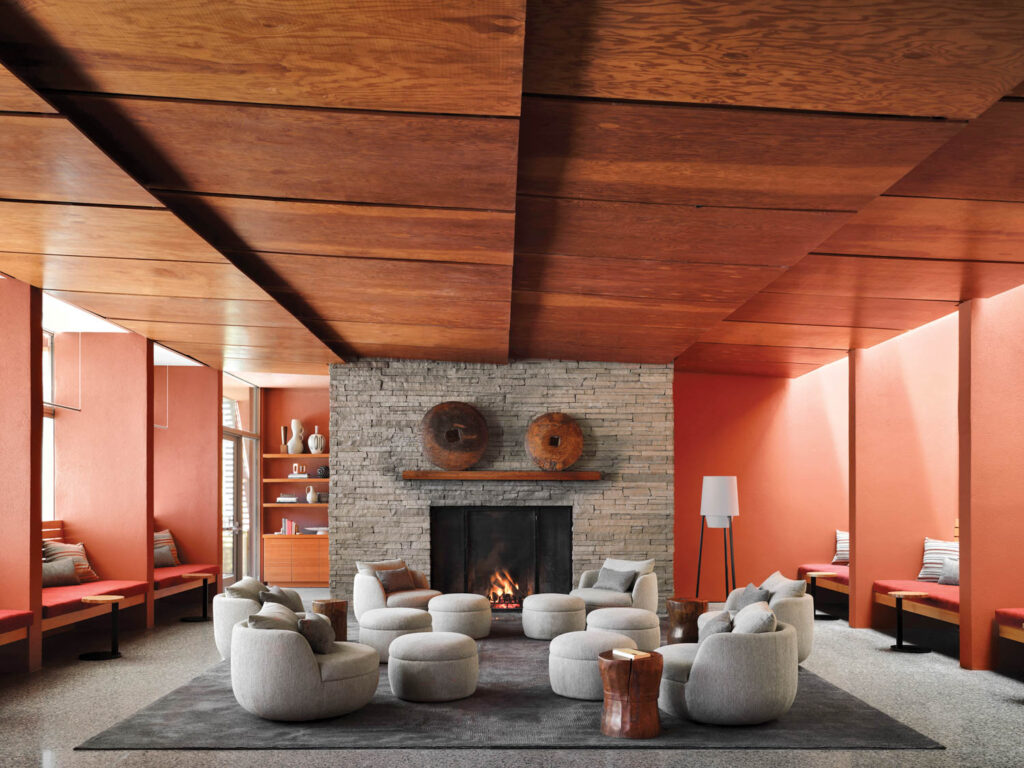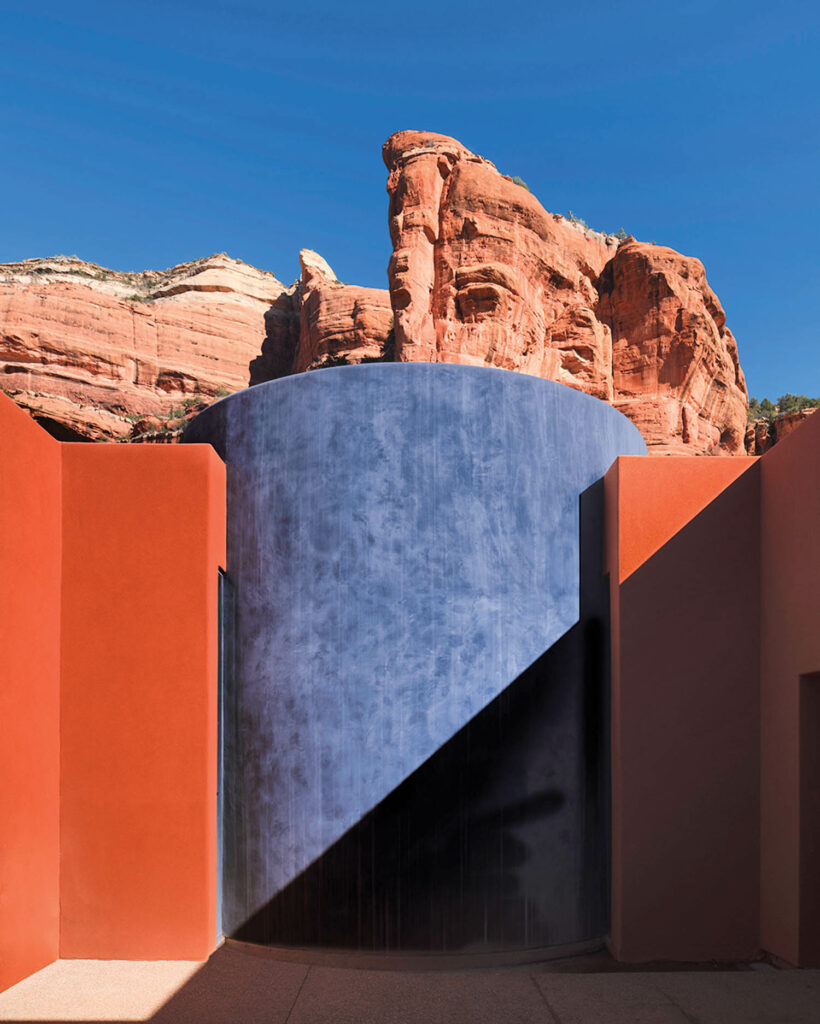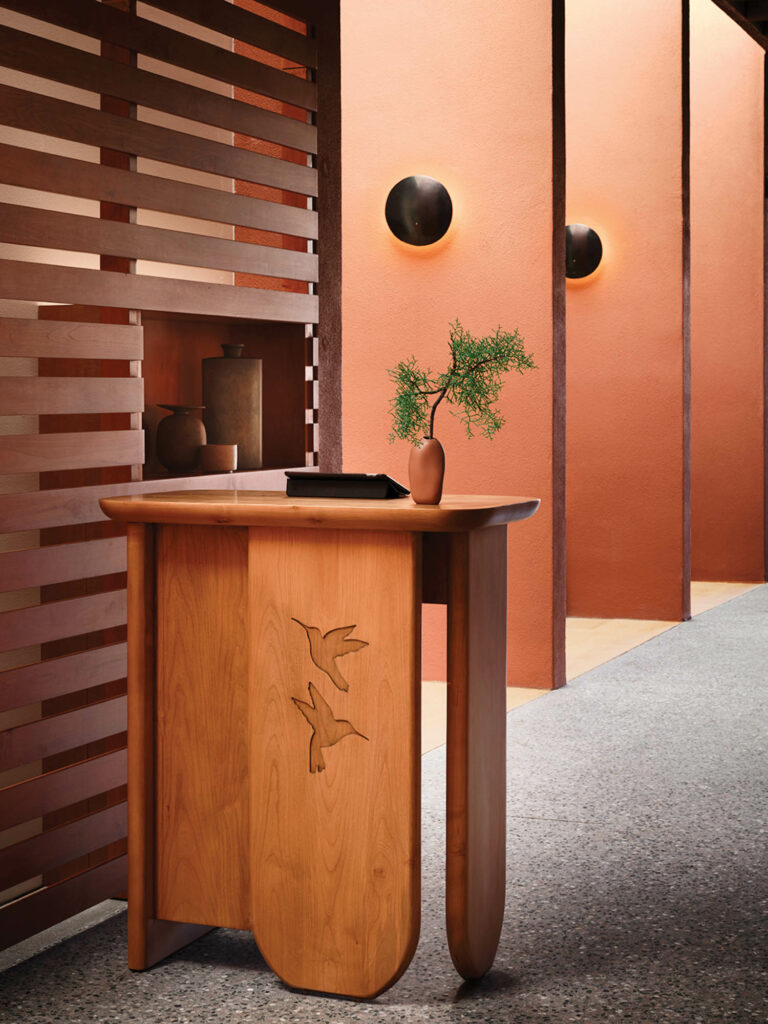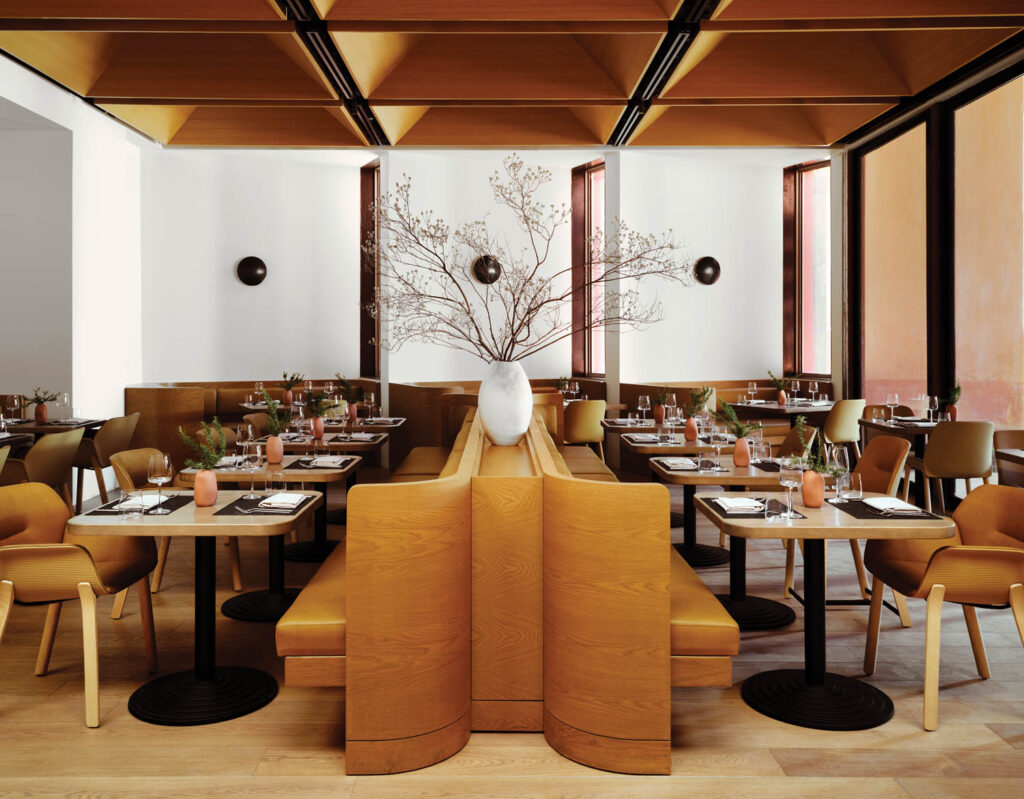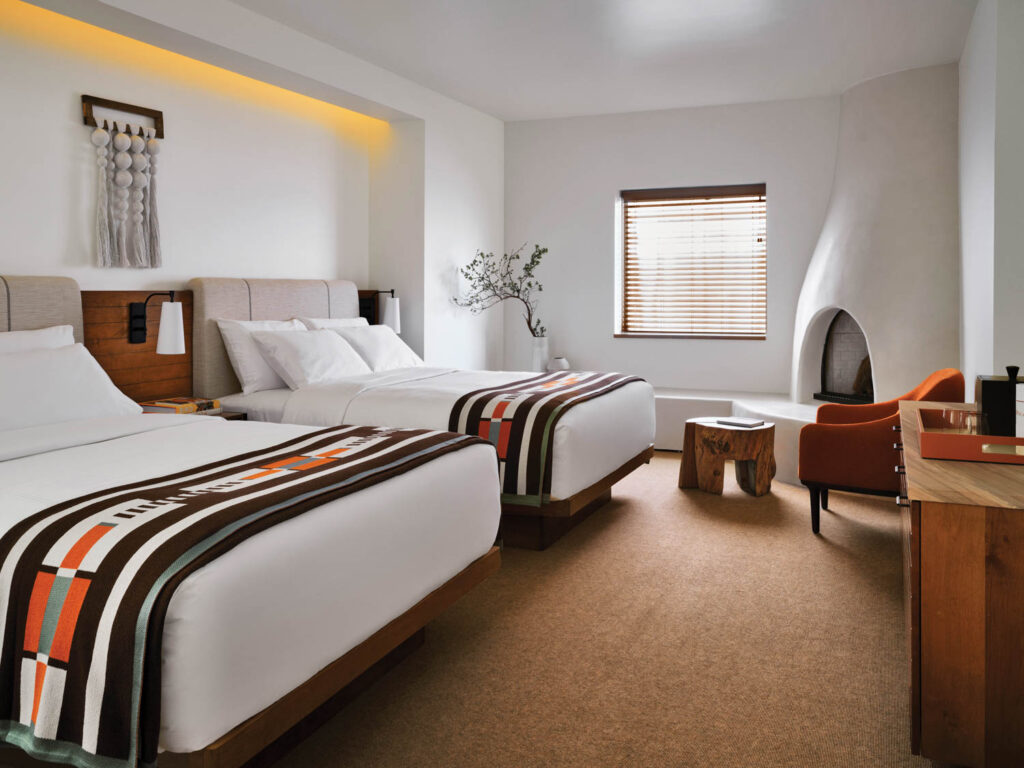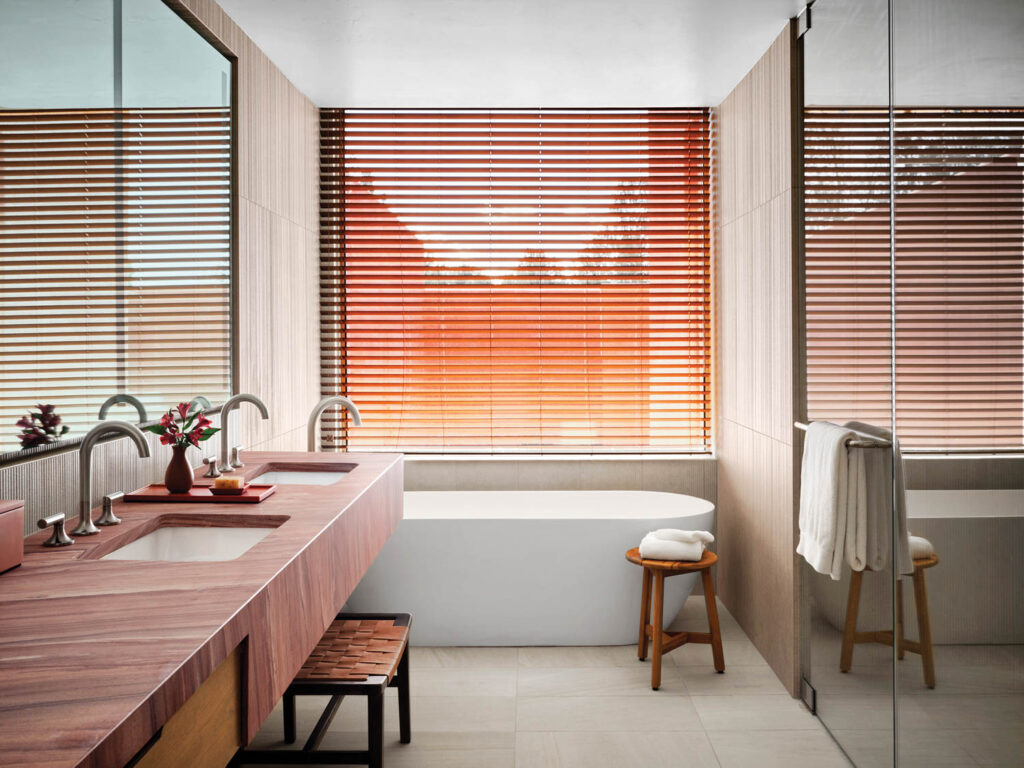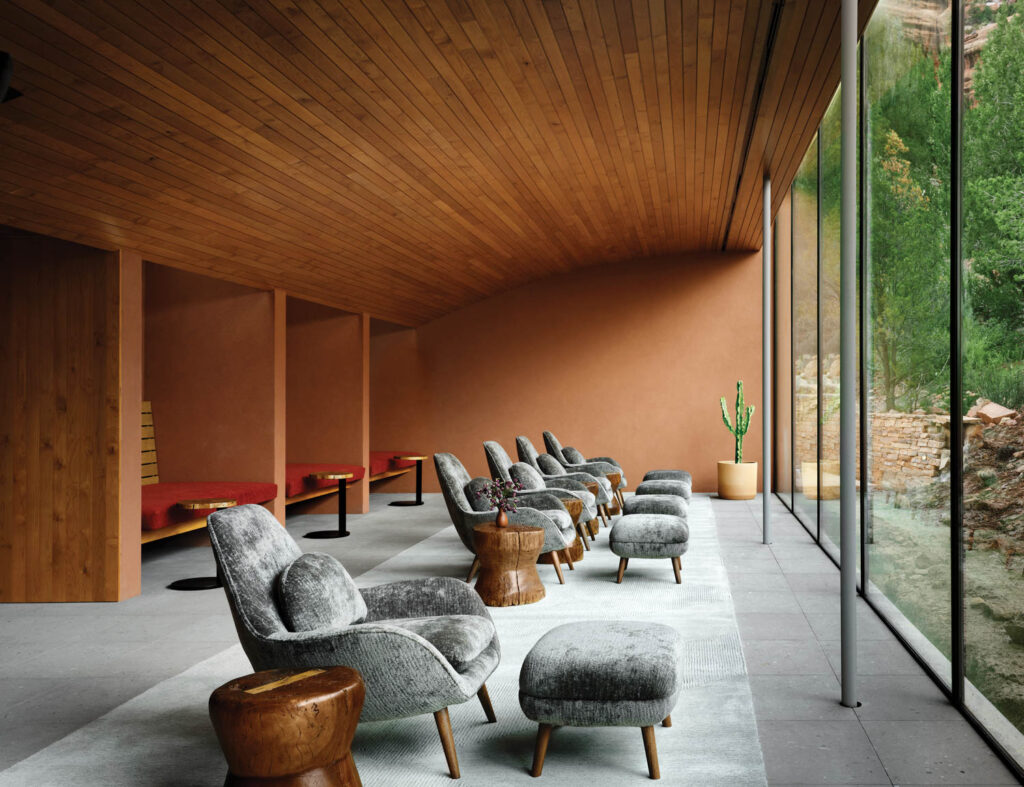 PROJECT TEAM
edg interior architecture + design: jane mcgoldrick; cecily watson; christine anneken; katie everidge; julie compagno; pieter stougaard.
gluckman tang architects: greg yang; mark shahlamian; elena english; astghik danielyan; grant scott; richard tobias.
woodward engineering: lighting consultant.
curate art group: art consultant.
colwell shelor landscape architecture: landscape architect.
rudow + berry: structural engineer.
associated mechanical engineers: mep.
shephard-wesnitzer: civil engineer.
lily jack; ironwood mills; j.e. wood & metal; skypad; woodland furniture: custom furniture workshops.
hopper finishes: custom plasterwork.
balfour beatty: general contractor.
PRODUCT SOURCES
FROM FRONT
good fellas industries: custom cushions (living room, grotto).
brentano fabrics: sofa fabric (living room).
andreu world: chairs (restaurant).
resolute: sconces.
carroll leather; lvl custom upholstery: custom seating upholstery.
source furniture; table topics: custom tables.
glyph haus: wall hanging (guest room).
century industries: custom sconces.
las vegas rock: vanity solid surfacing (bathroom).
through bed bath & beyond: stool.
masayaco: custom bench.
baths of distinction: tub.
swfcontract: blinds.
brizo: sink, bath fittings.
quality & company: custom sofa (suite living room).
akula living: furniture (balcony).
presidential pools: custom spa (spa).
perfect wellness group: sauna.
pierpoint: custom rug (relaxation room).
material bespoke stone + tile: stone flooring.
THROUGHOUT
sherwin-williams company: paint.