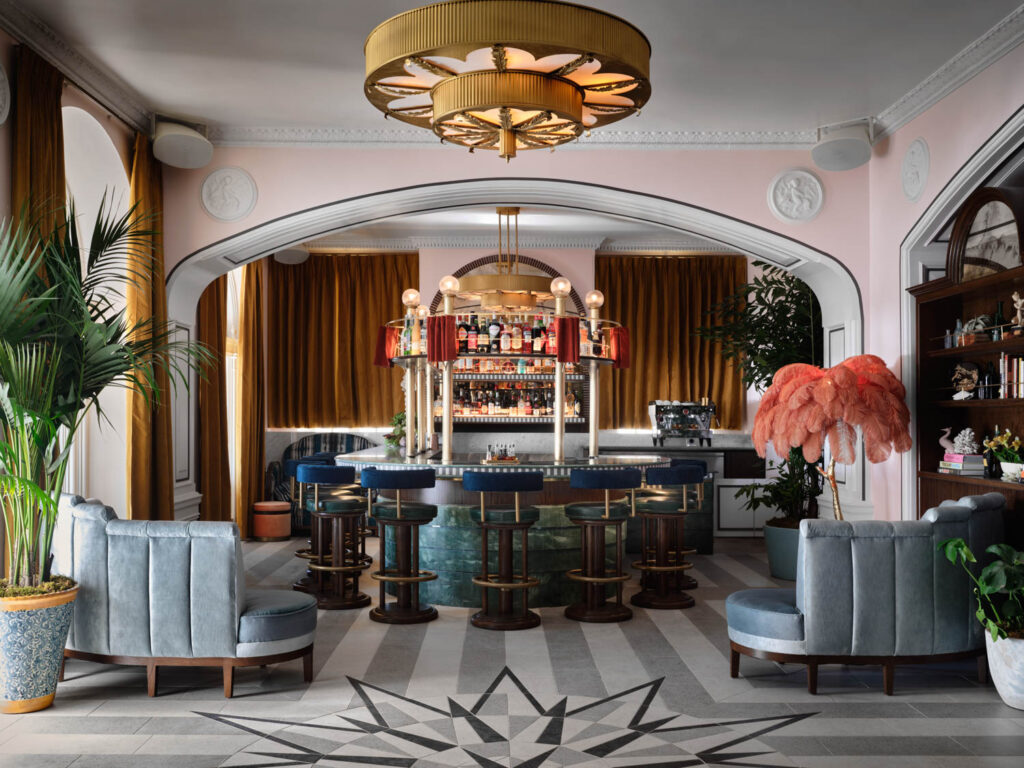 Fettle and BLVD Hospitality Update Historic Georgian Hotel
New in town? First-time visitors may inquire of the ocean-front turquoise gem just steps from Santa Monica's acclaimed pier, but it's hardly a fresh addition. The Georgian Hotel, female-founded by Rosamond Borde who commissioned its architect M. Eugene Durfee, opened its doors in 1933. First, it was a watering hole for a cast of A-listers. Then, World War Il saw it as a draw for servicemen plus engineers, designers, and workers from the nearby McDonnell Douglas aircraft factory. Years passed, as did sales, a remodel in the 1950s, and dimming of the hotel's star. Until Jon Blanchard and Nicolo Rusconi of BLVD Hospitality, developers of Los Angels's Ace and Hoxton hotels, and designer Tom Parker of Los Angeles-based Fettle stepped in. Their first-time collaboration, spanning nearly three years during Covid when the hotel closed for four months, yielded a property sui generis in charm and as quirky as a Wes Anderson film set.
The Georgian Hotel Features a Historic Facade and Updated Interiors
From outside, the 8-story building still reads Art Deco. Little could be altered given its landmark designation by the Santa Monica Conservancy. Inside is another story. While the existing key count of 56 rooms plus 28 one-bedroom suites was retained, everything else is fresh. "It's not really modern," Parker says of the overall mise en scène, "but it's glamorous. We took that from the building's history and story. So, it feels brand new but with a sense of nostalgia." Original moldings, medallions, and archways comprise nods to that past glory.
Re-organization of the ground-floor public spaces to include some out-of-the ordinary amenities preceded furnishings, most of them custom designed and made locally for expediency's sake. In planning, Parker really turned spaces around. Guests are greeted not with the usual check-in station but with the first thing they often ask about on arrival: Where's the bar? No need to inquire. The Sunset Bar, a quartz and marble horseshoe topped by brass light posts and surrounded by marine velvet and leather stools, stands just left of the front door. Meanwhile, dining replaces reception located as it is on the opposite side of the entry. Like the bar, it is centered on an existing arch, and a compass star pattern within two-tone terrazzo flooring is between the two spaces. Simply called The Restaurant at the Georgian, it's loungey—as if part of another era. Channeled, aqua velvet sofas and settees, a tasseled version in rust color, and gold draperies, also in velvet, set the scene.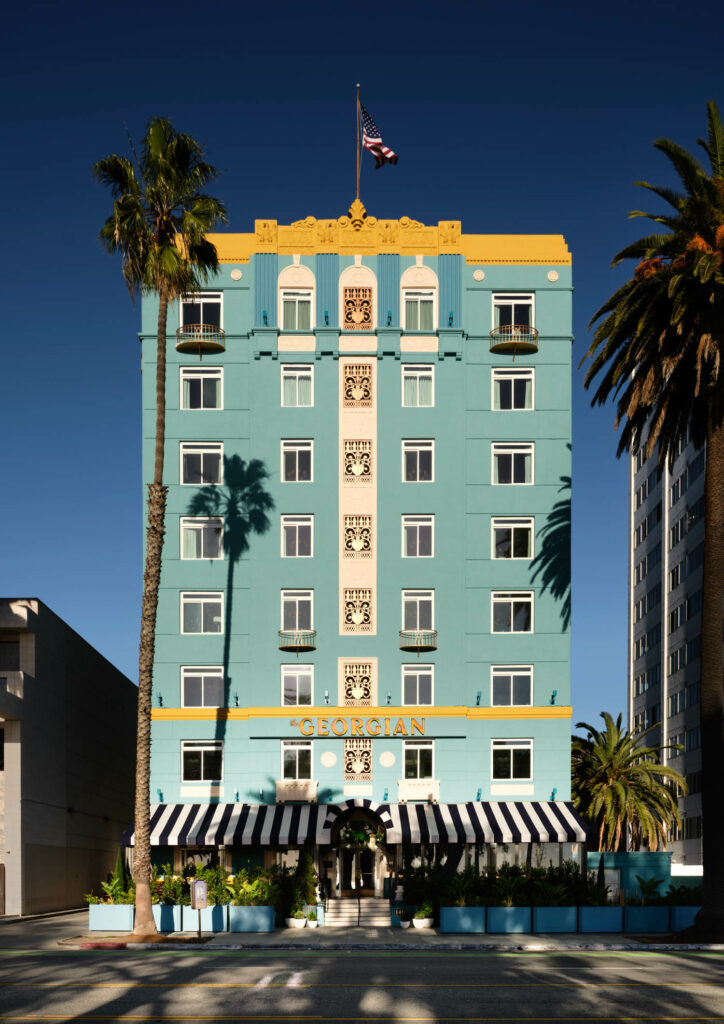 Art Deco Accents and Amenities Abound
Guests need to proceed further inside and ascend a few steps for check-in, at a discreet stand. Before proceeding to their rooms, they might want to explore such amenities as Gallery 33 whose opening exhibition showed paintings by Sharon Stone (yes, that Sharon Stone), the Writers Room, aka meeting room with an old-school typewriter and golf clubs for props, and the deep, crimson-colored library with shelves of curated reading available for check out.
Upstairs, are 12 guest rooms per floor, with a suite of about 650 square feet, in each corner giving city or ocean views. Rugs differ, but otherwise furnishings, including credenzas and beds with Deco-inspired headboards, are consistent. So are such perks as Polaroid cameras with film, Victrola record players for vinyl, and beachy art and photography. Best, however, is the bar. Hardly mini, it's fully stocked complex cabinetry complemented by a room-service call box in case one's favorite champagne is lacking.
The Hotel Design Nods to the Past With Glamorous Dining Options
Come late afternoon (or anytime really) the Sunset Terrace is an optimal spot for tea or cocktails. Newly furnished and elaborately planted, it has sliders to close off or open to ocean breezes for a capacity of 30.
For a real glam dinner that hints at a speakeasy supper club, guests and locals go sub-grade. The Georgian Room really is a music venue. Its massive bar, opposite a line of old-school-style curvilinear and tufted banquettes wraps around a Steinway and small platform stage. Given the décor and Italian-inflected menu, we can't help but hear That's Amore run through our head.
Inside the Georgian Hotel Renovated by Fettle and BLVD Hospitality