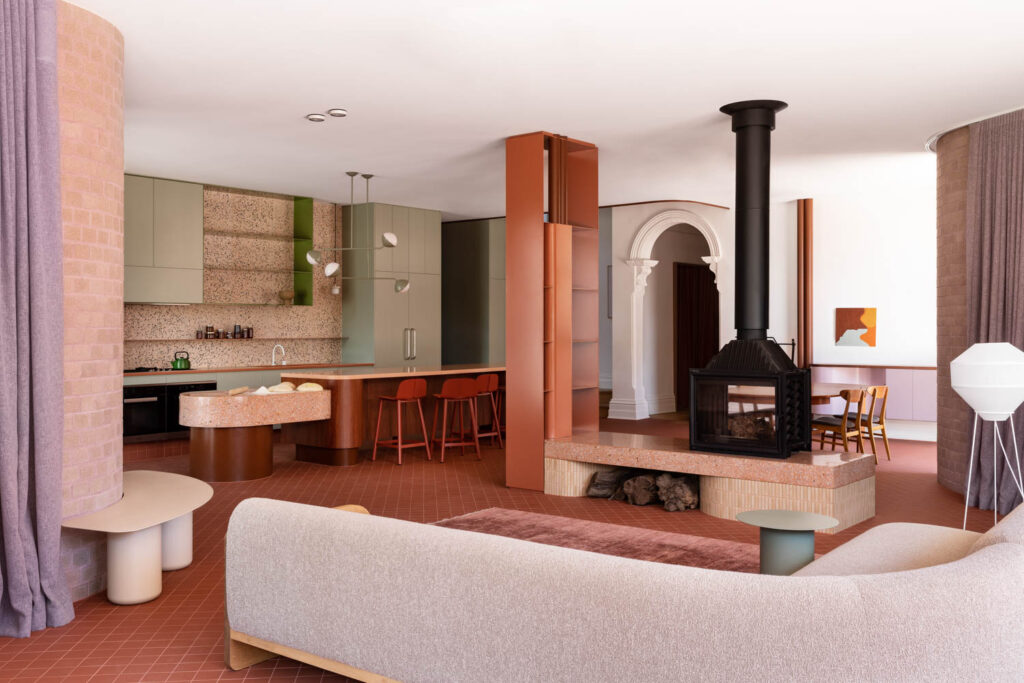 An Edwardian-Era Home Gets a Modern Update
An Edwardian-era brick home in Australia's Hawthorn, Victoria neighborhood has received a vibrant update from WOWOWA Architecture. The brief, which didn't include additional square footage, centered on rectifying a prior renovation of small, closed-off rooms into a more vibrant and sustainable open living space. Furthermore, the architects aimed to contribute to the "layers of visual language as a response to changing domestic demands and counterpoint the decorative manor facade," says WOWOWA Architecture director Monique Woodward.
The homeowners, a family with teenage boys, required a robust, durable material palette, as well as cohesive indoor-outdoor living to enjoy the curving hardscape, chicken coop, and vegetable garden. The home's colorful joinery celebrates existing details like the front door's stained glass and existing archways play against features like the poolside inverted bay window. "This project is both homage and embellishment, restraint and playfulness," Woodward notes. It's a place to feel introverted, a cozy place for winter days, and has expansive spirit for entertaining."
The new living space stacks under the existing second story, carefully constructed with integrated columns and curated zones. In the kitchen, which is split as back-of-house and living-room facing, Woodward and team drew inspiration from the local Australiana landscape. Laminex Bayleaf cabinetry pairs with rich brown and terracotta, a nickel tap, and concrete backsplash. Plus, there's a polished poured concrete plinth, acting as a heat-safe counter, and perfectly placed kneading bench as the clients regularly make homemade gnocchi.
Like in the kitchen, the home's bathrooms, which include terrazzo slabs and Ventech veneers, again nod to the home's stained glass with whimsical lilac, blue, and green tile. While Woodward removed "the 90s scar tissue", clever iterations allow "the old and new to exist sympathetically," she says. "As an architect, it's important to get the big gestures right as well as the little ones."