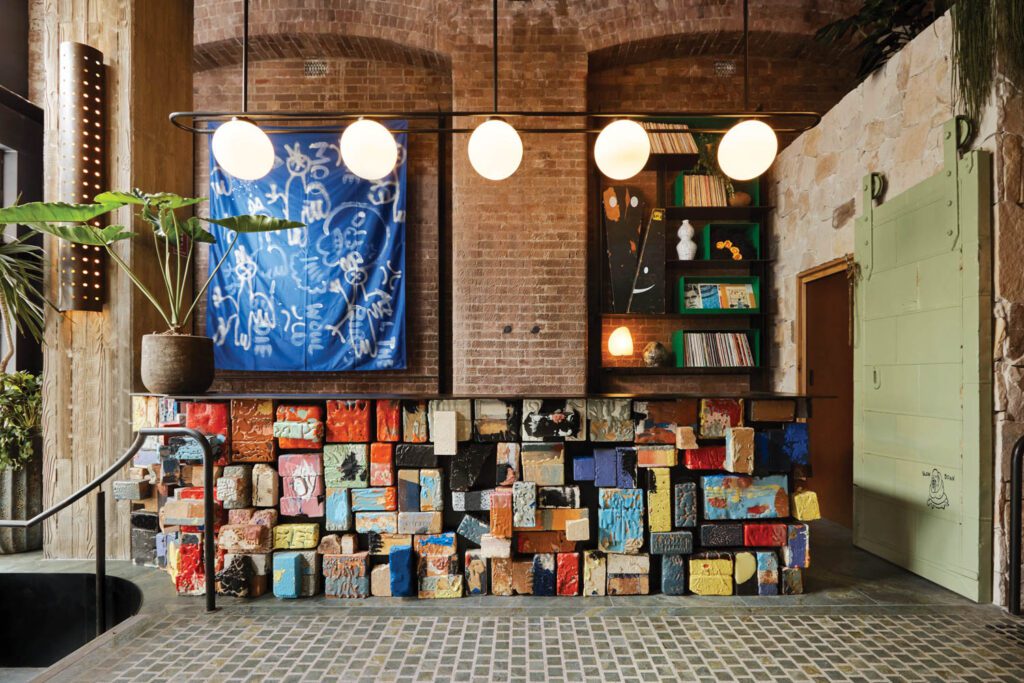 For the Ace Hotel Sydney, Flack Studio Creates an Authentic Australian Experience
Founded in 1999, the Ace Hotel Group has claimed an enviable slice of the hospitality pie with a chain of high-profile luxury boutique properties aimed at a creative clientele. Since opening its first location—a renovated former Salvation Army halfway house in Seattle—the brand has specialized in transforming rescued buildings of some urban significance into state-of-the-art facilities. The group currently comprises nine hotels, including the latest, which opened in May in Sydney.
The interior of the new property was designed by Flack Studio, a small firm based in Melbourne, best known for residential and retail spaces. Surprisingly, the studio had never worked on a hotel before. "The scale of the job was more than we were used to," founder and principal David Flack acknowledges. "But I was confident that we could do it. There aren't many hotel companies that I would want to work for, but Ace is clearly one of them."
Flack joined the renovation project early on. Bates Smart, one of Australia's oldest architectural firms, was responsible for gutting the Tyne Building, a 10-story brick structure dating to the early 20th century in the city's Surry Hills suburb. The architects incorporated the exterior masonry walls into an 18-story, glass-and-steel tower that now houses 257 guest rooms and suites, but "there really wasn't anything much to salvage of the interior," Flack observes.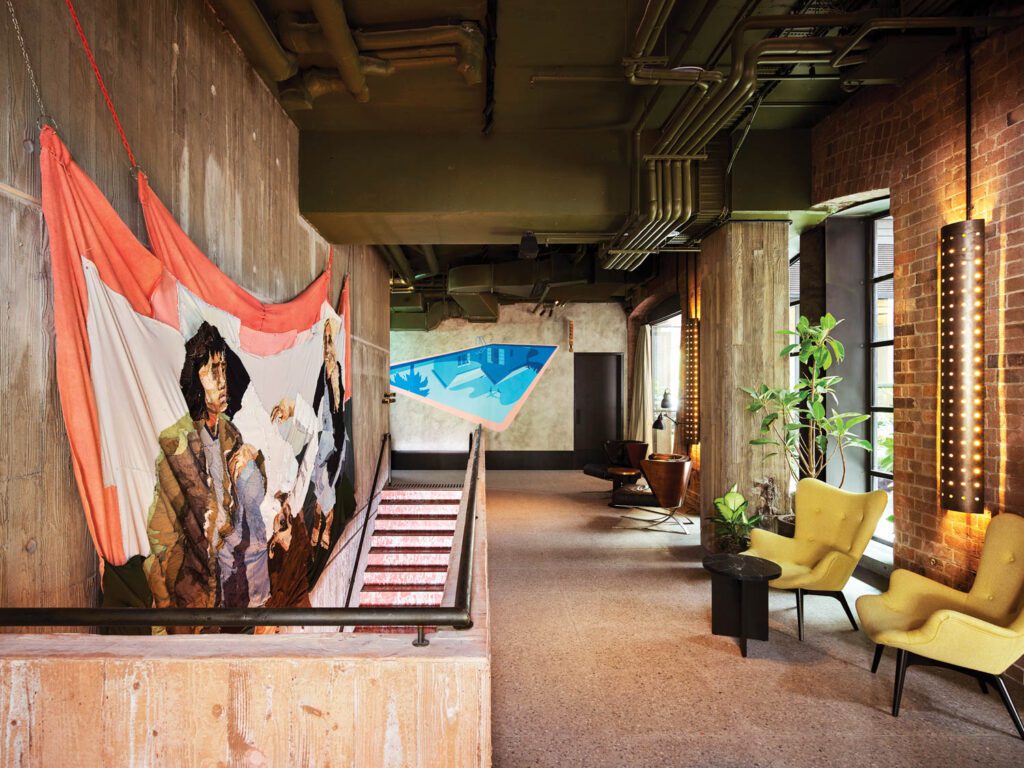 Although the Tyne was not officially landmarked, the designer wanted to pay homage not only to the building but also the fascinating history of the neighborhood where, in 1788, the recently arrived British discovered a deposit of pottery clay and built Australia's first kiln. Within 40 years, Jonathan Leak, a transported convict, established his own pottery works there and was soon cranking out bricks, tiles, bottles, and domestic earthenware. In 1916, Leak's factory was razed to be replaced by the Tyne Building—originally a pharmaceutical warehouse, later a garment workshop, and then a school for underprivileged kids. Over the years, Surry Hills was home to Chinese immigrants in the gold rush era, dangerous razor gangs in the 1920's, bootleggers in the '30's, boho artists in the '60's, and a burgeoning LGBTQ population in the '70's, who established the renowned annual Sydney Gay and Lesbian Mardi Gras. Flack wanted to reference all of it.
Early on, he decided that he would stick to straightforward industrial materials used in both traditional and innovative ways. These include the existing brick, along with board-formed concrete, terrazzo and oak flooring, solid woods and veneers, and a variety of metals. There is also stone, such as honed Rosso Francia marble from Italy for the main staircase. Acoustic ceiling panels are used to line guest-room walls—not so much for soundproofing purposes (even though rooms are equipped with turntables, a selection of vinyl records, and, yes, guitars) as for aesthetic reasons: "It's a rudimentary material, not fancy," Flack explains, "but it has a beautiful depth and texture to it."
As for the color palette, Flack chose a singular combination of earthy tans and ochres, burnt oranges, a variety of greens, and, most surprisingly, purple. The inspiration came from the landscape paintings of Albert Namatjira, one of the country's best-known 20th-century artists of indigenous ancestry. Both Flack and Mark Robinson, his partner in work and life, collect modern art, which plays a large part in the design. Commissioned pieces in many forms by a diverse group of living Australian artists populate the property. The front desk, for example, comprises a multihued patchwork of variously sized ceramic bricks—a gobsmacking installation by James Lemon. "I'm not afraid of using color," Flack happily concedes.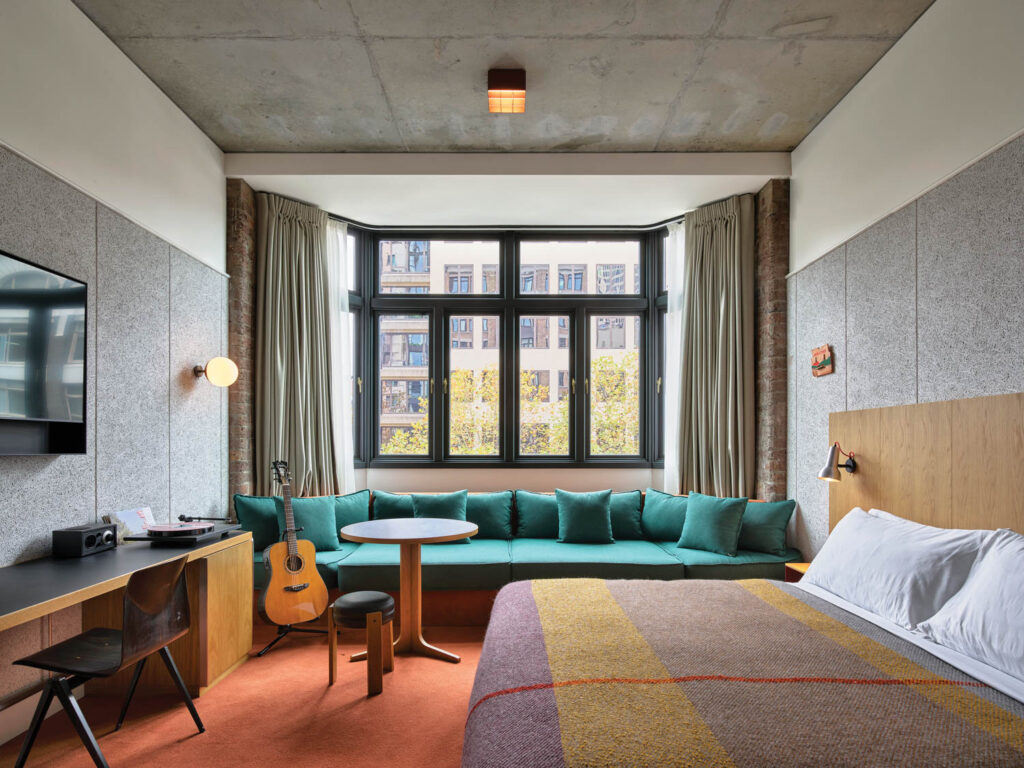 The furnishings are a mix of vintage pieces—both anonymous and pedigreed—and custom designs. The lobby lounge features Paul Frankl–style mid-century rattan swivel chairs surrounded by bespoke banquettes upholstered in heavily ruched leather. "I do that with leather a lot," the designer notes. "I think it makes the seating look more inviting." The lobby restaurant booths, upholstered in similar fashion, are joined by Mart Stam's classic 1931 tubular-steel chairs, now manufactured by Thonet, their cantilever frames painted fire-engine red. Guest rooms and suites are equally eclectic, with Mario Bellini's iconic 1977 leather Cab chairs pulling up to Charles and Ray Eames's round oak-top tables in some of them. Most of the hotel's striking light fixtures, which include columnlike sconces of aged-finish perforated brass, are custom Flack designs.
Staying "on brand" was a top concern for Flack. "Ace had rules," he reports. "But they also allowed that rules were made to be broken." He eventually determined that the chain's trademark was not so much a look as a feeling. "An Ace hotel wants to engage people on an aesthetic and social level, to encourage them to congregate and interact with others, both guests and locals," he concludes. "I wanted this hotel to be an authentic Australian experience without losing the slightly renegade history of the neighborhood. In my view, Australia's greatest strength is our diversity."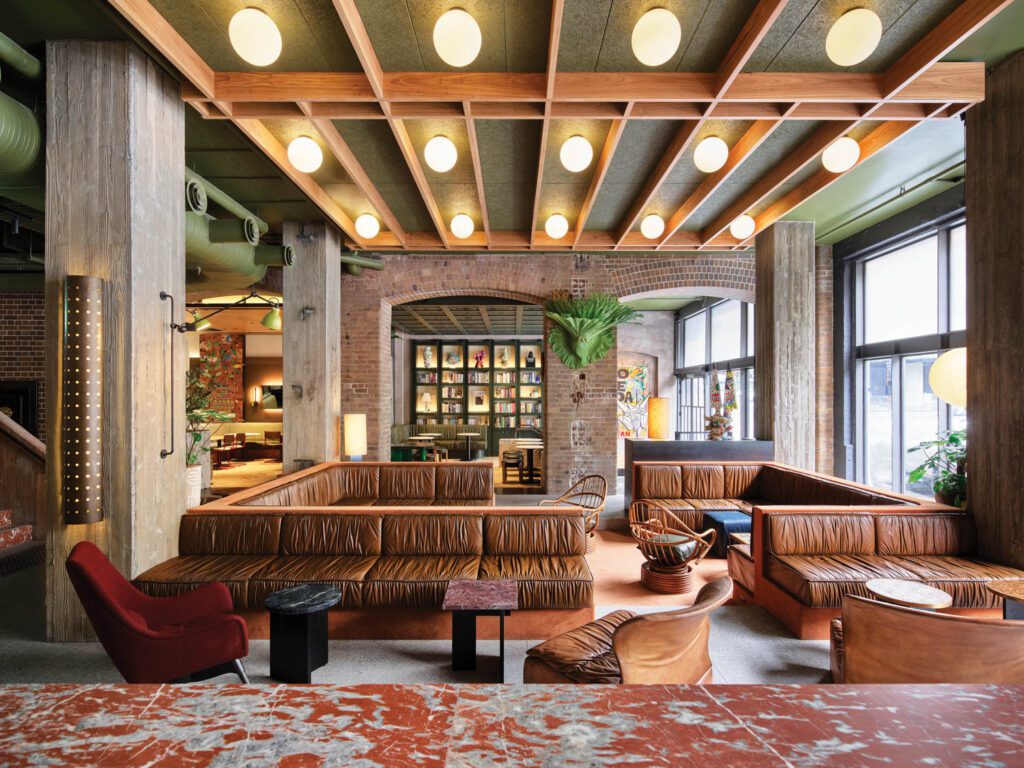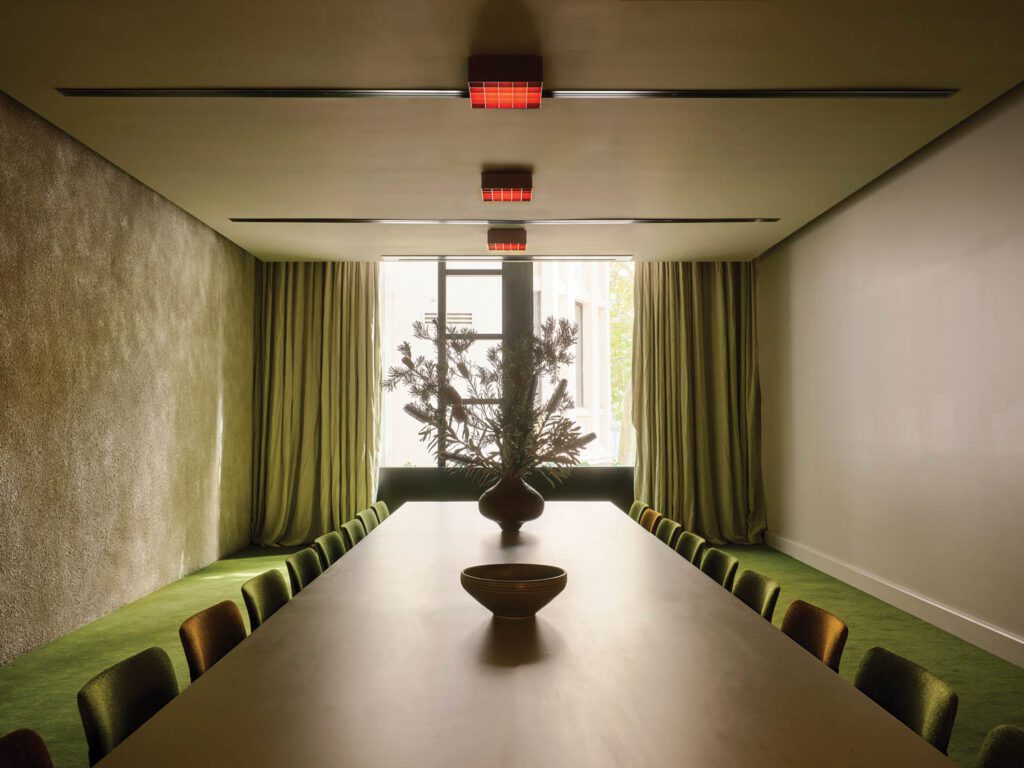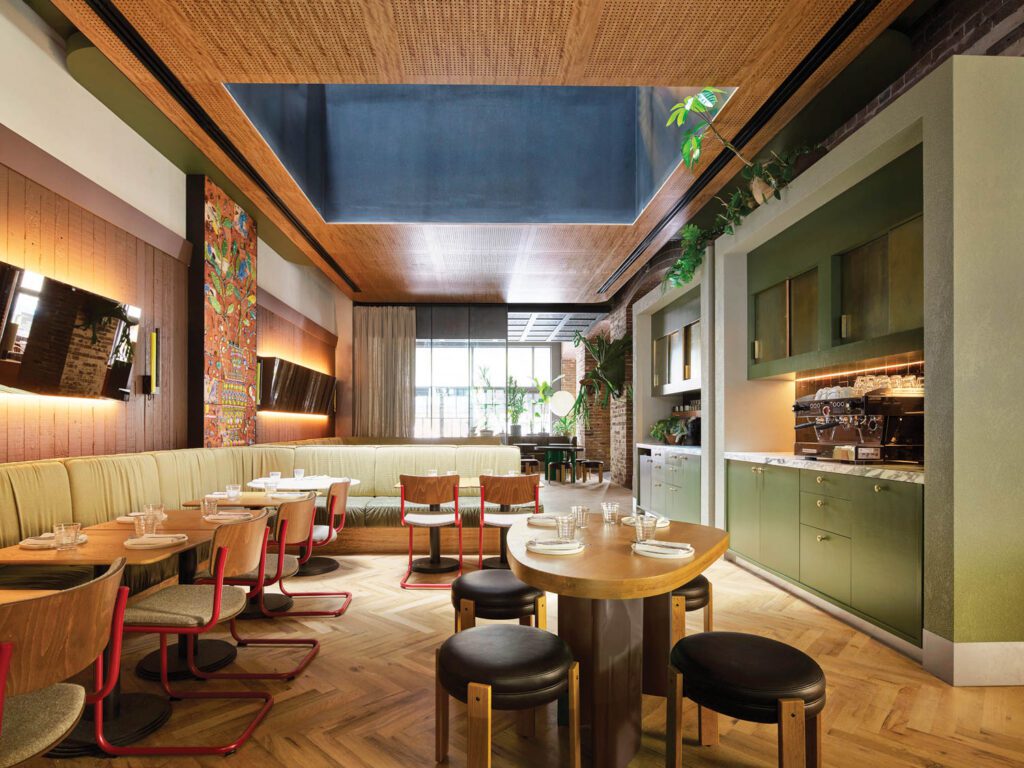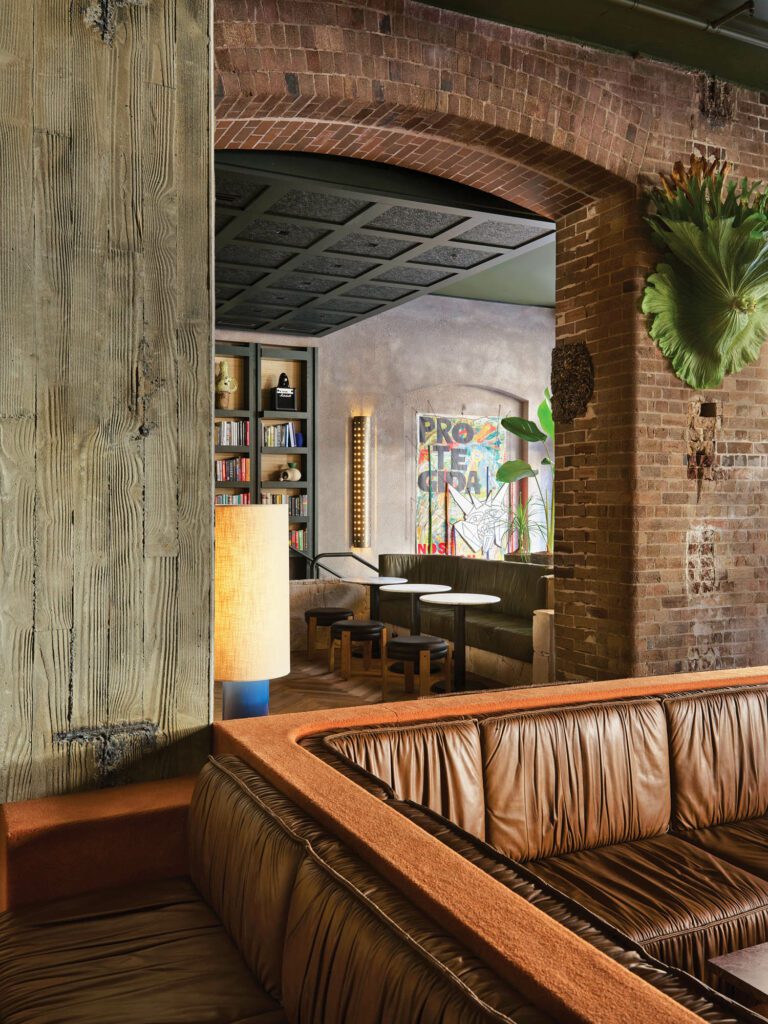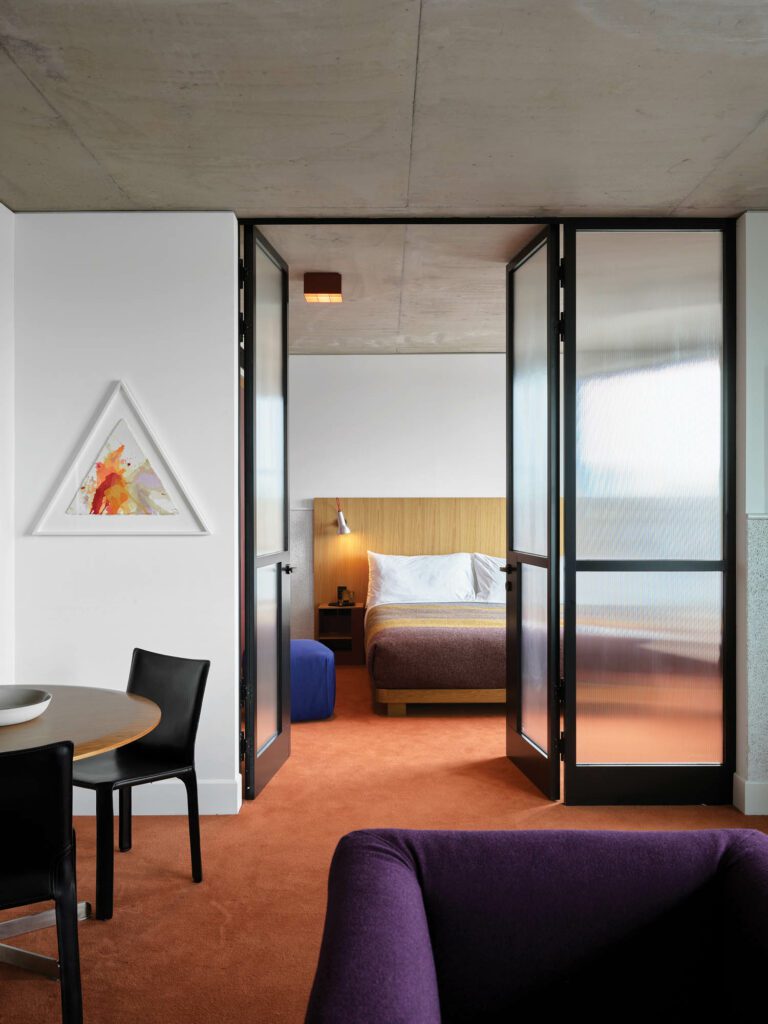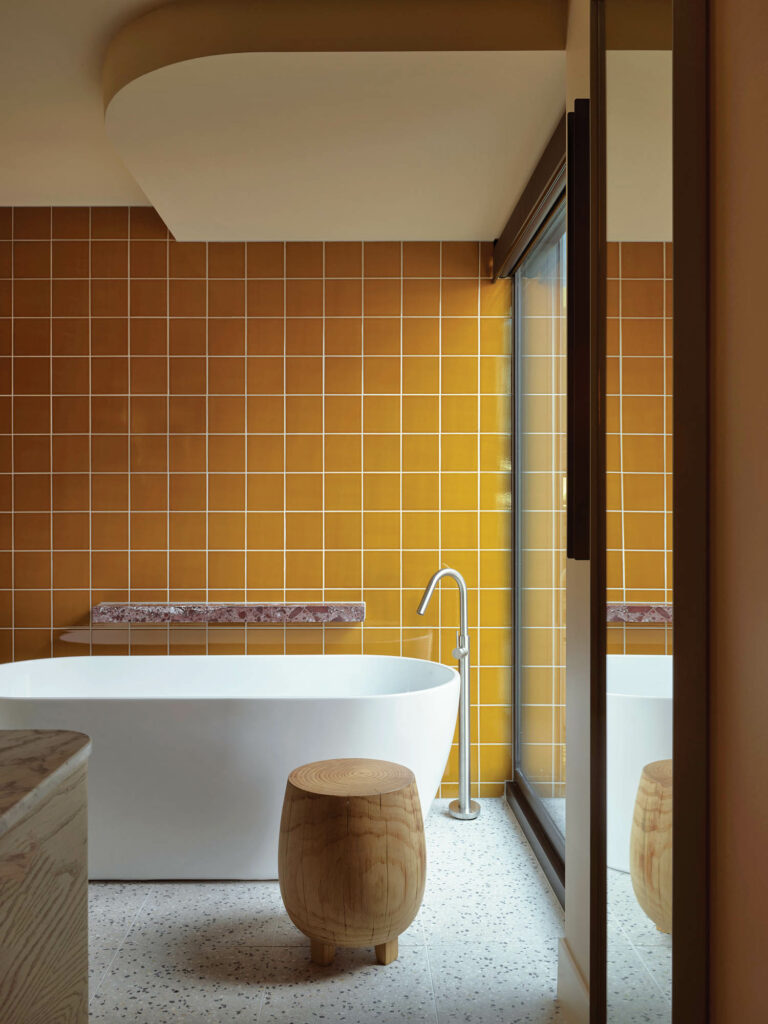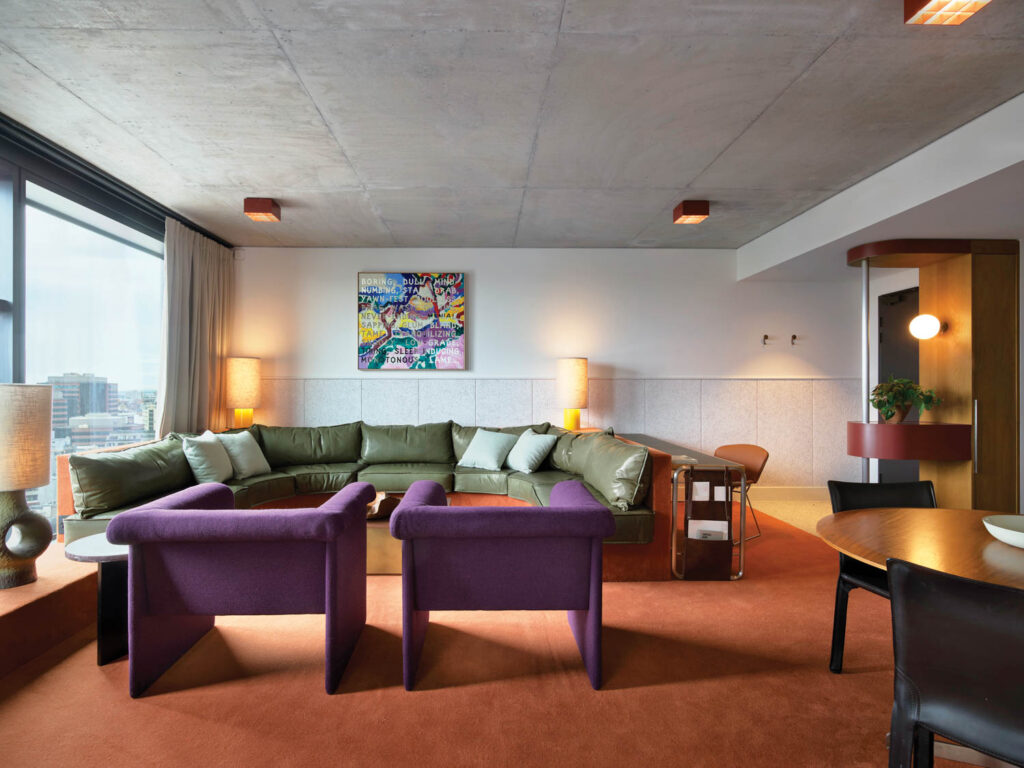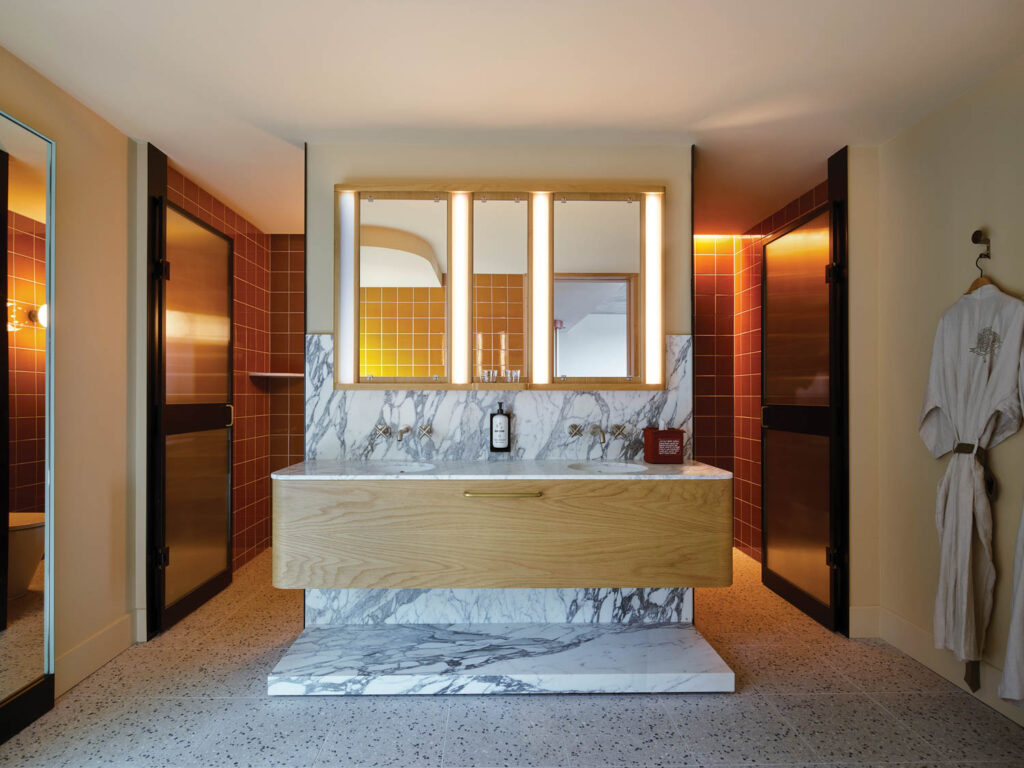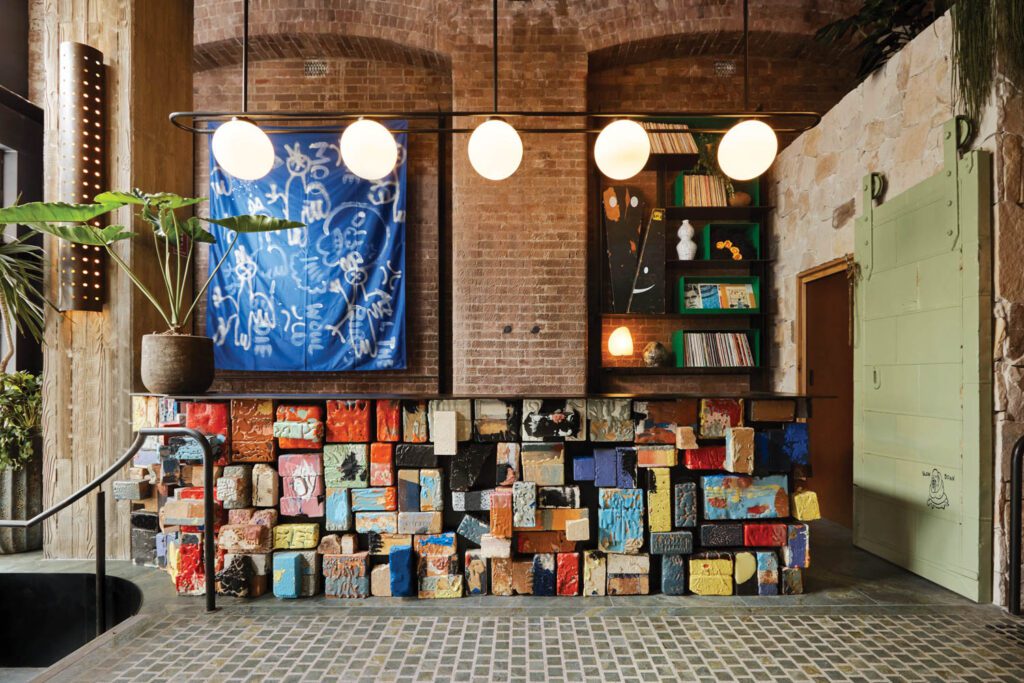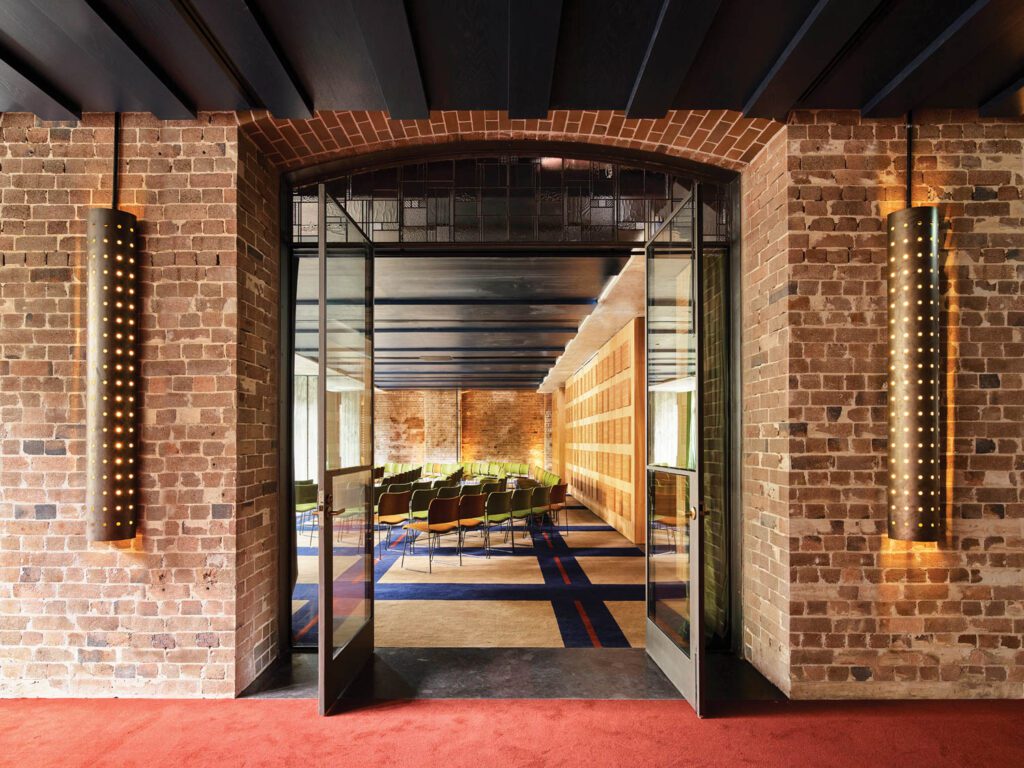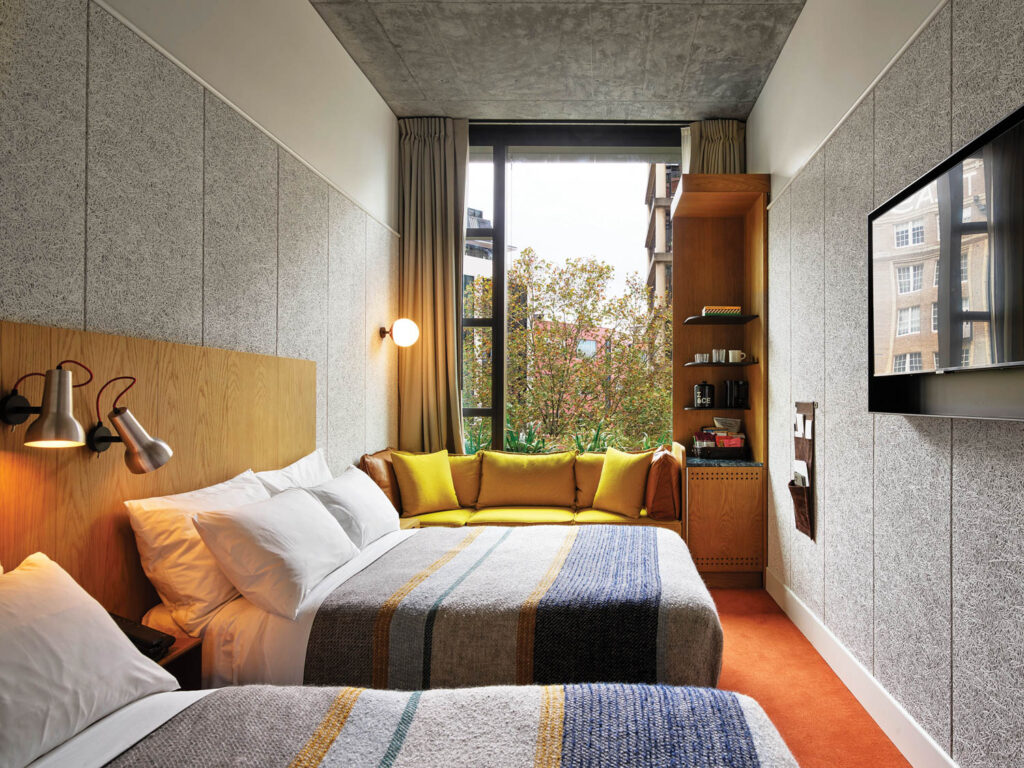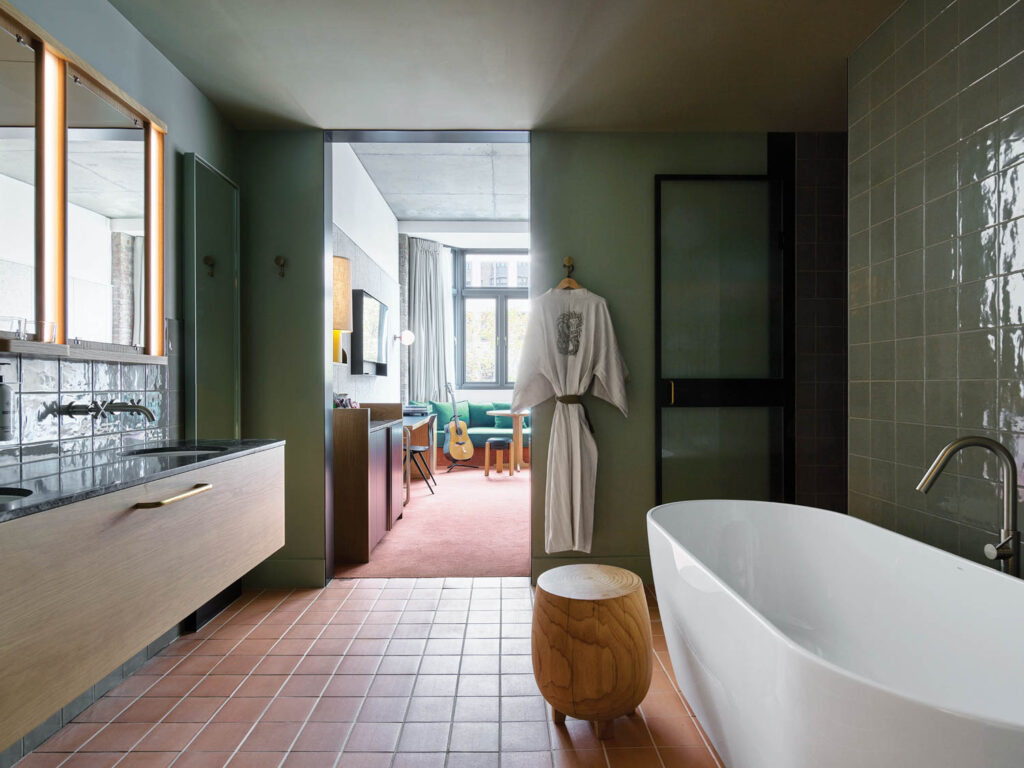 PROJECT TEAM
PRODUCT SOURCES
FROM FRONT
THROUGHOUT