This Finance Office in San Francisco Offers Visual Intrigue Around Every Corner
Make no mistake, it's all about the money. That's the raison d'etre for venture capital firms. For Index Ventures, with offices in San Francisco, London, Geneva, New York, and Jersey—the largest of the Channel Islands—scenic quarters with high-impact visuals are crucial, too. Call the asset a 3-D corporate calling card where a consummate case in point is newly expanded headquarters in the city by the bay. Credit Garcia Tamjidi Architecture Design with spruced-up interiors and frankly charming elements of surprise in a collaborative story that began a dozen years ago with the architects' initial intervention.
Index Ventures marks yet another financial enterprise opting to eschew typical commercial quarters in favor of a quirky atmospheric setting. Its site is a sturdy, five-story structure of thick masonry walls dating to 1909 and located in the south-end warehouse district for the city's port. Typical of its industrial origins, the building boasts gutsy Douglas fir beams, engineered oak flooring ,and 10,000-square-foot floor plates. On the debit side, due to its wide, long configuration, was a paucity of daylight. Architects Michael Garcia and Farid Tamjidi rectified that with two new skylights in their first go-around for the top-floor design in 2010. That level started out as a workplace, "but also a place for pitch meetings and public engagements," Garcia begins. Growth mandated expansion, and Garcia Tamjidi began programming and design for the fourth-floor takeover pre-pandemic. When it hit, "the client was determined to build out during down-time in the market." The impetus? "They wanted to hire talent and saw this as an opportunity to grow rather than hunker down."
Acquisition brought a division of functions. The original floor became a pure heads-down workplace, while the fourth floor was conceived as a hybrid. With a 9-foot-tall glass divider, 50 percent of the space is all about work, accommodating private offices and a trio of conference-meeting rooms. The remainder, meanwhile, is the public-facing place given over to events. Index Ventures is as serious about the latter as the former. Check out its uber-chic, black-painted mdf and quartz kitchen easily accessible just off reception. That too proclaims high-style welcome. To wit: Paola Lenti 's Agio sectional plus Smile chairs circling a wedge-shaped custom cocktail table of oak veneers as a scaled down facsimile of the desk it faces.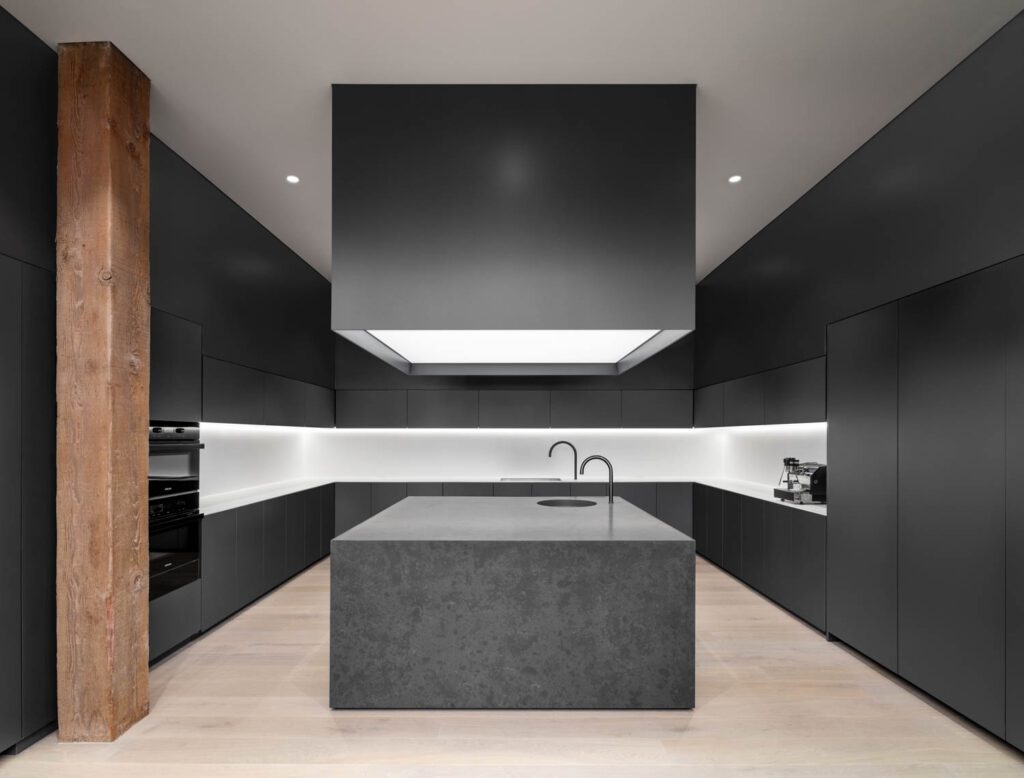 Literally and figuratively, the connecting stair takes center stage. It's a stunner, purposely creating inward views to make up for the fourth floor's lack of city vistas accessible to its upper counterpart. Mounted on a quartz base, the steel and glass construction has individually illuminated oak treads while overhead the ceiling's LED's follow the footprint of the truncated skylights. Meanwhile, the connector floats over the real surprise, a Japanese rock garden. "It's a rarity to have a calm and meditative space in such expensive real estate," Tamjidi notes of the "relaxed floor plan" it creates. In fact, there's another by the rear conference room, and the two elements prompted design of a cylindrical, stainless steel fountain complete with soothing gurgling. Credit the architects' acuity in picking up one of the key stakeholder's frequent travel and passion for Japan, translating it to an overall aura of calm that continues to a private library. Concealed via pocket doors, the oak and lacquer-lined enclave is a retreat for reading or recording, podcasts, that is, in an acoustically sound setting.
Index Ventures was completed in January 2022, and the staff is still on a hybrid schedule. Upon return to the office traders, analysts, and managers, no doubt experience their site as a paean to Zen and the art of investing.