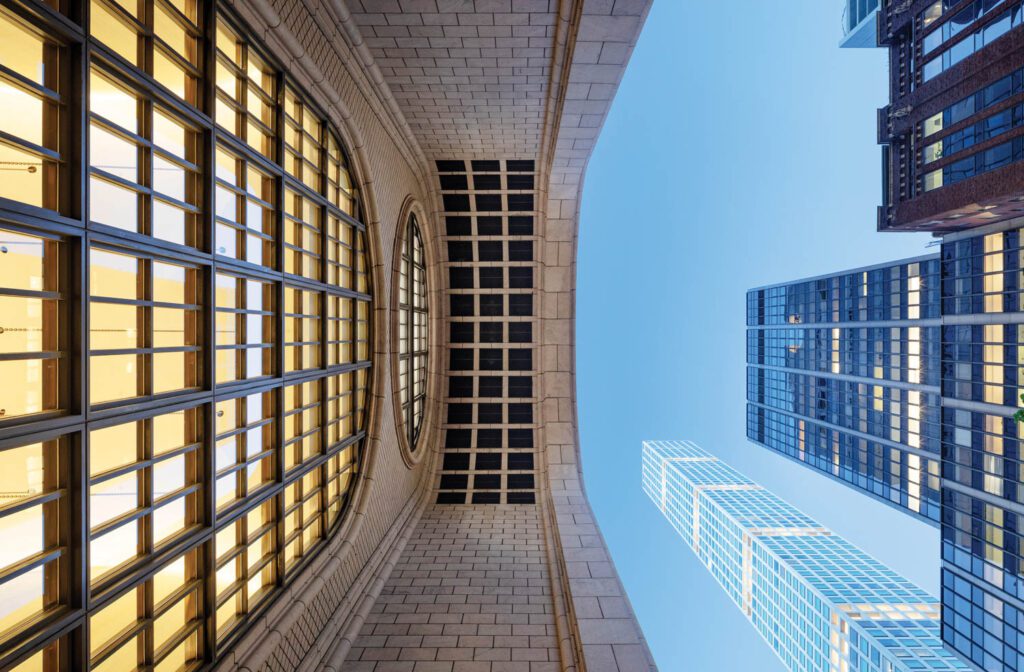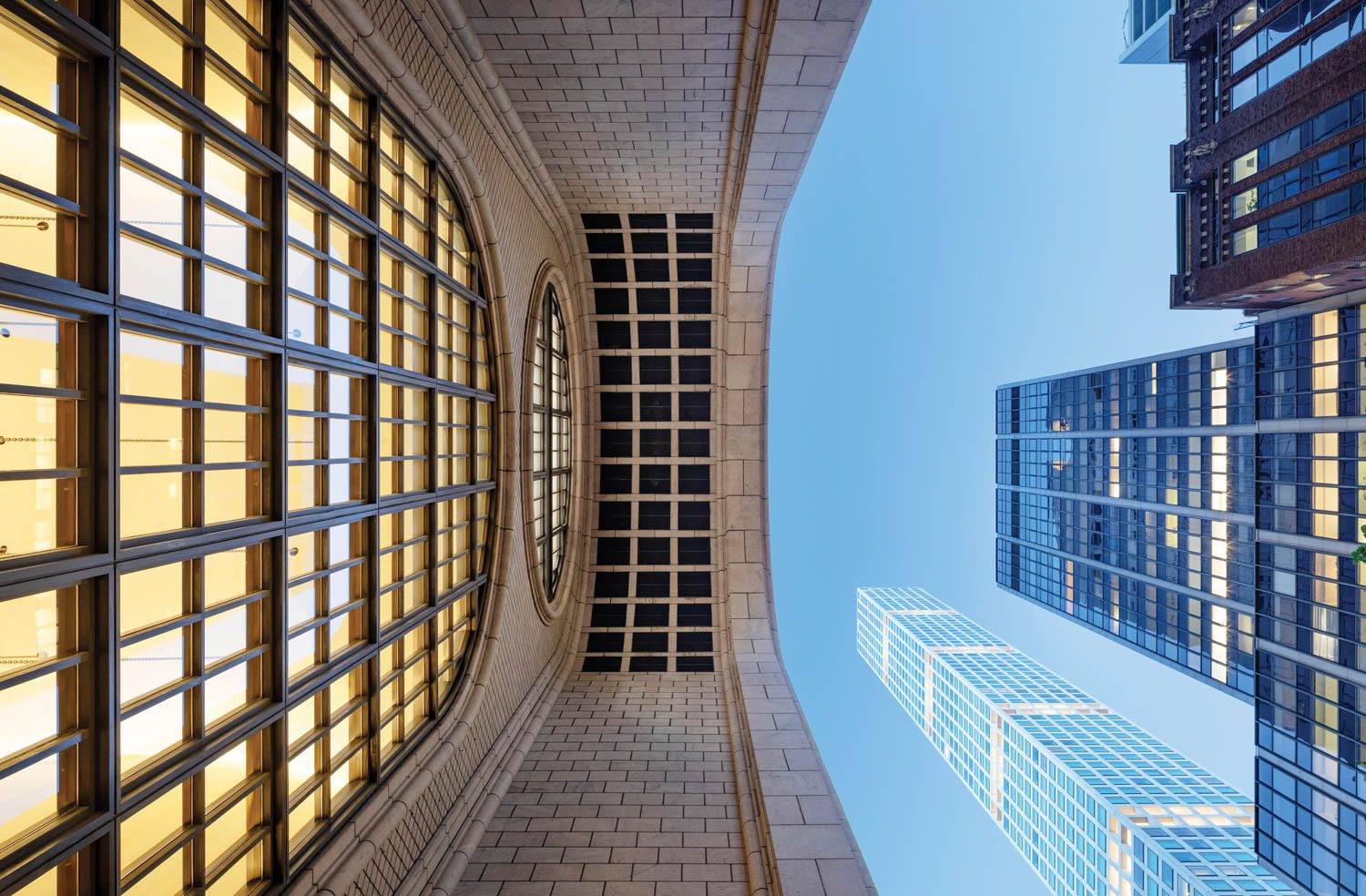 Gensler Spotlight: Northeast U.S.
Renovating the lobby of 550 Madison, Philip Johnson and John Burgee's 1984 postmodern icon—the city's youngest landmark—presented numerous challenges, among them striking the right chord between reverence and reinvention. Gensler principal, design director, and Paris office managing director Philippe Paré and the Gensler New York team endeavored to restore a sense of porousness that had been eradicated over the decades and also attend to foot traffic and security needs crucial in the building's conversion to a multi-tenant property. Perhaps trickiest was to instate a sense of balance: The 2,500-square-foot lobby soars 110 feet. "Its monumental proportions were a bit awkward given the small footprint," Paré notes.
Material choices create continuity between old and new. Original granite walls were crushed for use as aggregate in the new, geometric-patterned terrazzo floor, and a bronze wainscot reiterates metalwork on the facade. The wainscot continues the datum line of elements such as archways and mullions and helps temper the volume's height. Panels are bronze mesh over acid-etched bronze mirror, which lends subtle reflectivity and movement "to give the impression that the space is open to the outdoors," Paré adds. Floated about 2 feet off the honed Lasa marble walls, the wainscot also hides mechanicals. Even light sources are hidden to give the impression of a cathedrallike radiance.
Giving the lobby its center of gravity is Alicja Kwade's Solid Sky, a 24-ton Azul do Macaubas sphere that levitates on stainless-steel chains. The billion-year-old rock, Paré muses, "is humbling, evoking the passing of time." Same for the redesigned lobby itself.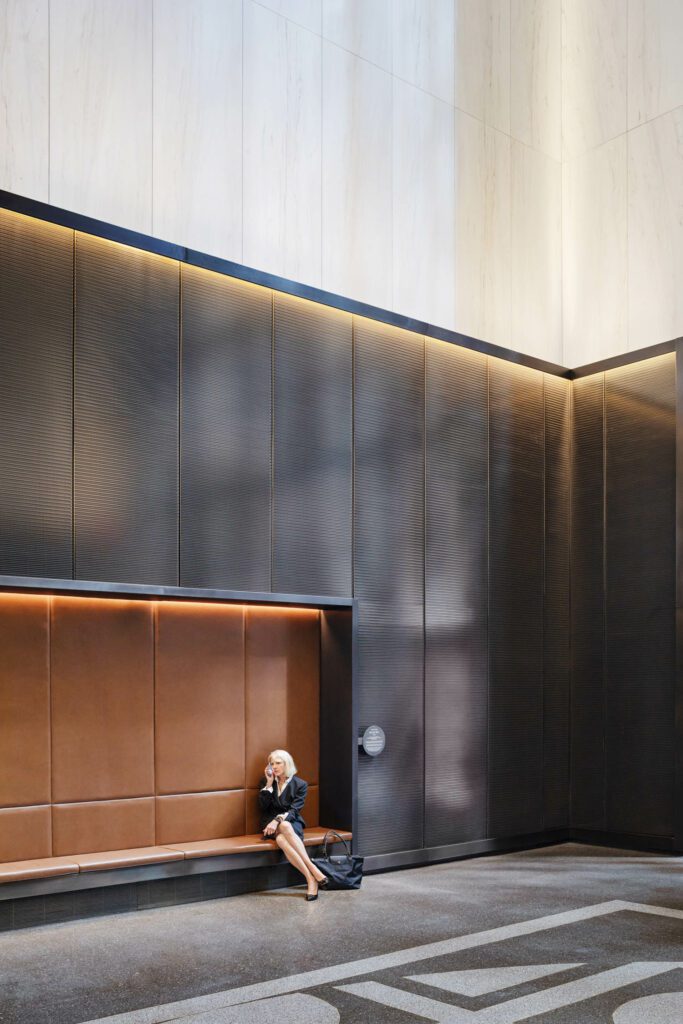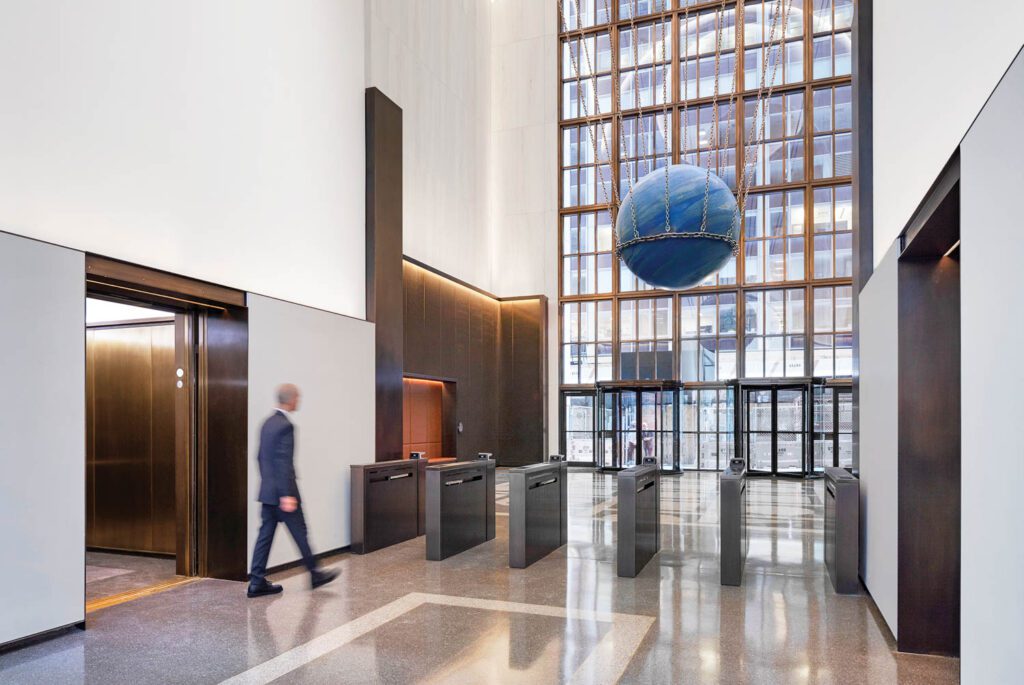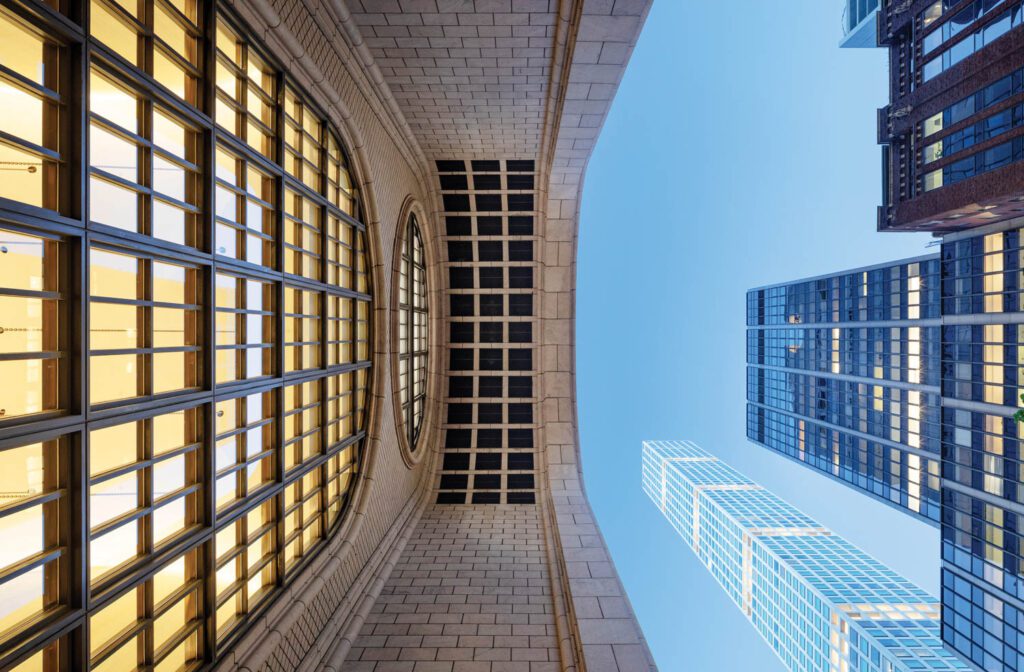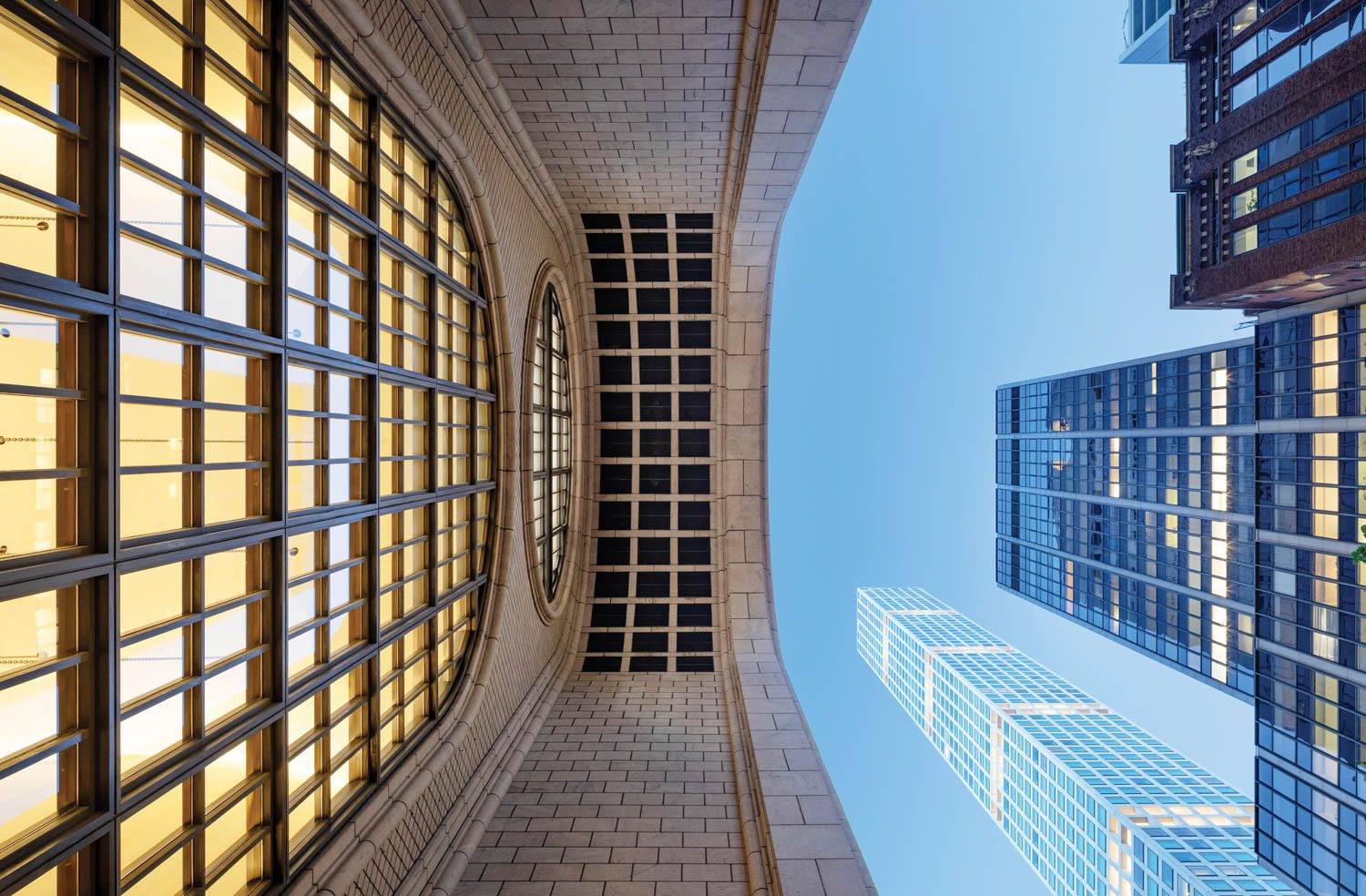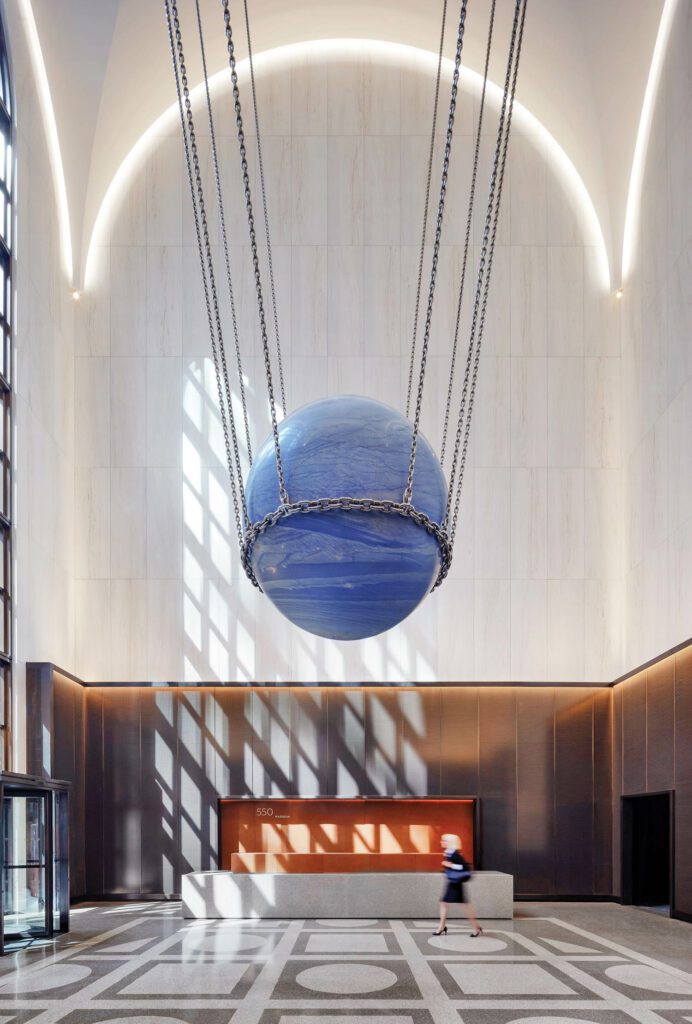 PROJECT TEAM:
Gensler
: Robin Klehr Avia; Philippe Paré; Madeline Burke-Vigeland; Ambrose Aliaga-Kelly; Brooks Morelock; Megan Radebaugh; Maria Framis; Morgan Stackman
more
Projects

Gensler Spotlight: Northwest U.S.

T-Mobile's vibrant U.S. headquarters has all the hallmarks of the post-pandemic office: hot-desking, flexible collaboration rooms, natural vent­ilation, outdoor meeting areas. Yet Gensler Seattle designed it before an…

Projects

Gensler Spotlight: Asia Pacific Middle East

When Vietnamese telecom giant Viettel Group asked Gensler Singapore to create an iconic headquarters, its executives envisioned a tower visible across the capital. But site restrictions limited the height, so design dire…

Projects

Gensler Spotlight: South Central U.S.

The telecom titan's global headquarters, sited in a cluster of downtown buildings, took a civic-minded turn when Gensler Dallas reimagined its central plaza as the AT&T Discovery District: a 24/7 media-activated amenit…