The Architecture of a Winery in Czechia Fosters Its Growth
Move over Napa, Bordeaux, and Tuscany. A new terroir, actually two, are experiencing a resurgence within the Czech Republic. Yes, you read that correctly. The zones, southern Moravia, where most of the country's wine is produced, and Bohemia, both had a history of wine-making that fell off during the postwar era. Revival came after 1989, and "The industry is experiencing significant growth accompanied by architectural expressions of the ambitions of new winemakers." This from Czech architect Aleš Fiala, who's well-versed on the topic. For starters, his namesake studio created a superlative establishment in Kurdějov for Gurdau Winery—the label named after the village's original German moniker, Gurdau—the structure a gob-smacking entity presumably like nothing wine aficionados had previously seen.
Simultaneously bold and stunning yet equally recessive, the building, at its most basic, is an arch of reinforced concrete and glass carved into the center of a landscape encompassing 17 acres of vineyards, the grapes ultimately transformed into Riesling, Veltliner, Pinot Blanc, and Merlot varietals. In a sense, the wine and winery's launch and growth were entwined. Founded in 2012, Gurdau introduced its inaugural vintage in 2021, just a year prior to its building opening its doors following two years of construction.
Gurdau Winery Nods to Winemaking Traditions in Czechia
"Intervening in the landscape through construction is always a significant responsibility," Fiala introduces his initial concept. "Regardless of the size of the building, we aimed to connect it with the old, local, modest cellars, often just adorned 'holes' in the hillside, yet full of life and fulfilling all necessary functions." Rooted in tradition though it may be, Fiala's contemporary creation taking form as a gentle curve or "a hill between hills" is anything but a humble hole in the hill. It stands at over 13,000 square feet on two levels as the ne plus ultra of production and hospitality.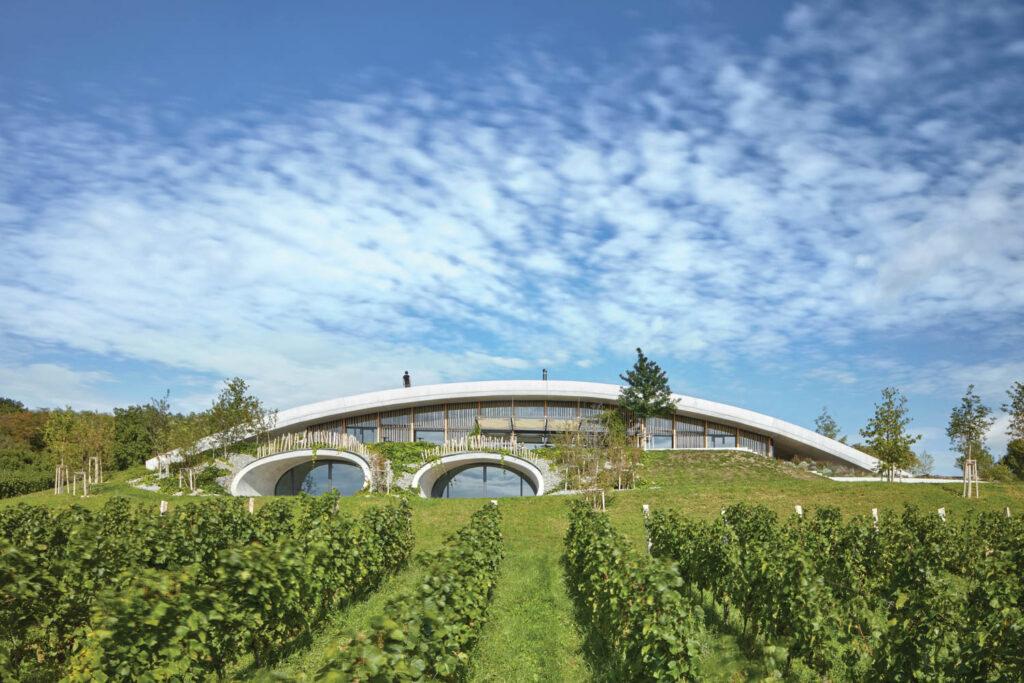 One level, below-grade with its own separate entrance for shipments and deliveries, is dedicated to Gurdau's annual production of 39,000 bottles fermented and matured in stainless-steel tanks and oak barrels. Here, too, is a room for tasting archive wines, plus a pair of intimate apartments for overnight guests. The accommodations, entered from the heart of the winery, "are situated within two elliptical, reinforced-concrete tubes" opening onto terraces, Fiala explains.
An Inviting Tasting Area, Plus Dining Room
The ground floor, though including some wine production, is primarily for customers. There's no doubt about that with the blackened-steel bar standing front and center just past the entry. In the tasting area beyond, oenophiles can stimulate not only their palettes with samples of current production but also their minds, learning about soil profiles where the vines grow. Then, guests can transition through a pair of massive pivoting oak doors to the dining room. Up to 40 people can participate in dinners paired with Gurdau wines. The space spills over to an adjacent acacia terrace accessed via 33-foot-wide sliders, surrounded by vistas of the vineyards. Terraces, in fact, overflow from interiors throughout the project, including the apartments, "to bring a variety of natural moods and seasons to the experience of the space while further embedding the building in the terrain from which the wine comes," Fiala waxes poetic. "The interplay of views, landscape, greenery, and wine is the most cherished aspect of Gurdau."
Minimal materials pervade as a consistent palette. "The nature of the project necessitates the use of concrete, reinforced for both structural and aesthetic reasons, in the aboveground arch," Fiala continues. "From a structural perspective, it's not a shell but an arching ceiling slab that supports an arching green roof." That, in essence, is really a third floor, one that's crucial to the winery's conception. Ultimately, it will become a completely green field, almost invisible as a building aspect, with a few of the surrounding area's newly planted 150 shrubs and mature trees poking through openings in the roof. As for the rest, Fiala and his team chose local acacia, oak, and gray cement screed for wall and floor finishes. Visible interior structural elements are blackened steel and aluminum. Meanwhile, sparse contemporary furnishings by the likes of Ronan & Erwan Bouroullec and Piero Lissoni mix with the firm's custom pieces.
Given Fiala's immersion in the area and viniculture, we couldn't help but ask the Brno native about his favorite wines and food pairings. "If I had to pick one, it'd be the 2021 Vesnice Kurdejov Grüner Veltliner, which harmonizes well with classic wiener schnitzel." But more importantly, Fiala's Gurdau tells a sustainability story. First, the winery's very location within the vineyard minimizes the transport of raw materials and workers. Passive energy considerations come from having most production zones located belowground, and customer areas open to the sun through large spans of glass. Along with thermally insulated triple glazing, oak slats in front of windows and an overhang of the curved roof ameliorate summer heat. Rainwater is collected and stored for irrigation. To which we add, na zdravi, or cheers!
Explore the Winery Design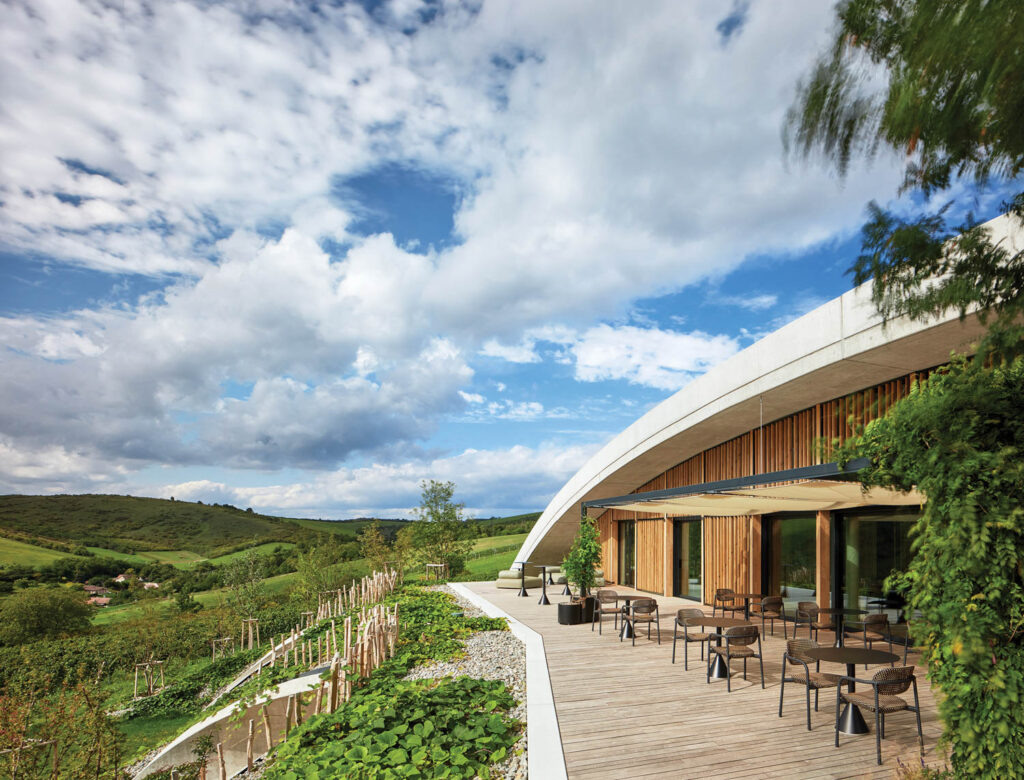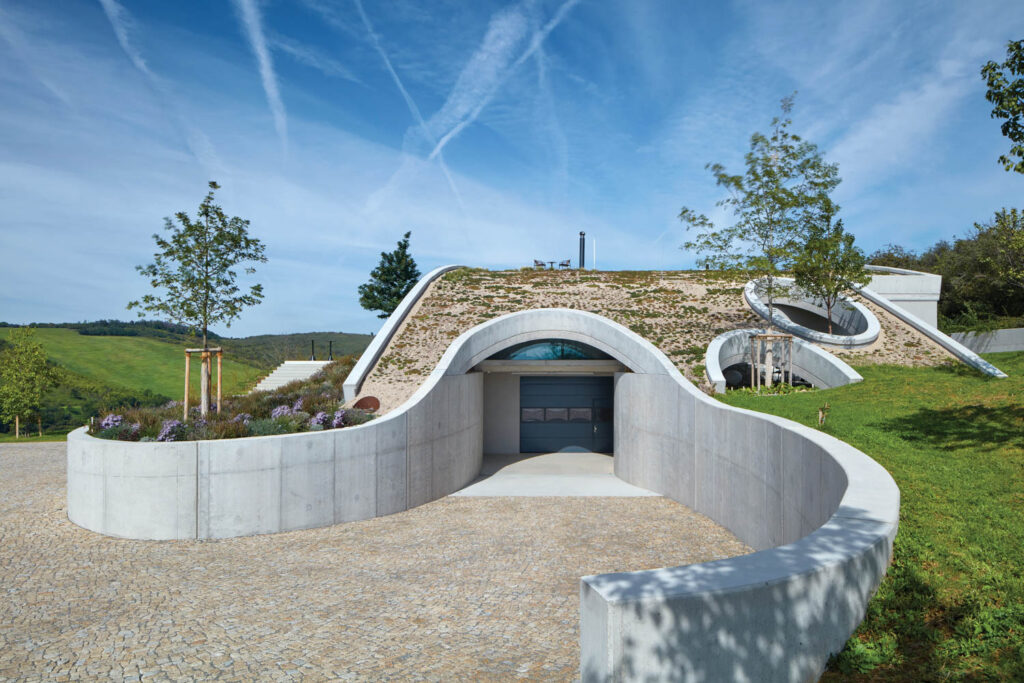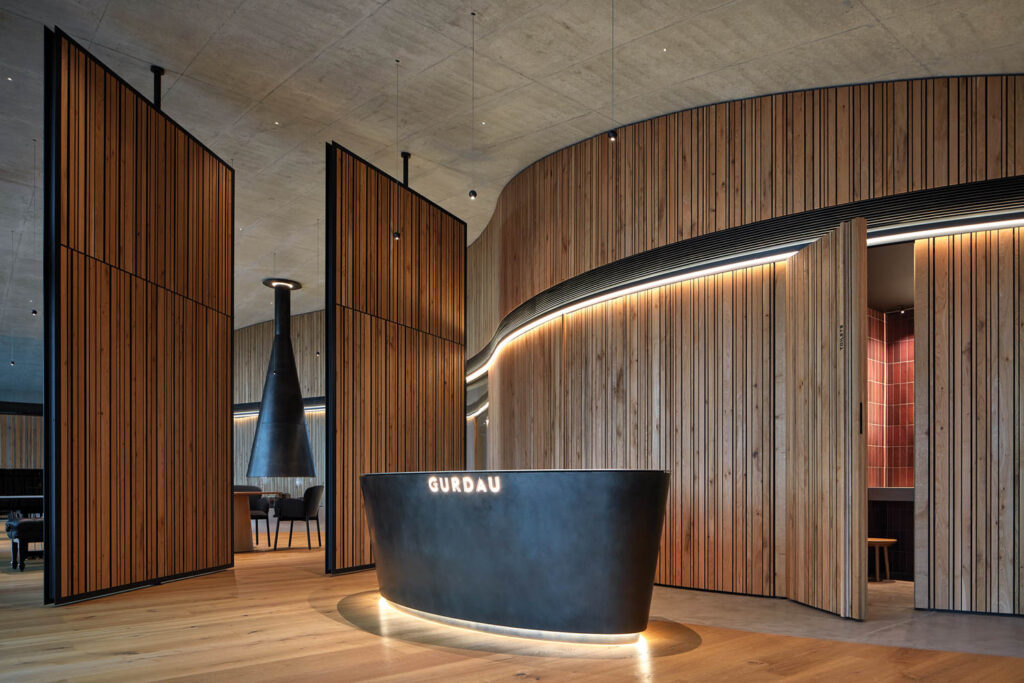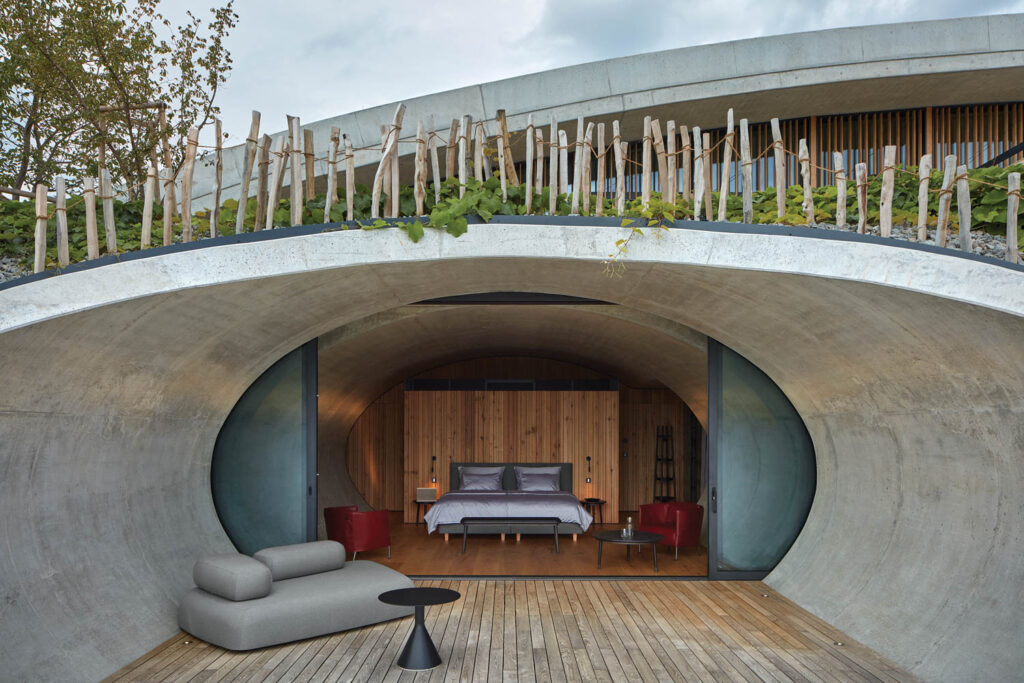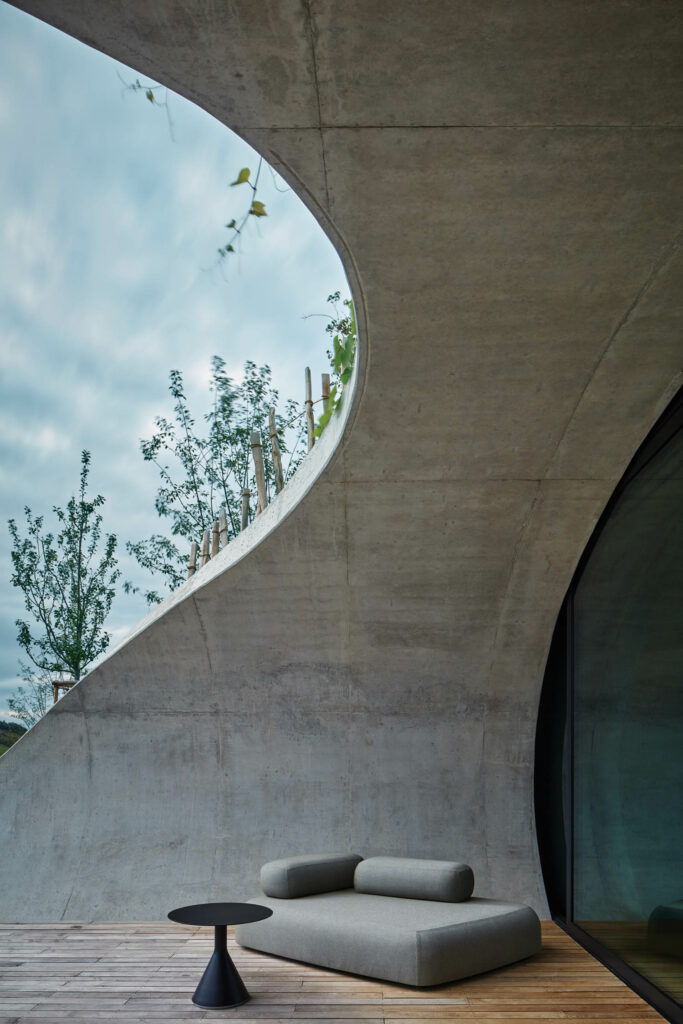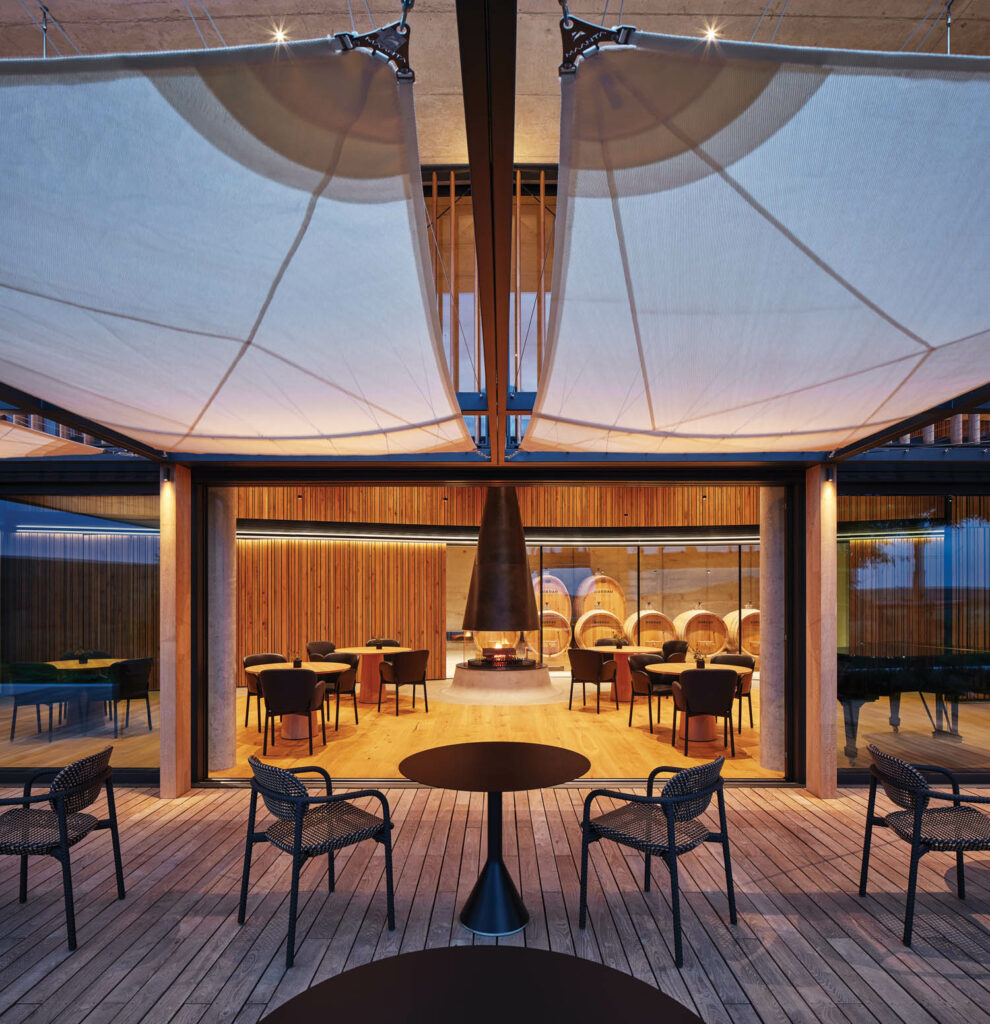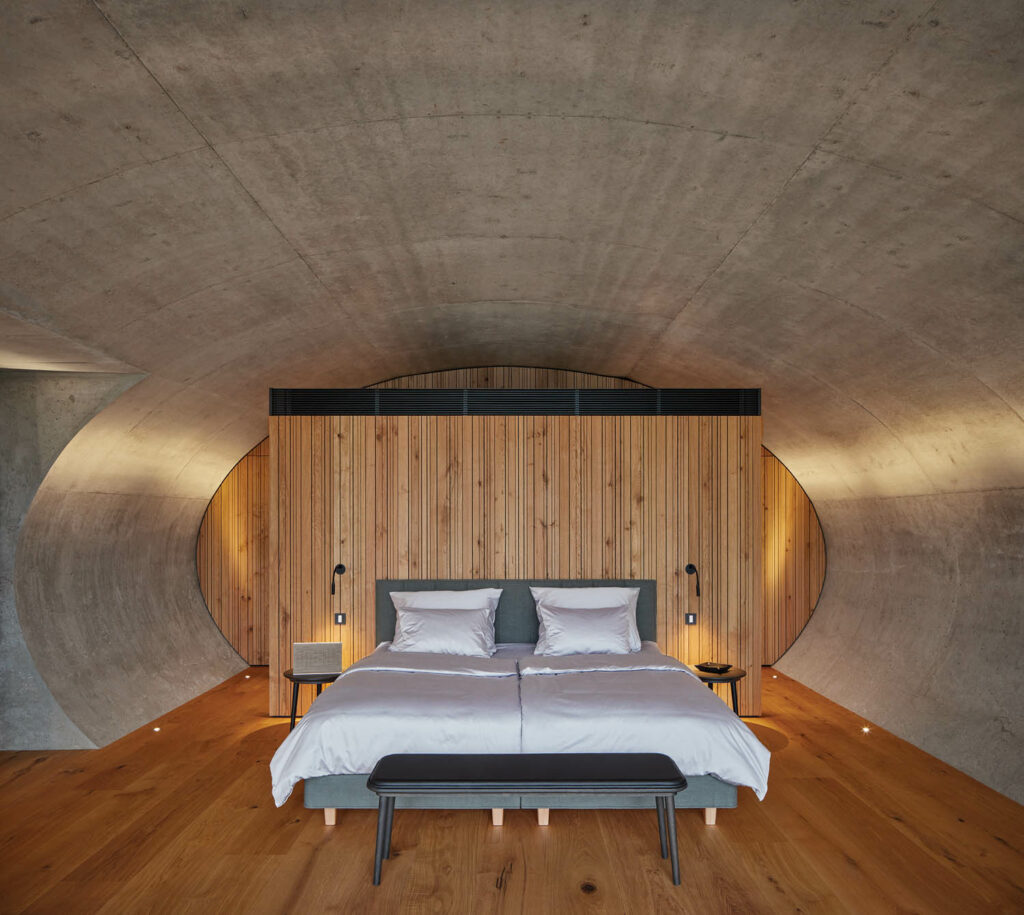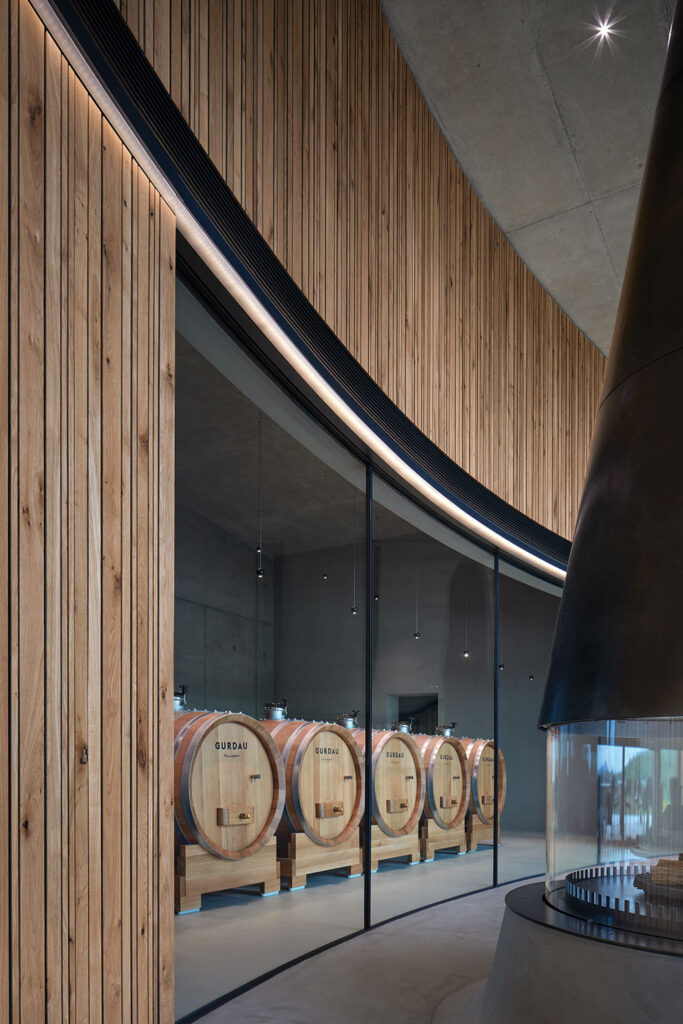 PROJECT TEAM
aleš fiala: tomáš bílek; bronislav bureš; dalibor klusácek.
zdenek sendler: landscape architect.
daniela hradilová: interior details.
mylight: lighting consultant.
navlácil stavební firma: structural engineer.
category: mep.
drevostyl: millwork.
omelka: steelwork.
atelier originál horánek: custom furniture workshop.
bentglass: glasswork.
PRODUCT SOURCES
FROM FRONT
dedon: chairs (dining terraces, dining room).
hay: tables (dining terraces, deck).
living divani: sofa (deck).
vispring: beds (apartments).
ton: tables (dining room).
georg bechter licht: ceiling fixtures (storage room).
THROUGHOUT
belevey: decking.
pozvek: barrels.