Highlights from "Galerie Philia at Walker Tower" Exhibition
"The charm starts with its façade," says designer and architect Pietro Franceschini about the Walker Tower in Manhattan, an Art Deco staple. The Chelsea building checks all the boxes of an iconic late 1920s vision with a kinetic form and gilded accents across its 24 floors. The New York-based Swiss gallery Galerie Philia invited Franceschini, who is one of many designers represented in the gallery's roster, to organize a group exhibition dedicated to the latest European designs on this side of the pond, including those commissioned for the show.
"Keywords are 'neutral colors' and 'minimalism' without being reductive," Franceschini explains to Interior Design about his curatorial effort, which will remain open by appointment between February 15 and May 15. Luminescent Hudson River views will shift hues from late winter to spring for the course of the show, complimenting nearly 70 pieces by 40 designers and artists exhibited in a two-story loft apartment within the Ralph Walker-designed building.
"They communicate an energy far from mass production," adds the Florence and New York-based designer about his curatorial vision. Installing an exhibition of collectible design across rooms designed for living had its challenges, but Franceschini and the gallery team turned them into an advantage. "We had a clear vision for what we wanted to achieve, and once we started placing the objects, we realized everything in the environment plays a role in fulfilling that vision," he notes, White draping in occasional parts of the installation break from the domesticity, while a light-filled bedroom exhibits pastel-hued pieces. Playfulness also is utilized in small doses, embracing the space's functional nature while breathing in air and light.
Interior Design talked to Franceschini prior to the opening of the exhibition and selected these highlights.
God and Goddess by Paul Matter
Paul Matter is the brainchild of New Delhi-based designer Nikhil Paul, who launched his line to blur the distinction between lighting fixtures and sculpture. The studio's God and Goddess sconces are two opposite-facing serpentine brass tubes stopped with porcelain finish globular light bulbs. In each piece, a draping bent tube is locked by a shorter counterpart that rests on the longer tube. Franceschini attributes the design's circular form to a neotenic approach, and he considers the pieces crucial in the show's overall rhythm between round and sharp edges.
Miami Lamp by Rooms
A wavy surface is strikingly handled by the Tbilisi-based design studio Rooms, operated by two friends who met while studying interior design at the Tbilisi State Academy of Arts in Georgia. Sculptural form prevails the entire show; however, the duo's signature integration of their native country's tumultuous sociopolitical transition further infuses mystery and theatricality to the objects. Take, for example, this freestanding plaster and brass lamp. As opposed to its hefty marble presence, a hollow white plaster body is crowned with brass bowls in three gradual sizes, distantly reminiscing the human form as well as a tree trunk and its leaves.
Lawless fauteuil by Evan Fey
True to its title, Detroit-based designer Evan Fay's Lawless armchair is visually unavoidable, a scene stealer with its contradictions of form and texture. The duello between the geometry of brass tubes and the knit fabric intertwining around them is both poetic and functional—"very comfortable," Franceschini assures. Fay hand-sculpts each item in the series, ranging from bar stools to large corner sofas. This exposure of its maker's hand gesture reveals the harmony between the seat's two opposing materials.
BLING BLING by Pietro Franceschini
A group exhibition on neotenic design at Brooklyn's bygone design space A/D/O in 2019 inspired Franceschini to delve into the childish when thinking utilitarian. Cloudy forms, inviting surfaces, and juvenile color palettes are essential for a phenomenon celebrated by designers who dare to lighten the practice's formal approach to aesthetic. The two Ottomans pair maple wood from Milan with sheep skin in biomorphic and playful forms. As the show's curator, Franceschini says his own design encapsulates his overall theme of materiality over ornateness.
Stag T by Rick Owens
Rick Owens, who Franceschini considers "one of the most influential designers working today across principles," makes a powerful contrast to the neotenic aesthetic with his dark and bestial approach. The Paris-based American designer of garments and objects reflects his multidisciplinary vision to making a stool that balances the minimal with the darkness of nature. Here, a black wooden surface is suspended by a deer's antler. Those familiar with Owen's architectural and primitive cloths can trace cues from a similarly nuanced design that is heavy with its presence yet light in weight.
Green Console by Laurids Gallée
"Resin requires molding and numerous tests on top of its costliness," says Franceschini about the material's unfriendly nature. Therefore, he particularly admires Austrian designer Laurids Gallée's neon green console composed of frosted resin rods joined with a mathematical precision and otherworldly humor. In addition to the translucent material's curiosity-inducing nature, the ethereal effect comes from the curator's decision to place the object in the bedroom where light cuts through the surface.
Ombrée Mirror by Laurène Guarneri
Parisian designer Laurène Guarneri's handmade mirrors may hide their manual process in their crisp appearances, but her nature-inspired pieces—whether they reflect the illuminance of raindrops or infinity of the sea—activate their environments through shifts in light and color. This gold and yellow glass wall mirror benefits from its two-layered design to convey depth and subversion of its purpose. Creating a yellow-washed version of its surrounding, the mirror is not only inviting and playful but also a contrasting accent to the resin console with its "impure geometry," according to Franceschini.
A/B/C/D Light Object by Sander Bottinga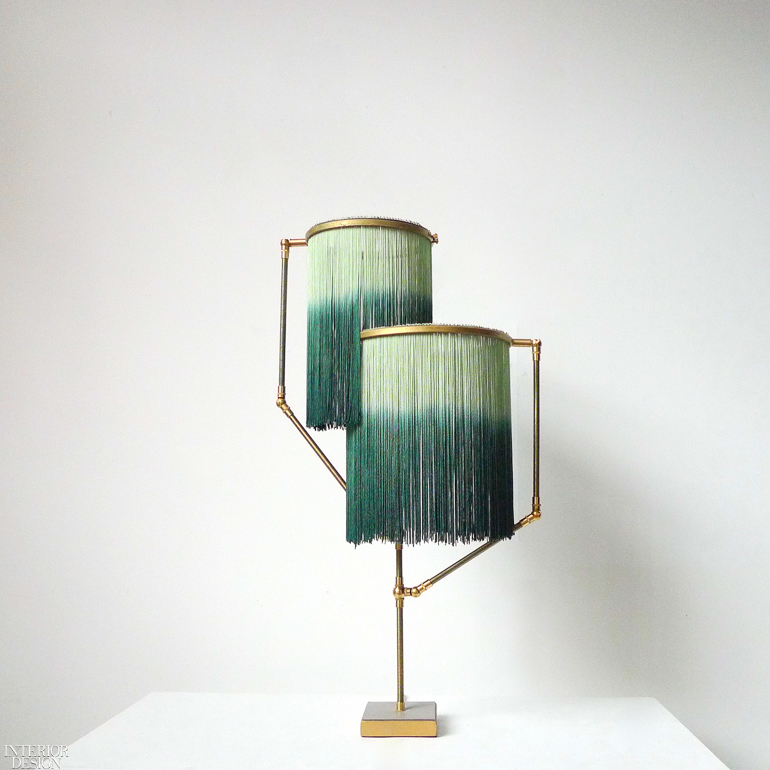 The penthouse bedroom is also the backdrop for Dutch designer Sander Bottinga's irresistibly festive fringe-covered side lamp. With cues from Art Deco and Gilded Era glamour, the lighting piece dresses its industrial elements with dip-dyed viscose fringe. Two circular brass loops are finished with leather and wood parts for a multiplicity of details and the surprise element for onlookers approaching to inspect the draping yarns voluminous movement. Franceschini placed the lamp in vicinity to Guarneri's mirror to echo the mirror's duality with the brass loops.
Gestalt low table by Frederik Bogaerts and Jochen Sablon
Franceschini invites visitors to lower their gaze to take in this circular silhouette on the floor, a marble low table by Frederik Bogaerts and Jochen Sablon. The de-constructible table is modular and practical—the foam cushion ends on its legs to prevent scratching the floor. Do not, however, sweat over spotting the cushions from afar—the designers finished them with matching paint to guarantee a seamless flush.