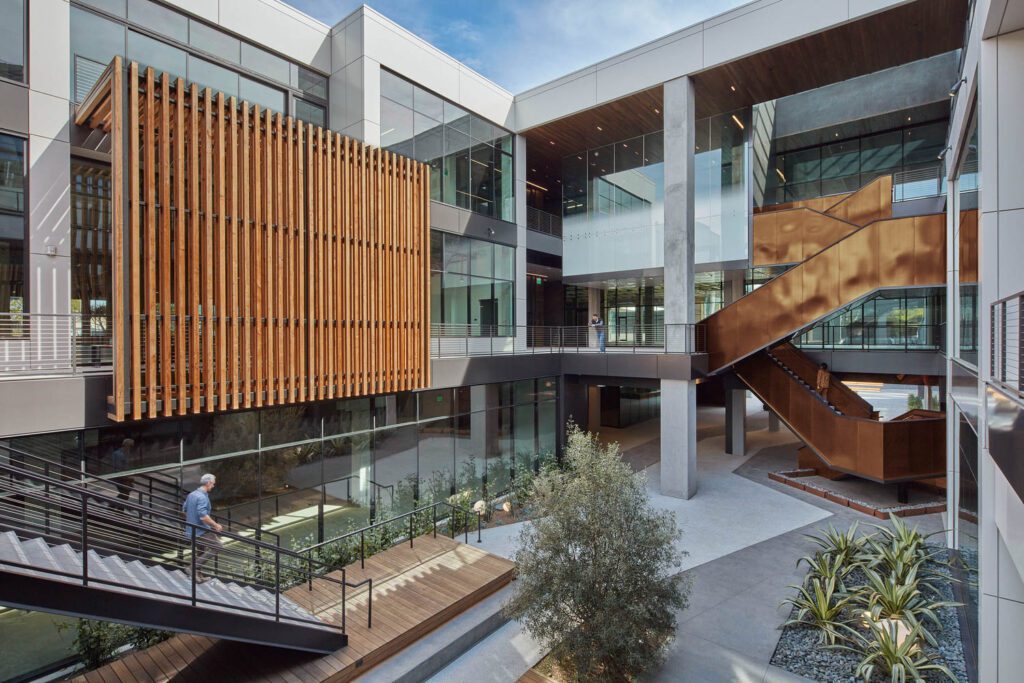 HLW Breathes New Life into a Former Macy's in Los Angeles
Malls, with their large swaths of shuttered real estate, are ripe with opportunity for repurposing—and every building saved also benefits the environment. Take the West Side Pavilion in Los Angeles. Re-branded as West End, it is currently being transformed to a 584,000-square-foot Google office campus by Gensler and ZGF Architects for interiors. Separate but related is one parcel of the mall. The former Macy's, a corner structure designed by Gruen Associates and built in 1964, has already been developed by GPI Companies and designed as a 230,000-square-foot speculative office complex by HLW. Though still Mid-Century in vibe, it's anything but the closed-in retail emporium it once was.
HLW's scope was vast, from interiors to structural upgrades and landscaping, since the exterior was deemed every bit as important as inside. Parking, too, was part of the program entailing construction of a 1,000-car structure. "It's an impressive case study on repurposing under-performing and abandoned malls throughout the country," says Sejal Sonani, principal and managing director. In this case the project came to $180 million.
HLW's big move sliced the three-floor volume in two. Once enclosed interior space is now a 52-foot-wide, open-air swath running north-south from Pico Boulevard to the parking structure. Part of the operation entailed "pushing the ground plane down one level below the street to create a light-filled courtyard at the lower plaza level," Sonani explains. Obviously, it is an intervention bringing in a whole new "unconditioned" amenity to function as a supplementary lounge or workspace as well as enabling individual rental units to have adjoining terraces and overlooking balconies, some fronted with slated wood trellises "to breakdown the scale of the cavernous space," the architect continues. Further, it's a move clearly visible to vehicular traffic enticing passersby to peer through and wonder what's going on.
More light infuses the building from a facade of full-height glazed archways. HLW made them transparent as the arches had been infilled and solid in their original incarnation. Original, though and indicative of the era, is the mansard roof.
A skylight-capped, exterior stairway links the three levels, its position strengthening the indoor-outdoor tie that's consistently cited as a chief SoCal asset. The element is composed of composite metal panels, an LED-lit, solid surfacing handrail, and pre-cast concrete treads. To encourage vertical circulation al fresco, HLW tucked the new elevators behind.
Just completed in June, West End has yet to lease tenants. We're staying tuned.