A Classic Aesthetic Informs This Home Renovation
For a home with original crown molding in Valencia, Spain, the team at Destudio Arquitectura knew they wanted to draw the eye upwards. "The height and moldings of the ceilings is something that attracts a lot of attention," the designers say. The ceilings in the living and dining areas were restored while adding modern updates throughout.
The home, called Casa Landete, nods to the surrounding area of Valencian Ensanche—a chic neighborhood that melds old and new. Viewing the space as a blank canvas, the design team focused on creating more functional rooms, starting with the kitchen. To better integrate an exposed concrete beam, Destudio Arquitectura designed a table that seems to melt into it supported by wooden pallets. A sliding glass door with black lacquered aluminum elements—furthering the classic aesthetic—separates the kitchen from the living and dining area while enabling natural light to filter in.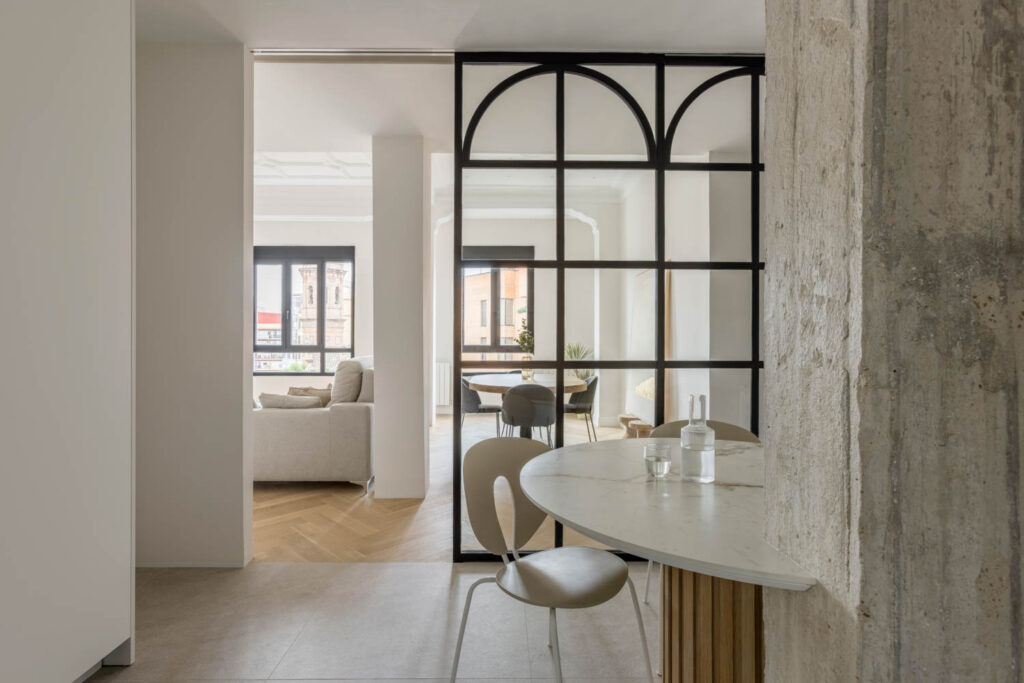 "We like each of our projects to have its own personality," the designers share. "Casa Landete, from the beginning, inspired us neutral, warm and cozy tones. The effect of the natural wood in the floors, together with the white and beige touches of the rest of the furniture provides the perfect combination."
This subtle material and color palette makes an impression immediately on entering the home. The custom entrance hall is designed to highlight a false ceiling coated in natural wood, creating a striking first impression. "The foyer with the wooden ceiling is one of the most risky and striking elements," the designers say. A risk well worth taking to create a serene escape from the city streets.
See the Complete Home Renovation by Destudio Arquitectura