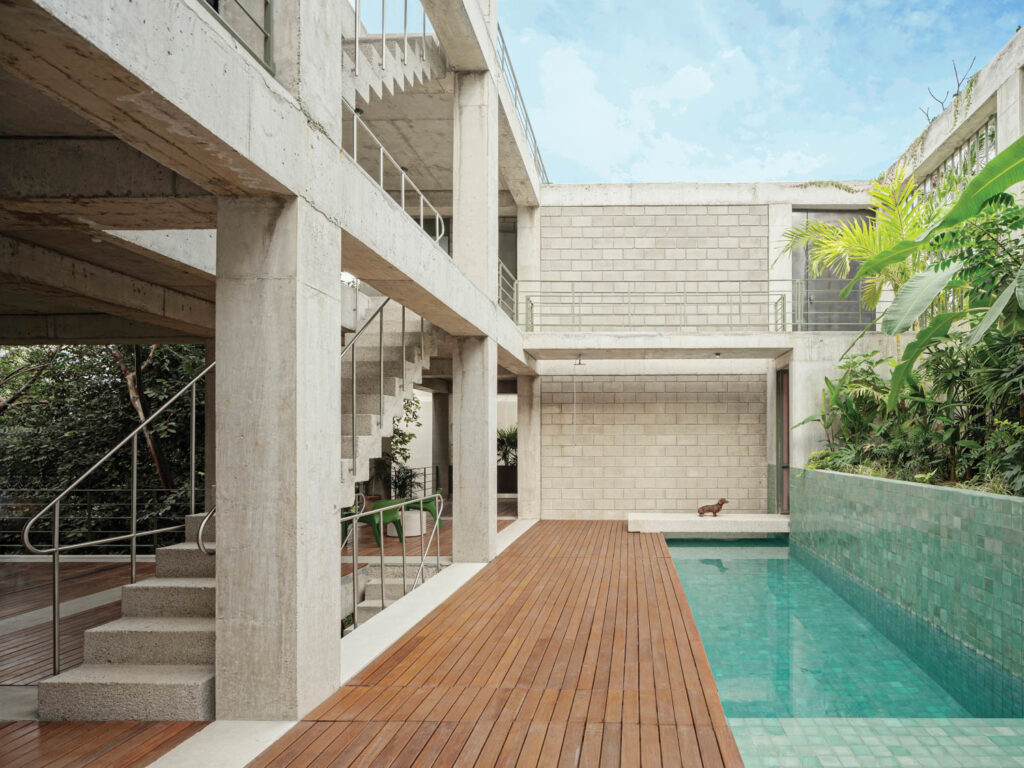 Boutique Hotel Meets Holiday Villa in This Mexican Oasis
Scouting for land with a local real estate agent in the small Mexican surf town of Sayulita, Robert Humble got an instant education in jungle topography. "We quickly realized that flat, level lots are pretty unattainable," recalls the architect, who's also founding partner and design principal of Hybrid, a multidisciplinary Seattle studio that designs, builds, and develops efficient, contemporary, contextually appropriate work that cultivates community throughout the West Coast and Canada. After touring a half dozen sloping sites surrounded by thick rainforest, he and his wife Nicole Johnson returned to the first—equally steep but whose lowest point from its residential street was met by a lush, undeveloped ravine. Its natural configuration assured an appealing sense of privacy. Humble's team at Hybrid tried a few massing concepts, and the couple was sold on the location for Nico Sayulita, their and the firm's first hospitality endeavor—and project—in Mexico, its moniker derived from Johnson's nickname.
A series of five suites connected by a common party deck and an accessible rooftop, the 3,000-square-foot Nico is conceived to take advantage of the natural atmosphere provided by its forested site. "The empty spaces are the heart of the project," says architect Ilse Cárdenas, coprincipal of Mexico City studio Palma, which collaborated with Hybrid on the modular system of concrete linear cubes that have been strategically stacked to descend the hill. "Everything is porous, and we closed as little as we could." Each side of the volumes is either glazed, solid masonry, or left open to the elements, depending on purpose. The rooms feature walls of operable windows for protection from rain but also the ability to cross-ventilate, while the central stairwell is exposed to appreciate surrounding vistas but covered by a roof for comfort and safety when climbing between levels.
Nico Sayulita Reflects the Architectural Heritage of Its Surroundings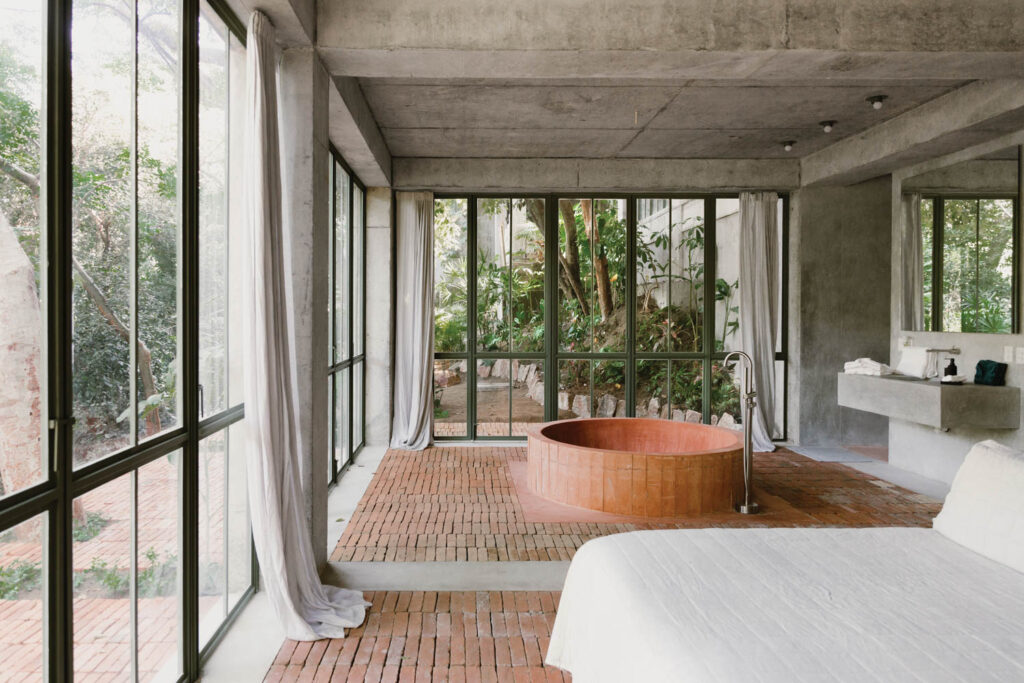 "What was important to me," Humble continues, "is that Nico represent the architec­tural heritage and built typology of Mexico, which, in a lot of cases, is concrete columns, slabs, and infill," that create a contemporary style with roots in Mexican modernism. This gridded building system also gave him the flexibility to continue tweaking the hospitality concept long into the design phases. What it became is something between a boutique hotel and a rentable private villa: Visitors can book a single suite, a few, or all five, and they share the rooftop with jacuzzi as well as the lap pool and chef's kitchen, located on an open-air "social level surrounded by sunlight, foliage, and amazing views," Cárdenas describes. Rather than a full staff, a concierge team provides a meet-and-greet and offers a host of personalized activities—from a private chef and on-site yoga class to local excursions. "It's a guest experience that offers both the autonomy or privacy of an Airbnb with all the services of a boutique hotel," explains Humble, who is exploring future Nico hotels in Morocco, Thailand, and elsewhere in Mexico.
The Property Invites Guests into the Jungle
Walking distance from both the town and the beach, the property is in a low-scale neighborhood, and its profile remains respectful of that density. From the street, the building appears just two stories tall. However, once inside the gate, the structure is built three additional levels down into the jungle, each height providing a unique experience in nature for guests. At the lowest story is the most private abode. Nestled in the tree canopy, this 560-square-foot suite features a romantic circular soaking tub, flooring of local brick, and three private terraces built around existing tree trunks. Each room has a different layout, arranged to take advantage of their specific vistas, sunlight throughout the day, and ocean breezes, though all contain their own bathroom, a wet bar in blackened steel, and a sitting area, sometimes located inside, sometimes outside on terraces that seem to float among the foliage.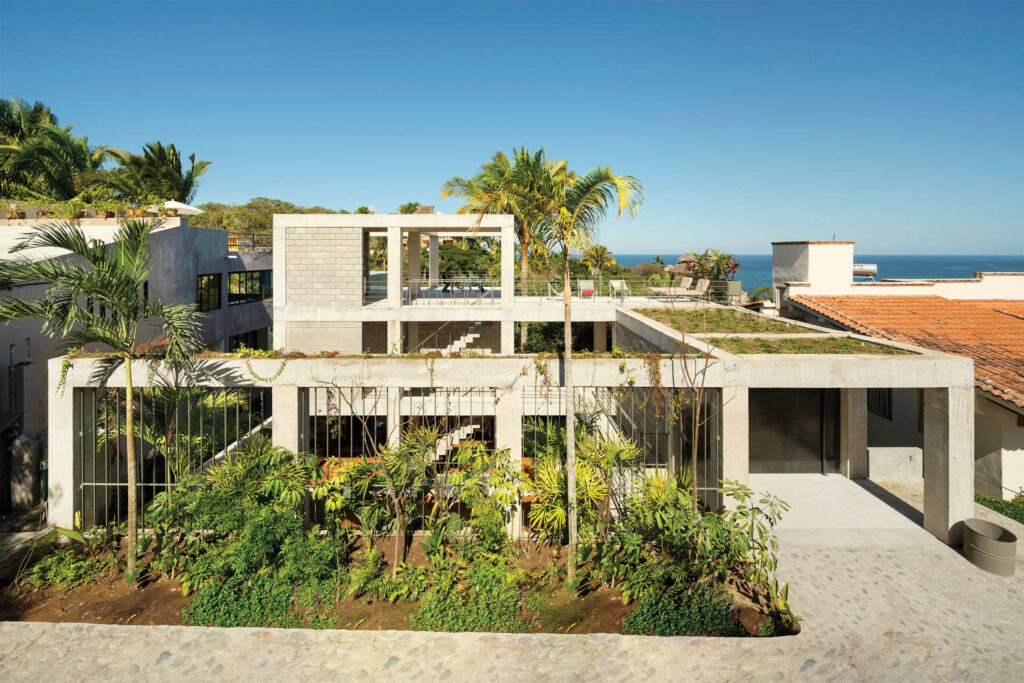 Nature is the focus of Nico Sayulita, and the interiors let the environment take center stage. The material palette in the suites is subtle—concrete, wood, steel—and all the furnishings are handcrafted in Mexico, many custom-made. "Though we sought restraint, a lot of thought was put into each piece," Cárdenas says. The Palma team engaged a group of Mexico City–based designers including Roberto Michelsen to create bespoke beds, side tables, and chairs, all of which use rounded geometric forms to complement the complex's stark architectural expression. A few furniture pieces provide a pop of earthen color, like a red terrazzo drinks table by Guadalajara-based En.concreto and a striped textile on the cushions of a pair of armchairs by Zapopan-based Stown Design, but most maintain their natural patinas. A black-and-white abstract artwork by Diego Hernández Beauroyre hangs above each bed. "Bringing in these works makes the project feel Mexican and contemporary without going the Frida Kahlo route," Cárdenas adds, referencing the tendency toward clichéd depictions of the infamous Mexican painter that travelers can find in other hotels across the country.
In Nico's social spaces, material colors were inspired by the Pacific Ocean views. A Guadalajaran fabricator created the custom sky-blue tiles that line the pools. A stucco-clad bathroom off the party deck wears a lightly pink-brown hue. "The feeling we're looking to convey is informality," says Humble, who also hired Mexico City studio Trama to create the hospitality brand's retro-inspired graphic design. "Nothing is precious or pretentious." In the laid-back beach town of Sayulita, it's truly of the place.
Inside a Hospitality Gem in Sayulita, Mexico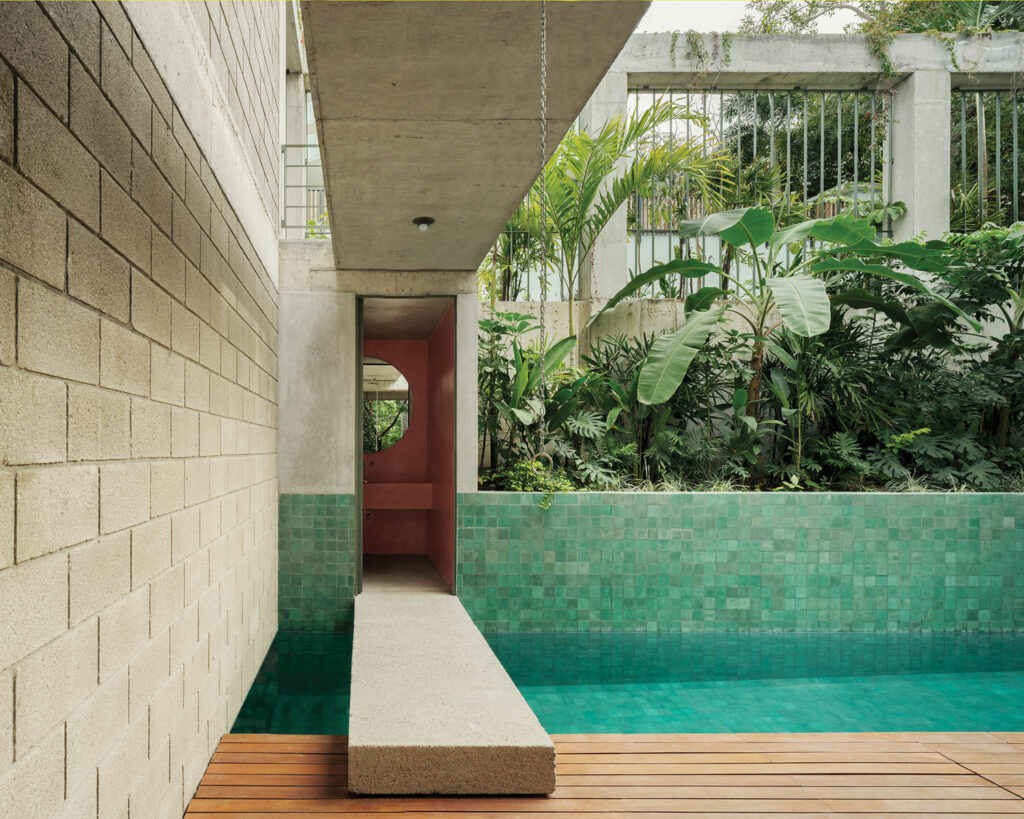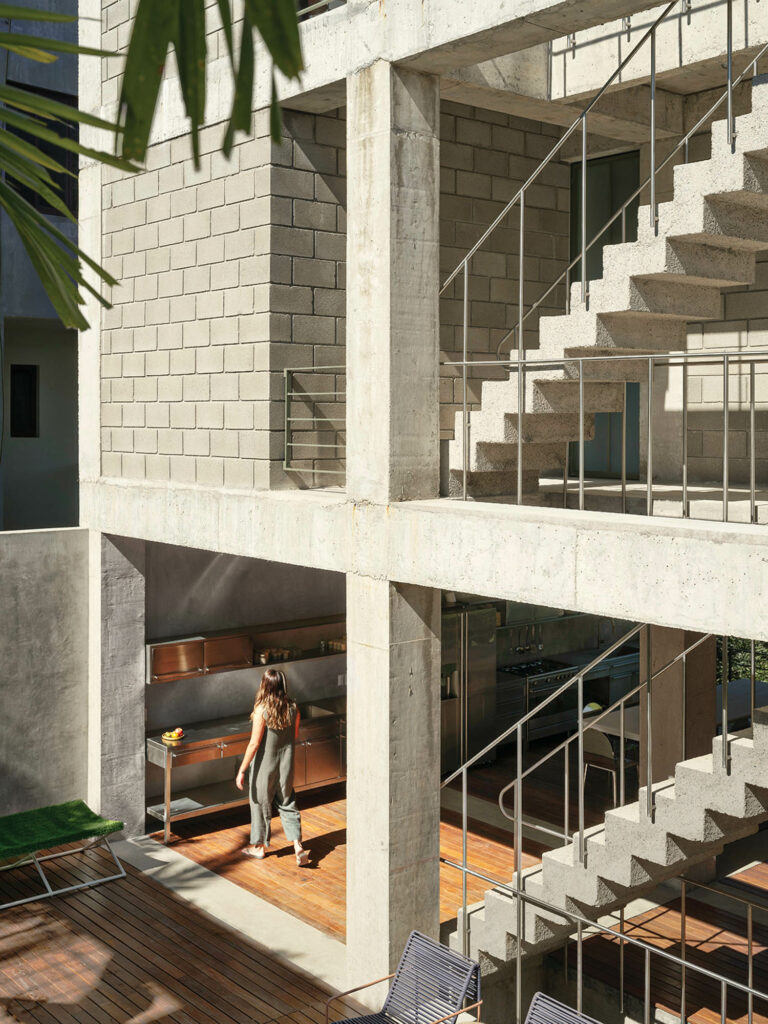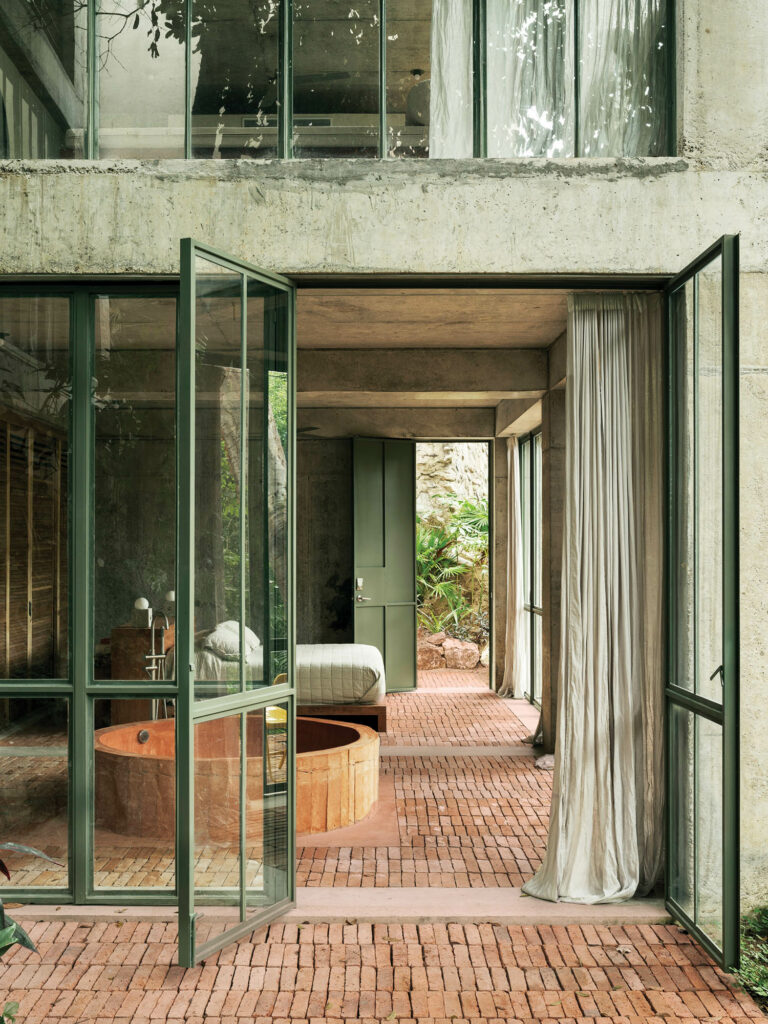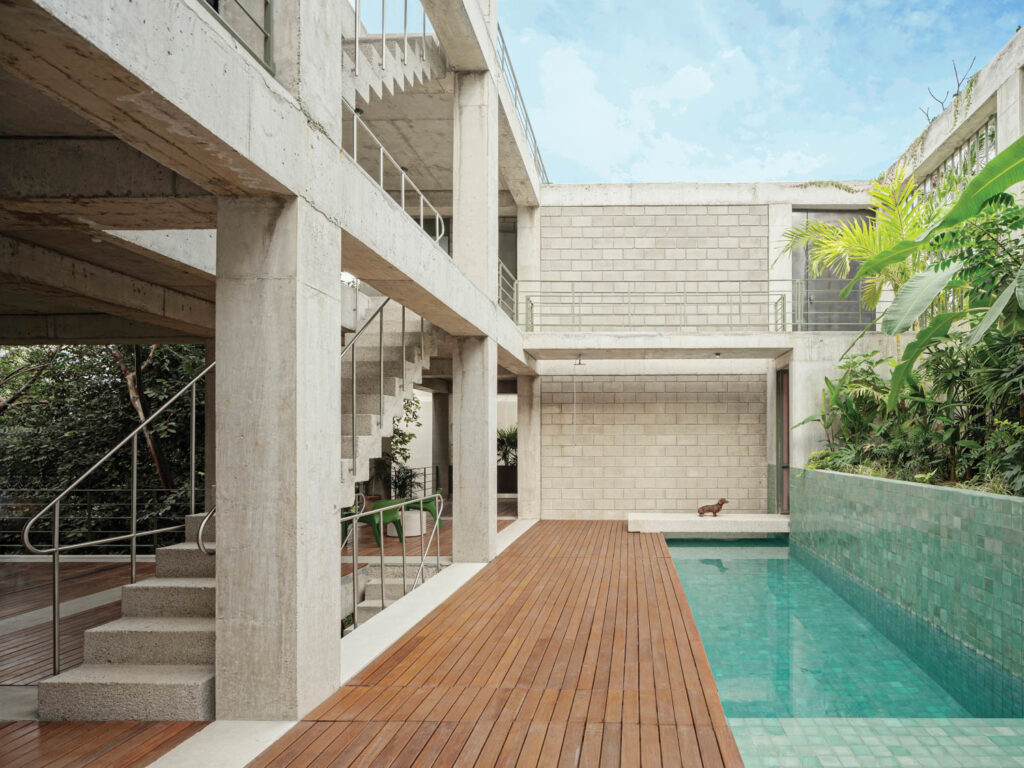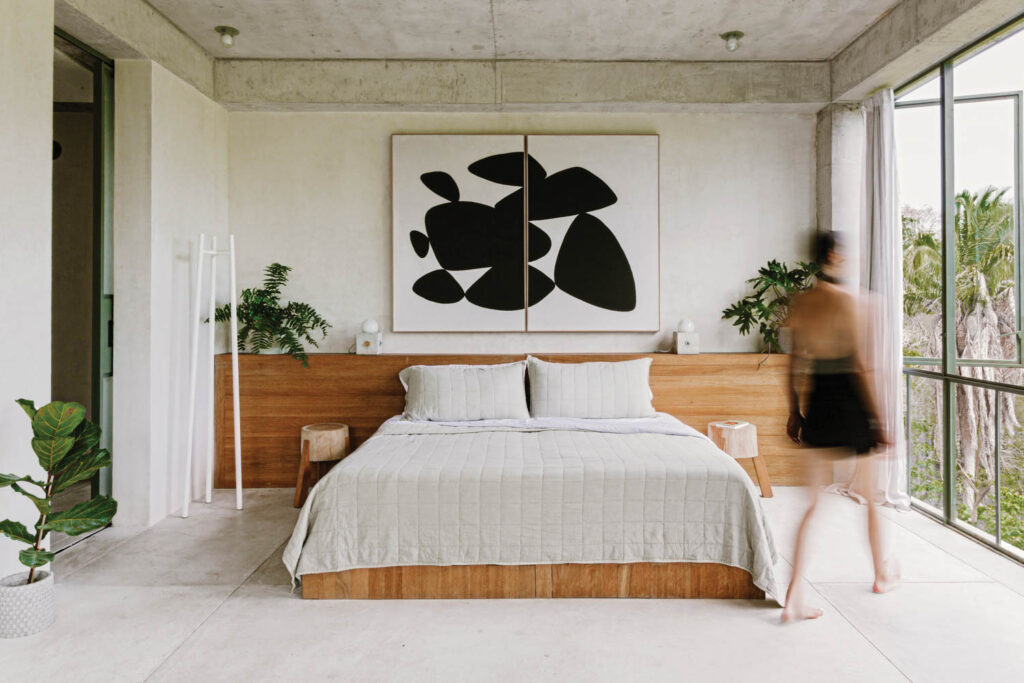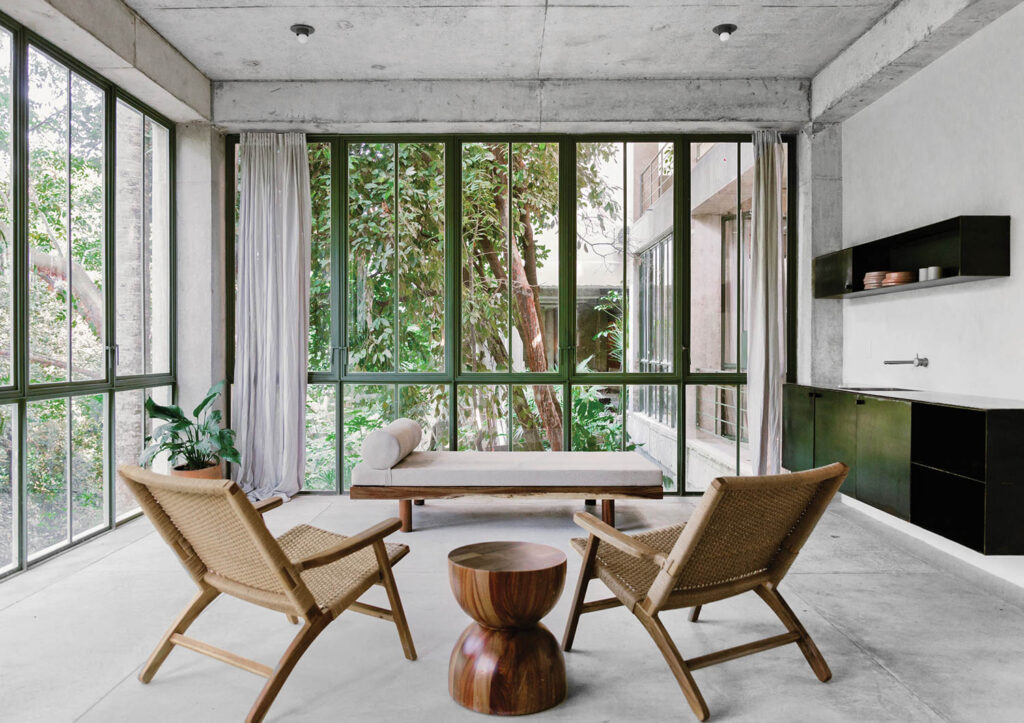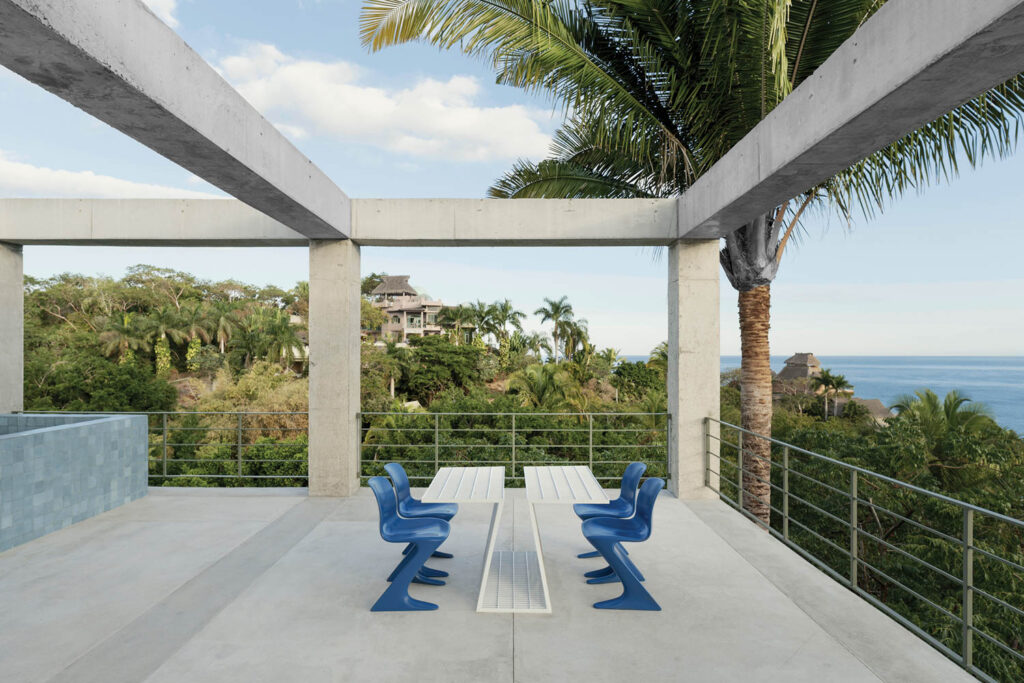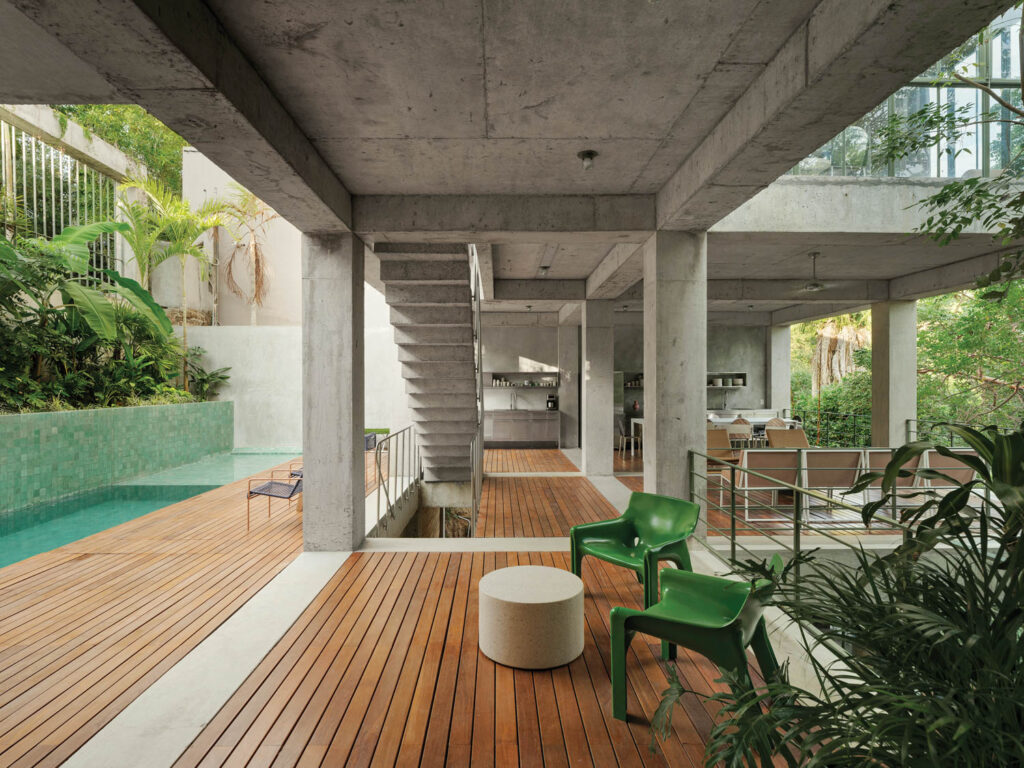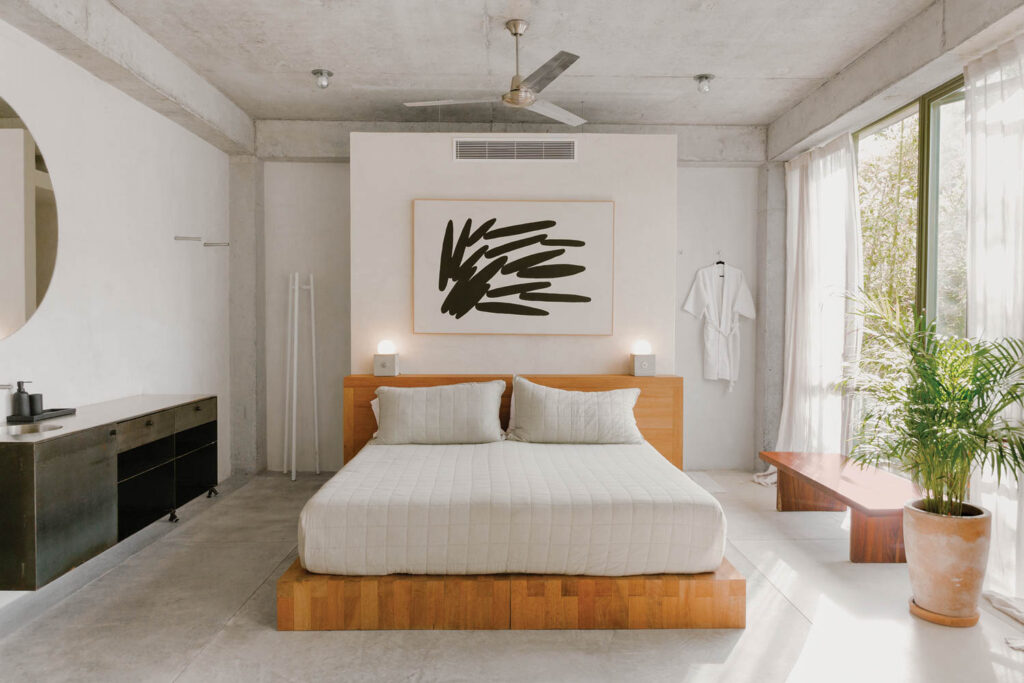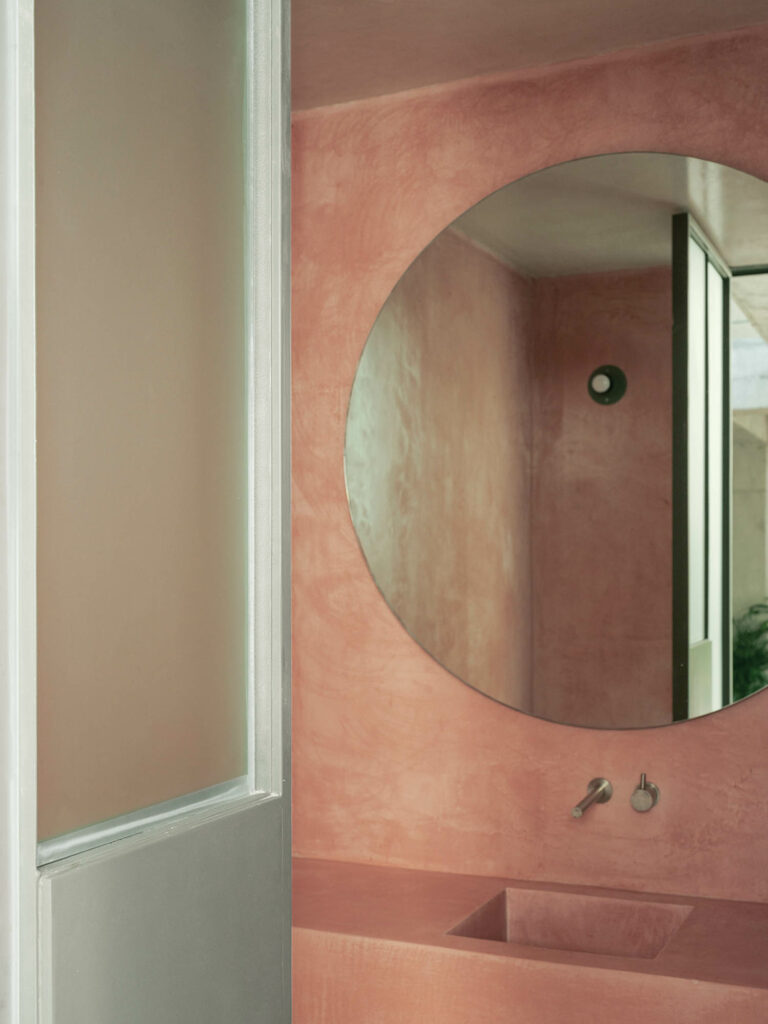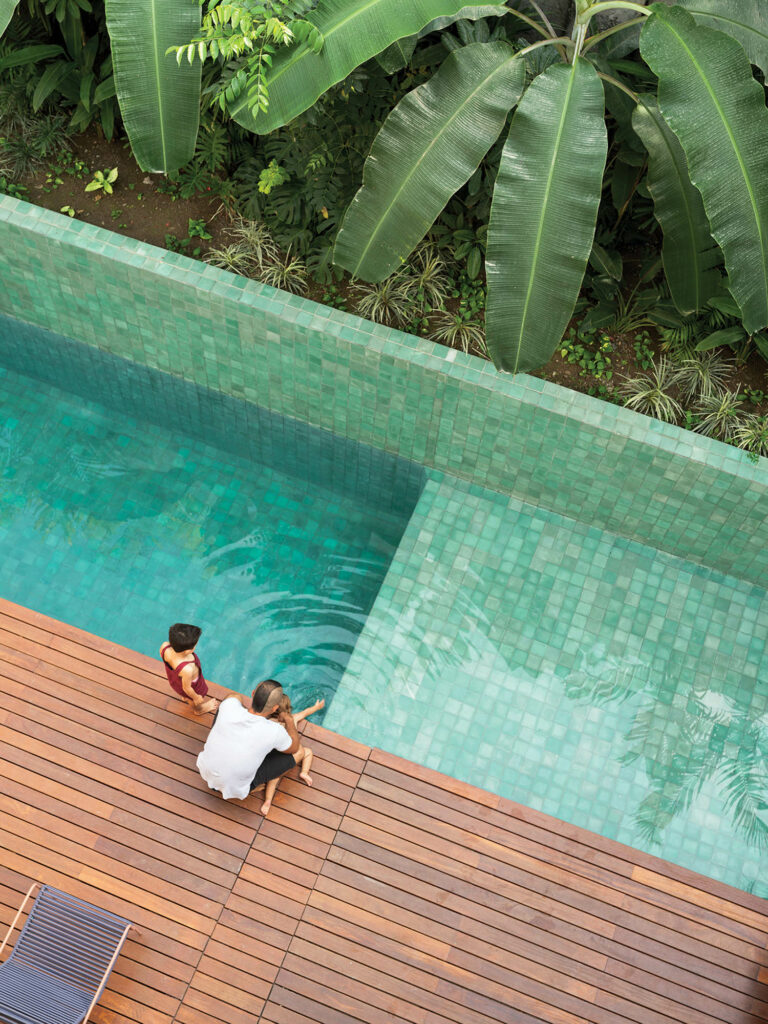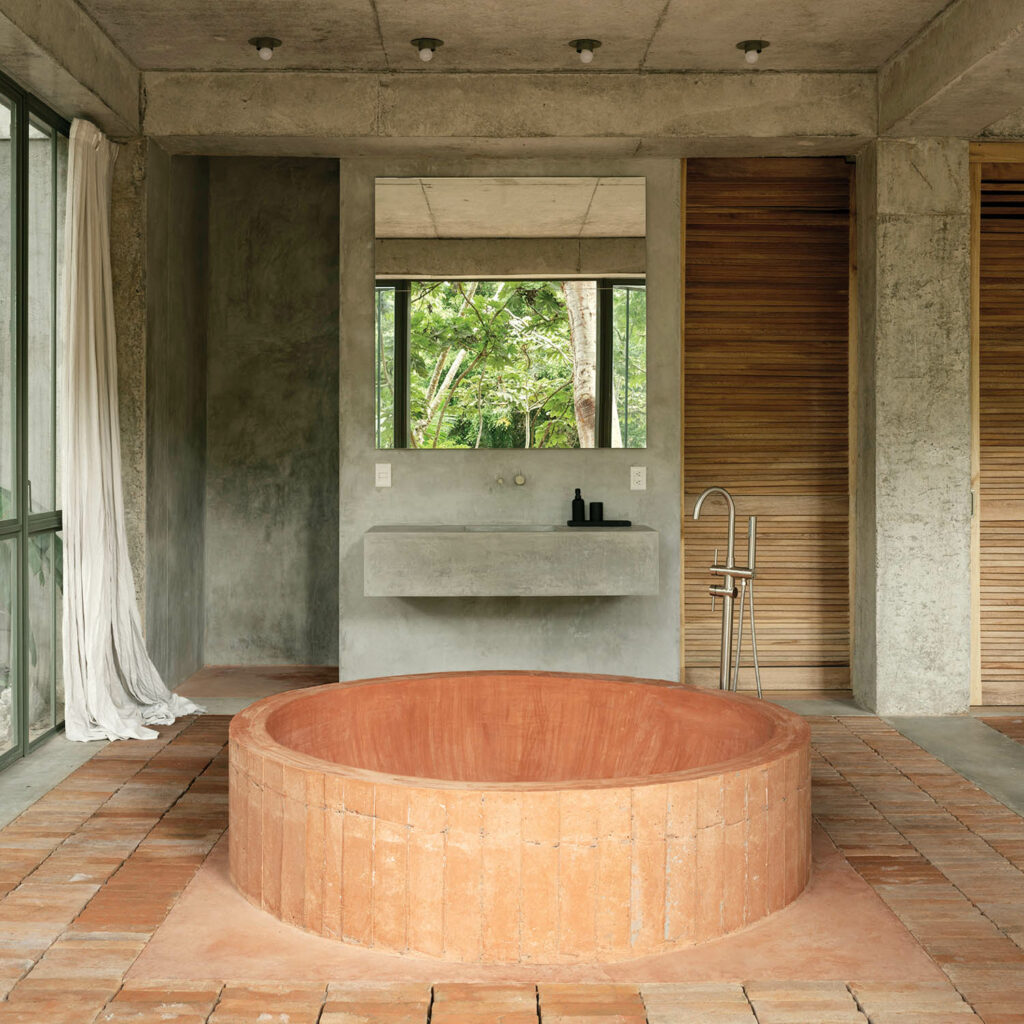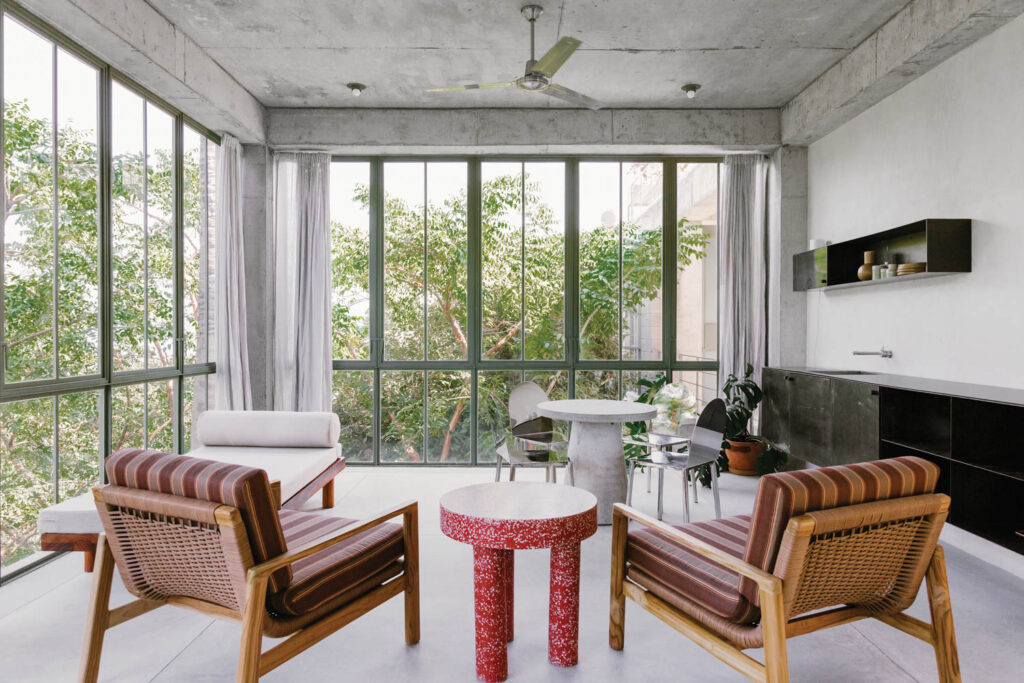 PROJECT TEAM
hybrid: alex herbig; scott goodner.
palma: regina de hoyos; diego escamilla; juan luis rivera; luisa rizo; constanza ponce de león; josué granados; nia jorquera; josé mendéz.
paar taller: landscape architect.
trama: custom graphics.
abm acero: steelwork.
adrián ramírez siller: general contractor.
PRODUCT SOURCES
FROM FRONT
taplong: tub fittings (jungle).
inblock: bricks.
la laguna: tile (pool).
stown design: lounge chairs (horizon), coffee table (papelillo).
anna cuadra home accents: armchairs (papelillo).
through decada: chairs (rooftop), bench (papelillo), green chairs, table (pool), daybed (horizon).
THROUGHOUT
en.concreto: tables.
grupo urrea: sink fittings.
westinghouse: ceiling fans.
cemex: concrete.
perdura: wall coating.
grupo argos: decking.