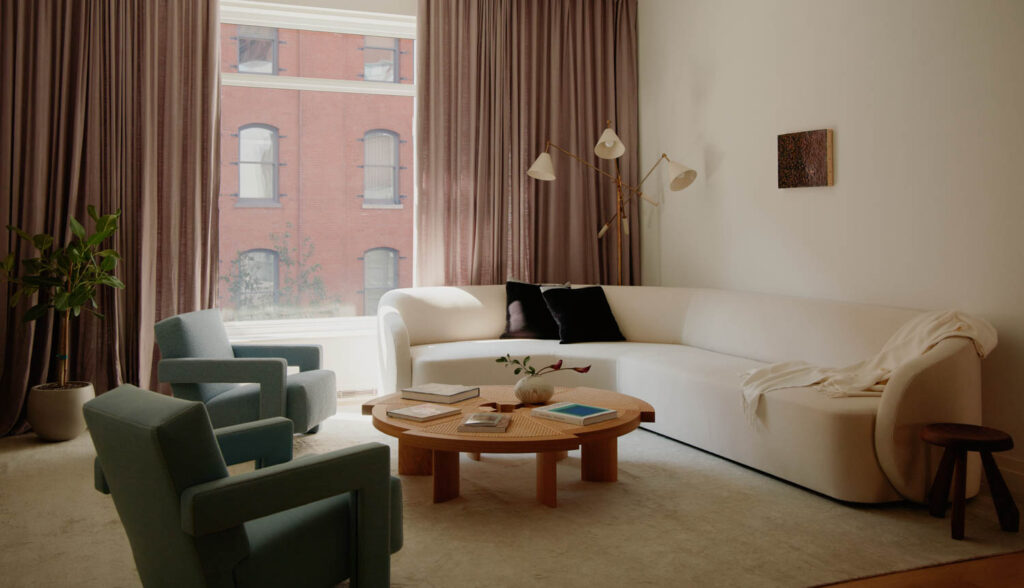 Jae Joo Designs Crafts an Art-Filled Tribeca Pied-à-Terre
When tasked with creating a family pied-à-terre in the Tribeca neighborhood of Manhattan, Jae Joo, founder of Jae Joo Designs, felt an instant synergy with her client. "Something special about her love for design resonated with me right away," she recalls, noting her passion for contemporary art. "She already had some lovely pieces that we could incorporate into their home."
Building on her client's existing collection, Joo added a few more pieces to the mix, including a Nicolas Guagnini ceramic, sourced from Bortolami Gallery, above the sofa, and a quilted work by Stephen Towns from De Buck Gallery, which now sits above a blue credenza, custom-made for this project by Orior Furniture. An orange large painting by Tahnee Lonsdale from De buck gallery is showcased near the dining room where Pierre Yovanovitch chairs from The Invisible Collection surround a custom table by Jerry Nance, set near a floating bookshelf by Pierre Chapo. "Art is a big part of my process, and it was so great to work with someone who shared the same interest and curiosity," explains Joo.
It took the designer a little over a year to shape this three-bedroom, three-and-a-half bath condo nestled in a new development built in 2017 by Robert A.M. Stern Architects. "Since the space had very little architectural details to work with, my goal was to create a home that feels well balanced and inviting by following a tailor-made approach to everything we brought in," she says. "Every piece was chosen with the notion of comfort in mind, but without compromising the look or quality."
Covered with pure Loro Piana cashmere, the sofa was built, assembled, and upholstered on site to fit the corner of the light-filled living room. In the guest bedroom, a mural is hand painted by Dean Barger while the main bedroom features a custom color de Gournay wallpaper.
Joo blended contrasting elements such as the soft pastel fabrics and raw metal finishes with bright touches through art. "While I love to use bold colors, I always try to incorporate them to ensure they harmonize with the overall space, never overwhelming its ambience," she says. "Even with the presence of powder white walls, there exists a delicate equilibrium between the subdued backdrop and the vibrant hues."
Cashmere, wool, and thick washed linen were preferred for their durable yet luxurious property in this serene home where Joo maintained a minimal, clean aesthetic while introducing unexpected pops of color and unique, crafted elements to the harmonious decor.