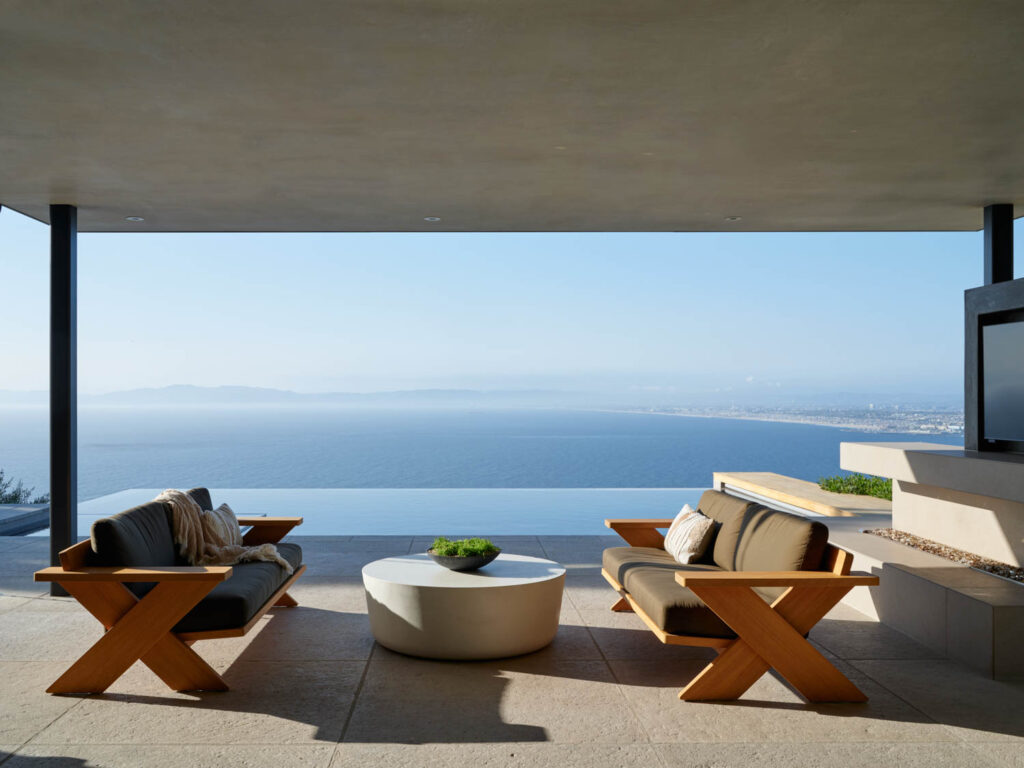 Classic and Classy: KAA Design's SoCal Home Renovation
Grant Kirkpatrick, founding partner of KAA Design, says it best. "Warm modern" is the architect's description of the Los Angeles-based firm's work, most of it residential. That goes for new-builds and renovations alike with this recent project in Palos Verdes in the latter category. Dating to the 1980s, the ranch with low-slung roof came with built-in assets that, well, were not built. To wit: panoramas of the Santa Monica Bay stretching into the Pacific Ocean, a sighting of Malibu, and, to the east, Downtown Los Angeles's cityscape. Meanwhile, the owners had lived nearby "in a classic, two-story Italianate revival residence with dark brick walls," while raising their family," Kirkpatrick begins. Empty nesters now, they were ready for a change.
Change meant transforming their new purchase from one with a Spanish vibe, including carved beams and a heavy plaster fireplace in the middle of the living room, to a breezy, contemporary setting with a pale monochrome palette. Aside from the views, "the house was laid out beautifully," it's L-configuration creating a courtyard setting around one large lawn with another at back to accommodate a new pool and terrace that were part of Michael McGowan's elaborate landscape scheme. "Gardens everywhere," Kirkpatrick continues. Maybe the best part? It all comes as a surprise upon entering the new anodized metal gate and descending a half-dozen concrete pavers leading to the outdoor entry gallery hugging the front lawn and culminating at the entry door.
A Contemporary Home Renovation With Ocean Views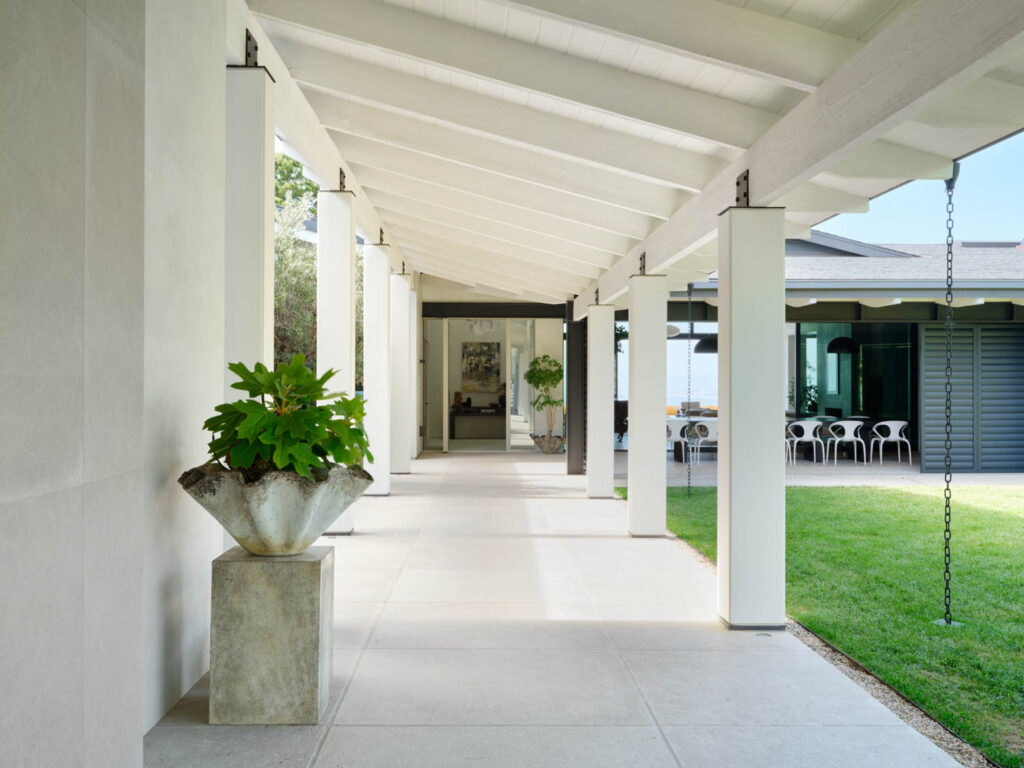 This first introduction to Kirkpatrick's contemporary vision, the allée now has slimmed down plaster columns where heavier originals once stood. Just inside, updating the living room entailed demolishing that obtrusive center wall. Obviously, new bracing was needed, and Kirkpatrick opted to leave the steel beams, finished with automotive paint, exposed. Building, not just razing, was a good part of the renovation. KAA Design created a ground-up indoor-outdoor dining extension running perpendicular to that al fresco entry passage and serviced by a Bulthaup kitchen. Sliders let it be conjoined with the adjacent living room. Black-painted aluminum louvers spanning the opposite face suggest a sense of summer while allowing shaded views of the lawn and gardens. Even in SoCal evenings turn chilly so Kirkpatrick installed heat lamps and a radiant-heated floor to ensure the couple's frequent dinner guests are comfy.
A new wing with three bedrooms and a "bunk" room for the owners' extended family constituted the other big construction move, increasing the home's area from 6,000 to 7,500 square feet. A gap in roof lines between this new piece and the existing house proved an asset. Kirkpatrick turned the interstitial space into "the olive courtyard," so named for its massive tree.
Inside, the pervasive creamy coloring is achieved chiefly via the seamless bond resurfacing treatment, Semco. It covers walls and floors, while tongue-and-groove ceilings with their existing beams were painted white. While the main bathroom with its limestone flooring and ash cabinetry came under Kirkpatrick's aegis, most of the furnishings were selected by the owners.
KAA Design Creates a Home for Indoor-Outdoor Living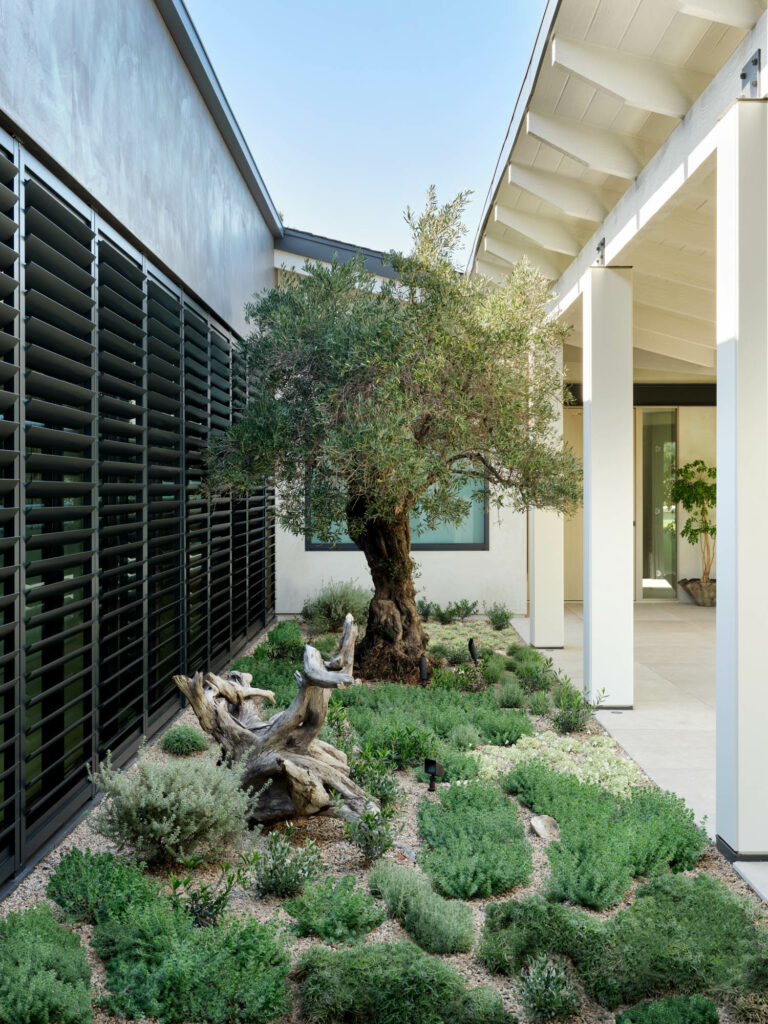 The Renovated Home Features a Neutral Palette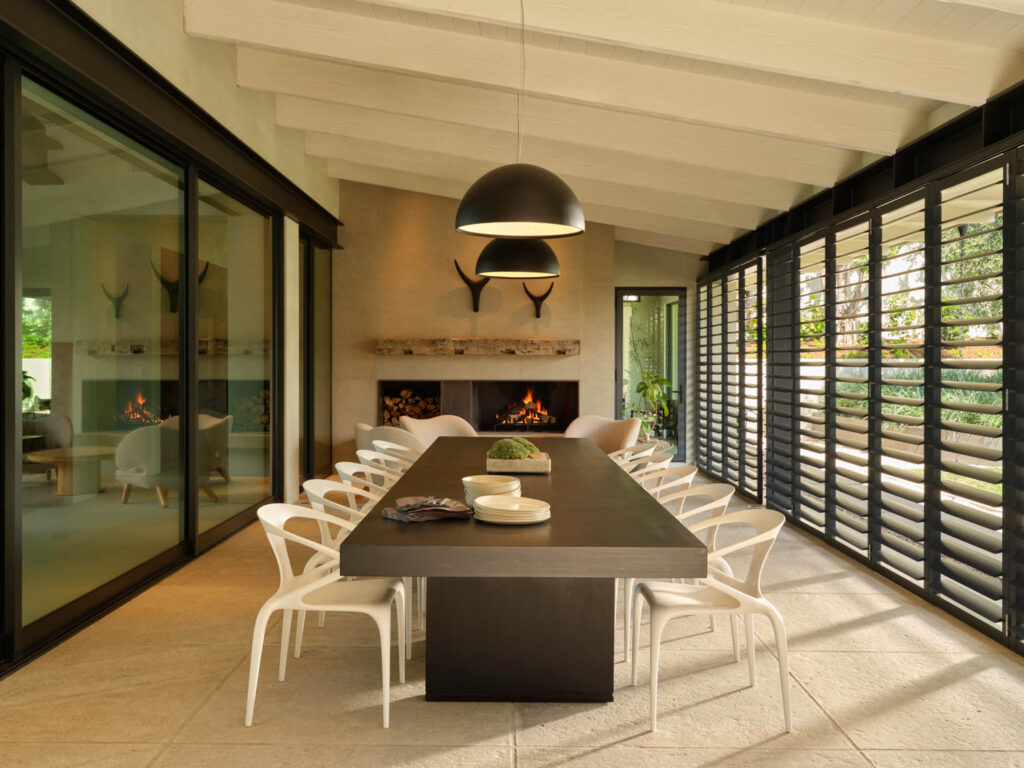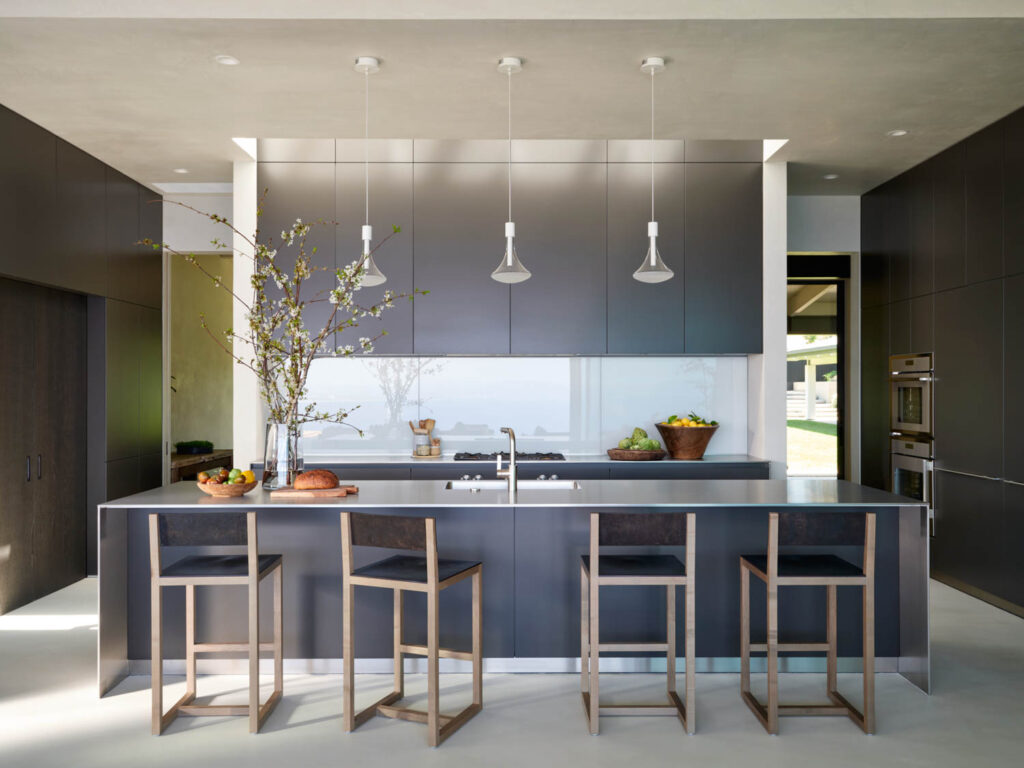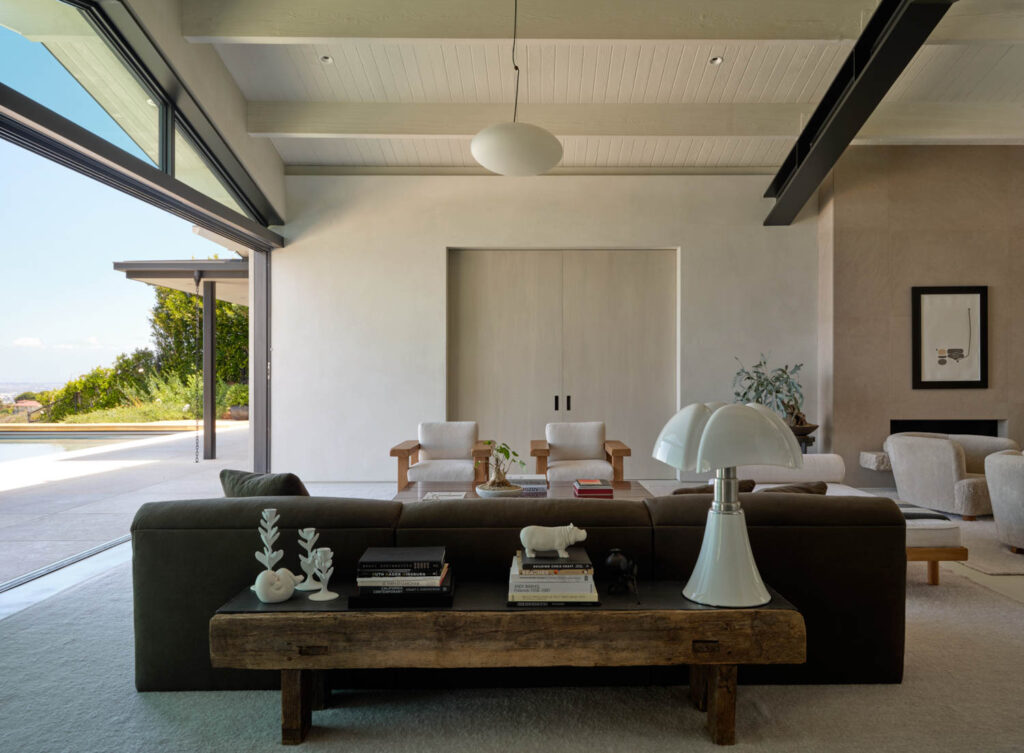 Outdoor Space Designed With Modern Pizazz