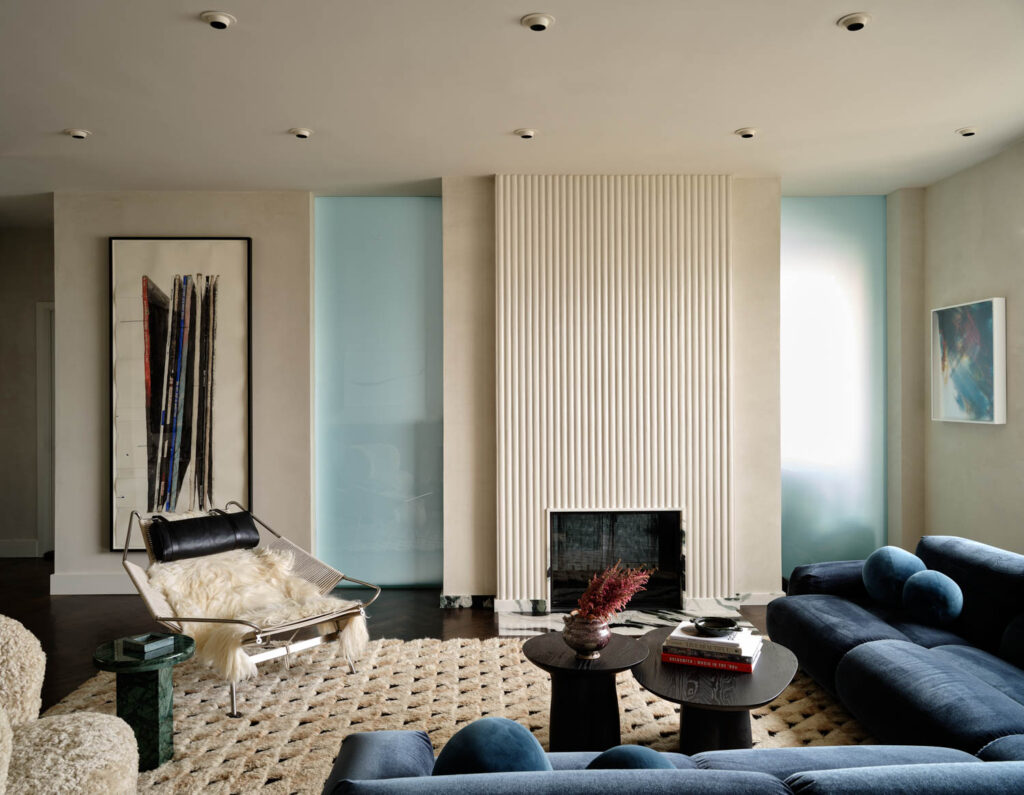 Inside a Manhattan Jewel Box by Kroesser + Strat Design
Designers Anna Kroesser and Amelia Strat, cofounders of their eponymous studio, are all about bohemian glamour. When their clients, a husband and wife working in music and fashion, respectively, hired the duo for a gut renovation of an Upper West side penthouse, it was design serendipity. "Our clients are creatives, and host a lot," says Kroesser. "We knew that from the moment we met them, that this was going to be a vibrant and effervescent space."
The 2,400-square-foot, three-bedroom penthouse is part of a stately Art Moderne tower, built by Emery Roth in the 1930s and festooned with ornate parapets and classic sash windows. It was a perfect canvas for Kroesser and Strat, whose renovations focused on vital social zones. A wall delineating the kitchen and dining area was removed, giving the homeowners a modern, free-flowing scheme.
An Upper West Side Apartment Bursting With Art and Ideas
While the pair designed certain elements, they were careful not to replace furnishings just for the sake of a new look—many pieces were kept or refurbished, like the dining table and wall-hung credenza, which was sprayed with a raspberry lacquer paint to pull in the candy-striped colors of the clients' Thierry Feuz artwork above. "A lot of their existing furniture pieces are so stylishly timeless," says Strat, "It was easy to find them a place in the new iteration of this home."
The guest suite, formerly two bedrooms and a meek sitting nook, was completely overhauled to become an open-concept media room with adjoining guest bedroom, defined by a 14-foot-wide custom glass and iron wall, cloaked in thick blackout curtains, with a bed upholstered in performance velvet from Modshop (the owners' dog played a role in this specification).
"We created an open feeling while providing privacy when needed," says Strat. The duo sourced the iron partitions online, from a supplier they found via Instagram, whom they'll use for future projects after a successful and speedy fabrication.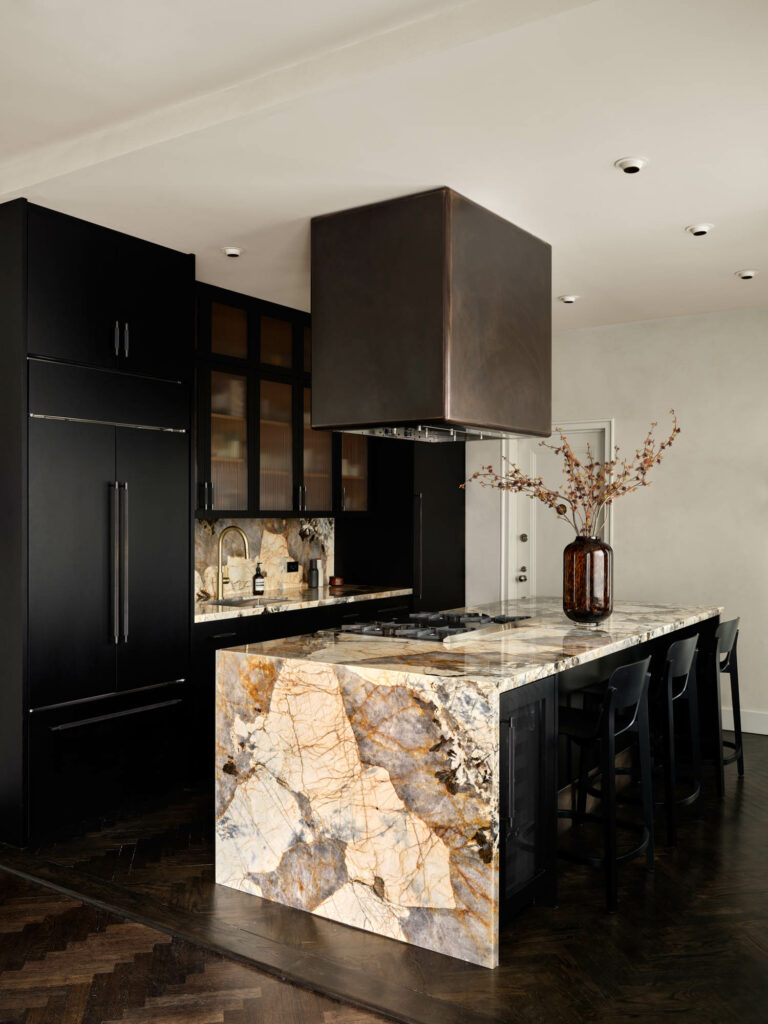 Design Details Create a Standout Guest Bathroom
Kroesser and Strat are most proud of the penthouse's tiniest space—the guest bathroom, which, despite its size, is the most detailed. "It has a bit of an '80s vibe," says Kroesser. "Our client was envisioning green, and we ran with that." The washroom features a custom tiled mural and Calacatta Verde marble detailing, with a concrete floor and handmade Fireclay wall tiles. All this comes to life under an Apparatus Studio sconce. For Kroesser and Strat, this bespoke, jewel box of a bathroom is a testament to the value of independent creation. "Social media makes it feel as though everyone is replicating an image of a space they saw somewhere before," muses Strat. "In this case, we went with unusual concepts like thick grout lines and a wall-to-ceiling mural, which paid off."
"This room is an example of when not to shy away from bold colors or materials in a small space. It is enveloping and cohesive, but you're able to pick up on all these little details throughout," affirms Kroesser. "The clients really let us flex our design muscle and do something we haven't seen before."