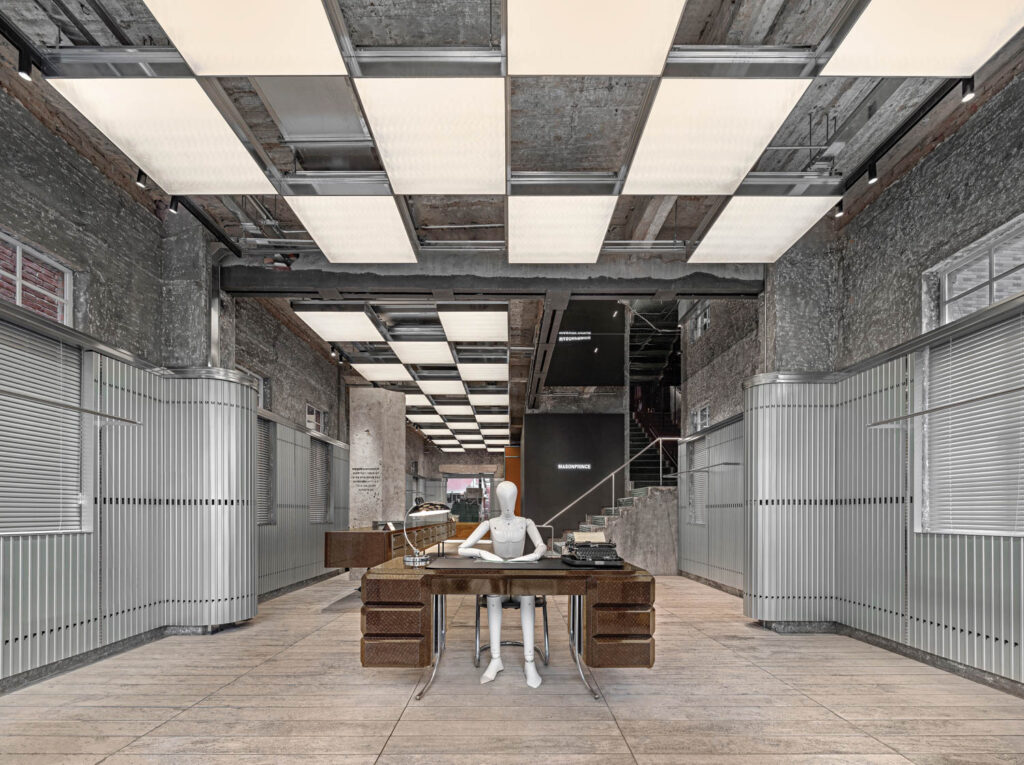 Tomo Design Creates an Intriguing Emporium for MasonPrince
The Gen Z founders of Chinese online streetwear label MasonPrince, siblings Qiusen, Qiumu, and Qiulin Zhou have always tapped into a vintage sportswear aesthetic for their men's and women's apparel, accessories, and shoes. But when the youthful entrepreneurs came to open the brand's first brick-and-mortar retail store, the concept of old becoming new again took on an entirely different meaning.
Located in the hip Dongshankou district of Guangzhou, China's third largest city, the shop is surrounded by chic boutiques and a rising artisanal coffee culture. Part of what has made the neighborhood an appealing destination for young people is its da ka quotient—a Mandarin term that literally means to card swipe or check in but is used to refer to places that are popular backdrops for selfies and social media posting—thanks to the preservation of many old Western-style redbrick houses dating from before the 1949 Communist revolution.
A Retail Locale Rich in Instagramable Moments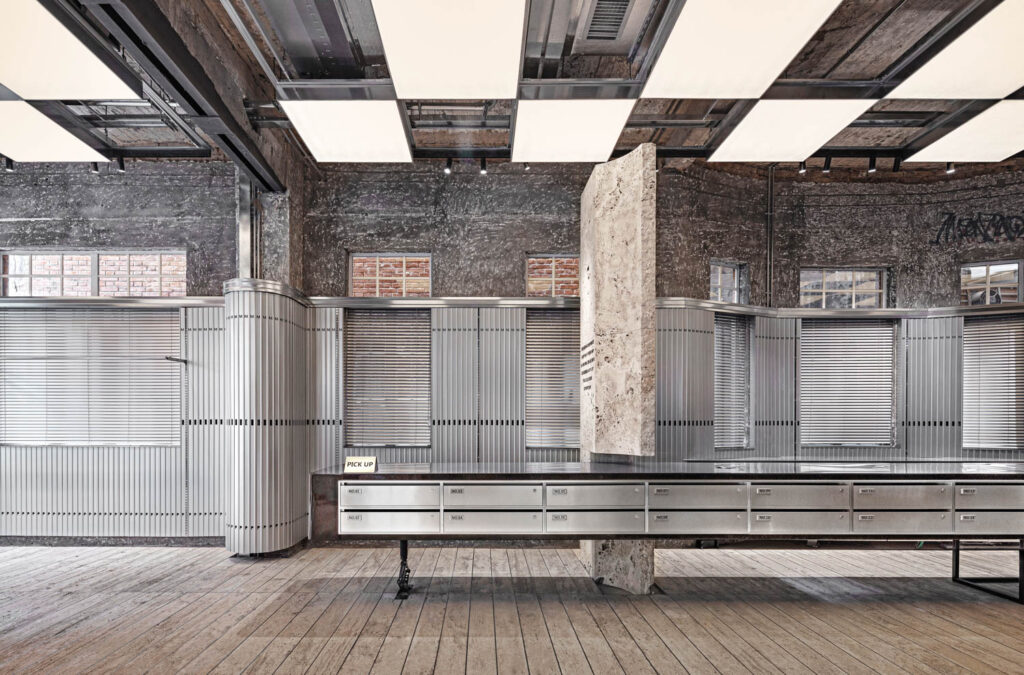 MasonPrince chose one of those colonial-era houses—the year of construction, 1931, displayed prominently on the roof parapet above the white columns framing the entrance—as a da ka–ready storefront. The Zhous tapped Tomo Design, a studio based in Shenzhen, the nearby boomtown from which the siblings originally hail, to transform the two-story, 5,400-square-foot property, which was being used as a law office, into a retail environment that would take customers on a figurative journey through time and space.
An Interior Design That Transcends Space and Time
"We created a narrative with an interrupted timeline," Tomo founder Uno Chan explains, "incorporating a design language that sets up a dialogue between the past and the future." That dialogue is immediately apparent from the sidewalk, where the traditional Chinese entry gate has been widened and its solid wood doors replaced by a wall of 11 green-gradient glass panels—each bearing a letter spelling out the brand name—which pivot and slide back to open the front courtyard to the street. It sets the stage for the time-shifting experience awaiting inside, one that incorporates the past, present, and future as represented by the years 1931, 2023, and 2231, respectively. These three periods don't necessarily flow together so much as crash into one another in seemingly random meetings of exposed concrete, reclaimed wood, and polished steel. No single room privileges one era over the others; rather, each is more of a mishmash in which the epochs run concurrently.
Take the reception area just beyond the front double doors, for example, where a glossy white polyethylene mannequin—Chan describes it as "a weird humanoid figure from the future"—sits behind a mid century–style desk equipped with a vintage lamp and typewriter. The surrounding raw concrete walls are partially clad with a tall, corrugated galvanized-steel dado, while the ceiling comprises a checkerboard grid of LED panels along with a large, mirrored section that reflects the wooden plank flooring below.
The Store Interior Reflects a Warehouse-Style Workplace
The effect of this eclectic mix—the multiple stylistic vibes include retro, utilitarian, fantasy, sci-fi, industrial, vintage, and art deco—is intended to arouse curiosity in young customers who may be interacting with the brand for the first time, to give them an impression of "breaking the limits," Chan says. "When the present and the past intertwine with each other, it can be a mysterious labyrinth or a boundless universe that invites the wildest imagination." Though the multidimensional, time-space narrative might seem like something lifted directly out of the Star Wars saga, Chan is adamant that no particular creative work or genre inspired the store's interiors: "We believe that the elements of the universe can bring a lot of inspiration and we don't want realistic fragments to limit the possibilities."
If the overall impression is less of a store and more of a workplace that could exist simultaneously in the 20th, 21st, and 23rd centuries, each space is given its own unique story—fitting rooms that mimic elevator cabs, for instance, or a restroom featuring parts from steel filing cabinets that Chan describes as the "time-archive room." The hard-edge feel of metal and concrete is softened with vintage furniture sourced from dealers all around China. Pieces, which tend to be as idiosyncratic as the surroundings, include Swiss architect Heinz Julen's Pirmin chair from the 1990's, which is an eye-catching assemblage of stainless steel, leather, and teak, and Italian designer Alberto Rosselli's 1972 Confidential armchairs, their puffy, modular forms upholstered in well-worn leather.
Perhaps the most offbeat gesture is reserved for a second-floor "office." The corners of the room are furnished with vintage L-shape desks hosting '70's word processors, but its center is occupied by a freestanding plunge pool complete with a stainless-steel ladder that seems unnecessary given the shallow tub's 1-foot depth. Chan imagines that the tiled fixture could be used for interesting displays in the future—perhaps filled with fresh flowers—in front of which customers would da ka and snap their selfies. "MasonPrince wanted to showcase a 'classless' fashion brand and subvert conventional perception," the designer sums up. "The comparison between past, present, and future, the collision between functions and scenarios, and the connection of different spaces all stimulates a desire for exploration."
Inside MasonPrince's Brick-and-Mortar Locale by Tomo Design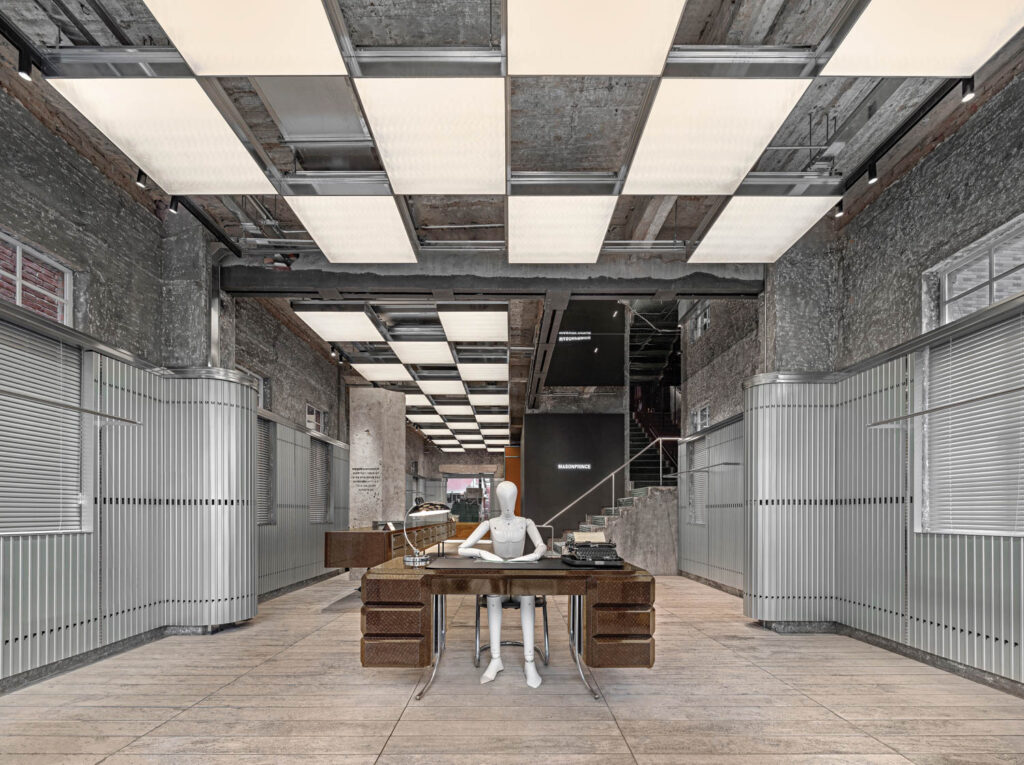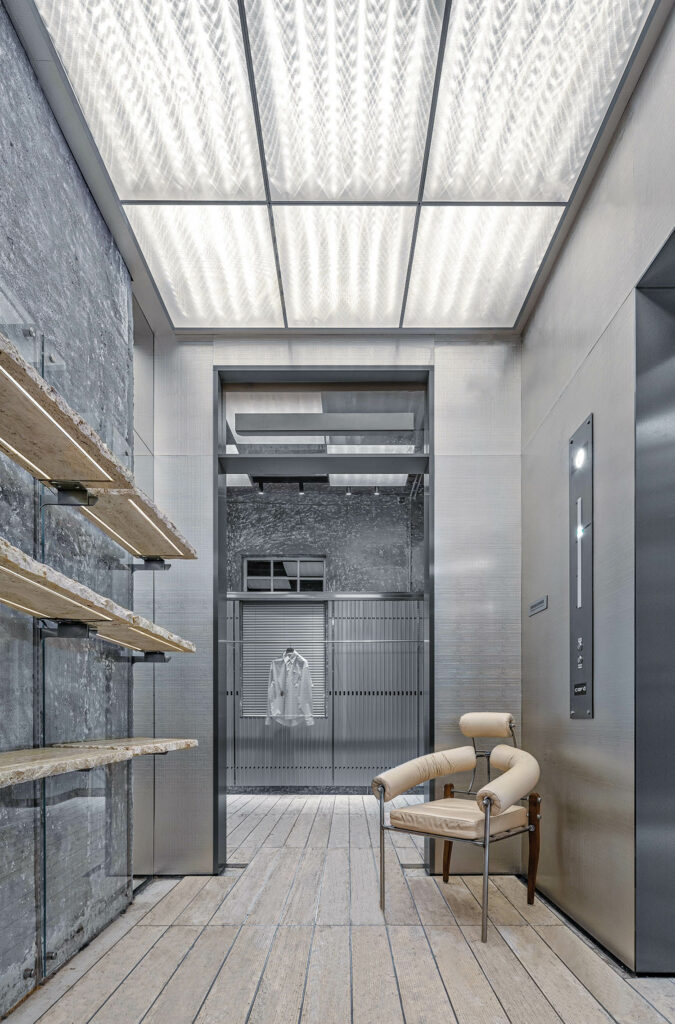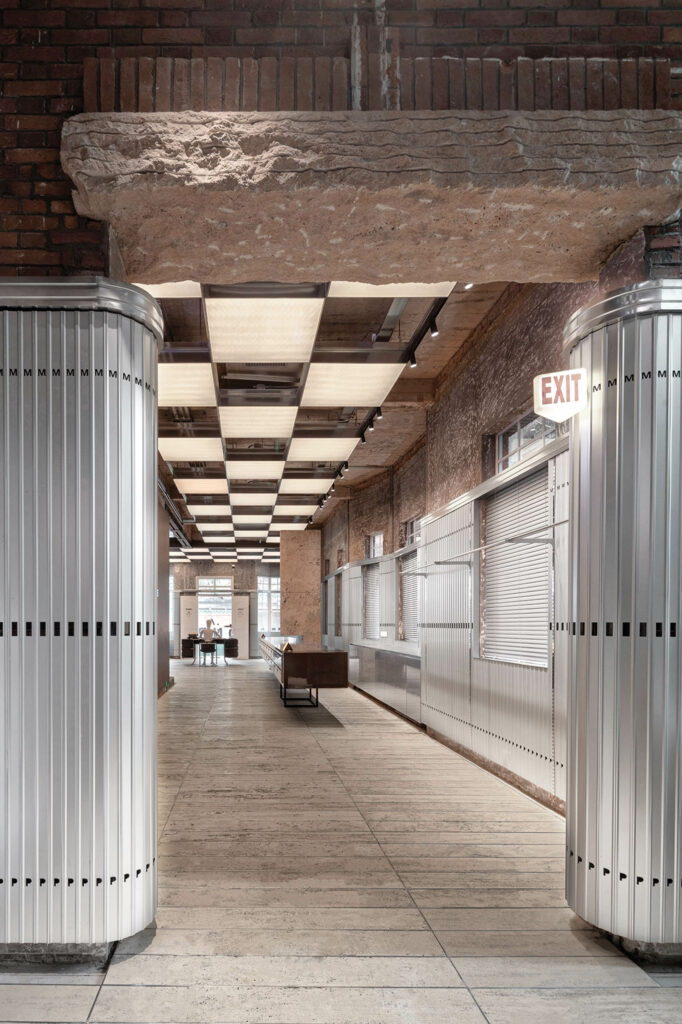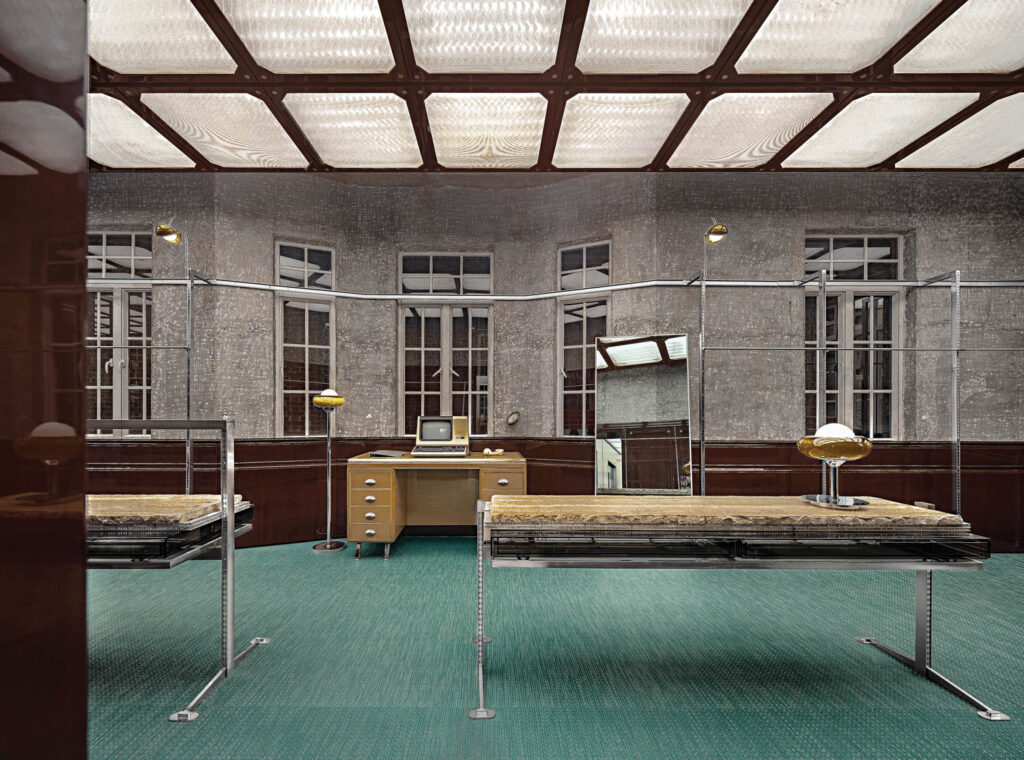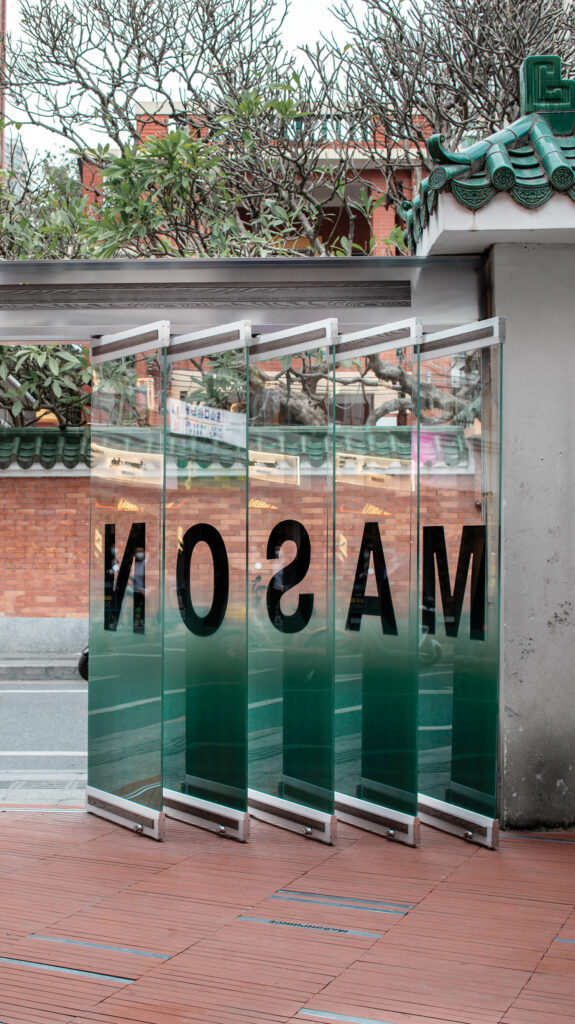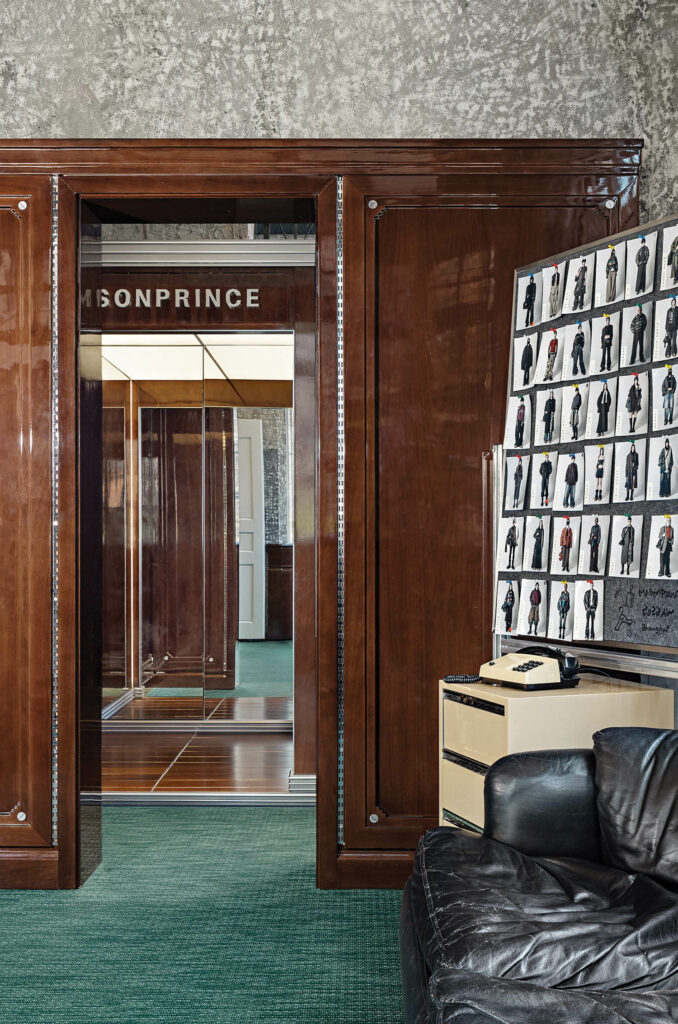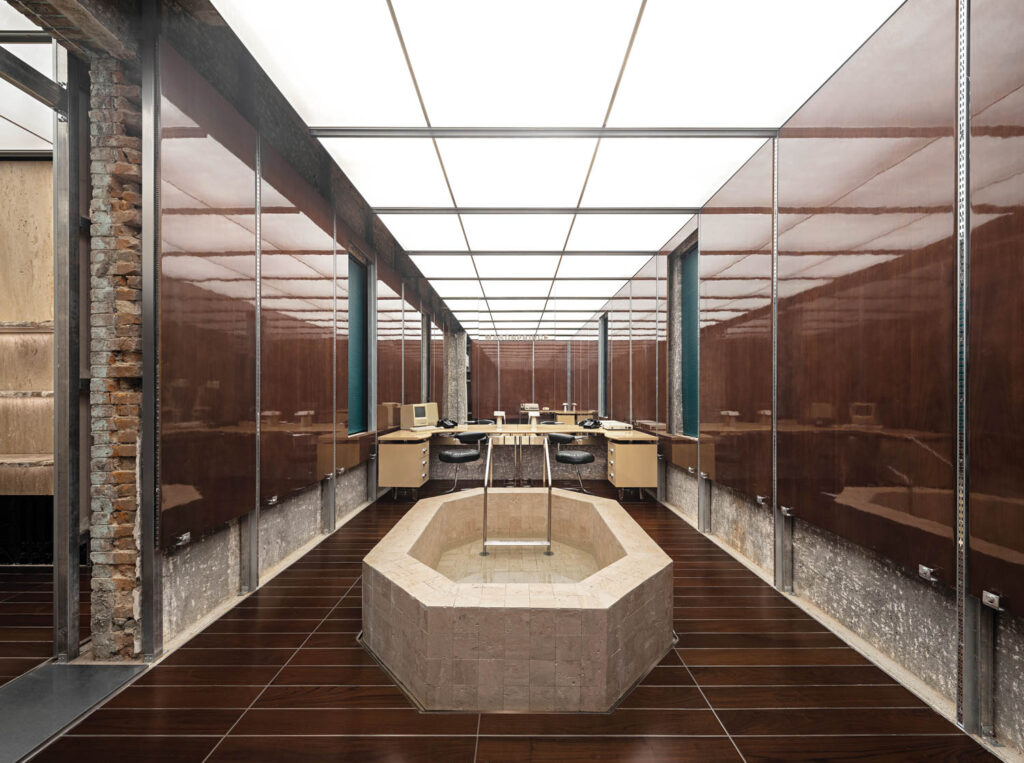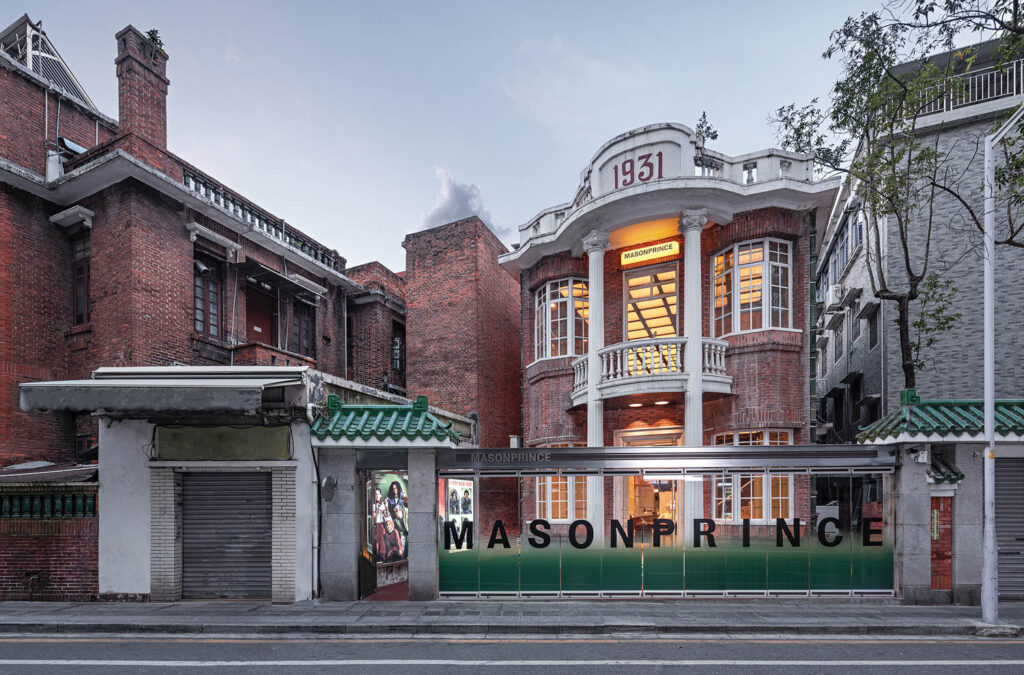 PROJECT TEAM
TOMO Design
: fei xiao; psyun; tie; jason; poom; tin; ching ho
read more
Projects

Tomo Design Creates an Ethereal Sales Office in China

When Tomo Design was selected to design a property sales office for the Chinese real estate giant Sunac, they knew a conventional office would not be enough. "Customers want novel, superb, unknown experiences," said …