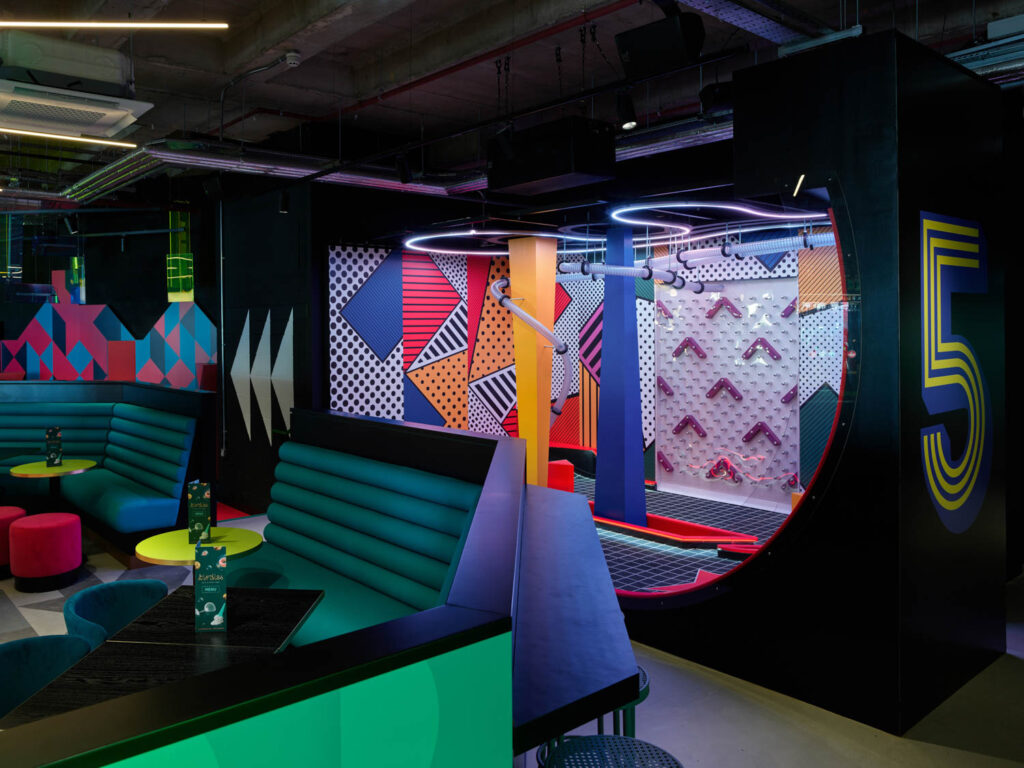 Shed Hits a Hole in One with an Eye-Popping Crazy Golf Center in London
Mini-golf fans who love to putter around kitsch lighthouse-and-monster-strewn courses at holiday destinations and gaming complexes will likely have their minds blown when they take a turn at the new Birdies Crazy Golf at the Angel venue in north London. U.K. design firm Shed's first shot at a Birdies was a winner in Battersea, but the second one is true 5,400-square-foot champion.
"When designing their new venue, each strategic design choice, from materiality to lighting and game play, had to not only support the brand identity, but was the brand identity," explains Shed partner Dave Dalziel. That identity? Illuminance chaos, which Dalziel describes as a series of lighting concepts at each hole, from tracks to spots to feature suspensions, which can vary in hue, speed, and pulses—delighting, and bedeviling, game players.
Adding to the fun are interventions, including vast walls of yellow and black polka dots, a tunnel in reflect chevron, bunkers, and even a jungle of palm trees. Shed's concepts are winners as far as Birdies is concerned: Nick Frow, co-founder of Birdies Angel, says the space is the first of an expansion plan that will include five more in London and 20 through the country, all in the next few years. "We can't wait to get out new North London visitors in the doors," he says, "and show them what all the fuss is about."
For those longing to celebrate a win or gamely wallow in defeat after swinging their clubs—or for those whose idea of club culture is more like a cocktail lounge—the new location offers a buzzy, neon pink bar "Especially in the world of competitive socializing," Dalziel says, "design gives the element of surprise to the experience and creates an illusion of another world that envelopes people the minute the walk through the doors." Sometimes it takes them out of this world altogether.