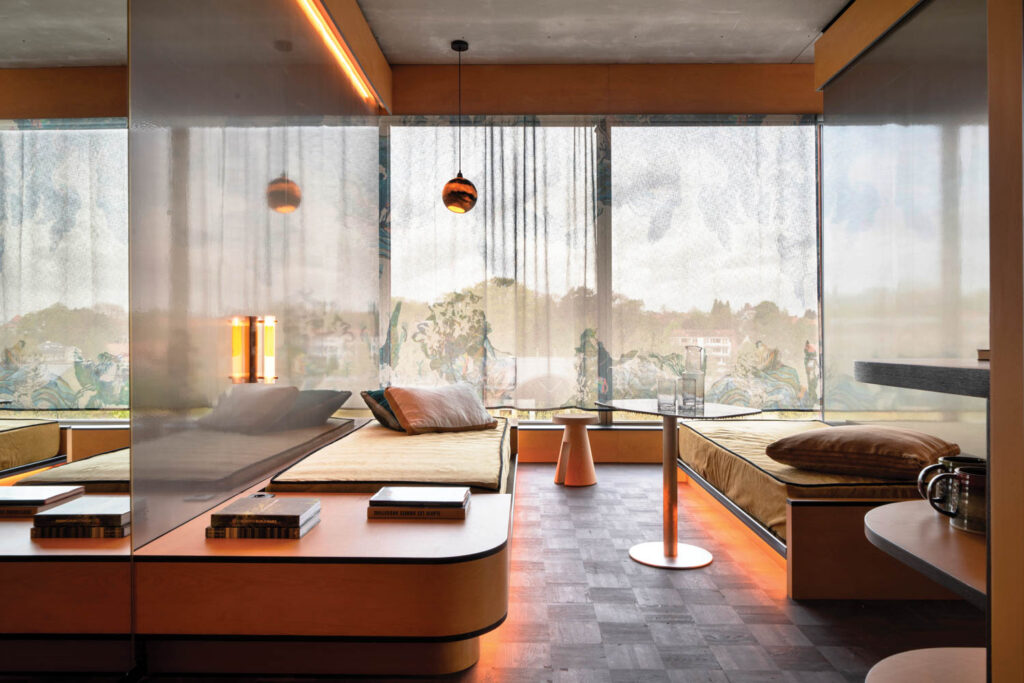 Inside Mix Brussels, a Hospitality Entity in a Historic Locale
Too often these days, hip luxury hotels offer guests stylish, but predictable, Instagram-ready interiors. What's saved on the budget by relying on catalogue-selected furnishings made in China is lost when two months later they break. Or so argued Lionel Jadot when pitching his interiors concept for Mix Brussels, a new 250,000-square-foot hospitality project, comprising a 180-room hotel, three restaurants, a food market, coworking space, gym, and an auditorium. Jadot's eponymous atelier won the competition to outfit the entire property, which occupies six floors in the 12-story, former headquarters of the Royale Belge insurance company, a beloved 1970 functionalist landmark by the Belgian architect René Stapels and his French partner Pierre Dufau.
Located in a 20-acre suburban park with an ornamental lake, the building comprises a two-story concrete base, an intermediate floor, and a cruciform nine-story tower, its bronze-glass curtain walls enveloped by an exposed load-bearing Corten superstructure—a pioneering use of the weathering steel in Europe. In 2018, the protected 420,000-square-foot building was acquired by a consortium, which assigned its transformation into a mixed-use facility to London-based Caruso St John Architects in collaboration with Antwerp-based Bovenbouw Architectuur and Brussels practice DDS+. Beyond upgrading the signature bronze glazing to meet current codes, the architects did as little as possible to the historic structure, making only one significant intervention: a new circular lobby with a sweeping curved staircase. The 70-foot-diameter, three-story space not only serves as common access point for Mix and the building's other tenants but also mirrors the circular form of the ground-floor auditorium, its rounded exterior clad in copper panels.
How Lionel Jadot Approached the Interiors of Mix Brussels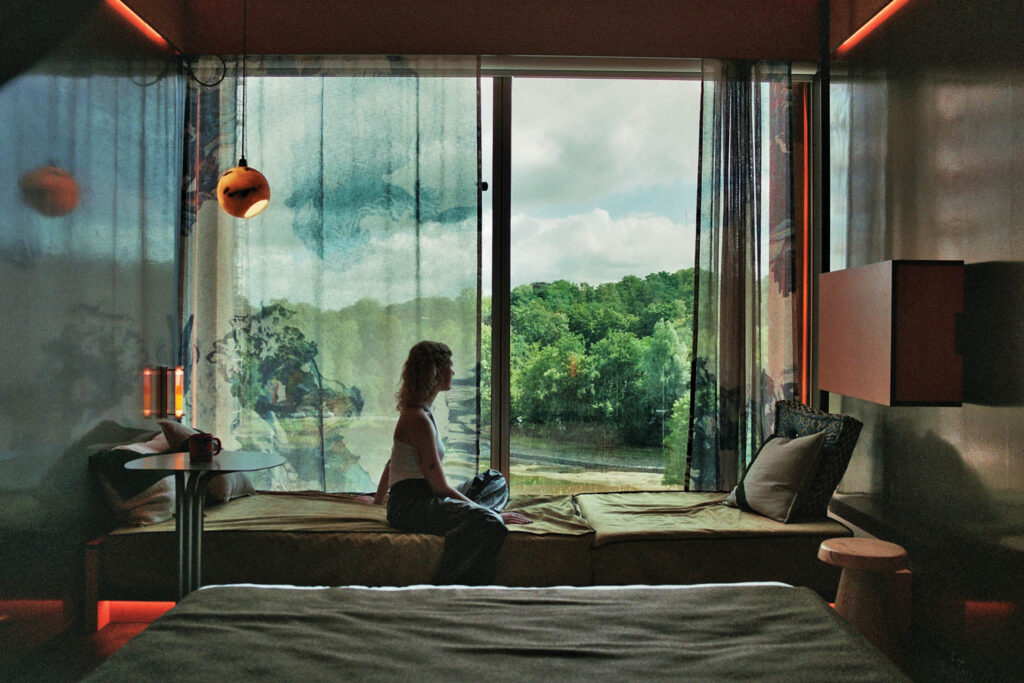 When Jadot came to work on the Mix interiors, he was immediately captivated by the "honesty" of the structure's form-follows-function architecture. "All the historical interventions are like sculpture, with the function inside," he notes, citing the auditorium as a case in point. He imagined a decorative program in conversation with the existing building—respectful but not beholden to it. "I was looking to act big and make sculptures to house the kitchen, offices, meeting rooms," he says. He also wanted the interior to serve as "a communications tool" to promote contemporary Belgian design. So, rather than conceive everything himself, Jadot collaborated with Zaventem Ateliers, a creative community he founded in 2018 comprising 24 artists and designers—weavers, woodworkers, metalsmiths, sculptors—that share studio space with him in an old brick paper mill outside Brussels. They, along with 21 other local firms, would make everything, from coat hooks and table lamps to dining chairs and the reception desk, turning Mix into what he calls "the largest collectible-design showroom in Belgium."
Sculptural Shades Made from Salt 
The high-profile project, which took two years to complete, has been a game changer for the Zaventem group. Take Roxane Lahidji, a young designer who specializes in the development and application of salt as an ecological material. In a workshop-expanding commission, she produced more than 200 light fixtures with sculptural shades fashioned from the mineral mixed with natural resins and pigments for a marbleized effect. Siblings Alexandra and Grégoire Jonckers work in the tradition of their renowned sculptor father, Armand Jonckers, creating sensuously organic pieces of furniture out of bronze, clay, and resin. They used maillechort—an alloy of copper, nickel, and zinc—to forge the reception desk, a stunning assemblage of billowing forms that echoes the voluptuous curves of the auditorium.
Experimental textile artists Erika Schillebeeckx and Justine de Moriamé of KRJST Studio create boldly baroque modern tapestries and fabrics that combine traditional weaving techniques with digital printing and generative algorithms. Here, they conceived the patterns printed on the silk-and-cotton curtains in the restaurant and guest rooms, which were then produced in collaboration with fellow Zaventem textile studio Home Sails. The firms also worked together on a pair of large-scale lobby tapestries that, thanks to embedded sensors, are interactive, producing different lighting effects in response to the movement of guests.
Custom Designs Include the Lobby Fireplace
Among the non-Zaventem creatives Jadot commissioned were the adventurous papier-mâché artists Maud Bocquet and Zélie Boulestreau of Papier Bouelettes, which makes large-scale bas-reliefs from recycled paper. The duo mixed rainwater with brown-cardboard waste onsite to make pulp that they hand-sculpted into monumental, botanically themed wall reliefs fronting two meeting rooms. And, of course, Jadot designed some major elements himself, including the lobby's massive neo-brutalist concrete fireplace, its pair of gleaming brass flues rising to the ceiling. A glittering sculpture of his devising—jewel-tone scraps of crystal, recovered from venerable Belgian glassmaker Val Saint Lambert and set in a metal frame—sits in the grate as a kind of technicolor substitute for a conventional fire.
"It was crazy," Jadot says of keeping the project on track. "My team was super afraid. But for me, it was a big adventure. I don't get stressed." Jadot is an instinctual talent who feels at ease amidst uncertainty. "My creative process is totally chaotic," he admits. "I knew from the beginning that the carpet in the hotel would be olive green, and that aluminum, brass, and steel would play leading roles." Why? "It was part of the energy I got from the building."
Conceptualization began on the smallest scale, however, with sketches of bespoke knobs for the guest rooms. Cast in bronze by Liège-based foundry Woit, the hardware is embossed with an outline of the cruciform building, almost like a benediction. Or, as Jadot puts it, "I knew it would give me an atmosphere that nobody had ever seen before."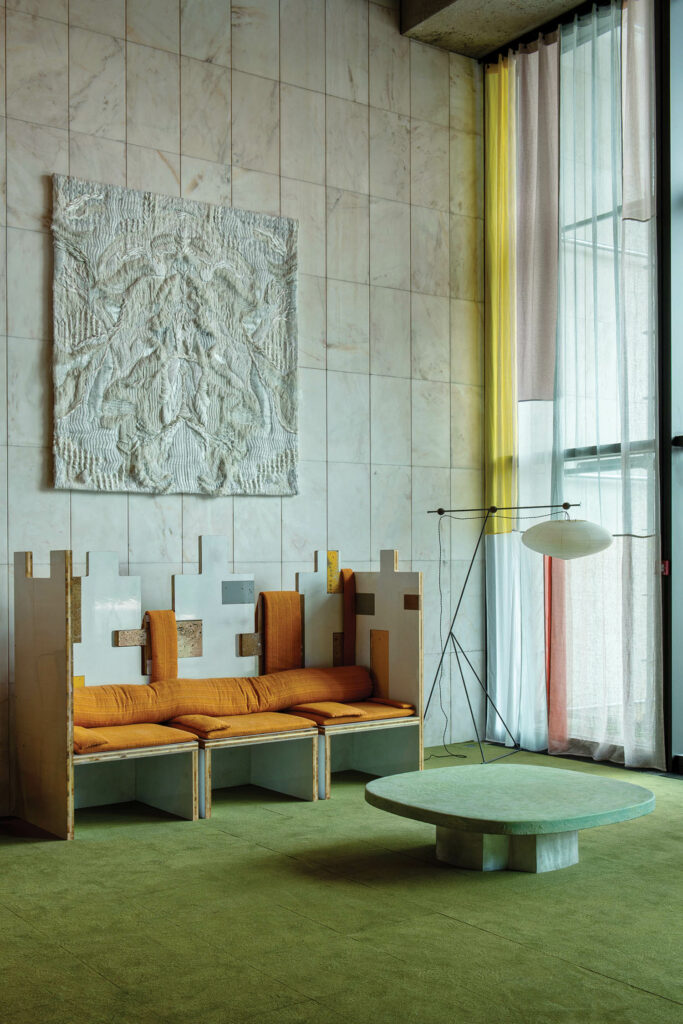 Explore Art and Design Inside Mix Brussels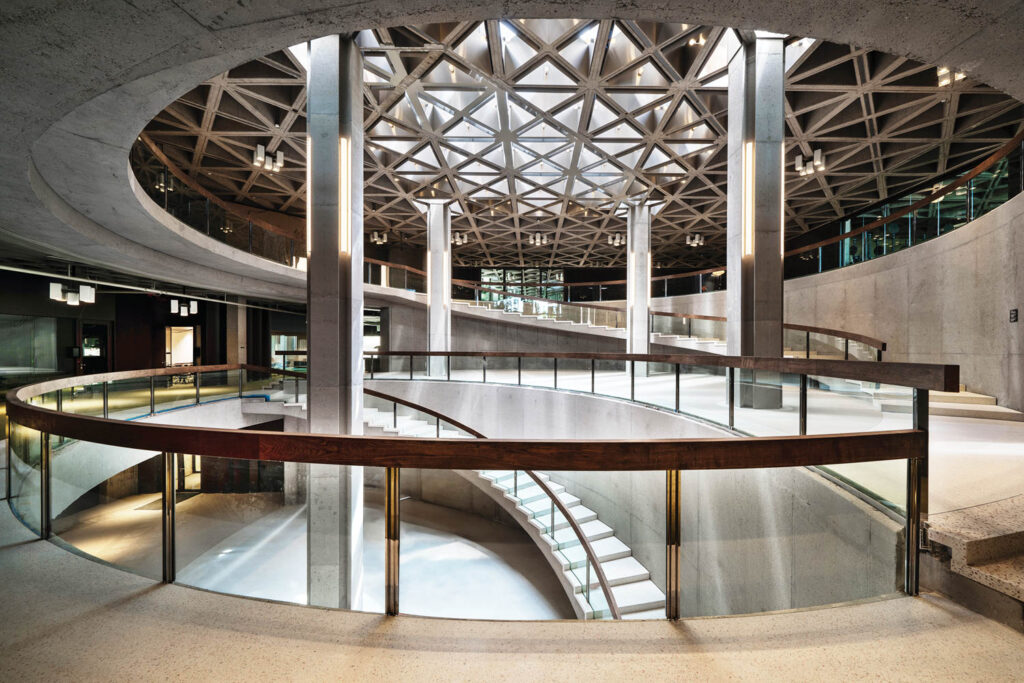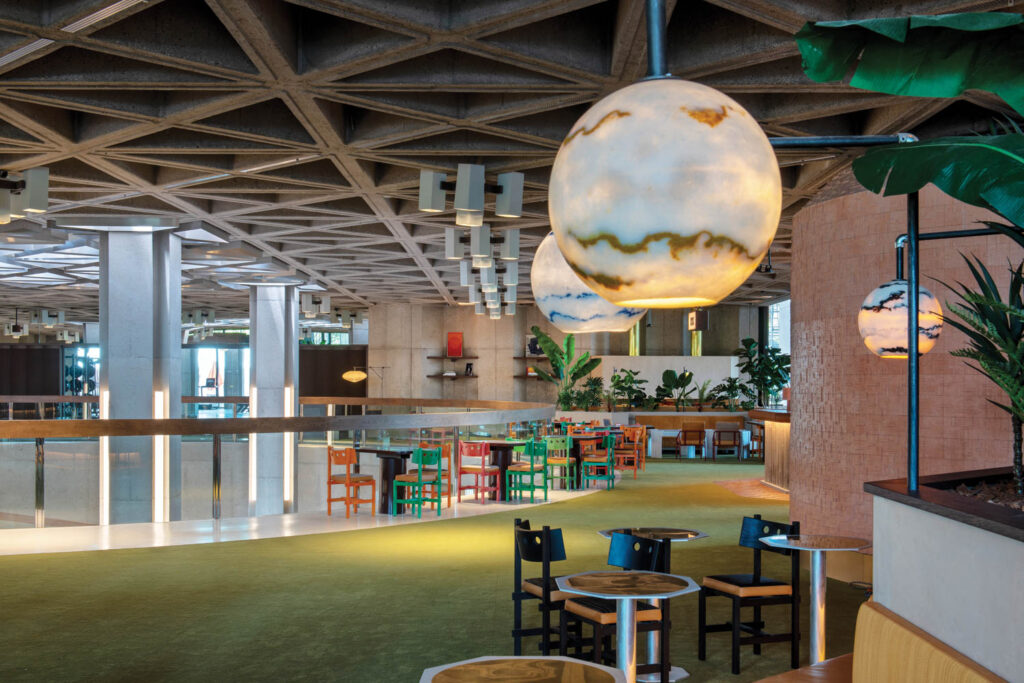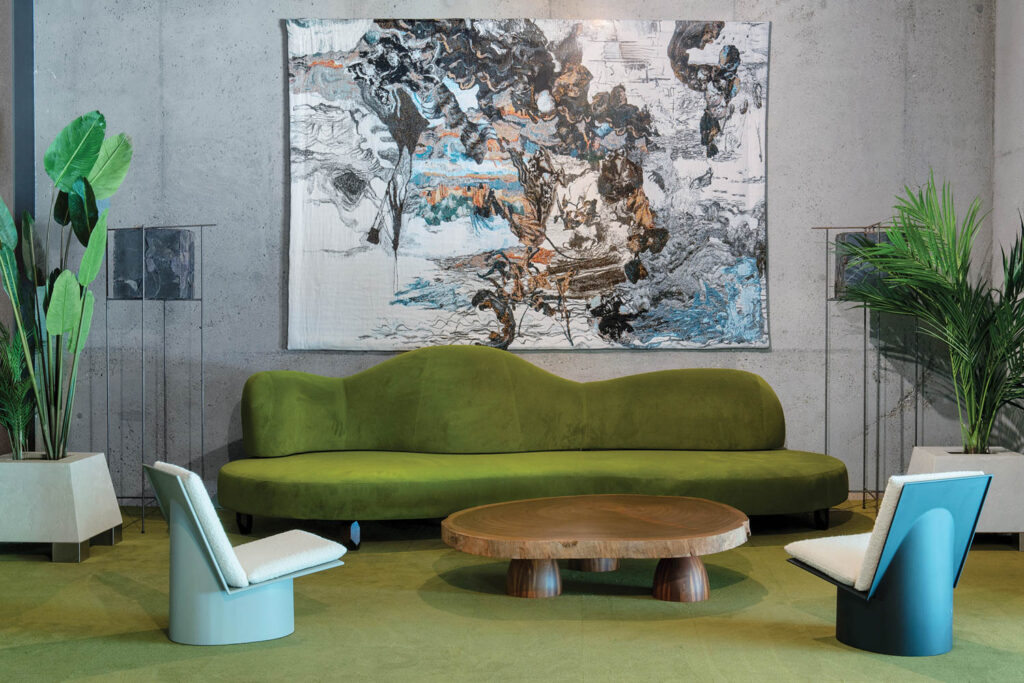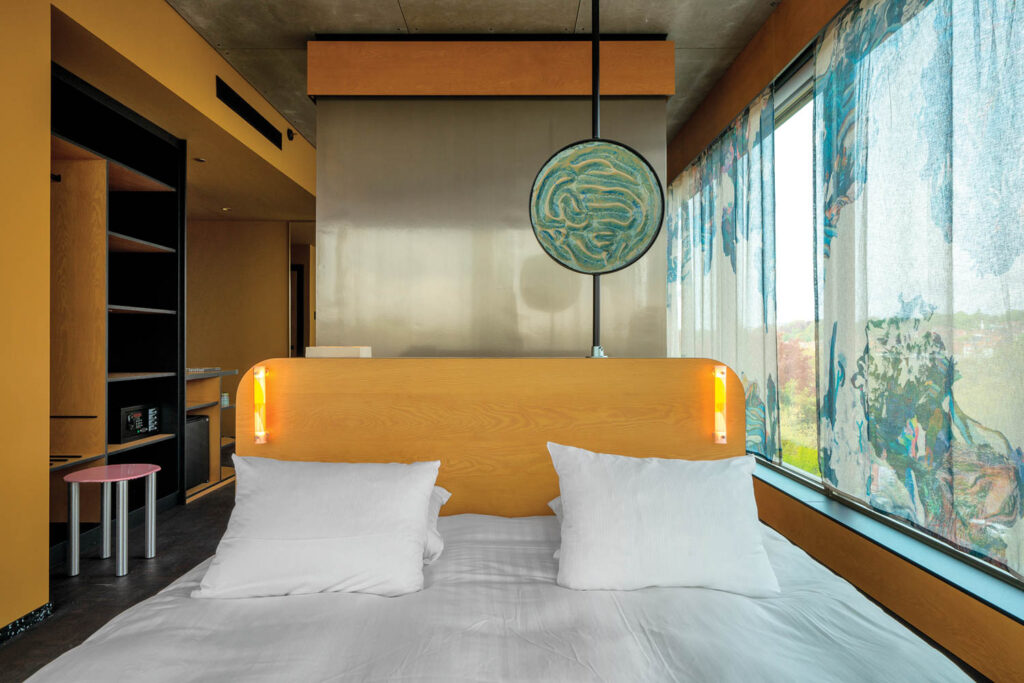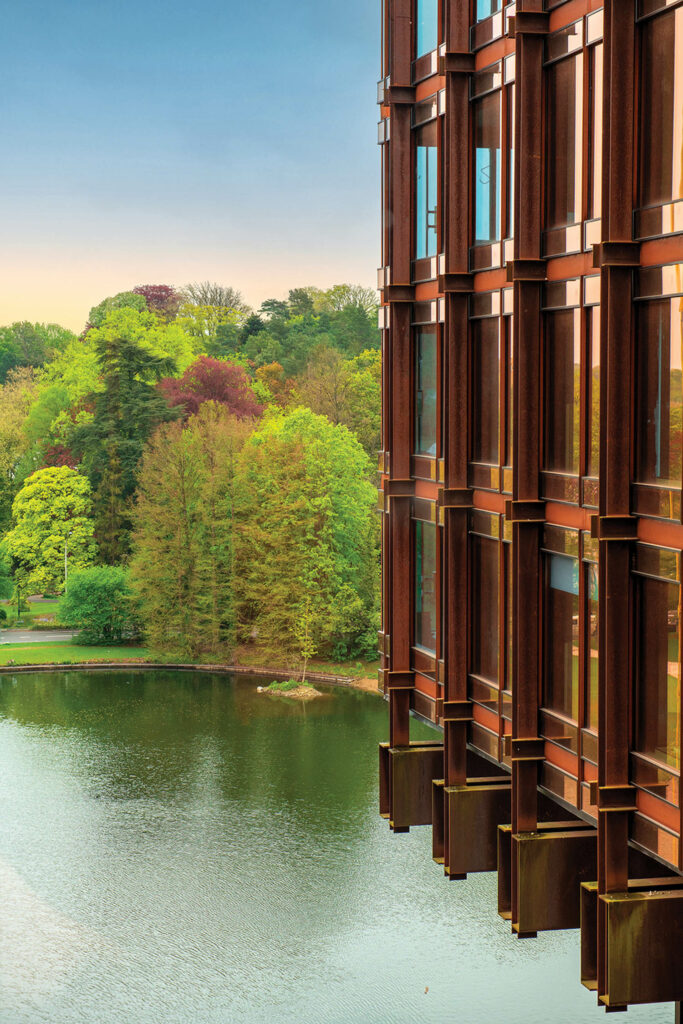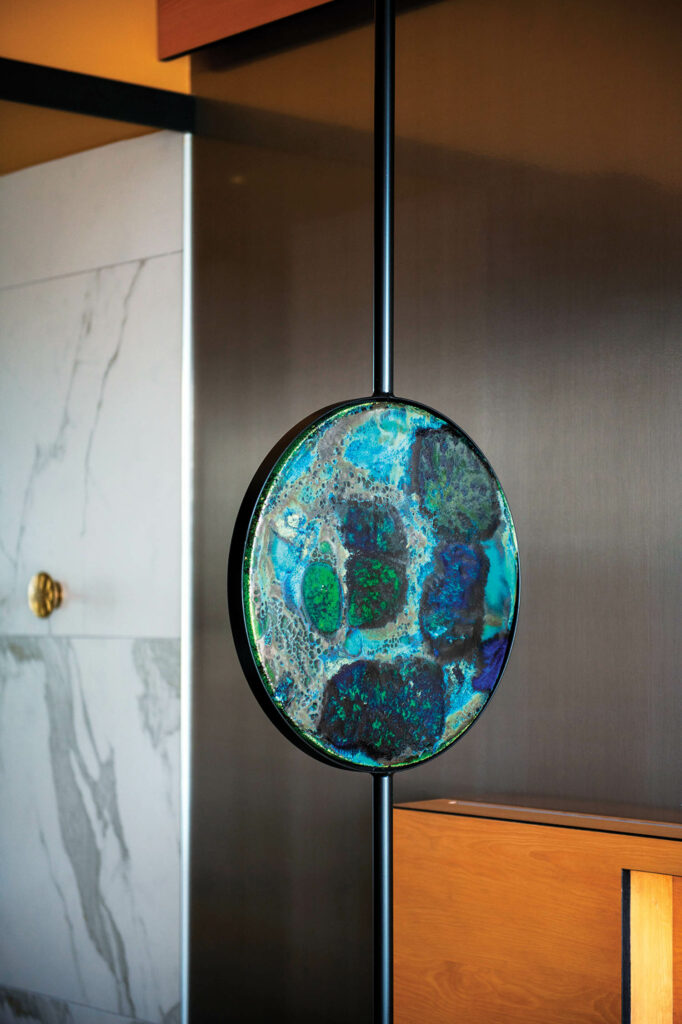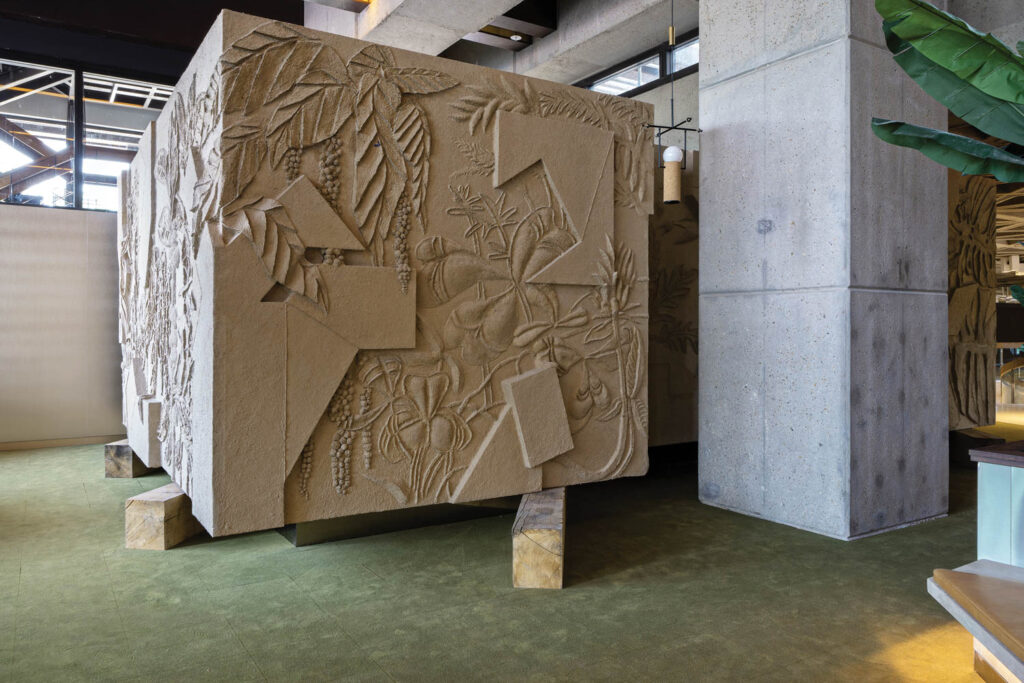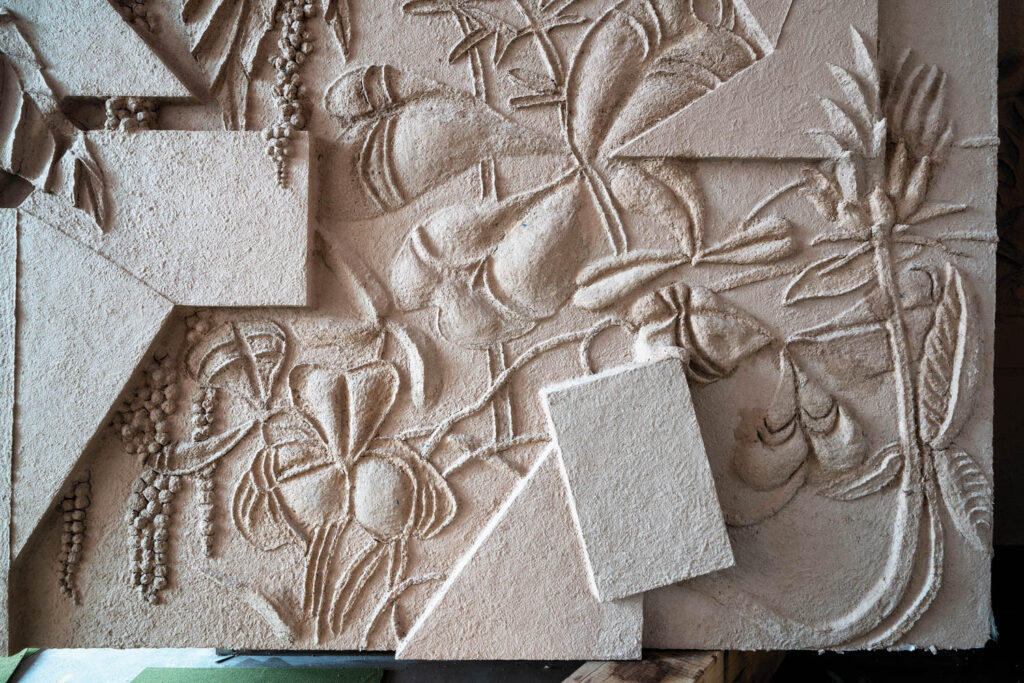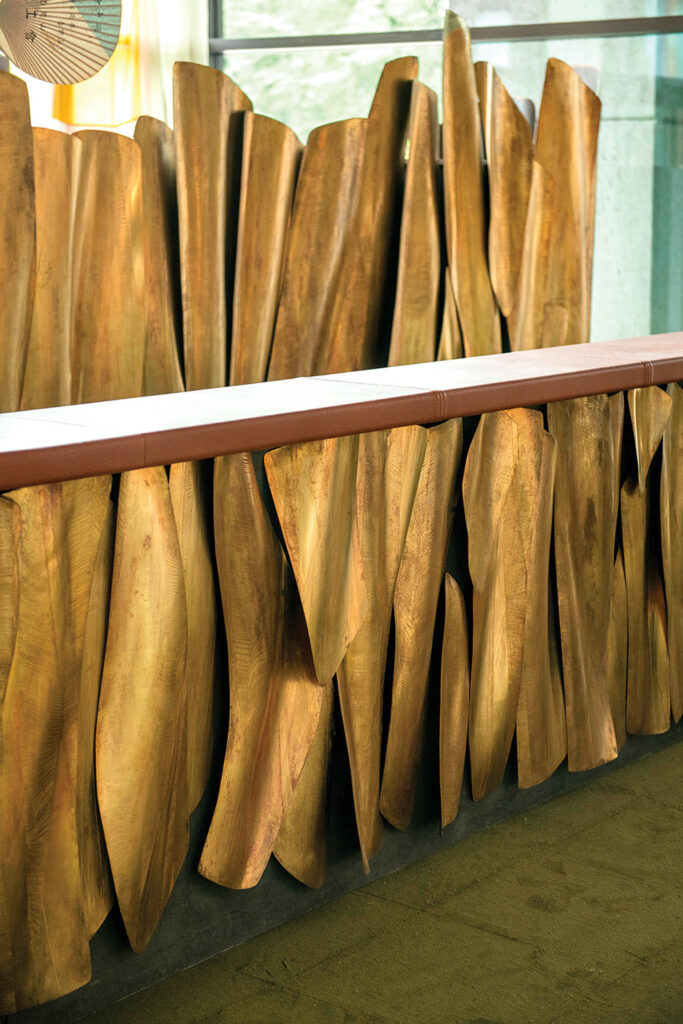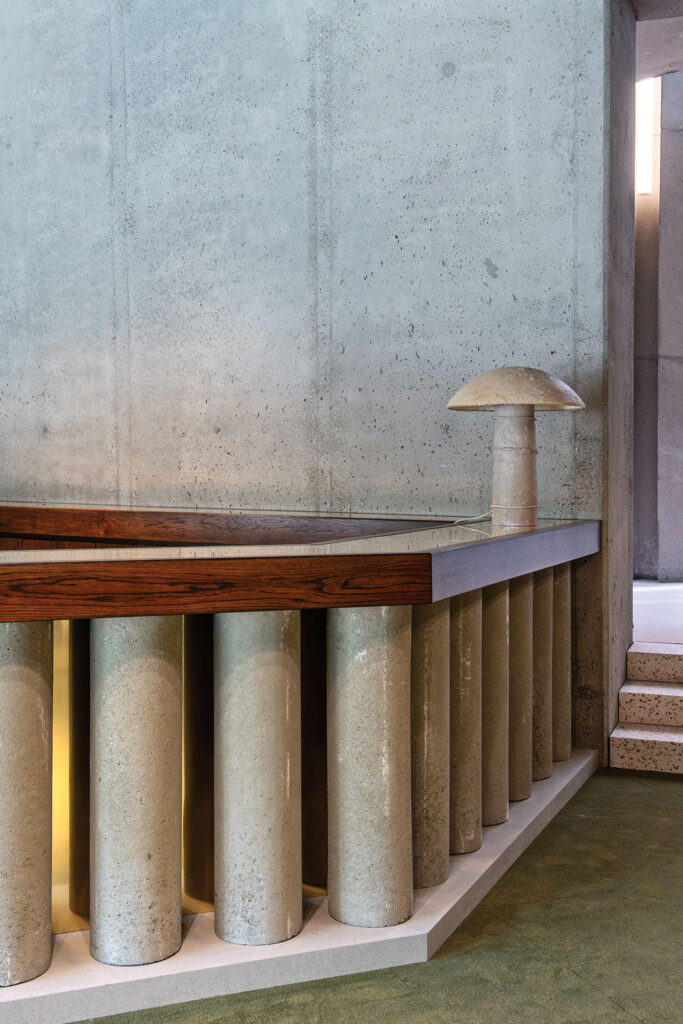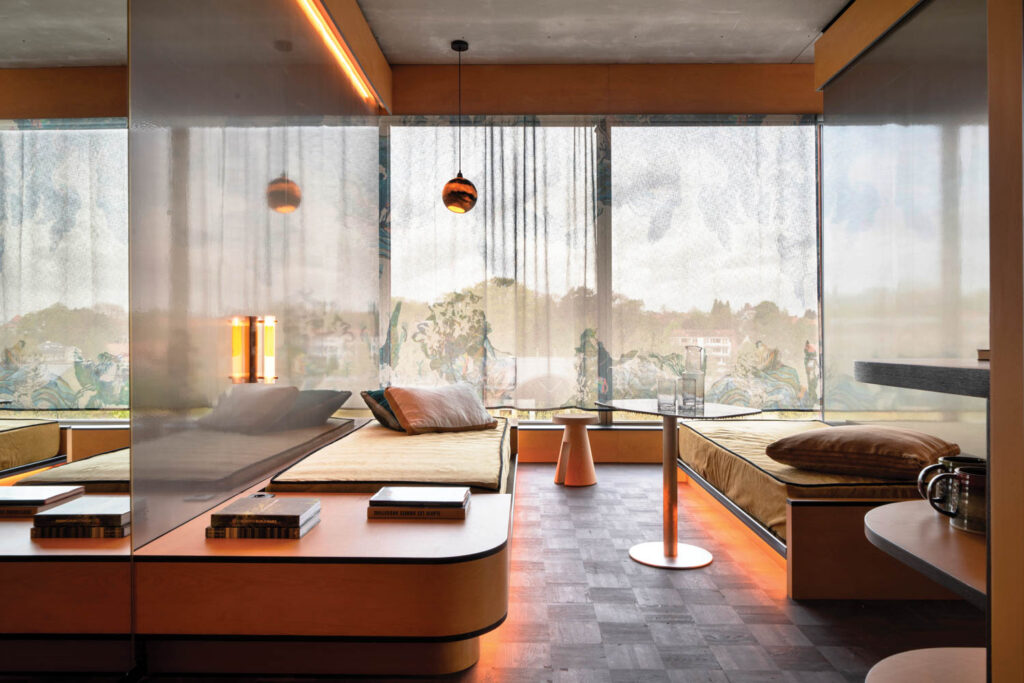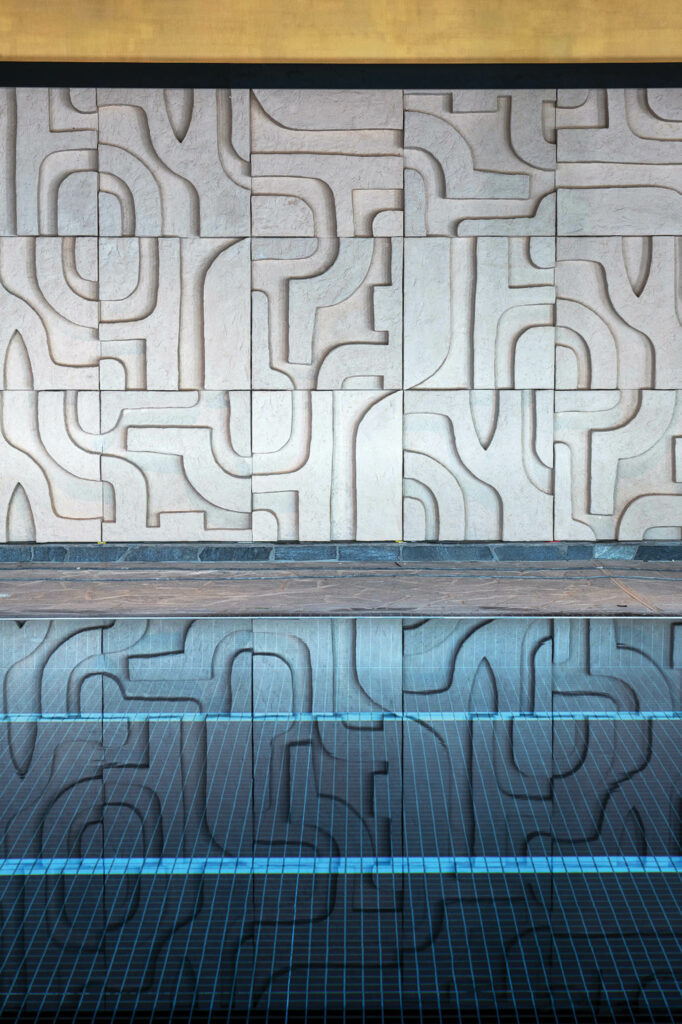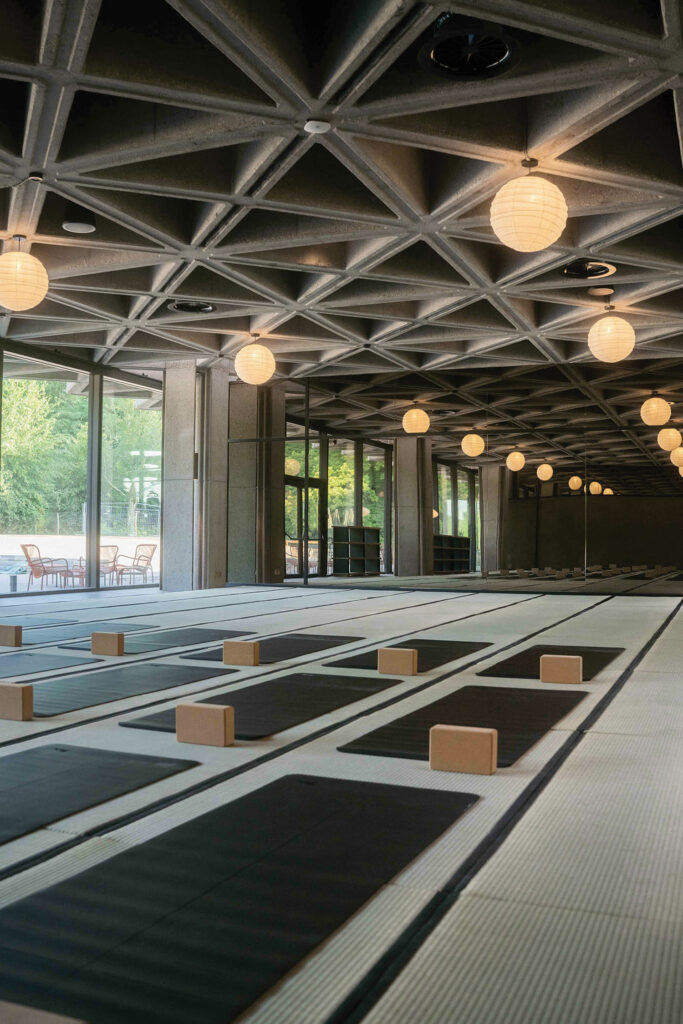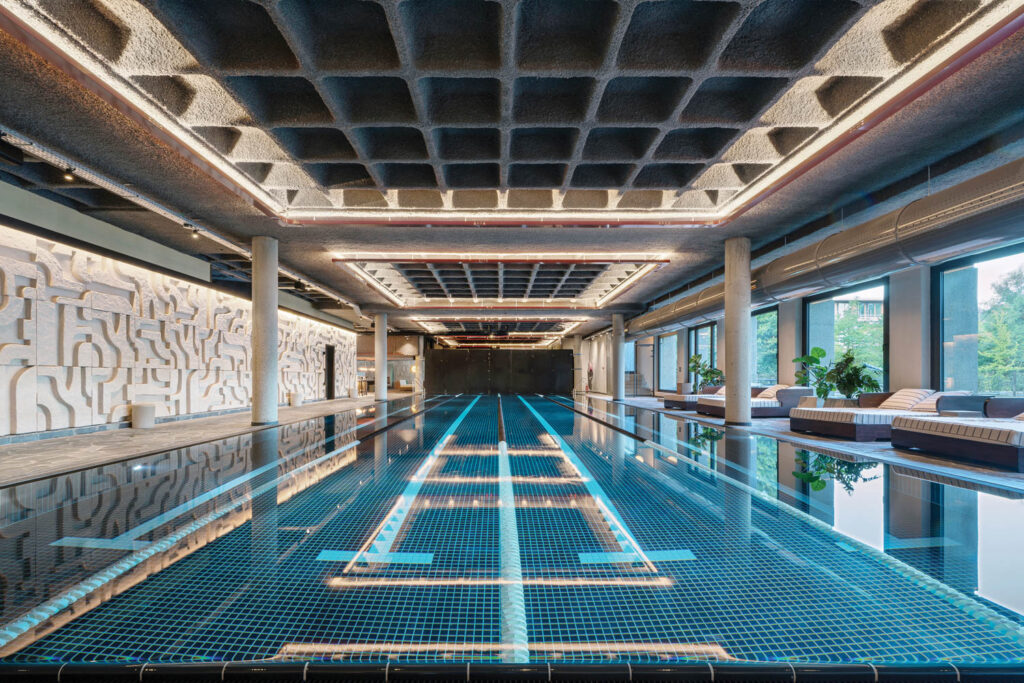 PROJECT TEAM
atelier lionel jadot: cristina gusano; pierrot deconinck; guillaume thilly; juliette geeraert; juliette moyersoen; julien croenen; louise michiels.
metzger et associés architecture: heritage architect.
atelier eole paysagistes: landscape architect.
ellyps nv: structural engineer.
rvr studiebureau van reeth: services engineer.