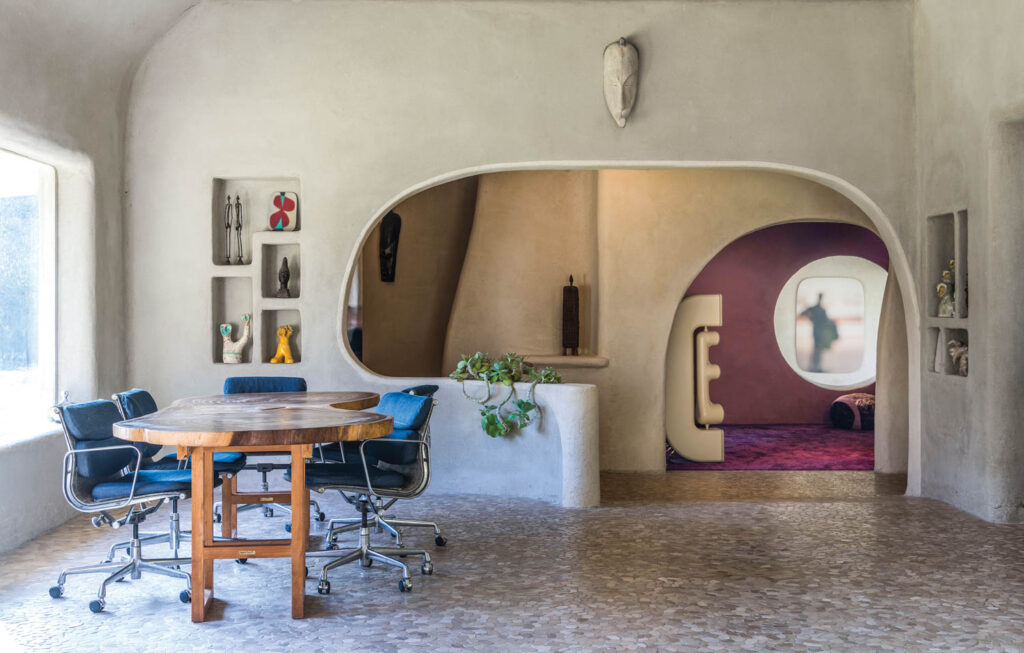 Umu's Founder Creates a Sustainable Family Home in Belgium
There may be no such thing as a living, breathing house. But the Belgian residence that Sven Bullaert has conceived for him and his family comes close. Its timber walls are filled with lime hemp, their sides shaped by willow branches that have been smoothed over with loam. The flooring starts with a layer of crushed seashells. The roof is covered with straw. Bullaert approached the creation of the 5,400-square-foot home the same way "a bird makes his nest," he begins, piecing together natural materials with an eye for comfort and functionality. An artist and a designer, Bullaert has also infused the setting with a quiet beauty.
He didn't start from scratch. After decades of living in rented homes—over the course of a career in the fashion industry that included eight years as the creative director of accessories company Kipling—Bullaert had been looking for a place of his own where he could settle down and focus on projects he had long dreamed about. He found a property in Eksaarde, about an hour north of Brussels, that was next to a river and a bike trail. On it was a 120-year-old Flemish long-gable farm, a type of hardworking building that had combined living quarters for the farmers with a barn for their animals. Bullaert admired the structure's sturdy timber construction and the way it had been oriented to take advantage of the sun. He decided to transform it into a home for his family, drawing inspiration from the architecture of Antoni Gaudí and César Manrique as well as nature-based construction methods he'd learned on travels to countries along the equator.
A Sustainable Home That Blends In With Its Surroundings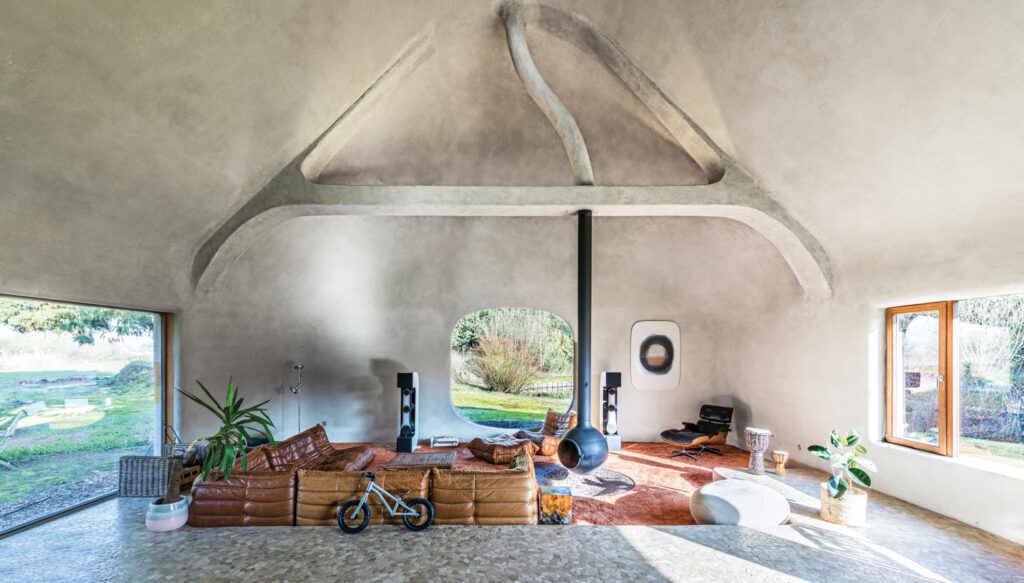 Organic Forms Add Warmth to the Home
The two-story building had been divided up to segregate livestock—sections each for horses, cows, and smaller animals like pigs and chickens. As Bullaert rebuilt walls, he left some where they had been and eliminated others to create spaces that flowed into each other. Furthering the flow—and fostering family interaction—he opened portholes on walls so that, say, the smell of soup bubbling in the kitchen would waft about. Skylights and generous windows were added to open the house to the outdoors. Bullaert hired sculptors who took a break from their own artistic endeavors to hand-trowel the loam mixture onto the curving willow branches so walls have an adobe effect, yielding the interior's many arches and rounded corners—organic shapes that Bullaert believes make the home "warm and embracing."
Work on the house was very much still in progress when Bullaert and his wife and collaborator, author Angel Patricks Amegbe, moved in with their toddler and Bullaert's two older sons from his previous marriage. Living in the house and using its rooms, which encompass three bedrooms and two bathrooms but will ultimately have five and three, respectively, they began fine-tuning the spaces, a process that continues to this day. "It has a bit of the wabi sabi, the joy of the unfinished," Bullaert notes. The hanging iron fireplace in the living room, for instance, was carefully positioned so that the sight of its crackling flames could be enjoyed while seated in the conversation pit. An amoeba shape was cut out of the carpet under it, the flooring there topped with surfacing made from flattened pebbles. "We never have a dirty carpet."
Niches for displaying artifacts are carved out of walls, and the furniture, none of which was purchased new, is either designed by Bullaert or from the 1970's, '80's, and '90's—decades he feels had good design "vibes." Vintage pieces in the living room include Michel Ducaroy's Togo seating, an Eames Lounge chair, and sculptural standing speakers by Ivan Schellekens, a Belgian audio engineer. When Bullaert was fresh from earning his master's in product design from the University of Antwerp, he had advised Schellekens on the shape of the speakers. Although they gained great renown and were exhibited at the Museum of Modern Art in New York, the speakers later went out of production. But recently Schellekens and Bullaert have been collaborating again to reissue them with improvements, such as using sheep's wool as a damping material inside and Corian for the outside. The Bullaert clan has been trying them out in the house's music room.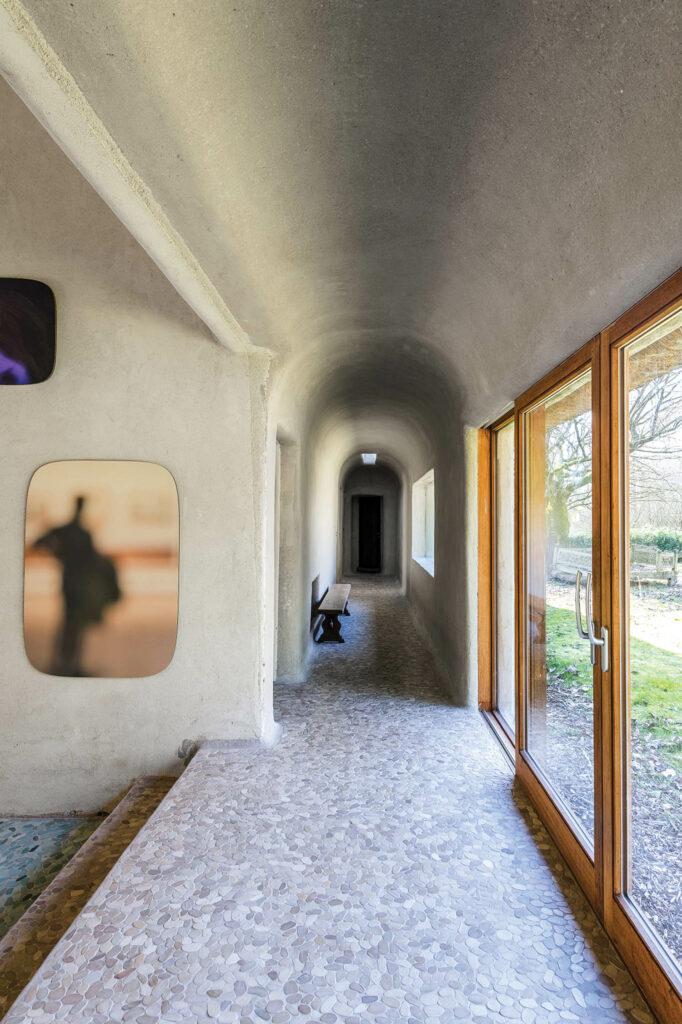 Uma's Founder on Building on Eco-Conscious Lifestyle
The speakers are one of several projects the designer is pursuing with his firm, Umu. Bullaert, who, after Kipling, founded an eco-conscious fashion company, has dedicated Umu to advancing ventures that encourage a simpler, more sustainable and spiritual life—he chose the name umu because he feels the word connotes a wave; he later learned it means sharing common beliefs in Arabic. Another Umu endeavor is an eco-village under development in Akosombo, Ghana, a partnership with a local chief who cofounded the Royal Senchi resort there, that will be devoted to art, meditation, and making products like Belgian chocolate infused with African and Asian medicinal herbs. The village residences will be far more modest in size than Bullaert's, but the plan is to build them using the same carefully considered—and, now, time-tested—construction methods.
Inside the Nature-Inspired Home of Uma Founder, Sven Bullaert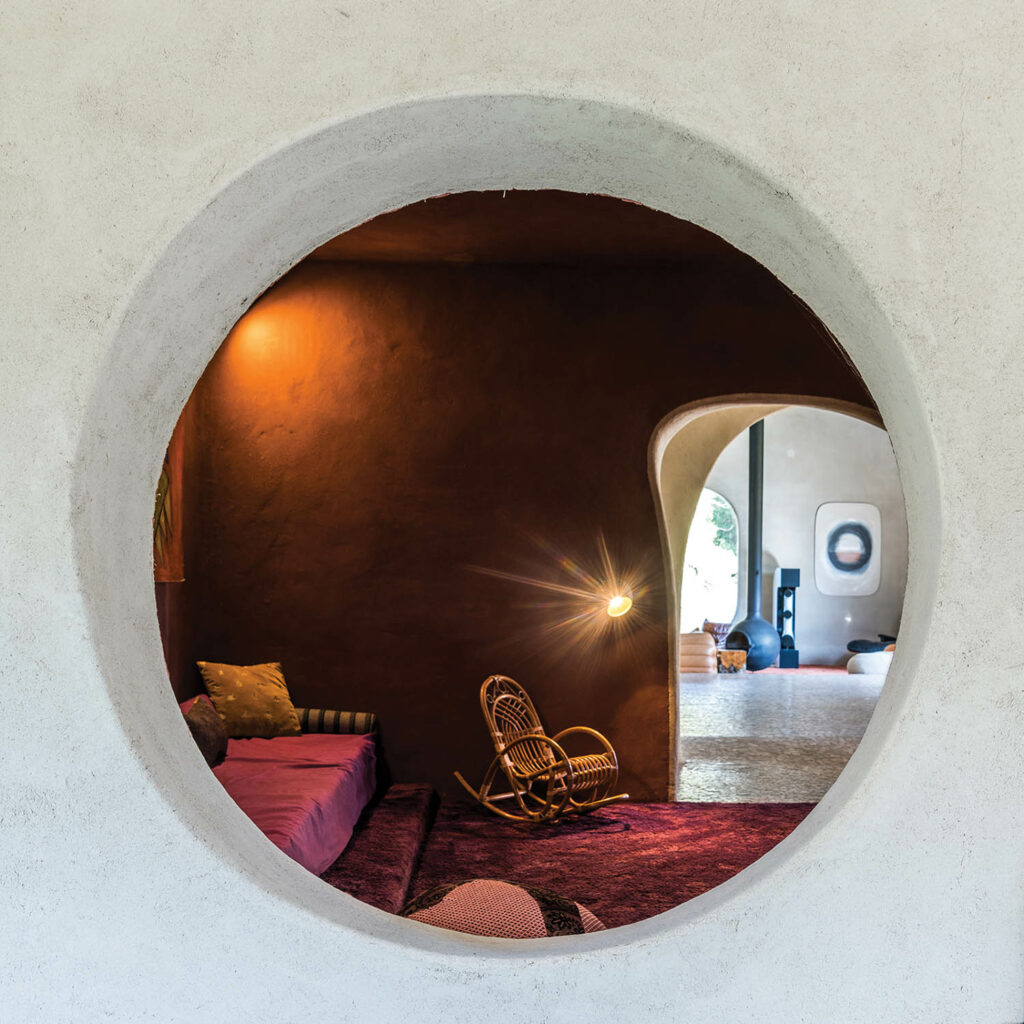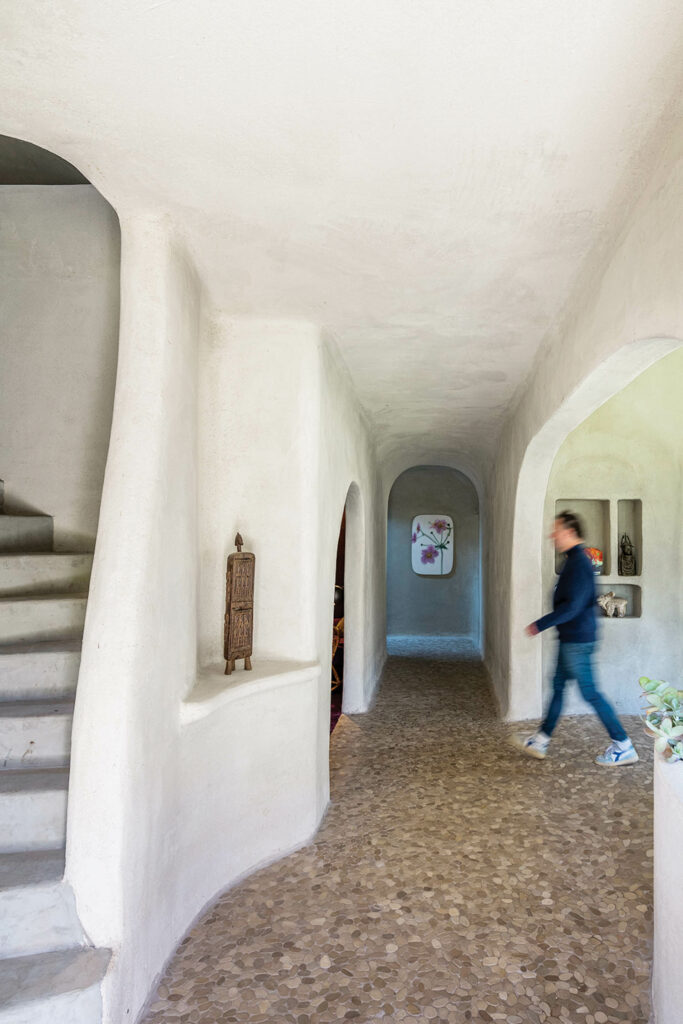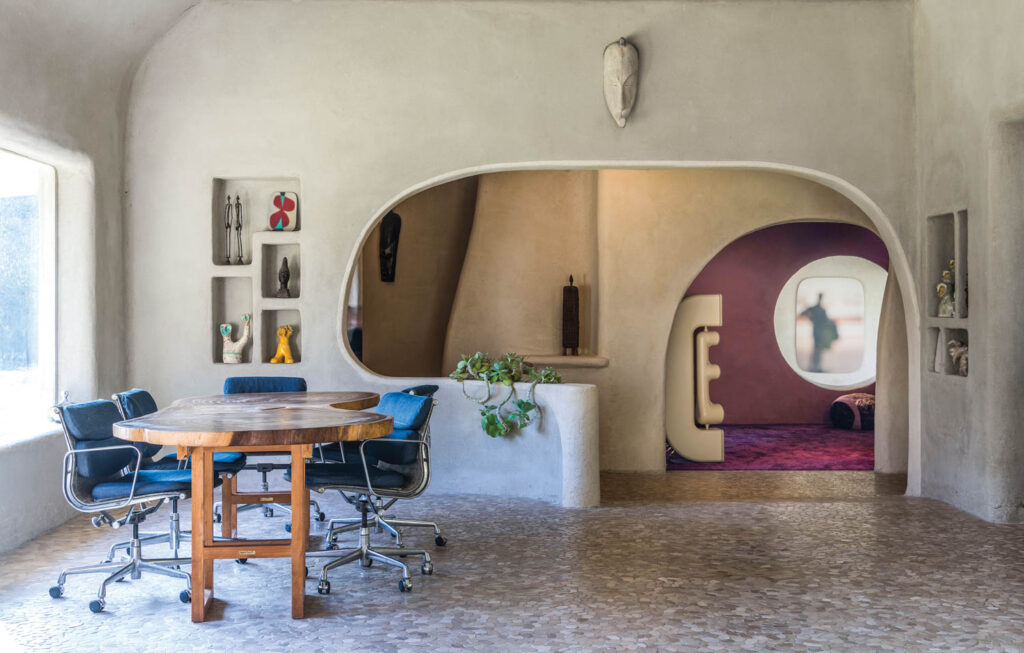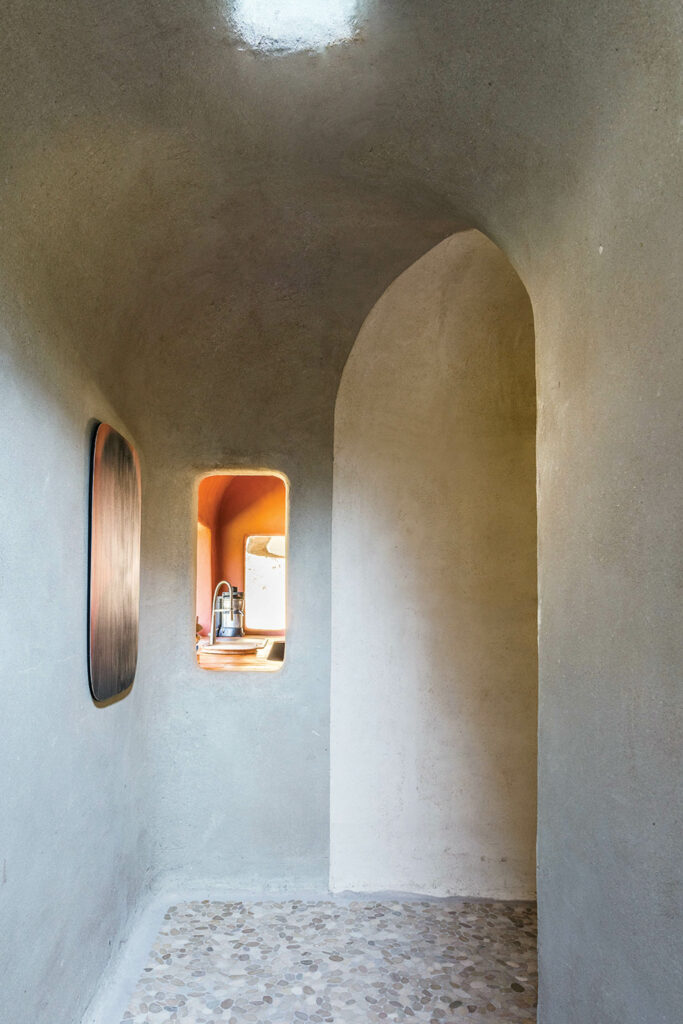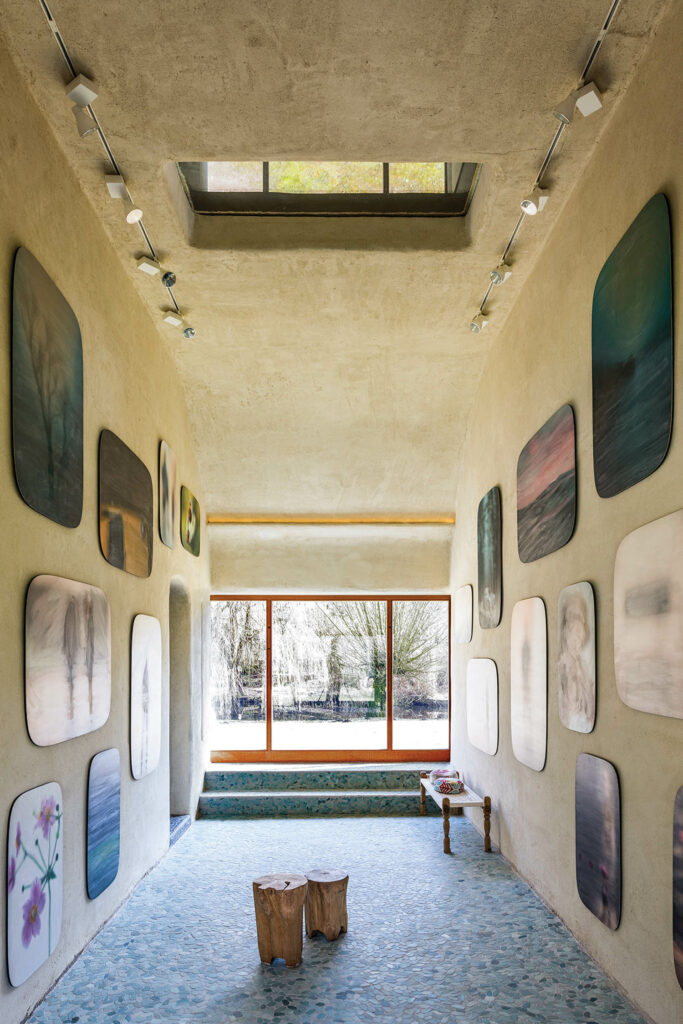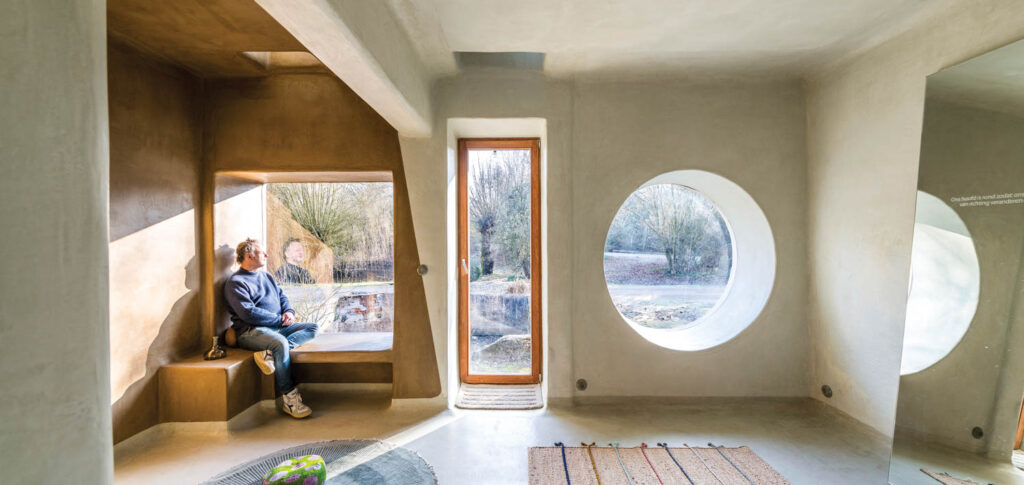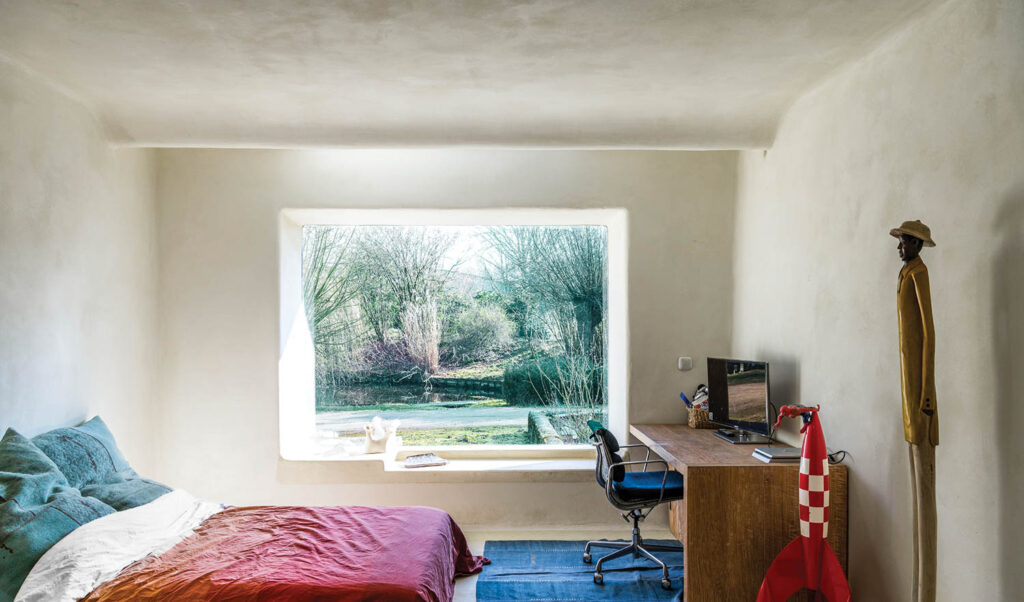 PROJECT TEAM
UMU: angel patricks amegbe.
PRODUCT SOURCES
FROM FRONT
ligne roset: sofas (living room).
focus: fireplace.
herman miller: chair, ottoman (living room), chairs (dining room, bedroom).
balta industries: carpet (music room).
elco: sconce.
umu: speakers.
hansgrohe: sink fittings (bathroom).