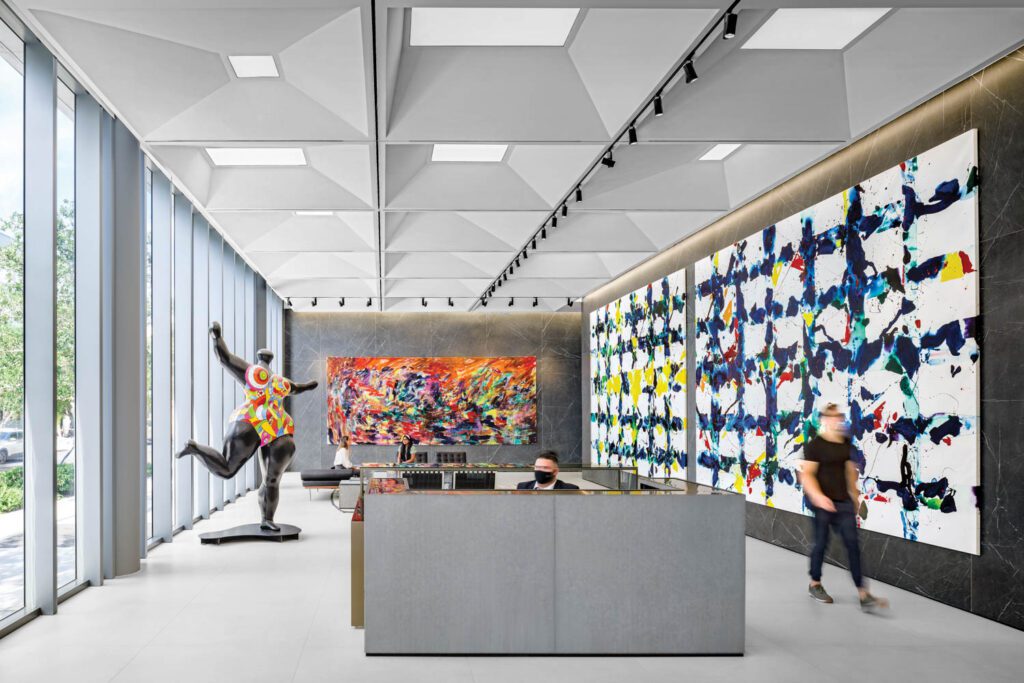 This MKDA-Designed Headquarters in Miami Features Museum-Ready Art
If you live in Miami and care about art and architecture, you'll be familiar with Jorge M. Pérez and Related Group, the development company he founded in 1979. Born in 1949 in Argentina to Cuban parents, and raised in Colombia, Pérez emigrated in 1968 to this country. After earning a master's degree in urban planning from the University of Michigan, he began his career by constructing affordable housing, graduating to high-rise apartment buildings in both North and South America. Now a billionaire art collector and philanthropist, the "King of the Condo," as some call him, made such a transformative gift to the former Miami Art Museum that the institution was renamed the Pérez Art Museum Miami when it moved into its new Herzog & de Meuron home in 2013.
In 2021, Related relocated its headquarters to the top two floors of a new LEED-certified concrete-and-glass building in Coconut Grove, Miami's historically art-minded neighborhood, where Pérez and his wife, Darlene, live—as do Bernardo Fort-Brescia and Laurinda Spear, the founding principals of Arquitectonica, which designed the eight-story gem. To create the building's interiors, Pérez turned to the Miami studio of MKDA, a multicity firm that made its reputation by revolutionizing the fashion showrooms of Manhattan's Garment District. Regional managing principal Amanda Hertzler and her team joined the project early on, working most closely with Related senior vice president Nicholas Pérez, Jorge's son (his brother Jon Paul is the company's president), but much of the proceedings were driven by the founder and CEO himself.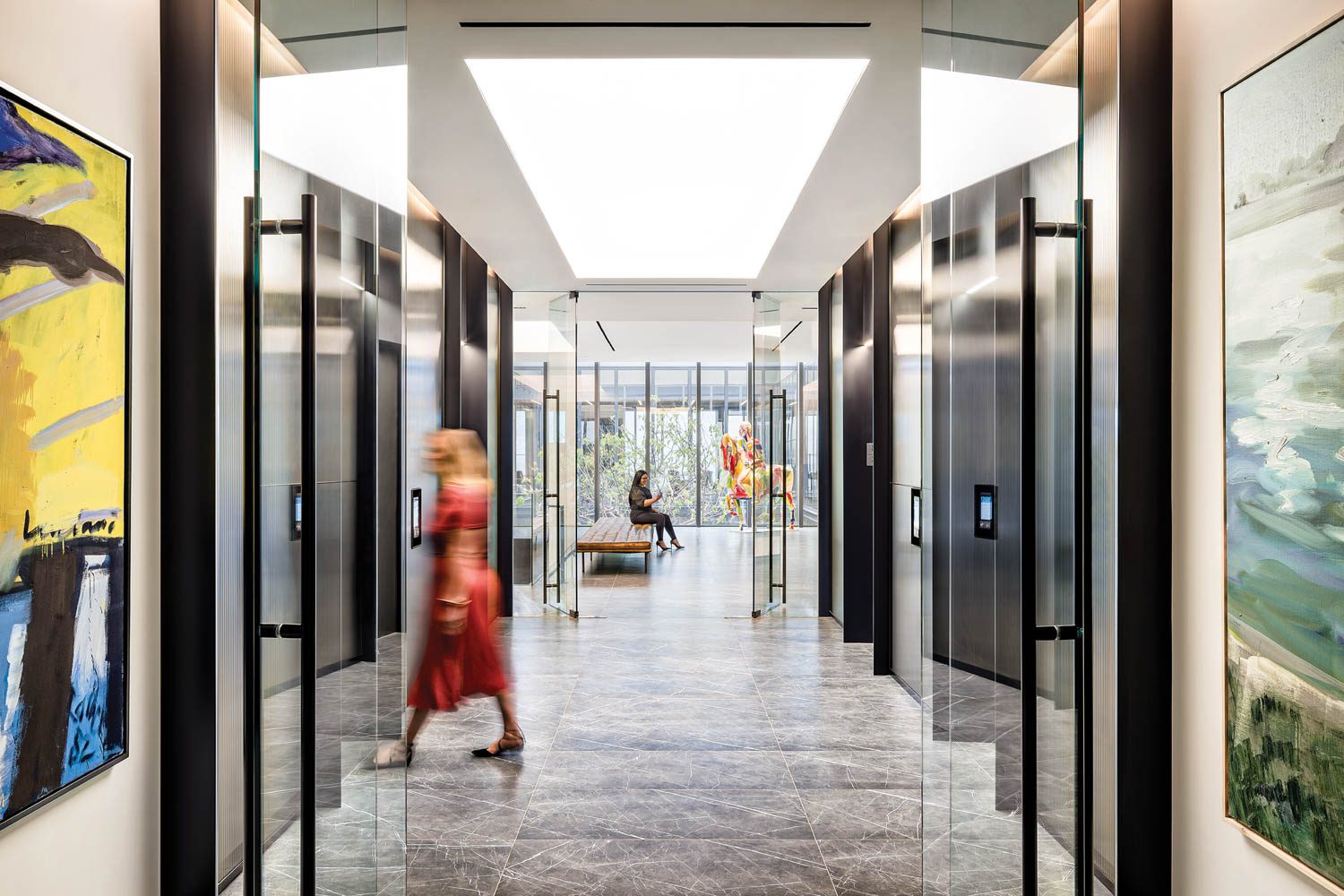 "In addition to the building lobby and the Related offices, we also designed the elevator lobbies, the elevator cabs, restrooms, and a law firm on the fourth floor," Hertzler reports. "Because we were going to install a lot of art, we kept the materials muted and neutral." In the ground-floor lobby, for instance, she covered walls with slabs of matte porcelain that resemble marble but used scored, sandblasted gray limestone on the reception desk and other surfaces to create a softening contrast. She then added flashes of Champagne-finished stainless steel for some inimitable Miami elan.
Even more playful is the lobby's coffered ceiling, a modernized nod to the carved-wood versions found in Coconut Grove's historic Mediterranean-style mansions. "We changed the shapes of the coffers, so they're all different," notes Hertzler, who backed each recess with a sheet of LumaFilm—a flexible, paper-thin membrane incorporating tiny LEDs—to provide soft, ambient light overhead. The building's mechanical systems are hidden above the glowing fabric, but the lobby's rotating display of artworks is accommodated with visible gallery-style track lights that can be refocused remotely.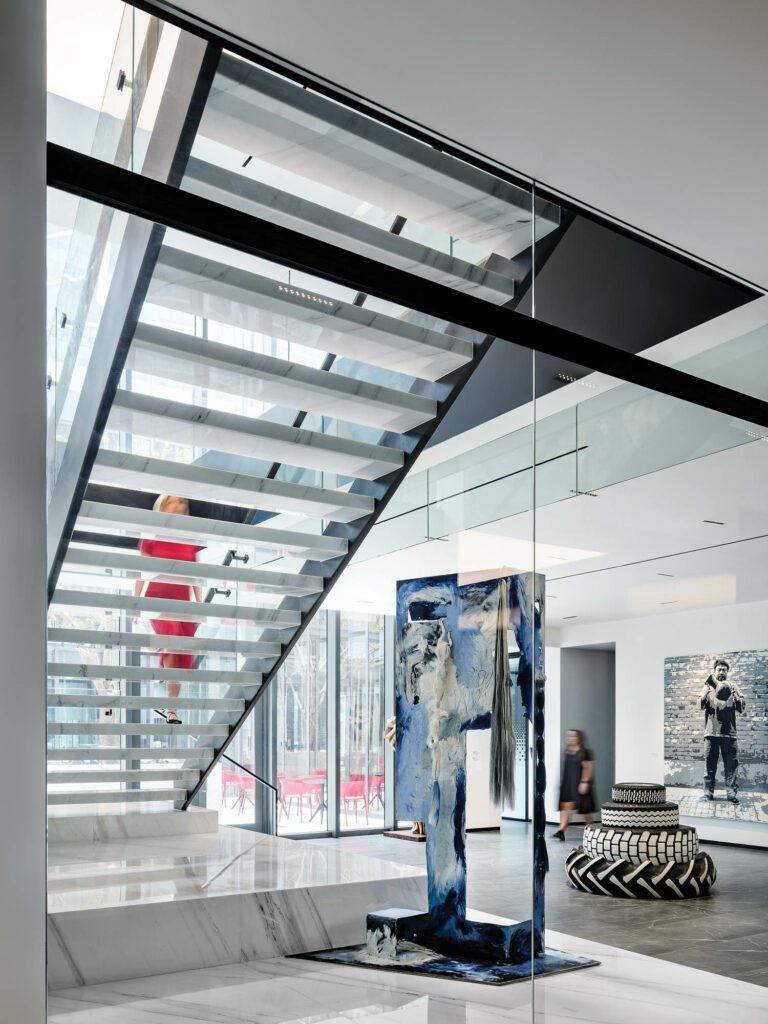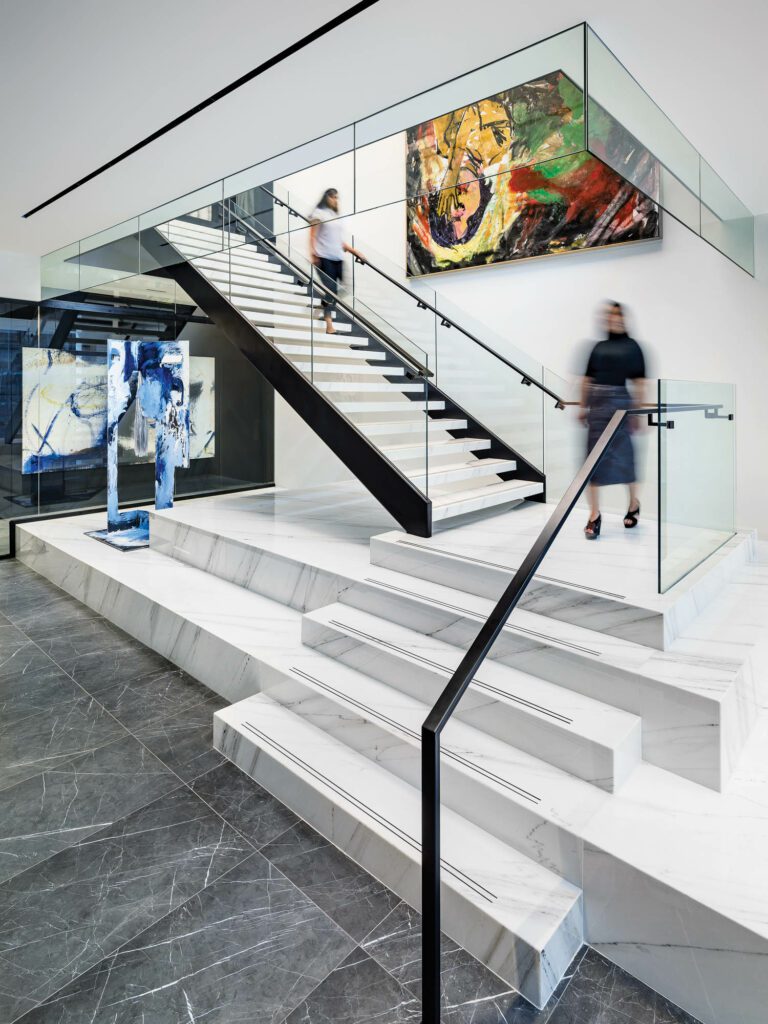 Related's main reception area—its massive stainless-steel and marble desk set off by a wall of backlit rosewood panels—and executive offices occupy the top floor, while employee work spaces and facilities, including a collaborative area and a lounge, fill the floor below. "The building has an offset core," Hertzler observes, "which would tend to make the interior of each floor quite dark." On the other hand, it allowed Arquitectonica to sink a two-story glass-enclosed atrium at the center of the headquarters. "Related has a traditional corporate culture," continues Hertzler, "so we installed the usual per­imeter offices, but the atrium floods the interiors with light. The transparency comes with a connectivity, because you can see people working on the other side." On both floors, she created communal spaces that take full advantage of the atrium's natural light.
There is art everywhere, some 300 pieces that range in form from the traditional oil on canvas to every imaginable "alternative" medium, including an Ai Weiwei "painting" composed of Lego bricks. A 16-foot-long bench in reception that appears to be a cast-bronze version of a Mies van der Rohe Barcelona daybed is, in fact, a metallic-painted fiberglass-and-steel piece created by Judy Niedermaier in the 1990's for the lobby of the Mies-designed IBM building in Chicago. The bench had to be craned into place because it wouldn't fit in the freight elevator.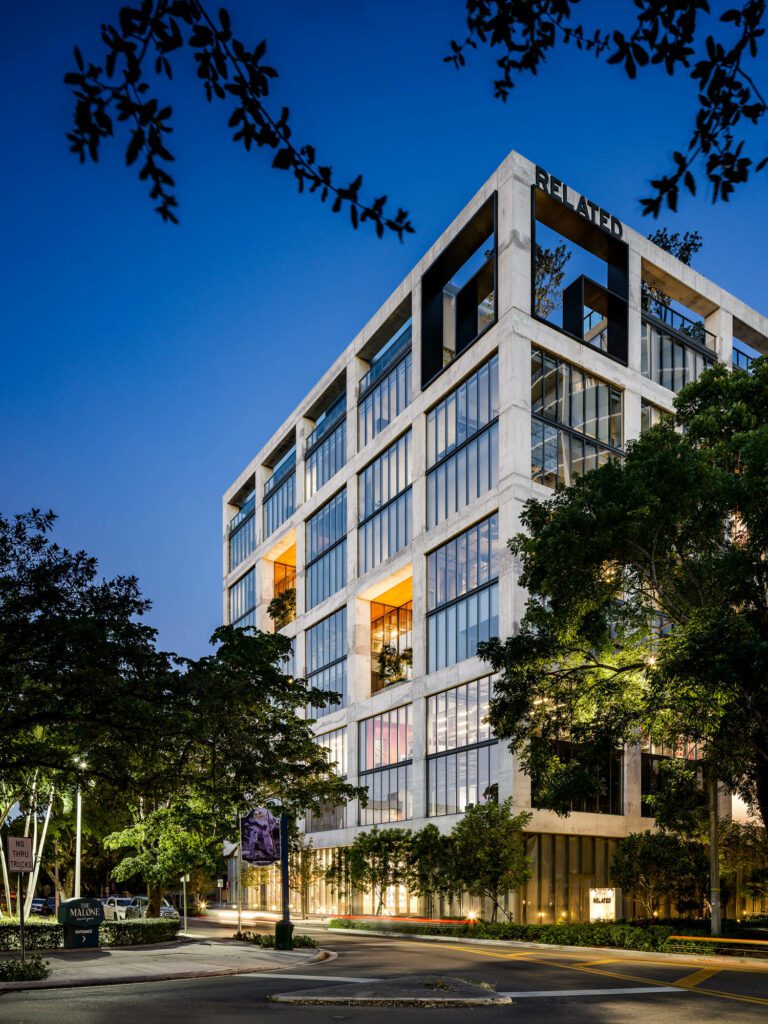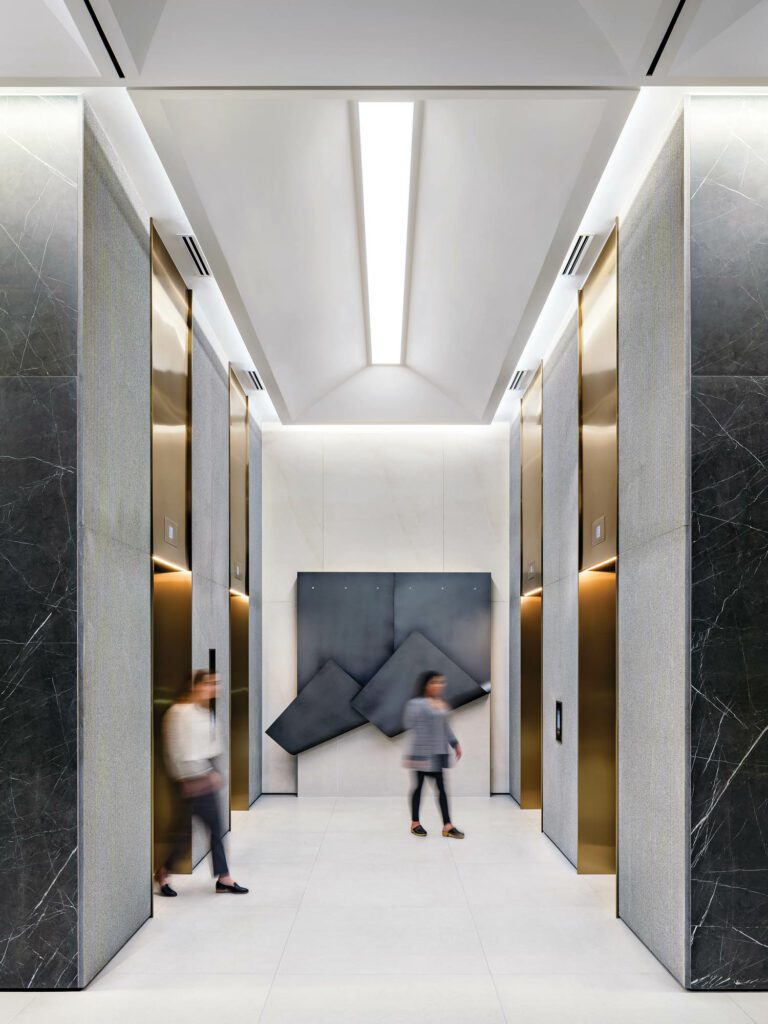 The bench sits next to the grand Calacatta Toscana marble staircase that connects the floors and also acts as a platform for artworks, which undergo a monthly rotation. "That doesn't mean every piece is changed every month," Hertzler explains, "but a lot of the art travels and needs to be swapped out." Pérez has promised his collection to the museum that now bears his name. "One of the nicest things about the art installation is how approachable it is, even in the common areas."
Along with their own lounge, employees get two outdoor spaces in which to relax: a courtyard terrace at the base of the atrium and an expansive Arquitectonica-designed roof garden, which includes a covered area and open zones with enviable views of Biscayne Bay. "The roof is lush and eclectic, with beautiful, old, exterior-grade furniture," Hertzler concludes. "At Related, even the seating is art."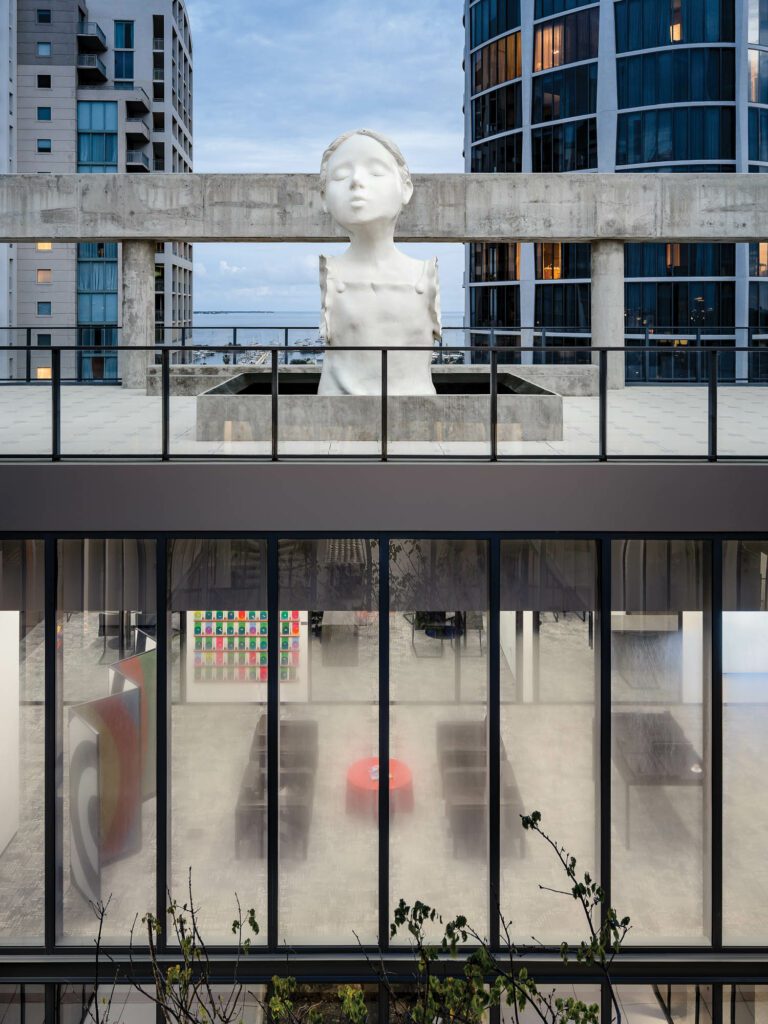 project team
product sources from front
throughout