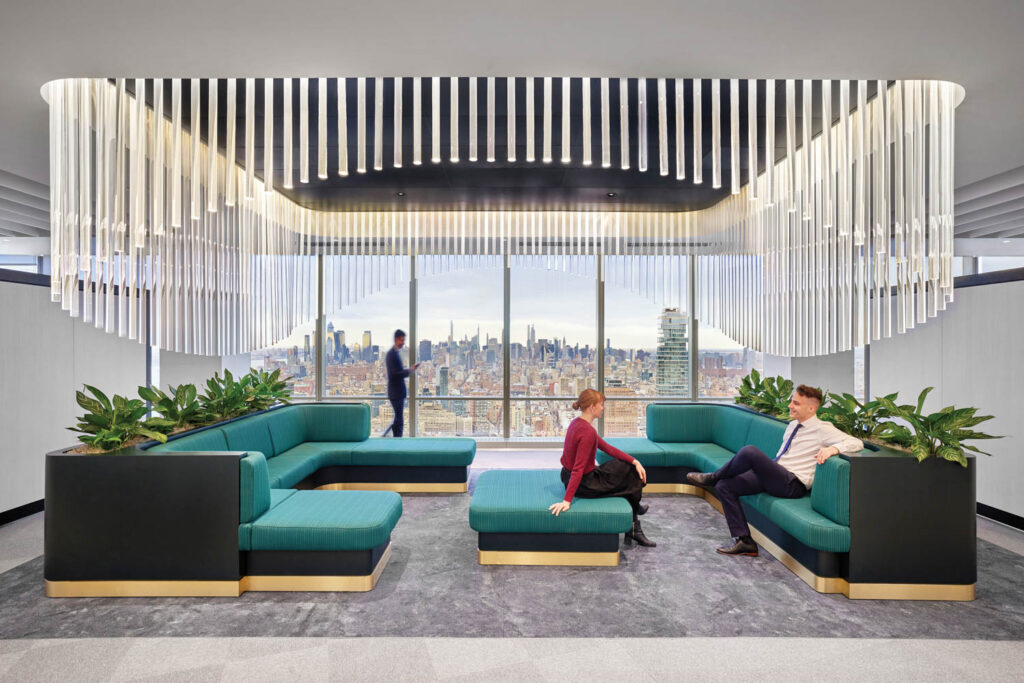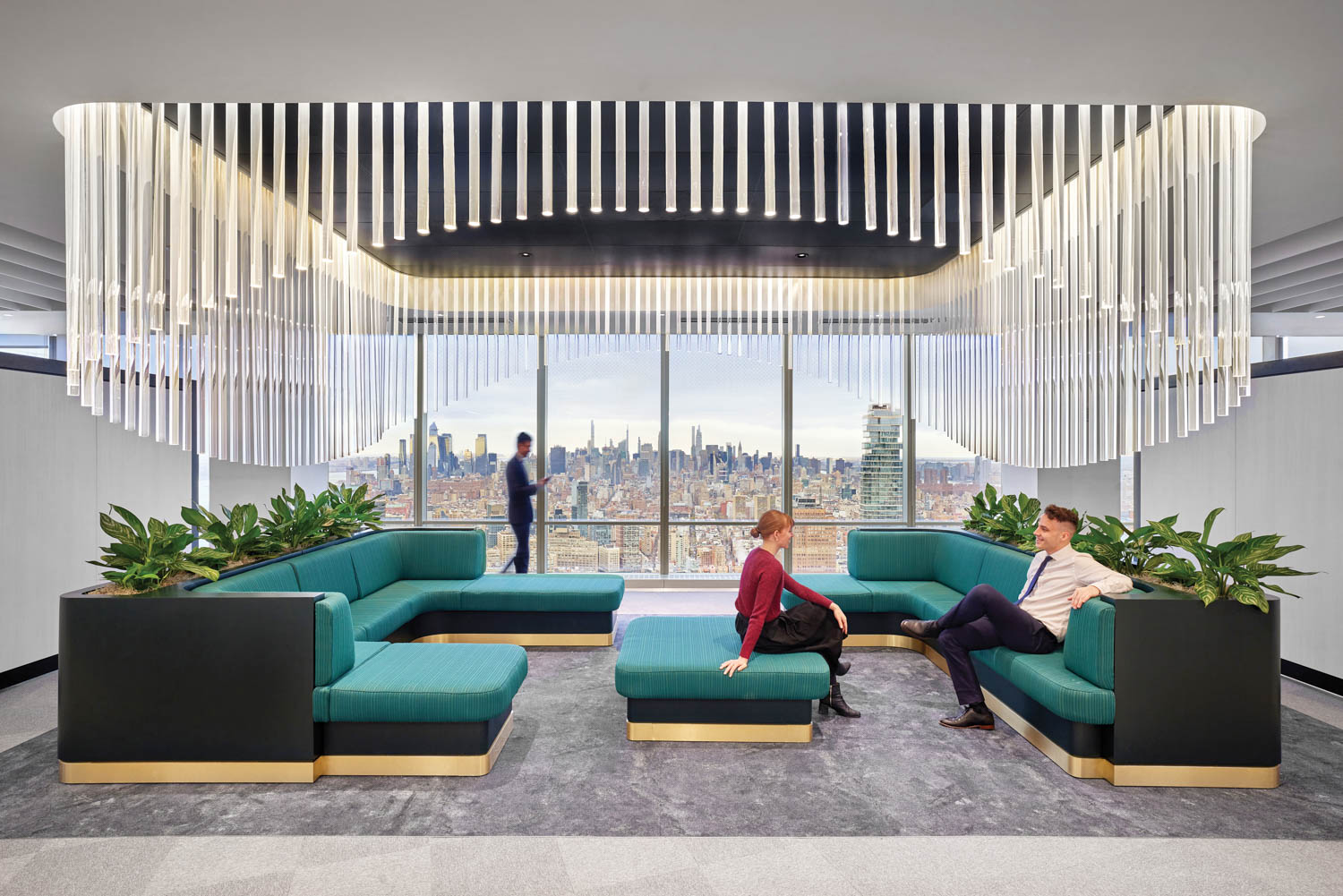 6 Modern Offices That Underscore Flexibility and Inclusion
With the possible permanent disruption of the commercial landscape, these workplaces showcase—and underscore the importance of—flexibility, coll­aboration, and inclusion.
What Does Workplace Interior Design Look Like in 2023?
Size: 1,076 square feet
A cocreation between architect and client, also a design firm, the office has been conceived as a creative workshop for sharing knowledge, which is expressed via an overhead corrugated tube winding through in varied configurations for implied meanings—sinuous and open suggesting access to new inspiration, knotted signifying the intersection of ideas—backdropped by neutral tones with jolts of energetic cobalt.
Nio Delivery Center, Shanghai by Kokaistudios
Size: 129,167 square feet
A former factory has been trans­formed into a welcoming, almost residential­ feeling warehouse and delivery center for the electric carmaker. A facade of aluminum louvers screens three interconnected buildings containing reception, offices, and lounge, retail, and interactive display zones, plus the Joy Camp play area, all outfitted with acoustic ceiling panels, terrazzo, bamboo, and custom minimal furnishings.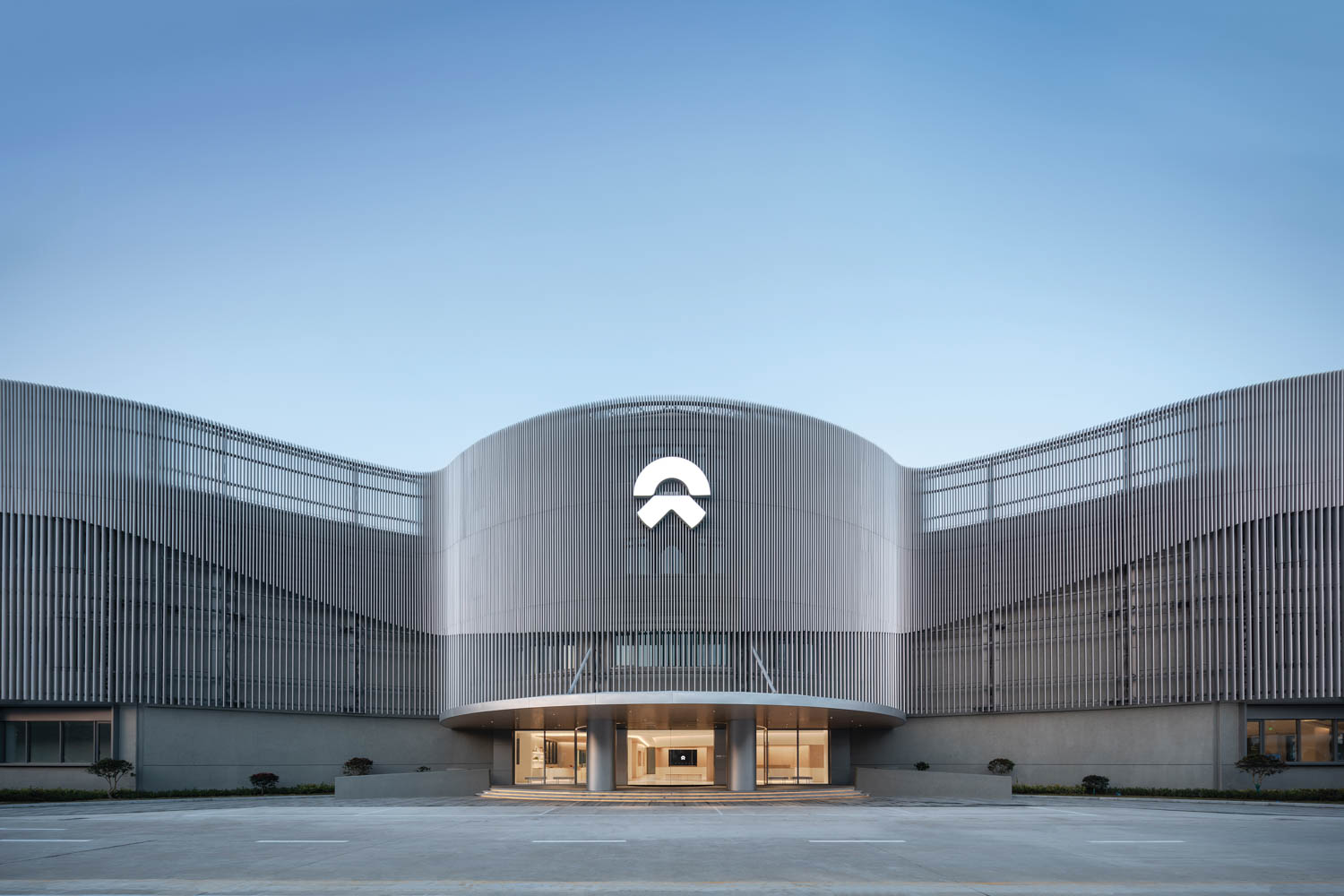 Westpac at Parramatta Square, Sydney by GroupGSA
Size: 193,750 square feet
New quarters for the financial-services company employ the midnight-blue and orange tones of campfires to not only unify the site's eight floors but also symbolize the concepts of gathering and engagement, which are echoed in the feature stair's landings that are large enough to double as social hubs and meeting rooms outfitted with top-level technology to allow remote workers feel as if onsite.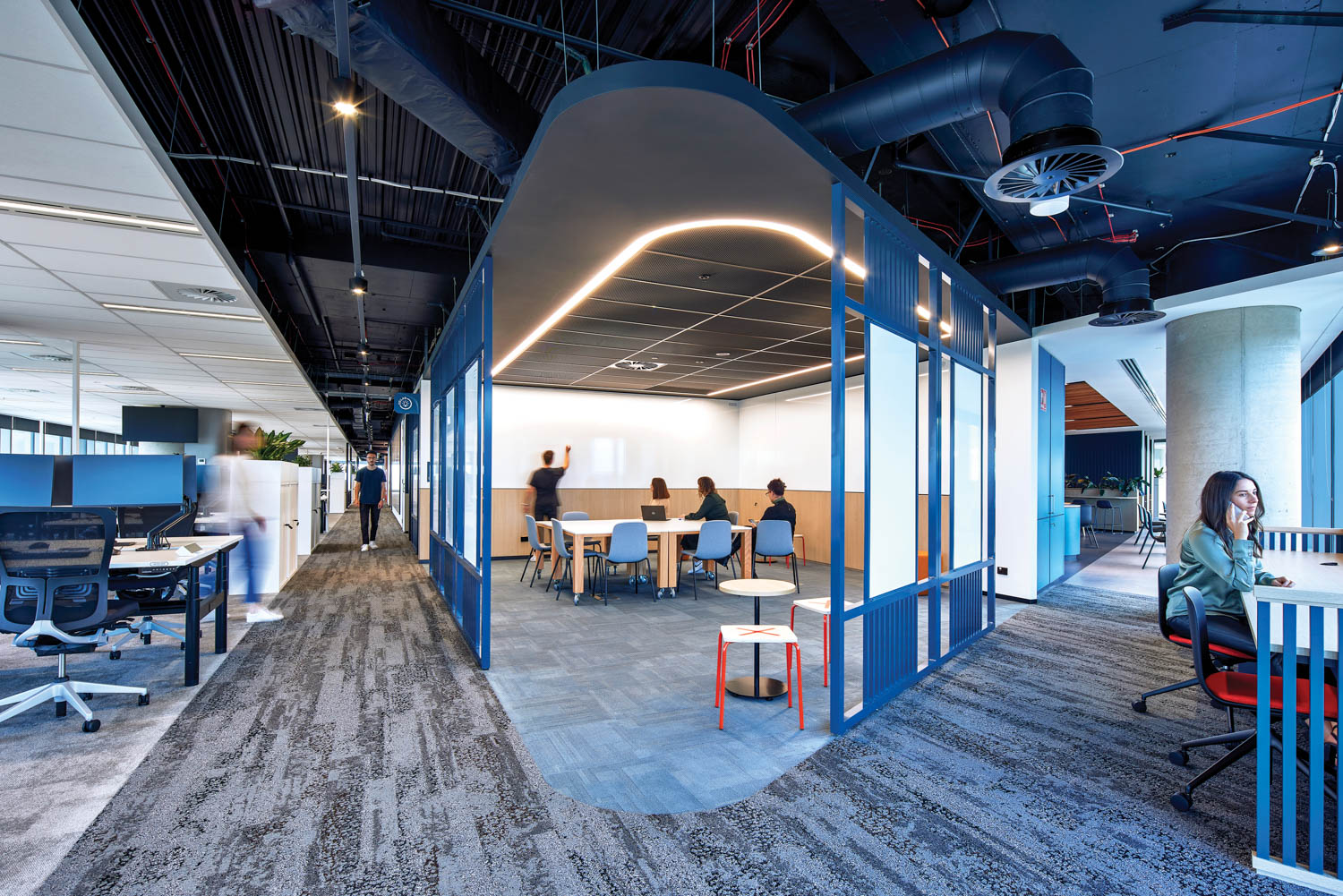 M.A.D. Collectif, Montreal by Ivy Studio
Size: 3,600 square feet
An office and events space for a group producing fashion and art festivals and content is both industrial and flirty, the former print shop reenvisioned with a lounge/café zone defined by walls of ceramic tile and exposed studs, a monolithic marble bar served by bright lilac stools, and a sinuous banquette upholstered in metallic purple velvet. More blush tones appear in the central block used for photo and video shoots.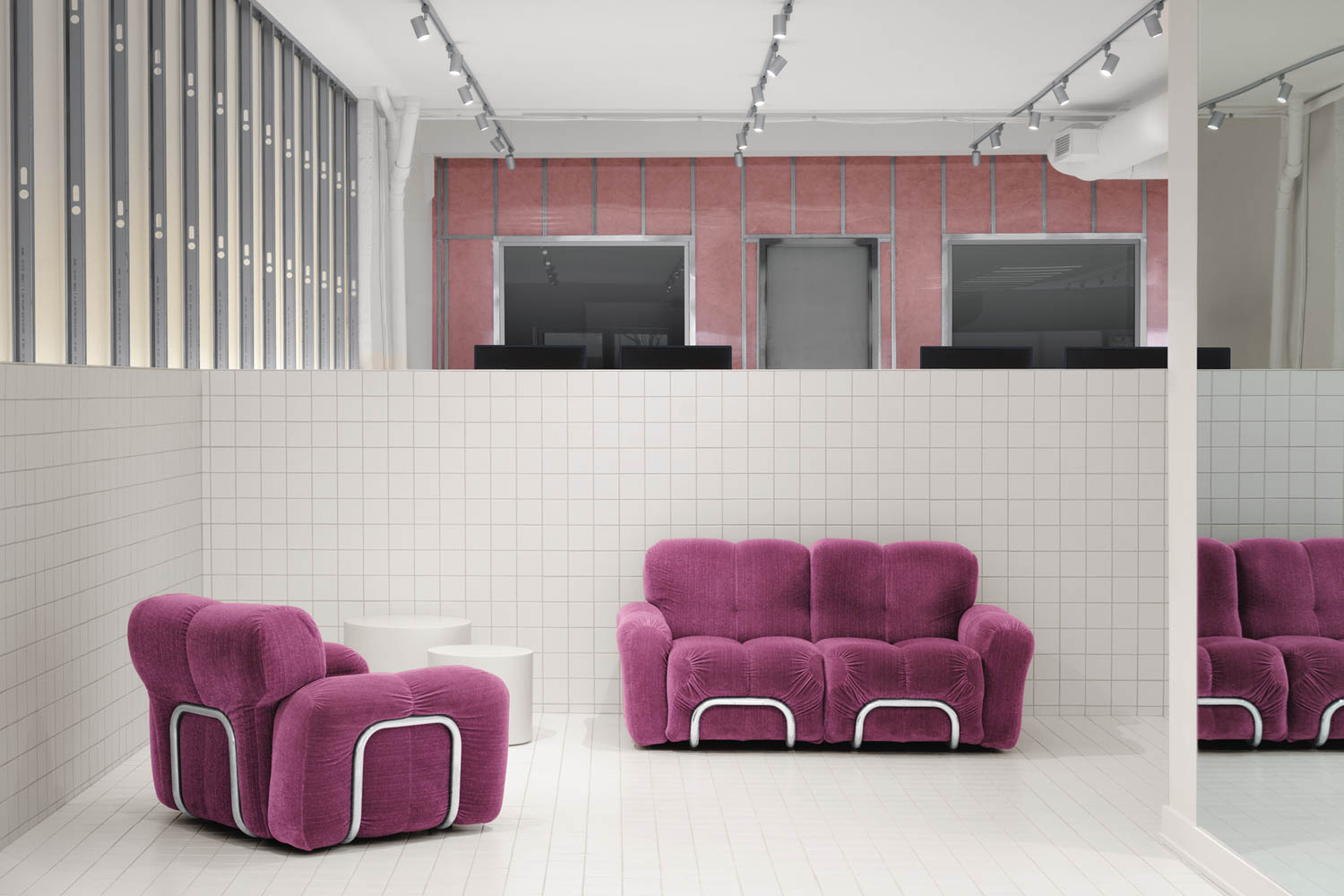 Newlab Detroit at the Book Depository by Civilian
Size: 270,000 square feet
What was designed by Albert Kahn in 1936 as a post office, then became public-school book storage, has been adaptively reused, with Gensler collaborating on core and shell, into an innovation hub for entrepreneurs, engineers, and scientists investigating mobility and societal issues. Interiors provide ample sunlight and spaces for robotics, prototyping, and idea exchange, kicked off by a reception desk in faceted pressed steel and joined by custom, vintage, and, appropriately, MillerKnoll pieces.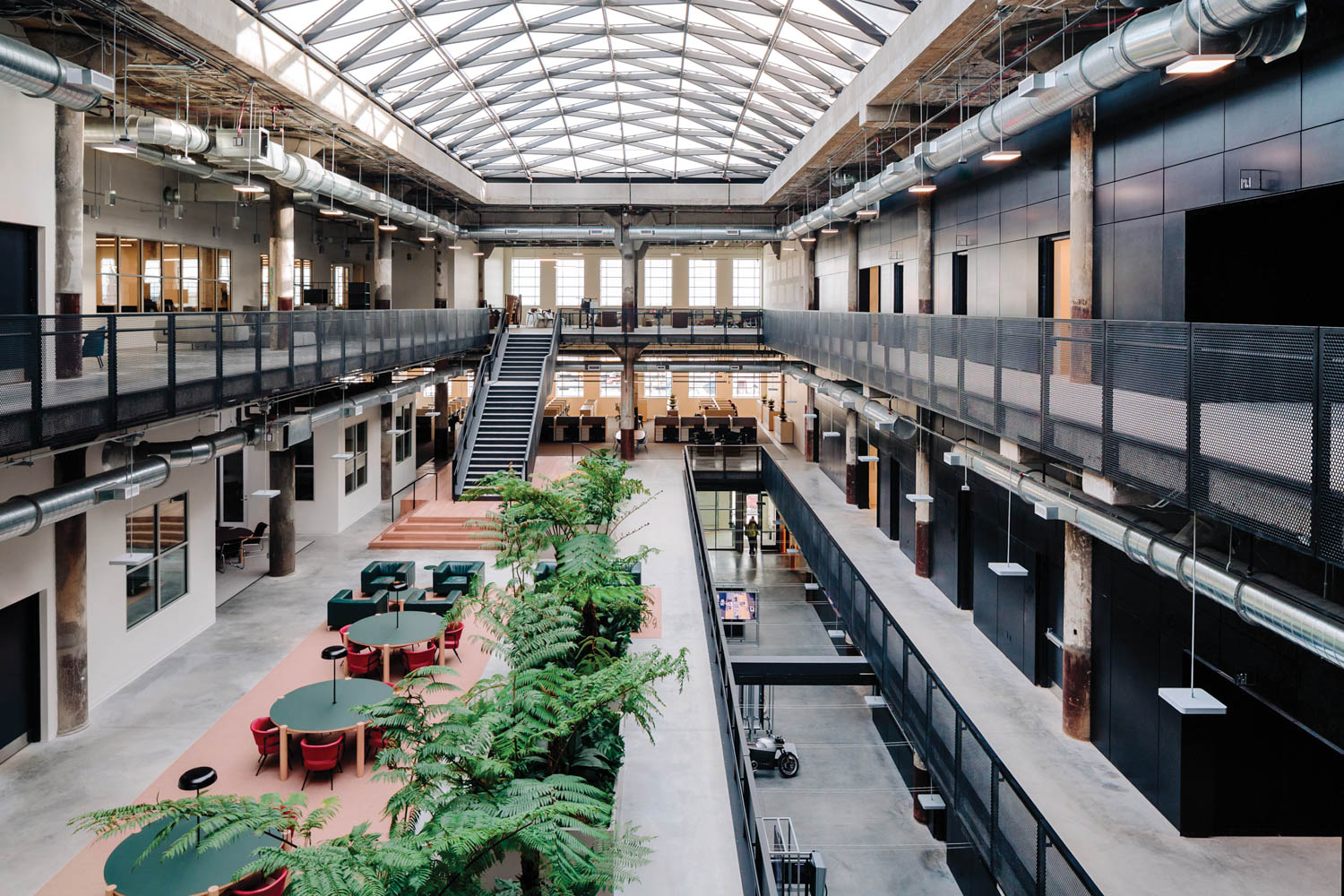 Size: 37,000 square feet
Data gathering to determine why employees would gather at a physical site informed the concept for the data-driven investor-services giant's redesigned office, and "interaction" was the key word. The ensuing scheme deployed various settings for primarily heads-up collaboration, including the loungelike North Landing, framed with acrylic rods and conversation-starting city views.