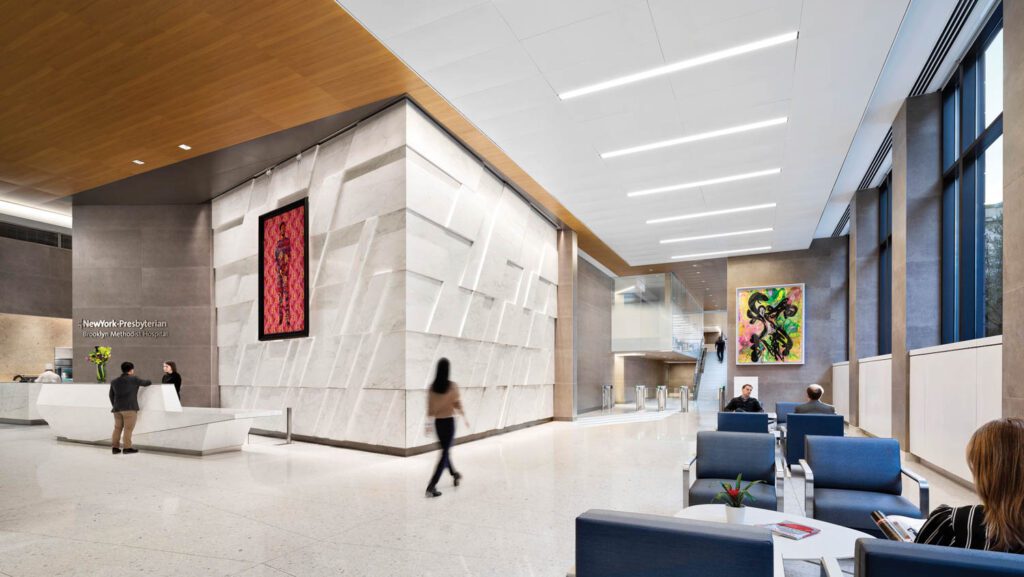 Neighboring Brownstones Shaped the Design of This Medical Facility in Brooklyn by Perkins Eastman
2021 Best of Year winner for Healthcare.
Current scientific research confirms that visual art and design can enhance well-being and thus accelerate healing. Perkins Eastman processed that data, and added plenty of both, alongside a thoughtful consideration of local context, for this 400,000-square-foot medical facility in the Park Slope neighborhood.
Surrounded by brownstones, the six-story center was built with a complementing brownstone base and a custom-mix limestone body. For an installation outside the main entrance, principal Cristobal Mayendia and senior associate Sebastian Medina analyzed, photographed, and synthesized the palette of nearby structures, then translated the colors into vertically arrayed, terra-cotta baguette tiles in stone, burnt-orange, and saffron shades, forming a vibrant statement piece that measures 18 by 45 feet. The composition signals that patients and visitors are entering a special place. "The tension between the more contextual exterior and the sleek, modern interior gives the building a unique character," Mayendia explains.
Inside the lobby, in the waiting area, a large portrait by Kehinde Wiley—the work a continuation of his majestic depictions of men of color—mixes seamlessly with terrazzo flooring, a Calacatta marble feature wall, and a geometric desk. Art is placed throughout the rest of the center, including in the hospitalitylike treatment pods, much of it by New Yorkers.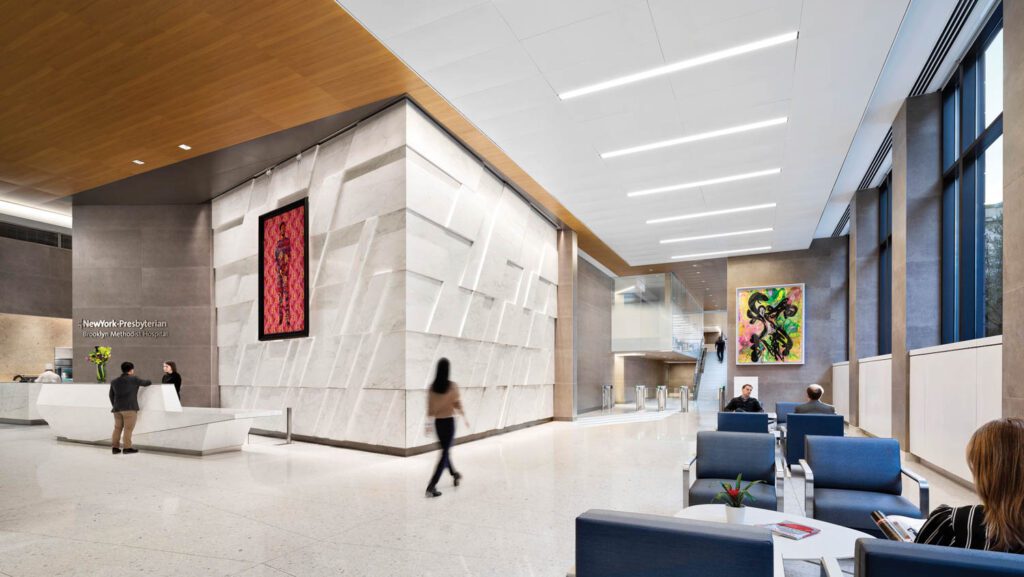 project team
Copyright Andrew Rugge; Courtesy Perkins Eastman
: cristobal mayendia; sebastian medina; jeff brand; kathleen byrne; maureen carley-vallejo; peter cavaluzzi; florence chan-morris; federico del priore; jennifer gill; tania gonzalez; shion iwaizumi; chattawan kieosangsong; hailey landisframe; cristobal mayendia; sebastian medina; rebecca milne; christina peters; lala rakhamim; duncan reid; asher salzberg; isabelle song; rico stanlay; mary tims; shane walton; steven wright; matthew b. young.