15 Restaurant, Bar, and Cafe Interior Designs
We've heard it time and again: "You are what you eat." Shouldn't restaurant, bar, and cafe interior designs reflect that? These 15 food and beverage locales welcome foodies and newbies alike, with delectable design to boot, from a dark and moody bar design in Las Vegas to a whimsical restaurant design in Venice Beach, California. Our chic dining destinations offer more than a sensory feast, though—they also reflect the latest in dining design trends where local art, custom touches, and a bit of experiential drama reign supreme.
Editor's note: A previous version of this story was published May 27, 2021. It has been updated to reflect the latest restaurant, bar, and cafe interior designs.
Must-See Restaurant, Bar, and Cafe Interior Designs
1. A Hip, New Restaurant Design Next to MoMA Offers Diners a Feast for the Eyes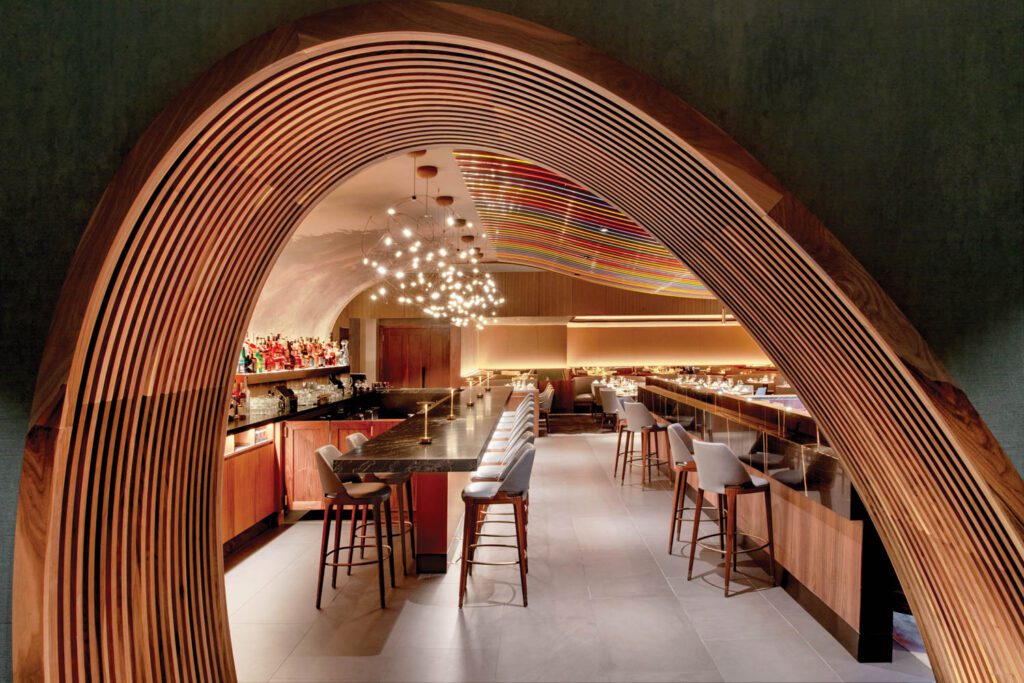 A successful restaurant in New York must be "yummy," according to Lionel Ohayon. The designer isn't simply referring to the food, however. Rather, it's the entire experience that comes from carefully combining lighting, acoustics, materiality, layout, visual impact, and a sense of discovery, together compelling diners to return time and again. That's exactly what ICrave intended for 53, an buzzy Midtown restaurant. Read more about this restaurant design.
2. Rouge Room Las Vegas Welcomes a Dark and Moody Restaurant Design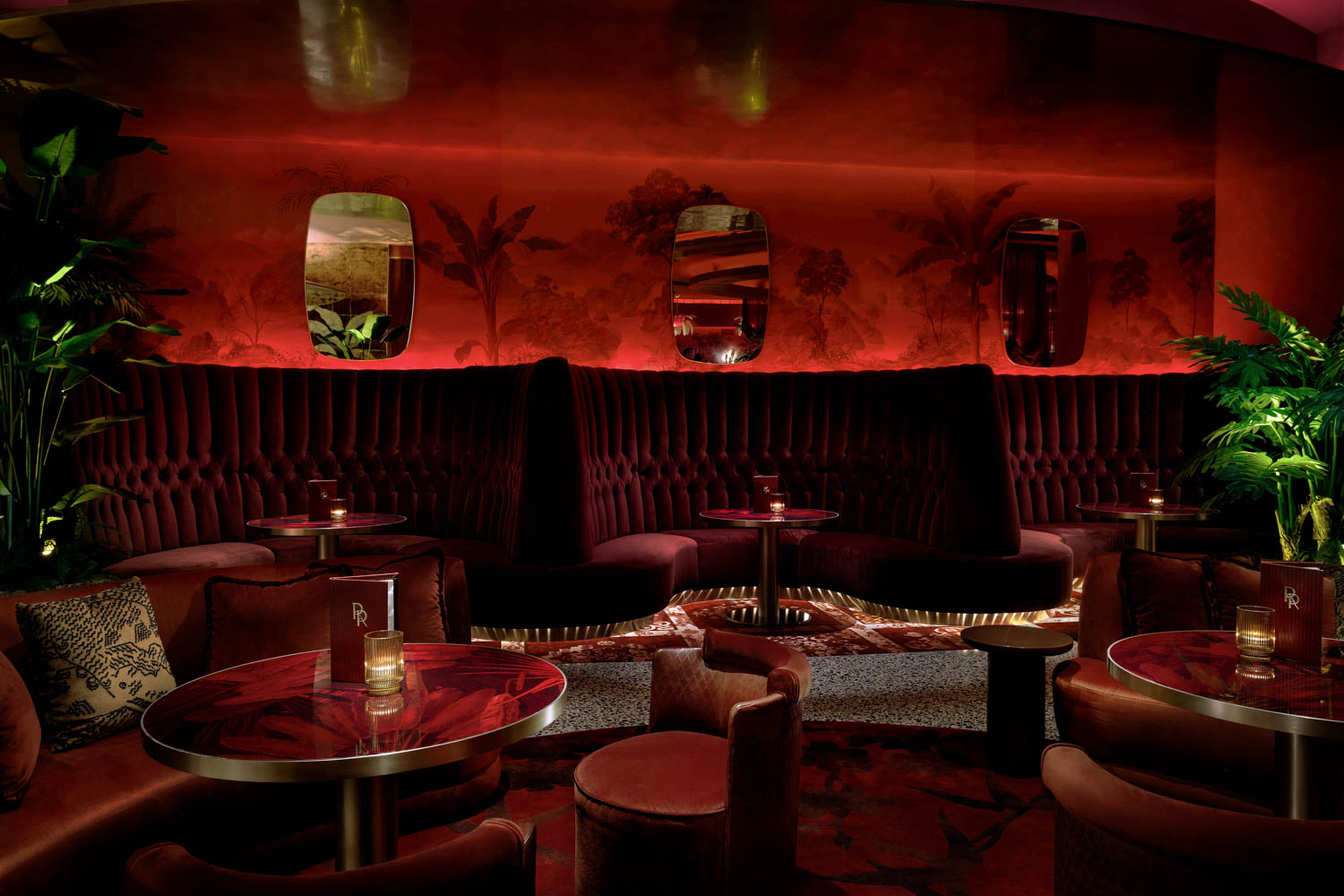 Dim lighting, red velvet, and leafy palms set the mood in Rouge Room, a sultry Las Vegas cocktail lounge, which fully embodies its name. The exclusive locale in Red Rock Casino, Resort and Spa, seeks to transport visitors to another era, drawing on design elements and grandeur of the 1920s while serving French fare and bespoke drinks. To create a darkroom-core aesthetic modeled after bygone supper clubs, Avenue Interior Design set out to design a unique hospitality experience. Read more about this bar design.
3. Inside a Bucolic Restaurant in Ukraine's Emily Hotel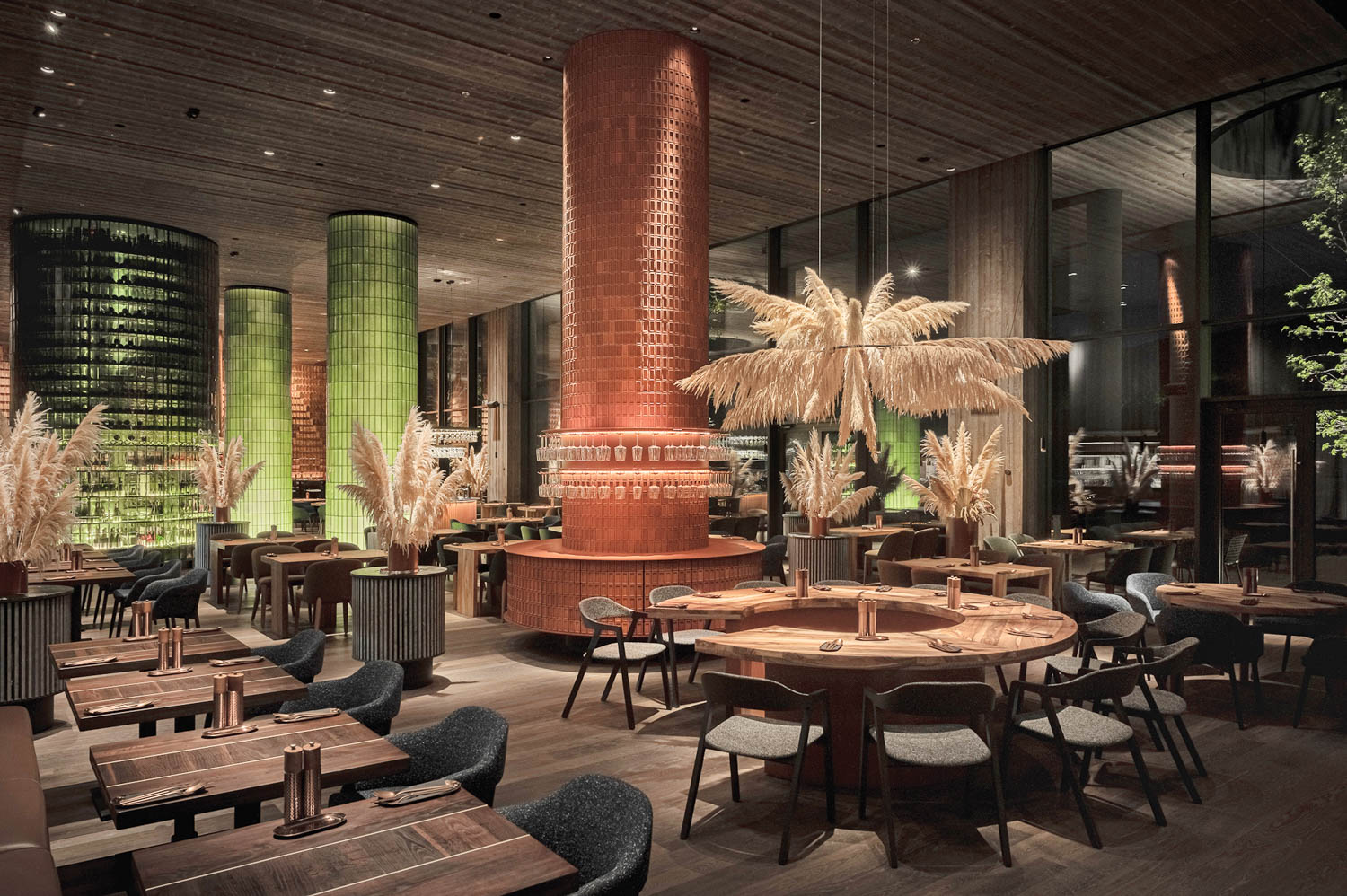 Despite the Russian invasion, Ukrainian designers continue to create unique and vibrant gathering spaces like the new Emily Hotel by Kyiv-based YOD Group. Inside, nature-inspired wonders are on display in Terra, the hotel's 12,400-square-foot restaurant, where YOD evokes the region's bucolic scenery, including green mountains dotted with shepherds' fires and peaceful lakes fringed with rustling reeds. "We aimed to extract colors, textures, and impressions from the landscape to translate them into the interior," the designers explain. Read more about this hotel restaurant design.
4. Ghislaine Viñas Co-Designs Andra Hem, an Atypical B&B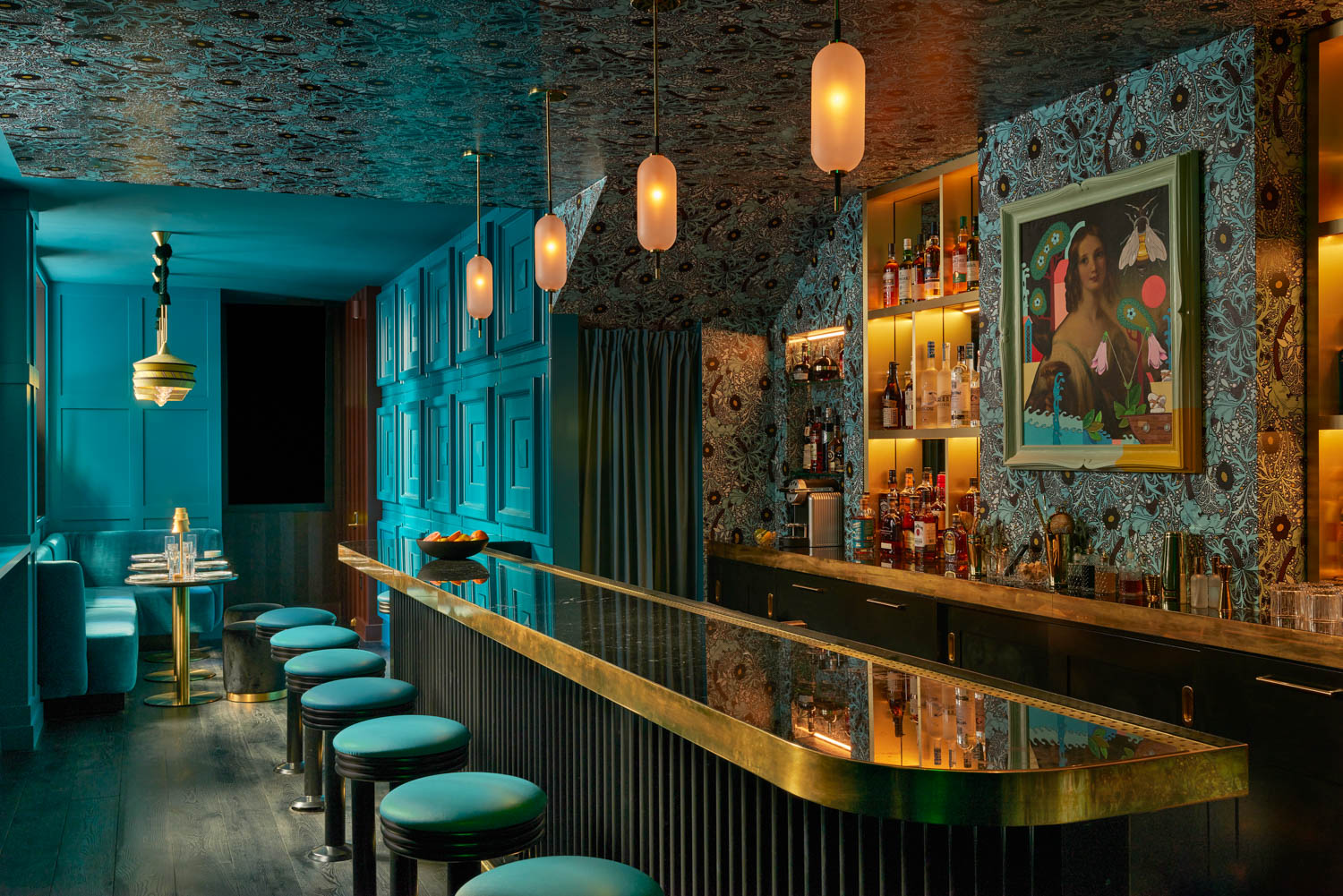 If you can survive the 2-hour line to get into Andra Hem, Philadelphia's chicest new night spot, you're in for a rather delicious cocktail. The recipe: An ounce of hotel, a teaspoon of art, a twist of bar, a shot of lounge. Shake vigorously! Pour over ice and garnish with honey from the rooftop bee farm. Who is the crafty mixologist behind this spirited typological concoction? Why, it's New York designer Ghislaine Viñas, teaming with her longtime friend and client/muse, art collector and dealer Paige West. Read more about this bar design.
5. A California Restaurant Designed by Olson Kundig With Sweeping Views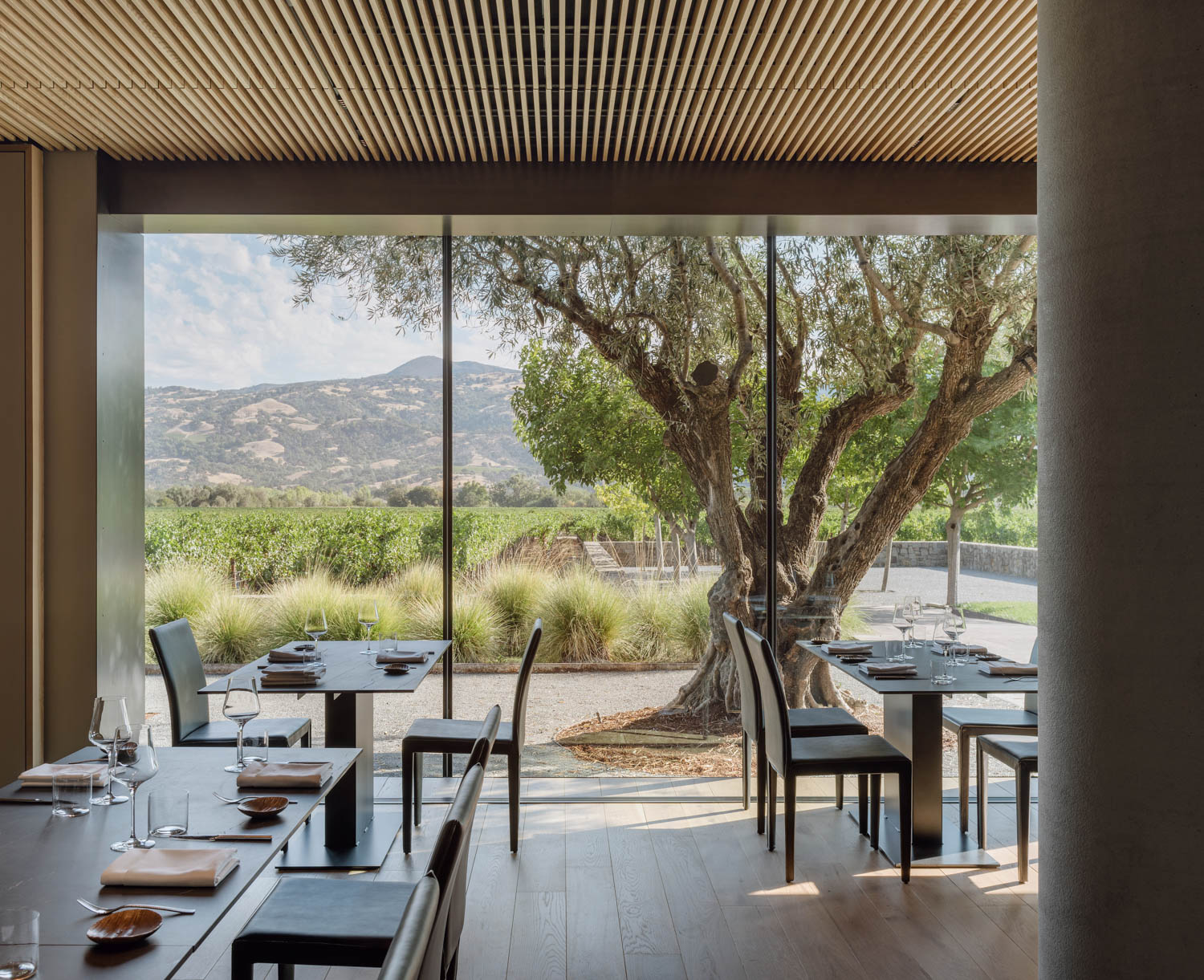 Landscape has an outsize influence on our experience. This is very true at Cyrus, a restaurant Geyserville, California that recently reopened with a fresh design by Olson Kundig. Crafted for chef Douglas Keane, the space is defined by its exterior environment, namely an established design by Andrea Cochran Landscape Architecture. "Working with her design gave us an incredible source of inspiration," explains design principal Tom Kundig. "It allowed us to introduce a dialogue between interior and exterior rooms, as well as the vineyards and eastern ridge beyond." Read more about this restaurant design.
6. Lighting Fixtures Inspired by Sailboats Add Intrigue to This Restaurant Design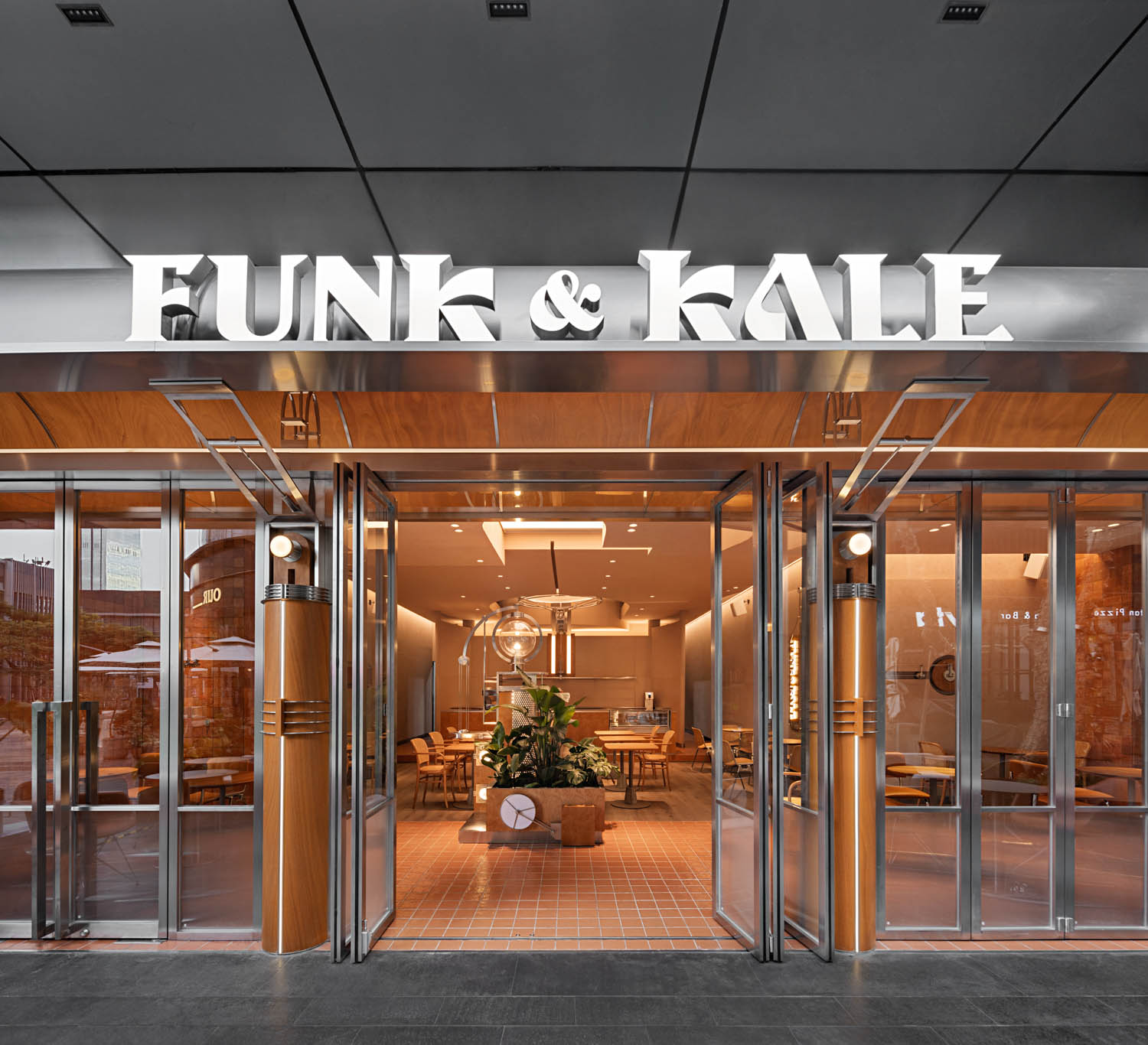 For Funk & Kale, a restaurant in a mall in Shenzhen, China, designer DAS Lab offers a nod to that activity—especially sailing and the process of supporting, hoisting, and opening the sail of a boat. For Funk & Kale, a restaurant in a mall in the Nanshan District of the city, designer DAS Lab offers a nod to that activity—especially sailing and the process of supporting, hoisting, and opening the sail of a boat. Such actions inspired the custom lighting fixtures in brushed stainless steel used throughout the space, including an outdoor dining area. Read more about this restaurant design.
7. Alfredo Paredes Designs a Beachside Restaurant in Fort Lauderdale for Laurent Tourondel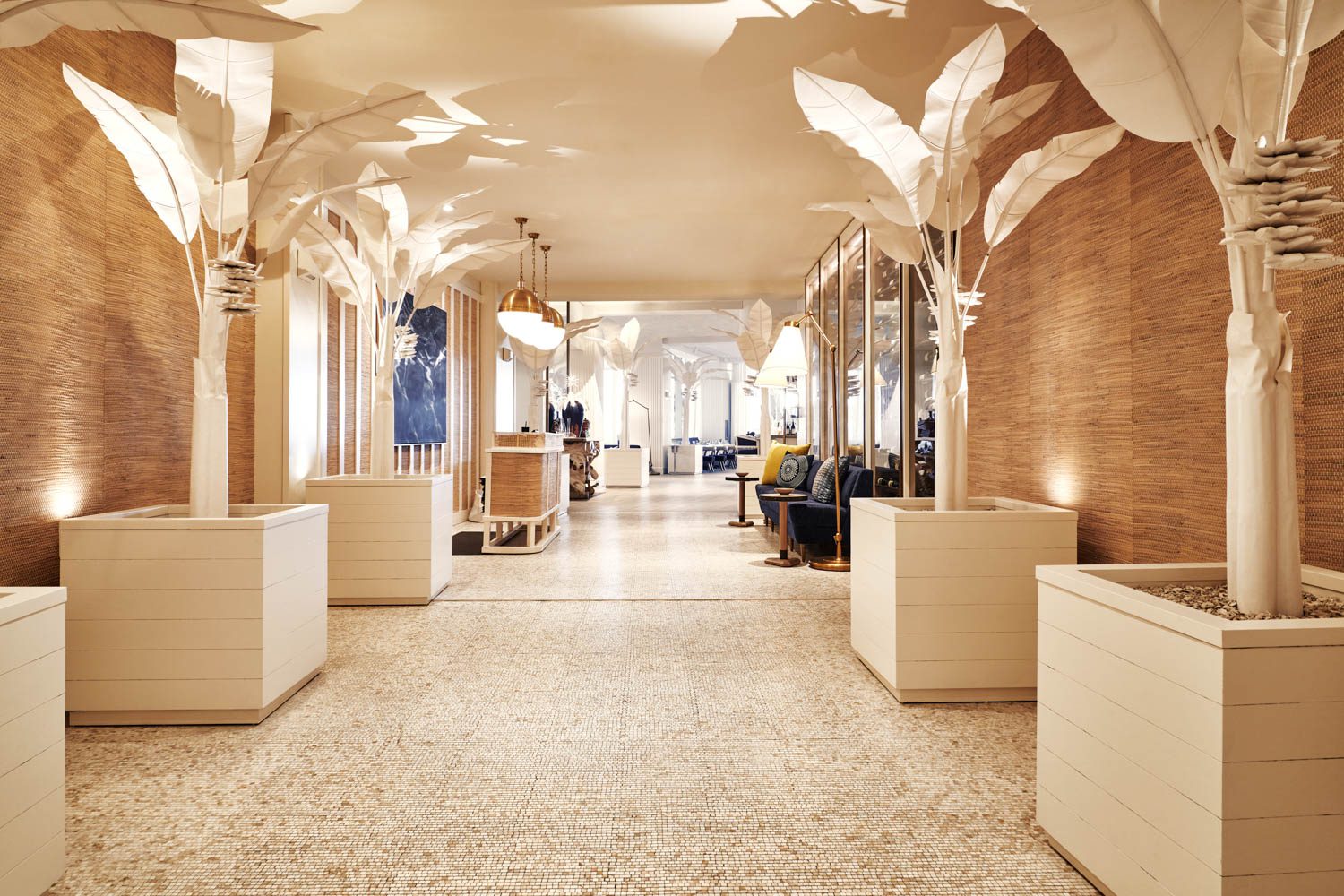 Alfredo Paredes refreshes the design of restaurant Dune by Laurent Tourondel, beachside in Fort Lauderdale. "I was grateful for the opportunity," Paredes says of his first independent hospitality job. The restaurant was pre-existing and huge. The 10,000-square-foot premises, including terrace and back-of-the-house, was created as an amenity for the upscale condo complex, Auberge Beach Residences and Spa its overall interiors by Meyer Davis. With the property's change in ownership came the charge to re-imagine the restaurant. Read more about this restaurant design.
8. For the Restaurant Design of Esperanza, Gulla Jónsdóttir Adds Whimsy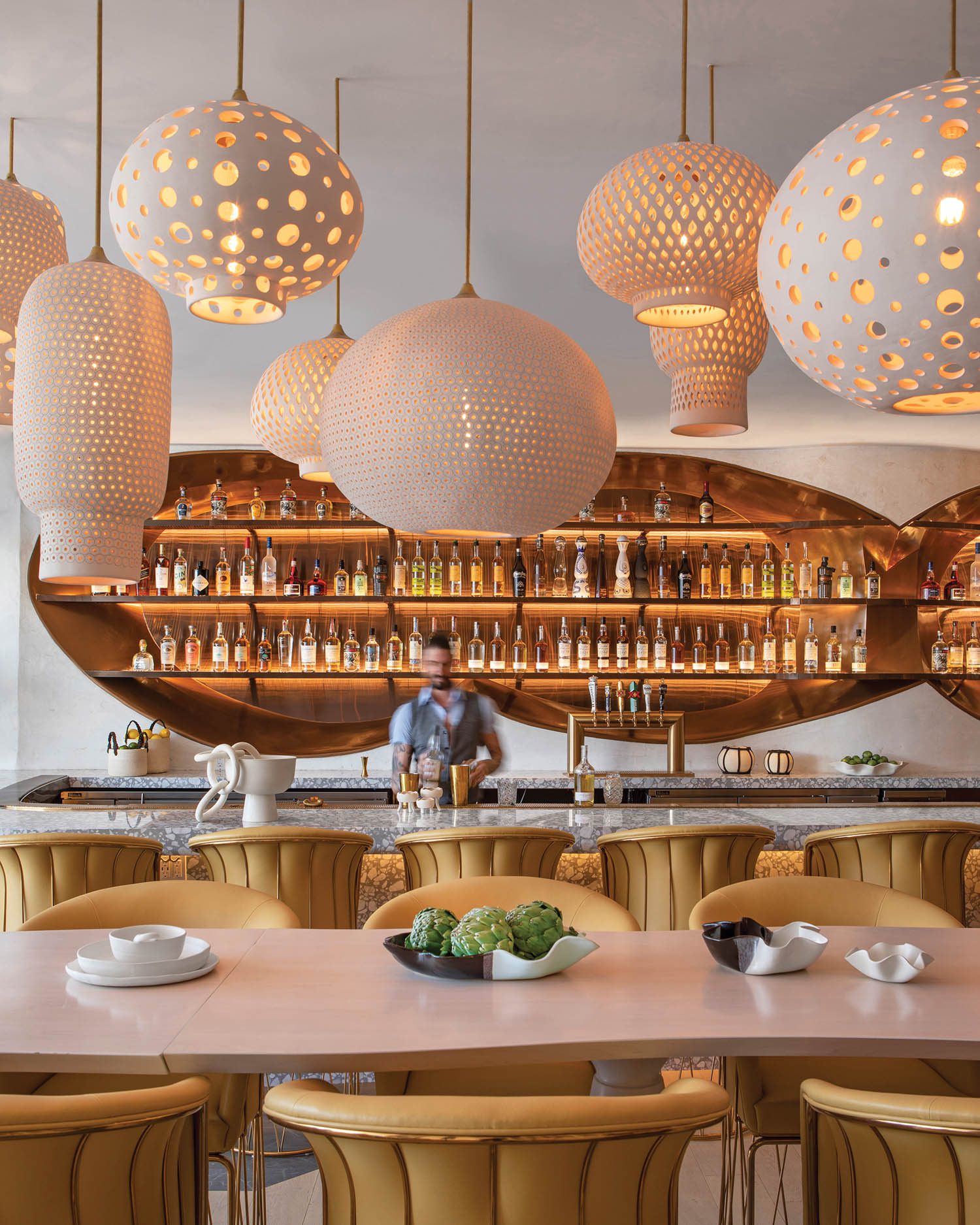 Los Angeles architectural designer Gulla Jónsdóttir has a thing for biomorphic shapes, the legacy of her study of both mathematics and biology. In her latest hospitality project, the cresting stucco facade sparked by the white sand dunes of Los Cabos, Mexico, at Esperanza, a hip new Sonoran-style restaurant in Manhattan Beach that Jónsdóttir worked on via FaceTime from her native Iceland during the pandemic. Read more about the restaurant design.
9. Behind the Design of Nearly Ninth Restaurant in the Arlo Midtown by Meyer Davis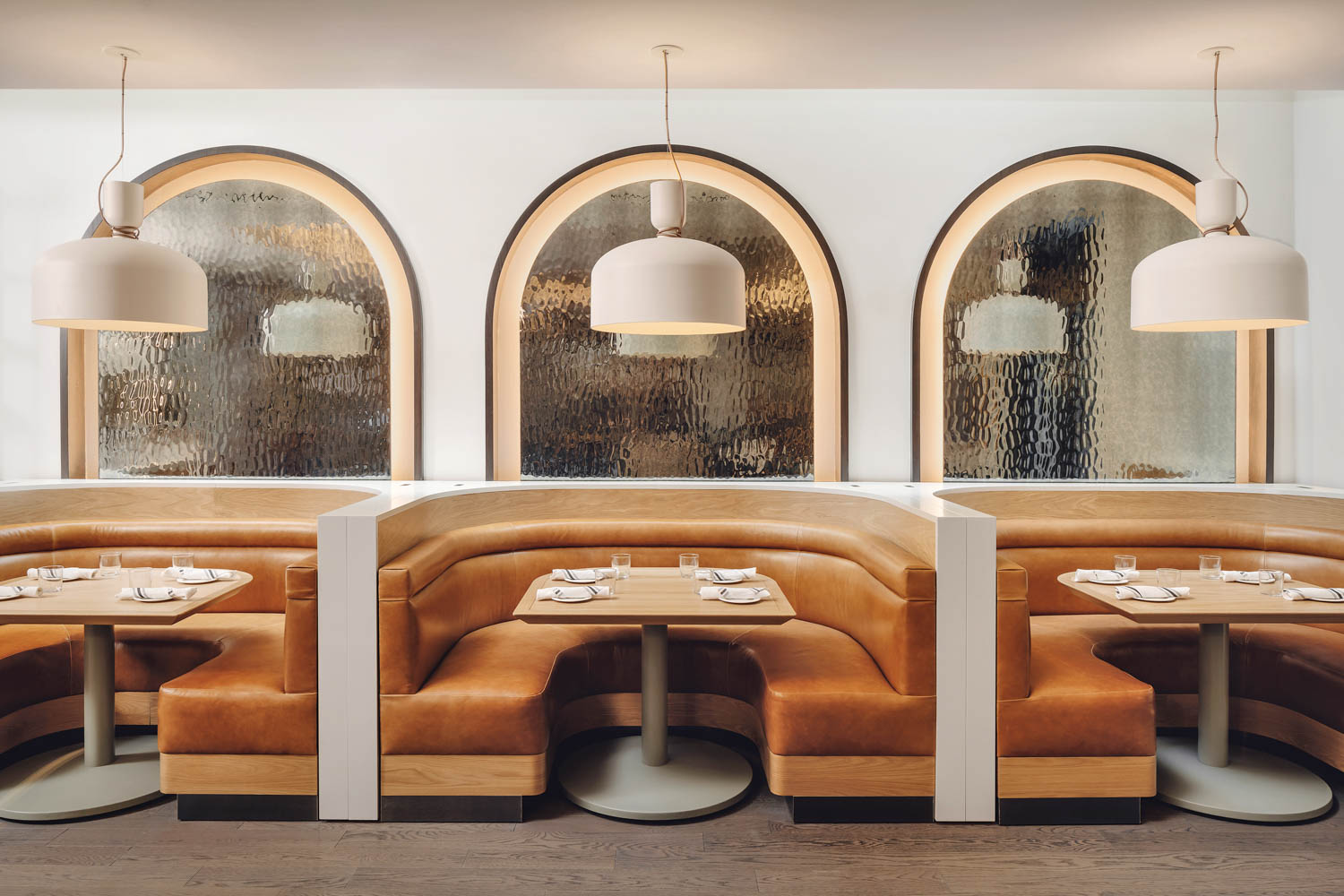 Nearly Ninth, inside the Arlo Midtown, a new hotel by architecture firm Marvel that's sited steps from Ninth Avenue, has multiple, flexible settings adding up to 5,700 square feet, all conceived for work and play, guests and others, day and night. Meyer Davis formulated a warm yet tailored look via neutral colors, contemporary lighting and furniture (some by William Gray, Meyer Davis's new line), and natural materials, all punched up with graphic wall art. Read more about this restaurant design.
10. This Cafe Design by Gin Design Group Features Stadium Seating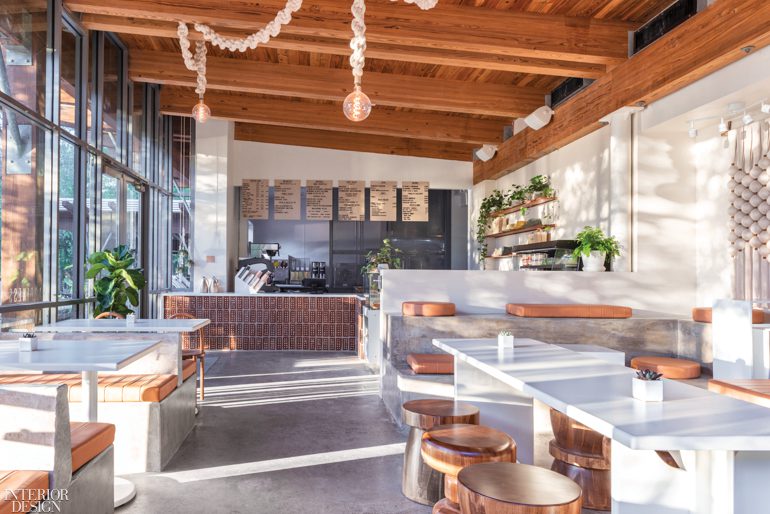 Gin Design Group stuck to five natural elements for the palette of this veggie-centric café in Houston. Under the café's glued laminated timber ceiling beams, custom tables and stools are stained or spun white oak and the counter skirt is clay brick. "We purposefully limited the palette to five natural elements," designer Gin Braverman explains, "so the setting remains the prime focus." Read more about this cafe design.
11. A 19th-Century Brewery is Transformed into a Modern Wine Bar in Czech Republic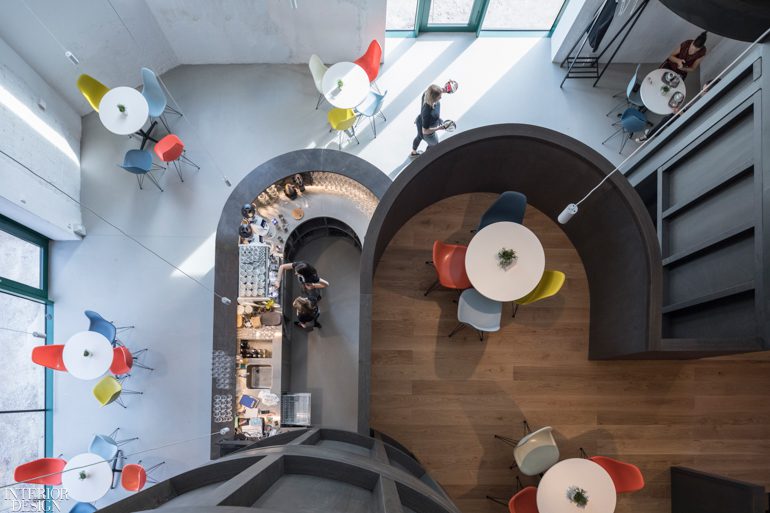 An aerial view of the House of Wine in Znojmo, Czech Republic by Chybik + Kristof. 5mm-thick plywood made from ceiba wood is bent into curved shapes throughout, adding an earthy heaviness to the space. Set in a converted 19th-century brewery and its adjacent building added in the '70s, founders of local firm Chybik + Kristof approached renovating the space as if it were a heritage site, similar to the historic buildings of Znojmo visible from its windows. "The challenge was to adhere to a rather orthodox notion of restoration, based on preservation, while also embracing a more experimental approach that fully rethinks the initial structure for a new use," say Ondrej Chybik and Michal Kristof, firm founders who are no strangers to winery design. Read more about this bar design.
12. Wid Chapman Infuses an Indian Eatery in Manhattan with Cultural Iconography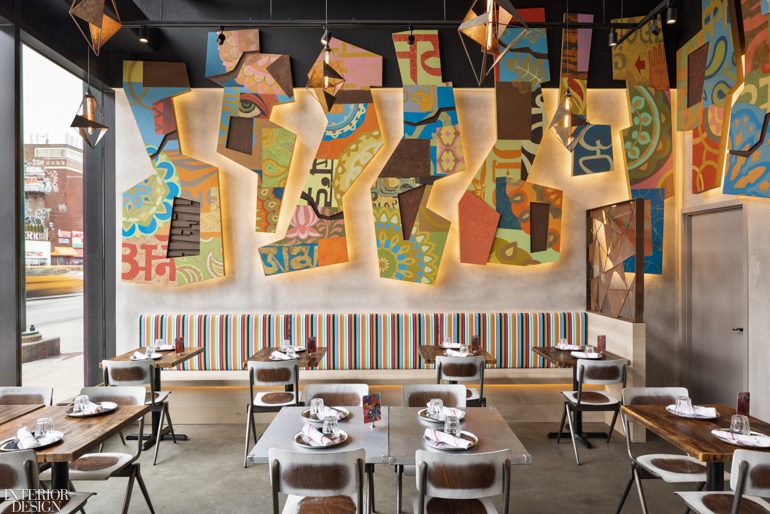 This Indian restaurant on NYC's Lower East Side tapped Wid Chapman to design the interior. The street food-inspired menu references cuisine from all over the sub-continent, like the iconography on the custom artwork. Helming the kitchen at Dhamaka is lauded chef, Chintan Padya—the restaurant name translates into "bang!" inspired by Chapman's design and the notion of jugaad— "creating with what you have in an innovative and resilient way." Read more about the restaurant design.
13. Matthew Tsang Creates a Serene Austin Ramen Restaurant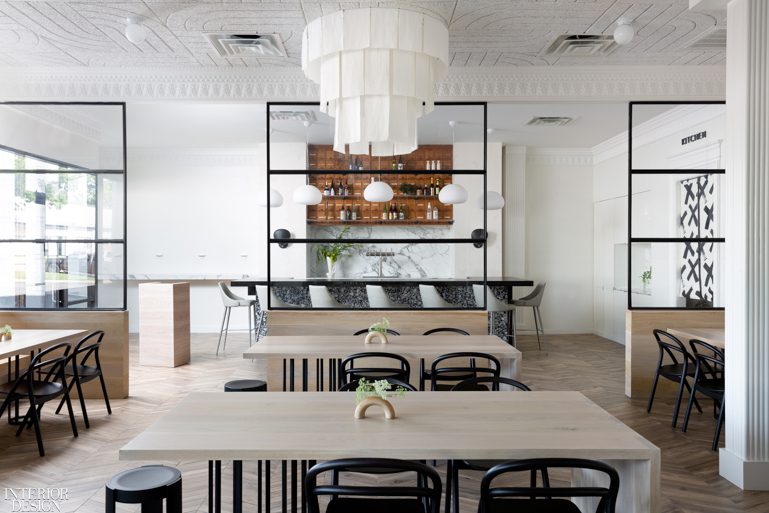 Drawing on elements of various design principles, including Danish hygge, Japanese minimalism, and French Art Deco, interior designer Matthew Tsang creates a moment of escape in the Sazan Ramen restaurant. Udon Dining Chairs from Hem add an industrial edge to the dining area. Read more about this ramen restaurant design.
14. This Coffee Shop Design Features a Halo of Plants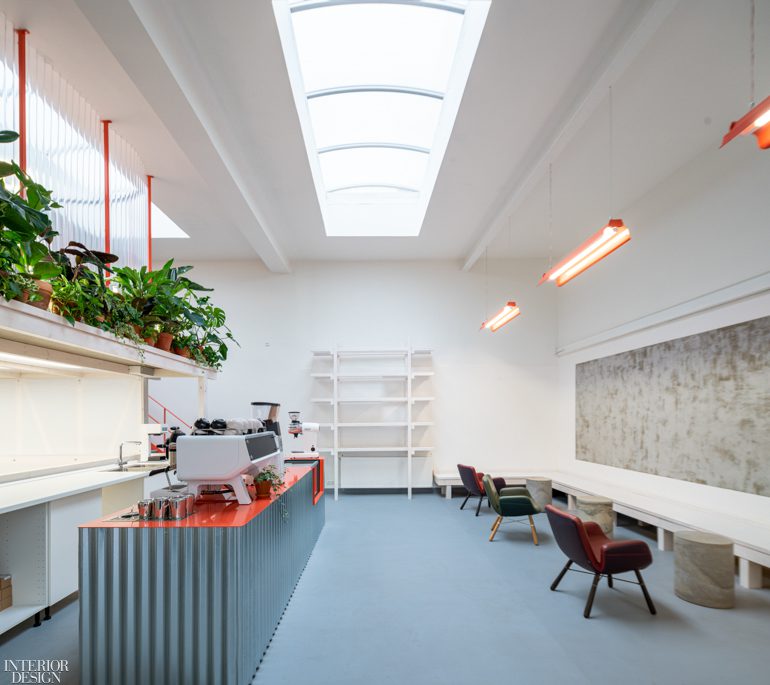 Project lead and KOGAA founding partner Tomas Kozelsky focused on repurposing materials wherever possible to reduce building waste. The bar is made of uncoated corrugated metal sheets and the custom desk is designed to fit all the needed coffee fixtures. Read more about this cafe design.
15. A Gelato Shop Design in Doha Reflects the Whimsy of M.C. Escher's Works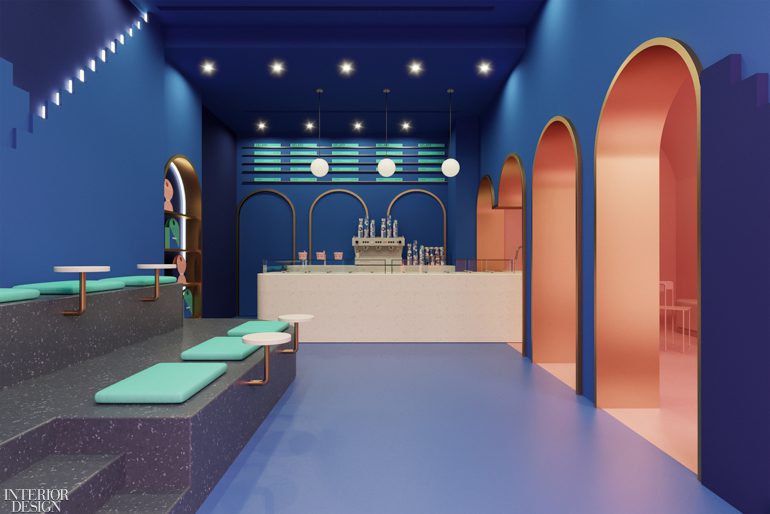 For a gelato shop in Doha, Qatar, the design team tapped into the childlike sense of wonder that often accompanies a sweet treat, referencing the whimsical works of M.C. Escher for Cloud & Co. With interiors and branding by Mexico City-based creative studio Futura, the space, which is saturated in vibrant pink and blue hues, evokes the feeling of stepping into one of Escher's creations. Read more about this cafe design.