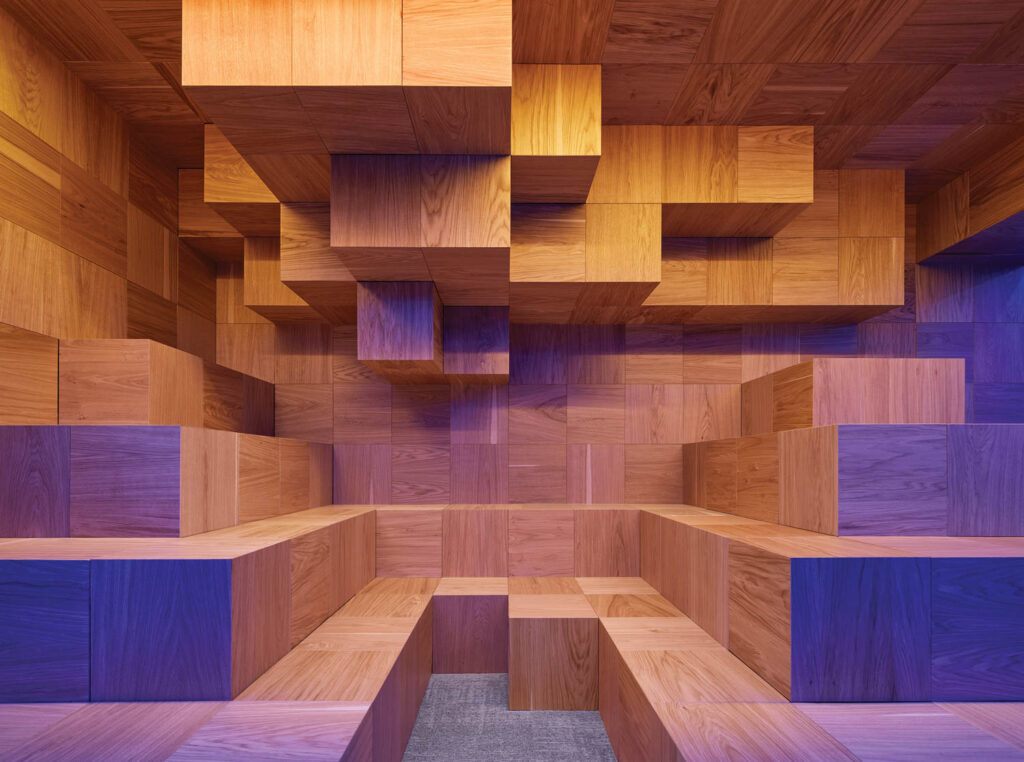 Pricefx's Prague Offices by CollColl Draws Inspo from Pixels
For the Prague office of Pricefx, the standard workplace cubicle just wouldn't do. The MO of the global software company, its products helping businesses price goods and services, is predicated on flux: The number and type of clients, which range from newly hatched start-ups to long-established corporations, shifts by the day and even the hour, requiring different spatial configurations intended to stimulate creative dialogue. It wanted smart, performative flex space that acts as a physical corollary to the dynamic digital environment in which its clients work and think on-screen.
In 2016, Pricefx hired CollColl—the interdisciplinary firm, its name a portmanteau of "collaborative collective," founded by partner Krištof Hanzlík—to design an easily adaptable workplace on a half-floor of an open-plan office building. Hanzlík and his team mixed hot desks, coworking spaces, lounges, and open areas with phone-booth enclosures, offices, and small and large meeting rooms. Two years later, the architects expanded the footprint to occupy the full 9,000-square-foot floor. Then in 2020, at the height of the pandemic, when the very concept of office space was in free fall, in a leap of optimism the company re-engaged CollColl to expand to the floor below. But with COVID putting the fundamental viability of such facilities into question, the mandate for flexibility was greater than ever.
CollColl Designs Pricefx's Prague Offices for Flexibility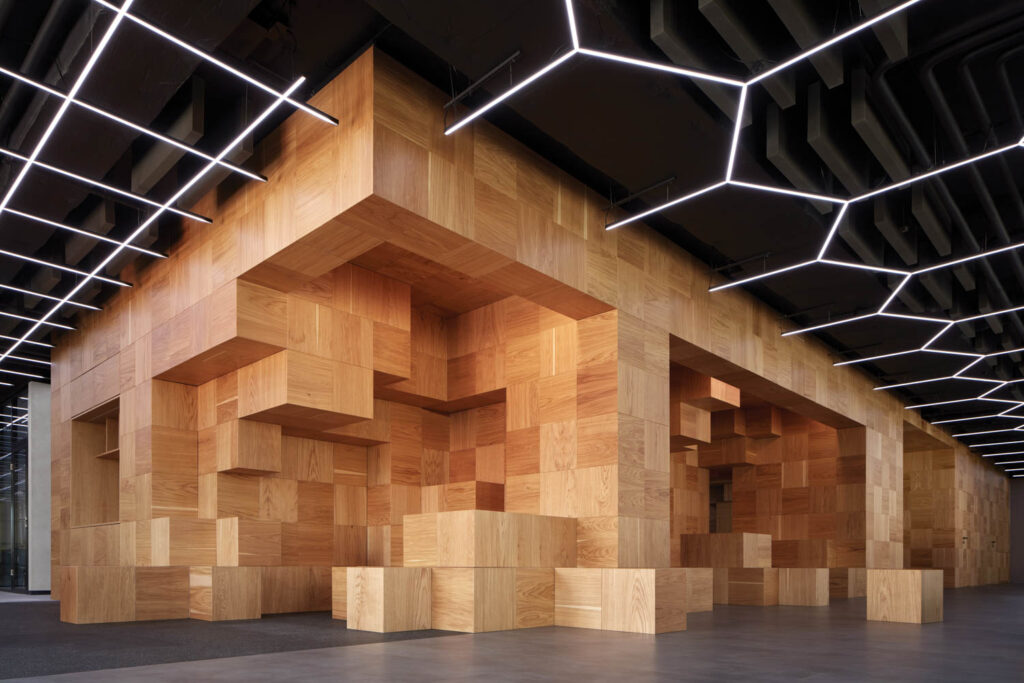 CollColl is a small, avant-garde group with a portfolio of both experimental and commercial projects. The success of the two previous efforts in shaping a flexible office landscape suggested the firm's approach to the new lower level. "We wanted to create a fluid space in which there would be some separation but without distinct rooms," says Hanzlík, who lead the team along with partner Šimon Kos. "Pricefx throws events for 30, 40, 50 attendees, and there's a constant flow of people."
A stainless-steel tubular slide linking the two floors spills into the new main entry, setting a tone that signals the importance of play in a workplace intended to stimulate creative ideas. The playfulness is reinforced by the reception desk, which not only doubles as a coffee bar but, thanks to a grid of LEDs behind its translucent solid-surfacing face, also functions as an interactive billboard on which pixelated images, including the company logo, appear. Nearby, a "gym" area equipped with a billiard table and a punching bag offers actual fun and games, further encouragement for informality and interplay.
The Office Includes an Expansive, Multi-Purpose Conference Room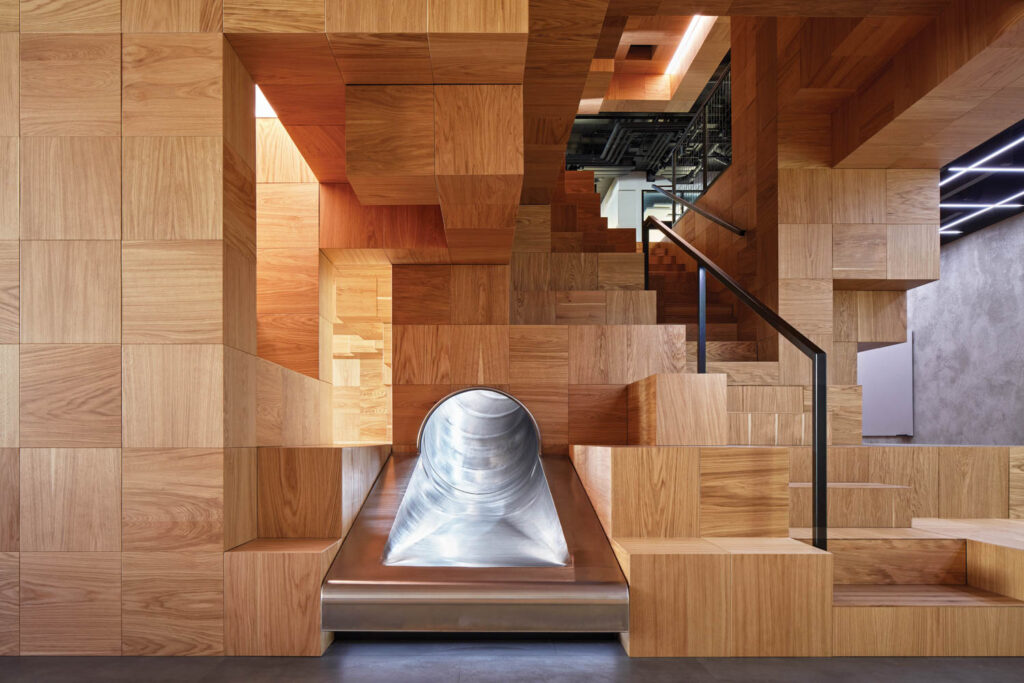 Perhaps the most challenging request on the client's wish list was for a conference table that could seat 50 people during workshops—about twice the number possible previously. Rather than designing a single-purpose room, however, CollColl used seven pairs of glass double doors to partition off one end of the roughly rectangular floor, creating a building-spanning flex space with windows at both ends. This large light-filled area easily accommodates a row of six separate desks—each seating six—that extension leaves quickly turn into a continuous 50-person table: Close the doors and, voilà, an instant conference room. Folding wall panels allow the long space to be divided in half for smaller meetings.
CollColl Takes Inspiration from Video Games
The major architectural issue for CollColl was how to connect the two floors for a free flow of traffic. For inspiration, Hanzlík and Kos looked at Minecraft, the interactive video game in which Lego-like objects are assembled into digitized, three-dimensional environments. Landscapes and buildings, populated by block-headed figures, are constructed by simple addition and subtraction, a cube at a time. Further inspiration came from architectural model making, in which box forms are used to create mass and suggest function. Changing the dimensions of a cube or a box, whether virtual or physical, alters its perceived role: Depending on its relative size, the same form can be a cubbyhole, a chair, a room, a building, or whatever. Following that principle, the architects began creating a staircase by stacking 16-inch cubes around a hole in the floor. "We found ourselves in a computer-game world of pixelated structures," Kos acknowledges.
The result is a two-story playground of oak-veneered blocks—a woody, cubist mountainscape replete with stepped hillsides, miniature cliffs, craggy canyons, and jagged grottoes, all suggesting various possible uses. "Taking away mass by subtracting cubes created new kinds of spaces," Hanzlík says. Some stacks became closets or personal lockers, others provide terraces of bleacher seating with benches at the lowest level. Half-blocks form the treads of the central staircase alongside which runs the tunnel slide, while the interior of the hill encloses a storage room.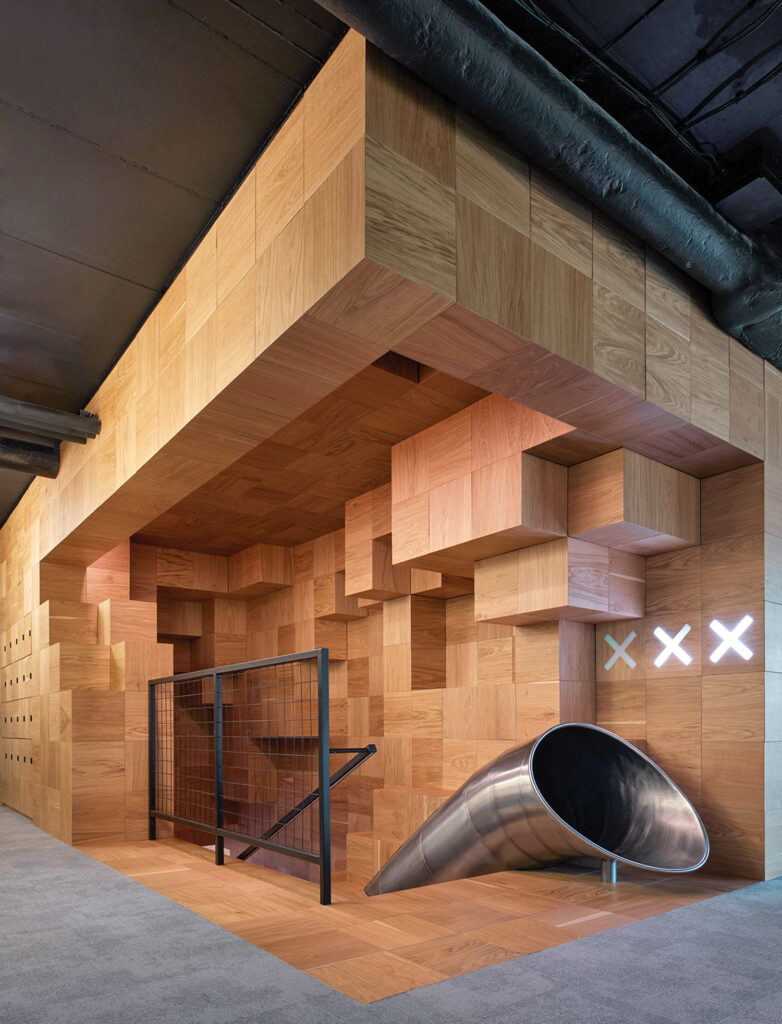 The architects repeat the blocky landscape trope on the other side of the floor, next to the 50-person conference room, where the floor-to-ceiling geometric pile offers a welcome perch during meeting breaks or to people just wandering around with their laptops. And that points to yet another of the unique structures' multiple functions, as reassuringly fixed landmarks in the floating world that constitutes Pricefx's mutable workspace.
Walk Through the Pricefx Offices in Prague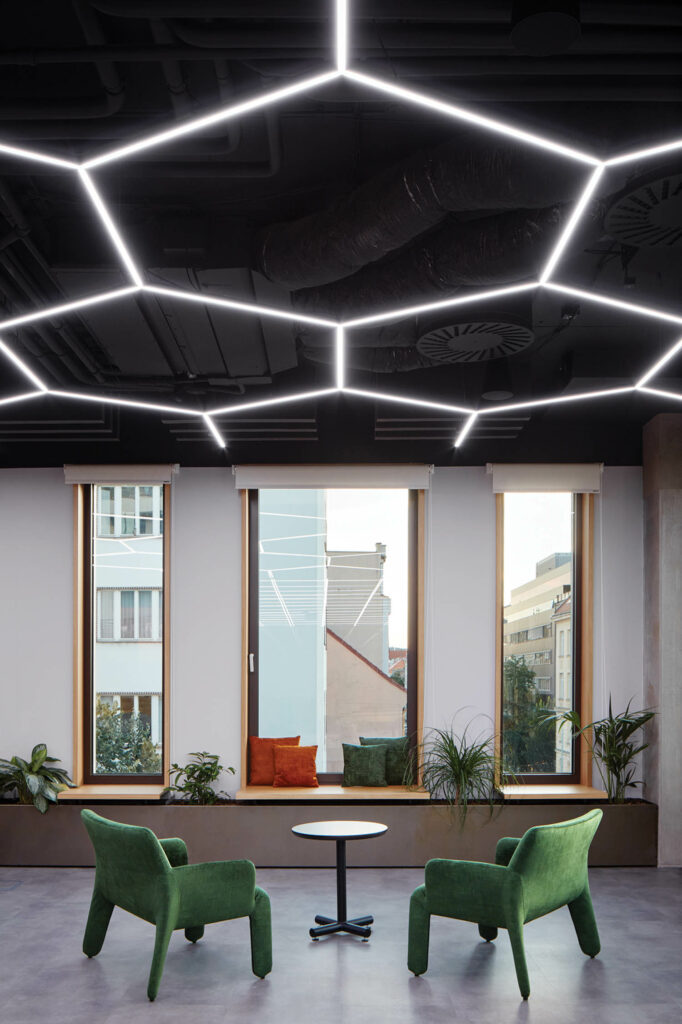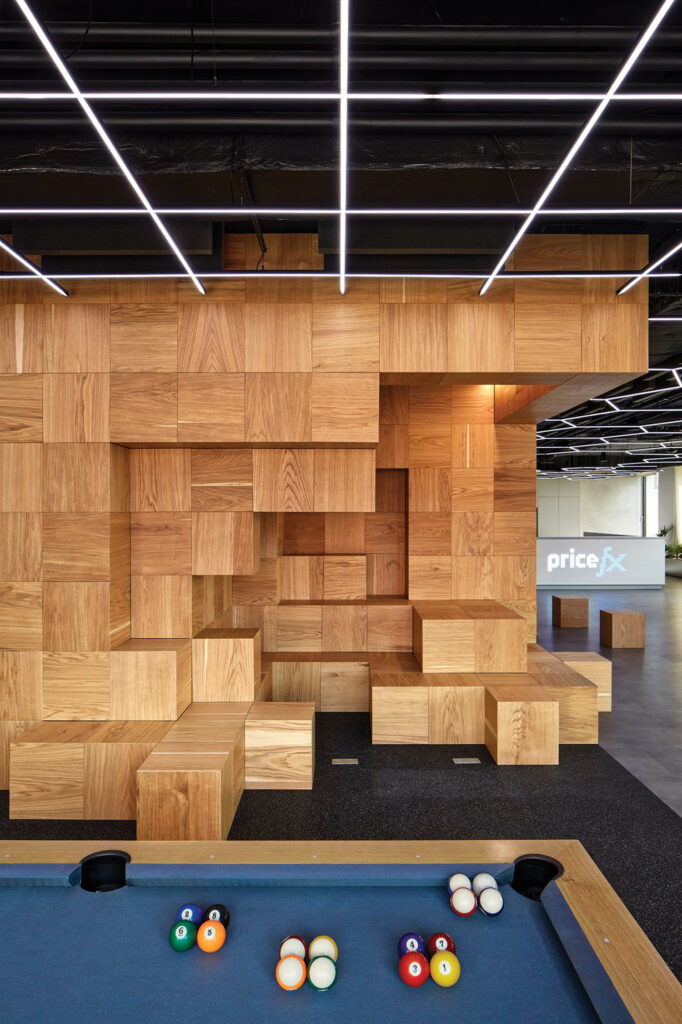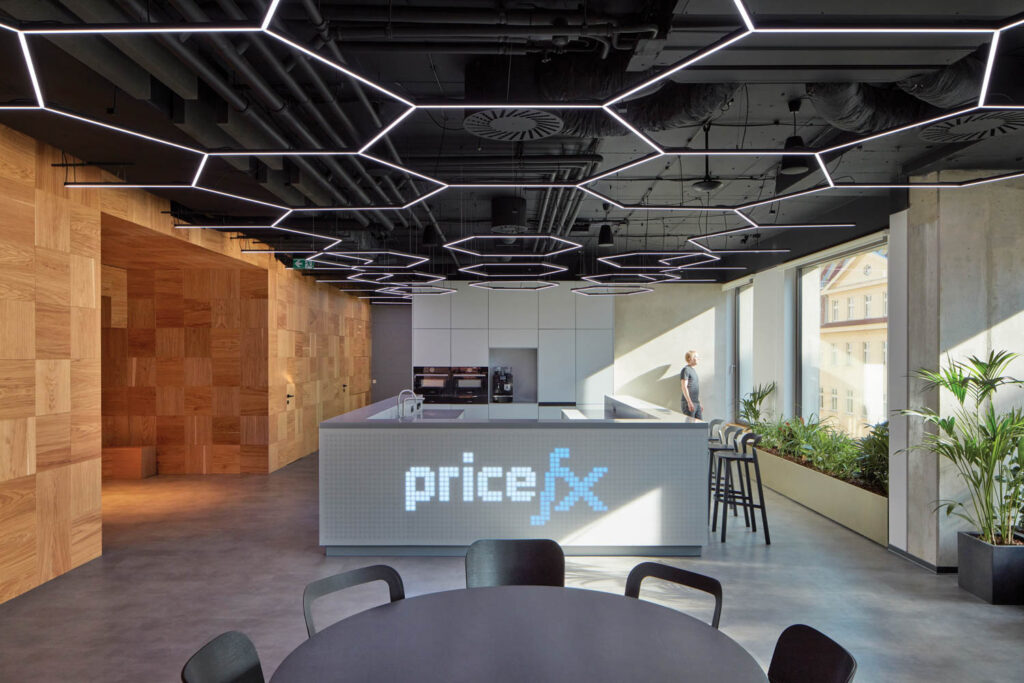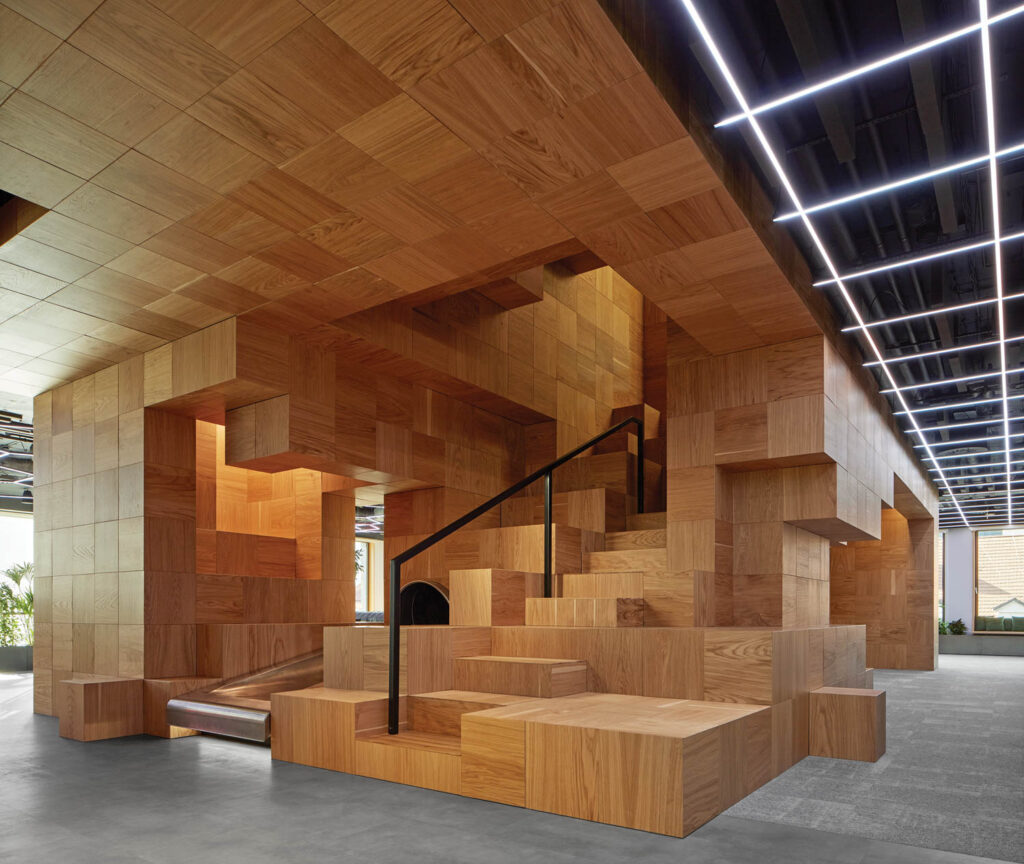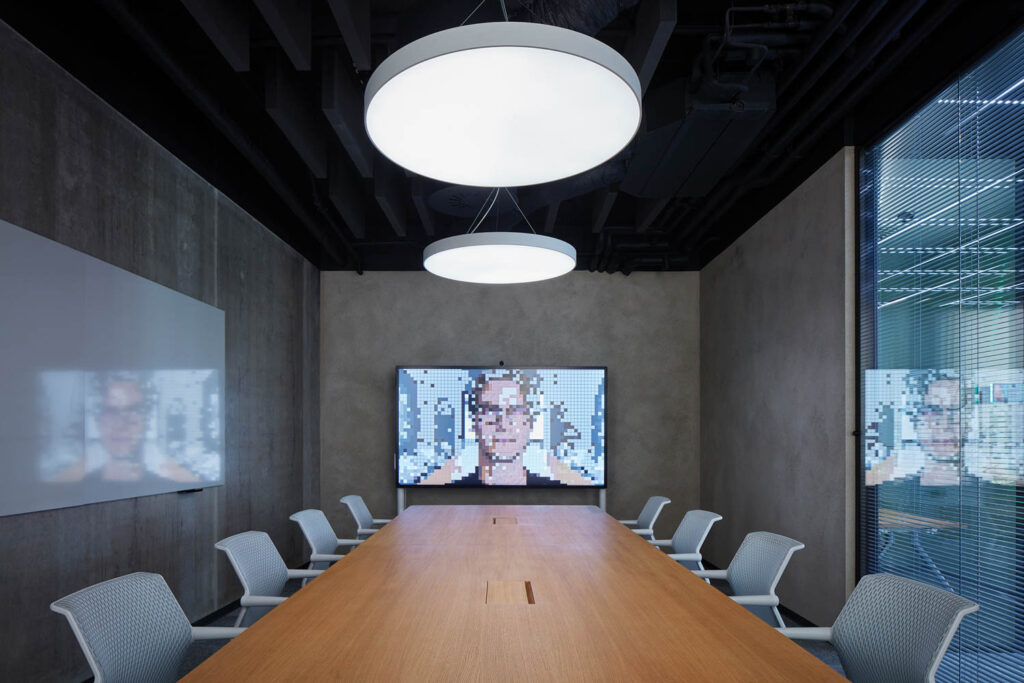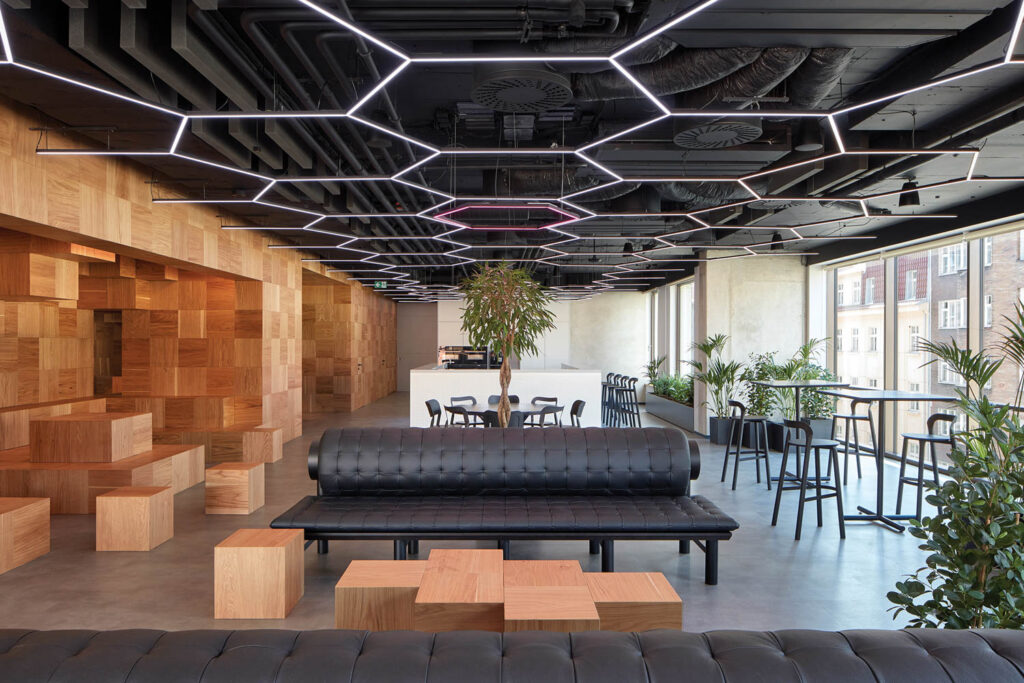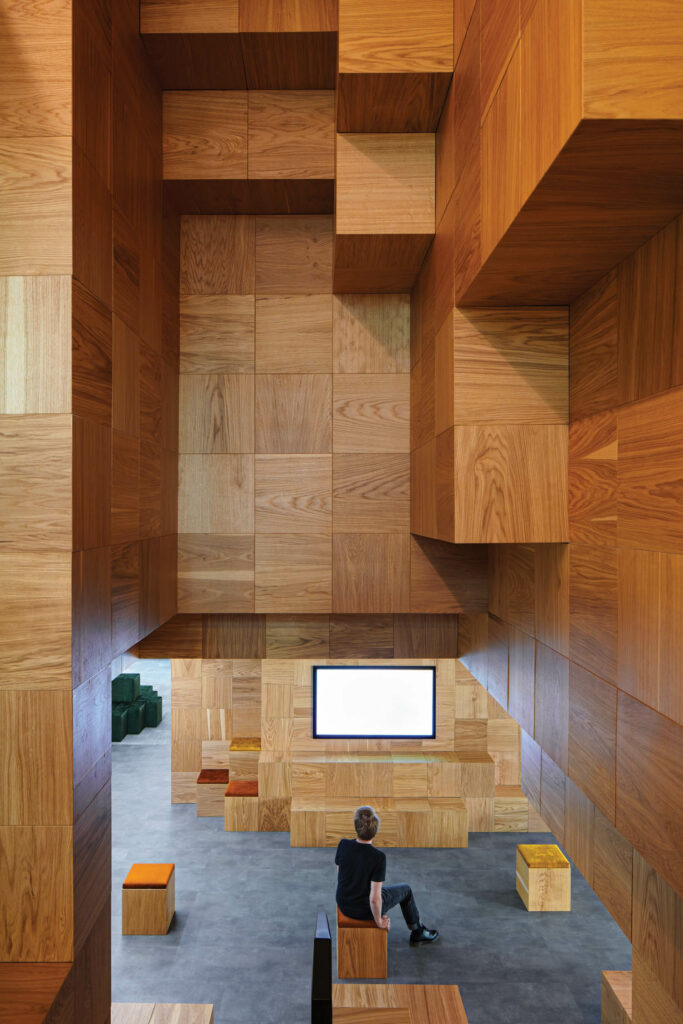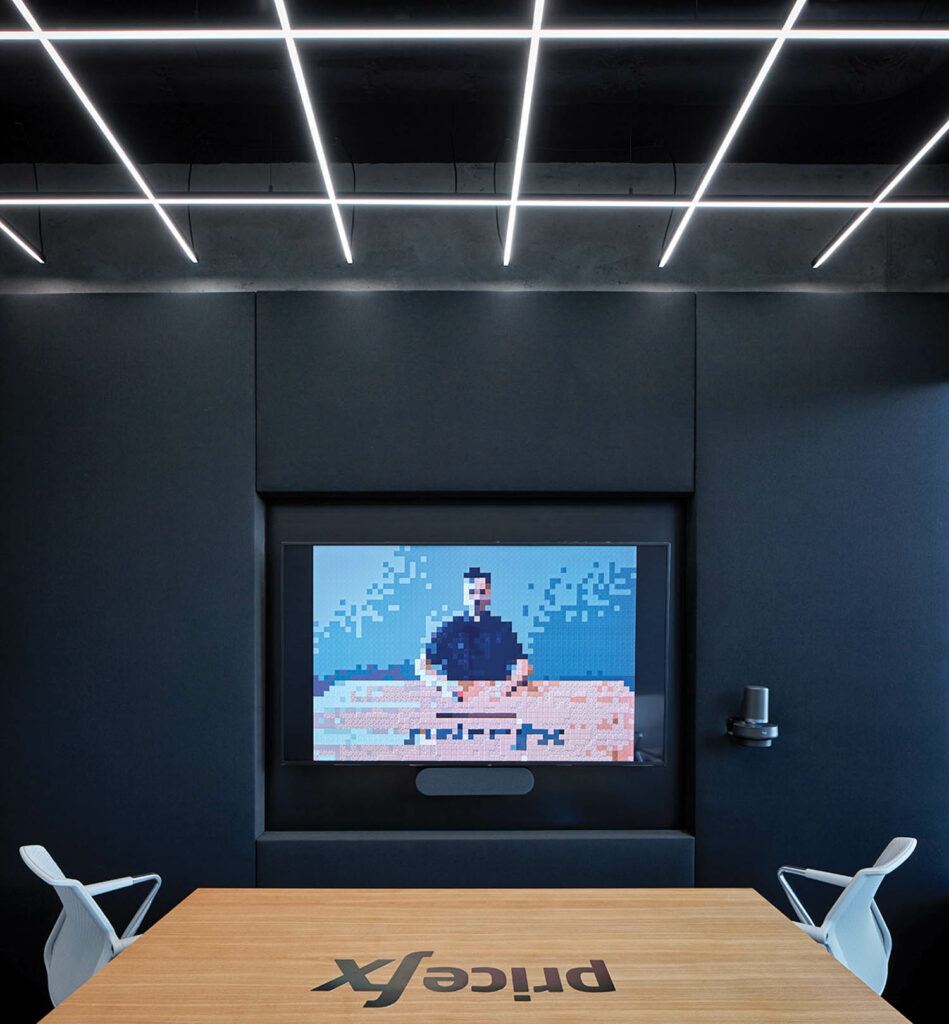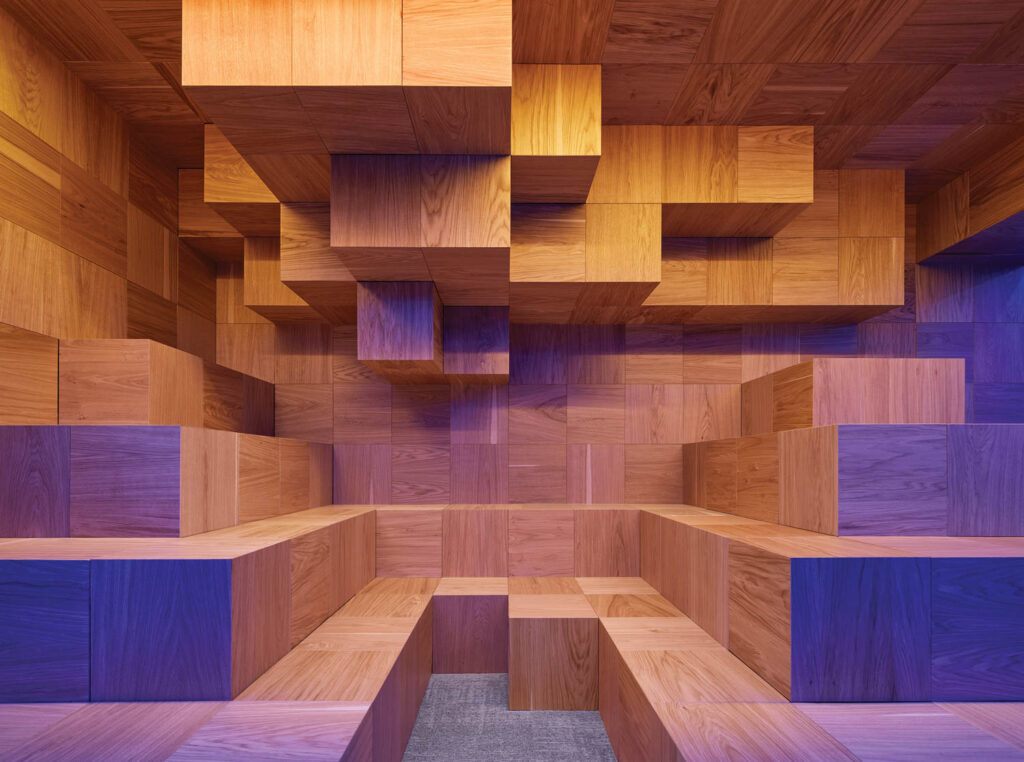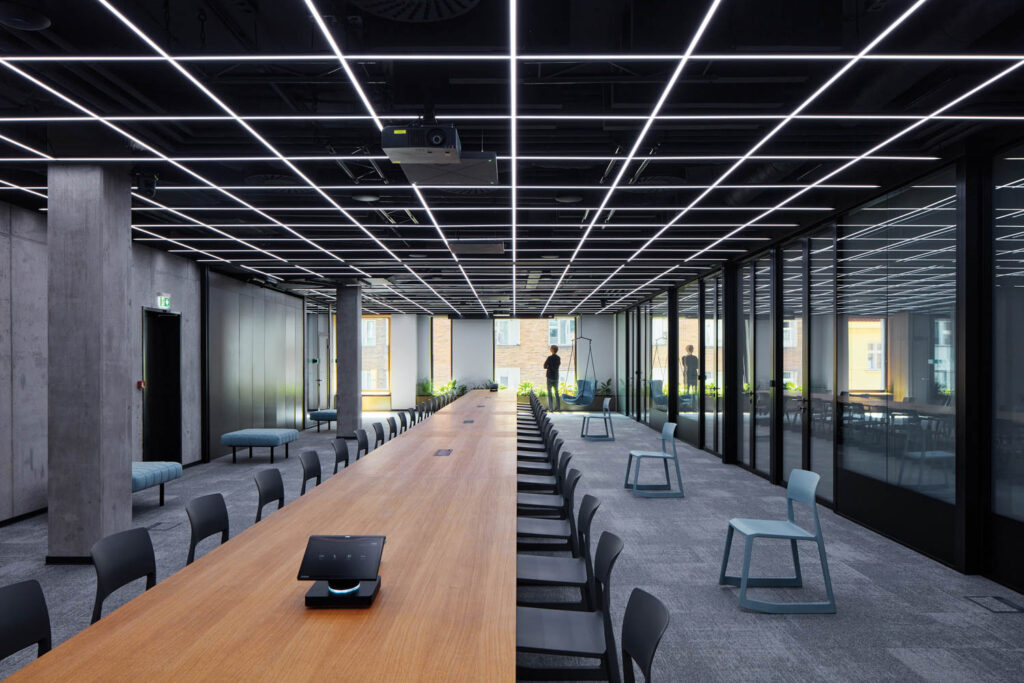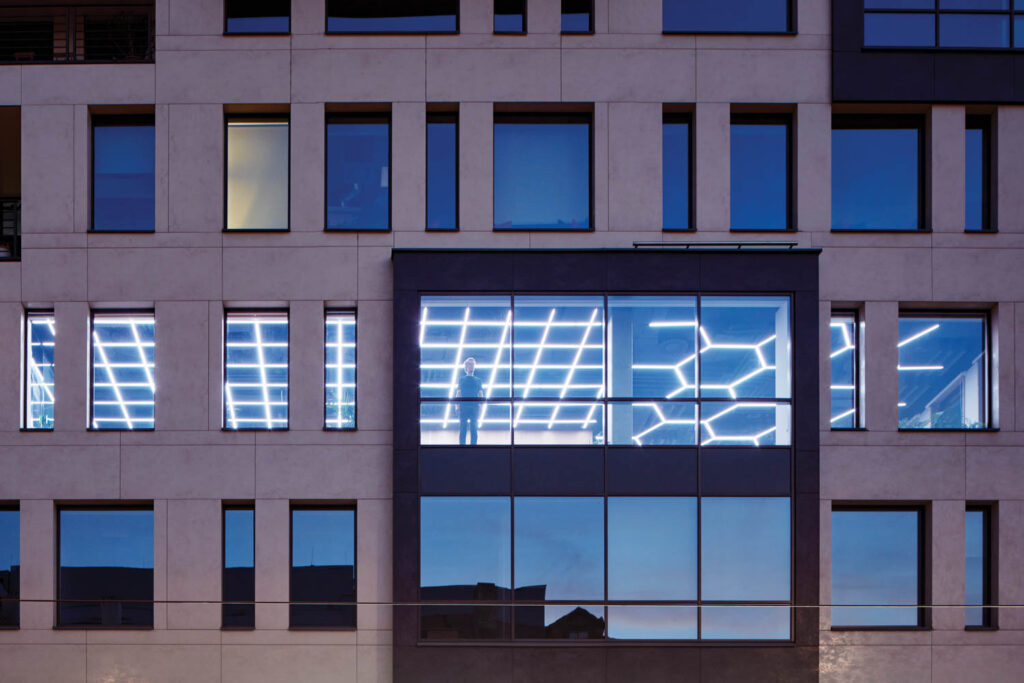 PROJECT TEAM
PROJECT SOURCES
FROM FRONT
THROUGHOUT