Relativity Architects Renovates a Decades-old L.A. Warehouse for the Fear of God Label
With the name Fear of God, how could we resist checking out the fashion brand's headquarters? As starters, the mostly men's wear company—street luxury for want of a description—occupies 9,730 square feet in a Downtown Los Angeles 1930's warehouse transformed by Tima Bell, co-founder of Relativity Architects. We couldn't resist delving into background about the label, too, given that its founder Jerry Lorenzo had a site vision as strong as his fashion statement.
Sacramento-born to a Major League Baseball player, coach and manager, Lorenzo had no fashion training but did earn an MBA from Loyola Marymount University in Los Angeles. He started out in the family business, i.e. sports, working for the Los Angeles Dodgers, then the sports agency CSMG (Collegiate Sports Management Group) in Chicago. When he moved back to Los Angeles, he pivoted to party promotion and soon realized the athletes and celebs attending could certainly do better and hipper in the wardrobe department. So, in 2013 he launched a collection starting with long, drapey T-shirt's and growing to include classy hoodies and track pants in elevated silhouettes. Eventually, the late, great Virgil Abloh saw the work and introduced Lorenzo to Barneys, which carried the line for seasons.
Fast-forward to present with production expanding from Los Angeles to Italy and the introduction of some women's pieces as well. Everything bears Lorenzo's hand, including the boffo collaboration deal he struck with Adidas. Fear of God, which started with $14,000 and is still independently owned, has its collections sold online. As for that name? It stems from the faith-based household of Lorenzo's youth. Until Bell came on board, operations had been crammed into a 5,000-square-foot site, also a Los Angeles warehouse.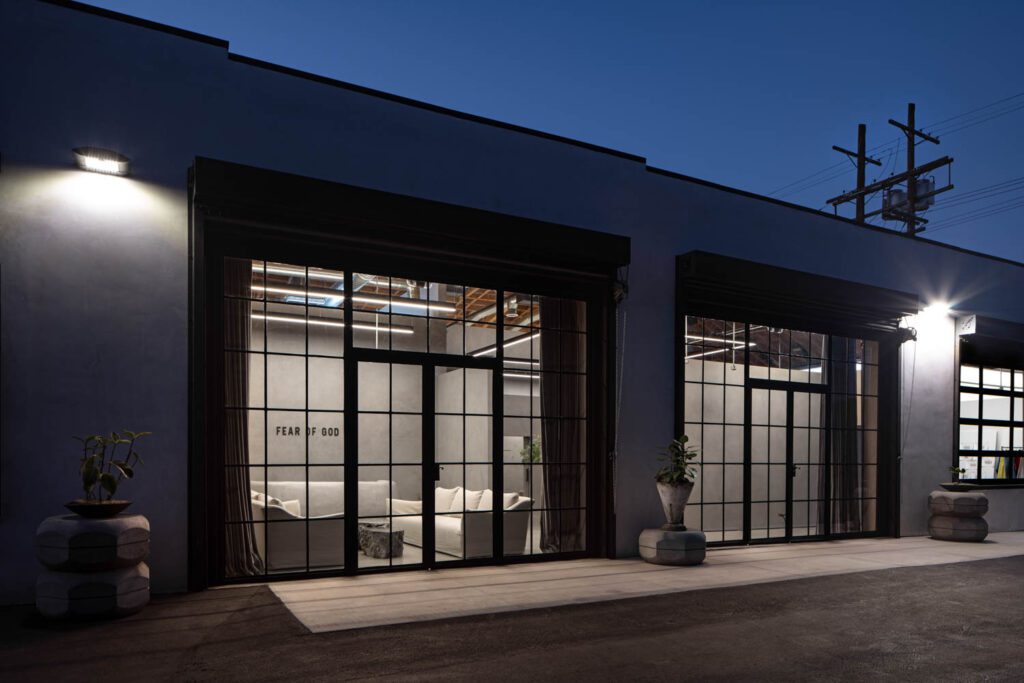 The architect, whose firm counts hospitality, production studios, and multi- and single-family residences to its name, encountered an empty arts district building, gorgeous with six skylights, wide metal openings, and a bow-truss cum waffle-wood ceiling stretching to 26 feet in places. Walls were brick; flooring was concrete pavers. As for program, "we, as architect and client, drew out how it would work," Bell begins. That meant constructing dividers of varied heights to articulate function areas. "It's like a city within a city." 
Headquarters, therefore, are a combination of showroom, design studio, and administrative office. Differing from the norm, they are not open to either the general public or retail buyers. Instead, visitors constitute the high-profile clientele for whom Lorenzo can select production elements displayed in the showroom area and bring them to the contiguous dressing room where the customer can opt for try-on and purchase. Or he can decide to go the custom route à la couture. A conference room for confabs with corporate execs can be open to or cut off from the adjacent kitchen via an enormous sliding door, 8 feet tall and 20 feet long, allowing the conjoined expanse to be used for events and, yes, parties.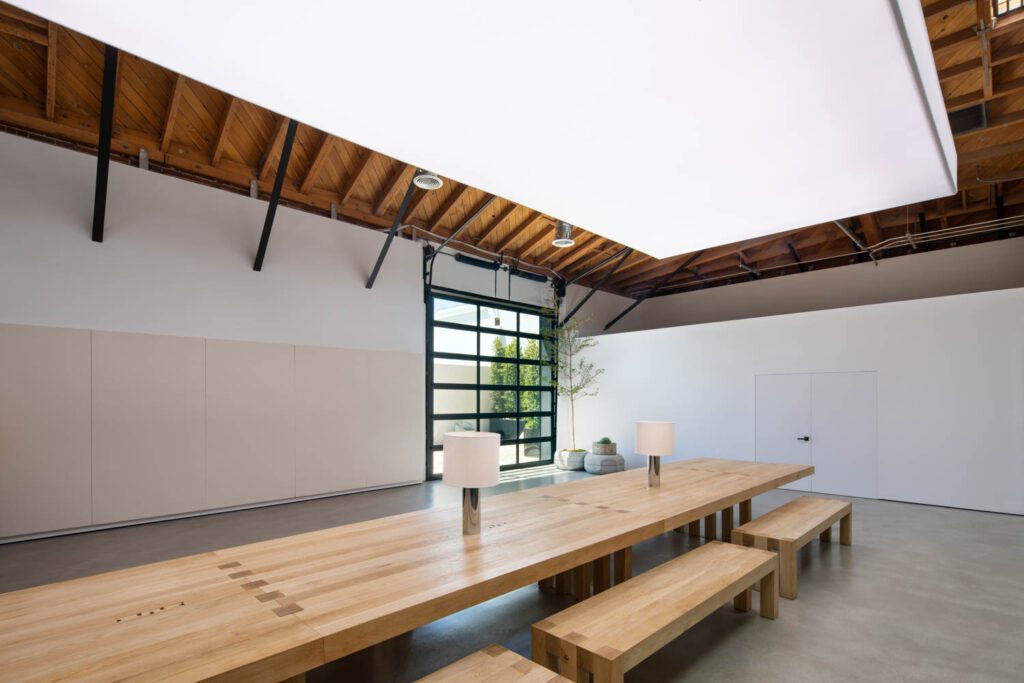 The studio is the private domain of Lorenzo and his assistant designers. Private is the operative word since this is the only enclosed room with full-height walls capped by a clerestory for daylight infill. Lorenzo was adamant about both. Of course, artificial lighting also figured into the equation. Bell and his team, comprising co-founder Scott Sullivan, project manager Teresa Martin-Rico, and designer Jasmin Mueller, created suspended fabric scrims guaranteeing an even cast over the worktables, stools, and benches, all custom maple and courtesy of Perron-Roettinger, hired directly by Lorenzo for furnishings. Meanwhile, Lorenzo himself brought in the easels supporting white boards and mirrors crucial to the fashion world.
Crucial, too, is the envelope, which fades into the background. "When you work with a fashion client you have to suspend your own ego," Bell acknowledges. Thus, the environment is completely grayed out and neutral so as not to detract from the designer's inspirations, ranging, by the way, from athletes and the music world to even Ralph Lauren. So out went the masonry. "We furred out the brick to drywall with a lime wash finish," Bell says of its replacement. New drywall partitions are painted with a slight mottled effect. Flooring is a new concrete topcoat. In a sense, the setting is like Fear of God itself, suitably striking yet simultaneously timeless.