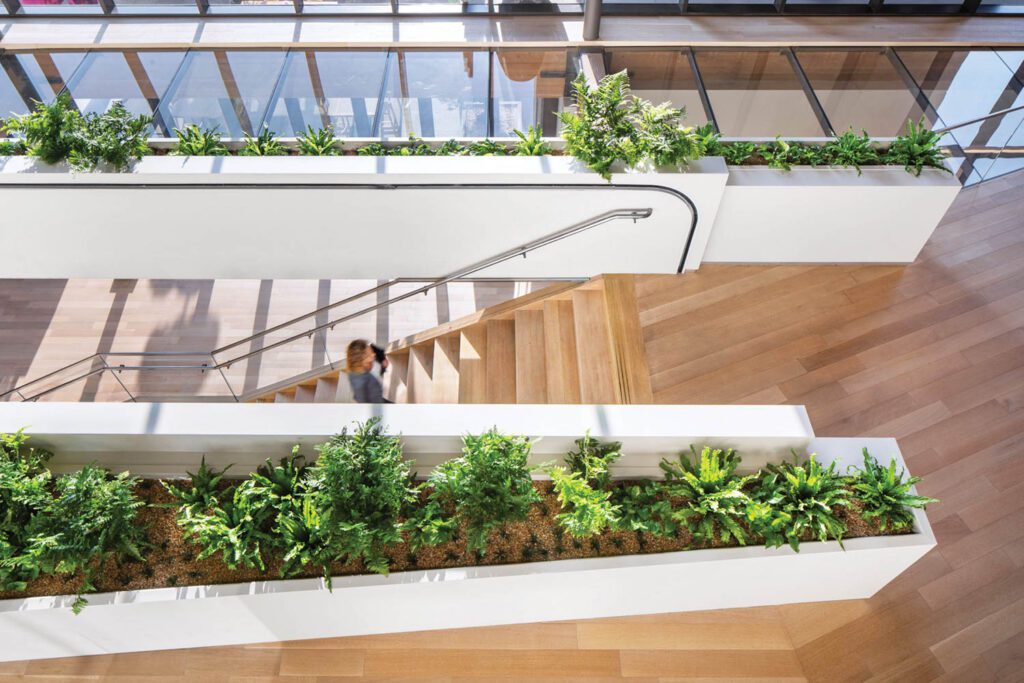 RIOS Turns to Healing Elements for the Lawrence J. Ellison Institute for Transformative Medicine in Los Angeles
If ever there were a multilayered hybrid collaboration, it is the Lawrence J. Ellison Institute for Transformative Medicine. A long, narrow new-build oriented on a north-south axis not far from the University of Southern California's campus, it encompasses 84,000 square feet across five floors, and includes 3,500 square feet of coveted outdoor space. HLW completed the structure's core and shell architecture. RIOS, under the leadership of creative director and partner Sebastian Salvadó, handled the remainder of the project, which took three years to complete, just as COVID-19 hit the scene.
Primarily a cancer research initiative, the institute is led by founding director and CEO David Agus, a physician and researcher, and was spearheaded by Oracle Corporation cofounder and noted billionaire Larry Ellison's $200 million donation. A place for both labs and clinical services, it is a healthcare facility, but it's also a workplace requiring offices, conference rooms, lounges, and staff amenities. Adding to the hybrid designation is the project's educational component, which consists of a gallery celebrating medicine's history and advances and an event space for symposia, and a repertoire of blue-chip artwork, much of it coming from Ellison's private collection.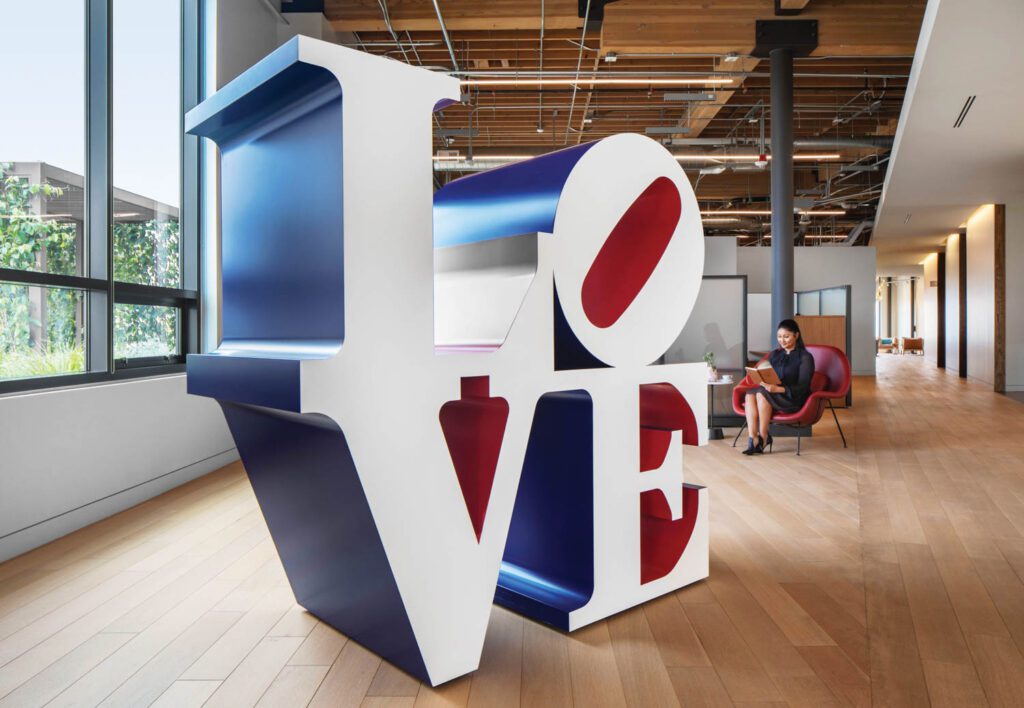 "The program is broken into three types of spaces," Salvadó begins. Solitary rooms are for focused work. Lounges encouraging collaboration are dubbed transitionary spaces. They adjoin public zones, which include conference rooms and a kitchen. Arriving at the concept was not only Salvadó and the RIOS team but also the doctor and the donor. "Sebastian was amazing in figuring out a way to include me in every decision," Agus enthuses. "He made models so I could understand." And Larry, who Agus first met while treating his nephew, was "involved in every decision, too." To which Salvadó adds, "Our goal was to take Agus's vision and translate it into a built space." It's a holistic vision, including wellness programs and nutrition counseling, that acknowledges nature as a healer, while also integrating AI, physics, biology, math, and engineering.
Labs hold the key to the project's organization. They are visually open to everyone on all floors and on all sides of the building. It was an expensive move but worth every penny: It not only anchors internal neighborhoods but also guarantees interdependency and that user paths intersect. Circulation is anything but orthogonal and the scheme is quite a departure from standard silo situations. The predominant use of wood—in the white-oak exposed ceiling and beams, thermally modified ash-slat partitions, and brushed oak flooring—is unusual, too. The setting is warm and "reminiscent of old warehouses," Salvadó notes, and also underscores the project's nature-centered theme.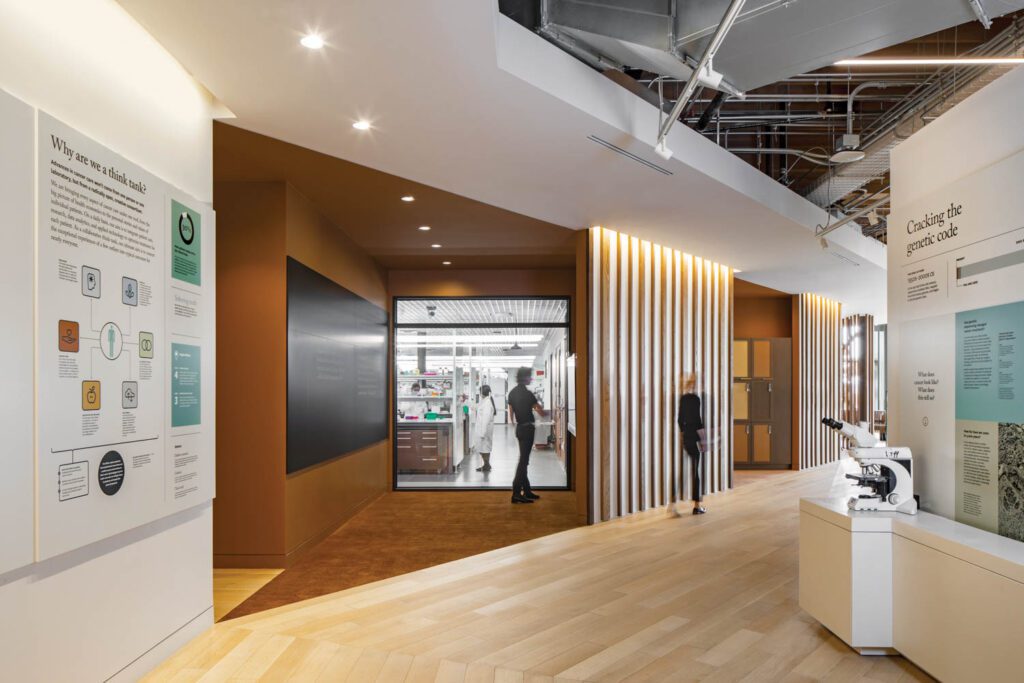 Set atop a two-story parking garage, the institute centers on a three-story atrium. A pair of stairways lined with live plants (as well as elevators) lead up to reception on the atrium's second floor, where the gallery is also located. From there, a path proceeds to a lab fronted by a large glass expanse so that even visitors can see in. Nearby is the donor wall, its brass plaques arranged in the form of an olive branch, the ancient symbol of healing. Toward the back of this floor is Agus's office, a bright aerie complete with a Charles and Ray Eames lounge chair upholstered in indigo corduroy, a slatted wood ceiling, and access to a landscaped terrace. It's here that, among other work, Agus meets with donors, broadcasts lectures, and writes; his fourth book is a deep dive into nature, which he believes holds all the answers.
That's in step with the large, Pacific Ocean–facing terrace off the building's skylit top floor, half of which is devoted to office areas and staff amenities, including a combined gym and yoga studio and a librarylike lounge with shelves of books holding the entire sequencing of the human genome. The other half of the floor is dedicated to patient care. Although more clinical and white than the institute's other areas, forms, such as the check-in desk, are rounded, and vertical surfaces are wrapped in grass cloth-esque wallcovering. A bridge spanning the atrium connects the two sides and adjoins the project's experiential aspect: a grass and rock garden built on top of one of the labs. "It's not Japanese but more West L.A," Salvadó says. "The gravel looks like beach sand and the greenery is bright like what's found in the Santa Monica Mountain canyons."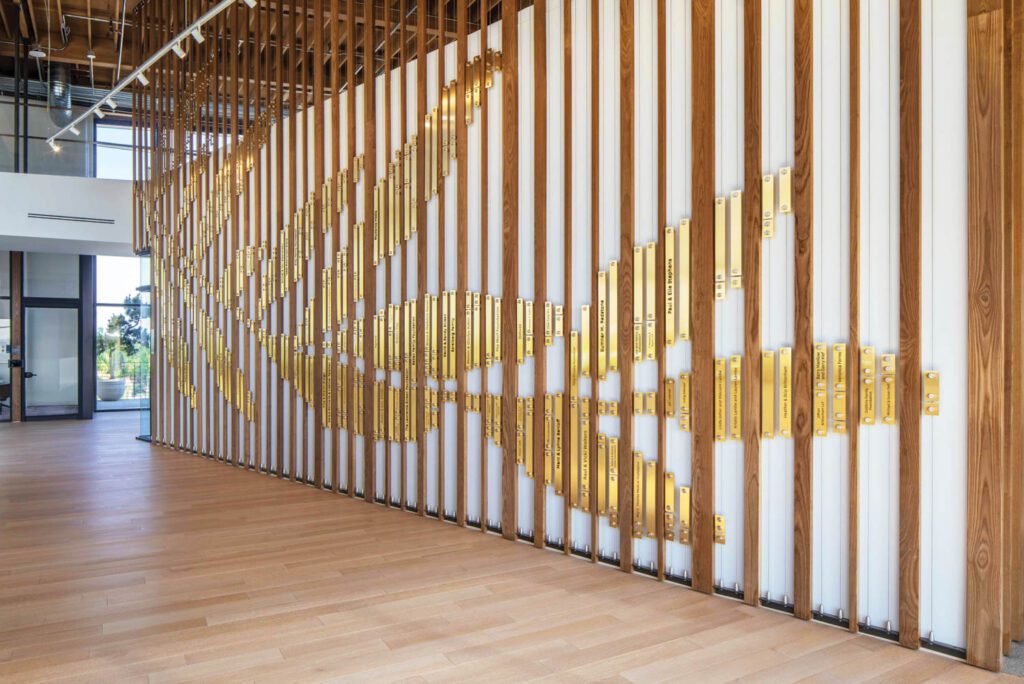 Hope and love, also crucial to healing, are literally spelled out in Robert Indiana's immense sculptures, both located in the atrium lobby. They're joined by pieces elsewhere in the hospital by such bold-face names as Jim Dine, Keith Haring, and Ai Weiwei.
Le Corbusier famously said, "A house is a machine for living in." Agus proffers his version. "RIOS made a building that enables us to work. The building is not separate from the work, it's part of it." He hopes it encourages the next generation to enter science and medicine to discover a cure.
Art Therapy
At L.A.'s Lawrence J. Ellison Institute for Transformative Medicine, concerns for health and wellness extend beyond research, labs, and treatment clinics. Art plays a part in healing, too—at least it does to the institute's founder and CEO David Agus and establishing donor Larry Ellison, also known as the cofounder of Oracle. Together they conceived of a plan in which art would pervade—and elevate—the premises. Among the artists featured are Bunny Burson, Jim Dine, Donald Sultan, and Ai Weiwei.
"I had the privilege to work with Steve Jobs," Agus says. "He implanted in my brain that every detail matters." Jobs's fellow tech titan Ellison donated many of the center's pieces from his collection. So far, they number 35 and encompass a range of mediums, including a granite bust by Jaume Plensa. Some even allude to cancer, the institute's primary research initiative. One is Jeff Koons's 12-foot-tall magenta sculpture of an elephant; the animal has genetic mutations precluding it from developing the disease. Another is Jacob van der Bruegel's mixed medium covering a wall on the building's top floor. Its components resemble cancerous cells as seen under a microscope while searching for better treatment.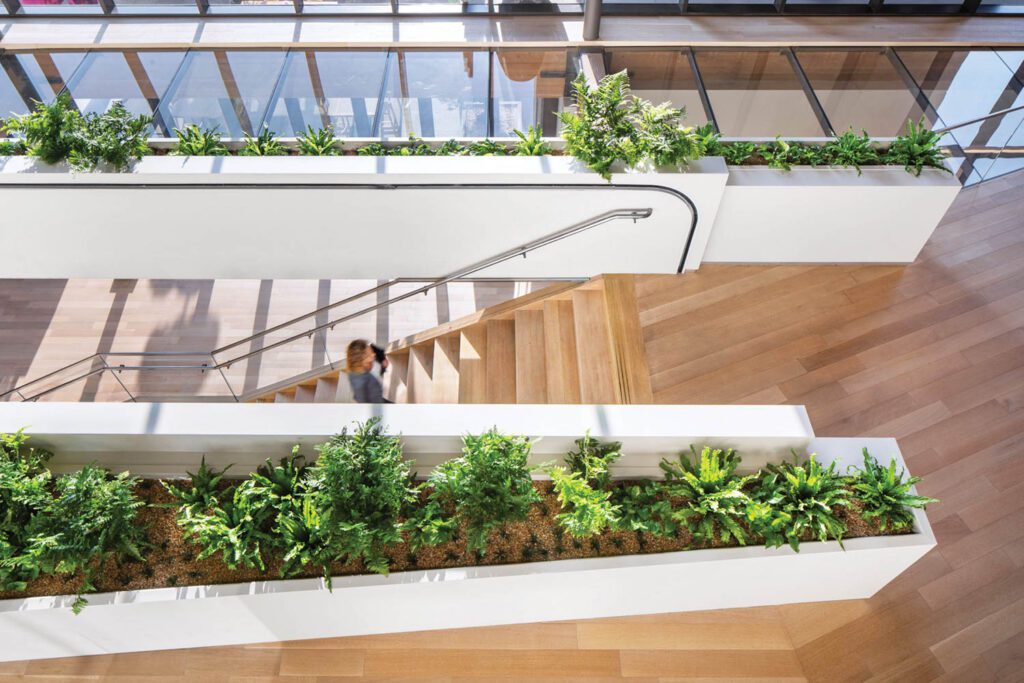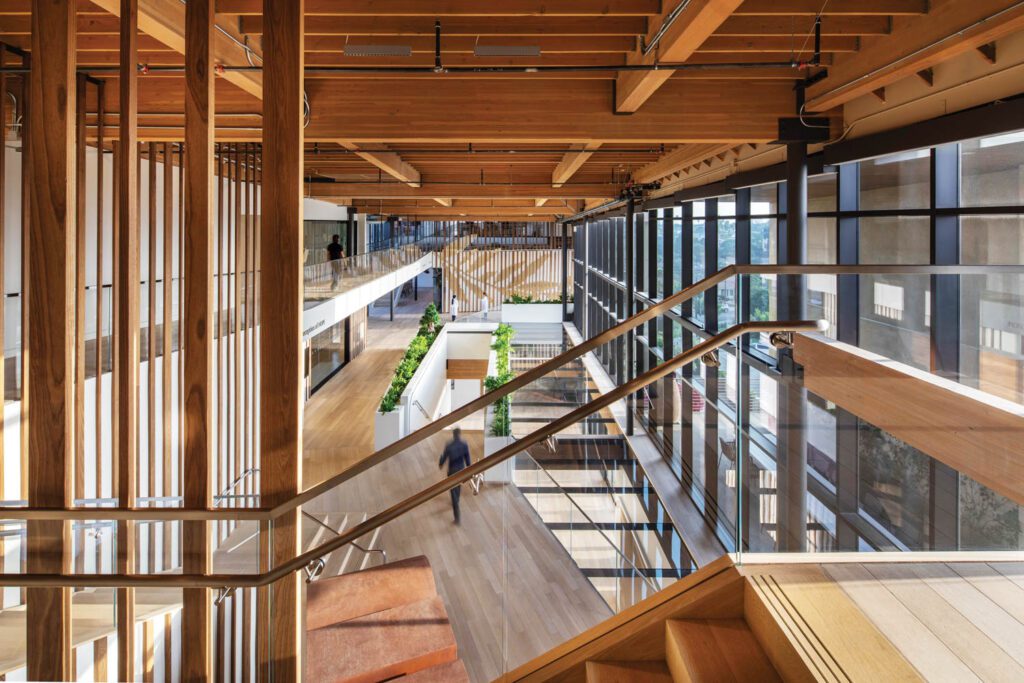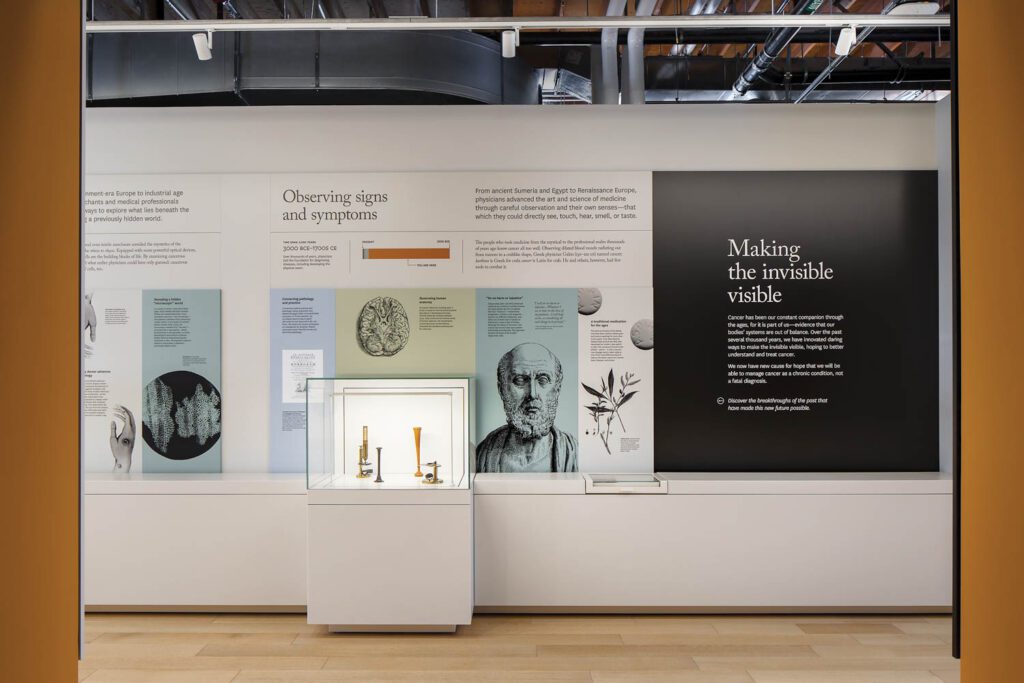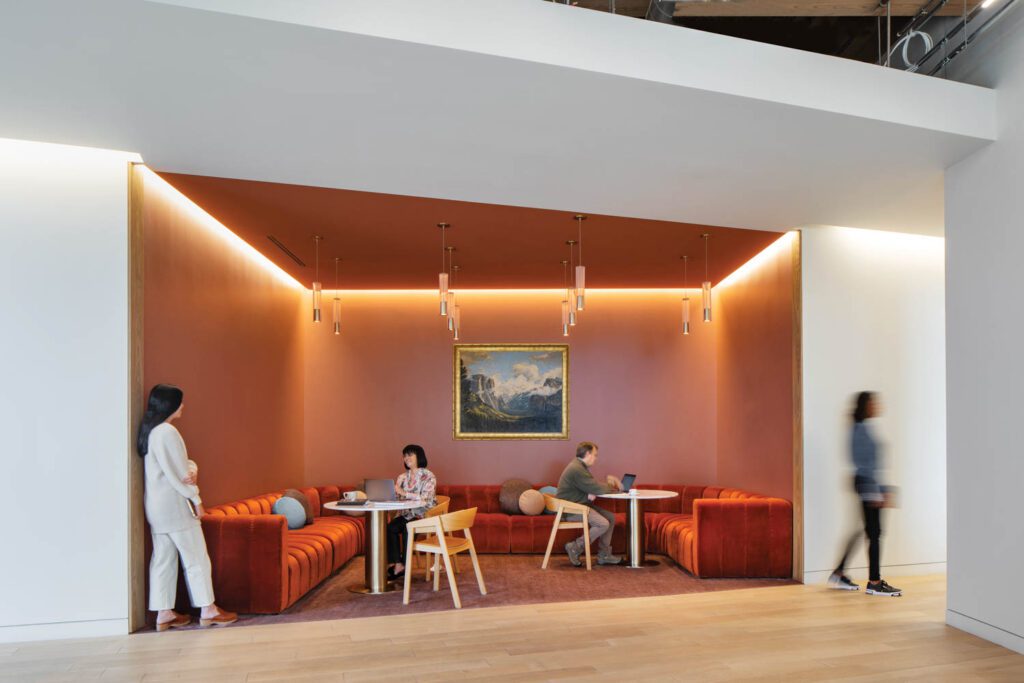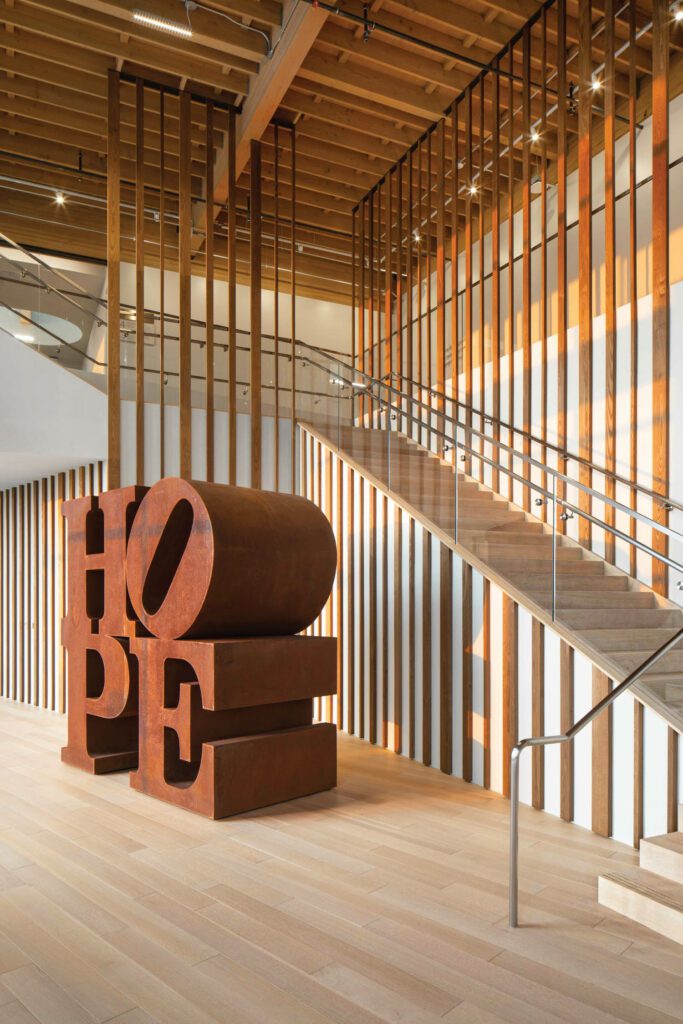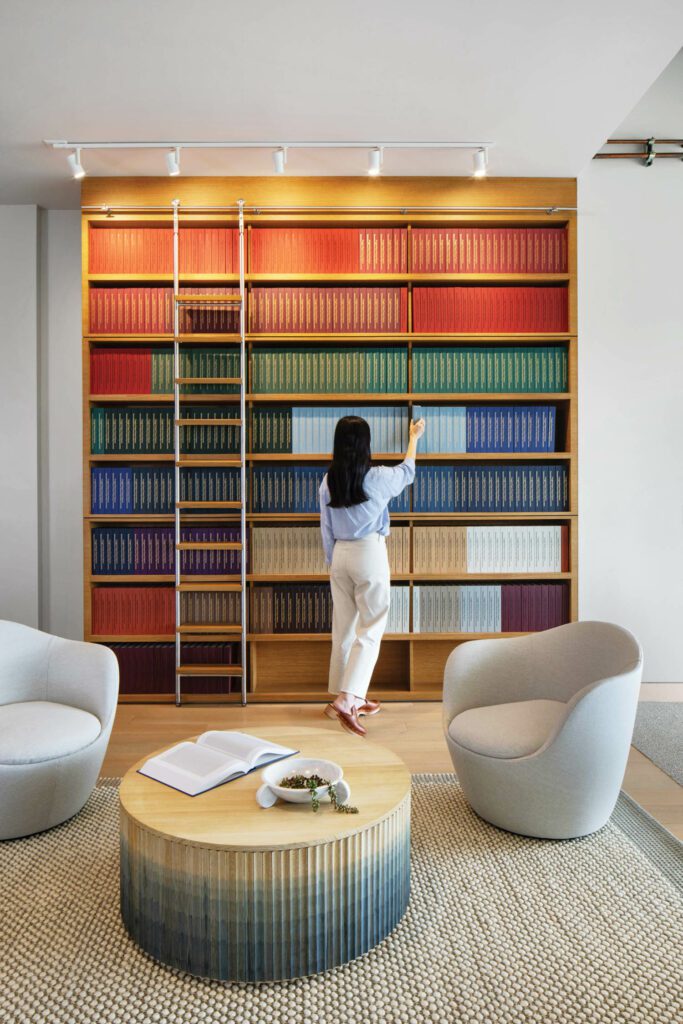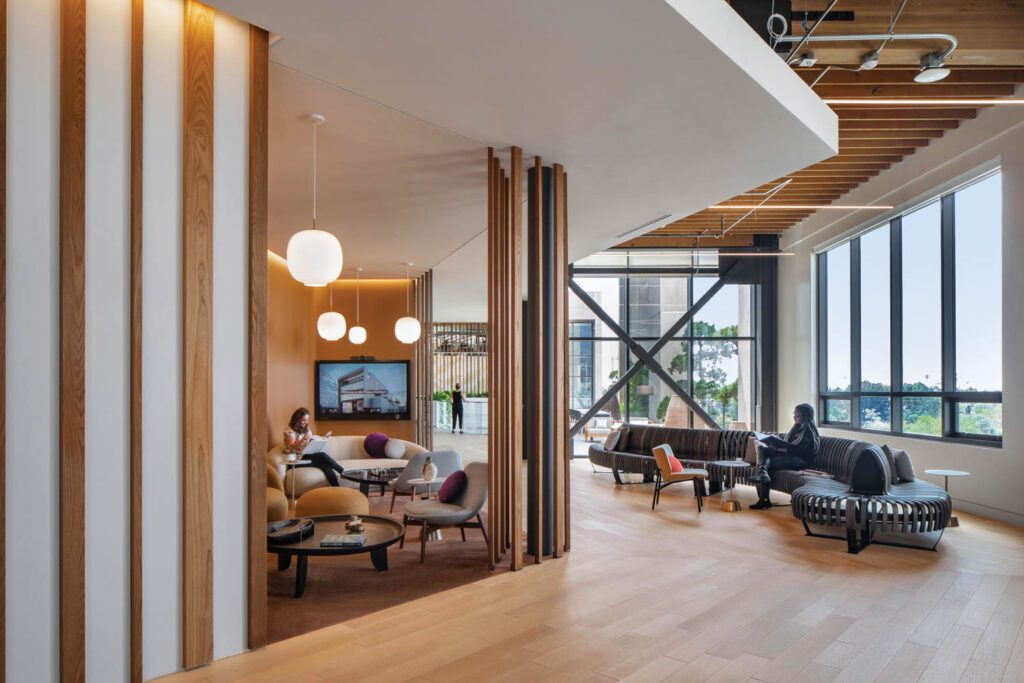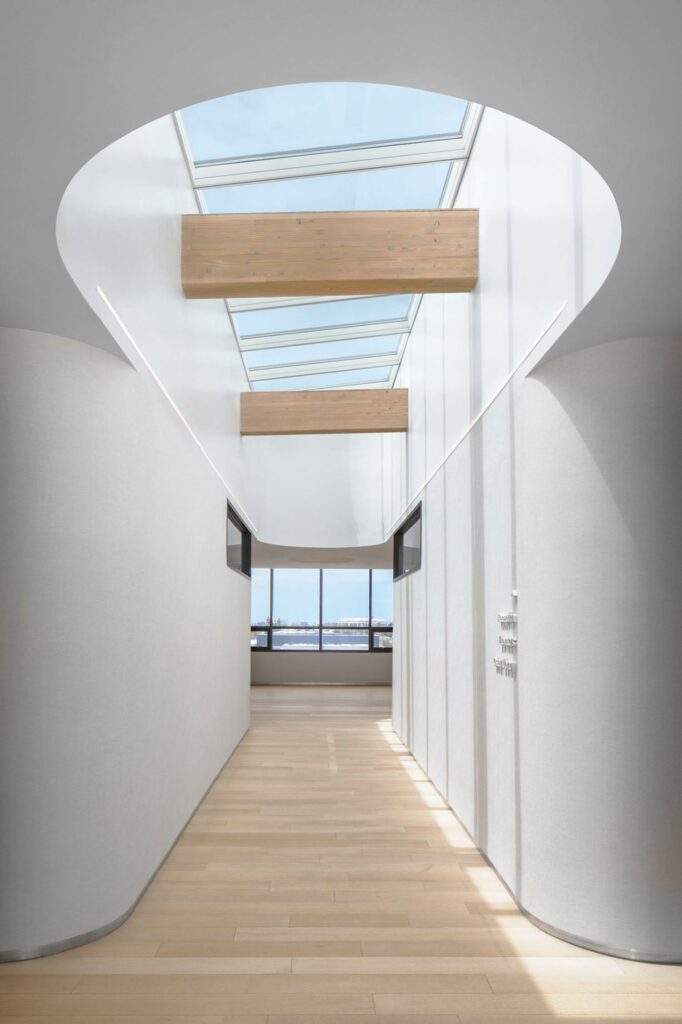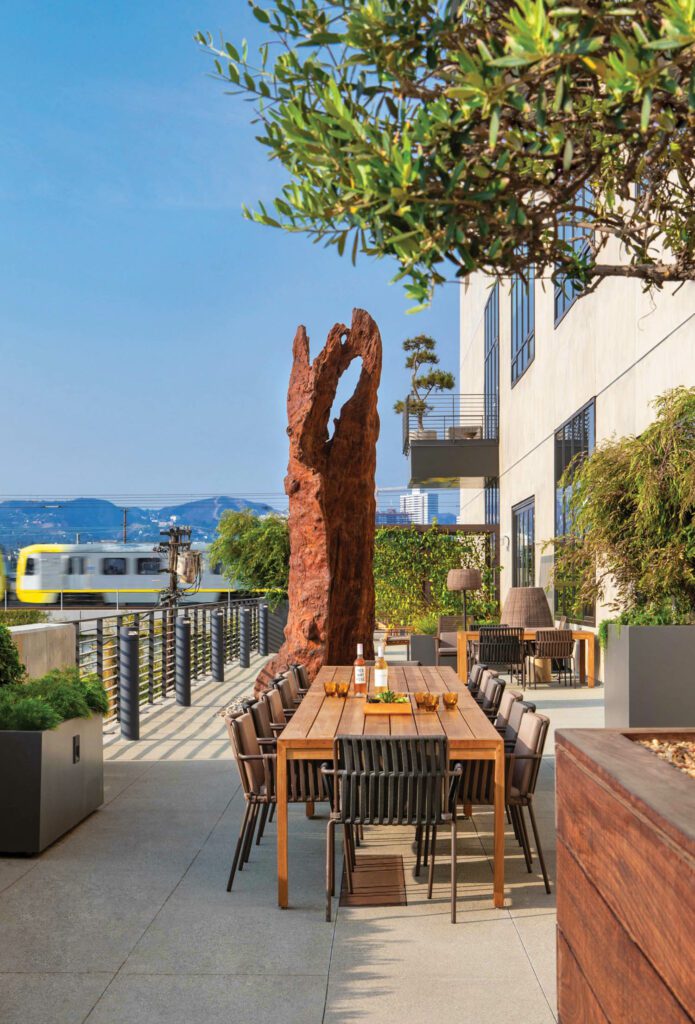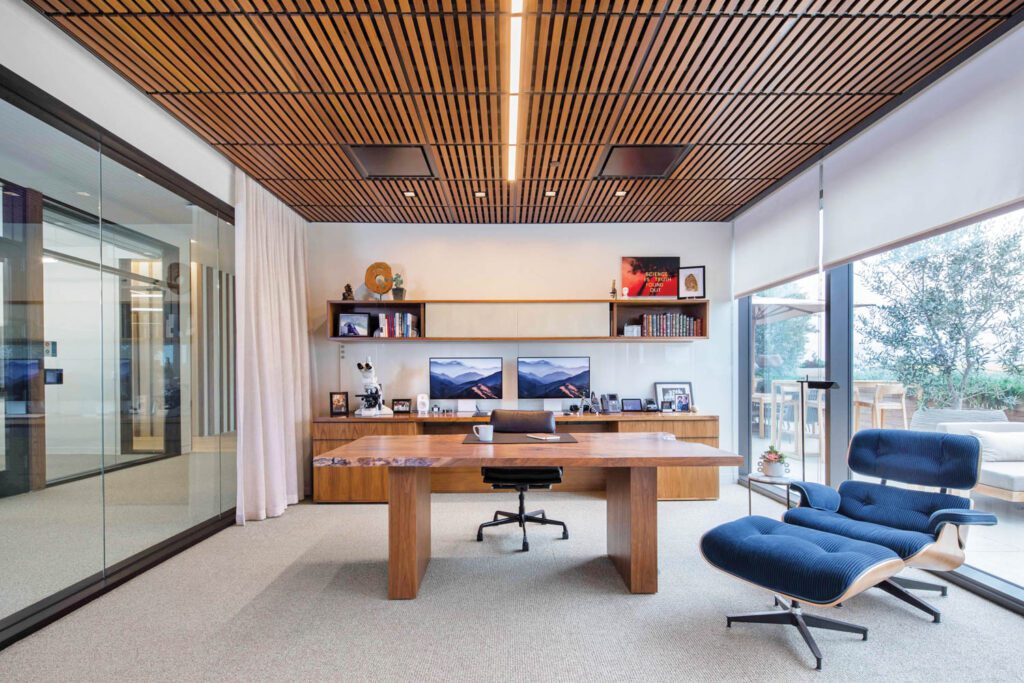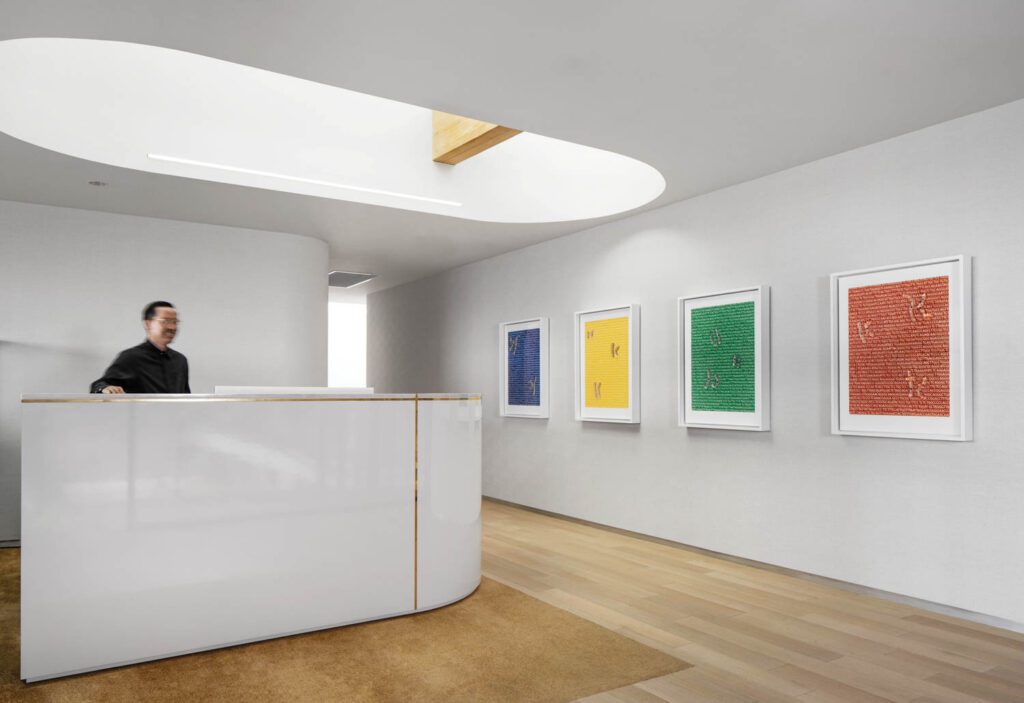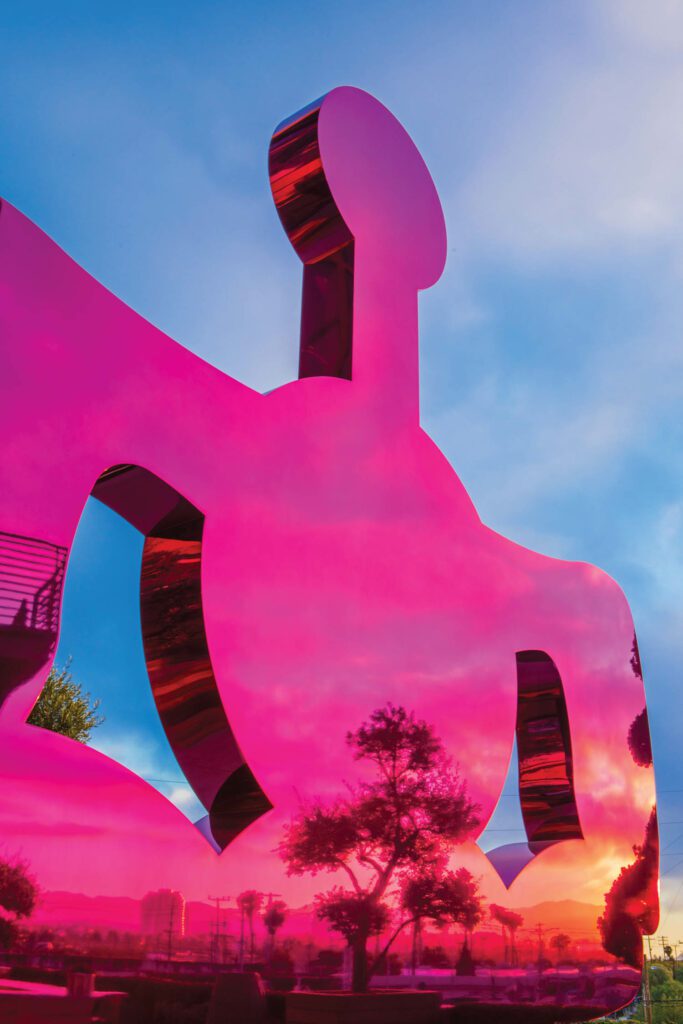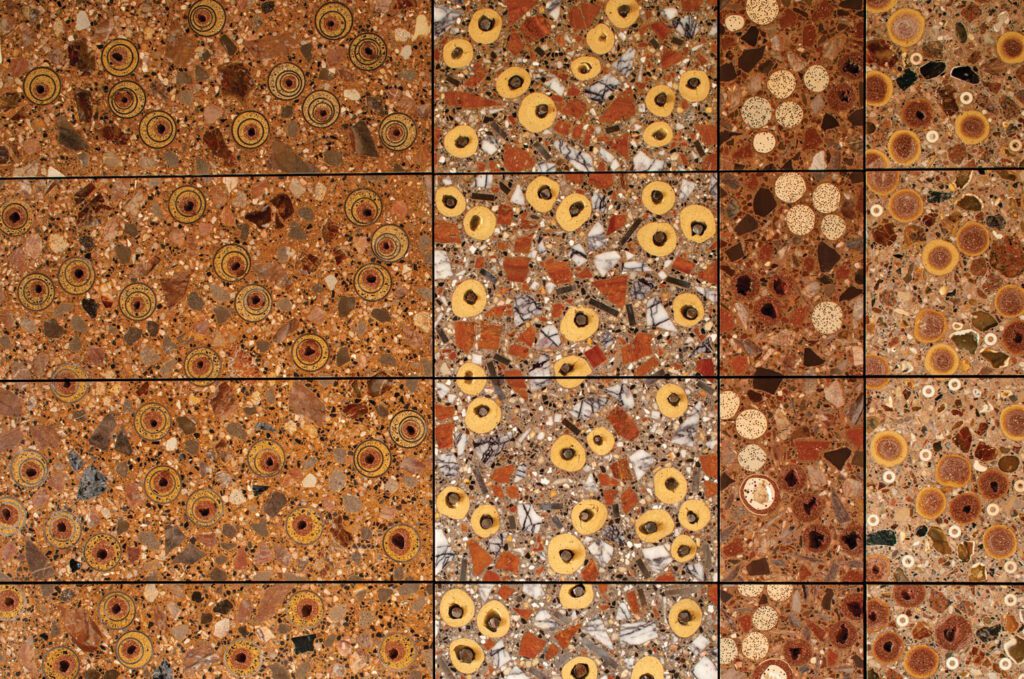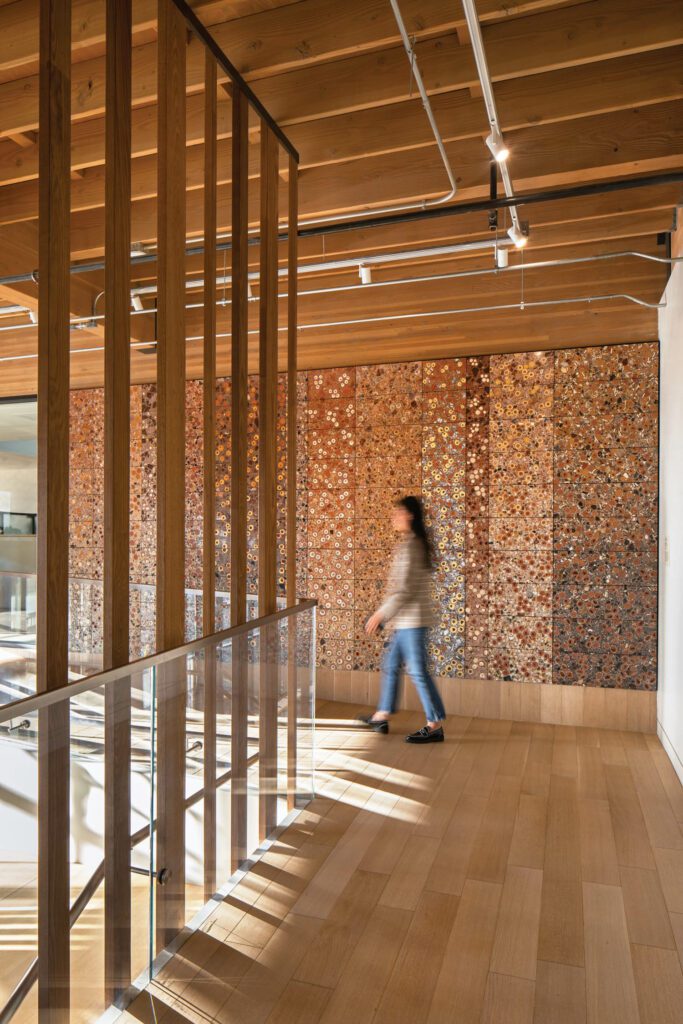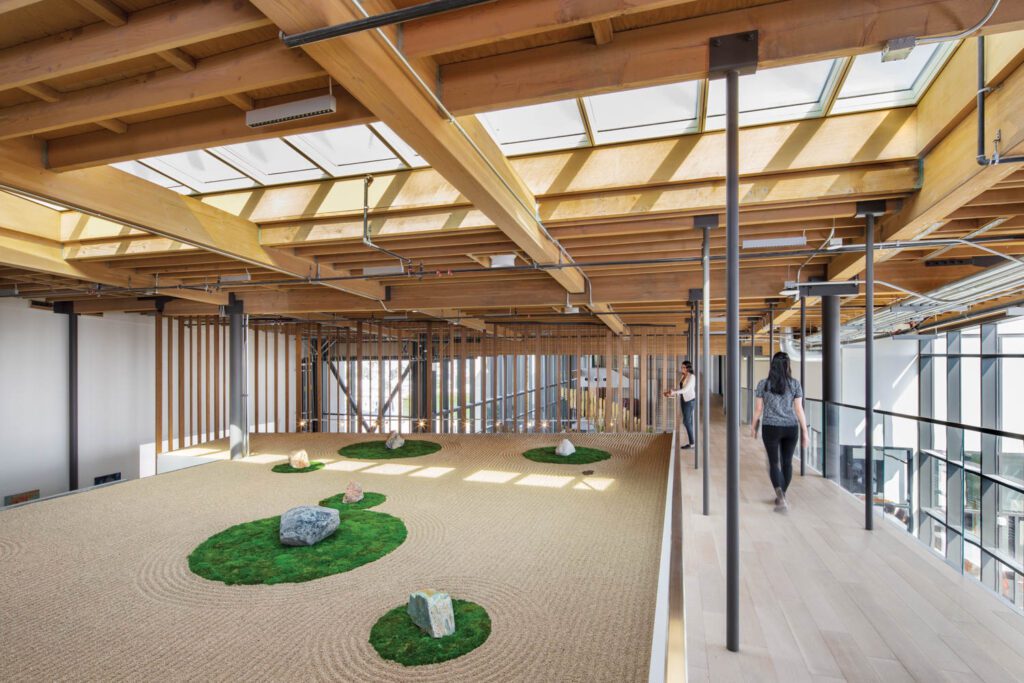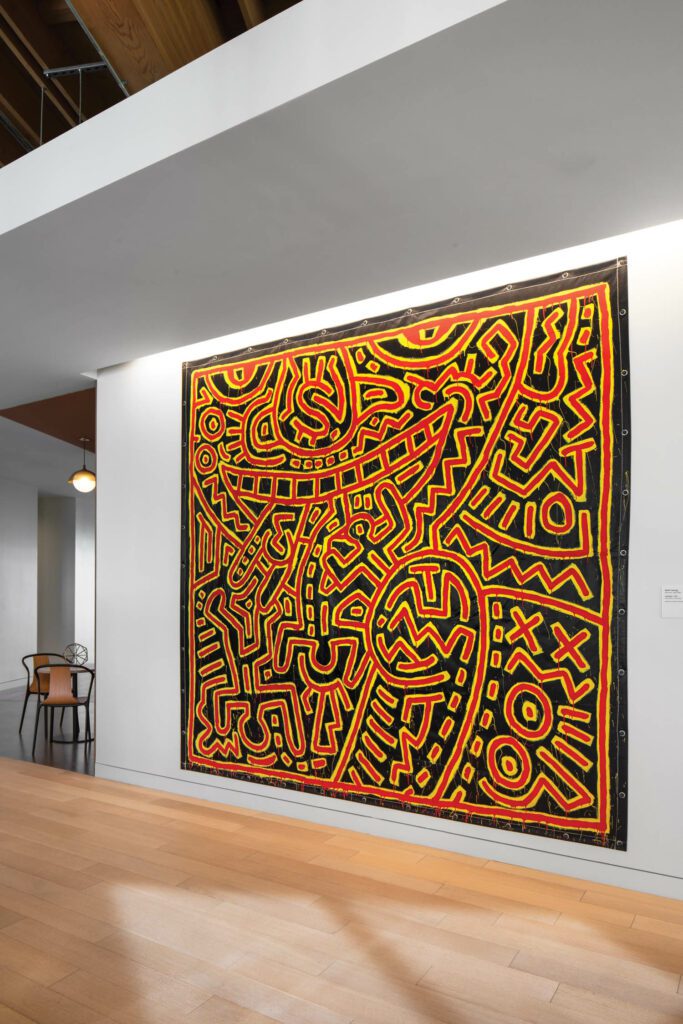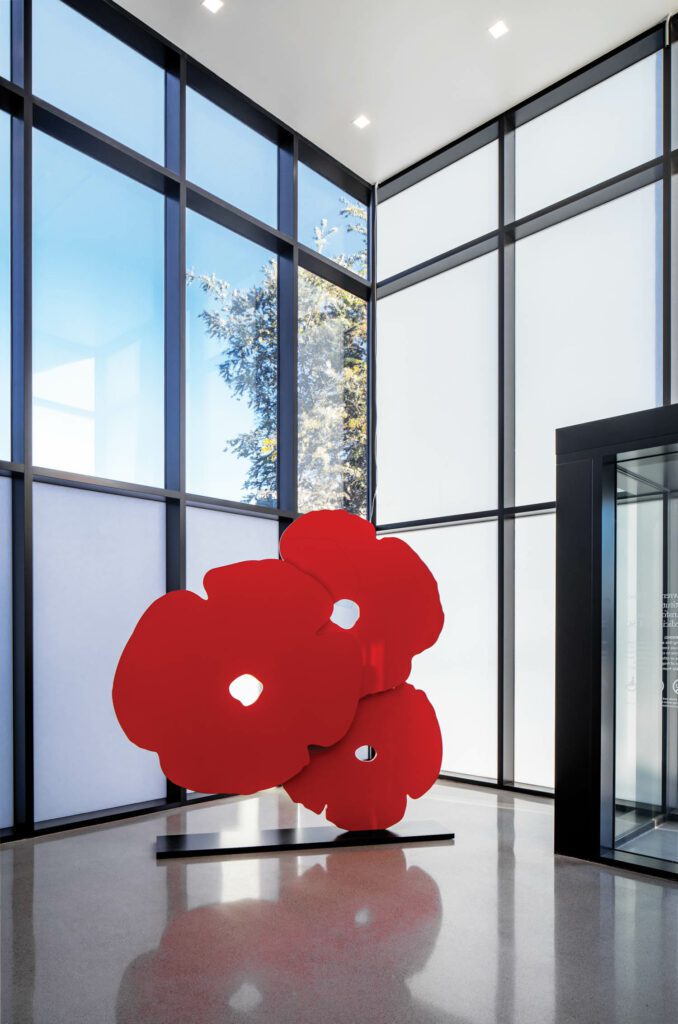 PROJECT TEAM
PRODUCT SOURCES
FROM FRONT
THROUGHOUT