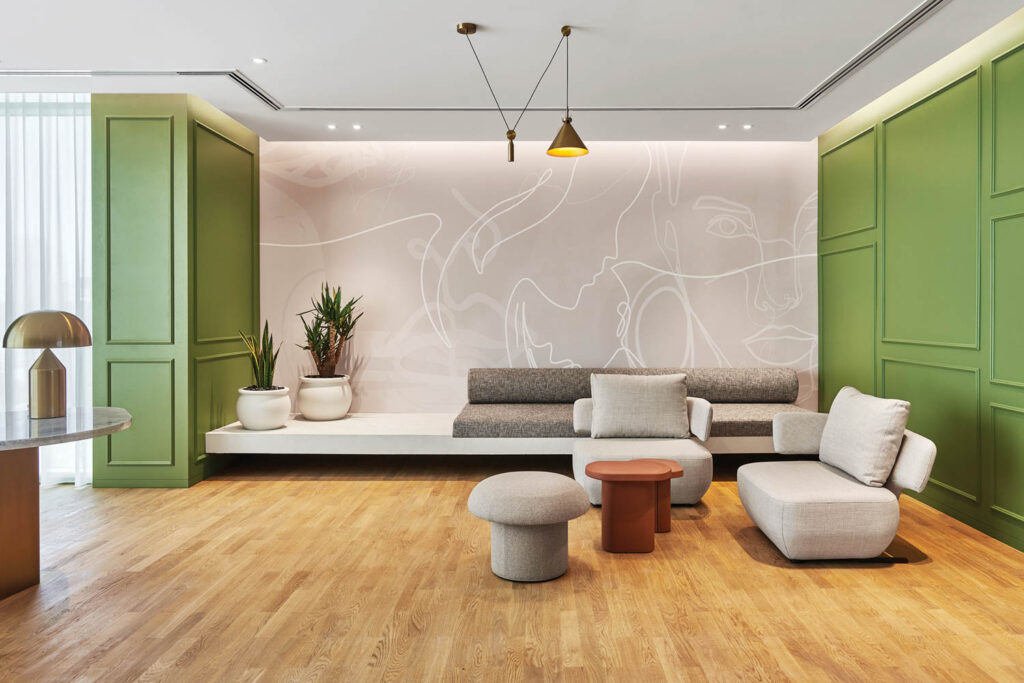 Roar Breaks the Mold With the Design of This Government Office in Abu Dhabi
2022 Best of Year Winner for Government/Institutional
A huge custom ottoman in the shape of a teddy bear stretched out on its back is not the sort of thing often found in the office of a government agency. Nor is a fluffy armchair the color of a pink flamingo standard bureaucratic furniture. But when the innovative Dubai-based interiors and architecture studio Roar was commissioned for the Abu Dhabi office of the Supreme Council for Motherhood & Childhood—an agency that sets policy in matters concerning the welfare of women and children in the U.A.E.—there was no question that the firm would put its own spin on the workplace. After all, founder and creative director Pallavi Dean and her team's portfolio spans a pop-up bakery, a state-of-the-art rental deposit-box facility, hotels, and spas. This project takes cues from residential design and is undeniably stylish, colorful, comfortable, and, above all, fun. "In many ways it's a community space for moms," Dean says, herself the mother of two. "It's kind of like our home."
This is not the first time an arm of the Emirates government has turned to Dean: Roar recently completed the Office of the Early Childhood Authority (which took home a 2021 Interior Design Best of Year Award), also in Abu Dhabi. Yet that project was a modest 1,800 square feet. The Supreme Council encompasses nearly 38,000 square feet across three floors.
It wasn't only the size of the space that was challenging, however. The project, which includes a reception area, an auditorium, and a nursery, library, and playroom for the children of staff and visitors on the ground level, and executive offices, a training room, and a boardroom on the upper floors, would not occupy one of the jazzy new towers for which this city is known—and which often provide design firms with a blank slate, along with impressive views—but rather an existing building tucked in a residential neighborhood. The long floor plates had elevator banks on both ends. Dean didn't want the staff to feel like they were endlessly trudging down long corridors, so the Roar team threw some curves into the layout: a screen of vertical wooden slats, for instance, swoops around a space that's perfect for impromptu confabs or pre-meeting prep; elsewhere, a lounge spreads out beneath a curvaceous ceiling cutout.
For all the spatial ingenuity, the concept is very much rooted in tradition, incorporating familiar "touchpoints," as Dean puts it. Reception evokes a traditional Emirati outdoor courtyard, with its ombre green–painted walls and contemporary renditions of the breezeblock patterns used in local homes. Its sculpted arches for the doorway and seating niches evoke vernacular architecture. Arches reappear in other parts of the office, too.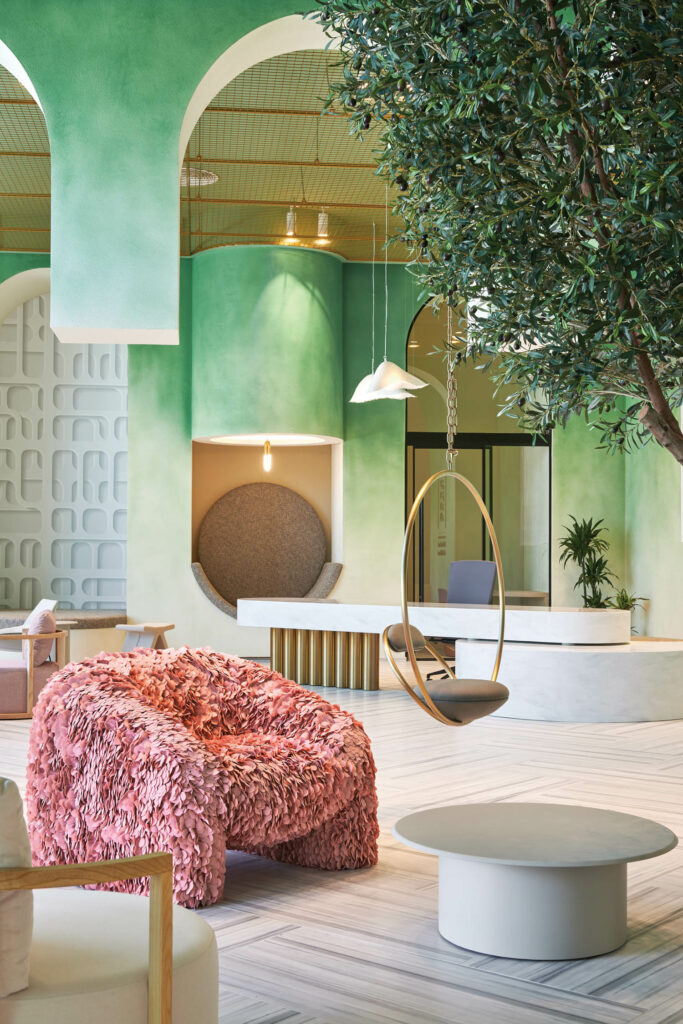 In the training room, they're printed on fabric wallcovering in dusty shades of pink, blue, and beige. For the ex­ecutive suite, they're in the form of a brushed brass partition system, and throughout the workplace they're incorporated in the built-in cabinetry.
Roar Prioritizes Comfort With Soft Colors and Furnishings
That curviness extends to the freestanding furniture, which Dean describes as "feminine," in tune with the Supreme Council of Motherhood & Childhood's focus on women. But feminine doesn't mean dainty here. "The furniture has a lot of rounded, rotund forms. That's intentional," she says. "A lot of it feels like a hug, like it's cocooning you." The aforementioned flamingo-reminiscent armchair, called Hortensia, by Andrés Reisinger and Júlia Esqué, is a prime example.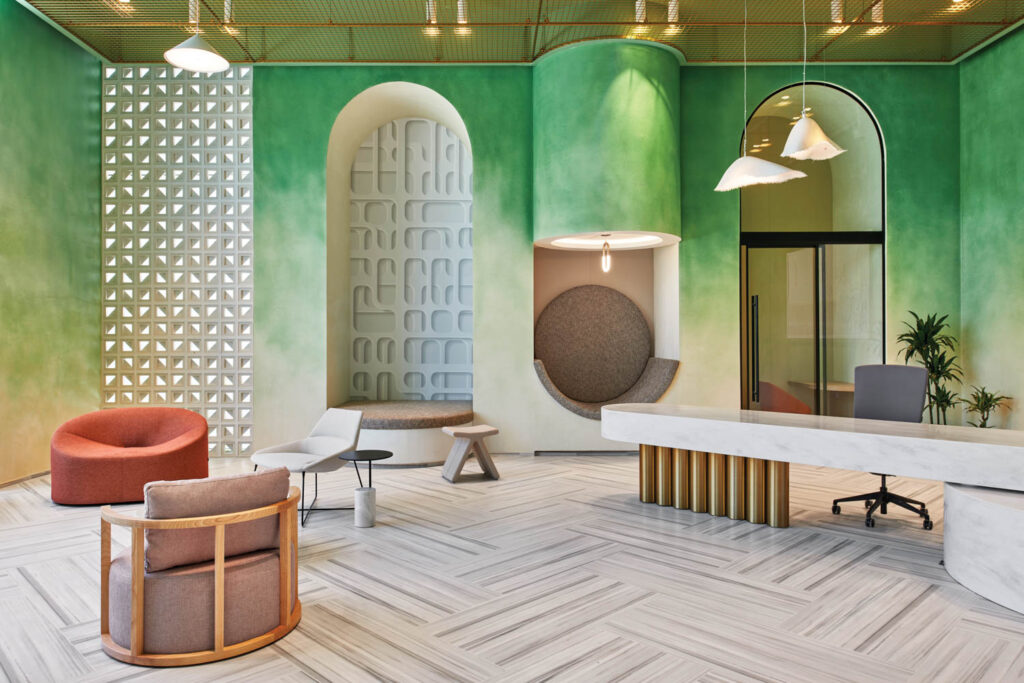 The material palette furthers that sense of comfort. Greek white marble in reception is softly striated. Carpets and rugs in rhythmic patterns are plush underfoot. Natural oak, ash, and maple are used extensively—on floors as well as in the custom furniture and pieces by the likes of Alp Nuhogˇlu. "When you think of luxury interiors, you think of wenge and dark wood. We were steering clear of that," Dean explains.
The Secretary General of the Supreme Council for Motherhood & Childhood, Her Excellency Rym Abdulla Al Falasy, was
involved in shaping the color scheme and other aspects. And not just for her own domain, which is slightly more formal in feeling, as befits a place where she might greet high-level officials from her own country as well as delegates from other nations. Here, for instance, one finds paneled walls and an alcove with a raised platform.
An Inclusive Space in Abu Dhabi for Parents and Children Alike
But the design pays just as much attention to those who are too young to express their aesthetic preferences. In the children's restroom, which has a marine-life theme, walls are enlivened with blue-and-white mosaic tile, metal-mesh sea creatures hang from the ceiling, and pendant globes are encased in the same jute netting that fishermen use. In the children's library, under concentric ceiling circles, a climbable circular enclosure corrals beanbags and a bench resembling one of those balloon dachshunds brought home from kids' birthday parties. Then there's that big teddy bear. It rests on an oak base, under a ceiling with a traditional sadu composition of woven palm leaves. Its paws are upholstered in traditional Emirati weaving done by Bedouin women in rural parts of the country.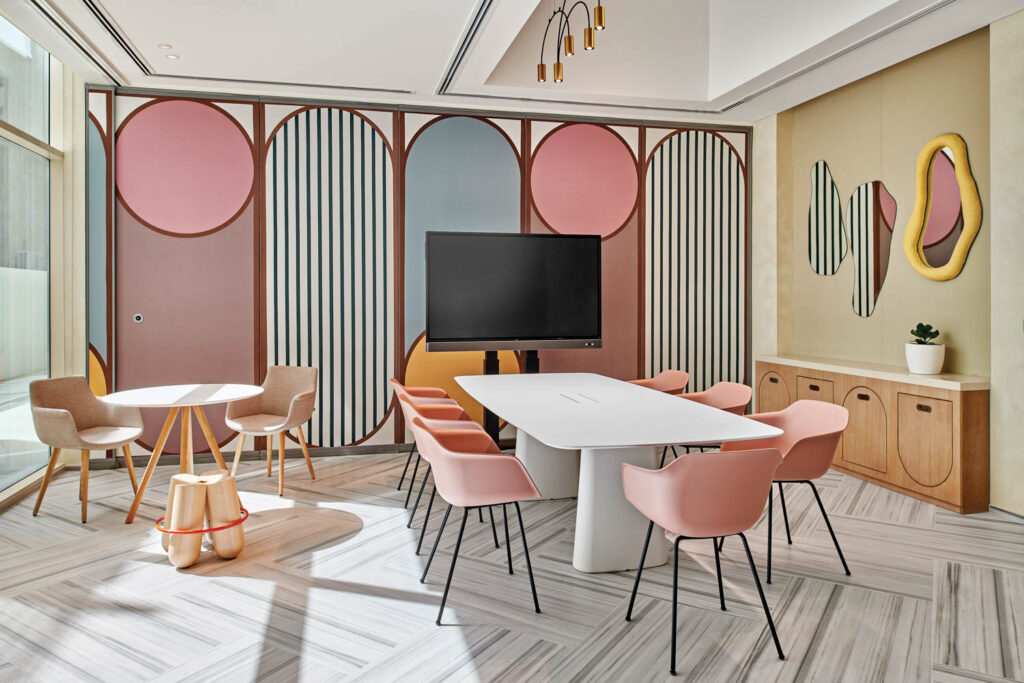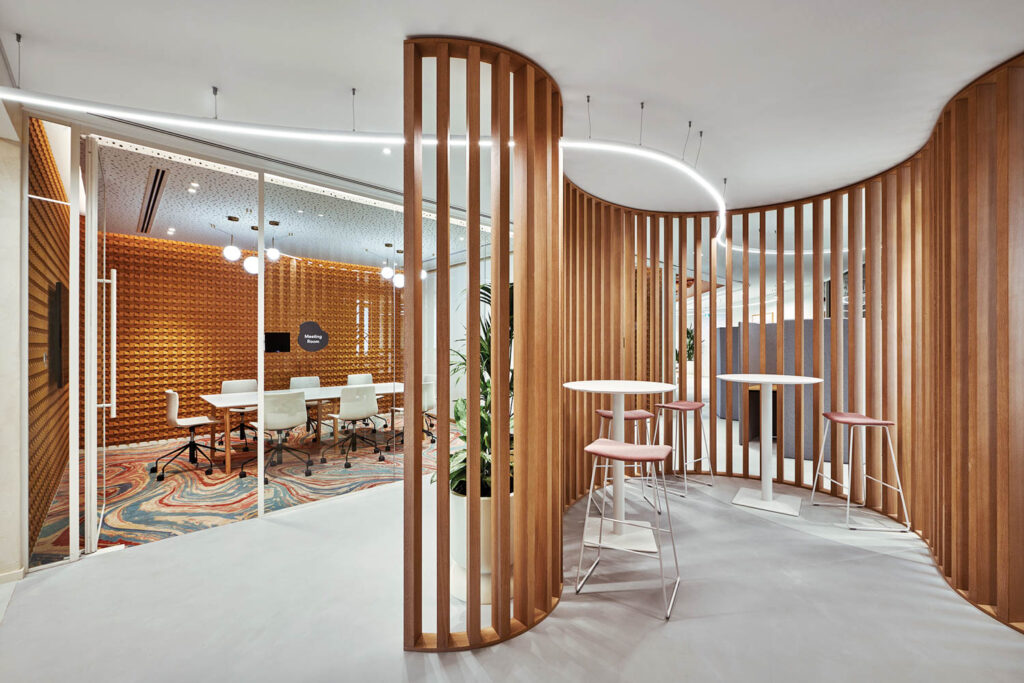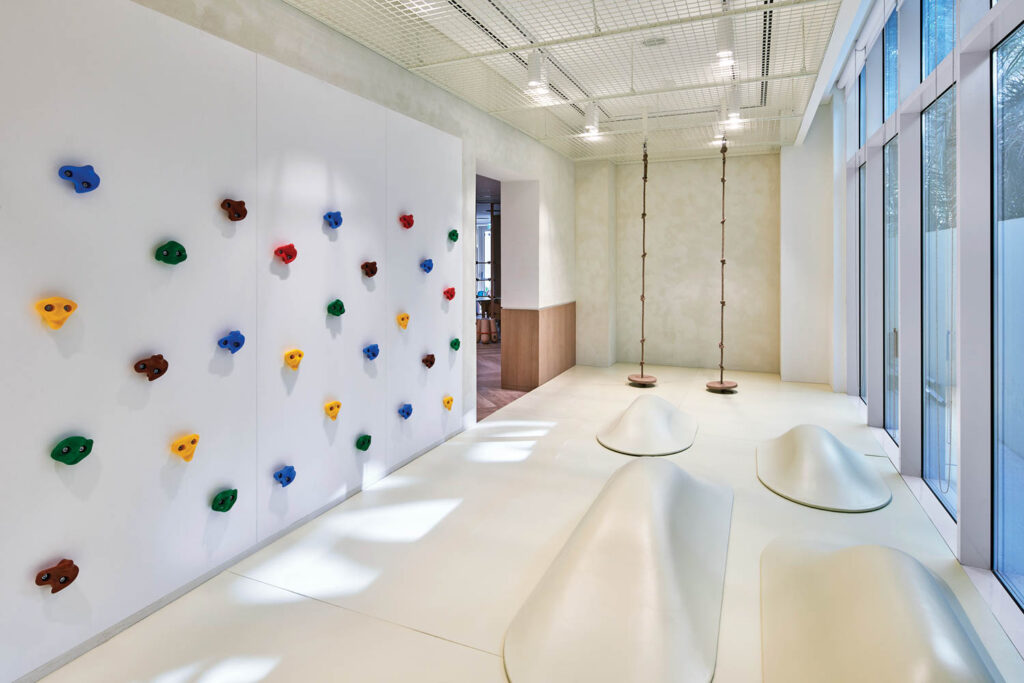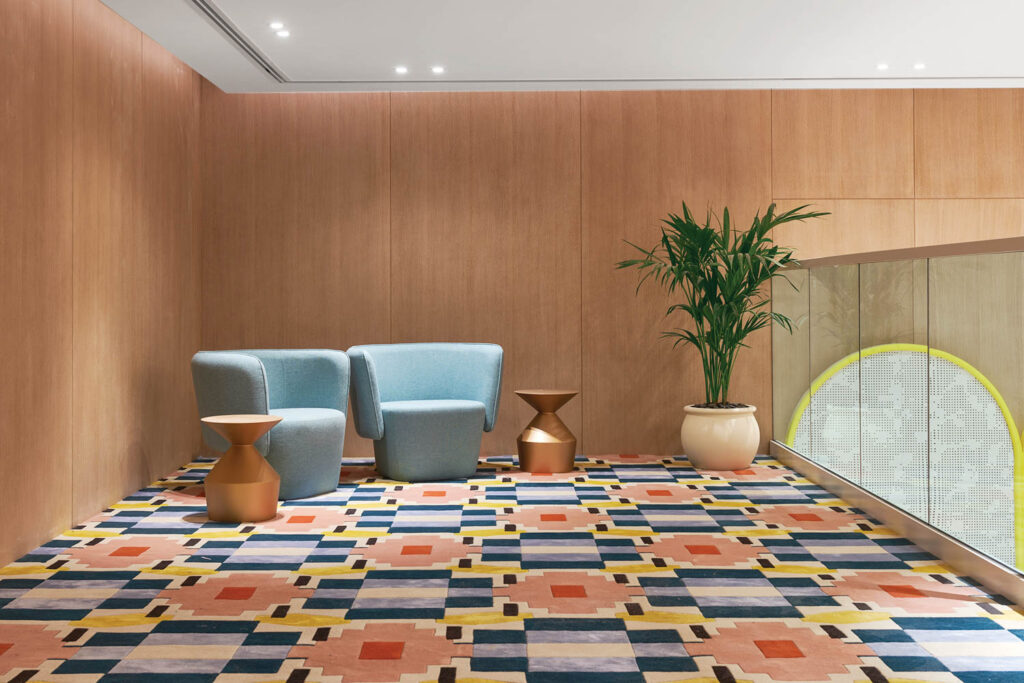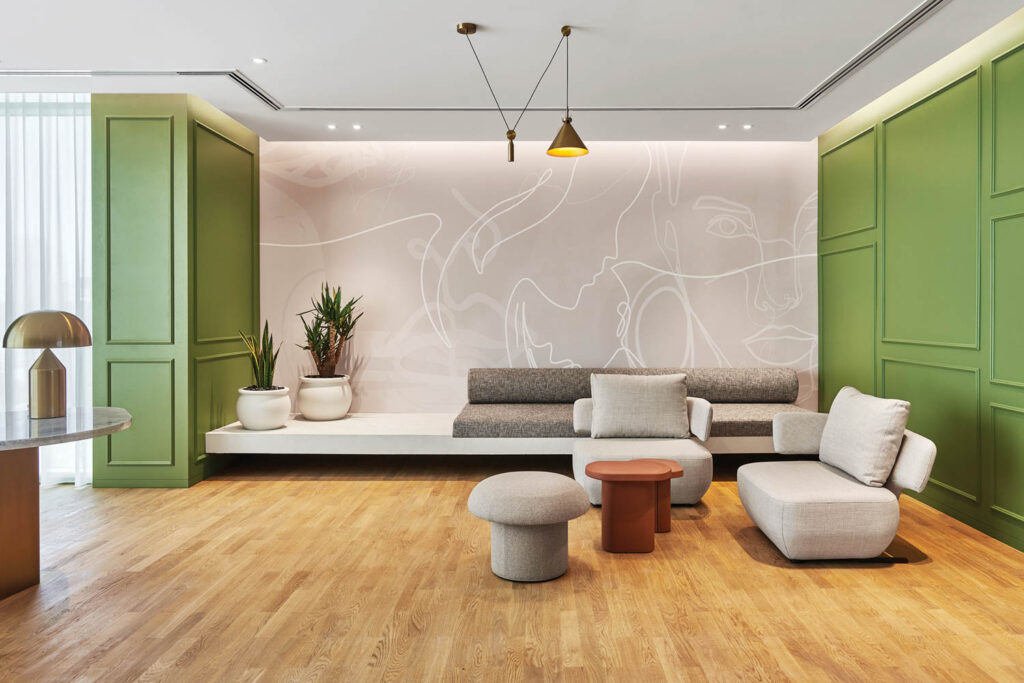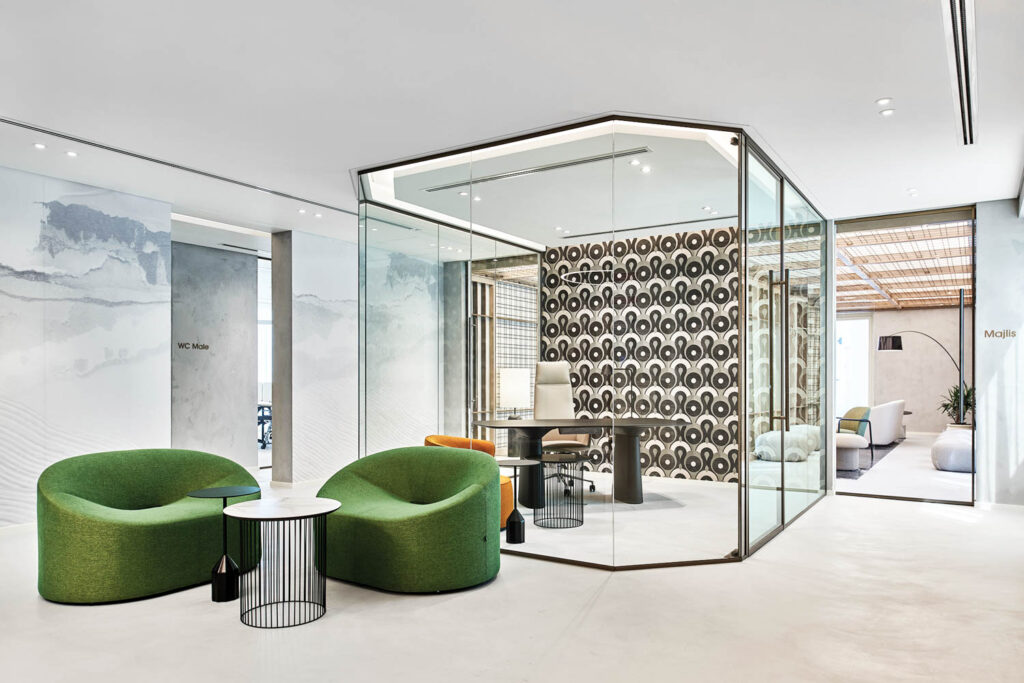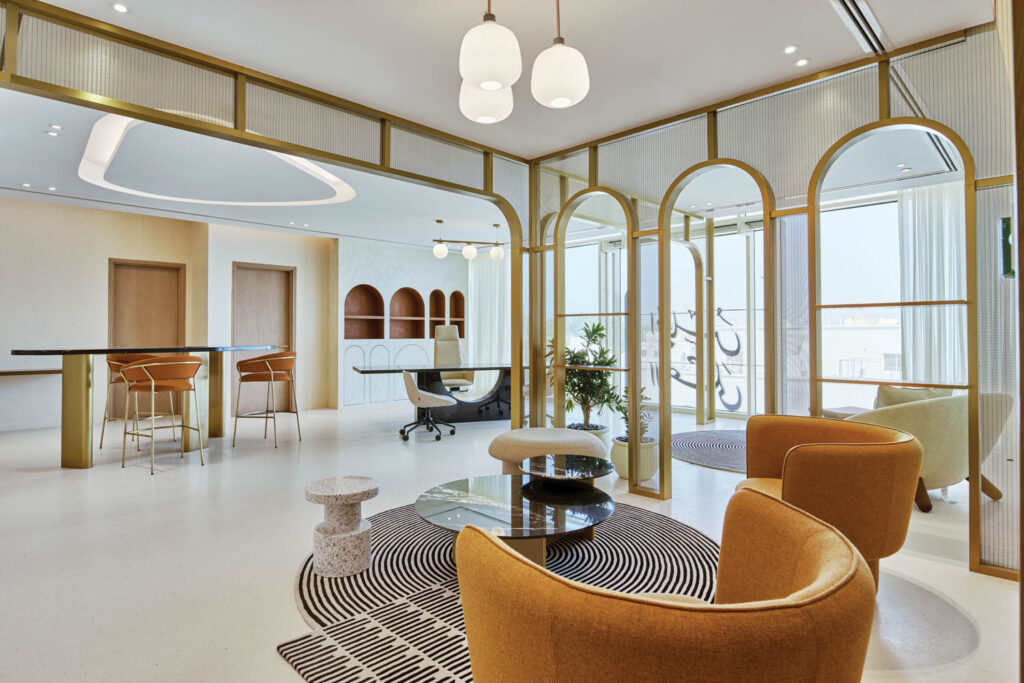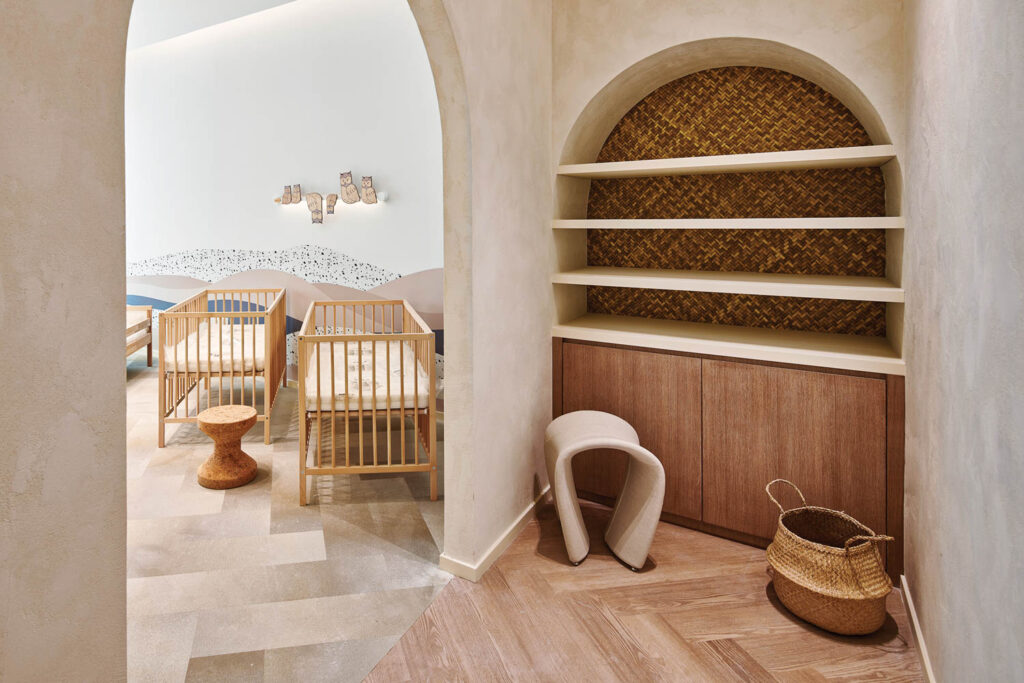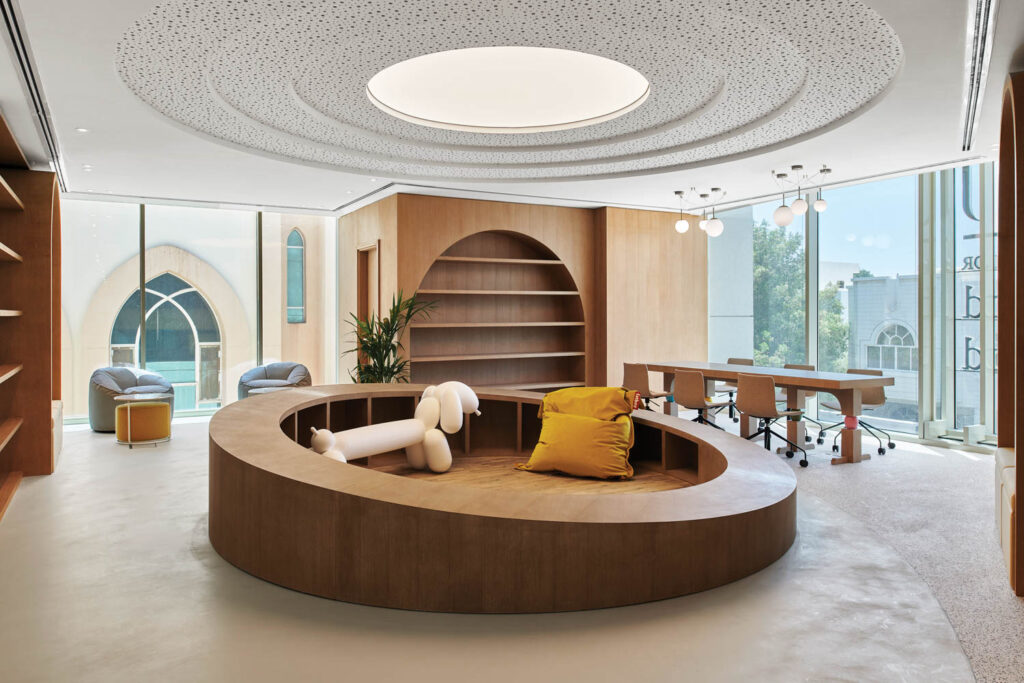 ---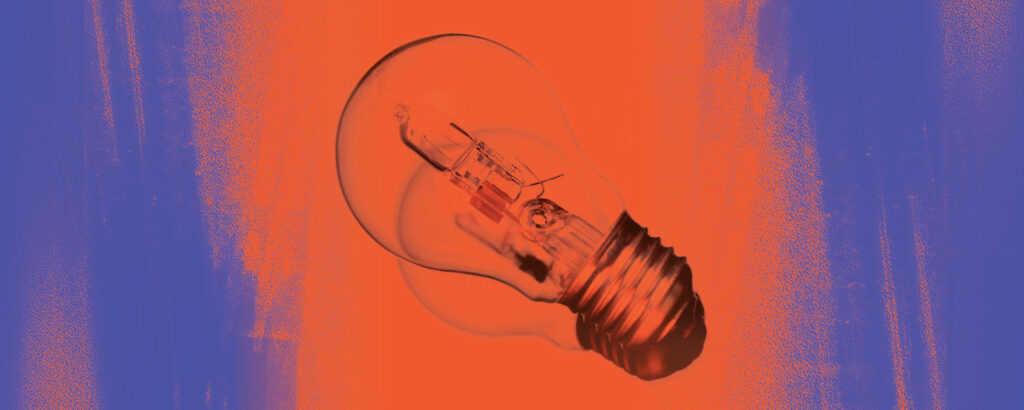 See Interior Design's Best of Year Winners and Honorees
Explore must-see projects and products that took home high honors.
---
PROJECT TEAM
PRODUCT SOURCES
FROM FRONT
THROUGHOUT