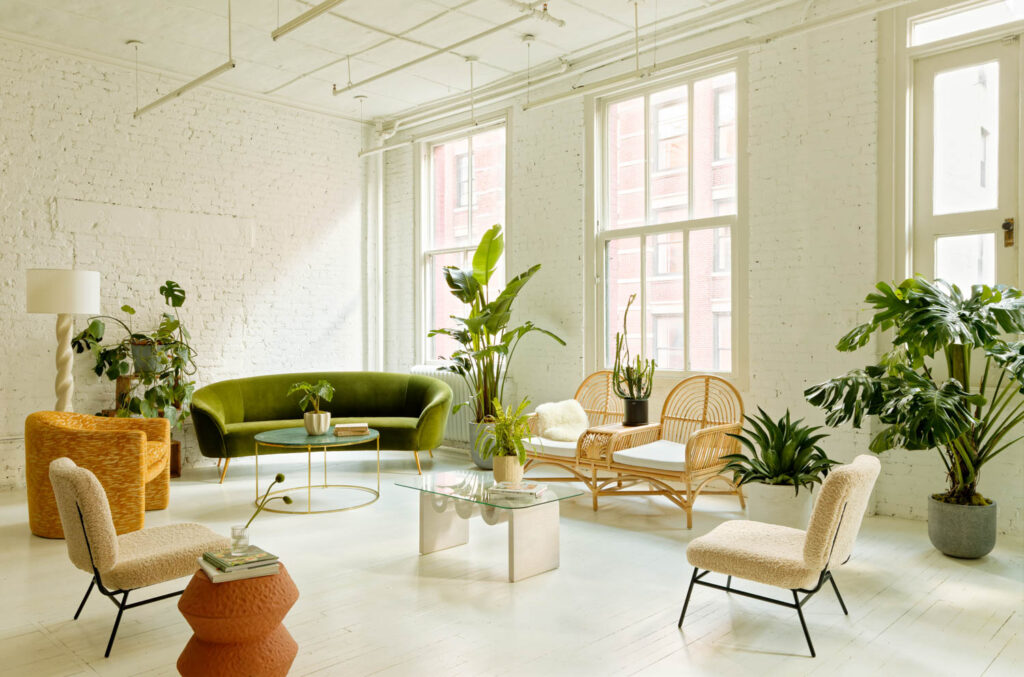 Float Studio Transforms a SoHo Loft into an Airy Workplace for Sakara Life
Wellness in the workplace may be a buzzy term, but Sakara Life, a supplier of plant-based ready-to-eat meals, walks the walk. For the brand's new SoHo, Manhattan space, Float Studio, which worked on its first office back in 2014, was tasked with creating a light-filled loft, complete with residential accents to encourage creativity and collaboration.
"I've known the founders, Whitney and Danielle, for a long time, and we have a history of working projects together so designing this space felt like a natural evolution," says Brad Sherman, who cofounded Float Studio with Nina Etnier. "We responded to the existing architecture of the beautiful loft space they found in SoHo and focused on crafting a crisp, natural backdrop for their product: invigorating food."
Sakara Life's SoHo Office Design Prioritizes Wellness
The loft functions as an office by day with flexibility to host evening events for clients, as well as staged photoshoots. "Wellness to us is really about how a space makes someone feel—we want the space to lift the people who are in it everyday and be a welcoming place for those visiting," adds Sherman. Bright walls and painted white floors do exactly that, paired with jute rugs and soft lighting for added warmth. Not to mention plenty of greenery.
Working with the existing infrastructure, the designers prioritized the kitchen—an especially vital space in the workplace given the brand's mission. "It had to be a stage for their product while also providing an inviting and collaborative space for the staff at large, so we opened up the floor plan and kept everything bright and easily personalizable to evolve as the company grows," shares Sherman. The workplace also features an fire-engine red community table adorned with hanging disco balls above. The metallic legs of the surrounding chairs play off the reflective table base and disco balls, creating a dynamic display of light in the room.
As for the rest of the furnishings, many pieces from Sakara Life's previous office found a home in the new space, along with finds sourced from vintage and second-hand shops. Additionally, Sakara Life opted to keep some vital hand-me-downs: All the office chairs left by the previous tenant. "It makes the space feel lived-in and provides a sense of familiarity for the team while also being kind to the planet," says Sherman. "As a studio, we're committed to curating spaces that will last by focusing on both materiality and style, and Sakara Life's space is a perfect example of that. By incorporating durable materials and being conscious not to lean too hard into trends, we found an aesthetic that will grow with the brand."
Industrial Accents and Residential Furnishings Create a Distinct Office Aesthetic