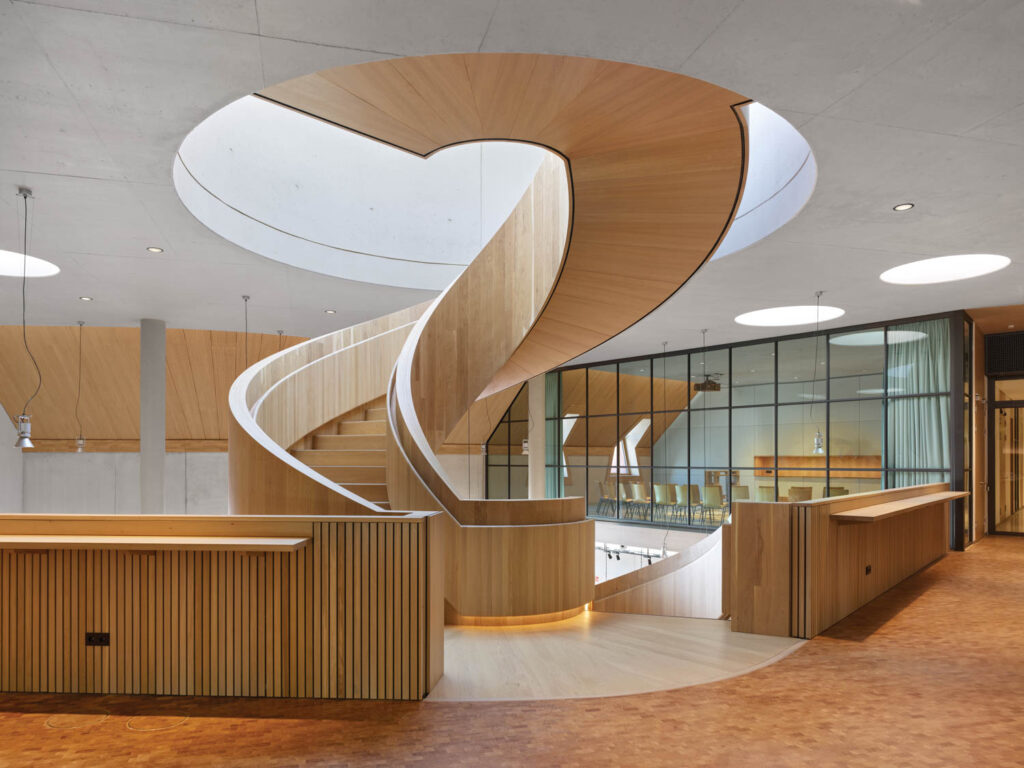 Rapunzel Naturkost's HQ Design Channels its Organic Roots
A visit to Rapunzel World in Southern Germany does not involve meeting the fairytale character with the famously long hair. Rather, you'll be touring the new visitor center at the Legau headquarters of Rapunzel Naturkost, one of Europe's best known organic food producers. But given the 81,400-square-foot, four-level structure's soaring sculptural form, evocative architectural details, and otherworldly aura, it could well be home to the girl with the flowing locks.
The company's motto Wir machen Bio aus Liebe roughly translates to We make organic out of love, and the visitor center was designed to radiate some of that warmth and passion. "Our brief was to make 'organic' a tangible experience and to offer a deeper look into the world of Rapunzel Naturkost," says Martin Haas, partner and cofounder, with David Cook and Stephan Zemmrich, of HaasCookZemmrich Studio2050, the firm that helmed the project. Trifurcate in plan, the facility unites three wings under a floating roof that, at one end, not only rises to a 70-foot-high peak but also plunges to the ground, creating an imposing, towerlike volume. Comprising 120,000 multihue ceramic tiles on an all-timber frame, the flowing canopy forms a dynamic, shimmering skin that envelops the building, making it a boldly imaginative presence that nevertheless integrates into the landscape through its use of wood, clay, and other natural or renewable materials.
HaasCookZemmrich Studio2050 Turns to Sustainable Design and Fairytales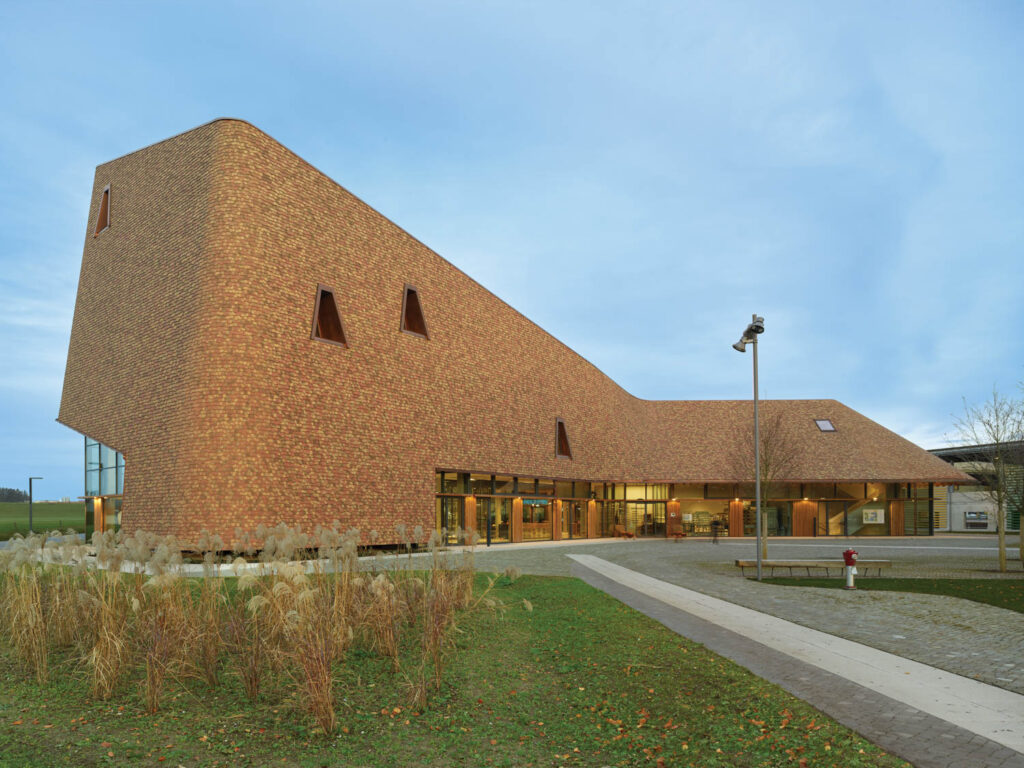 At the heart of the center is a monumental spiral staircase inspired by the long braid Rapunzel let down from her tower. A sinuous form in oak and spruce sustainably forested in Germany and Austria, the twisting stair rises from the basement through the lobby atrium up to the roof terrace where a crow's nest atop the tower gives visitors a panoramic vista of the surrounding Allgäu countryside and the Alps beyond. Despite weighing 13 tons, the 48-foot-tall triple-spiral is self-supporting and, like the roof, appears to be floating. It's a feat of engineering that required its own structural consultant. "Fabrication was carried out in individual segments in eight stages," Haas explains. "The primary load-bearing element is formed by the stair stringers integrated into the balustrade, made of curved 6-inch-thick laminated-veneer lumber." Once on-site, the segments were lifted in by crane via an opening in the roof and joined together with the help of slotted plates. Any wood waste was used to create end-grain block parquet flooring for other areas in the visitor center.
The Visitor Center Includes Abundant Amenities 
Among Rapunzel World's amenities are an interactive exhibition area and an organic market as well as a restaurant, cooking studio, yoga room, wine bar, and coffee-roasting plant, which occupies an airy two-story glass-enclosed space in the tower wing. "It's the only part of the building that has to be mechanically ventilated, since the heat loads exceed normal levels," notes HaasCookZemmrich associate and project architect Sinan Tiryaki. He also admits that housing such an extraordinarily diverse range of features in a single building raised one pedestrian but particularly time-consuming hurdle: bureaucracy. "It was a major challenge to get the mix of functions—meeting place, food production, supermarket—under one roof in terms of regulations, standards, and codes."
Getting the right kind of roof tiles presented another set of problems. "We wanted them to appear wild and alive like nature itself, with no one tile looking exactly like another," Tiryaki continues. Engobing, a pre-firing process that adds distinctive color and texture to ceramic surfaces, produces the visual effect the architects had in mind. "The tiles pass through three separate color stations," he adds, "where nozzles spray them with different earth tones, ranging from rust-brown to ochre," before spending 60 hours in a 1,000-degree kiln. The closest manufacturer HaasCookZemmrich could find that still had the right equipment for the technique was in Switzerland, even though that conflicted with the firm's—and Rapunzel Naturkost's—local-sourcing ethos.
In fact, architect and client shared a strong commitment to human- and environment-friendly practices. "We got a counterpart who trusted us and supported our ideas," Haas reports. "This made many things easier." As did the project's location, which was nearly ideal because the surrounding area is chock-full of skilled craftspeople and artisanal manufacturers, many already having established relationships with the food company. For instance, much of the custom built-in furniture like food counters, wall benches, and the wine bar was made by a local carpenter, while chairs, tables, and other moveable pieces were produced by a local family-run woodshop that uses regionally sourced timber. And when the architects say locally made, they mean it: The two companies are an 8- and 15-minute drive from the center, respectively.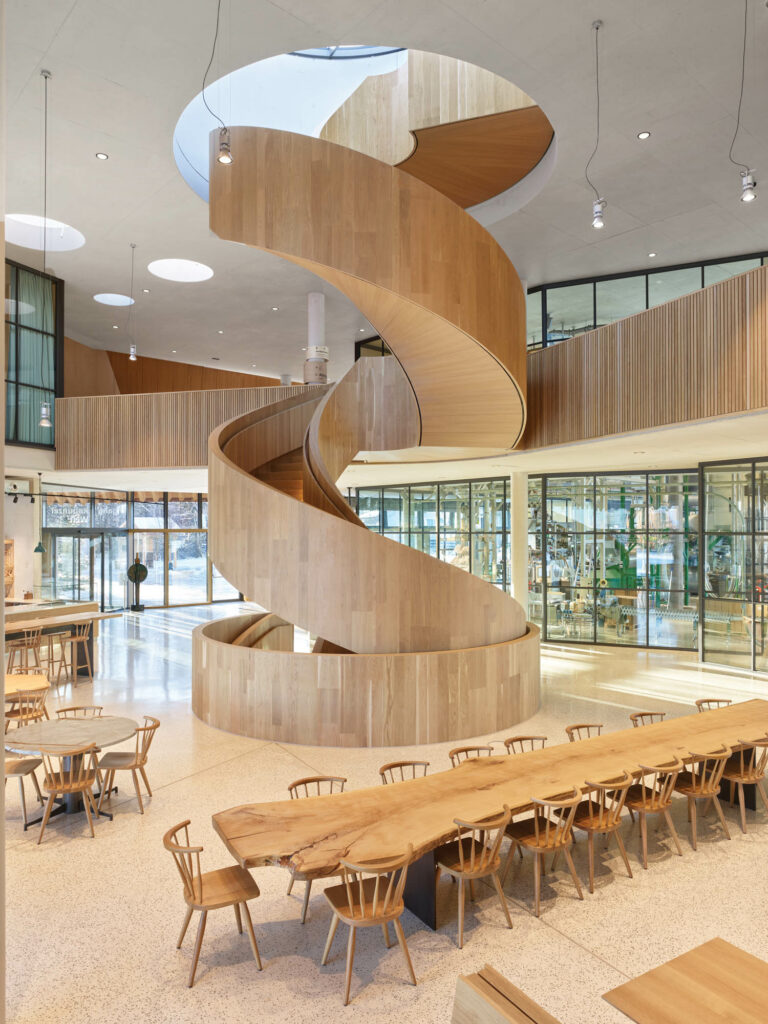 Biophilic Design Elements Reflect the Local Landscape
The rural location also inspired the landscape design, which includes hillocks, a flower meadow, an orchard, and a tropical greenhouse in which coffee plants grow. Playful exterior details abound, such as custom rainwater downpipes made of small copper buckets stacked up to reach the wide overhanging eaves, while picturesque dormer windows project from the roof, each an ideal perch for any Rapunzel to sit and watch the world below. Haas, too, is susceptible to the general sense of enchantment. "The most beautiful moment of surprise during construction was when the roof-truss rafters were installed," he says. "Suddenly you could see the shape of the entire building." Pure magic.
Inside Rapunzel Naturkost's Headquarters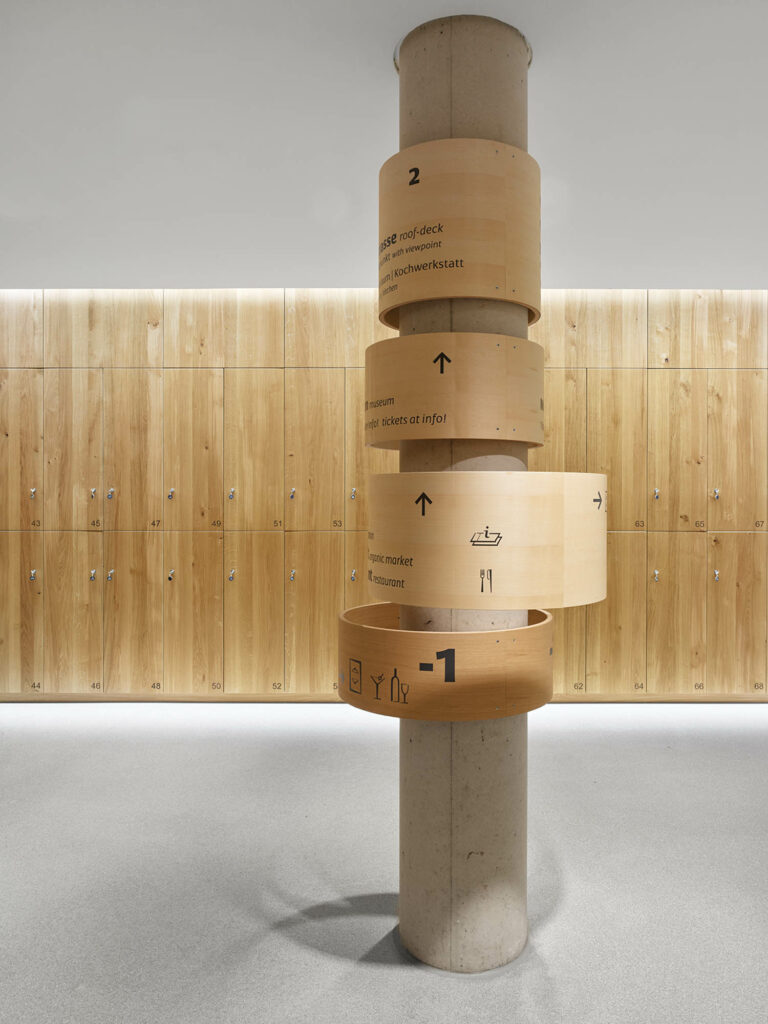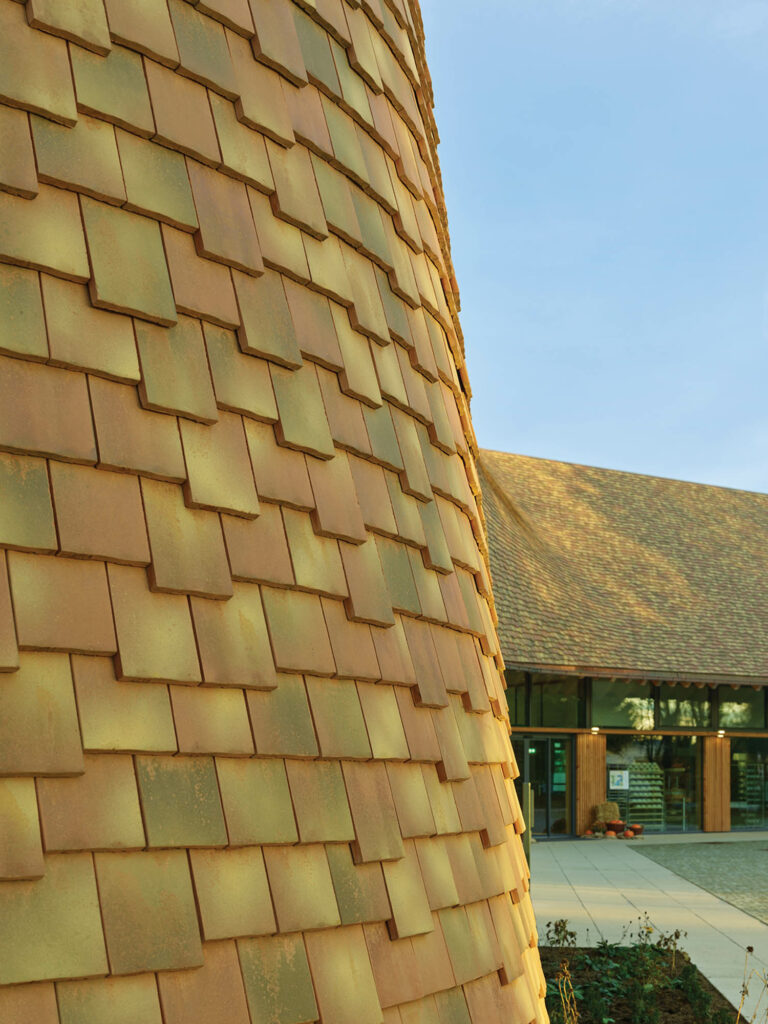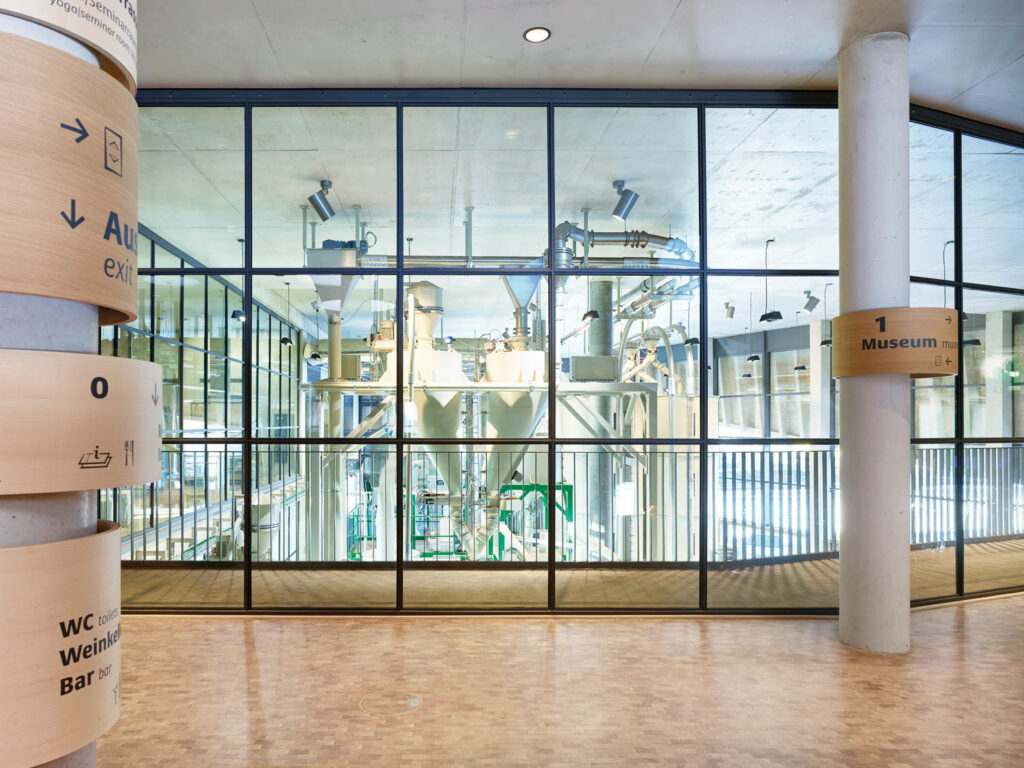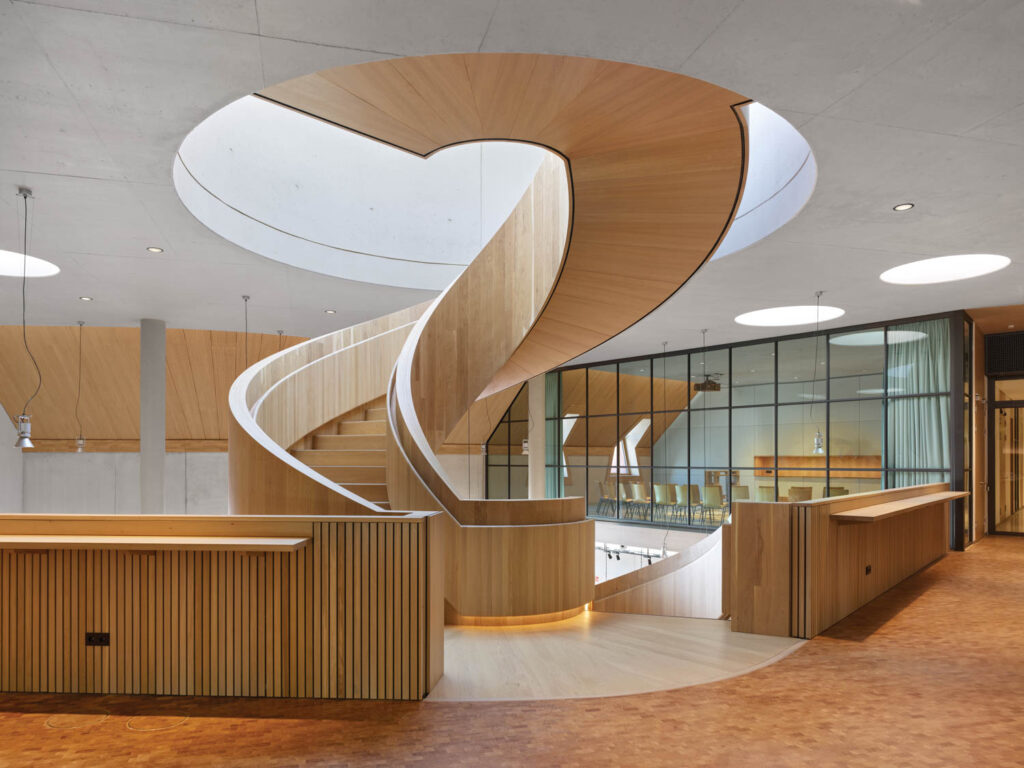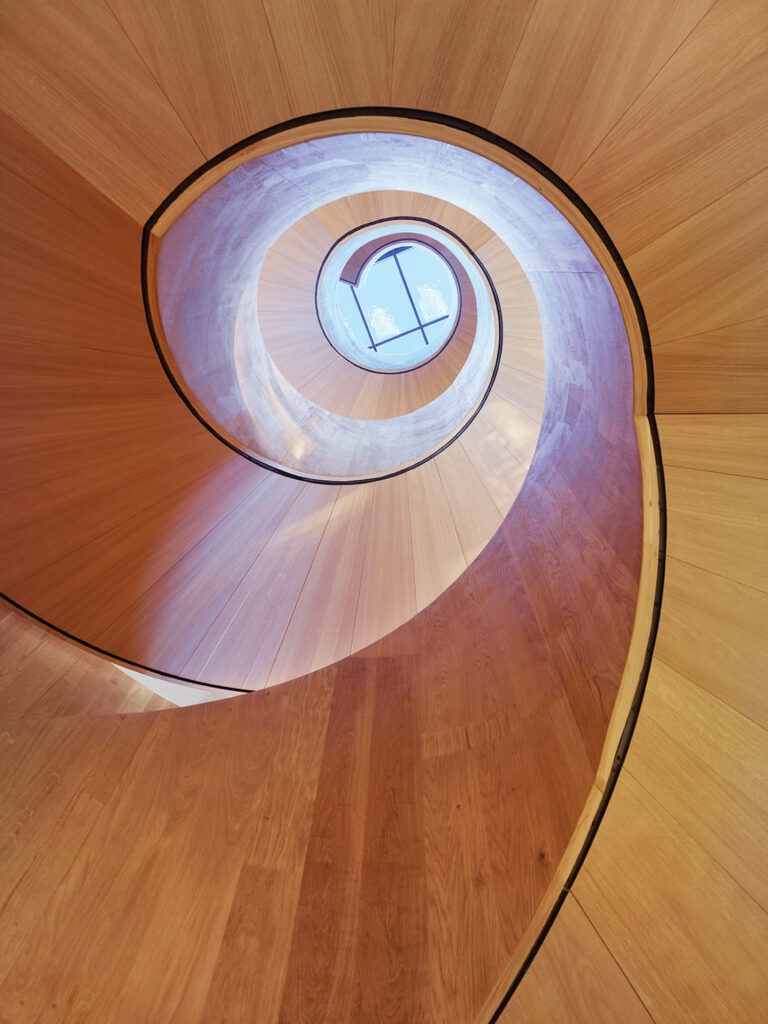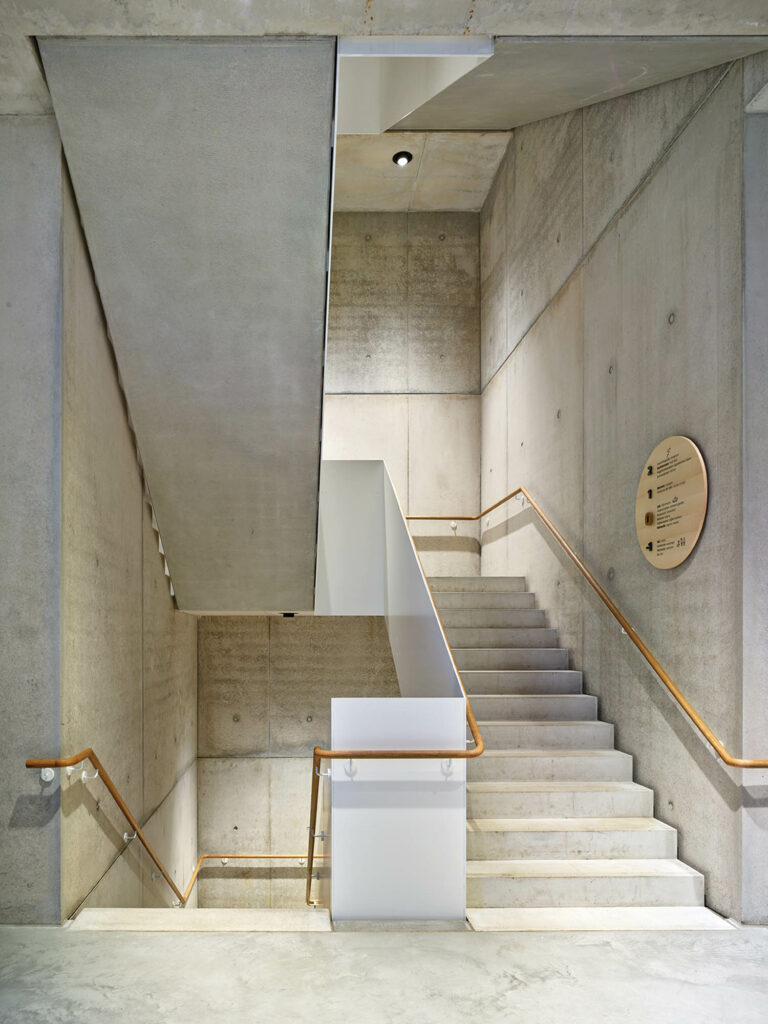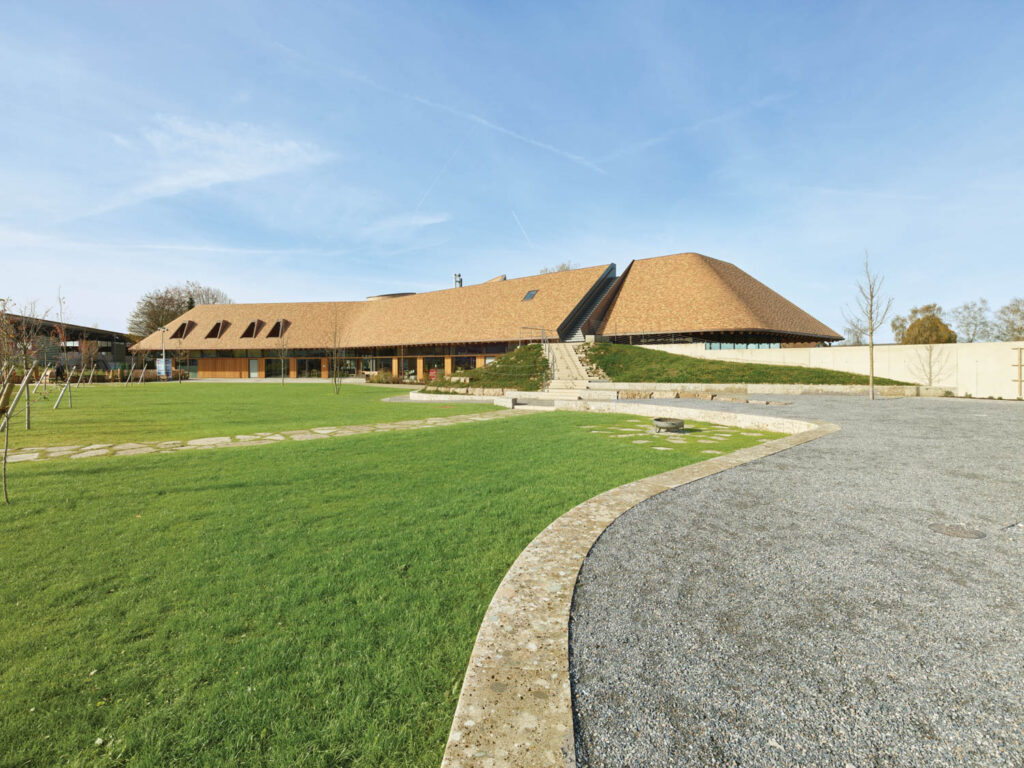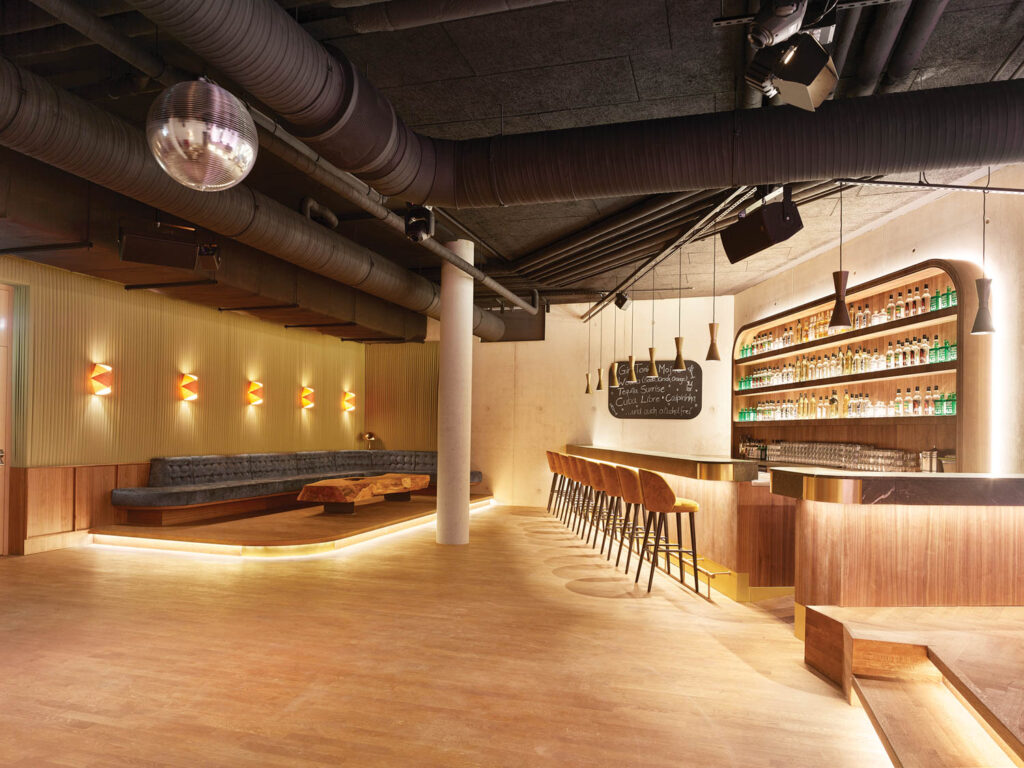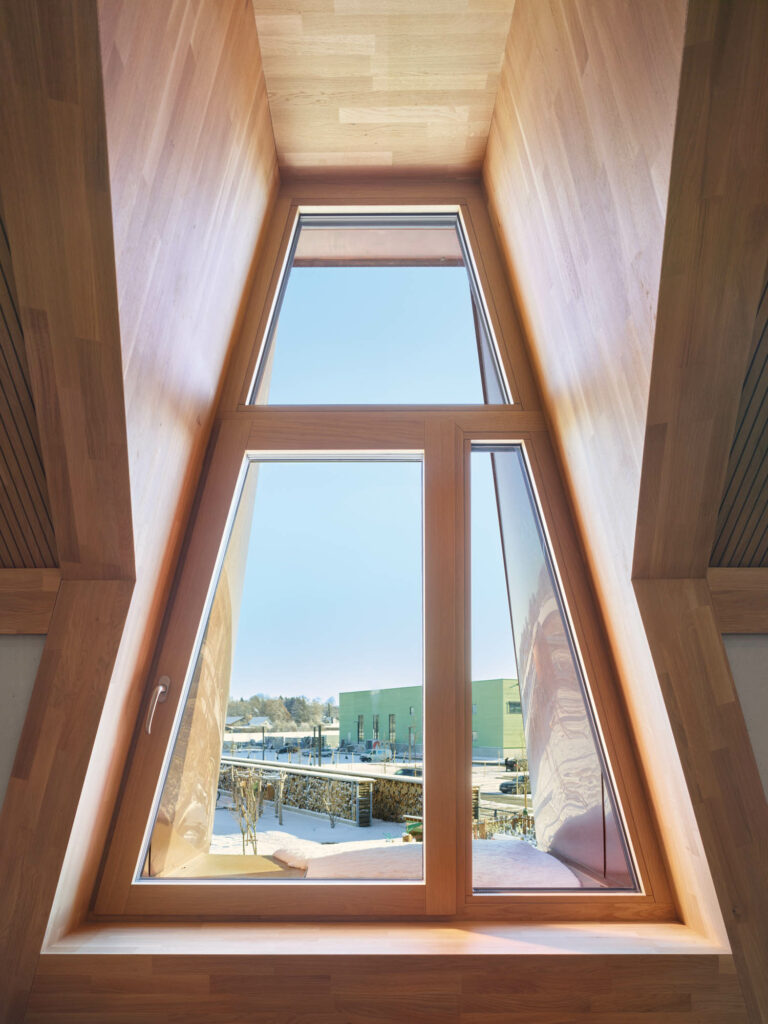 PROJECT TEAM
PROJECT SOURCES
FROM FRONT