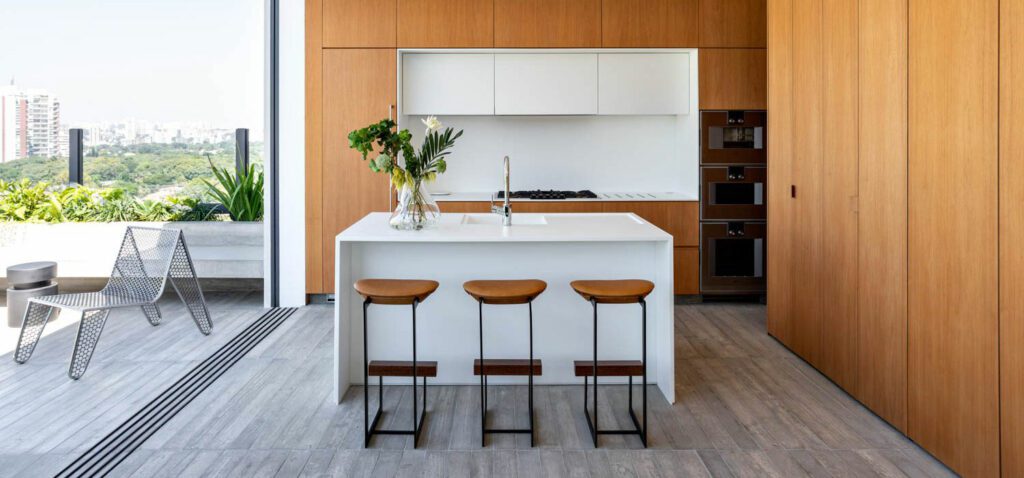 This São Paulo Apartment by Architects Office and Triptyque Architecture is Elegant and Functional
For a 2-story apartment in São Paulo, Architects Office and Triptyque Architecture were responsible for a complete renovation to meet the needs of the client. The firms worked together to meld function and form—for example, a custom marble desk sits in the living area. They also included curtains, collapsible doors, and retractable partitions for privacy when needed.
Throughout the space, iconic design mixes with luxe custom elements. Leather, stone, and brass comingle. "The project brought the great challenge of finding harmony between iconic pieces of Brazilian and worldwide design," notes Architects Office's Juliana Carvalho. Brazilian design and art take center stage, including pieces from Estúdio Rain and Jorge Zalszupin. International furnishings were also integrated, including by Patricia Urquiola and Michael Anastassiades. The designers also made use of the existing elements, including views of São Paulo. "The visuals of the city on all sides were prioritized in all environments," Architects Office's Raphaell Valença notes.