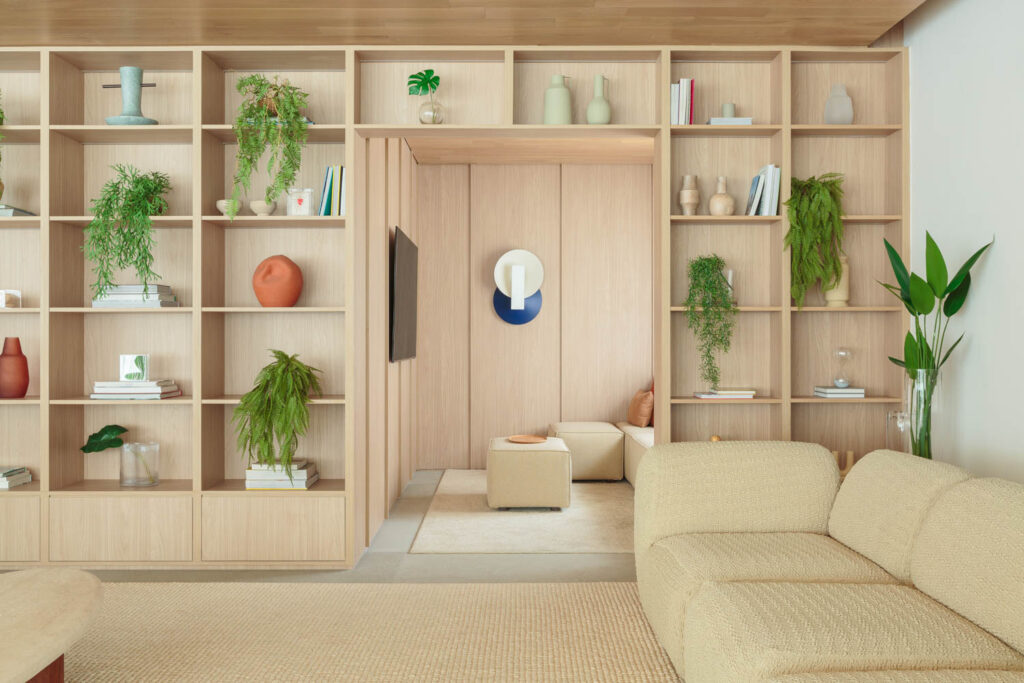 Subtle Neutrals Make Accents Pop in This São Paulo Apartment
Pure lines, wood surfaces, and green vegetation form the material palette for this minimalist apartment in São Paulo, Brazil. With interiors by ARCHITECTS OFFICE, the home, which is part of the upscale Casa Alto de Pinheiros residential complex developed by Even, offers a warm and welcoming environment for a family of four. "The high standard of the development was one of the premises in the choice of materials, furnishings…" share the designers, "shaping the final mood board of this project." The family's love of hosting, as well as needs to work, study, and relax in the space also informed the final design.
To create functional zones in the home, the designers installed glass doors to the kitchen, creating a throughway into the main living area, which includes a custom wood bookcase that outlines the perimeter of the space, offering visual continuity. A balcony with an expansive grill and center island also is easily accessible from the living room, offering extra room for entertaining. The seemingly endless opportunities to expand or constrain the space are one of the home's most surprising features, note the designers. "The possibility of expanding the social area by integrating the balcony, living room, dining area, and kitchen [is surprising,]" they say. "The project aimed to create a sense of spaciousness and connection with the outdoors, enhanced by the glass planes that surround these areas."
Complete with a wine cellar and home theater, the space features plenty of configurations for work and play. Each children's room takes on its own vibe, with a more muted palette for the older child and a cheery color-filled oasis for the younger one. In the main bedroom, a large closet illuminated with glass doors reveals its wood-lined interior while an upholstered bed in an earthy sand tone creates a serene atmosphere. Identical bathrooms tiled in Imperial brown marble offer ample space for the couple off the main suite. "The curation stems from the desire to bring natural colors, textures, and forms to the project," share the designers. "In a neighborhood with unobstructed views, where the horizon reveals the urban and the natural, the connection was necessary and welcomed." Indoor-outdoor living at its finest.
Explore the São Paulo Apartment Designed by ARCHITECTS OFFICE