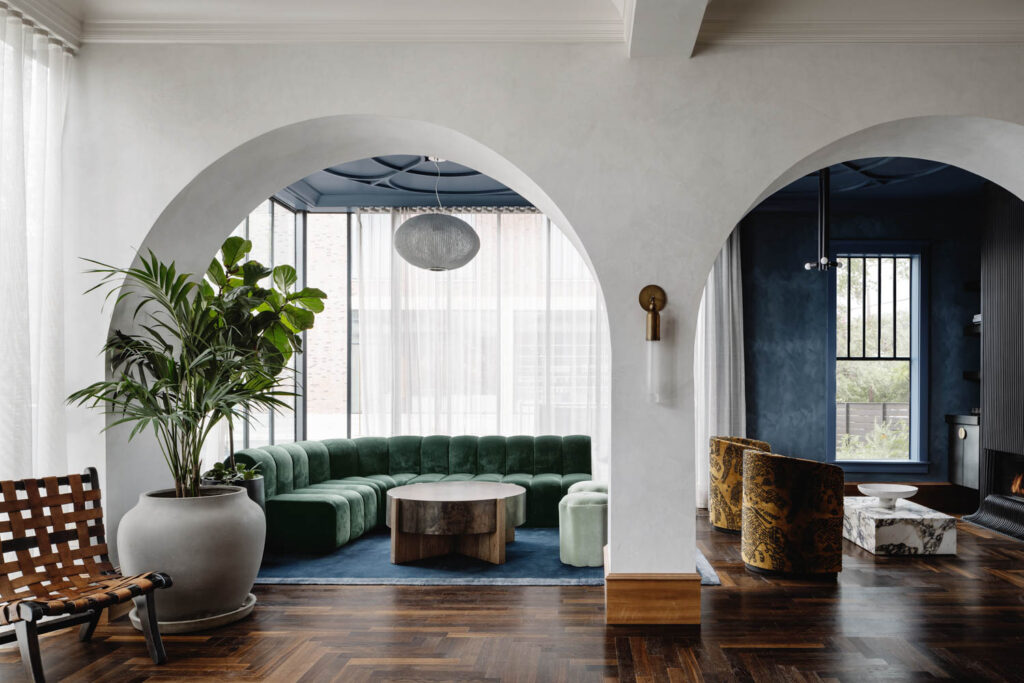 Michael Hsu Transforms a Historic Building into a Chic Office
San Francisco-based venture capital firm 8VC has found its second home in Austin, Texas, partnering with Michael Hsu Office of Architecture to transform a 100-year-old bungalow. The building has gone through a series of changes throughout the years yet it's always been a gathering space. In the early 1900s, it was a brothel, as well as the first building south of the river to have power, while in the '80s it was used as offices, and later an Airbnb property, Camp Congress, whose airstreams are still available to rent. But when 8VC Partner Jake Medwell toured the property, a rare unoccupied structure on the bustling South Congress Avenue, he envisioned a design that incorporated a luxe, homey feel that both enhanced its heritage and looked to the future. 8VC brings vision to traditionally unsexy industries, so it's only fair its offices are just as sleek and out-of-the-box.
Bringing to Life a Hospitality-Inspired Office Design 
When approaching from the front, the headquarters, since painted in a moody black, is unassuming. Is it a private residence, a shop, a boutique hotel, the hottest new restaurant? "It's a success when people come by and ask what time we open for drinks," Medwell says. "I can't count the number of times people have come up and asked for reservations."
Inside the concealed side gate, the freshly conceived outdoor area, once overgrown with "trees growing out of the asphalt," is functional for outdoor hosting, offers Michael Hsu. In addition to reimagining the outdoor courtyard, they preserved an existing heritage oak canopy, which now provides shade on sunny afternoons, "an oasis within the busy district," Medwell remarks. "When we came to visit Austin we stayed at Hotel Saint Cecilia and wanted our outdoor space to have the same constant flow like a mini campus," he adds.
While the turn-of-the-century three-story space is unrecognizable from its from its past disorganized, dingy facade, it now has a glazed exterior corner, a feature that emulates the screened porch that once graced the building, floor-to-ceiling windows giving a greenhouse effect, and a new entryway with wraparound plaza connecting the office to the secluded clubhouse boardroom.
Inside, the design evokes "historic charm that's meant to feel familiar with up-to-date furnishings," says Hsu, firm principal and founder. The palette is warm and rich, "not cold or slick" with bold color and materiality. The layout takes cue from the existing chimneys to create moments surrounding the building's multiple fireplaces. There are herringbone walnut floors, a leather-wrapped reception desk by David Ambrose, a chandelier from local artist Karen Hawkins, and custom powder-coated aluminum fireplace from auto body manufacturer Metal Union. "The correlation between hospitality and workspaces accelerated amid Covid," Hsu adds. "People want to feel better in their workspaces and go to an office that reminds them of home."
Inside the 8VC Headquarters in Austin Designed by Michael Hsu