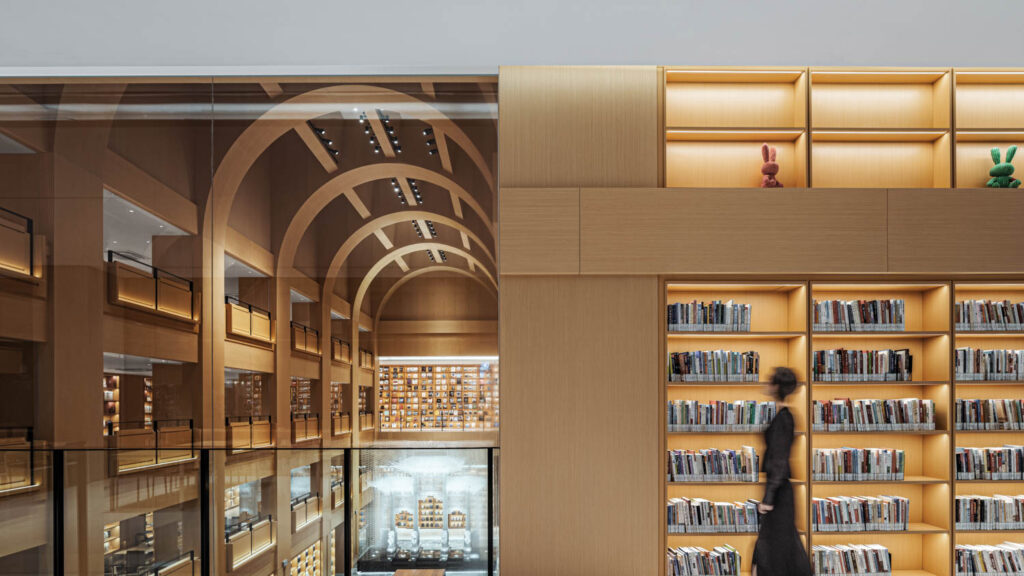 Wutopia Lab Turns to Neo-Gothic Influences for a Shanghai Library
Libraries are traditionally places for focused study, quiet contemplation, and solitary brainwork. But in downtown Shanghai, a new public library takes its role as community resource very seriously, putting people squarely at its center—with a pagoda thrown in for good measure. The Zikawei Library is located in the Xujiahui district—Zikawei in the local Shanghainese dialect—facing the city's largest Roman Catholic church, the 113-year-old St. Ignatius Cathedral, across a leafy square that's a popular spot for neighborhood families and retirees on weekends and warm summer evenings.
The idea of the local populace enjoying free access to a life-enhancing civic amenity was front of mind for Wutopia Lab, the studio charged with designing the three-story library's 200,750-square-foot interior. "A welcoming library reactivates the community and renews the city," firm founder and chief architect Yu Ting says, adding that within two months of the library's opening early this year, it had seen more than 180,000 visitors. And while Yu acknowledges that many of those people, hooked by stunning images of the facility that went viral on Chinese social media, were there to take selfies rather than peruse texts, he insists that there is more than enough space for both kinds of patrons: "Instead of a closed and inward-looking cultural place, the Zikawei Library should be more inviting, not only attracting people who read but also those who don't."
The Zikawei Library Serves as a Community Hub in Shanghai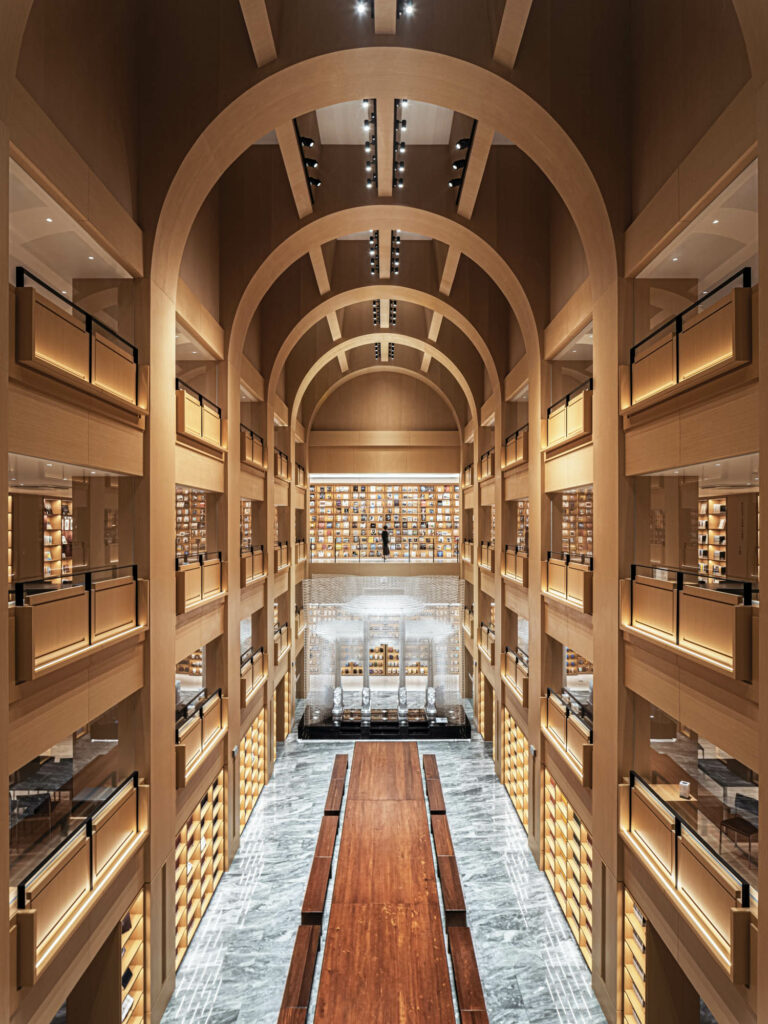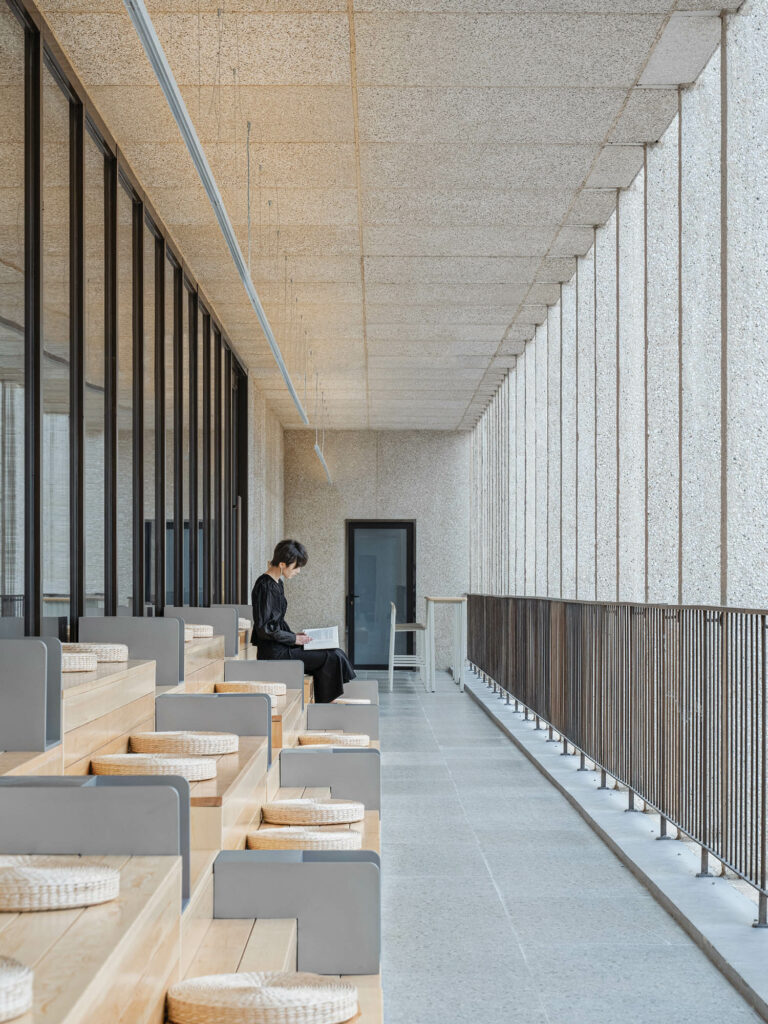 The building itself has a somewhat checkered history. In 2013, as part of an urban improvement plan for the historic district, David Chipperfield Architects was hired to design a new commercial structure containing a large bookstore and associated cultural center. The exterior and some interior elements had been completed when financing fell through and the development was abandoned. Enter the regional culture and tourism administration, which took over the project two years ago and asked Wutopia Lab to transform it into a branch of the public library system.
Wutopia Lab Designs a New Spatial Narrative for the Zikawei Library
Trapezoid in plan, DCA's building featured a massive three-story atrium running down its center, a classic architectural form that Yu didn't want to discard completely but didn't want to settle for either. So he developed a fresh spatial narrative, one that conceives of the interior volumes as a set of traditional Chinese nesting boxes—wooden chests of decreasing size that fit inside one another—based on Han Dynasty bridal trousseaux in which the most precious items were stored in the center containers.
Yu and his team treated the building's existing shell as the outermost chest. They lined its perimeter with a variety of spaces—different types of reading and study areas, a café, conference and seminar rooms, administrative offices, a lecture hall—that form a second layer of boxes. On each floor, donut-shape circulation aisles comprise a third layer, which encircles the fourth-layer atrium and, nestled at its center, the fifth and innermost zone containing the library's greatest treasure—the access it provides to the world's wisdom through the written word—symbolized by an altarlike pagoda standing at the head of a monumental 52-foot-long refectory-style reading table flanked by monastic benches.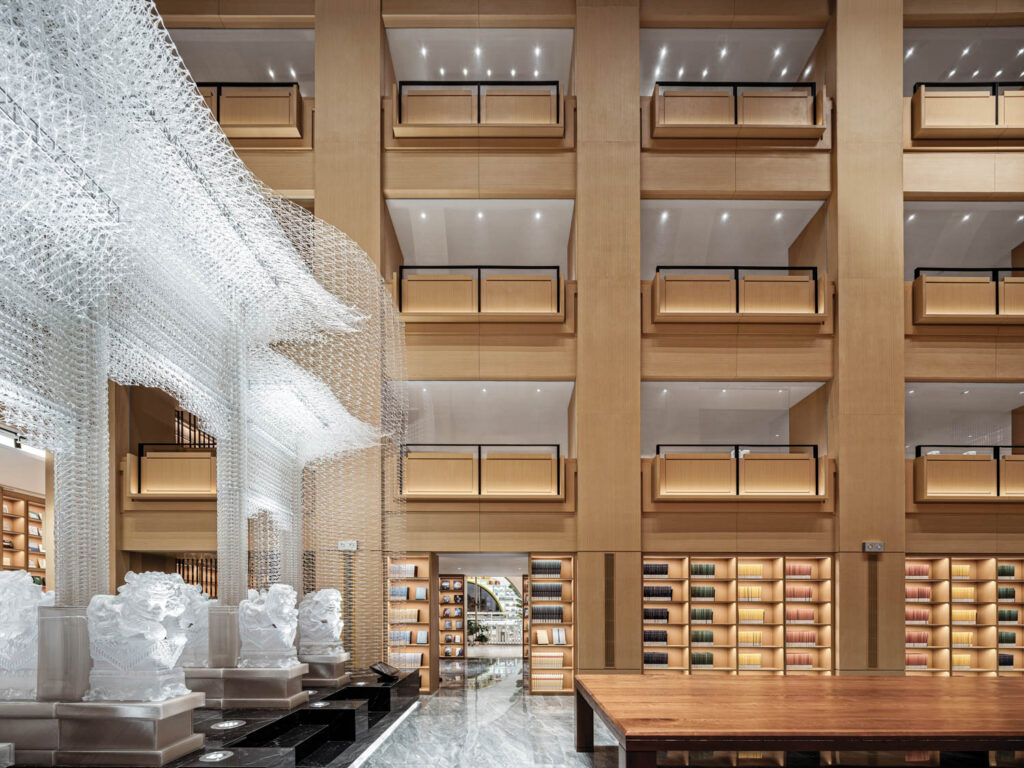 The Atrium Designs Signals the Library's Role as a 'Temple of Knowledge' 
If this soaring inner sanctum feels ecclesiastical—a secular, modernized rendition of a Romanesque cathedral's barrel-vault nave—that's purely intentional. "The atrium ceiling is designed as an arch to complete the symbolic interpretation of the library as a temple of knowledge for people today," Yu discloses. Wutopia Lab is known for creating spaces that merge architectural concepts and elements, ancient and modern as well as Eastern and Western. Based on antithesis, contrast, and surprise, this approach combines fact and fantasy, logic and emotion, and art and technology to produce immersive environments in a style that Yu dubs "magical realism." Thus the reshaped atrium not only nods to neigh­boring St. Ignatius's basilica form, itself derived from Roman antiquity, but also incorporates an equally venerable Chinese building typology, the pagoda, albeit with a cyber-age twist: Comprising a 3-D printed latticework of translucent plastic, the shrinelike structure has the diaphanous appearance of a wireframe rendering on a CAD screen.
Despite its imposing proportions, the atrium is a friendly space, thanks in part to the stacked mezzanine galleries that line its long sidewalls, accommodating cozy study carrells and intimate display and exhibition areas. The walls, beams, columns, ceiling arches, and most other surfaces are clad in blond wood–veneered paneling, further warming the vast hall. This contrasts with the cooler materials—white plaster ceilings, terrazzo and concrete flooring, aluminum and stainless-steel details—that predominate in the café and the reading and other surrounding areas, most of which enjoy the animating effect of natural light flooding through the glazed external walls.
Among the library's most beguiling spaces is a wide second-floor balcony that sits between those glass walls and DCA's original facade, an elegant screen of finlike columns that overlooks the cathedral square. The client had envisioned increasing the balcony's width so it would protrude through the colonnade, creating a cantilevered terrace from which to enjoy the view. Wutopia Lab proposed an alternative that wouldn't break up the rhythm of the regularly spaced columns: a minute Juliet balcony, just large enough to fit one person, that peeks out like a crow's nest or miniature pulpit. "This tiny step provides a vast view into the city, as if you are in the air," says Yu, who admits it's his favorite element in the project. "It's just like the tiny step we can take to change our whole perspective on life." And isn't that what a library is all about?
Step Inside the Zikawei Library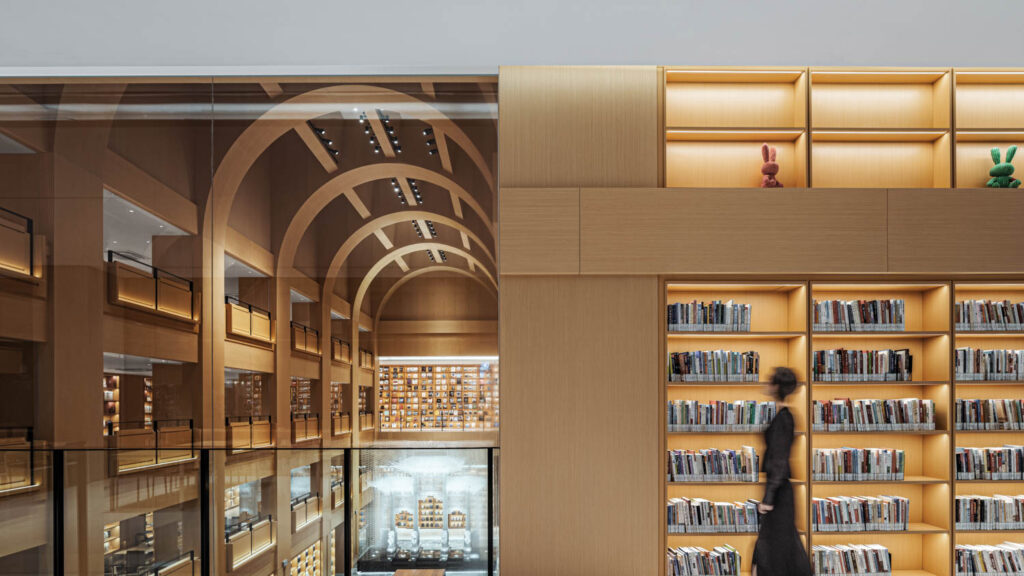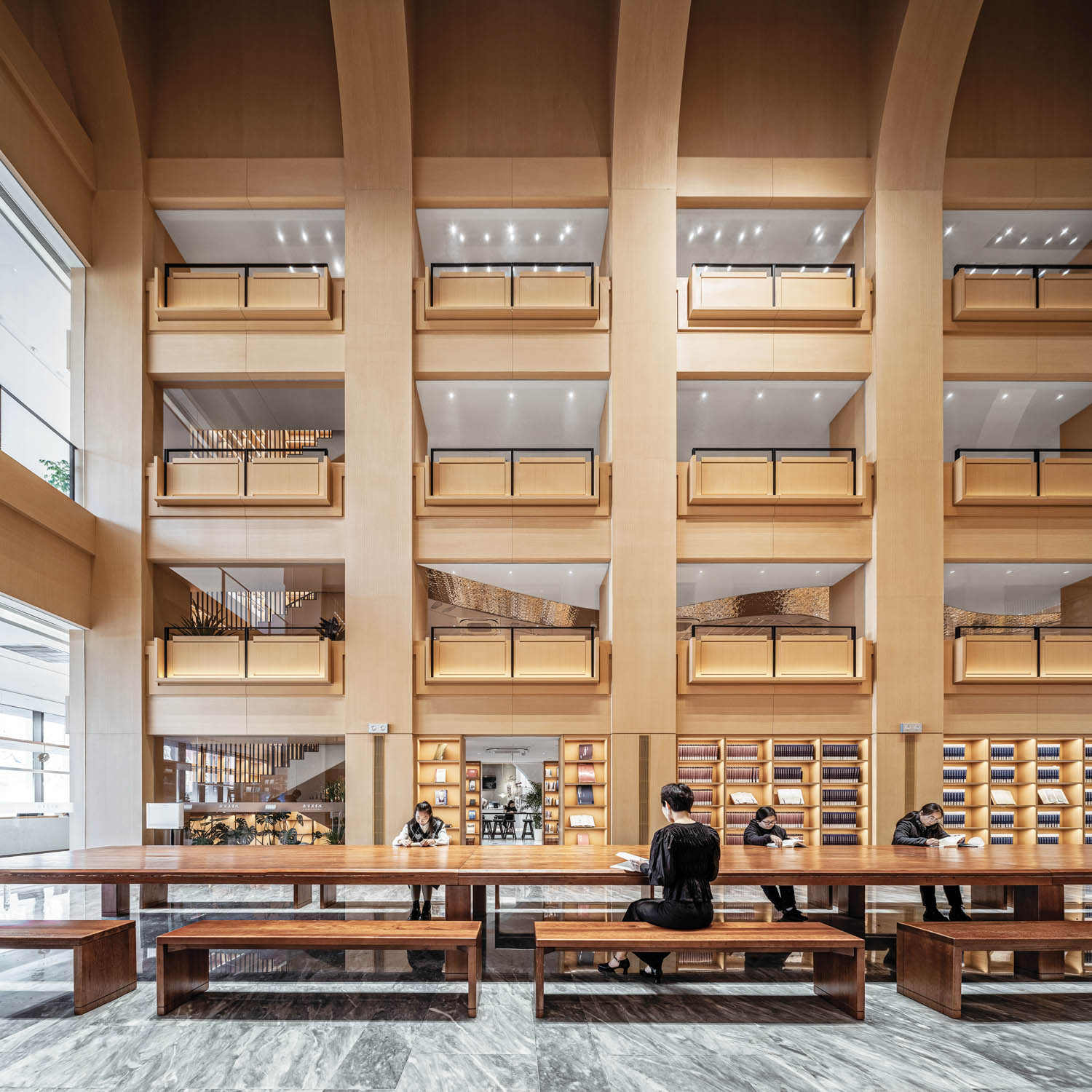 project team
wutopia lab: pu shengrui; li mingshuai; kang qinghe; jiang xueqin; an an; chen jun; chen shaofen; wang jing; jin rui; pan hui; wang liyang; pan dali; yu jing.
s5 design co.: design consultant.
gradient lighting design: lighting consultant.
meem design: custom graphics.
shanghai art-designing co.: exhibition-design consultant.
fab-union technology: installation-design consultant.
arcplus architectural decoration & landscape design research institute co.: general contractor.
project sources throughout
keding: wood veneer