10 Highlights from 'Fictions,' a Virtual Showcase of Design in Montreal
In 2018, a group of Montreal-based designers came to Milan design week and talked to curator Nicolas Bellavance-Lecompte about an Italian show of Canadian work. They planned a Milanese exhibit in April 2020. The world, of course, had different plans: the very idea, in the midst of the COVID-19 pandemic, of wandering around even one's own city looking at design and exchanging ideas became impossible.
That impossibility created an opportunity for Montreal native Bellavance-Lecompte, who joined forces with Laurence Gélinas, executive director of the Canadian Creators Collective, to stage "Fictions," an immersive virtual showcase of eight designers who live and work in Montreal. But this is far from just another web-browser viewing gallery: guests can toggle between four camera angles of what appears to be a live-feed of the space and its furnishings, complete with local Montreal time. A minimalist, sci-fi-inflected score by Philippe Brault completes the mood.
"Montreal has a very special history from a cultural perspective, but also in terms of urban development and architecture," says Bellavance-Lecompte. "It has a post-industrial, nostalgic vibe, a reminiscence of French grandeur, and diversity and political clashes." The team set out to capture all this by setting up shop a space in what Gélinas says "where no-one was allowed to enter, completely filled with rubbish. An anonymous space, somewhere undisclosed." Director Pierre-Alexandre Guay and director of photography Alex Lesage navigated curfews and social distancing to install the designers' work, then filmed the space for two weeks, taking in the ways the changing natural light interacted with the objects. "This idea of proximity that is explored during the event is absolutely fabulous," notes Gélinas, "when contrasted with the current social distancing measures." And when those restrictions recede, viewers bring the objects home via Adorno. Here, Interior Design selects 10 show highlights.
David Umemoto, Objet n2
The form might seem topsy-turvey, but Umemoto's work relies on solid technical foundations. Each is hand-caste of raw concrete in a monotone gray adorned only by the light and shadows allowed by its form.
SSSVLL, Primitive Chair
A highlight of the "Industrial Fragment" collection, this chair takes its form from gears and machinery and its material palette from hand-machined, rotational molded polyethylene.
David Umemoto, Objet n5
Escher meets Breuer in the work of David Umemoto, whose concrete objects contemplate volume in seemingly-impossible arrangements. Arches tuck into each other, the bases forming and interrupting platforms, while upper levels achieve a paradoxical solidity.
Claste Collection, Lest We Be Kings
Founder and creative director Quinlan Osborne worked as an architect for 15 years before turning his focus to furniture. His background is evident in the formal rigor of these chairs, boasting seats of Temptation marble suspended within structures of bronzed glass.
Atelier Zébulon Perron, Spineless Chair
Founded in 2008, the design firm has conceived interiors for the Four Seasons Hotel Montreal and chic boîtes around town. Here, they offer something more conceptual: a walnut-and-brass chair cut loose of its center that manages to still hold itself together with grace.
Pascale Girardin, Totem
The famed atelier has shown work from Paris to Pudong. For "Fictions," Girardin and team created columns that retain their monumental scale at more diminutive sizes of black ceramic.
Yannick Pouliot, Nouvelles Singularités
The multidisciplinary maker challenges the corridors of power with this row of Regency-style chairs. Spans of Belgian silk enthrone the space between the chairs, ensuring nobody gets a seat at the table.
Loïc Bard, Cabinet Bone 01 & 02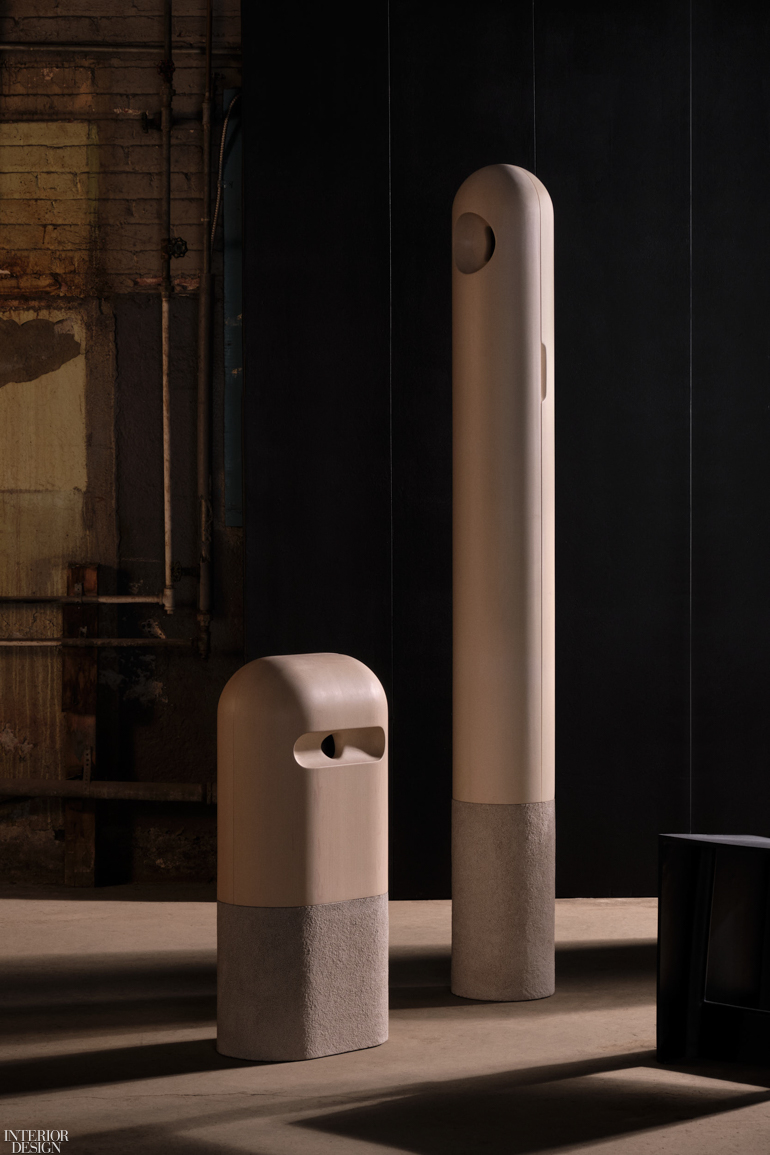 The Montreal-based woodworker focuses on elemental forms for these curious cabinets. Their limestone bases support smooth expanses of white maple, with just enough storage to secret away a few favorite things.
SSSVLL, Industrial Fragment
Guillaume Sasseville's studio is known for an industrial severity lightened with a wry wit, as demonstrated by a collection that fashions hard-as-nails chairs, lamps, and side tables from recycled industrial waste polyethylene.
Lambert & Fils, Paravent
The design studio enters its second decade with a large-scale lighting installation of aluminum and fiberglass. Its sleek grid reinterprets modern grids of skyscrapers, circuit boards, and even humble graph paper.