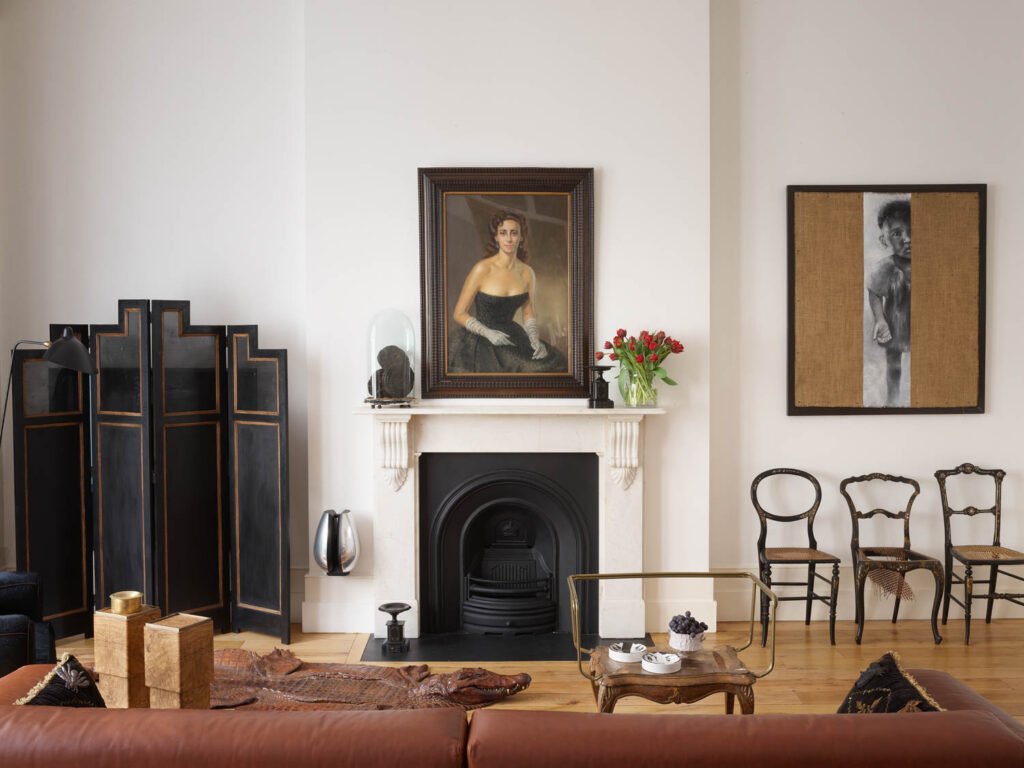 10 Questions With… Enis Karavil
Istanbul-based designer Enis Karavil likes to do things in his own way, which is how his design firm, and its multifunctional locale, came to be. SANAYI313, which opened in 2015, entices visitors inside with an array of offerings that extend well beyond design advice. On a given day, the venue in the Atatürk Oto Sanayi district—Karavil's hometown—is filled with guests dining at the on-site restaurant, SANAYI313 Kitchen, flipping the pages of the firm's magazine PAPER, or shopping for objects at its store.
While the 35-year-old designer is fully engulfed in his venue's day-to-day operations, his eye for aesthetics stretches the globe to cities like Miami, New York, and London where he has worked on residential projects.
After releasing the V Collection with Galerie Philia on 1stdibs earlier this year, SANAYI313 recently opened a physical exhibition, titled "Oblong," at Soho's design gallery LOVE HOUSE. True to Karavil's philosophy of synthesizing the vintage with the sleek, his suite of furniture pieces and objects challenge the notion of temporality and familiarity, while disrupting the supposed contrasts between masculinity and femininity.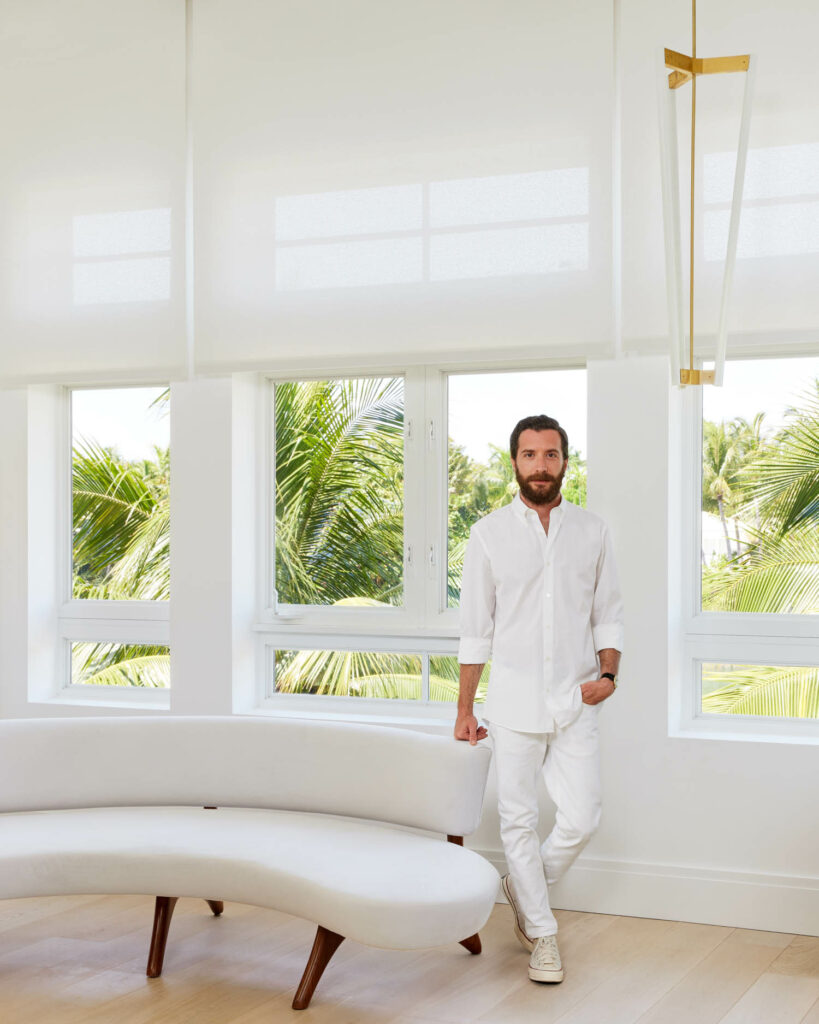 Interior Design: Let's start with your transition to design from a business background. Can you share more about that?
Enis Karavil: We had a family business going on, so I thought maybe it would be better if I studied business and then focus on interior design. After Bentley [University in Massachusetts], I went to Inchbald School of Design in London for two years. Then, I started to work for Victoria Albert Museum during the London Design Festival, followed by the studio of Hubert Zandberg, who is a London-based South African interior designer. When I decided to move back to Turkey, I had difficulties explaining myself… Pictures don't do the justice to what I wanted to create in a space.
I started Sanayi313 in 2015 with my brother and sister-in-law in an industrial zone in in the middle of Istanbul. I liked the loft feeling of the architecture. We added a kitchen component, so people can come and experience our understanding for design. They can smell the candles we like or check out the objects we are excited about. It is a complete experience with usable design, art, and food.
ID: How does SANAYI313 inspire and influence your practice as a multipurpose venue that offers a variety of experiences about a being in a space?
EK: I get bored quickly so if I had to run a normal office without people coming in and out, it could get repetitious for me. I don't like doing the same thing every day, and having different visitors keeps me active. With this creative hub, we can reach different crowds. Our interior design clients have a different crowd than the restaurant crowd, and the store crowd is totally different. With a variety of disciplines, we can reach different groups of people.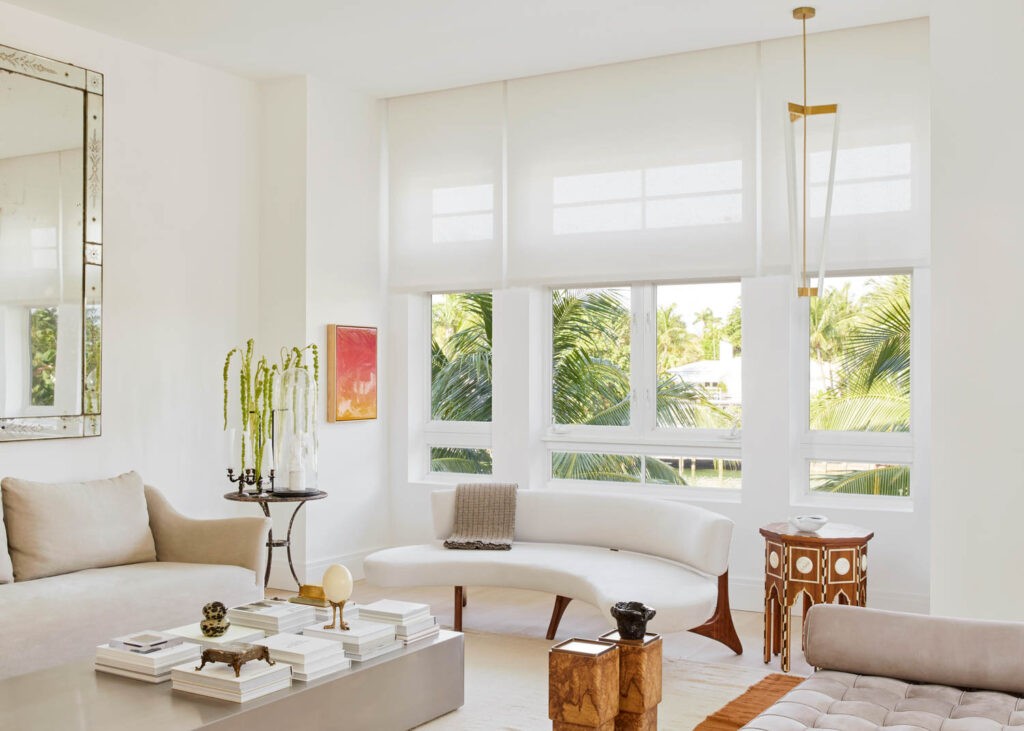 ID: There's always a narrative in your interiors. The Notting Hill apartment, for example, seems to tell the story of a character who might have formerly lived there. Could you talk about this idea of building narratives through objects and furniture?
EK: I make sure the items I add are as timeless as the house itself. For Notting Hill, I imagined the apartment as a weekend home in the city, and I chose natural materials with characters that contrast with each other. The textures of the materials and their lack of dominant colors were the points I considered. There's reclaimed wood from an old tobacco factory, for example. I wanted everything to be in harmony and easy on the eye. I kept the furniture simple and play with the details, so that I could update the house whenever I wanted.
ID: Vintage objects occupy a large portion of your design aesthetic. Do you collect with a specific interior in mind? What kind of research do you conduct before placing it within a space?
EK: I have a few different collections, the largest being for teapots at my Notting Hill apartment. I started with a few and grew it into a collection as I did more research about them. The interest started out by understanding how teapots differ from one another based on various factors. I sometimes trade them as well. I never start with a collection phase but I rather find myself acquiring the same things continuously, then I start reading about them.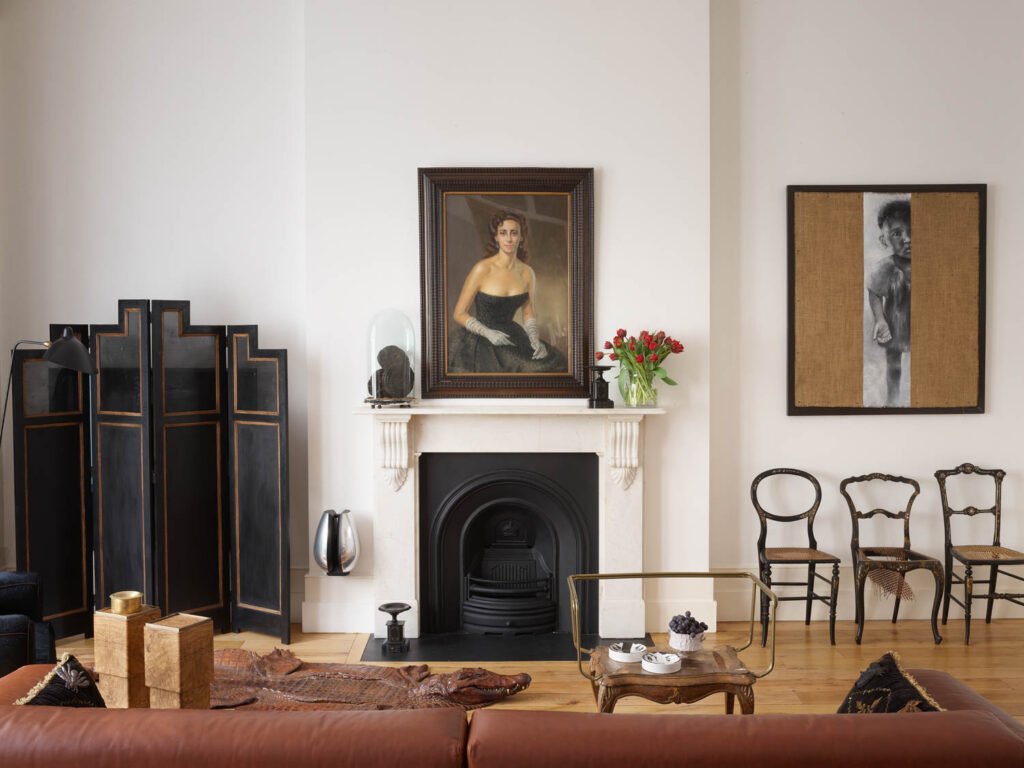 ID: Your design philosophy is about combining maximalism with minimalism in your own way, and vintage objects offer one way of doing so. Maximalism seems to be having a moment after COVID while minimalism is somewhat associated with timelessness. How do you filter these two approaches through your own vision?
EK: I like to exaggerate while keeping some parts simple and plain. The Notting Hill apartment, for example, has a wall full of portraits while the rest of the walls are completely empty. I like to create a contrast between minimum ornamentation and exaggerated corners.
ID: At the Istinye House, the spiral staircase offers a dramatic center, it's almost theatrical. How do you create the movement and flow in an interior? Do you orchestrate the residents' movements in your head and how they engage with the space?
EK: I try to create a balance between functionality and design, as well as between the feminine and the masculine, or white and black. I also think of softness and metals. I start with a completely clean background and build on it based on the materials, colors, and forms. The staircase has a feminine rounded shape but is surrounded by corners with somewhat masculine materials such as wood. I pay attention to creating interiors that are rich in terms of materials. The Istinye House is heavily cement but we added accessories and chose pink for the flooring. The wooden coffee tables or the metal fireplace each has their own character in terms of their materials.
ID: The V collection uses a specific tree that grows in Bosphorus. What kind of inspiration do you find in Istanbul, with its culture, architecture, and textures?
EK: I am inspired by Istanbul in so many different ways. Each day I can have a different routine and come across different stories and people. Istanbul had so many cultures leave their mark and it is still on a constant transformation, changing everyday which is very exciting for a designer.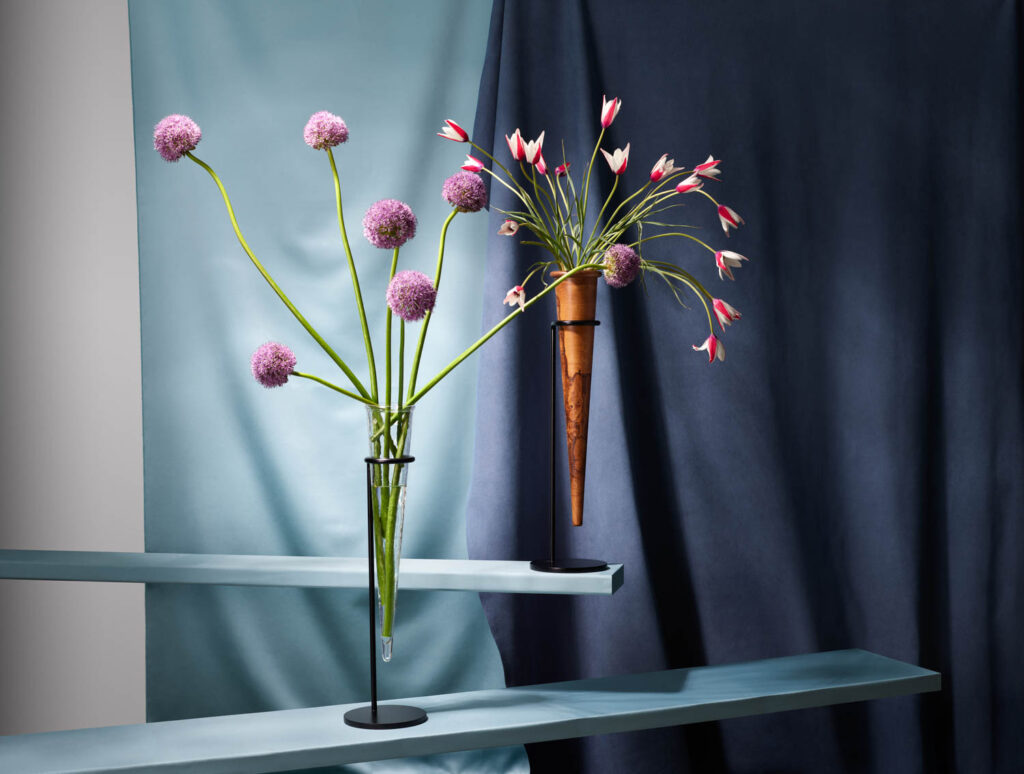 ID: Could you talk about the collection you're releasing with Love House?
EK: We are presenting dining tables, consoles, coffee tables, side tables, boxes, and tools made with burned ash and mazel, which is a type of wood we used in previous collections. We are playing with those two materials in rounded and bulky forms.
ID: Art is an important part of your interiors. As an art collector yourself, how do you work with your clients about the art you envision for their spaces? Does art come in after the interior is completed?
EK: Clients come to us because we use art as a design tool, and art—especially if the client already has an existing collection—is integrated into our design process. For myself, I prefer to collect mostly black and white [pieces], which may be disturbing for other eyes. I prefer to curate the art based on the clients' tastes. For example, furniture from the '70s can mix well with art that has elements of technology. We like to combine furniture from different eras with contemporary art. I try to write a story for each client depending on their lifestyle and routines. When the pieces come together, they start to tell the story of the owners.
ID: You have projects around the world, from Miami to London and Istanbul. Do you design with each city's characteristics in mind?
EK: The city affects the experience of being inside a space. The Miami House is much brighter than those in New York or London. In those cities, I have used bronze, dark colors, and materials like dark leathers.