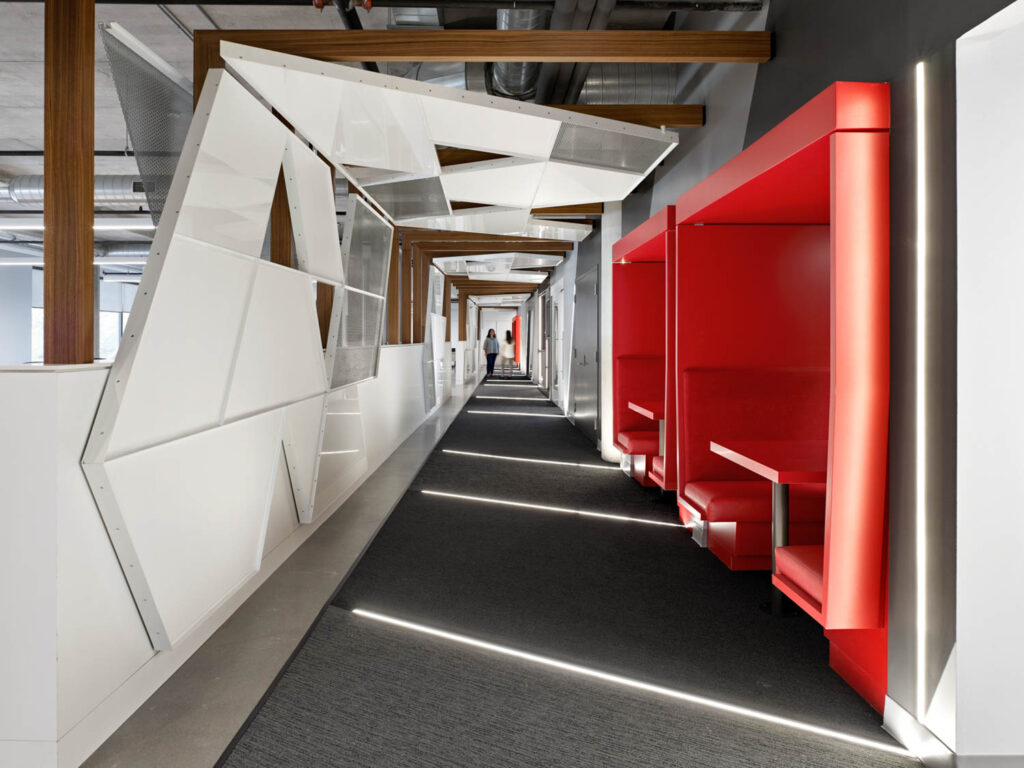 10 Questions With… Heidi Painchaud
On a quiet afternoon in January, the second floor of a Midtown Toronto studio is buzzing with activity just a few days into the new year. While some concentrate on their flat screens, others in the pantry catch up on holiday accounts with impromptu discussions about projects. It is clear that iN STUDIO Creative walks the walk, operating by letting inspiration ebb and flow, similar to how the team collaborates on corporate design projects. It is no wonder that some of its clients include the biggest and most progressive household names.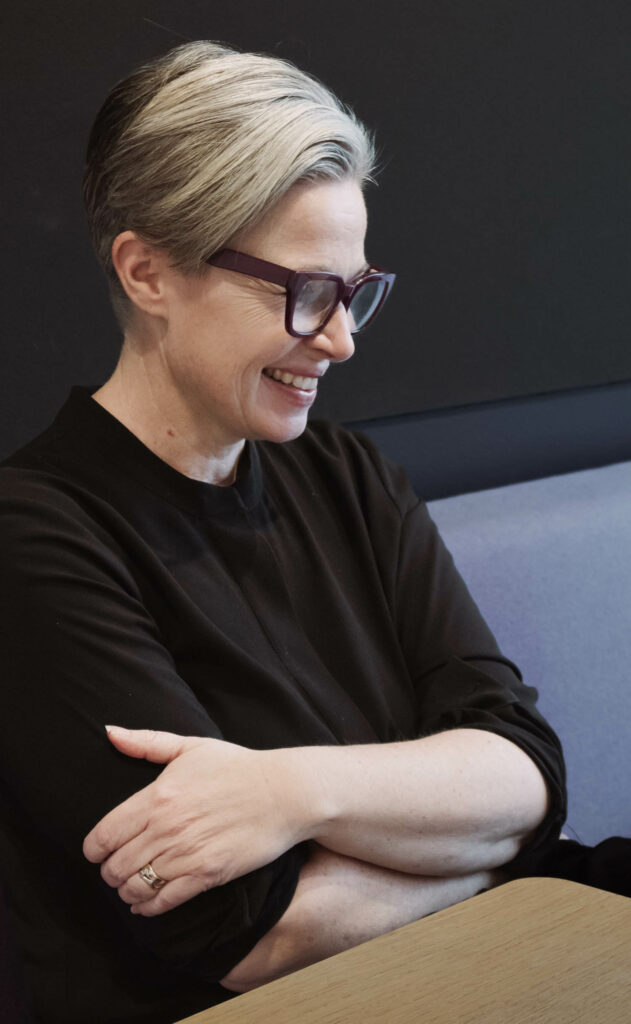 In 2022, partners Heidi Painchaud, Guy Painchaud, and Anthony Orasi broke out the champagne when the 35-strong Canadian firm ranked 49th on Interior Design's Rising Giants list. Not bad for a company established seven years ago with a handful of people and an internet connection.
Interior Design sits down with iN STUDIO co-founder Heidi Painchaud to dive into the nature of today's workplace post-pandemic. She shares thoughts on returning home after a decade in the U.S., opening a new studio in her hometown of Calgary, working with her husband Guy, and nurturing the next generation of creatives—including their teenager, Roene—through endeavors as diverse as contributions to a design textbook and an artist-in-residence program in Provence.
Heidi Painchaud Talks Workplace Design and More
Interior Design: What were the main reasons you studied interior design?
Heidi Painchaud: My mother is an interior designer—she trained later in life and graduated from Mount Royal University in Calgary four years before I graduated from The University of Manitoba. I got a ringside seat. For me, the most interesting part was building spaces on paper. And I saw that there were so many types of designers—so much potential in the industry.
I must give credit to UofM for the passion it instilled. I love that I learned about design under the umbrella of design for the built environment. When I graduated, I had an underlying respect for the craft of architecture and that we, as designers, are not in it alone.
ID: You got your start in the States. What were some of the biggest lessons learned there?
HP: I first worked in Minneapolis at The Wheeler Group before it joined Perkins&Will. Gary Wheeler was and is still my mentor. Then I moved out to NBBJ in Los Angeles. Perkins&Will was very diverse and excellent in executing designs, while NBBJ was a big global firm that provided great groundwork for the design process. I learned to listen first before I drew. I then worked for Wirt Design Group (WDG), a small L.A. firm that concentrated on corporate design. I found that I liked the structure of corporate design, and wanted it to be more adventurous. I saw the ramp to get us there.
For big firms to survive, they have to offer a lot of different design disciplines and services. In the States, the relationship between architecture and interior design is a much closer marriage than in Canada. In Toronto, we can sign drawings, for example. I also saw how important project managers were in the States, when that role was still in its infancy in Canada in the late '90s and early 2000s. Project managers have really evolved here—they are like snow plows that allow designers to do our best work.
ID: Why return to Canada and start from scratch?
HP: Although I loved living in L.A., Guy and I are Canadian and we knew it was time to come home by the mid-2000s. We opened Habitar, our first practice, and a major client wanted us to move our studio across the border. We relocated to Calgary in 2006 and landed in a boom. B+H Architects took notice and acquired our practice. We moved to Toronto in 2008 and started iN STUDIO in 2015.
To operate a creative studio, you have to be brave. We are always reinventing ourselves. While we know how to navigate the details of delivering something completely bespoke every time, the hardest part is staying inspired. I think that comes from knowing a client well enough so that inspiration flows naturally.
ID: Biggest challenges and rewards of working with your spouse?
HP: When we both first graduated from UofM, it was unacceptable for a married couple to be employed at the same firm. Guy also interviewed at Perkins&Will but he decided to take a job at Ellerbe Becket. Now, after nearly three decades together, we know how we complement each other. It is instinctive since we are partners. Guy is the fearless creative while I interpret client needs and make sure we meet at the finish line.
Though we try to avoid shop talk at home, sometimes our dinner table conversation revolves around plumbing fixtures. Our home is like a lab where we explore new materials and experiment on design details.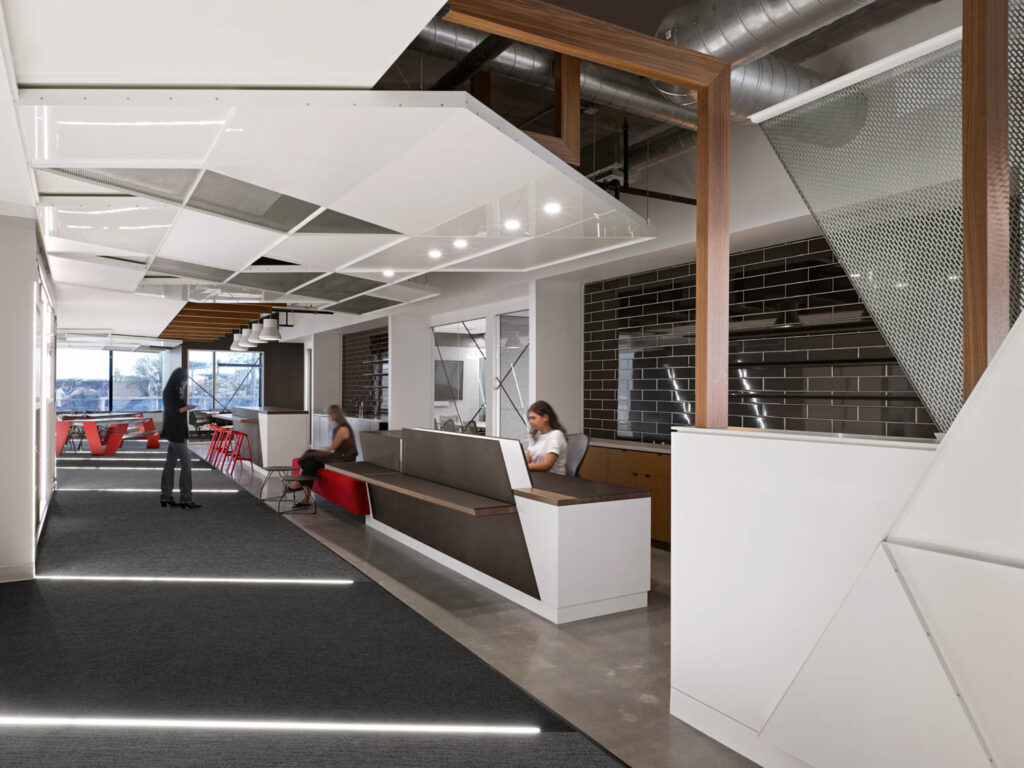 ID: How has workplace design evolved, particularly during and post pandemic?
HP: When COVID first hit, working from home made people develop habits that we are still feeling the effects of. The biggest change on this side of the pandemic is how lonely everyone is for human contact, and how it impacts collaborations. Water cooler conversations got lost. And a lot of unplanned learning also got lost without those accidental collisions. We are an action-reaction business; we need to read face and body language to understand people.
I see comfort coming back in a big way. There is less formality in the workplace. There is a lot of analysis on how to better utilize real estate, while balancing that with the on-going staff members' fear that if they lose their desk, they will lose their job. There are a lot of delicate conversations going on.
Resi-mercial—or residential/commercial hybrid spaces—are more interesting post-COVID. People realize that they don't need a meeting table to connect, or work at a formal desk or cubicle. One of our clients admitted that their most popular meeting space is a corner with living room furniture. Our job is to understand what our client's staff members are doing while they are in the office and how to best use that space. It does not necessarily mean pool tables. Instead, we are getting more requests for quiet spaces. We are incorporating more tech and more tech-enabled rooms.
ID: How did you end up contributing to Designing Your Business, a textbook for professional interior designers?
HP: Author Gordon Kendall approached me to co-author the second edition of his book. He was a terrific coach and gave me a lot of guidance. I worked with an outline of topics that I then shared on-the-ground experience stories to help flesh them out. Until I wrote about them, I didn't realize that 20 years of accumulated good stories made for a book. It was cathartic.
ID: Could you share more about your house in France and its artist-in-residence program?
HP: After 9/11, Guy and I put together a list of things that we wanted to do in this lifetime. The first thing was to restore a discarded property. We found a six-century-old villa in Provence when Roene was three. We sold everything we owned, bought the place, and it became our labor of love.
We now spend between six to eight weeks there every year, working remotely. Our internet connection in Provence is better than in Toronto! We just ask our clients to ignore the clinking of glasses filled with rosé.
One of our gallery friends in Canada suggested loaning the house to an artist. We love that we can give something back to the art community. Now we host three or four artists a year for a few weeks at a time. In exchange, we get a painting. My most prized possession is a 700-page guest book filled with stories from the artists who have lived in our house. Many have stayed in touch. And I now have a terrific art collection.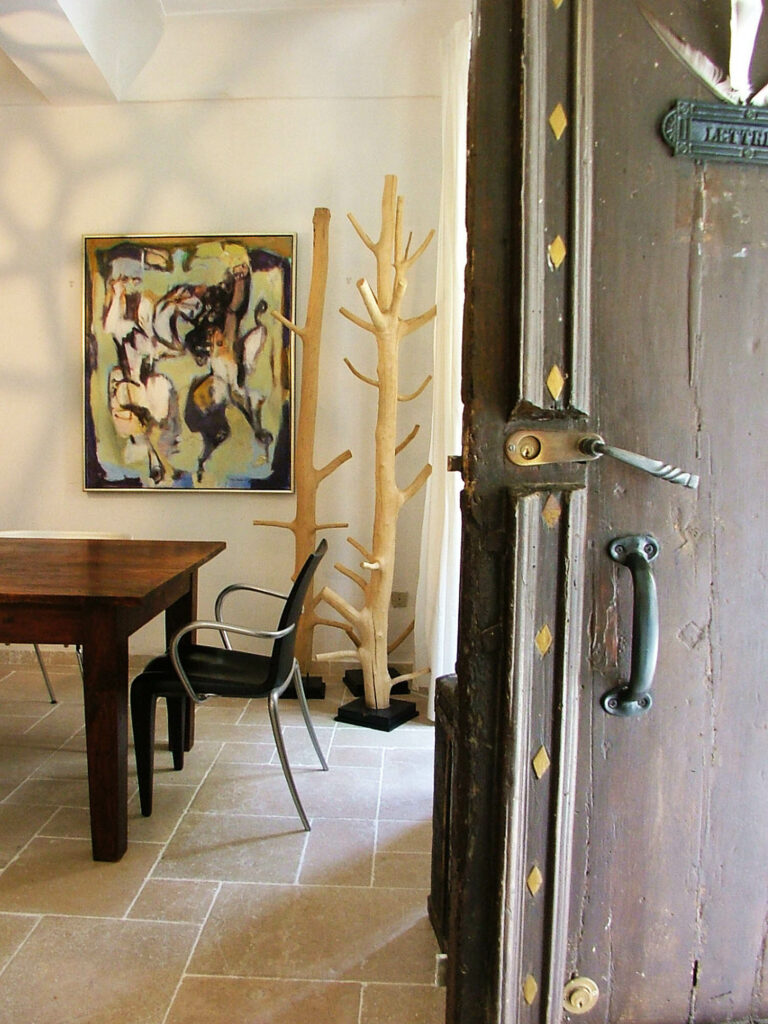 ID: Why do you think design matters more than ever?
HP: During the pandemic, people alone at home stopped solving problems and communicating the same way. Design helps to reignite basic human functions. It helps companies define what they stand for. Why staff members want to work for them. It allows clients to ask how they can supercharge staff members' understanding. If people work in a vanilla box, they may not want to go into the office every day.
ID: What is next for iN STUDIO?
HP: We opened our Calgary office in 2022 at the invitation of our clients. Calgary used to be a very traditional city but it is evolving rapidly. It is really inspirational to see such a huge appetite for change there. Our clients there include an energy company, a law firm and a real estate office. Guy and I fly back and forth between Calgary and Toronto, and we have a senior staff member based there. All our Calgary staff members are local hires, which we strongly support.
ID: And Roene will become your family's third generation of designers?
HP: Yes—they are 18 now and considering their university options in the States and Canada. I must admit: I asked if they really wanted to pursue a career in design after seeing what their parents go through. They are on a gap year right now and helping our marketing department. Having them here, I really think that the next generation will do a much better job at sustainability, inclusivity, and gender neutrality.