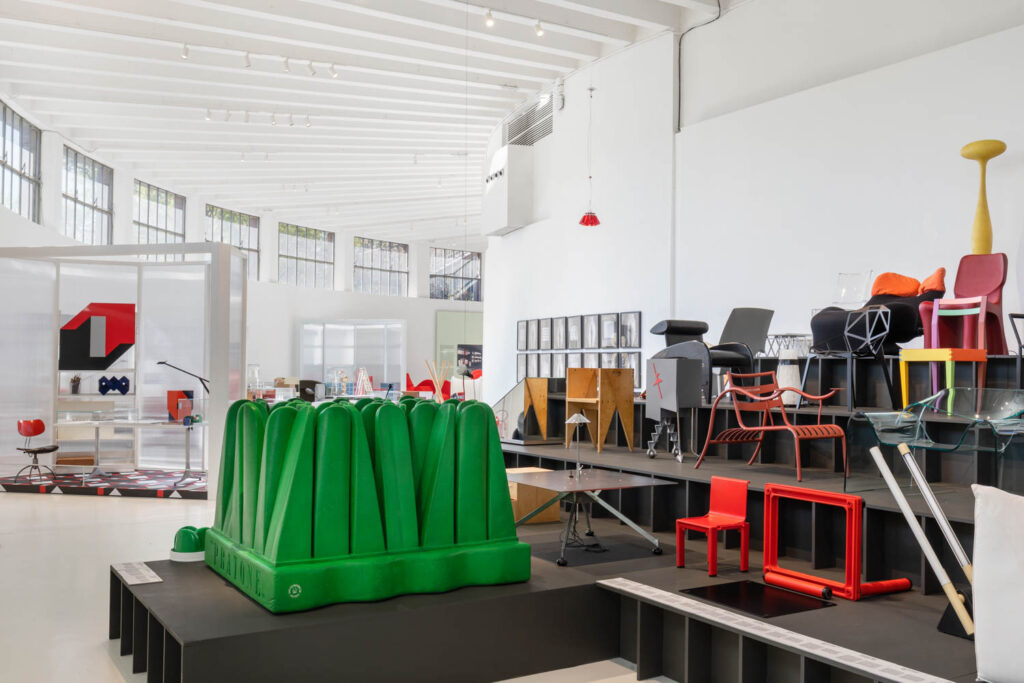 10 Questions With… Marco Sammicheli
For Triennale di Milano, entering its centennial has coincided with a few turning points. After announcing local design curator and critic Marco Sammicheli as the director of its Design Museum, the temple of Italian design recently launched its 100th year celebration with an archive exhibition that spans the institution's breadth with cherry-picked pieces from its 1,600-item permanent collection.
The centennial archive show, which opened during design week anchored by Salone del Mobile, spans a Coccoina glue jar from 1927, a stapler from the early 1930s, and a contemporary jumpsuit for professional bikers for Danese, to name a few. "Its protections for the back, knees, chest and shoulders involve the latest research coming from the automotive field and the textile industry," Sammicheli notes. The director's remark underlines the story and ambition of the repertoire. "We are showcasing our archives and telling stories through our objects so that people can have a better comprehension of what these actually mean," he adds, "this gives deeper insights on their origins and developments and go beyond the 'I like it/I don't like it' dichotomy, rather focusing on dynamic, participatory, and interactive approach."
Also on the horizon is the newly-added Design Platform, which hosts thematic shows on cutting-edge topics related to design. Later in the spring, the survey exhibition "Home Sweet Home" will trace domesticity's relationship with design throughout the century from social, technical, and civic lenses. Mural painting will be the subject of another ambitious group exhibition in October, curated by Damiano Gullì.
Sammicheli joined the storied institution after a close relationship with its programming as the Milan design editor of the London-based magazine Wallpaper*. Between his editorial post, teaching at Politecnico di Milano, and curating various shows across the globe, the institution has indeed always been a "reference" for him. "I've had the chance to prove the research I've made during my university years here and have seen great exhibitions and projects that sometimes also caused lively debates and heated discussions, but always in a constructive way," he said.
Marco Sammicheli Talks About the Evolution of Italian Design
Interior Design: What prompted the institution to open its archives on its anniversary?
Marco Sammicheli: One of our most ambitious projects this year involves our archives. This has, for sure, a celebratory intent, but it is also meant to provide people—and not just insiders—with an educational aspect. To give a better value to our archives, we will create a dedicated, permanent space in one of the originally most representative areas of the Palazzo dell'Arte to host numerous historical materials, covering the extraordinary perspective from the entrance to the spiral staircase, and bringing it back to its original appearance after more than 30 years. This new set-up represents a place for research open to everyone. It can be considered as a magnet to attract ideas, reflections, and curious people in general. We will also reactivate the research center of Triennale Milano, which was founded in 1935, and brought Triennale to be recognized as research institution in 1949. This links its activity to this new physical space which will open at the end of 2023.
Talking from Triennale's perspective, this project will ride the wave of our centenary but it actually rises from the deeper need to make culture more available to a different range of audiences in present tense. People and society are demanding it, and culture is completely involved in this process of changing. They are asking us to rediscover our past, they require having a more down-to-earth approach, and we are completely willing to embark on this journey.
ID: What connection do you see between the oldest and most contemporary pieces from the archive?
MS: There actually is a strong connection between these seemingly different objects, and it is the will of Italian design to respond to the evolution of people's behaviors. Whether it is in the office or on a motorcycle circuit, Italian design has always shown an innate feature of shaping itself on the consumer's life, combining technological advancement with the capacity to listen to people's desire, and the ability to include an artistic and aesthetic approach in the whole process.
ID: Given technological advancements over the years, how do you see the archive as a chronicler of these developments?
MS: Archives, by their establishment, work as gatherings, as galleries of topics that have already happened. They are extremely useful to avoid repetitions and to provide the present with the advantage of history, with a collection of shapes and methods along with a representation of the technological advancements over the years. Archives are made of connections, and ours here at Triennale makes no exception—from the engineer Giulio Natta's diary, where a note describes his discovery of polypropylene, to a Kartell chair made of a transparent and recyclable type of plastic, objects are continuously linked to one another. In this case, the link is commissioning (Kartell's founder Giulio Castelli was very close to Natta), manifesting the spirit of Milanese design, and relevancy of an archive today.
ID: Italian design is synonymous with many moments in style, from radical to sleek. How do you see the element of exploration across these 1,600 objects?
MS: It is important to stress the three elements crucial to Italian design: the importance given to technological advancement, the capacity to listen to people's desires, and the ability to include an artistic and aesthetic approach in the whole process. Italian design does not have an industry type of background, and, in its early stages, it was not taught at school. It comes instead from experimentation. In this open field, with almost no rules, some visionary entrepreneurs met up with some architecture students willing to reduce the scale of their projects, and with art students wanting to give up the unicity of a work of art in favor of mass production. This is the main key, the main lens through which one can really understand Italian design and our collection here at Triennale.
ID: You come from an editorial background. How do you see this part of your resumé engaging with Trienniale's mission and role?
MS: The design publishing industry has been fundamental for many years, gathering research projects and ideas that did not find their place in academies or in factories. Magazines had an extremely open approach, educating both readers and future commissions. For the future, I hope that the publishing industry can keep on with this approach, stimulating ideas and suggesting future developments, offering a new access point to design that's different, by definition, if compared to the one proposed by museums.
ID: Design has gained new meanings after covid and our altered relationship with interiors. How do you see this aspect being reflected in the exhibition?
MS: The willingness to focus on interiors comes definitely from the post-pandemic repercussions on our lives. Interiors regained a new value after that moment, by glimpsing at the different bookshelf backgrounds in our colleagues' houses during video calls. By looking at the layering of books, objects, and stories, we could understand other people's interests and taste in terms of decor. Today, when we buy a lamp or a chair, we know that these objects might become part of our daily working life, and this makes us consider them from a different perspective, where life and work are strongly linked. This has also taught museums that the "real," as opposed to the digital, is gaining a new momentum in the contemporary debate, and the new exhibition set-up for our Museo del Design Italiano perfectly reflects this aspect.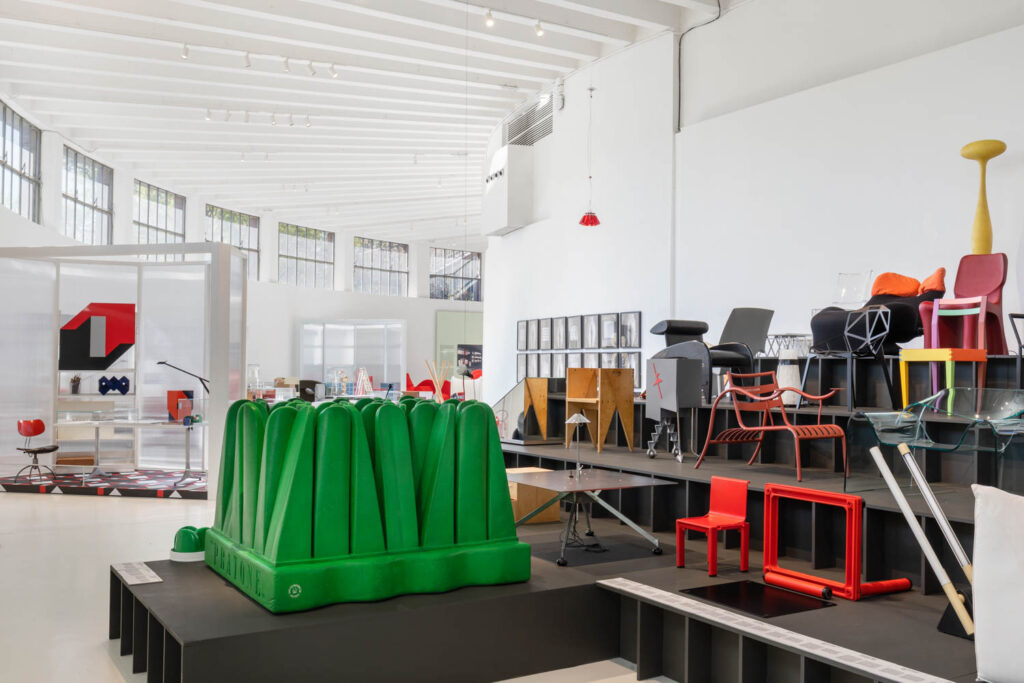 ID: Fittingly, another upcoming show "Home Sweet Home" looks into the idea of domesticity through design. How does this exhibition delve into our relationship with interiors?
MS: The exhibition, curated by Nina Bassoli, curator for Architecture, Urban Regeneration, Cities at Triennale, puts archives at the very center of its research, attributing different thematic units to new and upcoming design and architecture studies. It will show the changes in the home and the evolution of the idea of living through the works dedicated to this theme in a century of Triennale Milano exhibitions and International Exhibitions. The themes of past shows are reinterpreted from a contemporary perspective, overturning the conflict between home and work, male and female, production and reproduction, public and private space. The historical narrative is interwoven with some wholly site-specific environments which are actual exhibitions within the exhibition, created by contemporary designers.
ID: Triennale was born out of the Decorative Arts Biennale 100 years ago. How do you see the role and impact of such ambitious biennials and other global affairs have changed over the decades?
MS: Triennale has been the first institution to understand that these global moments could become occasions to reflect on different disciplines on an international level. As many global appointments like biennials are increasingly becoming territorial marketing moments today, Triennale, thanks to its 100-year experience, can still spark new creativity in the process. For example, on the occasion of its International Exhibition, the institution fosters every three years the presence of international pavilions. They are meant as ways to discuss on different topics of the contemporary debate from different geographical and political perspectives, and we noticed the strong impact these different voices have; to mention just one example from last year's 23rd International Exhibition, the Planeta Ukraine project aimed at promoting contemporary Ukrainian culture with a rich program of talks and exhibitions.
ID: Could you talk about Design Platform and what type of projects you're planning to engage through this initiative?
MS: A new feature of the renewed Museo del Design Italiano will be the Design Platform: a space at the end of the Curva for temporary exhibitions with a focus on the very latest in design. The first exhibition will be Text (April 15 – September 17, 2023) which will look at the approach commonly adopted by stylists and designers when creating texts, interfaces, and fabrics. This will be followed from October 2023 to January 2024 by an exhibition devoted to Alberto Meda. The main goal of this project is to intend the contemporary as a part of a general discourse, and not as something separate, combining thematic or monographic exhibitions with the history of our institution.
ID: Triennale is an important part of Milan's design community. What are your thoughts on Milan's current design scene and what are your plans in terms of connecting with the community through programming?
MS: I would assign a very specific role to an area of Triennale's building: its garden. Inside, one can find many sculptures, many traces of past International Exhibitions, and it represents a link with the city itself. The garden welcomes public program events, but also a bar where people can stop by and have drink together, maybe during a concert. This makes Triennale as a place of encounter, open to everyone. Of course, our programming emphasizes our role within the design community as well. It stresses the importance of our past, as it should, and use the International Exhibition as a three-year appointment on the present. Even when we talk about established architecture or design names, however, we put a different twist that helps rediscovering new narratives.
Archival Pieces from Triennale di Milano's Design Museum