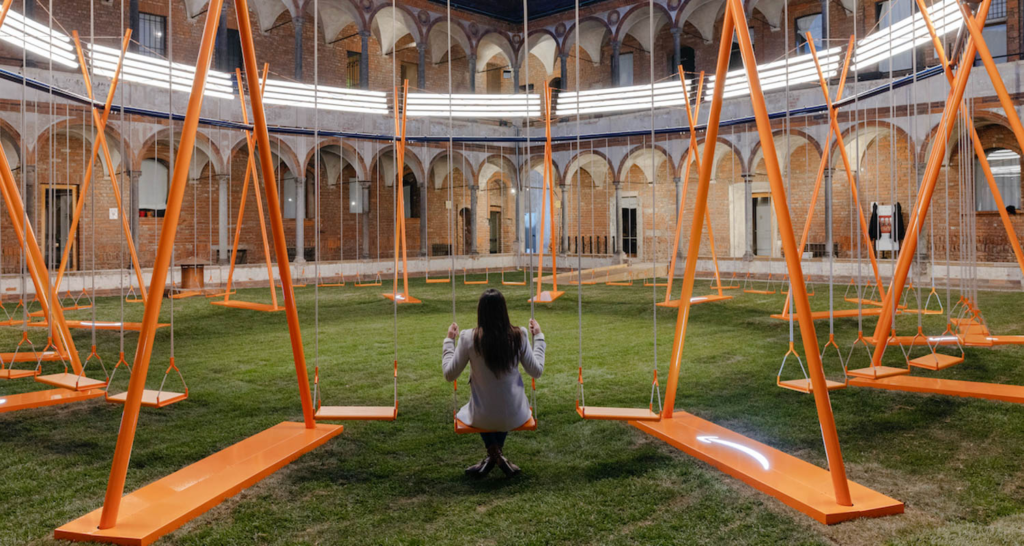 10 Show-Stopping Installations at Milan Design Week 2023
"What have you seen that's really, really fabulous?" Each year, Interior Design is asked this question during Milan Design Week, when countless design events coincide with Salone del Mobile. The answer changes by the day but often involves an installation—a temporary immersive experience that captures the senses and sends us into another realm of feeling: perhaps joy, perhaps excitement, or perhaps curiosity.
At Alcova, the offsite exhibition, an Italian cocktail emerged from a steampunk sculpture—and that wasn't the only installation that grabbed us. In the Porta Romana district, a restored swimming complex with two large pools dominated Instagram for the week. In the Fashion district, towering trees and a secret garden at a Milanese villa made us wonder if we were still in the center of Milan. From a seemingly endless banquet spread on natural and semi-precious stone to an interactive scent laboratory and a plane made of denim, here are 10 of our favorite installations from Milan Design Week 2023.
Installations from Milan Design Week 2023
1. "Beyond the Surface," by SolidNature
If we could give an award to this year's most breath-taking spread of food, it would go to SolidNature, also winner of the Fuorisalone Award for Best Installation at Milan Design Week 2023. A star at Alcova last year, the stone purveyor moved to its own venue, and filled the basement and garden of the neo-Romanesque Casa Maveri, a villa in the Brera District, with commissioned natural and semi-precious stone pieces.
Designed by Ellen Van Loon and Giulio Margheri of architectural firm OMA, the basement level was reached by a dramatic backlit stair, with each step highlighting a different colored onyx. Backlit massive stone blocks overtook the entire underground floor space, which explored more stone possibilities.
In the garden, a large communal table used blocks of travertine treated with olive oil to display a seemingly endless spread of food by culinary artist Laila Gohar, from wild strawberries to shaved parmesan, figs, and cured meats as espresso was served up from a travertine bar. Both the table and the bar were designed by Sabine Marcelis. "I wanted to really celebrate the colors the travertine comes in—I didn't even know that you could get orange or red," Marcelis admits. "The surface of a table normally defines its function, but here I wanted to kind of blur those lines, so the feet are also places to rest food on."
Studio Ossidiana designed the stone stage and podium and a semi-precious sculpture bursting with crystals was by Ward Strootman. In the grass, stone animals by Iranian artist Bita Fayyazi lounged—among them a sleeping cat and a rabbit.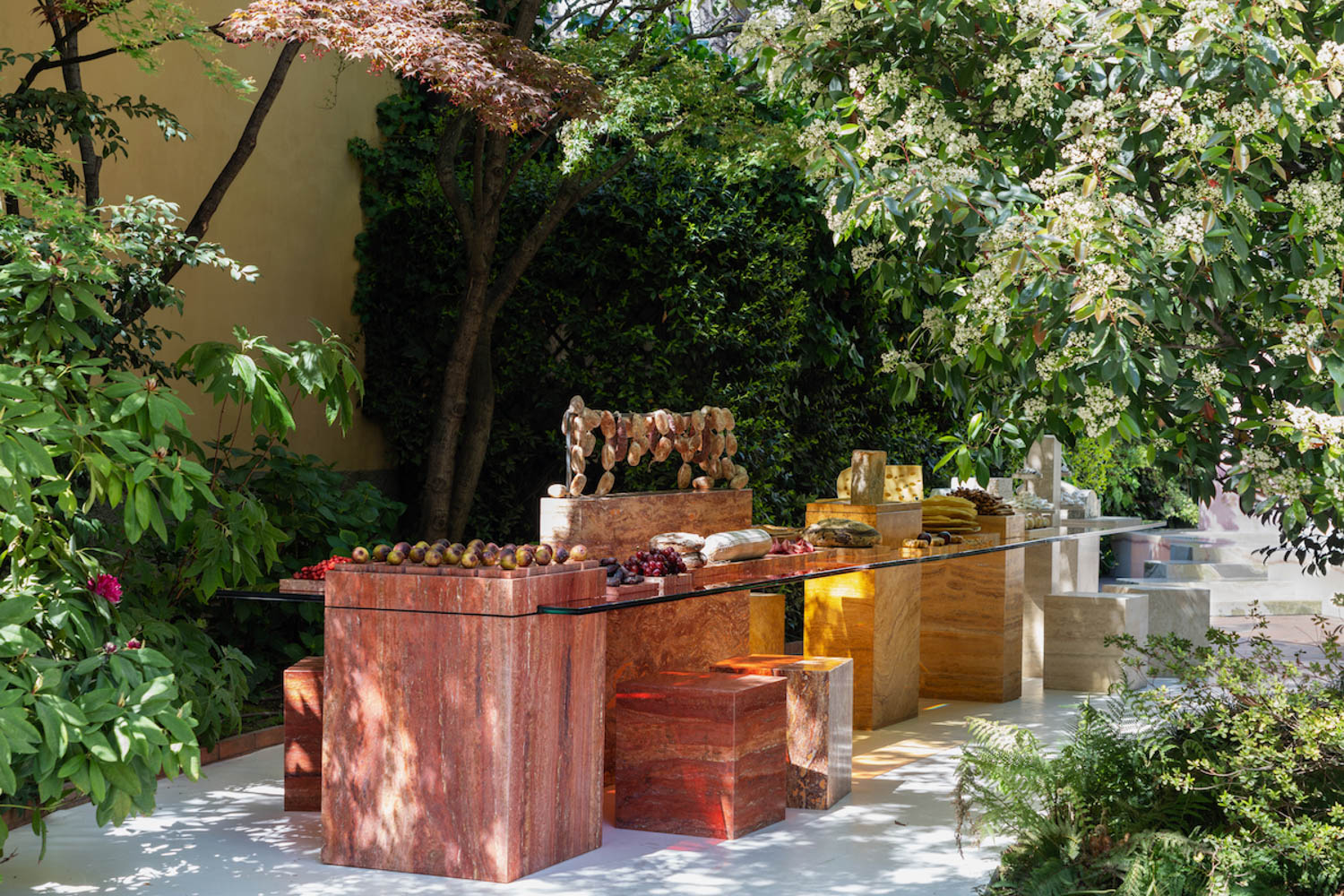 At Alcova, a glass and wood interactive scent laboratory by DWA Design Studio made for a dramatic way to entice visitors. With mechanical fans, glass bulbs, vials—some containing whimsical sculptures by Natascia Fenoglio—and two glass towers, the captivating olfactory experience provided several different ways to breathe in perfume by Les Eaux Primordiales, whether by a squeeze of a plastic pump or a twist of a dial that spun a disc of paper, directing the scent towards you. Resting on a colorful carpet and housed within a wood frame that filled a room, the towers of stacked glass geometric shapes were inspired by factory chimneys and offered a fresh and new perspective from every angle.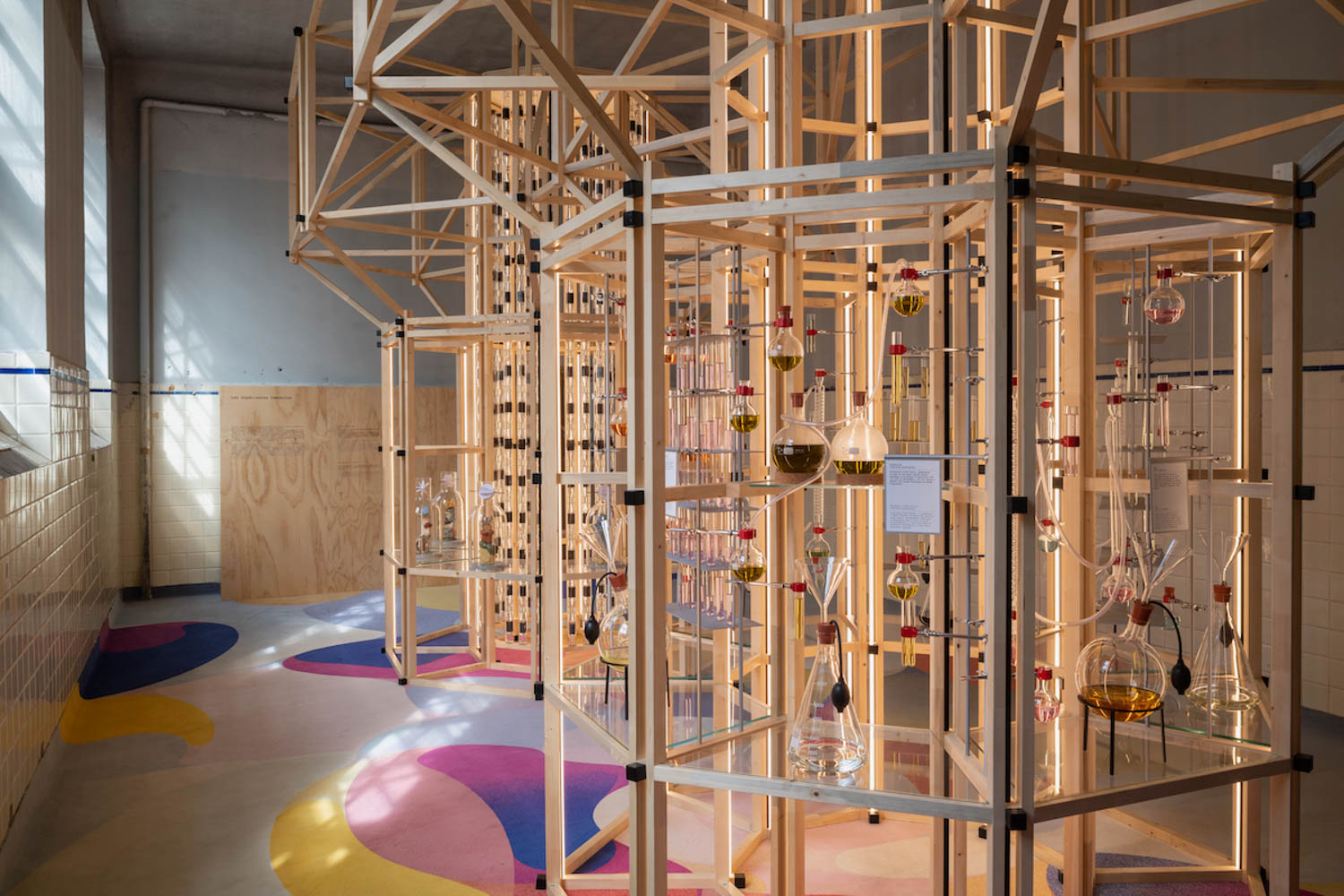 3. "Spirit of Design: Inspired by Nature" by Dedon
We're not one to turn down a peek inside an Italian villa, an exclusive opportunity that increasingly comes with Milan Design Week. At the Fashion district's 22,000-square-foot Garden Senato, German outdoor furniture manufacturer Dedon presented the exhibit "Spirit of Design: Inspired by Nature." In the villa's tucked-away garden, a path winded through the manufacturer's furnishings, from swinging chairs dangling from leafy trees and light fixtures sprouting from leafy foliage. An open-air pavilion offered a spot to lounge with a cocktail, and a cluster of butterflies (actually powder-coated aluminum and mounted on rods emerging from the lawn) introduced a butterfly-themed chair, Papyon by Arnd Küchel. On a canopied loveseat, Orbit by Richard Frinier, it was also possible to spot Dedon's new Mystique, a fiber which has a technologically advanced 3D-effect that allows it to shift in hue.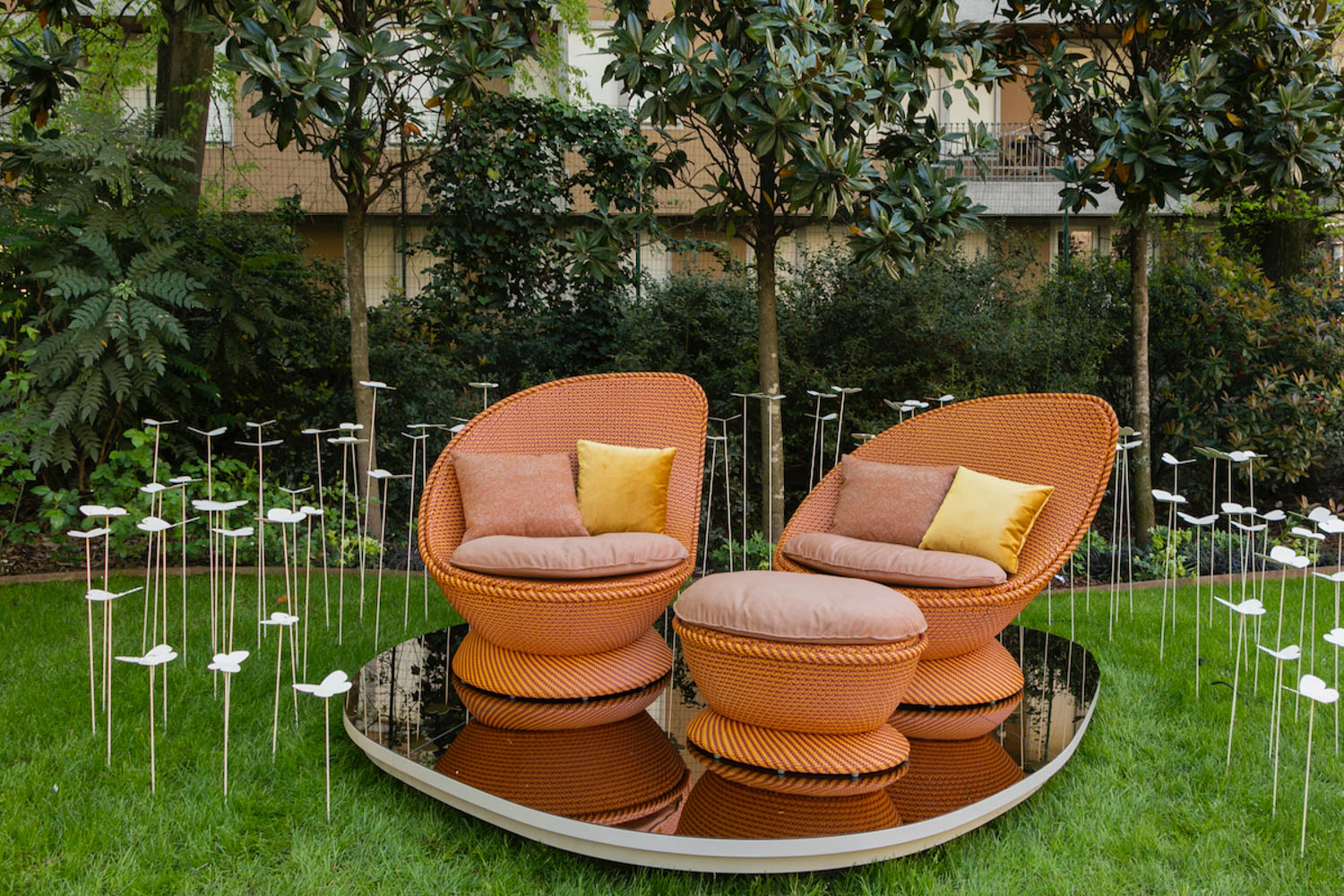 4. Negroni Fountain by Mamo
A steampunk aluminum and plastic sculpture trumped all other opportunities to enjoy a cocktail around Milan this year. Also presented at Alcova, the interactive Negroni Fountain by Mamo drew an enthusiastic crowd, ready to catch the bittersweet tipple flowing from plastic tubes with Mamo's tinted reversible glassware. The installation's purpose was to "upend the usual interaction with design pieces on view during design week which you can only look at and not touch," says Arley Marks, Mamo's creative director and cofounder. We'd say: Mission complete.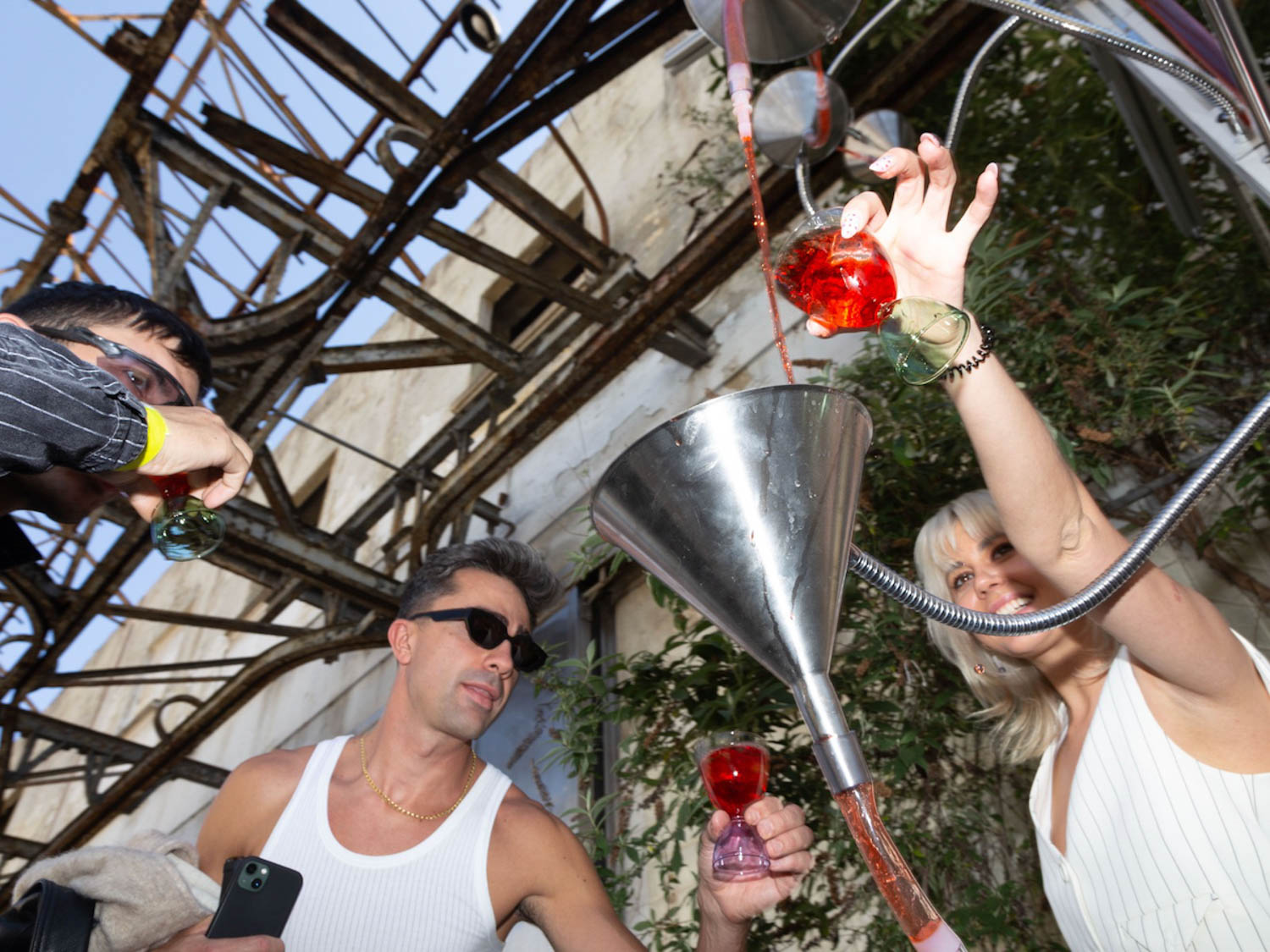 5. "Under the Sun" by Gubi
Beautifully restored thanks to crowdfunding, Bagni Misteriosi ("Mysterious Baths") is a historic swimming complex and outdoor theatre in Milan's Porta Romana district. Built in the 1930s, the sprawling venue includes several buildings, two pools, and poolside and rooftop bars—an area totaling over 100,000 square feet. During this year's Milan Design Week, it was an easy place to linger and the ideal venue for Danish furniture manufacture Gubi to launch an expansion of its outdoor collection and celebrate 10 years of its iconic Beetle chair by GamFratesi. Curated by Marco Sammicheli, "Ten: Beyond the Beetle" presented 10 wildly unexpected variations of the Beetle, as conceived by 10 artists, from a tattoo artist, to a lighting designer. One, by Nathaniel Furman, is supersized and pink. Another, by Rachaporn Choochuey, soars through the air. "The Beetle chair was actually made for a creative exhibition – we were very young and did the product with the intention to express our philosophy," says GamFratesi cofounder Enrico Fratesi.
6. "More or Less" by Maarten Baas for G-Star RAW
A 50-foot denim airplane was the star of "More or Less," by Maarten Baas for G-Star Raw. Conceived as a conversation on the challenges of sustainability and the benefit of small contributions, the exhibition also included a series of jean-shaped cabinets made of textile board material by textile manufacturer Kvadrat. Both the plane and the cabinets' board material were crafted from recycled G-Star jeans collected via "G-Star's Return your Denim" program.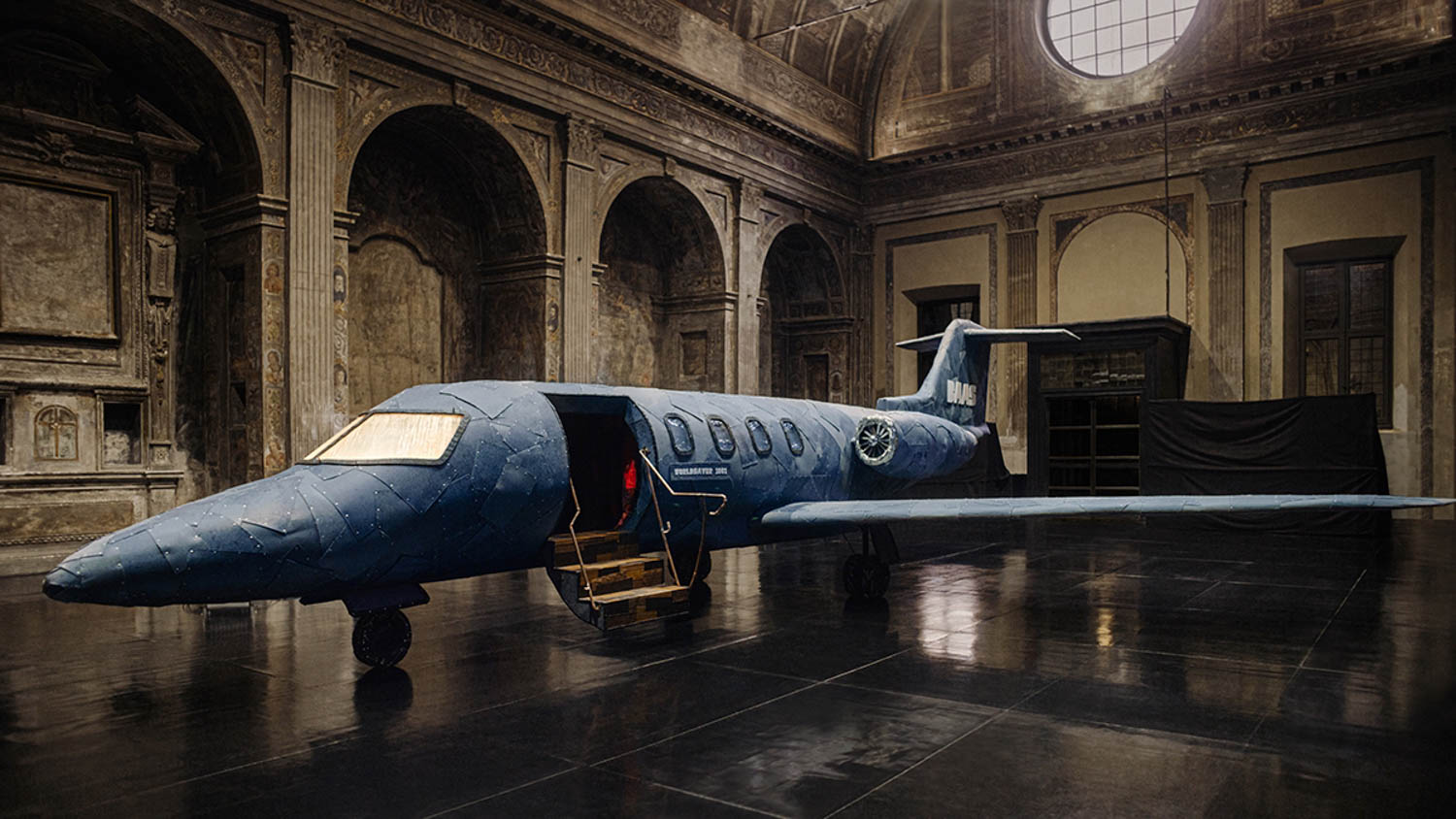 7. "Swing" by Stefano Boeri Interiors for Amazon and "Interni Design Re-Evolution"
Grab a panini we are heading to the University of Milan's new supersized collective swing set for a sky-high lunch break. That's a comment that makes sense during Milan Design Week. As part of "The Amazing Playground," an interactive space by Amazon, "Swing" by Stefano Boeri Interiors filled a courtyard with a metal carousel of swings with wood seats. "Play is a basic component to Italian design history—if you look at Enzo Mari or Bruno Munari, for example," says Boeri, who hopes to reinstall the swing in another part of the city following the event. "After spending hours watching, it's not so bad to switch roles, and become an active participant." At night, illuminated, Swing served as creative venue for a series of concerts.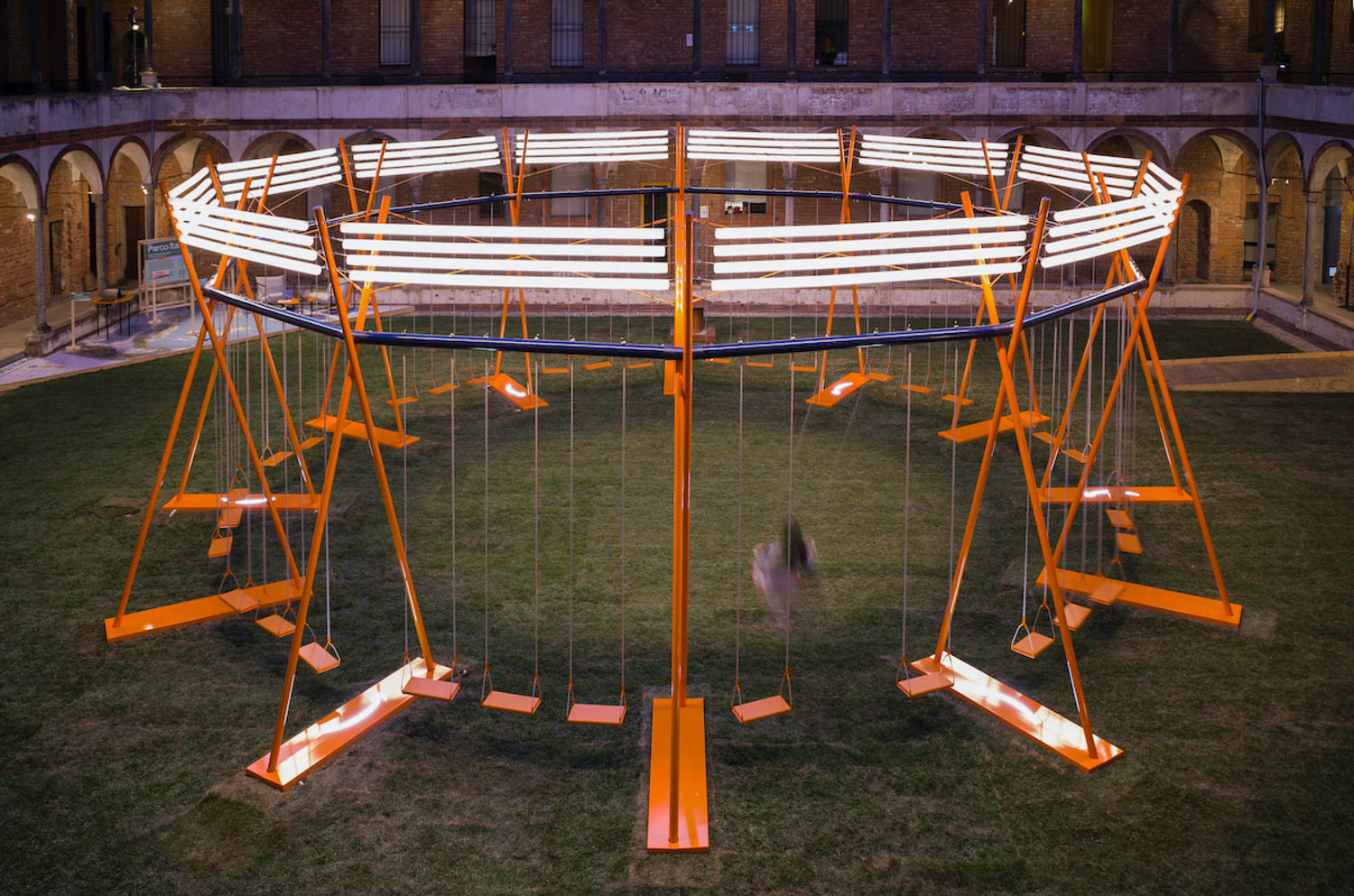 Boldly-hued flowers—actually propellers—stood out in the large metal structure that formed "La Macchina Impossibile," also in a courtyard at the University of Milan. Demonstrating a sustainable revolution in the yachting industry, the installation's propellers and wheels are powered by a methanol system developed by shipyard Sanlorenzo in partnership with Siemens Energy. The technology will start powering on-board services on yachts up to 240 feet from 2024.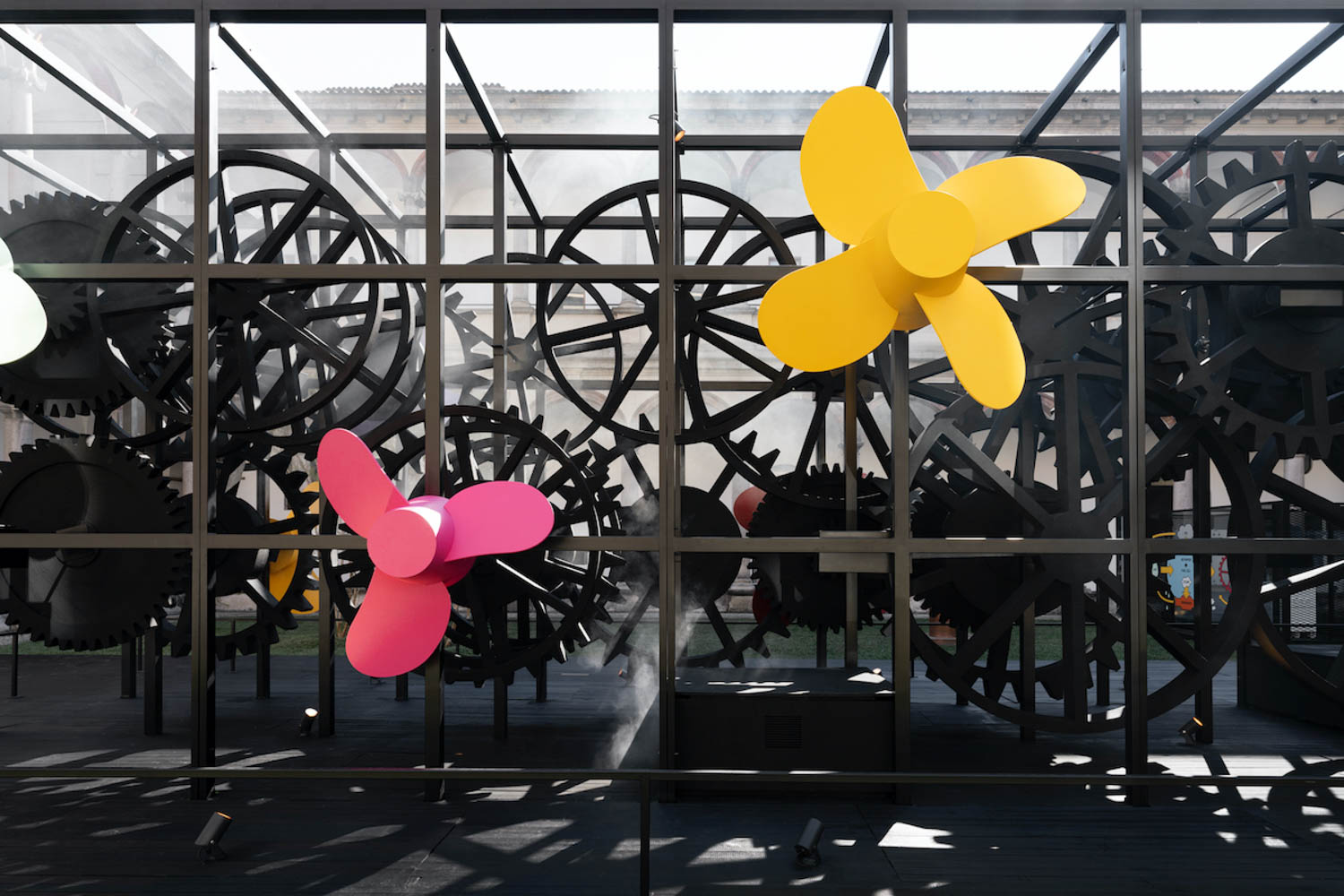 Italian artist Raffaele Salvoldi is known to take KAPLA, a stacking children's toy of wood building blocks, to new heights in both creativity and form. But what could he do with stone? So thought Italian stone brand Salvatori. Despite a less-forgiving material, Salvoldi (who must be very, very patient and meticulous) had dazzling results, in the form of three towers built live in the Salvatori showroom during Milan Design Week. The towers find new life for hundreds of pieces of natural stone cut from production discards.
10. "Assembling the Future Together" by IKEA
Mist on your skin, wind in your hair, and earth in your hands made for an intriguing experience at the IKEA installation, designed by architect and set designer Midori Hasuike and held at the 10,800-square-foot Padiglione Visconti, a historic building used for workshops for cultural venue Teatro alla Scala. The Swedish furniture manufacture used the occasion to toast its 80th anniversary. Visitors first encountered a nostalgic exhibition highlighting IKEA products dating back to the 1950s. New products were unveiled in 'present,' and the elements were unleashed in the 'future' section. "Here we wanted visitors to get interactive with the products that are in front of them," shares Hasuike. This section included a pine tree"an homage to IKEA tradition," Hasuike adds.
At night, the space turned into a nightclub illuminated by a lighting project by Anders Heberling, who incorporated over 1,000 glass carafes and colored glasses. Thanks to IKEA's newly launched Artist in Residence program, star photographer Annie Leibovitz, the first recipient and there to unveil a series of portraits, was a notable attendee.