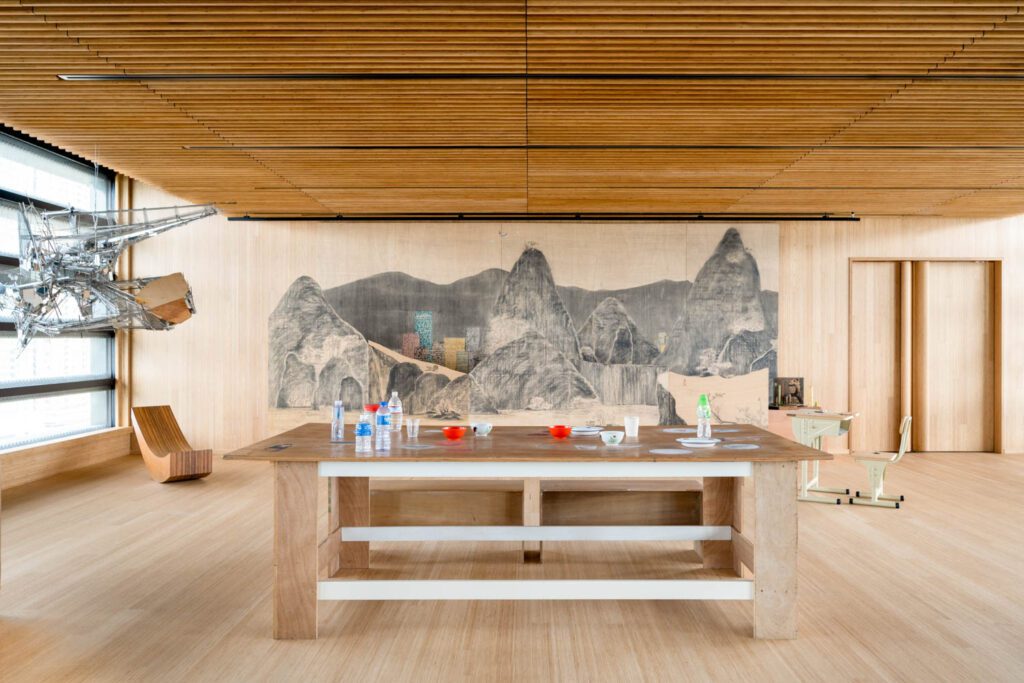 10 Questions With… William and Vincent Lim
The Lim family can thank Cornell University for providing the bulk of its dinner table conversation. William Lim, his wife Lavina, their sons Kevin and Vincent, and the latter's wife Elaine all graduated from its architecture school. William co-founded CL3 in 1992 to tackle commercial interior projects first in Hong Kong and then across China. Vincent co-founded Lim + Lu in 2014 with wife Elaine Lu and work mostly on residential and F&B interiors with the occasional furniture and lifestyle product.
CL3 and Lim + Lu have both been recognized at Interior Design Best of Year awards. Last year, CL3 was an honoree for M+ Lounge while Lim + Lu's collaboration with Tai Ping Carpets won in the 2017 rug category. While they have collaborated on projects including a house in Malaysia, CL3 and Lim + Lu keep their businesses separate and distinct. More recently, William is realizing his lifelong love for fine art with his oil paintings. As father to two young daughters, Vincent juggles a growing household with projects for like-minded entrepreneurs.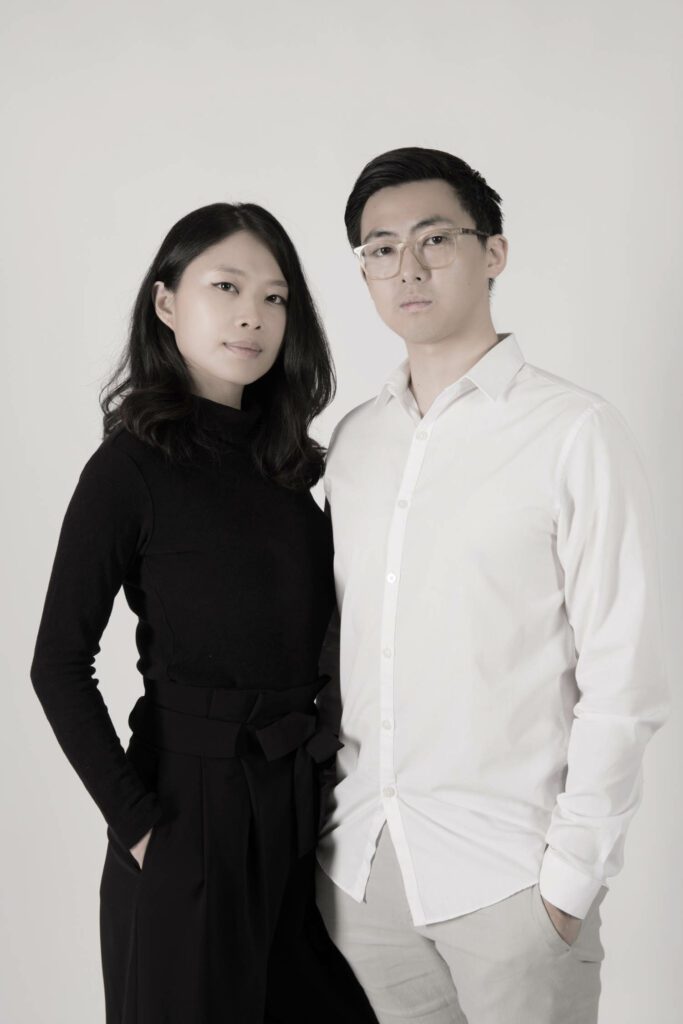 Interior Design joins father and son to talk about the projects close to their hearts and how they approach working together and apart.
Interior Design: William, how do your recent projects realize a personal passion?
William Lim: After working with Hong Kong developer Henderson Land for four years, we got the chance of a lifetime. For me, there has to be a reason and user behind every project. Many international art galleries considered opening in Hong Kong but could not find the right space. From that, I came up with the concept of a gallery building in Central. It was risky for Henderson but our client was interested in supporting art. H Queen's became CL3's first architectural project. It was designed from the inside out. We considered the loading required for large installations and transporting large works via a crane on the roof through windows.
H Queen's was followed by H Code, a funky cousin that offers lifestyle spaces such as gyms, spas and restaurants. There is no street frontage or vehicular access, and all construction materials had to be transported manually to the sloped site. The façade reflects the building's function, with operable windows and terraces for outdoor dining.
ID: What made M+ Members Lounge special for you?
WL: I consider M+ Members Lounge an installation project. Lavina and I began collecting Hong Kong artists' work when no one else was paying attention to this market. We believe that art is something you live with, and our studio is a residential setting that collectors could visit. When we donated around 90 pieces from our collection to M+, we hoped that the experience of a home gallery could be maintained. M+ agreed to the idea.
The lounge is an immersive experience with about half of the art exhibited alongside our own books, accessories and curios on loan to the museum for five years. There is also a functional element to the lounge, as it has a 70-person dining capacity. We invited Hong Kong and Asian designers to be involved in aspects such as furniture and drapery. The lounge embraces all the things I love. After all, a museum like M+ doesn't come along every day.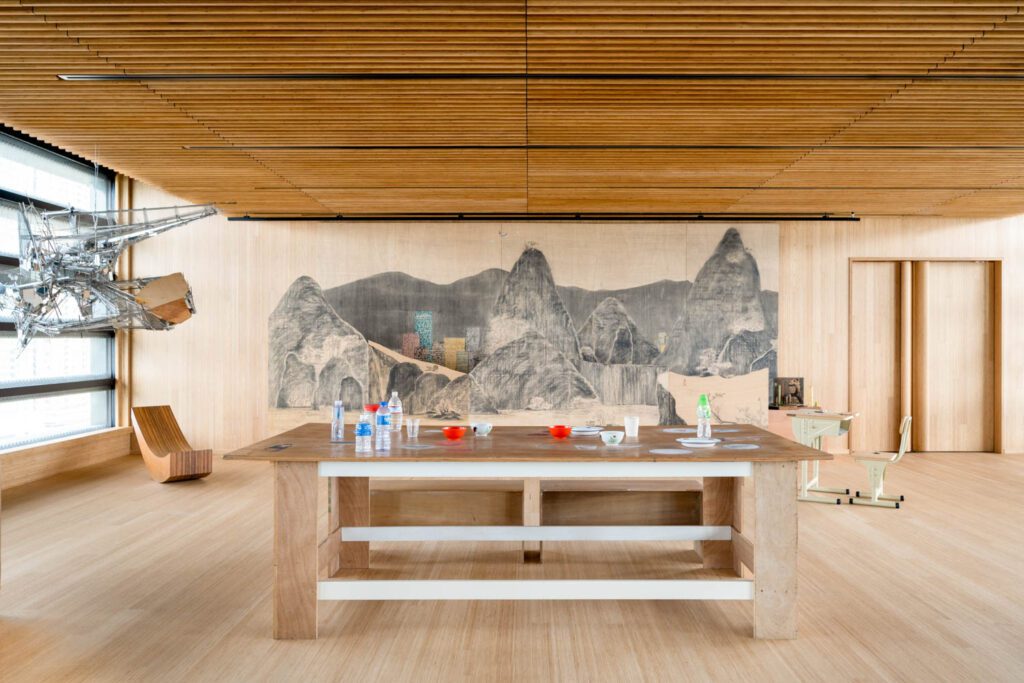 ID: What are lessons learned about working in China through projects such as Raffles City Chongqing?
WL: Chongqing is an international landmark led by Moshe Safdie. We worked with him on Marina Bay Sands in Singapore and knew that Chongqing had to be equivalent or better than that project. We did most of the interior design for the public areas in the InterContinental and residences. It was an extension of Moshe's architecture—a strong iconic form based on the sails of Chinese vessels.
China has matured very quickly. Owners are willing to spend the money to create their legacy. The government is serious about well executed projects. The starchitects of 15 years ago set the bar and quality across the board has improved, with owners paying more attention to managing their assets. The level of customization is very high. If we can imagine it, we can build it there.
ID: How does your painting and volunteer work support your personal views?
WL: The oil paintings started during Hong Kong's first pandemic lockdown, around Easter 2020. Painting was a childhood love but coming from a Chinese household, art was frowned upon as a career. I began painting again mostly to deal with the residual energy being stuck at home. I started posting my work on Instagram and the response was fabulous. After a view-only exhibition last year, I plan to mount another one at the end of this year—and I have finally mustered the courage to put prices on my work!
I believe that if I have the time and capability, why not help through volunteer work? I started working with AIA HK more than two decades ago and it was a great way to meet people and develop ideas. My entire family went to Cornell and it is meaningful for me to be on Cornell's board of trustees. I also serve through Asia Society and Hong Kong Museum of Art. All of these are good ways to contribute knowledge about Asia and gain insights.
Vincent Lim: I see William taking a mentorship role with his staff members. He is very generous with sharing his knowledge. He has maintained a firm with 30 or so people for 25 years. Elaine and I know that keeping that size company is not easy.
ID: Vincent, why switch from architecture to interiors and products?
VL: When I was at KPF, I was working on skyscrapers. I would spend weeks looking at different ways to design façade fins. Although it was good experience on how to run a business and maintain strict standards, I got burnt out. We started designing furniture in the evenings and one of my colleagues suggested that we participate in ICFF. We signed up, secured a booth and had a few pieces manufactured. Buyers came by our booth and asked about getting 2,000 tables, even though we were designing out of our living room. That gave us confidence.
We like working at different scales. Our bread and butter work is residential interiors, while designing furniture and accessories is an outlet the same way that painting is William's outlet. We can see how our projects have matured over time, from our own home to Rose residence. When we did our home, it was our honeymoon period and we though we could live very minimally. By contrast, Rose residence incorporates a ton of storage. At the beginning, we were more concerned about aesthetics and how to wow clients. Now, we aim for more practical solutions with more attention to detail and more refinement.
For Yung's Bistro, we worked with the third generation of Yung Kee Cantonese restaurant's family. We took cues from casual eateries while at the same time made the space fresher and more approachable to younger Cantonese diners.
ID: How do you benefit from collaborations with established brands such as Tai Ping Carpets?
VL: We saw how long projects can take, and wanted to work with different time frames. We like collaborating with different manufacturers. The brands we work with let us in on their know-how and we benefit from their expertise. At the same time, they benefit from our vision. Our work with Tai Ping was good synergy. It's a home grown, old school carpet brand and Reform brings a fresh, modular approach to area rugs.
We have since designed Moonbeam, a lighting collection inspired by Chinese paper lanterns with Lucie Kaas. Our Mass series made by New Works reflects the pared down look of Scandinavian designs.
ID: What are your feelings about competing or working together as a family?
WL: I never asked my sons to join CL3. I'm proud that they wanted to start something of their own. Who heads a company is what makes it succeed. Starting something and seeing it grow is satisfying—the best professional experience a person can have. Architecture lets us do this. We don't need much investment—just our own ideas.
VL: The design industry is to a certain extent about ego and wanting to prove that a certain vision is valid.
WL: We collaborate together on some projects. I worked with Kevin on M+ Lounge; the bookshelves are his design. Vince and I worked together on furniture for Cornell. And everything fell into place for my brother's house in Kuala Lumpur. It's a party place where my siblings and cousins' family go. I designed the architecture, Kevin did the planning and Vince designed some furnishings. It is a courtyard house with a central void, but is very simple with raw concrete and painted walls.
VL: Elaine and I did the bar and the carpet, and we all ended going for a similar palette. You can see our styles through different aspects of the house. We had a more whimsical program—a bar should be fun, after all. Everything reads well together.
WL: We don't mind competition. We each offer something different and we are happy for clients to choose the right firm for their project. There is a Chinese saying credited to Sun Tzu that if you know yourself and know your enemy, then you will always win the war.
ID: What about working with your wives?
VL: We got engaged and then started our firm. I find it difficult to design alone. For me, the process starts with a dialogue—a ping pong of ideas off each other. I never would have started a practice on my own. Working with Elaine means that we have no boundaries between work and life. When we go out for dinner, we will talk about the restaurant's décor. I think all creative people do this—we just verbalize it more.
WL: Lavina was never a CL3 employee as she had a fulltime job with Goldman Sachs as an in-house planner. But in our early years, she helped us with planning a few office projects. And we talk about design a lot. Before the pandemic, we went on family vacations to sites like Villa Savoye in France.
ID: What's next for you both?
WL: Retirement used to be on my mind until I visited Fumihiko Maki's office—he still goes into his office daily though he is in his mid-80s. He inspired me to keep going. What's changed is that we are more selective. It's important that we do more socially beneficial projects, with sustainability and community in mind.
VL: We want to continue working on residences and build those relationships. We recently completed Rosewood's offices in Hong Kong. We have a three-year long project on the way. We also hope to work on a home collection line that captures our design philosophy.
ID: Is there going to be a third generation of Lims graduating from Cornell?
VL: Both Kevin's children and my girls are very creative. My three-year-old Olivia is into mosaics and very curious about what we do. When I mark up drawings at home, she colours in some of my elevations.
WL: My grandchildren can join CL3 instead of my sons!