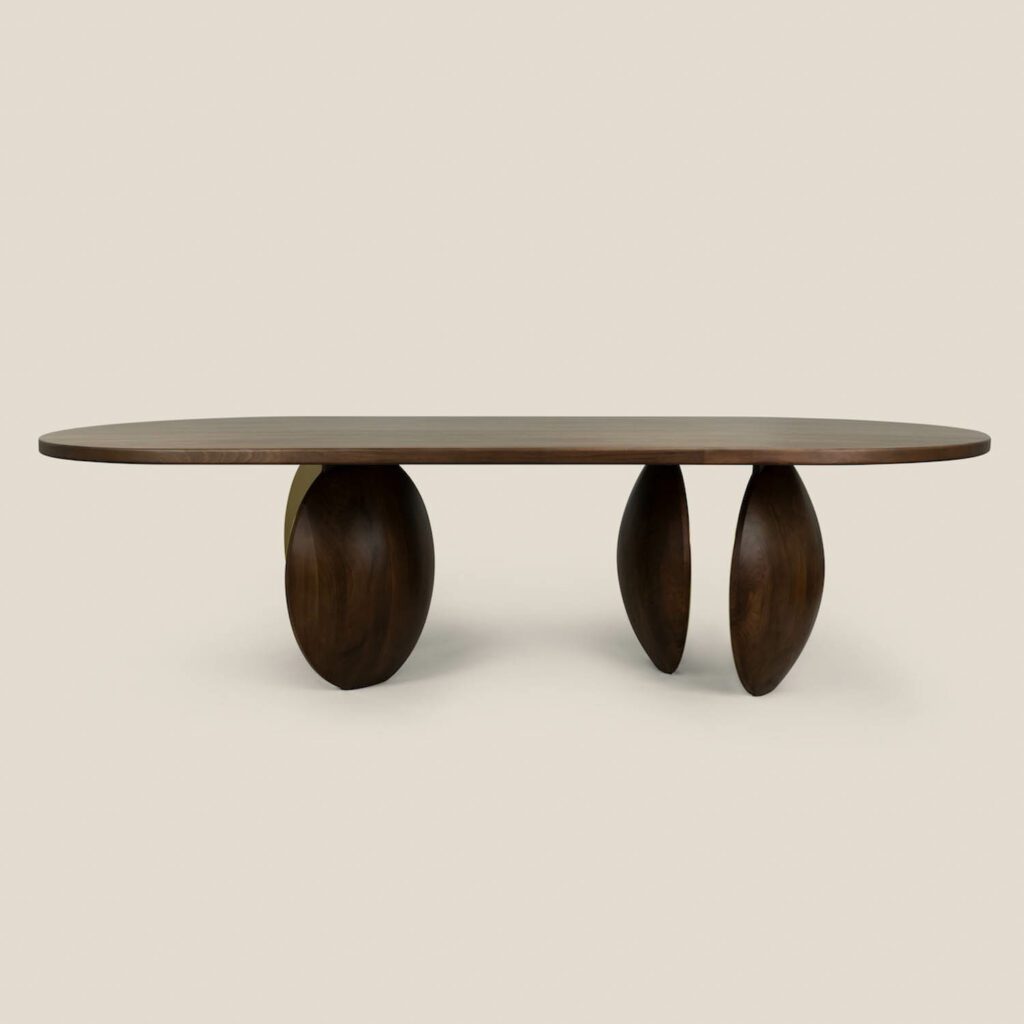 14 Highlights from Collectible 2022
There's art, and then there's functional design—for some, determining which is which can get heated.
Five years in—and now with a long list of participating local and international galleries—functional, limited-edition design fair Collectible is well established to settle those debates. The 2022 edition takes place May 20-22 in Brussels, and once again creativity abounds on this platform for both emerging and established talents.
From a chair that seems as if it grew organically to an "organic mutant" of an IKEA mirror to a bench that showcases promising experimentation with laser-cutting, here are 14 standouts from this year's fair.
1. Mutation Club Chair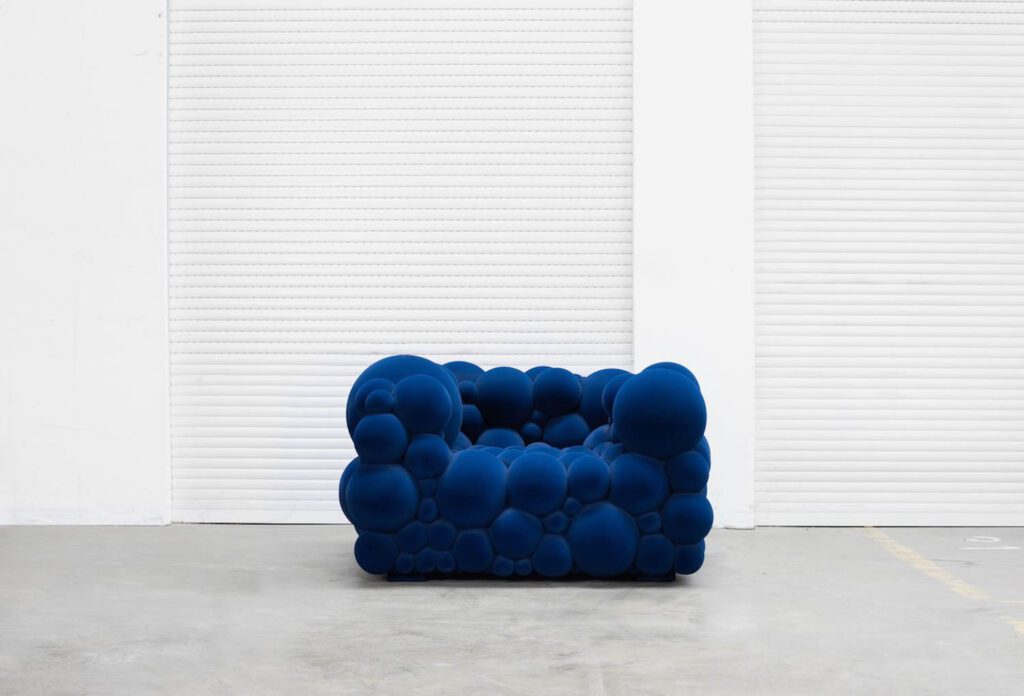 "Maybe one day we would be able to grow a piece of furniture like we breed or clone an animal," ponders Maarten de Ceulaer. Despite appearing organically grown, his upholstered Mutation club chair is the result of careful placement of foam sphere cut-offs.
2. Flesh Factory Mirror
An IKEA mirror takes on an entirely new form under the eye of Solène Bonnet—after she digitally alters its 3-D model into an "organic mutant." Her CNC-milled Flesh Factory mirror, fabricated from XPS Foam, acrylic, polyester, and glass, is a commentary on social media, the rise in popularity of face filters, and changing beauty standards and the cosmetic procedures that are the result. The mirror is presented by Good Sessions as part of an exploration of what is 'boudoir' in the 21st Century.
3. Fireworks Etc. Exhibition
New laser-cutting techniques open wide the doors to creativity, Laurids Gallée suggests. With pieces such as the beech and acrylic bench (left), created for the "Fireworks Etc." exhibition presented by Tableau, he channels historic marquetry techniques of Austria and Germany.
4. MDF and Marble Pussyfoot Bar by Koenraad Dedobbeleer for Maniera
A designated space for a compact bar, the limited-edition MDF and marble Pussyfoot Bar by Koenraad Dedobbeleer for Maniera comes with electrical outlets.
5. New Wave Side Table Liquid
With ghostly transparency, the rough-cast, freehand-sculpted and polished New Wave Stool Liquid by Lukas Cober for Objects With Narratives demonstrates the possibilities of solid resin.
6. Roger Table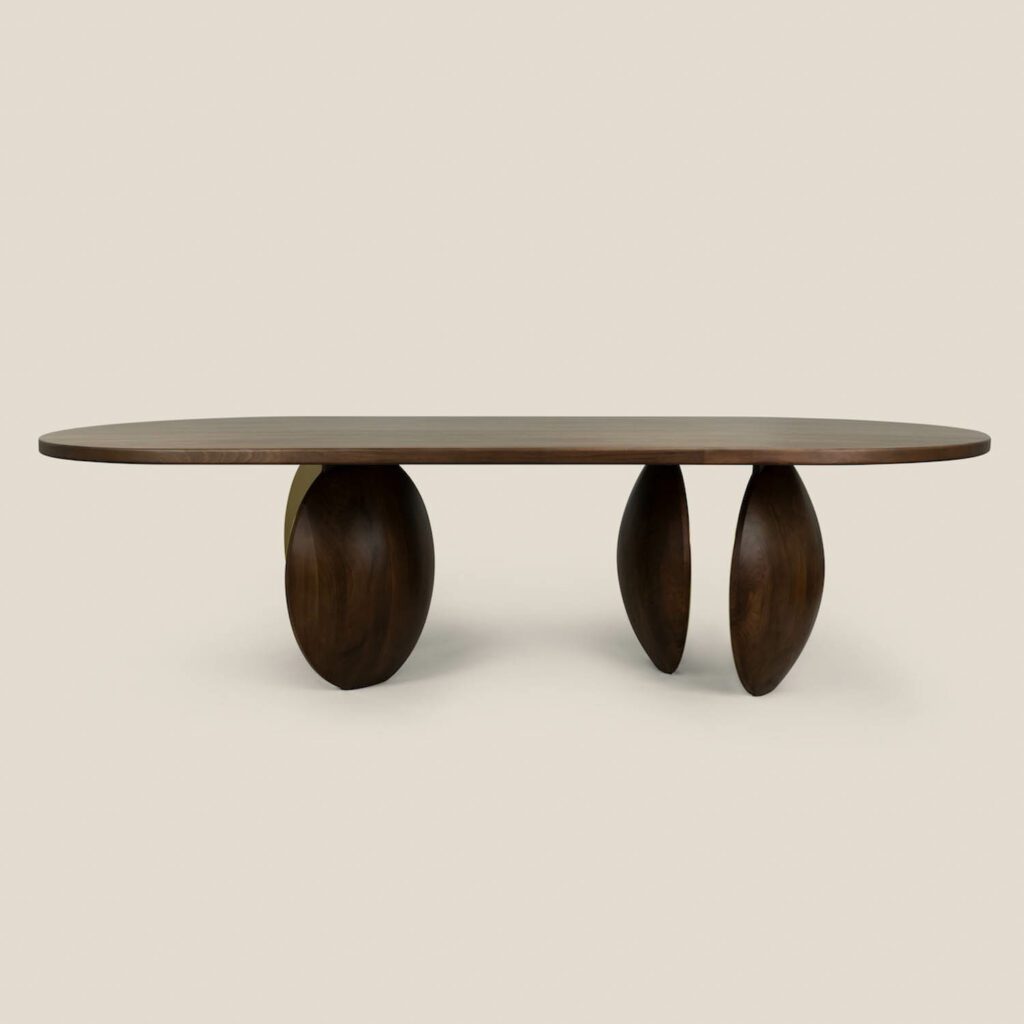 Roger, a brass and walnut table for Heimat, stands on its elliptical legs "like a tightrope walker," says its designer, Victoria-Maria Geyer.
7. Impetus/Puff Wall Sconce
The idea for the hand-cast and glazed stoneware Impetus/Puff wall sconce by Héloïse Piraud, featured in "L'appartement," a collection of ceramic objects conceived for a dream apartment for Volume Ceramics, came from an accident with a tool—its 10 slender tubes narrow at the center.
8. Volume Ceramics
Noe Kuremoto, born in Osaka, likes to tap into Japanese beliefs and mythsin particular the spirits of nature—for her work. The Terracotta Leaf vase (shown here, front), also featured in the "L'appartement" exhibition for Volume Ceramics, is handcrafted from the ceramic material with an enameled interior.
9. Womb Lamp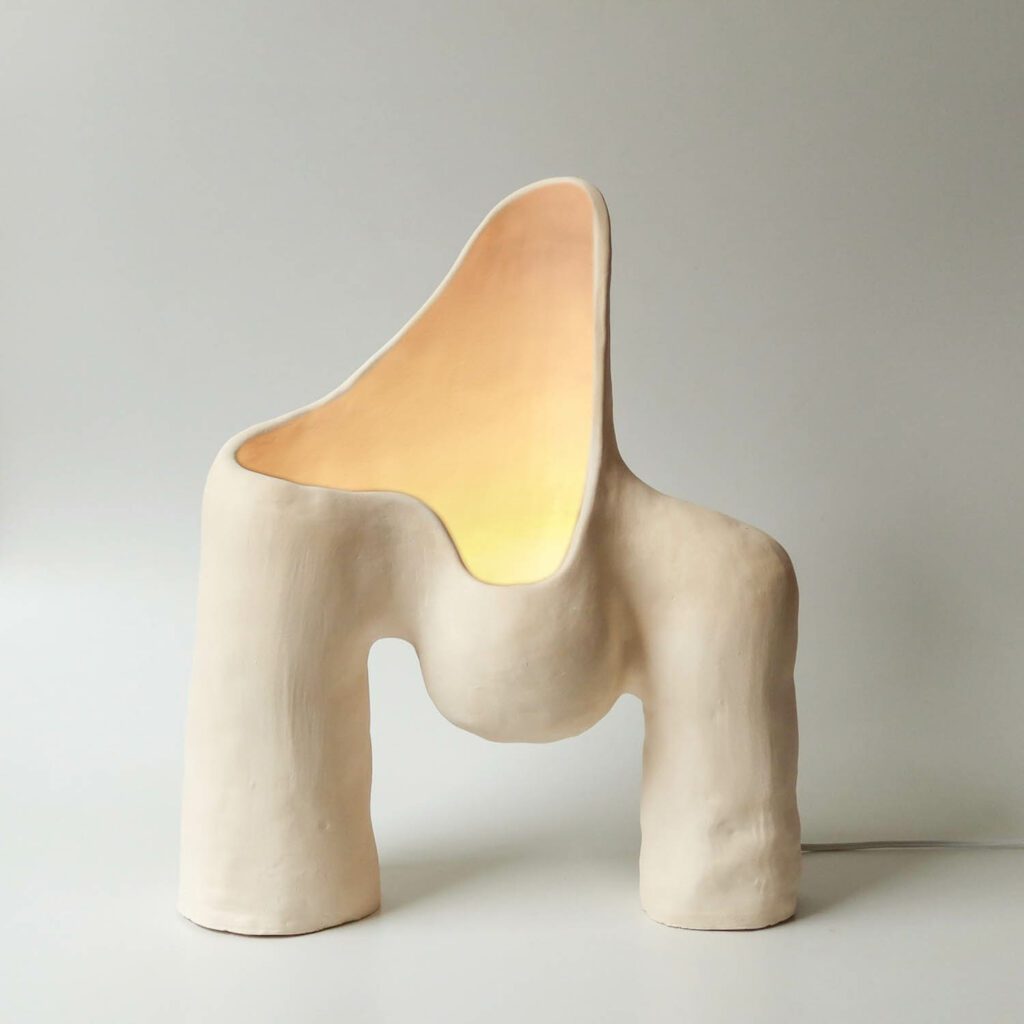 Womb, a lamp by Jan Ernst for Galerie Revel, is part of a series inspired by South African geological landscapes. Its illumination is found within its distinctive form.
10. Vagabond Collection
A two-year dive into the influence of color, form, and material on mood gave rise to Vagabond, a collection of 12 limited-edition square low tables by Maria Scarpulla for Atelier Ecru Gallery. Each table has a colored glass top and a shelf in a complementary hue on its sparse nickel frame.
11. Tateyama Sofa
Soft curves, the option of built-in steel side tables, and an opening embracing all of a room distinguish the upholstered Tateyama sofa by Secolo. It will be featured in "Origins," an exhibit presented by Movimento Club.
12. Twin
Two hand-ground and oiled MDF bookcases share one base with Twin by Max Funkat, also presented in "Origins.
13. Pipe Chair
To highlight its deceptive impression of fragility, Yeon Jinyeong anodized his Pipe chair for 13 Desserts in a striking purple hue.
14. Open Dressing
A space-saving merger between bench and mirror form the sculptural aluminum Open Dressing by Johan Viladrich in collaboration with Lauriane Heim.