Masa Galeria's First New York Exhibition Offers a Closer Look at Mexican Modernism
Since launching in 2018, nomadic Mexican design gallery Masa Galeria has called many sites home: an abandoned ruby-colored 1970s home in Paseo de las Palmas, a castle built by German royals in Mexico City's Chapultepec district, or a white-washed Modernist villa in the city's center. Therefore, it is no wonder the gallery founders Age Salajõe, Héctor Esrawe, and Brian Thoreen have selected a debunk post office sunken underneath the Rockefeller Center for their inaugural New York presentation, "Intervención/Intersección" on view through June 24, 2022.
Similar to past iterations, the show not just borrows the characteristics of its architecture—in this case, a corporate muteness and utilitarian details left intact since the office's closure just over a month ago—as a backdrop but blends into its quirks and nooks. The site-specific show also spills outside and uses Rockefeller Plaza and its iconic flag poles to display works that take alternative gazes at Mexican Modernism. The gallery's biggest show to date includes pieces by Pia Camil, Frida Escobedo, Pedro Reyes, MARROW, Mario Garcia Torres, Isamu Noguchi, Alma Allen, PANORAMMA, Thoreen, Esrawe, and Tania Canadani.
From the convoluted tie between Mexican Modernism and the Rockefeller Plaza (Diego Rivera's mural Man at the Crossroads for the building was destroyed in 1934 before completion for claims of communist propaganda) to the building's regal Art Deco presence, the show's curator Su Wu makes parallels between the iconic venue and the art and design on display.
"We have been thinking about this long history of intellectual and creative porosity between Mexico and the United States, but also wanting to see where there might be fissures or gaps in the established narrative," Wu tells Interior Design, and adds: "There were many artists working contemporaneously to the three masters of Mexican muralism—José Clemente Orozco, Diego Rivera and David Alfaro Siqueiros—but they remained lesser known because of their sexuality, poverty, or they were women or lived outside of Mexico City." Wu notes that Masa Galeria's curatorial approach stems from a similar interest in disrupting the hierarchies, including those between art and design. "It is amazing that design can encompass many more ideas than just this constant hierarchy." 
Interior Design visited the show during installation and picked its highlights.
Pia Camil
Mexico City-based artist Pia Camil has long been interested in the value in collective use. From collecting the laundry of Marfa locals to hang on top of art institution Ballroom Marfa's rooftop to sewing a massive wearable sculpture for the Guggenheim with T-shirts donated by East Harlem residents, Camil gives new life to the worn while elevating the existing history of textiles. Here, Camil's installation of clothes exchanged with Mexico City residents claim the 193 poles normally used to raise the flags of each United Nations member country at the plaza. Camil's largest public installation to date also includes a recording of testaments from the clothing donors about their relationships to the items.    
Alma Allen
Tepoztlán-based American sculptor Alma Allen's biomorphic bronze pieces live both inside the 8,000 square foot gallery and in front of 30 Rock. Blending recent technology with traditional hand-forming techniques, Allen's sleek sculptures contain the immediacy of hand gestures, pairing demureness of a formal aesthetic with human touch. Fittingly, Allen's own foray into sculpture and the works' exhibition in Masa's show has a similar intersection of labor and serendipity—as well as good and bad luck. As a teenage runaway, Allen was hit by a truck in his first year in New York. While unable to work due to injury, he started carving his first sculptures out of wood and sell them in front of another now-bygone post office in Soho which currently houses an Apple store.  
Ana Pellicer
Michoacán-based sculptor Ana Pellicer has been working with copper and brass for five decades, in addition to running the artist colony the Adolfo Best-Maugard School of Arts and Crafts which she established with her late husband, sculptor James Metcalf. After studying at The Art Students League in New York and New School for Social Research, she returned to Mexico and became known for her intricate handling of hammered copper and brass in bodily forms. In this show, however, Pellicer pushes the limits of the body to mammoth scales. Her copper sculpture of a pin, which is blown up to a scale that would adorn the Statue of Liberty's dress, carries ornate details of hammering, as well as a humorous take on bureaucracy and identity. "We are prompted to think how ornamentation can drive material innovation, as much as the idea of use," explains Wu, adding that Pellicer's school is committed to training women in copper beating to provide a path for self-reliance. 
Marrow Project
Whether Rafael Prieto and Loup Sarion named their design studio Marrow Project based on their favorite inspirational material is unclear, but the duo uses left over bones from dinner parties to source forms for their light fixtures. Made out of linen and powder coated steel, their warmly-lit sconces are far from resembling their original bases with their bulbous silhouettes. Minimalist and somewhat ghostly, the lamps are sculptural and mysterious, claiming their surroundings with their bulbous presence whether lit or off.
Héctor Esrawe
Mexico City-based light designer Héctor Esrawe joins the show with a work from his poetically captivating Shifting Parábola series. Positioned next to TBC (2020), artist Jose Dávila's wooden table sculpture humorously affixed onto the wall in a vertical form with red ratchet strap and eyebolt (which Wu explains as being "about seeking equilibrium and finding balance"), the curved metal light fixture echoes a gently bent thin paper yet in larger-than-life scale. The kinetic curve of an unlikely material recalls the felt sculptures of American Minimalist Robert Morris, however, Esrawe elevates the optic potential of his material and lets brass play with light. In addition to natural light's washes on various point of curve, the fixtures the designer hides in the form's intersections accentuate the corners of tension.
Frida Escobedo
Fresh from being announced as the architect to helm The Metropolitan Museum of Art's renovation of its modern and contemporary galleries, Mexico City-based architect and designer Frida Escobedo makes her appearance at another iconic New York landmark. Escobar's iron and nickel-finished ball chain chair, Creek Bench, claims a back room, its elongated metallic chains crawling across the off-white floor. Performative and biomorphic, the dramatic seating transforms the industrial sleekness of nickel into a liquid mass. "Frida's work in architecture and design shows that underlying structures can change human behavior—in this case, the underlying structure taking a chain and material of bondage and turn it into a system of support," says Wu.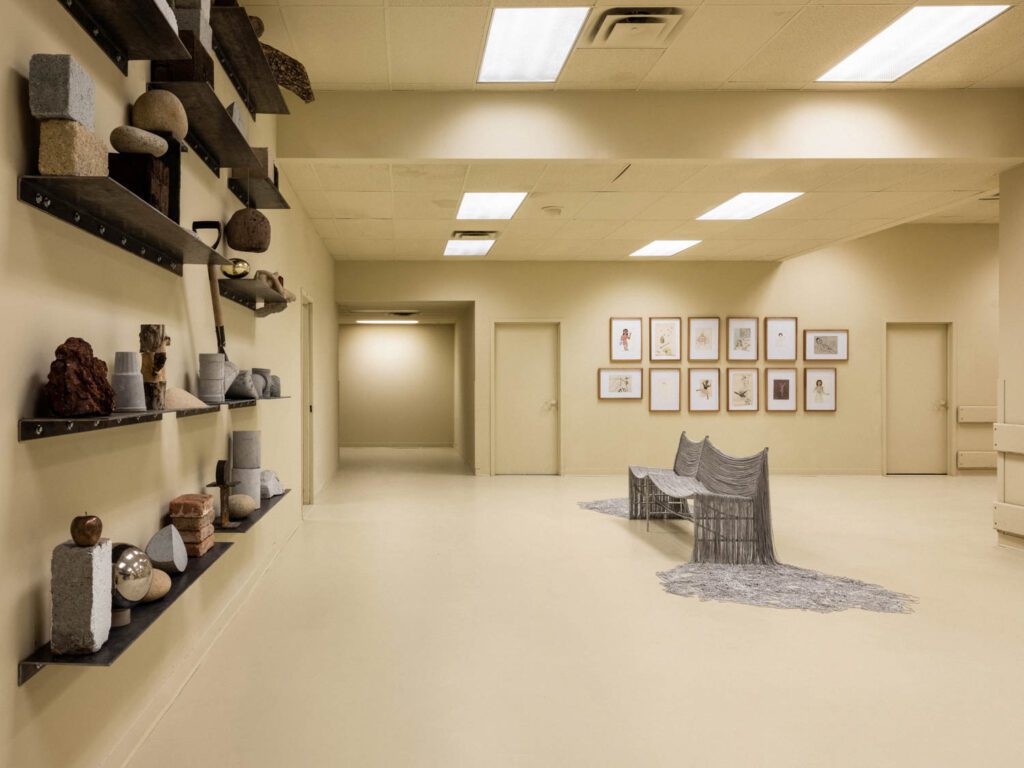 Ewe Studio
The bronze Memoria stools in doughy forms are a result of Mexico City-based Ewe Studio's exploration of residue foundry molds as potentials for furniture. The studio turned molds from their former series, which is based on vernacular stools commonly used throughout Mexico for everyday practicality, into what the studio co-founder Age Salajõe calls "the molds of a memory of a memory." The sand cast bronze stools contain uneven surfaces, perhaps due to their double molding processes, and pay homage to labor and sentimentality attached to their very original source materials.