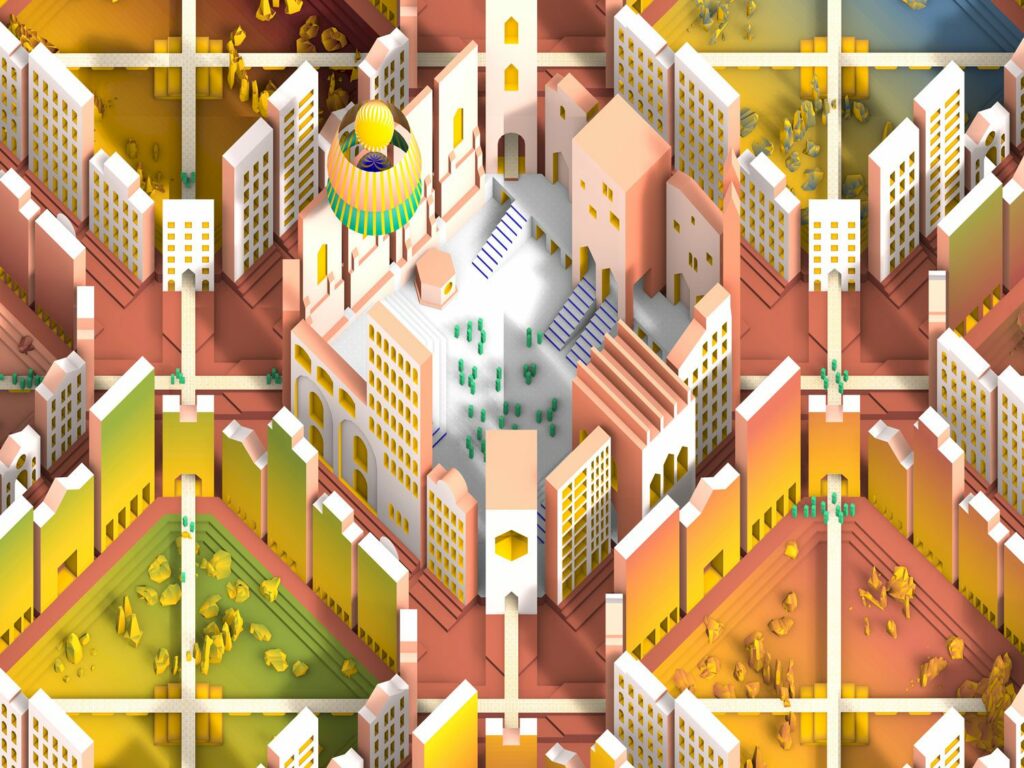 3 Design Topics Sparking Conversation at Giant Ideas 2023
In 2023, prescient topics such as sustainability, diversity, equity and inclusion, and Web3 are driving change—in and out of the industry—but how do design projects and business initiatives measure up? ThinkLab founder and president Amanda Schneider took to the stage on the third day of Interior Design's Giant Ideas event to offer a granular look at industry trends, and opened the floor for insights into what's next.
"The world, and our industry, is still in a state of limbo but there's a lot of positive news coming out of this year's Giants," Schneider said. Looking ahead, research shows that diversification will be essential to business growth. Think: vertical markets, business initiatives, new roles, changes to how and where employees work, and shifts in market growth (domestic work is projected to be stronger than international).
Yet architects, designers, and manufacturers are uniquely positioned to adapt, as proven time and again. ThinkLab research shows that in 2022, for the first time since the onset of the pandemic, design fees for Interior Design's Giants exceeded the peak in 2019 and those earned in 2023 are projected to remain on par, or see a slight dip. Schneider applauded this as a win, showcasing the power of the industry to rebound from an unprecedented global event.
Take a look at the design trends and challenges she spotlighted at Giant Ideas, which invited a lively discussion to close out the conference.
Top Design Trends and Challenges of 2023
Sustainable Design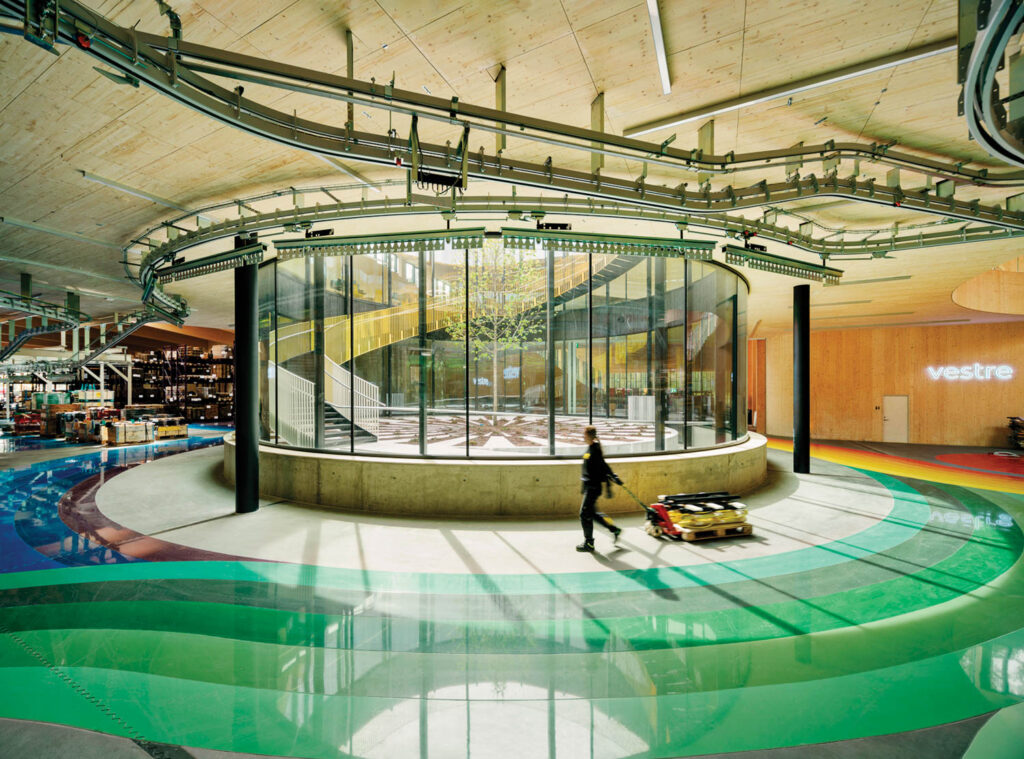 Sustainable design remains top of mind for designers—and their clients. But an increased focused on sustainability also leads to industry-wide greenwashing—brands using sustainable buzzwords without measurable results—making it more difficult to decipher work that actually makes a difference. To celebrate firms at the fore of creating real change, Interior Design will unveil its Sustainability Giants this Spring.
Of these, Sustainability Giants say 60% of their projects meet sustainability criteria, representing $1.8 billion in design fees or about 30% of the market. The Giants also report that 37% of their clients are asking for environmental, social, and corporate governance (ESG). As for certifications, about 36% of Sustainability Giants say their projects follow sustainability practices though they are not going for a specific certification, while 12% are working toward certifications related to embodied carbon, 4% are focused on LEED, and 2% are focused on WELL.
Hearing these stats, Giant Ideas attendees agreed that overall, the numbers are lower than expected, a reminder of the work that still needs to be done.
Diversity, Equity & Inclusion
Diversity, equity, and inclusion remains a pressing topic—one that architects and designers continue to address at multiple levels, from design education to mentorship to creating more inclusive built environments. But while 89% of firms say recruiting and retaining talent is a top practice challenge, only 29% of respondents to ThinkLab's surveys called out recruiting a more diverse talent pool. "I know we're talking about this a lot, but are we doing enough to drive diverse perspectives?" Schneider asked the group.
"This is a huge challenge. As much as you might commit yourself to recruiting more BIPOC designers and architects, they have to get through the pipeline first. That's where we're losing the battle is getting students in high school interested in design, going to design school, staying in design school, affording design school, and realizing that they can actually make a good living out of that and organizations like AIA and IIDA are working on it… but that's going to take time to get that pipeline fixed," offered one Giant Ideas attendee.
One solution an attendee offered is being more strategic about who firms send to recruiting events, noting her own success hiring diverse talent as a woman business owner who stands out in settings where men tend to dominate. She also noted success tied to offering a flexible work environment. "We are a very family-friendly environment, which makes it more appealing to people who'd want more flexibility," she said.
From introducing architecture and interior design concepts to students at an early age, like Michael Ford does in his Hip Hop Architecture Camp, to providing mentorship opportunities for employees to help them grow in the field, it's clear the future of design depends on the future of design education.
---
Cheryl Durst, EVP and CEO of IIDA, and Khoi Vo, CEO of ASID, will be interviewed together on ThinkLab's Design Nerds Anonymous mini series in an episode launching March 30, 2023. Follow Design Nerds Anonymous wherever you get your podcasts.
---
Web3 and the Digital Realm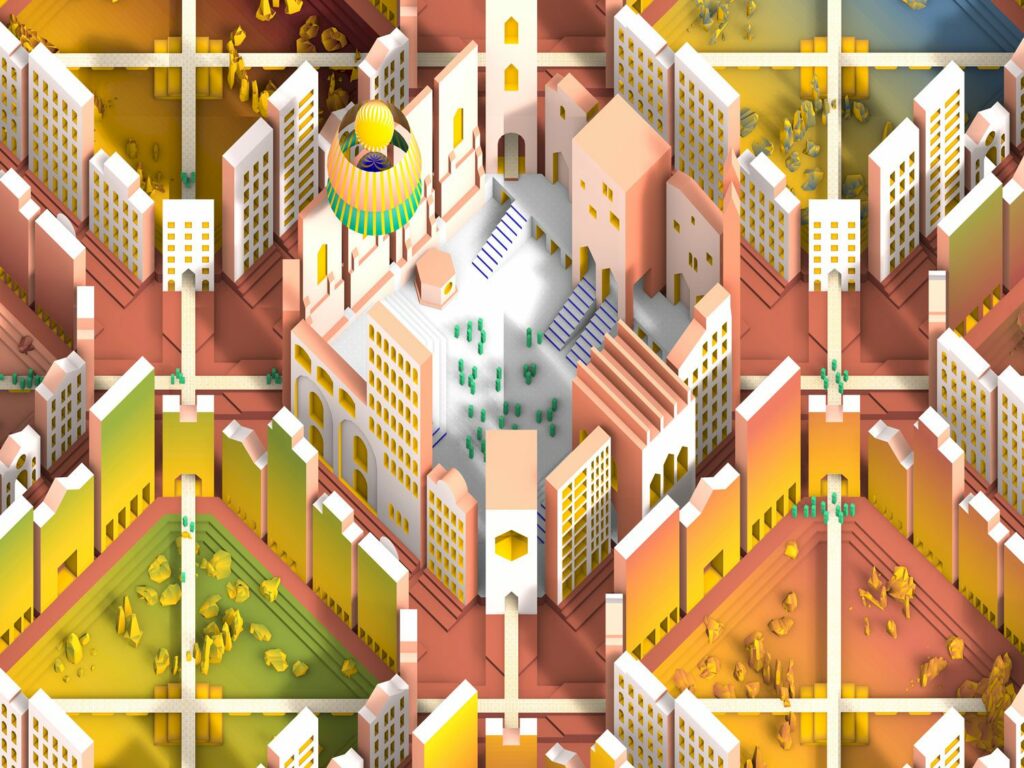 Rounding out her talk, Schneider touched on Web3 and the digitization of design, a topic that sparked debate at Giant Ideas. "How can we be in this digital space?" Schneider asked attendees. Research shows that of 3,547 write-ins on ThinkLab's research survey for Giants, there were only 12 mentions of the metaverse, suggesting that the topic is not front of mind for the majority of architects and designers (Interior Design's Metaverse Architecture and Design (MAD) Awards may change that come April 4!).
While some attendees made clear they did not see the virtual realm replacing the desire for face-to-face connection, others disagreed. "We need to be conscious about how people are demographically. People are already investing in digital environments and spending a lot of time in them," noted one attendee. "We are the experts of environments, whether they are digital or physical."
A few Giant Ideas attendees also said they use AI as a tool to help their staff grow in unexpected ways. For example, one firm encourages employees who do not have strong communication skills or a firm foundation of the English language to use AI as a way to help them prepare talking points for presentations to build confidence there. Another designer sees potential in AI to help generate more accuracy in design documents. "We are losing fees because people don't trust that our documents are super accurate," he said. "How can we use machine learning to make sure there are less errors?"
Still the group largely agreed that human energy and empathy remains at the heart of design work, whether creating physical or virtual spaces. "We have clients who want to create a digital clubhouse for their friends to meet and hang out in in the metaverse and they want it to look badass," offered one designer. "It's not for us to decide if [the digitization of design] is going to work… We are at this precipice of a digital age, so we have to work to understand it."
---
Want more from ThinkLab? Schneider was recently interviewed on the Surround Podcast network show, Architecture 5 10 20 with Guy Geier of FX collaborative where she shares more insights into the research behind Interior Design's Giants.
---