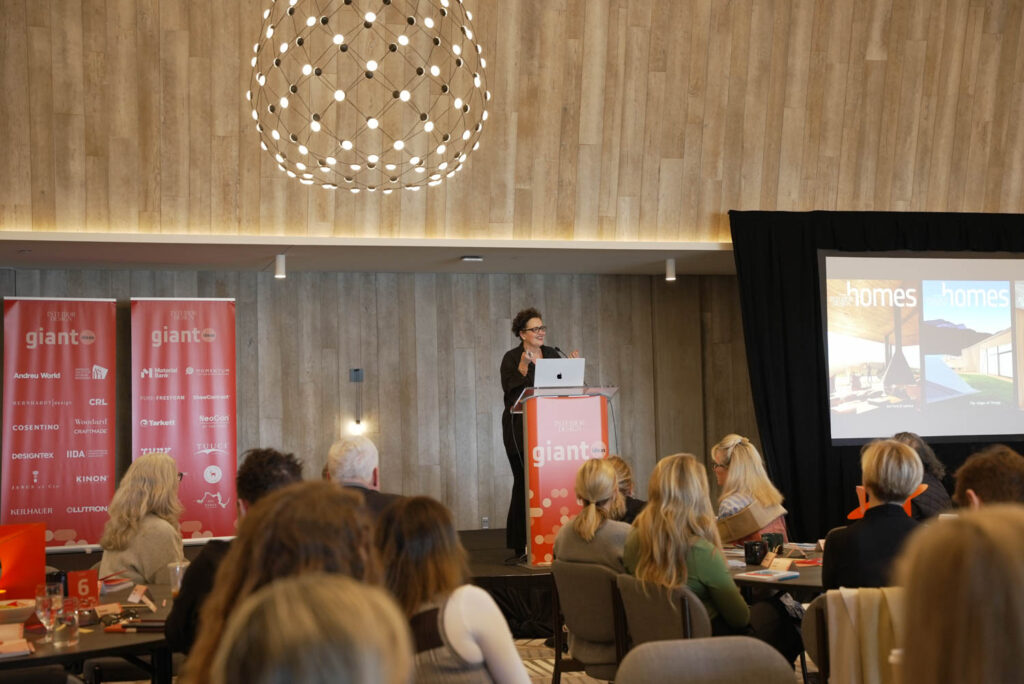 Interior Design's Giant Ideas Event Invites Play—and Innovation
What's your biggest, boldest design vision? That question hung in the air throughout Interior Design's aptly named Giant Ideas event, a three-day extravaganza celebrating the magazine's Giants of design March 5-7 in Encinitas, California—and the answers did not disappoint. From Interior Design Hall of Famer Mark Zeff's call to tap into the essence of surf culture sans any visible boards for the design of the Alila Marea Beach Resort, which played host to this year's event, to an imaginative workshop led by writer and creative Ayse Birsel, attendees were challenged to think outside the box.
---
Watch the Event Recap
---
A Closer Look at Interior Design's 2023 Giants of Design
"We're back everybody!" editor in chief Cindy Allen said, kicking off the first full-day of festivities March 6 following an early morning beach clean-up. "I'm so happy to see you all in the flesh," she added, noting that the magazine's Giants are a "special community within the community"—and one that's constantly growing. For 2023, Interior Design expanded its Giants pool to include Sustainability Giants—each demonstrating measurable goals in that area—as a well as a new listing for International Giants. Not to mention, longer lists for some categories, like Healthcare Giants, which grew from 40 to 50 firms this year. "It's hard to even imagine the power you have," Allen told the crowd, noting that the Giants group completed nearly 90,000 projects last year.
Allen also touched on two key industry shifts: the seamless merging of residential and commercial design (she tried to trick attendees into guessing whether a photo depicted a residential or commercial space—harder than it seems!) and the next frontier, Web3. "How do you want to use it?" Allen asked the group, referencing a question many are grappling with as they explore Web3 and the metaverse. Looking ahead to the industry's first Metaverse Architecture and Design (MAD) Awards, which will be hosted by Interior Design April 4 in a metaverse space (of course), Allen encouraged attendees to get curious about how design can evolve beyond physical spaces.
Behind the Design of the Alila Marea Beach Resort
Then she welcomed Zeff, founder of MarkZeff, and James Chatfield, SVP construction at JMI Realty, to the stage to share insights into the making of the Alila Marea Beach Resort–a commission that did not come easy! "I put together an essay about the ocean," shared Zeff, explaining that some partners for the project were skeptical he'd be the right fit for the design, questioning his understanding of the Encinitas community. But Zeff responded with authenticity and assurance, explaining his own ties to the sea. "I have lived by the ocean all my life. I grew up in South Africa, I've surfed in Cape Town, I have always lived in the ocean," he recalled, current address included in New York's Hamptons.
But it was hardly smooth sailing from there. Building a resort on a cliff presented its own set of challenges—as did the onset of the pandemic, which occurred shortly after construction began. "This project was approved in 1992 and no one has been able to get this to work for various reasons," Chatfield said, noting the difficulty of building in the locale—sand poses its own challenges. After altering the nearly 30-year-old plan to ensure the new structure honored its surroundings, the team got to work. "Mark said, this needs to feel organic," asserted Chatfield. "He carved the resort out of the bluff… it's just beautiful and simple."
A Cliffside Resort Without a Surf Board in Site
The team also enlisted help from local artists and craftspeople throughout, including surfboard artist Brian Szymanski and photographer Aaron Chang—both on site at Giant Ideas—to pay homage to the community. "One of the mantras we started off with was, under no circumstances were we going to have surf boards on this property," Zeff said. That did not mean, however, that the hotel wouldn't nod to surf culture. Zeff and his team approached the project with a disciplined use of material and color. "I felt like it had to be organic and it had to link from the inside to the outside," he offered, referring to the minimalistic color scheme as a marriage between the natural landscape and the hotel interior.
Szymanski and Chang further solidified that connection. Working with Szymanski, who grew up surfing in the exact locale of the current resort, the idea to create a room that reflected the history of surf culture, drawing on the traditional methods of creating boards in California, began to take shape. "We created all different patterns representative of different times in surfing culture from the 1960s, '70s, 80s, and 90s," Zeff said, noting the signature use of natural wood in California boards. "There's a language of history in that room."
Chang, who revolutionized the field of surf photography by creating a protective case for his camera and getting off the beach and into the water to snap images, also added local flair to the hotel. "Aaron is an innovator—he's not just a photographer," Zeff said. "I told him, I want the stuff you almost don't remember doing, which shows the essence of this area and the power of the ocean." Throughout the resort, Chang's images are on display. As are biophilic touches, such as carpeting that reflects the patterns of kelp forests that once filled the area. "The idea of using underwater nomenclature was very important to me," Zeff continued, reminiscing about his own scuba diving adventures. With careful planning and execution, the team ensured the design of the Alila Marea Beach Resort pays respect to the real showstopper—the ocean itself, visible throughout the property.
Ayse Birsel Shows Designers How to Find Fresh Inspiration
Up next, Birsel led attendees through an immersive workshop using techniques from her latest book, Design the Long Life You Love: A Step-By-Step Guide To Love, Purpose, Well-being And Friendship. "The next 90 minutes are dedicated to playing together," she said. "Playing means we're going to have fun!"
Throughout the session, Birsel, who first came to the U.S. from Turkey on a Fulbright scholarship and has built an illustrious career designing for Herman Miller and other greats, challenged designers to step outside of their comfort zones and imagine new possibilities. "Who is your hero?" she asked, a question that opens doors to examining qualities each proclaimed hero possesses and, in doing so, ways to cultivate those aspects within.
"Humans are extraordinarily creative. You don't need to be a designer to design your life—you just need to think like one," reads an excerpt from the book. Of course, Giant Ideas attendees have a head start there.
A performance by movement artist and documentarian, Quentin Robinson, followed, shedding light on how design—and interactive spaces—can impact people in settings as diverse as schools, offices, and refugee settlements. Robinson, also known as SpecialFX, even shared a few moves with attendees, encouraging them to leave their chairs behind and try out some unexpected shapes.
Those who especially enjoyed Robinson's session participated in a movement workshop with him later in the day while others embarked on a tour of local art with Chang and Szymanski before coming back together for evening cocktails and dinner.
ThinkLab Spotlights Design Trends as Giant Ideas Comes to a Close
On the final day of Interior Design's Giant Ideas event, ThinkLab founder and president Amanda Schneider offered attendees invaluable insights to take with them long after the conference ends. Some guests also took home physical tokens to remember the event following the morning raffle, from a weekend getaway to a Kelly Wearstler-designed property in Houston courtesy of Lutron to a Designtex throw, polaroid bundle from Material Bank, and more.
During her morning presentation, Schneider referenced ThinkLab's extensive research on what matters most in design today, touching on trends to watch this year, including the importance of creating spaces that go beyond what's expected, offering people truly unique experiences.
Schneider also touched on top challenges design firms are facing, from recruiting and retaining qualified staff to an uncertain economy. On the upside, the industry is seeing positive upticks this year, especially for the U.S. and Canada, which see strong potential for domestic growth. We'll cheers to that, and another great Giants event for the books! Read more from Schneider's talk here.
Event Highlights from Giant Ideas 2023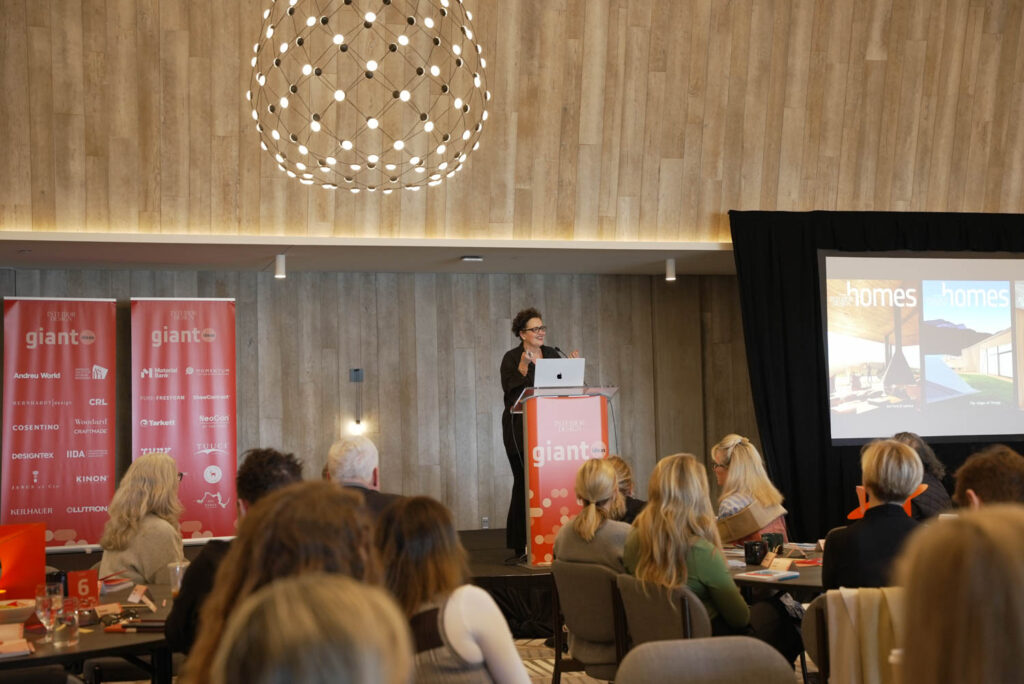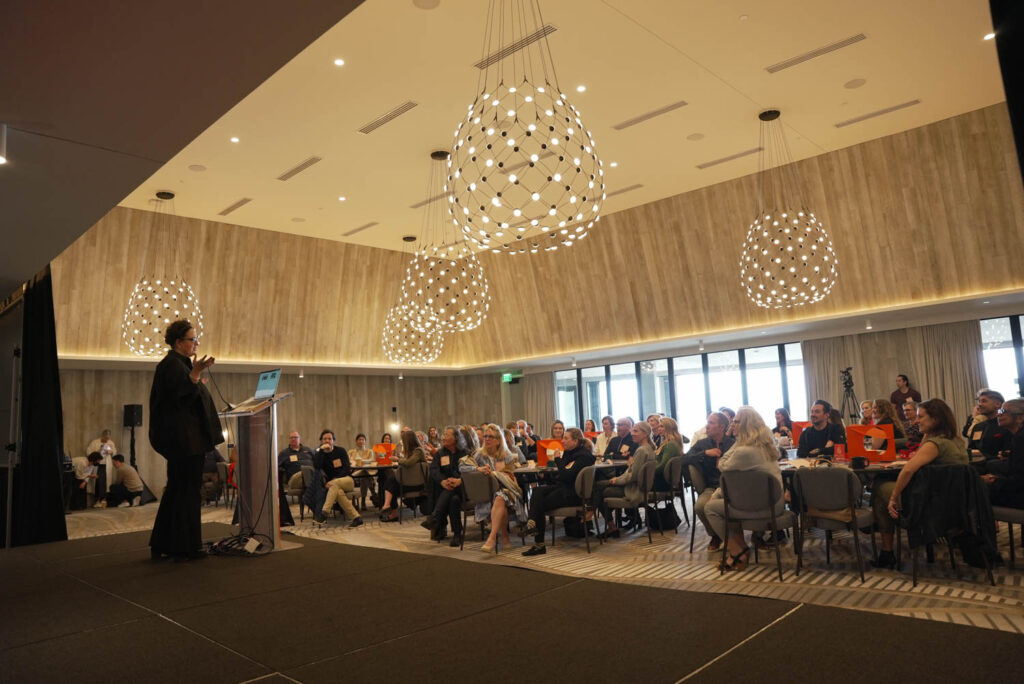 A very special thank you to our 2023 Giant Ideas partners: Alila Marea, Andreu World, ASID, Bernhardt Design, Cosentino, CR LAURENCE, Craftmade Woodard, Designtex, IIDA, Janus et Cie, Keilhauer, Kinon, Lutron, Material Bank, Momentum, Parador/Matter Surfaces/Bolon, Pure + Freeform, Shaw Contract, Tarkett, THE MART, TURF, Tuuci, Williams-Sonoma, Inc. B2B, Yellow Goat Design.