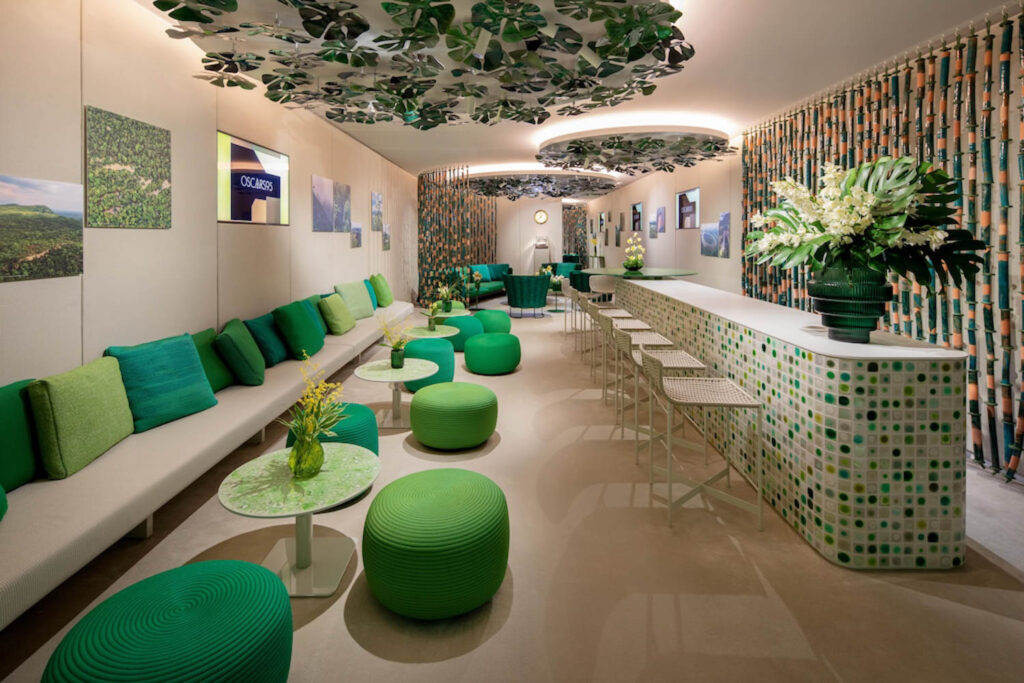 Backstage at the Academy Awards Greenroom in Los Angeles
It's Academy Awards time, that annual love fest to the cinema and all those who transport our hearts and minds elsewhere. We watch with bated breath for the ceremony's awards and often surprises. There is one constant, though. At least since 2016. That is Rolex's sponsorship and design of the Los Angeles Dolby Theater's Greenroom where nominees pray for stage time and winners celebrate new-found fame. Every year Rolex, whose watches may be as coveted as the Oscar, selects a new theme.  For 2023, it's green—both figuratively and literal as the color is tied to the Geneva-based watchmaker's branding. In a broader sense, green references sustainability, eco-consciousness, and delving into solutions for environmental challenges as put forth by the Rolex Perpetual Planet Initiative.
With this as preface, who better to participate in the design, inspired by a rainforest, than Paola Lenti? The designer, and her firm, are acclaimed for creating indoor-outdoor furnishings, textiles, rugs, and unique accessories. All play into this Hollywood setting as: subtle ecru wall covering, and, in varying verdant shades, sofa, chairs, and ottomans as well as creamy bar stools. That bar, by the way, is distinguished by glazed lava stone. Then come the special elements. Ceramic bamboo poles composing backdrop screens aptly named Bambou are hand-painted by Nicolò Morales in Sicily. Overhead, an abstract rainforest canopy cum lighting takes form as floating discs adorned with glazed metal leaves. All told, the space is a cocooning oasis of calm in a frenzy-filled night. Dare we make predictions? Our bet? This is the best Greenroom yet.