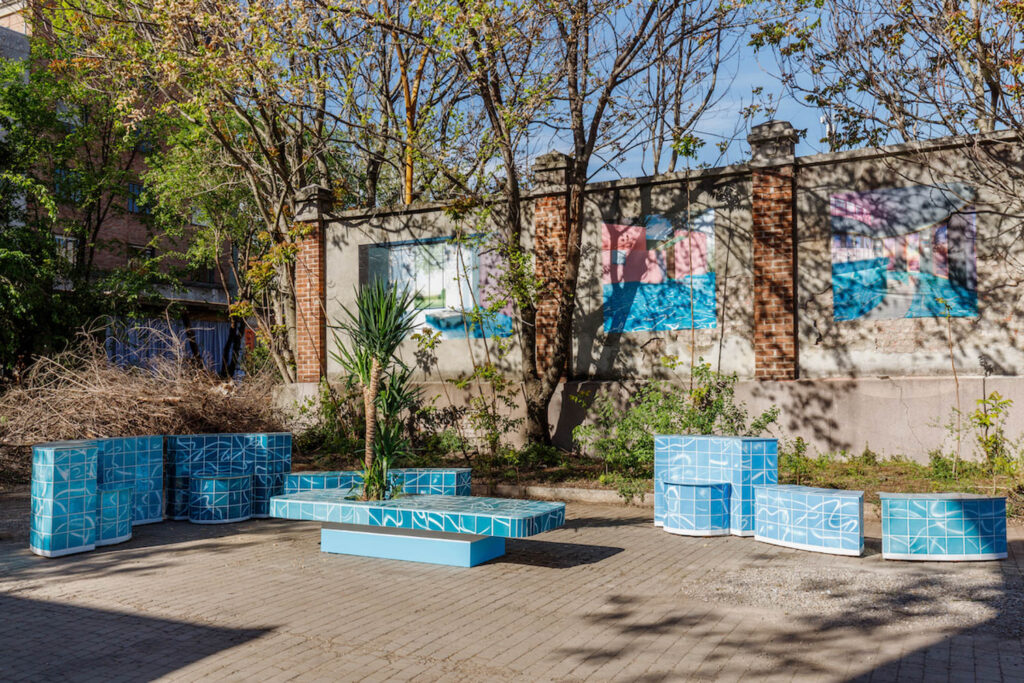 Alcova Surprises in More Ways Than One at Milan Design Week
Held once more at a derelict urban site ripe for renewal, the wildly popular Alcova returns to Milan Design Week. There's nothing so perfectly seductive as the contrast between a rough backdrop and pristine design objects, as the event's founders Joseph Grima (Space Caviar) and Valentina Ciuffi (Studio Vedèt) are well aware.
For the fifth edition of the envelope-pushing contemporary design exhibition, the shiny new—or rather old and abandoned—venue was a former slaughterhouse, the sprawling Ex-Macello di Porta Vittoria, a departure from the former nunnery and military hospital of the previous two years. Coinciding with Salone del Mobile 2023, Alcova presented over 90 projects, April 17-23.
From light fixtures that look more like a cavernous yawing maw, radiator, or household pet to several objects inspired by the humble rock, here are 14 of our favorite finds.
14 Highlights from Alcova at Milan Design Week
With expressive, yawning maws carved out of a single block of Roman travertine sourced from the Italian town of Tivoli, Cor tucks a warm LED light source inside a cavernous opening. Each of the six monolithic totems in the lighting series is a unique variation of the ancient stone, and ranges in height from 4 1/2 feet to 6 feet high. "They are bound by a single spherical cut," says designer Tom Fereday.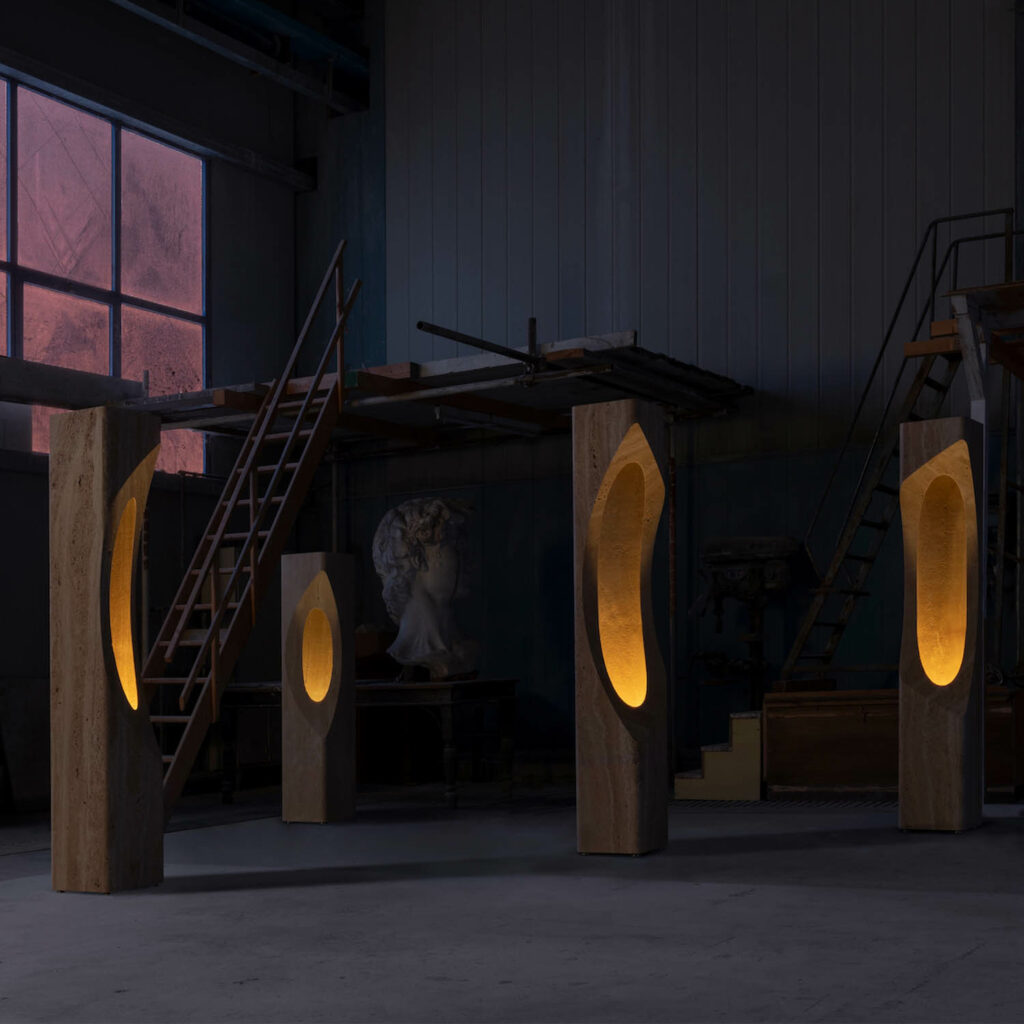 Made entirely of hand-cast polymer resin, Tralucid Bench 125 joins a family of blocky transparent architectural objects "designed to naturally interact with light sources to cast sharp and soft patterned shadows into a room," says designer Laurids Gallée. "At the same time, these objects have the power to blend into any surrounding and magnify an interior with a colorful statement." The bench was featured in an atypical examination of coastal relaxation, the collective exhibit "By the Seaside."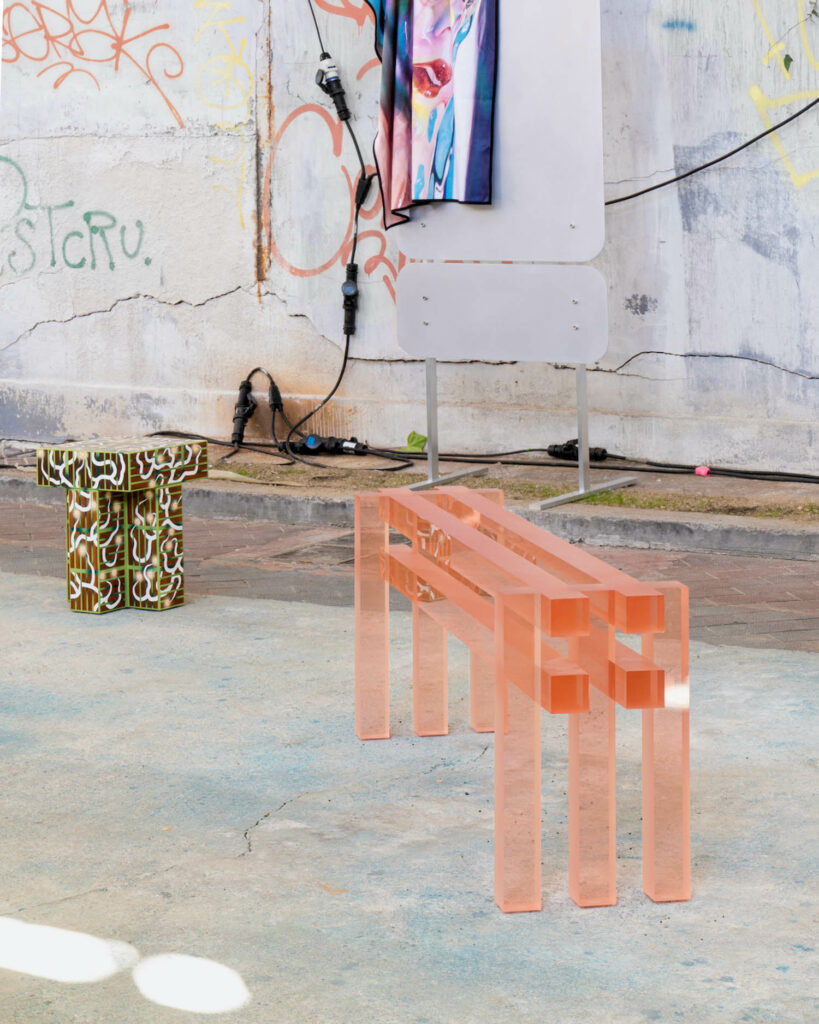 3. Parmigiano by Anne-Claire Hostequin for Atelier Luma
Stool, table leg, storage bin, plant pot, or glowing lampshade? Parmigiano by Anne-Claire Hostequin is just as versatile as the Italian cheese. Fabricated from assorted bioplastic (some recycled), micro algae, plant-based additives, and plant-based dyes, they're manufactured using rotational molding and were featured in "Atelier Luma Bioregional Design Practices." The exploratory study and exhibit addressed bioregional design practices—or the best way to tap local resources for a sustainable economy.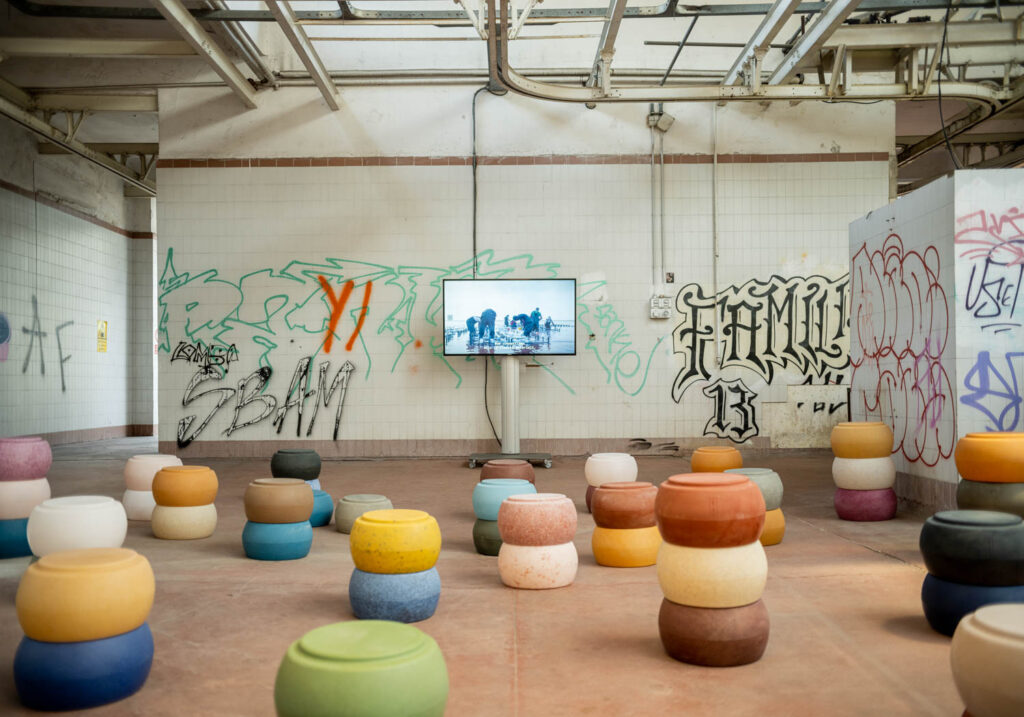 It's possible designer Kate Greenberg jumped for joy over her dark basement location—it was the ideal surroundings for Tempo, her collection of edgy furniture and lighting, all of which would slip right into a techno nightclub. Evoking warmth and similar in form and sultry red glow to iconic heating units of a bygone era, aluminum light fixture Radiator was presented in two versions. A study on time, the ceiling-mounted aluminum and glass pendant light Felled Sky rolled through a progression of hues emulating the sky's transition from day to night.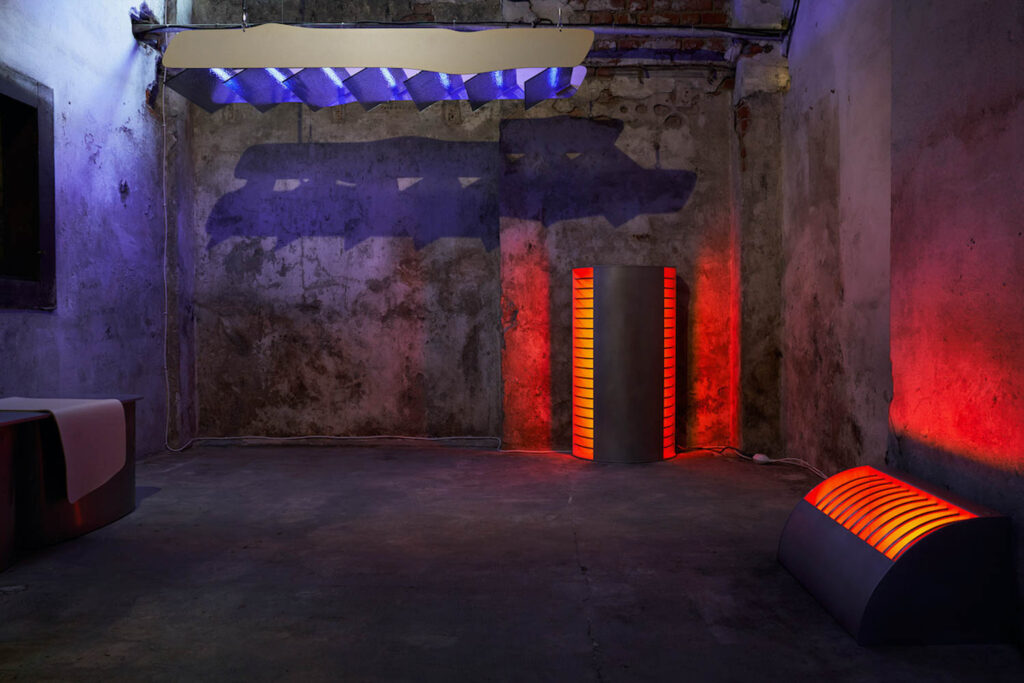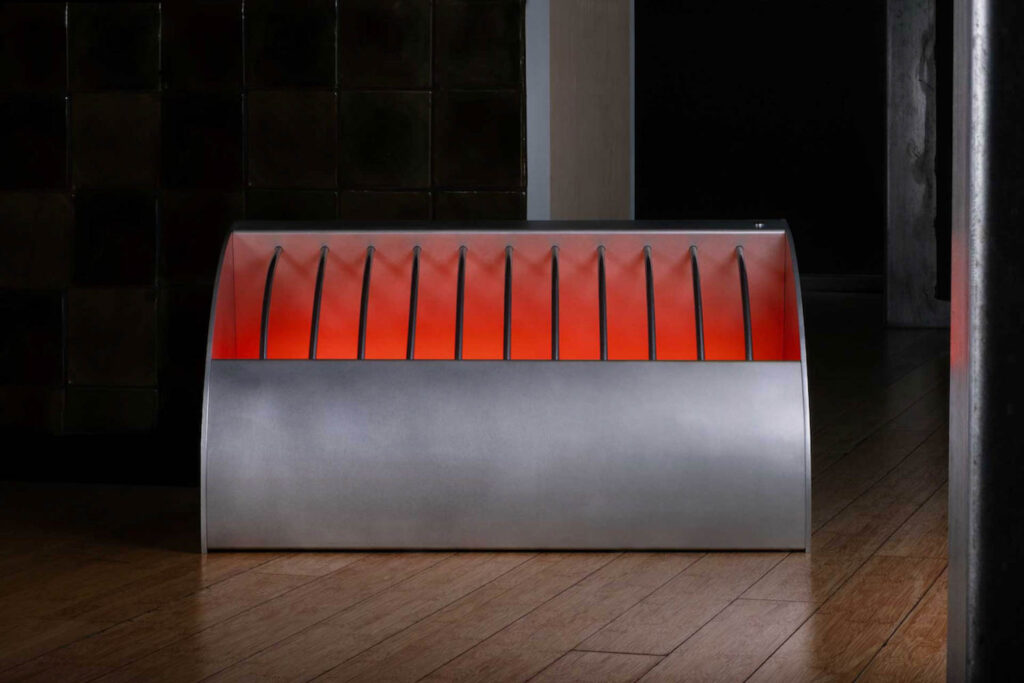 A country's most average stone is an object of beauty under the creative eye of David Pompa. For his new lighting series Ambra Toba, he pairs aluminum with Toba volcánica, the most common stone found in Mexico. "Not typically used in design, the stone is so common that the name in Spanish is 'stone'—but there was no public knowledge on it," says Pompa. Teaming up with the geology department of the Universidad Nacional Autónoma de México, he discovered it is made of glass, minerals, and volcanic debris.
The humble rock is once again a source of inspiration for "The Art of Formation," an exhibition of rugs and furnishings experimental in both form and material. Ondula, one of four new rugs by Art + Loom, is a textile study of tectonic plates rendered in merino wool, linen, and allo. "We try to use as many natural fibers as possible—"the allo comes from a nettle plant," explains Art + Loom designer Samantha Gallacher.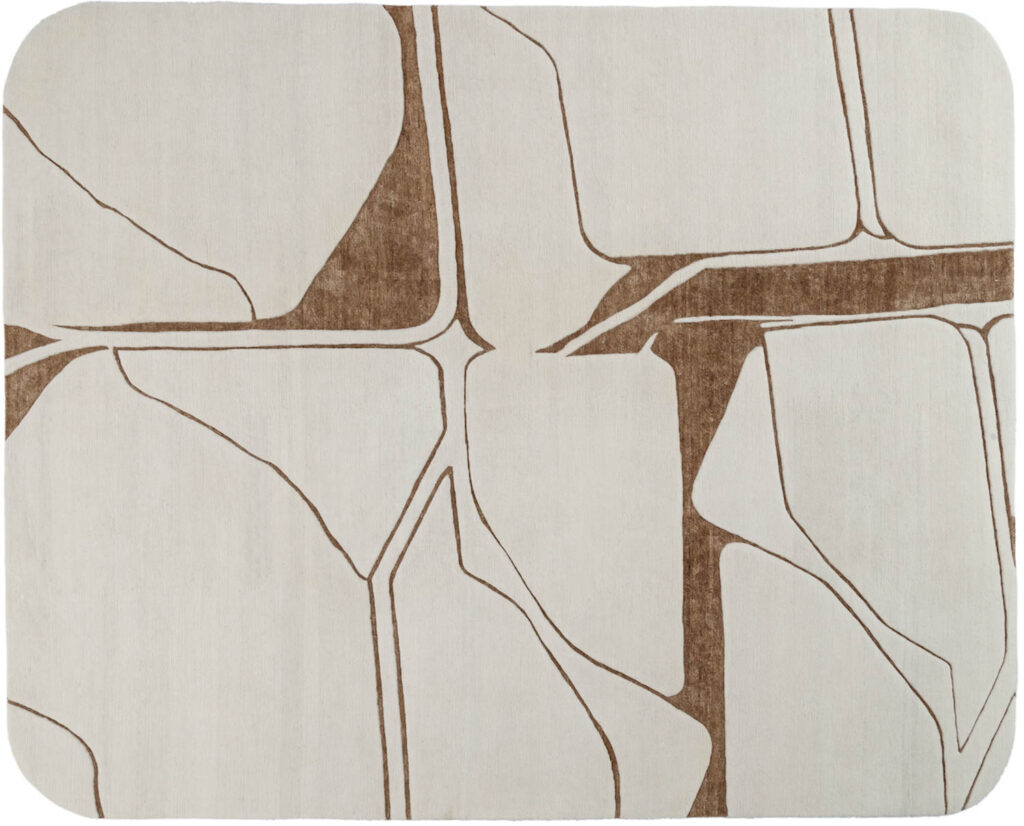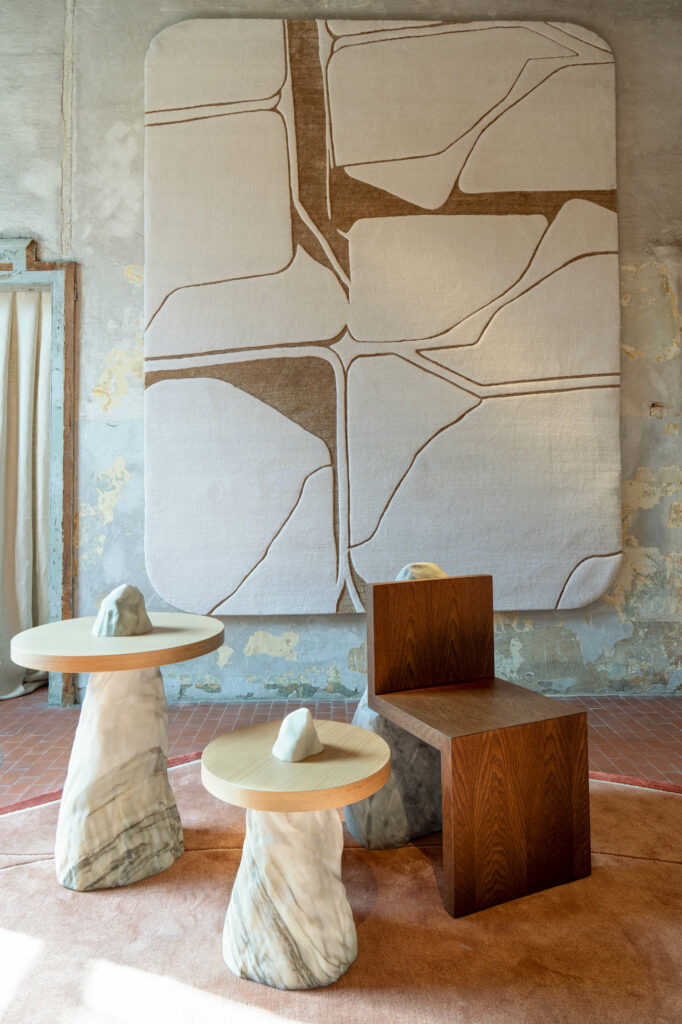 7. Baby Beloco Side Table by Bea Pernia
Toasting the allure of two natural materials, the Baby Belco Side Table—also featured in "The Art of Formation"—is an addition to the Atus collection of custom furnishings. Each piece in the collection pairs solid white oak, black walnut, or weathered teak wood with raw marble cutoffs from quarries in Portugal.
Fishing line, elastic yarn and glow-in-the-dark yarn are transformed into a glowing snake-like pendant light referencing threatened coral with Acropora. The light is a new addition to Sangmin Oh's Knitted Light series, which breaks boundaries with yarn. "Light and textiles can combine to create magical stories," says Oh. "The textile is stretched as it is knitted, and after I decide on the shape, I fix it by stitching it by hand."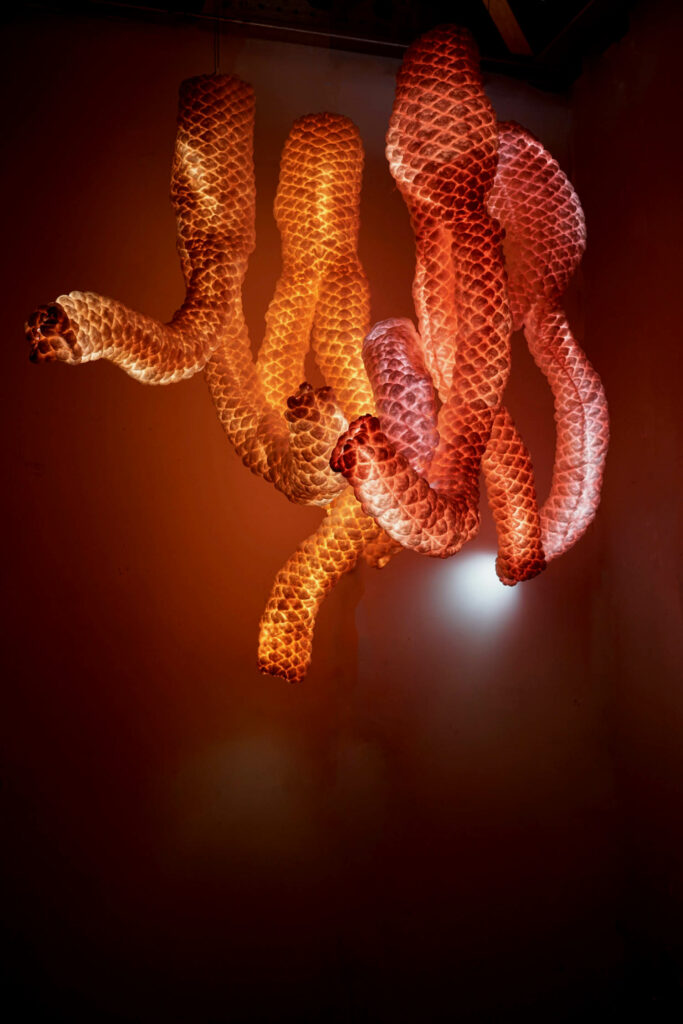 9. Sea Project by Polcha
Adroitly siezing the bounce of light on water, Sea Project by Polcha is a collection of glazed terracotta tile pointing to the precious resource that is our oceans, according to designer Charlotte Tarbouriech, one half of the French duo behind Polcha. "We enjoyed playing with the depth of color and reflection lines," she reveals.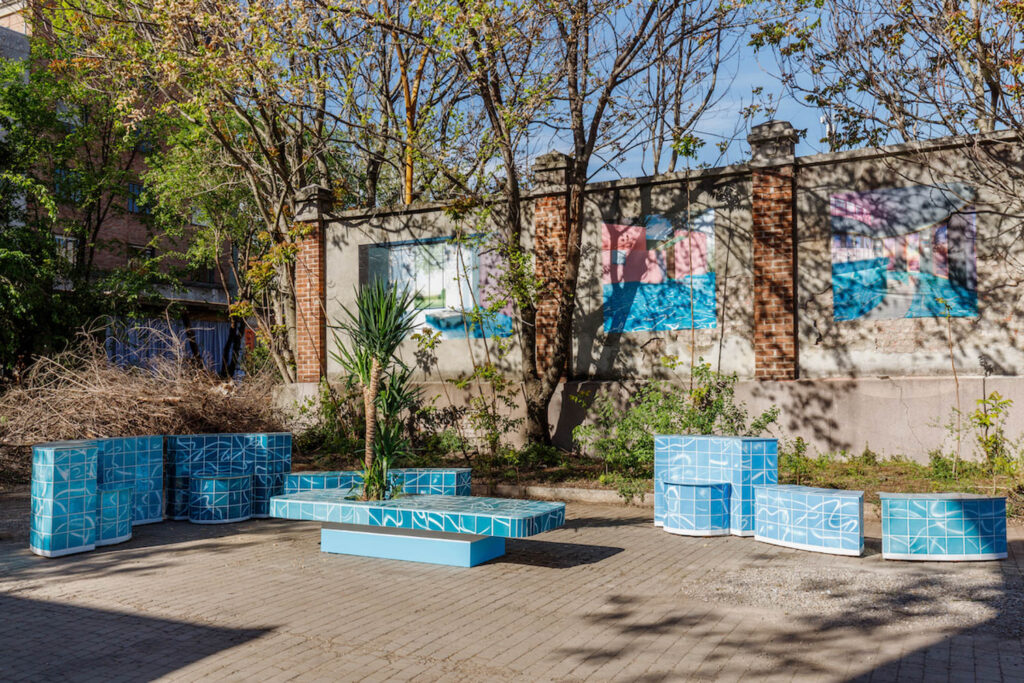 Introduced as the world's first compostable injection-molded chair, Peel is made entirely from hemp bast fiber, a byproduct of hemp and cannabis industrial processing. Hemp-based biodegradable plastic forms the frame and hemp leather-upholsters hemp foam cushions. While the cushions and the packaging—that's paper pulp and hemp fiber—can be composted at home, the frame must be industrially composted.
Evoking a quilled mammal, Appuntito ('Pointed' in Italian) evolved from "playing around with shapes and exploring different ways of creating textures that hold the glaze in an unexpected way," according to Theresa Marx, co-founder of design studio Project 213A. Hand-crafted spike detailing on the base of the brass and ceramic lamp is rendered in clay glazed a translucent red, while the expansive 19-inch shade is a wool-nylon blend.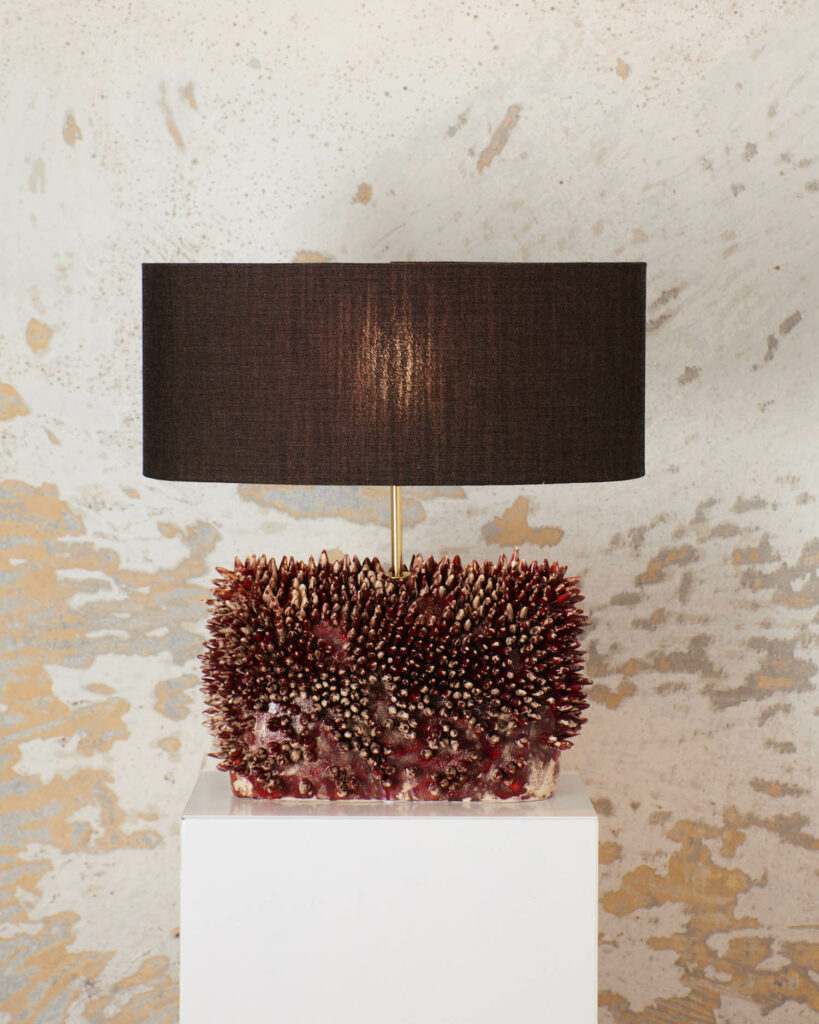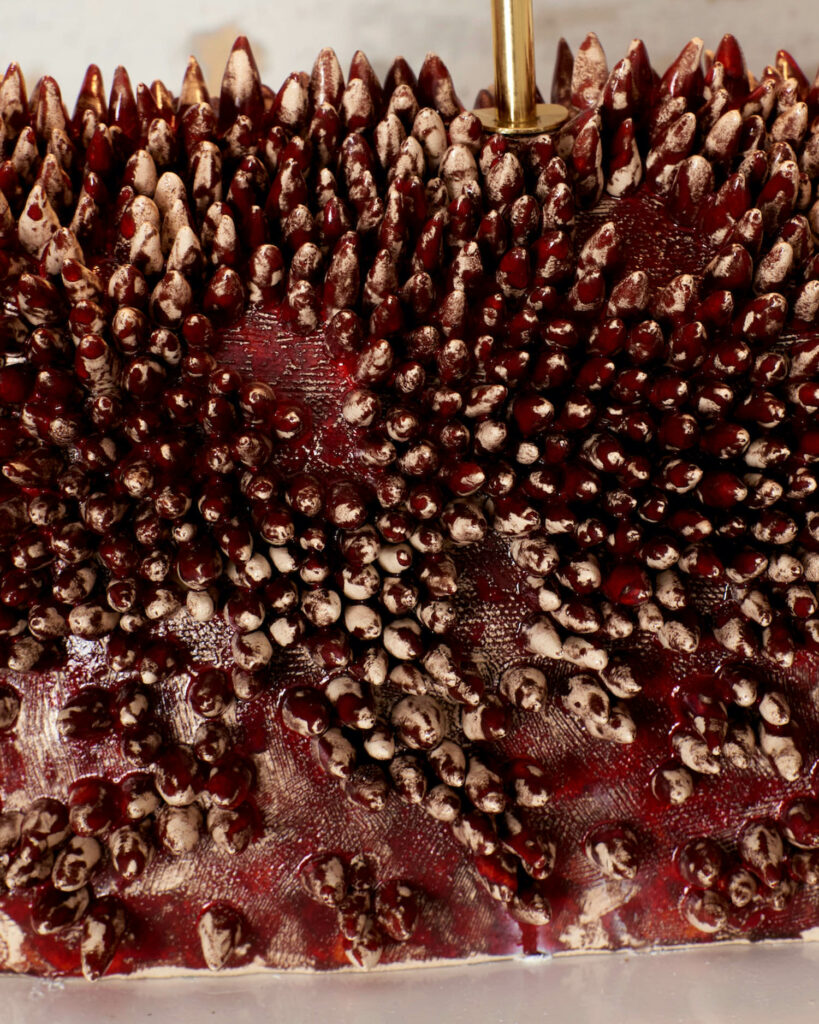 12. Manifesto by Stormo for Pulkra
What at first glance appears to be a massive support base is revealed to be a precise, graceful composition with Manifesto. Balanced on a base with a prominent void, the table reveals new developments in concrete—its composite material, pigmented with fine marble sand, is both strong and lightweight.
13. Of the Origin by Isabella Del Grandi for Slalom
Silence can be beautiful, Isabella Del Grandi demonstrates once again. With "Of the Origin," the designer returns to Alcova to showcase the acoustical sound absorbing possibilities available from acoustic system manufacturer Slalom. This year, Del Grandi conceived a series of stacked primary forms, some stretching to the ceiling. In addition to wool, the forms were upholstered in two experimental PET fabrics, one from plastic bottles collected around Milan.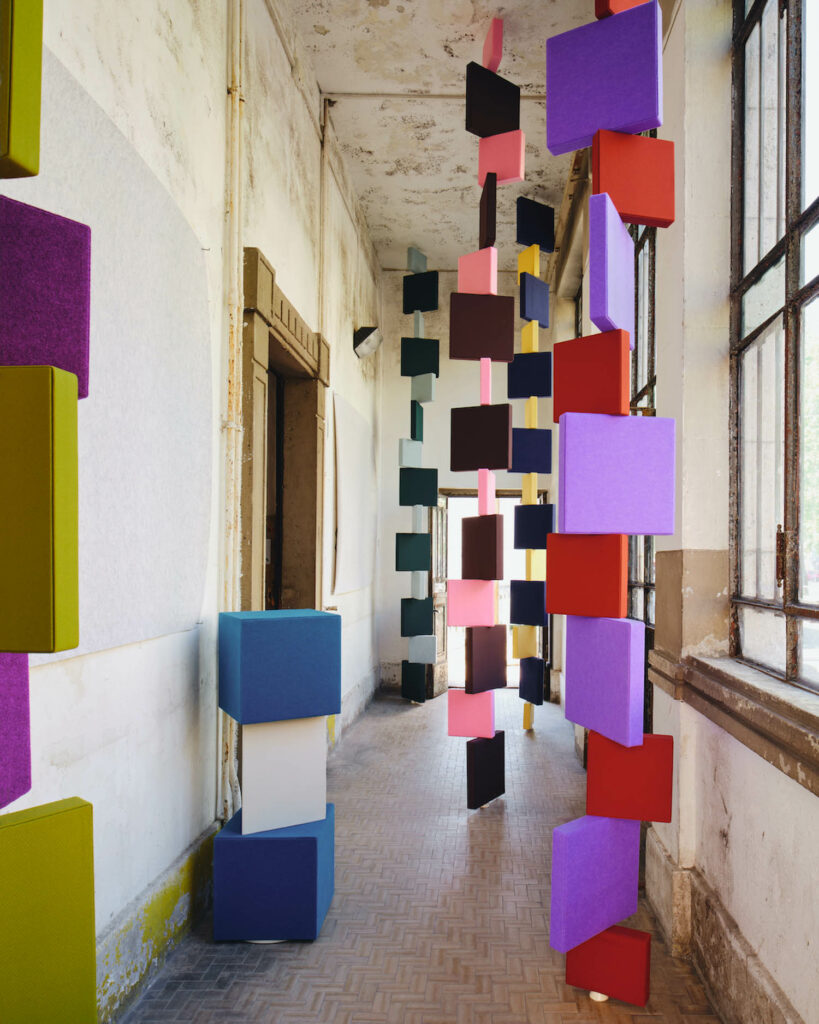 The best warm light creates a warm and fuzzy kind of atmosphere, according to Xaver Kuster, the designer behind the (literally) warm and fuzzy A Lamp Fur You. Crafted from faux fur and foam, the LED lamp resembles a furry pet. "The idea was to create an object that, besides the warm light, makes us feel comfortable with its presence in the room," says Kuster. "It feels familiar, keeps us company, and calms us when we stroke its fluffy fur….some say it might even be human's best friend."